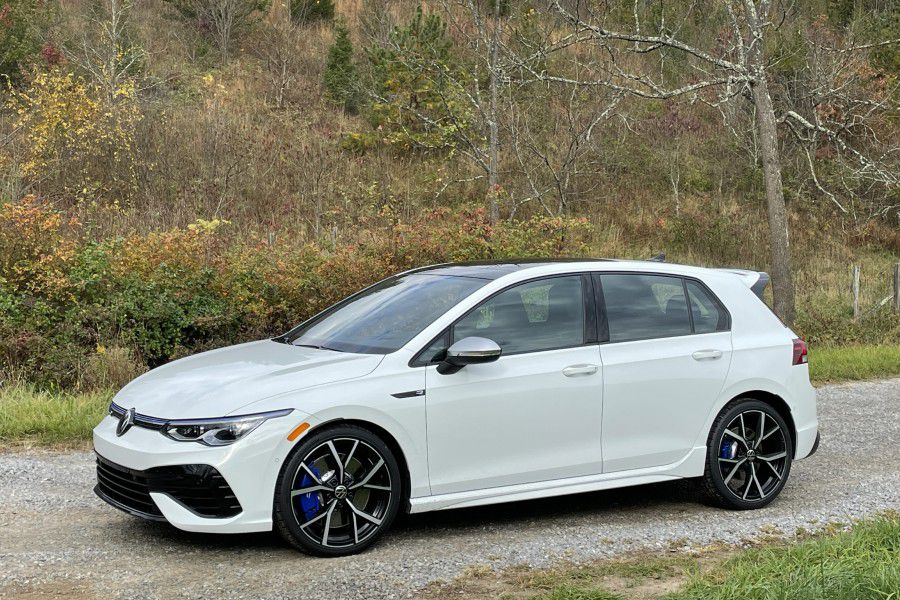 2022 Volkswagen Golf R Front ・ Photo by Nicole Wakelin
The 2022 Volkswagen Golf R is a hot hatchback with all the power, handling, and fun the label implies. It's one of only two Golf variants still available in the U.S. – the other is the GTI – and this is the more performance-focused of the two. It has an impressive amount of horsepower and torque that delivers aggressive acceleration. It also has a choice of either a 7-speed automatic or a 6-speed manual, which is something that's harder and harder to find.
In addition to its performance pedigree, the Golf R comes with plenty of modern technologies. There's a digital cockpit, fully featured infotainment, and a wide range of standard safety features. Let's take a closer look at the all-new 2022 Volkswagen Golf R to see if this is the right hot hatchback for you.
One Well-Equipped Trim
Volkswagen makes it easy with only one trim offered in this year's Golf R. It has a starting price of $43,645 with the manual transmission or $44,445 with the automatic. They have the same standard features, with a few exceptions. The automatic includes steering wheel-mounted paddle shifters, engine start-stop, and emergency assist. Standard features for the Golf R include a 2.0-liter turbocharged 4-cylinder engine, all-wheel drive, drive modes with exclusive Drift and Special modes, adaptive front lighting, integrated grille light bar, blue front and rear brake calipers, and 19-inch wheels.
There is also a power tilting and sliding panoramic sunroof, three-zone automatic climate control with rear seat controls, leather-wrapped heated steering wheel, 12-way power driver's seat, heated and ventilated front seats, heated rear outboard seats, and Nappa leather seating surfaces. Infotainment includes a 10.0-inch touchscreen, and safety includes automatic emergency braking. There's no shortage of standard features.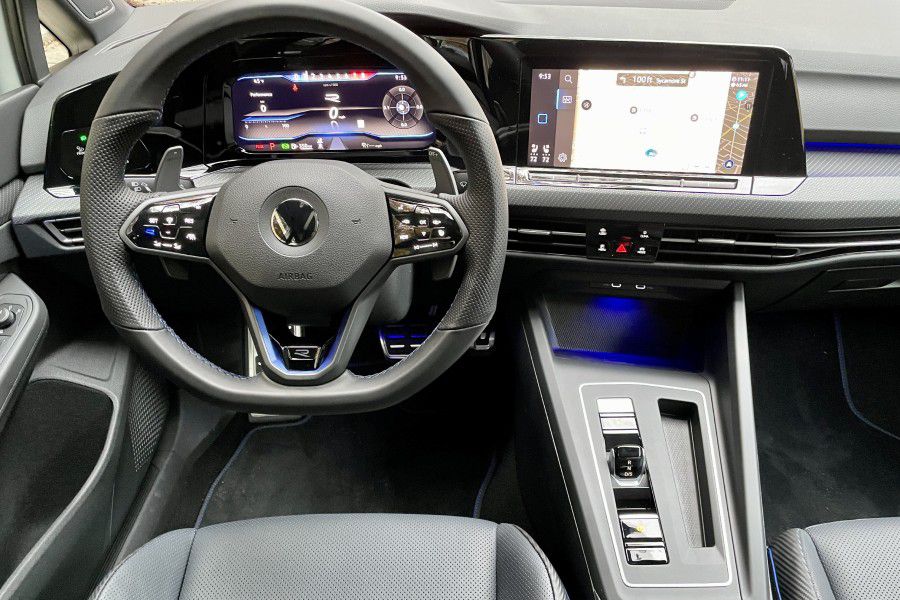 Photo by Nicole Wakelin
An Aggressive Powertrain
Performance is a priority for the 2022 Volkswagen Golf R. It comes from a 2.0-liter turbocharged 4-cylinder engine with 315 horsepower and 280 lb-ft of torque. This is paired to a standard 6-speed manual transmission that shifts crisply with a short throw and a light clutch that makes the footwork easy even in heavy traffic. There's also an optional 7-speed dual-clutch automatic with steering wheel-mounted paddle shifters that delivers power smoothly with 295 lb-ft of torque.
This is an aggressive powertrain. Even a light foot on the gas produces strong acceleration. A heavy foot will have you quickly getting up to highway speeds with no worries about merging into busy traffic. There's more than ample power left for passing slower vehicles. This is in no way a mild-mannered hatchback. It's laser focused on performance with exhilarating acceleration that engages the driver at every turn.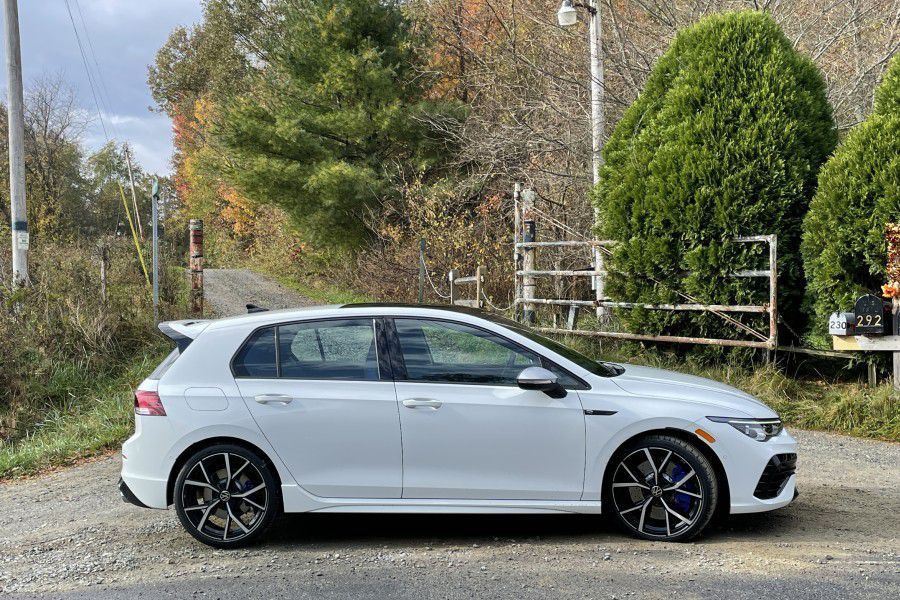 Photo by Nicole Wakelin
Sporty Handling at Every Turn
The 2022 Volkswagen Golf R is a car designed for people who like to drive. That means handling that is crisp, responsive, and immersive. In addition to the standard drive modes of race, comfort, sport, and individual, the Golf R also gets special and drift modes. While special adjusts the shift patterns for high-speed driving, drift makes it easier to have a little fun with your Golf R on the track.
All-wheel drive is standard along with torque vectoring. This can send up to half of the engine's power to the rear axle, but it goes one step further by splitting that power between the two rear wheels as needed. This improves traction during more spirited driving, especially on the track when taking turns at high speeds. Even going for a leisurely drive down a winding country road is fun with handling that keeps you in control without being tiring.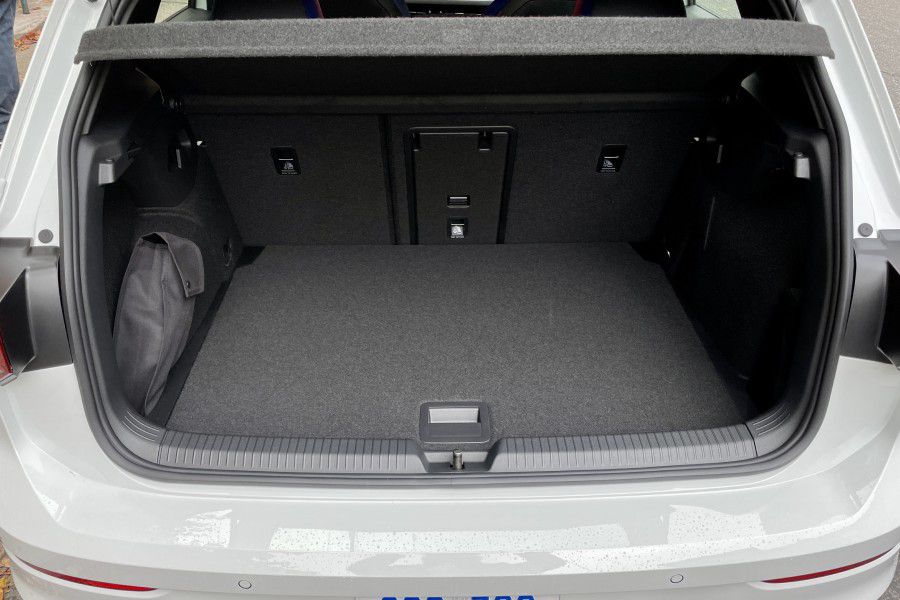 Photo by Nicole Wakelin
A Comfortable Ride Even Over Rough Roads
One of the things that makes a performance car handle so well is its suspension system. It's generally stiff, which is great when you're driving on a track or along a winding road. When it can be not so great is when you have passengers along for the ride and simply want a comfortable way to get around town. That stiff suspension can make even the smallest potholes feel large. It can also make rougher road surfaces downright uncomfortable.
The Golf R suffers none of those problems. While the suspension is stiff, it's not so harsh that it jars passengers. The ride is smooth and composed. Take the Golf R on a road trip and you won't be counting the minutes until you can take a break. It's also quiet with minimal road and wind noise and just enough engine noise to let you know this is a performance car.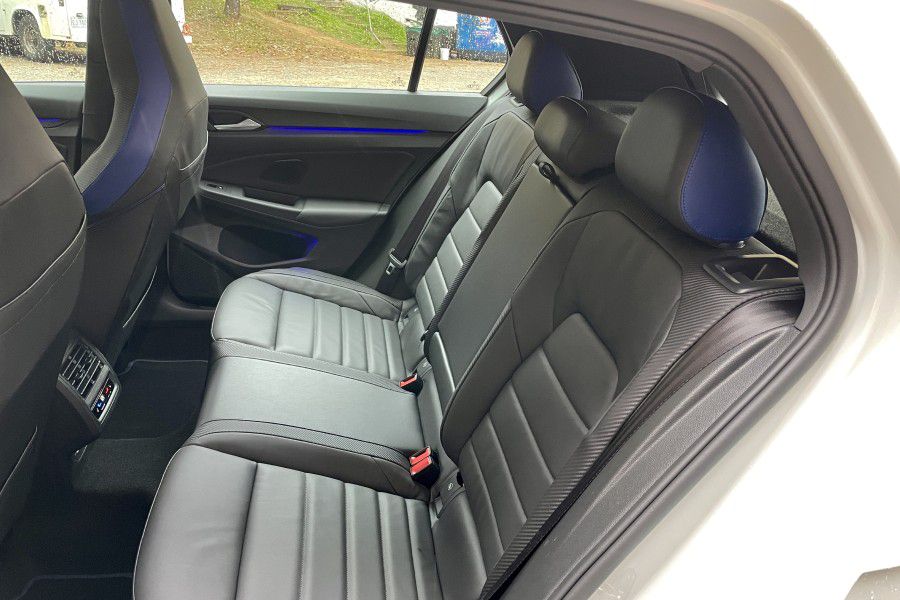 Photo by Nicole Wakelin
Unique Exterior Design Elements
The exterior of the 2022 Volkswagen Golf R has special design cues that let you know this isn't just another Golf. Its wide, low stance is both aerodynamic and sporty, hinting at its capability. There's a blue accent line that extends from the grille out toward the headlights and an illuminated front crossbar that makes for a striking first impression. Around back, special R badging is found just above the Volkswagen badge.
An R-specific bumper includes twin intakes in gloss black and there are standard 19-inch wheels. Even the spoiler gets some attention with a two-piece design that adds visual appeal while creating extra downforce. Look lower and there's a sporty quad-tipped exhaust. The side mirrors also get in on the action with an R logo projected onto the ground when the doors are unlocked. It's a unique and striking exterior design.
Photo by Nicole Wakelin
Sporty Accents in a Comfortable Interior
The interior of the Golf R features new sport seats with heavy bolsters that keep you in place in the corners while still being comfortable. Those seats are adorned with perforated Nappa leather accented with an R stitched into the backrest. There's blue accent stitching with blue seat side panels. Even the rear seats get a touch of blue on the sides of the headrests.
The driver gets a standard 12-way power seat for added comfort and a digital instrument cluster that puts all the info the driver needs within easy view. Heated and ventilated front seats are standard along with heated rear outboard seats. There's even an R-specific multifunction steering wheel that's heated and has a blue R button for accessing drive modes on the fly. There's also room for cargo with 19.9 cubic feet behind the rear seats and 34.5 cubic feet behind the front seats.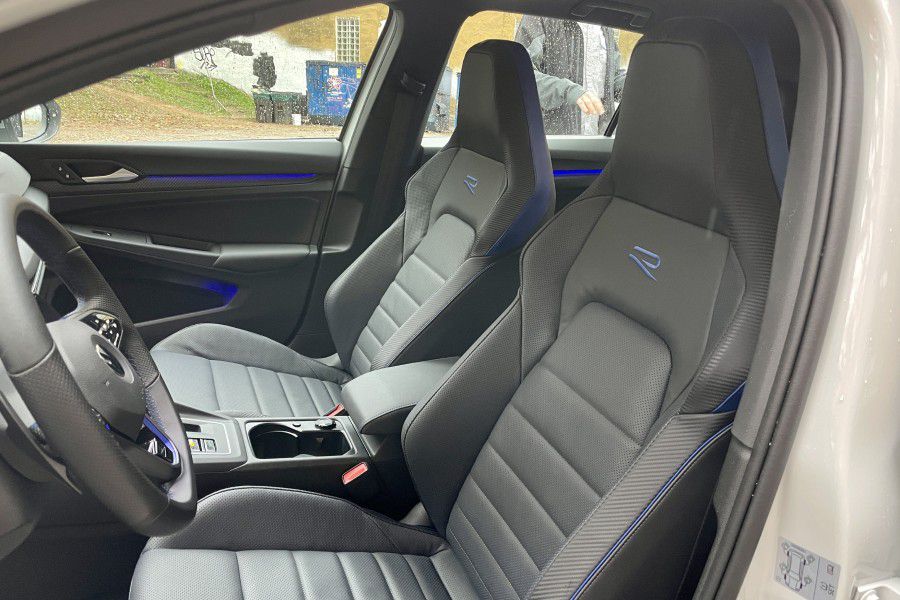 Photo by Nicole Wakelin
Infotainment With a Large Touchscreen
Infotainment in the Golf R includes a standard 10.0-inch touchscreen. Both Apple CarPlay and Android Auto are standard along with wireless charging, navigation, two front, and two rear USB ports. The screen is nicely responsive, reducing the frustration of having to tap the same thing repeatedly as is the case with many touchscreens. It accommodates pinching and zooming just like a smartphone or tablet, making it intuitive and easy to operate.
Audio features a premium Harman Kardon system with a center speaker and subwoofer, and there's SiriusXM with 360L that includes a complimentary 3-month Platinum Plan trial. There's also Bluetooth connectivity. It's a comprehensive offering that's easy to use with a minimal learning curve. Even passengers will find navigating through the menus a simple task with clear icons that quickly lead you to the various system functions.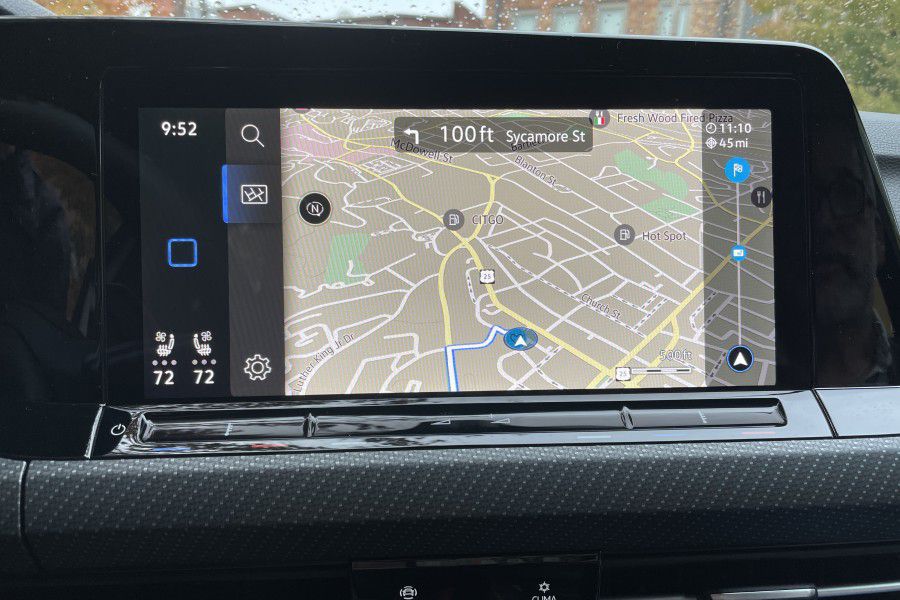 Photo by Nicole Wakelin
Advanced Safety Features Come Standard
The Golf R has a long list of standard safety features so there's no need to get expensive options packages just to set your mind at ease. Those features include forward collision warning and autonomous emergency braking with pedestrian and cyclist monitoring. There's also blind-spot monitoring, rear cross-traffic alert, lane-keeping assist, and front and rear park distance control.
Parking steering assist, high beam assist, dynamic road sign display, adaptive cruise control with full stop and go as well as Travel Assist semi-autonomous driving assistance is also standard. Models equipped with an automatic transmission also have Emergency Assist semi-automated vehicle assistance in the event of a medical emergency where the drive becomes incapacitated. It's a comprehensive offering that includes more than is typical for the class.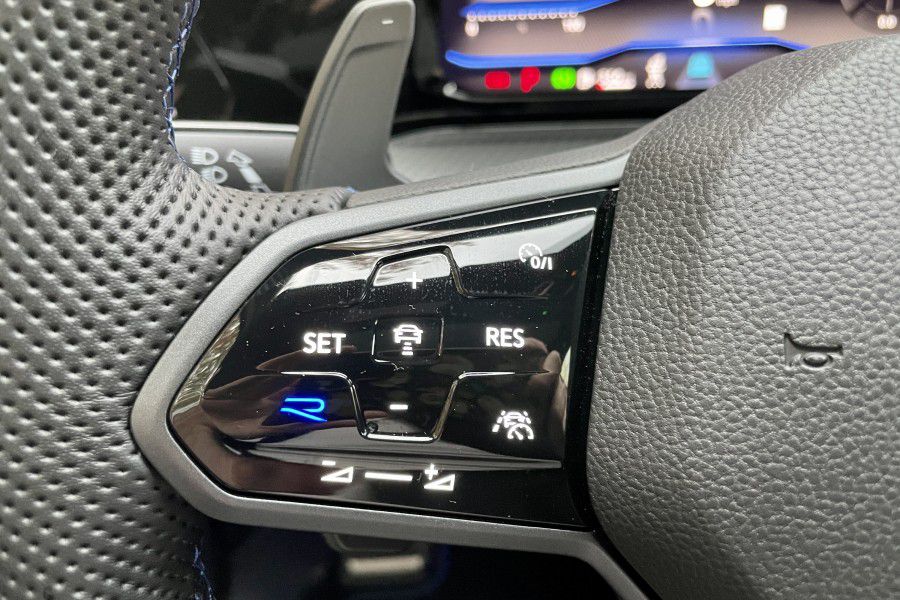 Photo by Nicole Wakelin
Final Thoughts
The 2022 Volkswagen Golf R continues to be a hot hatchback with plenty of appeal. That starts with its styling, which includes a sporty and eye-catching exterior. The interior matches up with the continuation of blue R accents that give the Golf R a unified look. There's good standard safety and a solid infotainment system with a large screen and smartphone connectivity. The star of the show, however, is this little car's performance.
It has a powerful engine that responds aggressively even to modest pressure on the gas pedal. Whether cruising the highway, winding down country roads, or spending time at the track, the Golf R is a pure joy to drive. Add in a comfortable ride that doesn't jar passengers with responsive handling and you have a performance hatchback that driving enthusiasts are sure to love.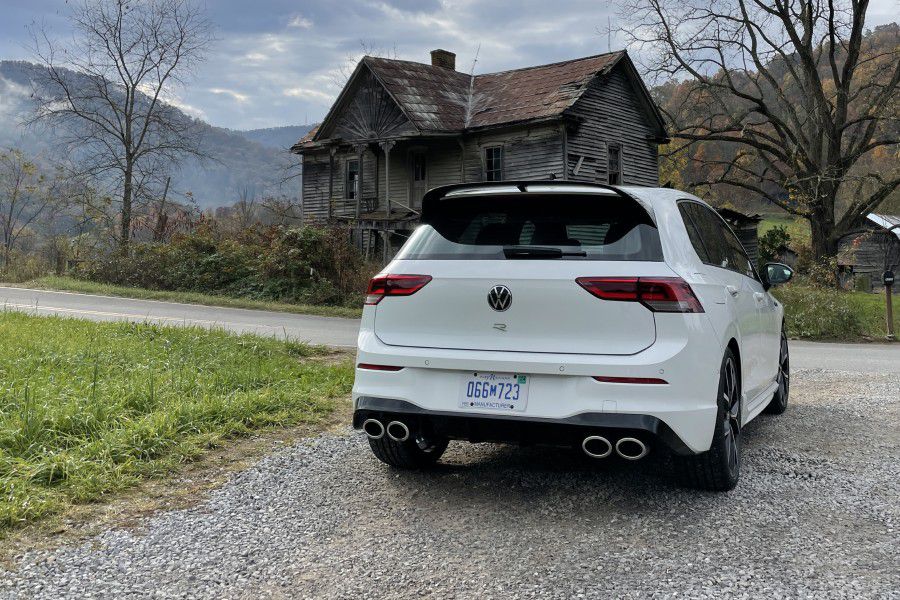 Photo by Nicole Wakelin