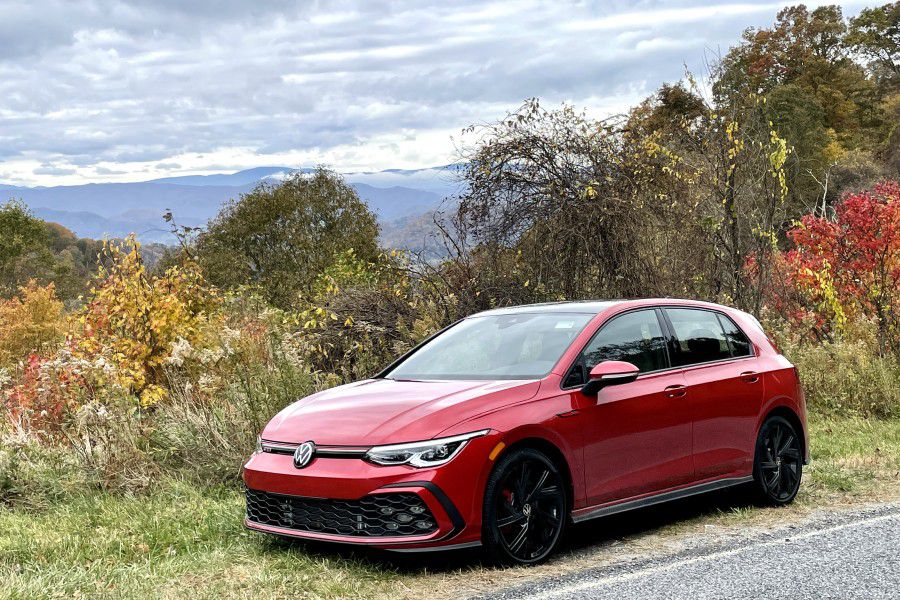 2022 Volkswagen Golf GTI Front Quarter ・ Photo by Nicole Wakelin
The 2022 Volkswagen Golf GTI is all-new this year. It gets more power and an updated suspension system that make this hot little hatch more fun to drive. There's also plenty of new technologies with a digital cockpit that puts the focus on the driver and a wide range of advanced driver assistance technologies.
A lot has changed for the new Golf GTI. What hasn't changed is its focus on providing an engaging driving experience. This has long been a car for people who love to drive, and it stays true to that legacy in its latest iteration. Let's take a closer look at the all-new 2022 Volkswagen Golf GTI to see if it's the right performance hatchback for your needs.
Three Trims With Plenty of Standard Features
There are a choice of three Volkswagen Golf GTI trims, all of which come standard with front-wheel drive, a 6-speed manual transmission, and a 2.0-liter 4-cylinder engine. A 7-speed automatic is also available across the lineup. The base S trim is priced from $29,545 with standard features including an 8.25-inch infotainment touchscreen, Apple CarPlay, Android Auto, 18-inch wheels, limited slip front differential lock, four-wheel sport suspension, heated front seats, and automatic emergency braking.
The SE adds a 10.0-inch infotainment touchscreen, 9-speaker Harman Kardon audio system, panoramic sunroof, adaptive front lighting, integrated grille light bar, and dynamic road sign display at $34,295. Sitting at the top of the lineup priced at $37,995 is the Autobahn. This trim adds a multi-mode damping system, 19-inch wheels, tri-zone climate control, 12-way power driver's seat, ventilated front seats, and heated rear outboard seats. It's a well-equipped vehicle in any trim with good standard features.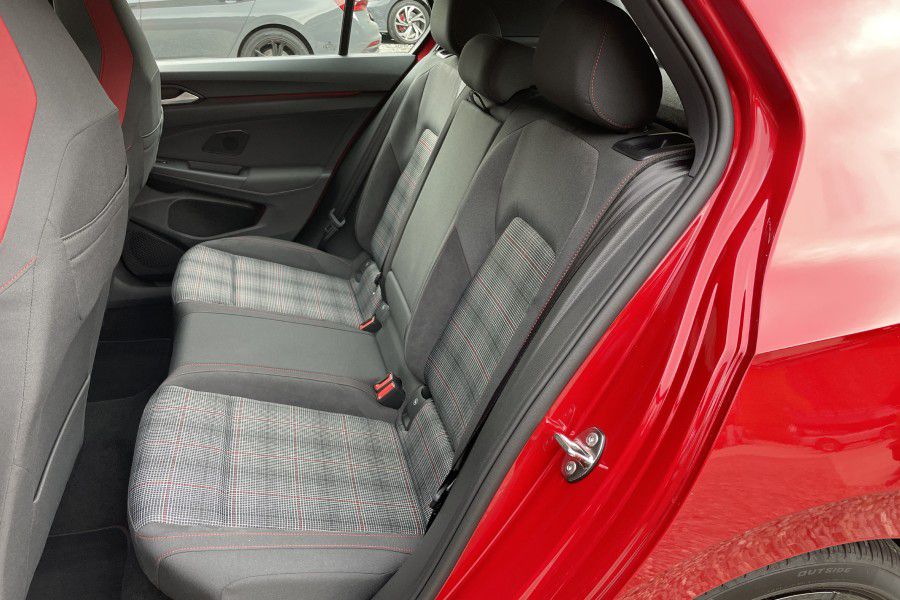 Photo by Nicole Wakelin
One Responsive Engine, But Two Transmissions
Power for the full Golf GTI lineup comes from a 2.0-liter 4-cylinder engine with 241 horsepower and 273 lb-ft of torque. This is paired to a standard 6-speed manual transmission with the option for a 7-speed automatic. Those who prefer the extra control of a manual will find the 6-speed a great option with a short throw and a light clutch. If you're not a fan of manuals, then the automatic makes great use of the engine's power and still provides quick, well-timed shifts.
This is not a large car, so that 241 horsepower has no trouble getting the Golf GTI up to speed. It delivers aggressive acceleration that makes highway merges easy and has all the power you need for a burst of speed to pass slower vehicles. This is a responsive and engaging powertrain no matter which transmission you choose.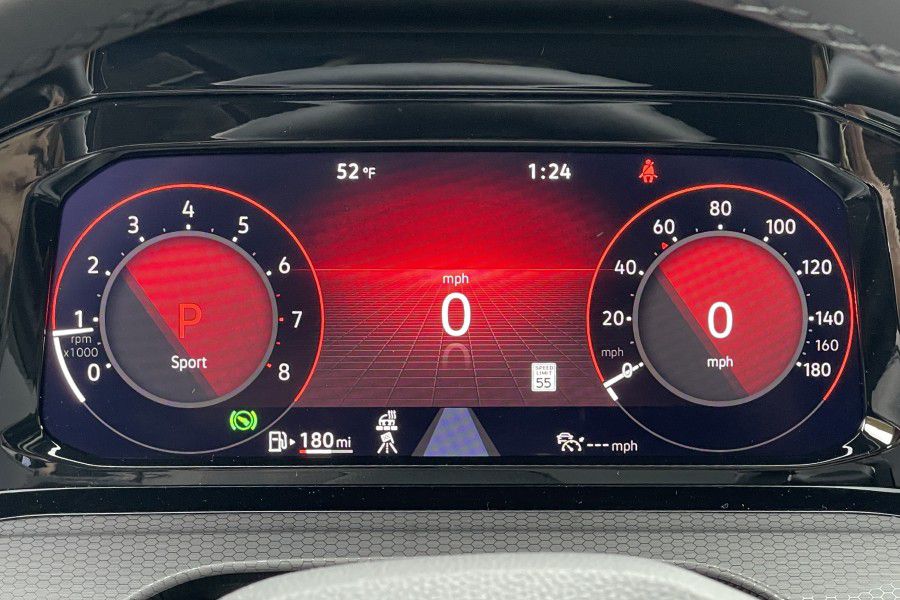 Photo by Nicole Wakelin
Good Fuel Economy
Even though it's a performance car, the 2022 Volkswagen Golf GTI gets fuel economy. The EPA estimates that it will get 25 mpg in the city, 34 mpg on the highway, and 28 mpg combined with the automatic transmission. Go with the manual instead and the numbers are virtually the same with 24 mpg in the city, 34 mpg on the highway, and 28 mpg combined.
This fuel economy makes it easy to use the Golf GTI as a daily commuter car, even for longer drives. It also makes this a good choice for road trips and even leisurely weekend drives. While there are more fuel-efficient options, the Golf GTI offers a good balance between fuel efficiency and performance. Even as gas prices rise, its fuel economy will help keep you within your budget.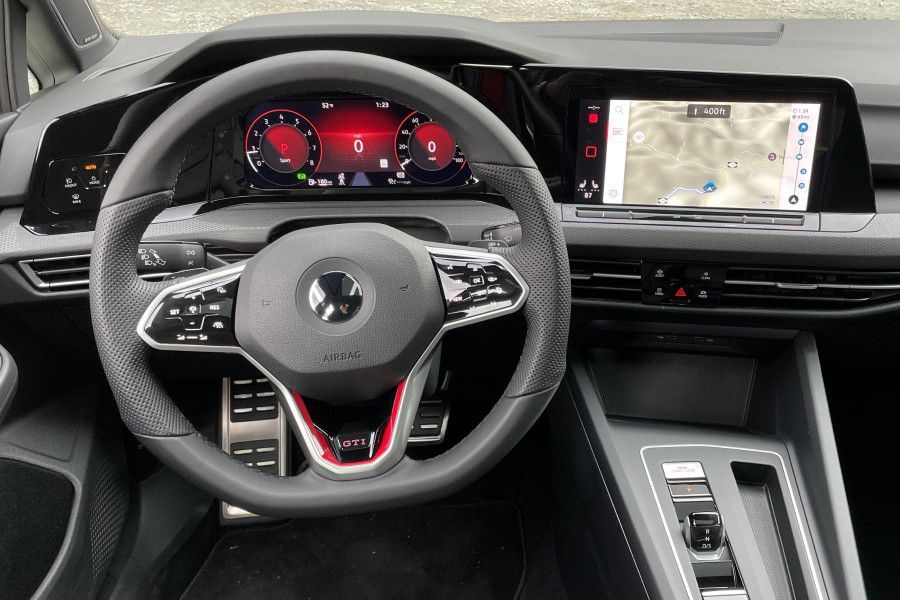 Photo by Nicole Wakelin
A Smooth Ride With Performance Handling
Getting a performance car, especially one that is more affordable, often means sacrificing ride quality. The stiffness that makes them handle so well can make them uncomfortable for passengers, even over relatively smooth road surfaces. The Golf GTI strikes a balance between performance and comfort that's hard to find in a hot hatchback.
It handles well with crisp, responsive steering that reacts to the slightest of driver inputs and fully engages the driver without becoming tiresome over longer drives. There's no trouble taking corners with the GTI staying composed even at high speeds making winding roads something to look forward to and seek out at every opportunity. Passengers will appreciate the well-mannered and quiet ride as the suspension system smooths out bumps in the road and hides imperfections so they can simply sit back and enjoy the drive.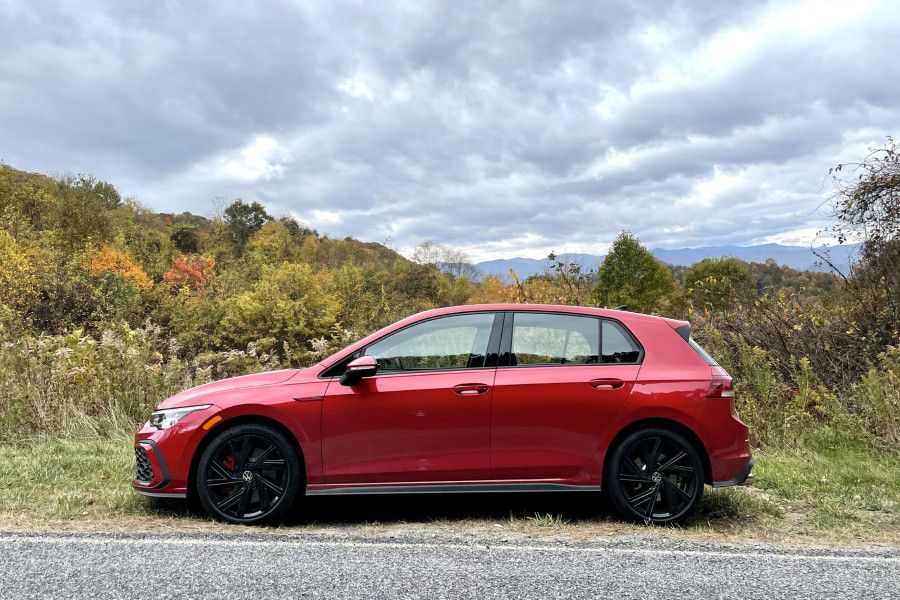 Photo by Nicole Wakelin
A Comfortable and Eye-Catching Interior
The interior of the Golf GTI is a visual treat with grey and black tartan fabric seats with red stitching. The standard heated sport seats up front have heavy bolstering to hold you in place during more spirited driving. Despite that heavy bolstering, they're not too tight for larger frames. There's good headroom and legroom, too, so getting comfortable isn't a problem despite this car's smaller dimensions.
The rear seats are a bit tight with seating for three adults. Realistically, they're best for only two adults, even on shorter trips. While rear headroom is generous, with the front seats pushed back for taller passengers, legroom in the rear seats is minimal. Further enhancing the visual appeal of the interior is honeycomb trim and ambient lighting with a choice of 30 colors. The lighting accents the trim on the dash, doors, storage compartments, center console, and footwells to fit your mood.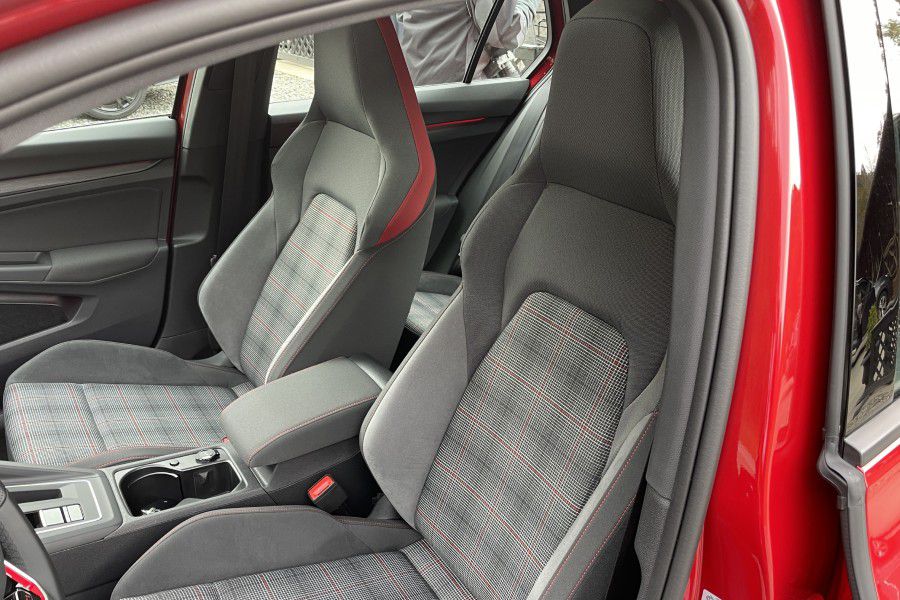 Photo by Nicole Wakelin
A Surprising Amount of Cargo Room
One of the benefits to a hatchback is its versatility for carrying cargo. Sure, you can fit a lot more inside of an SUV or crossover, but a hatchback offers some of that cargo flexibility in a smaller package. The 2022 Volkswagen Golf GTI has 19.9 cubic feet for cargo behind the rear seats. It also has a wide hatchback opening and a low load floor that makes stowing larger, heavy items an easier task.
In addition, the trunk floor can be raised or lowered, and the rear seats split fold 60/40. Fold them completely and there's 34.5 cubic feet for cargo behind the front seats. That's an impressive amount of cargo room that makes it easy to handle everything from luggage to supplies for a weekend project.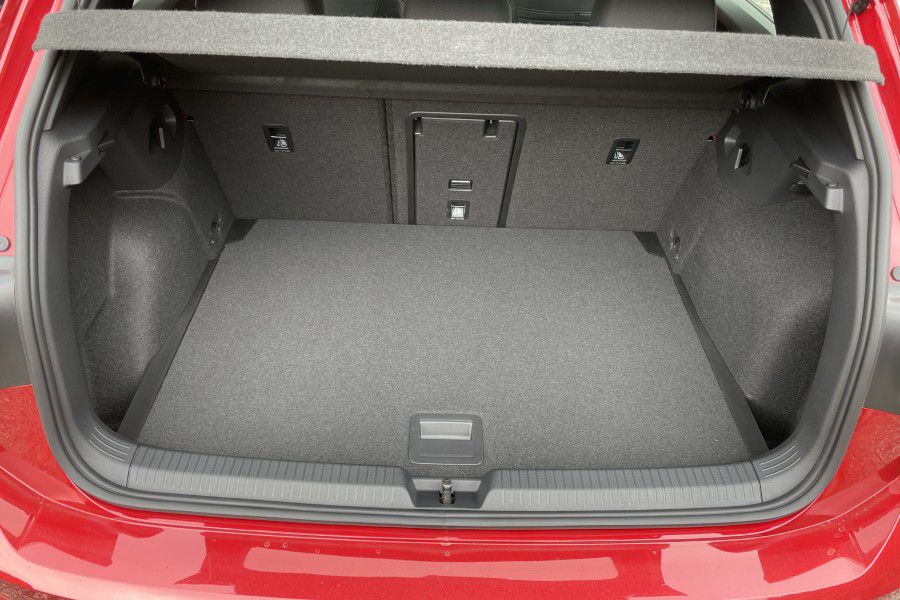 Photo by Nicole Wakelin
A Large Standard Infotainment Touchscreen
Standard infotainment in the Golf GTI includes an 8.25-inch infotainment touchscreen with Apple CarPlay, Android Auto, two front and two rear USB ports, wireless charging, and a 7-speaker audio system. The graphics are crisp and easy to view at a glance with menus and icons that are well-arranged. It reacts quickly to inputs an even lets you pinch and zoom the same way you do on your smartphone or tablet.
Optional is a larger 10.0-inch touchscreen, navigation, and a 9-speaker Harman Kardon audio system that delivers a more premium sound experience. A larger touchscreen is always nicer to use and less distracting, but the base screen on the Golf GTI is larger than is typical for the class. It gives the system a more premium feel while making menus easier to navigate.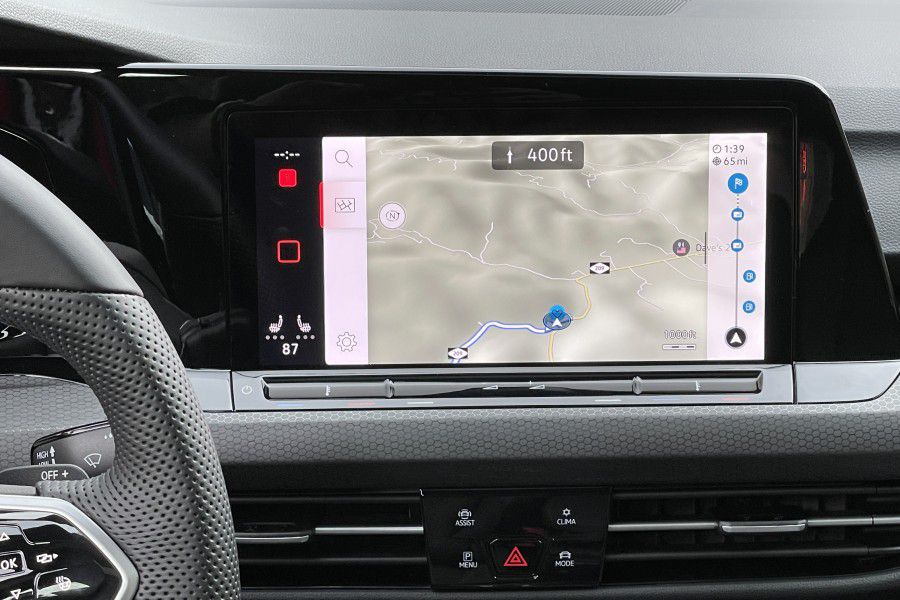 Photo by Nicole Wakelin
Good Standard Safety
The 2022 Volkswagen Golf GTI has not yet been tested by either the Insurance Institute for Highway Safety or the National Highway Traffic Safety Administration. Although there are not yet any crash test scores, there are a wide range of standard and available safety features to provide peace of mind.
Standard features include forward collision warning with autonomous emergency braking including pedestrian and cyclist monitoring, blind-spot monitoring, rear cross-traffic alert, lane-keeping assist, front and rear parking sensors, automatic post-collision braking, and adaptive cruise control with stop and go. Optional features on the Golf GTI include park steering assist, high beam headlight control, and dynamic road sign display. It's a comprehensive offering that includes key features standard rather than forcing you to stretch your budget for options packages.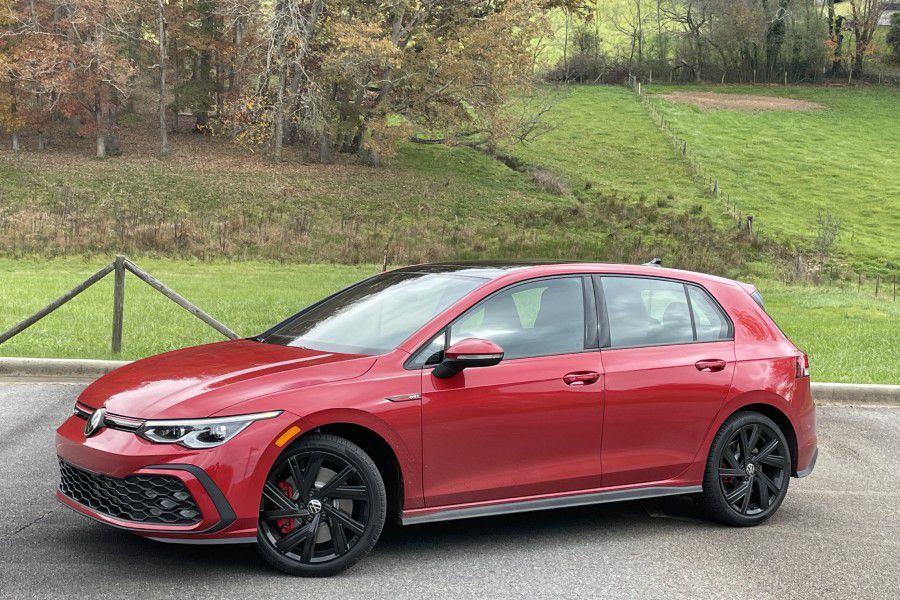 Photo by Nicole Wakelin
Final Thoughts
The 2022 Volkswagen Golf GTI enters its eighth generation as a new vehicle that doesn't forget what made it so popular in the first place. This is a hot hatchback, and it stays true to those roots with a more powerful engine that makes it even more fun to drive. There's also an updated suspension system that improves handling and keeps the ride comfortable for passengers.
It builds on its performance roots with modern technologies from infotainment to safety that make the Golf GTI a fresh interpretation of a classic. The interior is beautifully styled with eye-catching trims and seating for up to five, although rear seats are snug. There's also good room for cargo. Those looking for a stylish, well-equipped, and affordable performance hatchback will find plenty to like about the 2022 Volkswagen Golf GTI.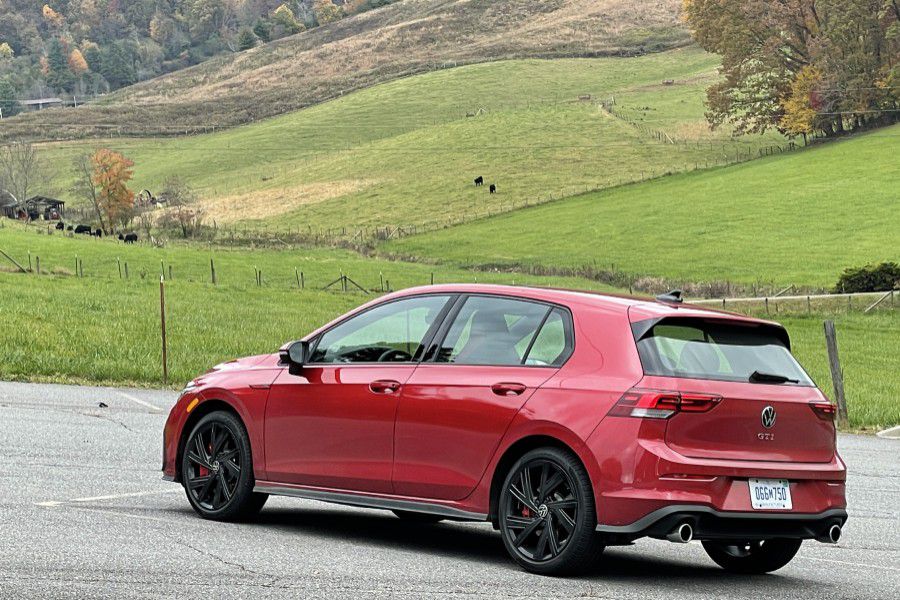 Photo by Nicole Wakelin