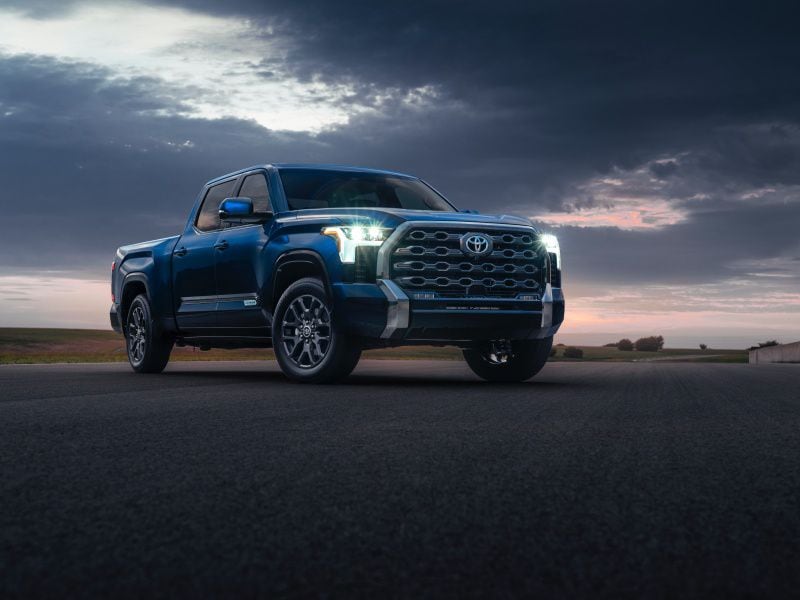 2022 Toyota Tundra Platinum ・ Photo by Toyota
The 2022 Toyota Tundra is all-new this year, debuting a hybrid powertrain, refreshed styling, and a spacious interior. It offers three bed sizes, two cab styles, and a choice of either rear-wheel or four-wheel drive. The Tundra is also the first Toyota to receive the maker's new infotainment system.
The Ram 1500 offers a wide variety of engines, but a hybrid is currently not in the mix. It has two cab styles, two bed lengths, and an incredible nine trims from which to choose. The Ram 1500 also has a comprehensive infotainment system a smooth ride uncommon in the segment. Let's take a closer look at these two full-size trucks to see which is best.
Many Trims Mean There's Something for Everyone
Pricing for the 2022 Toyota Tundra hasn't been announced, but we do know the lineup includes six trims. The base SR has a minimum of features with an increasing range of amenities and options as you move through the lineup. The Limited is the first trim with the available hybrid engine, while the TRD Pro includes standard off-road features.
The RAM 1500 comes in nine trims, so there's something for everyone. Base trims are perfect for work, while top trims provide a true luxury experience with leather and wood trims. There are also a wide range of engines. The Ram comes out ahead for its huge number of possible configurations.
: Ram 1500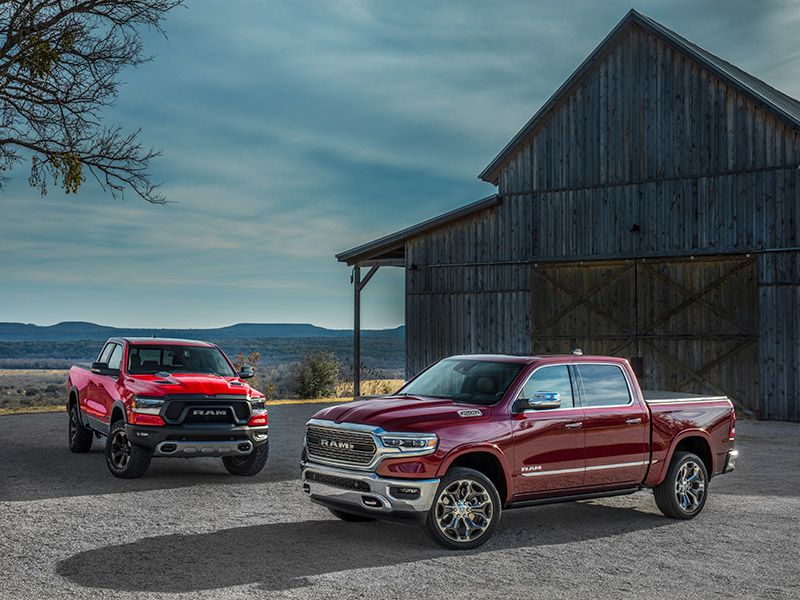 Photo by Fiat Chrysler Automobiles
Infotainment With Accurate Voice Control
The base RAM 1500 has only a 5.0-inch screen with limited features. An 8.4-inch touchscreen is available on midrange trims with Apple CarPlay and Android Auto. The top trim gets a 12.0-inch tablet-style touchscreen.
An all-new infotainment system in the Toyota Tundra is a first for the maker. It has good standard features with an 8.0-inch touchscreen, wireless Apple CarPlay and Android Auto, 3 USB ports, and Wi-Fi connectivity. Options include a 14.0-inch touchscreen, wireless charging, and a 12-speaker JBL audio. Its natural language voice command recognition is exceptional. This gives the Tundra the win.
: Toyota Tundra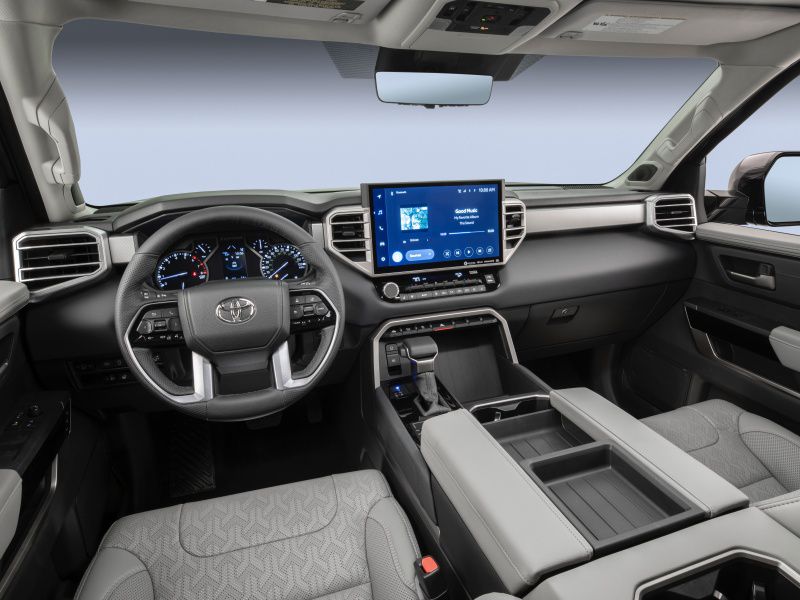 Photo by Toyota
Pick Your Powertrain
The Toyota Tundra offers two powertrains. Both are paired to a new 10-speed automatic transmission. The base option is a 3.5-liter V6 with 389 horsepower and 479 lb-ft of torque. Optional on select trims and standard on the TRD Pro is a 3.5-liter hybrid V6 with 437 horsepower and 583 lb-ft of torque.
The RAM 1500 has five engines. That delivers quite a range of performance from a mild-mannered 3.6-liter V6 with 305 horsepower up to a 6.2-liter supercharged V8 with 702 horsepower. That wide range of choices gives Ram the win.
: Ram 1500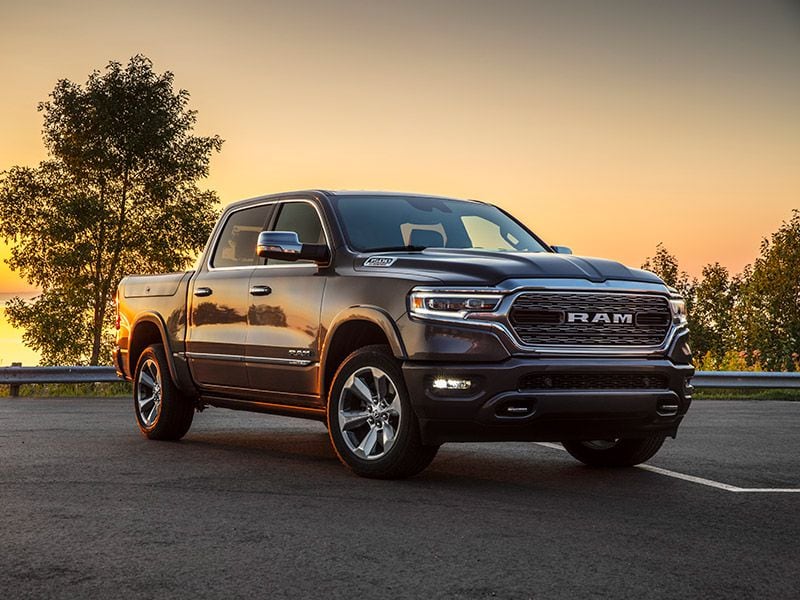 Photo by Fiat Chrysler Automobiles
Towing and Payload Are Closely Matched
The Toyota Tundra has a maximum tow rating of 12,000 when properly equipped. It can also carry a payload of up to 1,940 pounds, making it a capable truck. Helpful features include multiple camera views and two tow/haul modes for light or heavy loads to make towing easier and less stressful.
The RAM 1500 comes in a bit higher. It has a maximum tow rating of 12,750 pounds with a maximum payload of 2,300 pounds when properly equipped. Those numbers aren't a huge jump, but if you plan to frequently make use of your truck's capability and want to be able to manage much as possible, the choice is clear.
: Ram 1500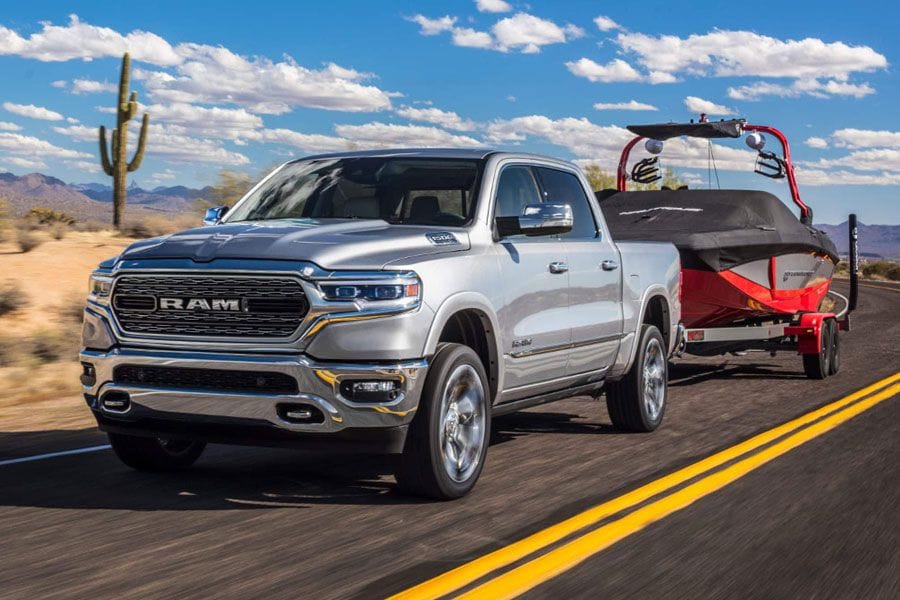 Photo by Ram Trucks
Excellent Standard Safety Features
The Toyota Tundra has a solid suite of standard safety features offered through Toyota Safety Sense 2.5 (TSS 2.5). These include pre-collision with pedestrian detection, lane departure alert with steering assist, lane tracing assist, road sign assist, full-speed dynamic radar cruise control, and automatic high beams. Also standard is parking brake support with rear cross-traffic alert.
The RAM 1500 offers blind-spot monitoring with rear cross-traffic alert, forward collision mitigation, lane departure warning, and front and rear park sense, but they aren't standard. These are only available as options for most of the trim lineup. This gives the Tundra the win.
: Toyota Tundra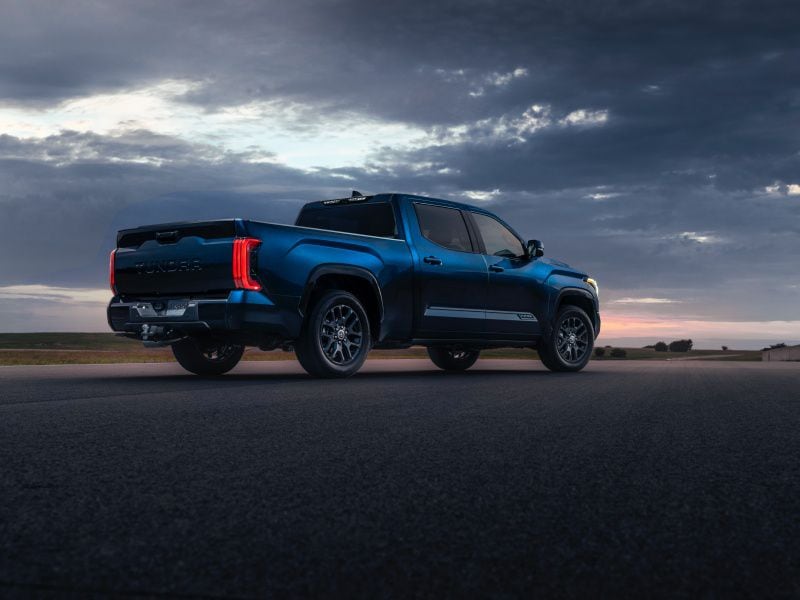 Photo by Toyota
A Smooth Ride That Passengers Will Love
Trucks have to be able to do work, but they also need to be able to carry passengers in comfort. The newly revised suspension system in the Toyota Tundra gives it a smoother, more balanced ride than the previous generation. It's also quiet with road and wind noise kept nicely muted rather than intruding into the cabin.
The Ram 1500, however, provides a superior level of comfort for passengers. The ride is remarkably smooth with few of the road's imperfections making their way into the cabin. The Ram 1500 offers the best ride quality in the segment.
: Ram 1500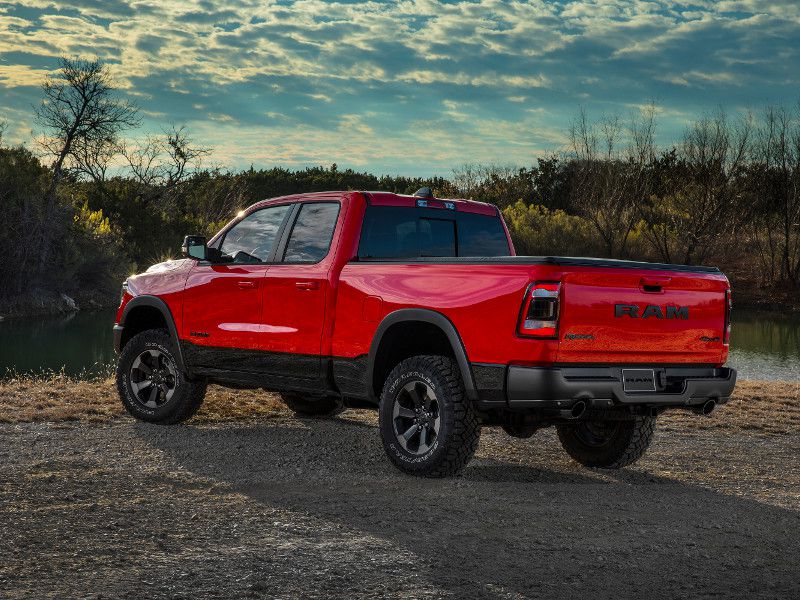 Photo by FCA Media
Easy Handling for the Driver
One of the challenges of a truck is that it can be cumbersome to drive. They tend to bounce on uneven pavement, which can be especially disconcerting when towing a heavy trailer. This can take its toll on the driver. Both the Ram 1500 and Toyota Tundra are designed to provide handling that makes them easy to drive.
The upgraded suspension system in this year's Tundra makes it more manageable, especially over uneven road surfaces. It's a confident choice for towing that avoids feeling unwieldy. The Ram 1500, however, does the job with more finesse. It's more controlled over rough pavement with well-weighted steering that makes even long trips easy on the driver.
: Ram 1500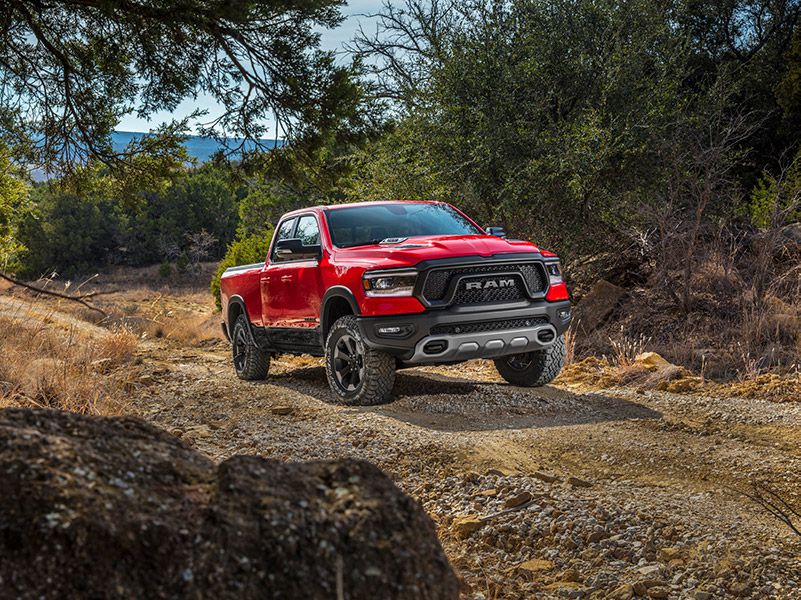 Photo by Ram Trucks
The Capability to Go Off Road
The Toyota Tundra offers the TRD Pro for off-road enthusiasts. This capable trim adds a 1.1-inch lift, 2.5-inch Fox internal bypass coil-over shocks, rear remote reservoir shocks, a front stabilizer bar, electronic-locking rear differential, and an aluminum front skid plate. It handles rocks and dirt with ease making off-road adventuring fun.
The Ram 1500 offers has the Rebel and the TRX as its off-road options. Both get upgrades with a 1-inch lift and an electronic locking rear differential on the Rebel. The TRX, however, takes it much further with a 702-horsepower engine, Bilstein shocks, high performance exhaust, and premium interior materials.
: Ram 1500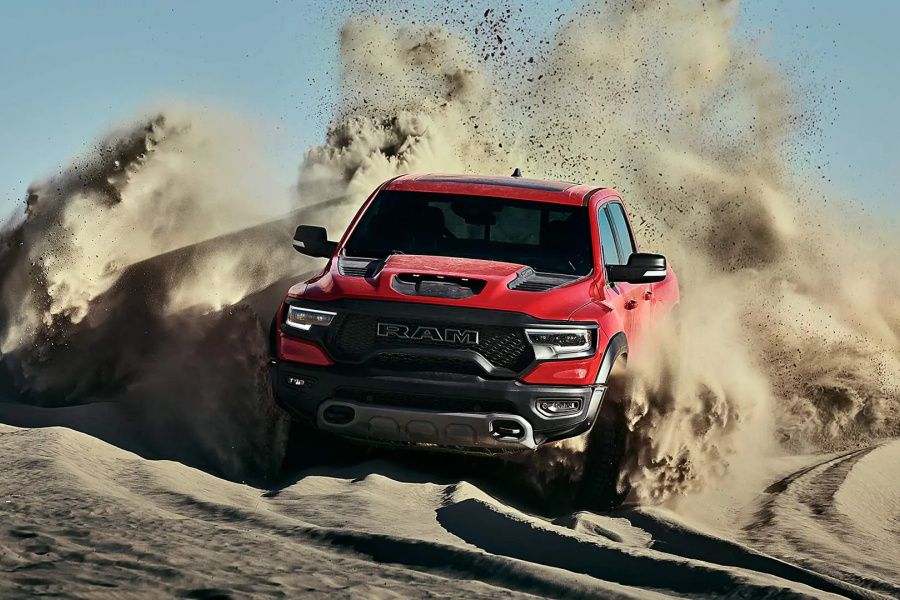 Photo by Fiat Chrysler Automobiles
Luxury Interiors That Surround Passengers in Comfort
The interior of the Toyota Tundra is greatly improved with quality trims and a judicious use of plastics. The Platinum and 1794 Edition are especially attractive and create a warm, welcoming space for passengers to relax. There are a wide range of colors from which to choose and amenities including wood accents, leather trims, and heated and ventilated seats.
The Ram 1500, however, offers an interior that's downright stunning. Even midrange trims have attractive styling with quality materials that are visually appealing. The Longhorn has a unique western-inspired interior, while the Limited goes for a more refined feel on par with true luxury brands.
: Ram 1500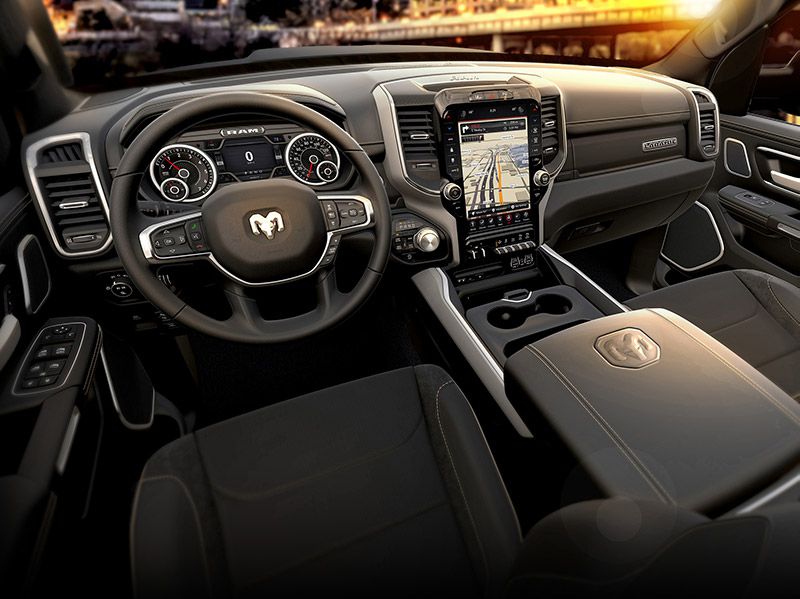 Photo by Fiat Chrysler Automobiles
And the Winner Is…
The Ram 1500 handily wins this contest. It has a better ride and handling with more trims and more engines. Its interior is exceptional for the segment and it's capable with high towing and payload ratings.
The Toyota Tundra scores high marks for its standard safety and its new infotainment system. While it has a smooth ride and a nice interior, it falls a bit short of the Ram 1500. It also has slightly lower towing and payload ratings, which gives the Ram 1500 the win.
: Ram 1500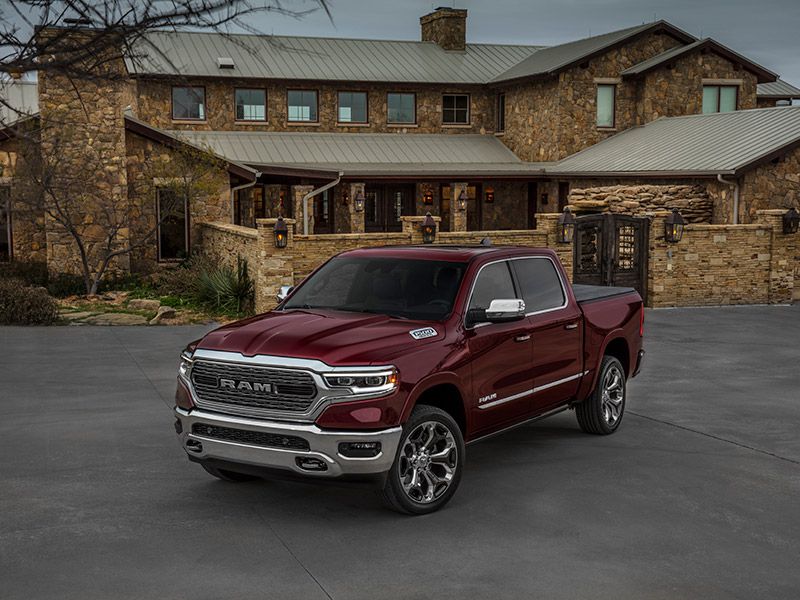 Photo by Fiat Chrysler Automobiles