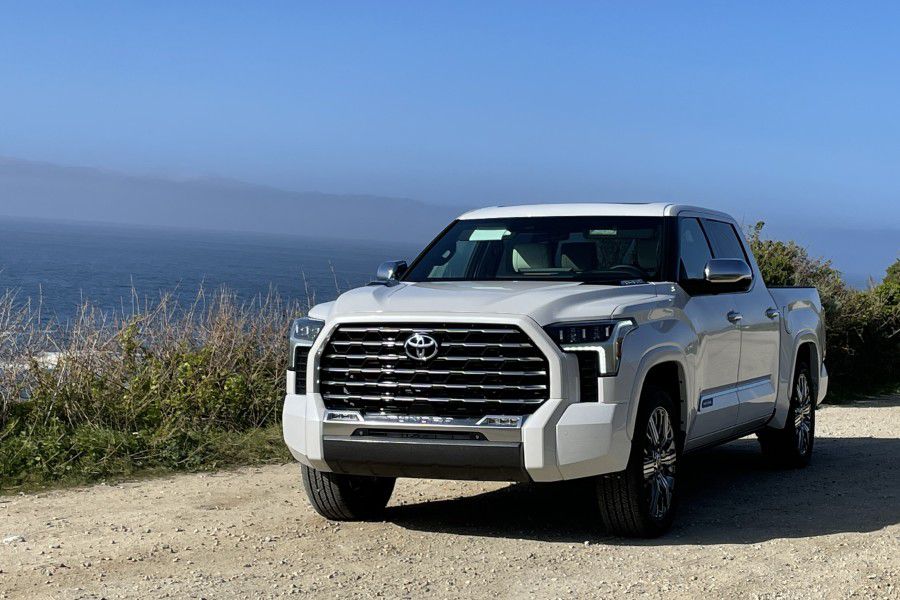 2022 Toyota Tundra Capstone Front ・ Photo by Nicole Wakelin
All-new for the 2022 model year, the Toyota Tundra is a full-size truck entering its third generation. This means improvements all around from safety to capability to features. There's also a choice of either a gas or hybrid powertrain with a new 10-speed automatic transmission. The full range of trims features three bed lengths, two cab styles, and either rear-wheel or four-wheel drive.
Also notable is an upgraded interior with higher quality materials and a more modern design. Infotainment is new, too, with more features and a more intuitive interface. Initially available in six trims, the lineup now includes seven trims with the introduction of the all-new Capstone. This range-topping trim has a wide array of standard features for a more premium, luxury experience for passengers. Let's take a closer look at the all-new 2022 Toyota Tundra Capstone to see if this trim is the right one for you.
The Highest Pricing in the Tundra Lineup
The wide range of configurations available for full-size trucks creates an equally wide range of pricing. The Toyota Tundra starts at $35,950, making it an affordable option. At the top of the lineup is the Capstone with a price of $73,530. That's more than double the starting price for the base Tundra, which shows just how much variety there is in the lineup. Whether you want something that gets the job done and nothing more, or something with the look and feel of a luxury car, the Tundra has a trim to match your needs and your budget.
The Capstone targets those who want that exclusive luxury experience. It's available only with the hybrid powertrain and four-wheel drive. There's unique badging inside and out with standard 22-inch wheels, a 10-inch color head-up display, acoustic laminated side windows, and semi-aniline leather-trimmed seats not available on the rest of the range.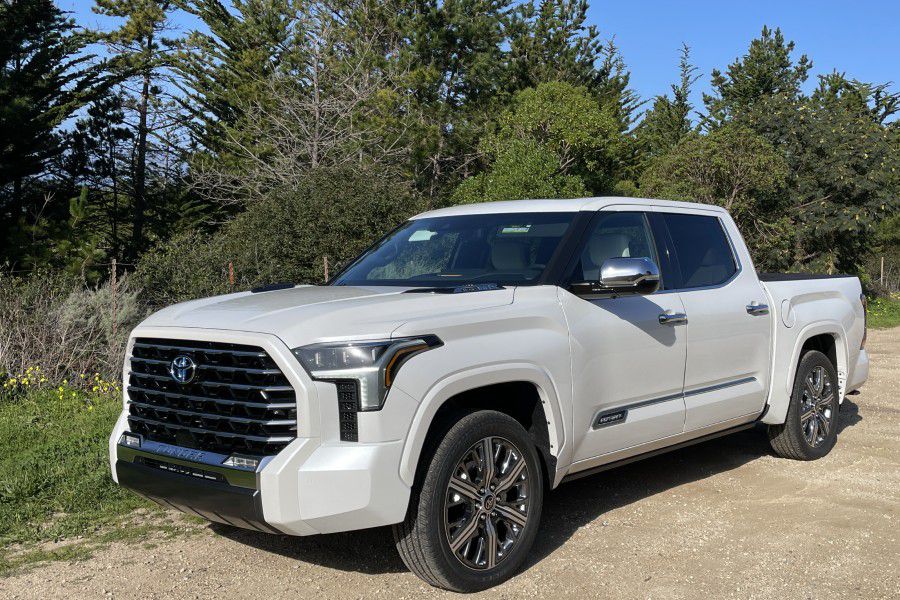 Photo by Nicole Wakelin
Only One Powertrain for the Capstone
There are two powertrain options available for the new Toyota Tundra. The base engine offering is a 3.5-liter V6 with up to 389 horsepower and 479 lb-ft of torque. The second option is a 3.5-liter V6 hybrid engine that delivers 437 horsepower and 583 lb-ft of torque. The hybrid is the only engine option available with the new Capstone trim level.
These are responsive engines that easily move the Tundra's impressive bulk. This isn't a small truck, but both engines respond well, even under hard acceleration. The big jump in numbers for the hybrid engine, however, make it a more compelling choice. It accelerates much more aggressively and inspires the confidence you need to merge into heavy highway traffic. It also tackles steep hills with ease. In addition to being more powerful, the hybrid engine also delivers better fuel economy so it's easier on your budget when gas prices rise.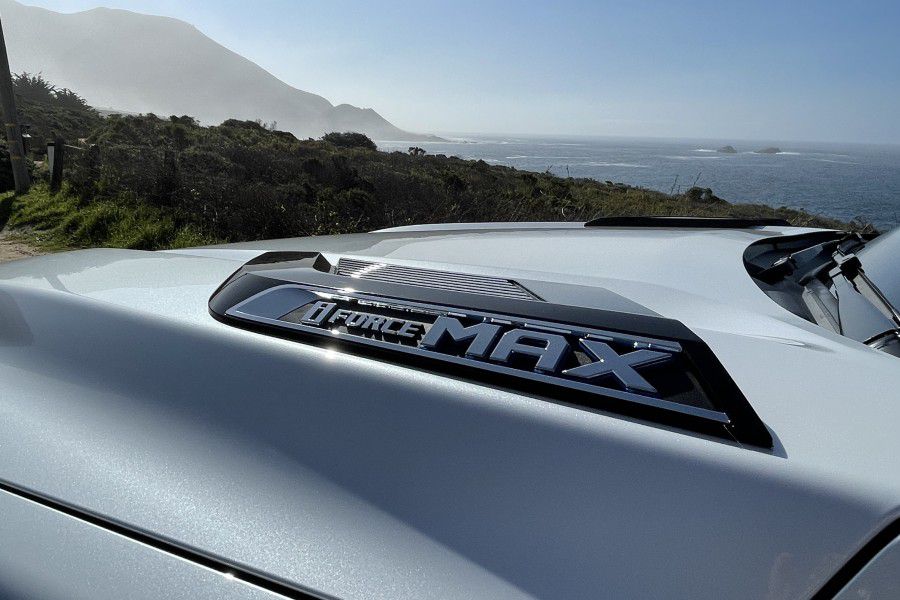 Photo by Nicole Wakelin
Unique Interior Features That Deliver More Luxury
The interior of the Tundra is significantly upgraded this year. All trims are higher quality with fewer hard plastics and more soft touch surfaces to make the Tundra a place where passengers can sit back and relax. While base trims are more modestly appointed, top trims gain more features and increased appeal. The Capstone, which sits at the top of the lineup, has an abundance of features. Some of those features are available only as options or not at all on other Tundra trims.
There's unique badging throughout the interior. The driver gets a 10-inch color head-up display that's only an option on other trims. Passengers benefit from standard semi-aniline leather seating trims that aren't offered at all on the rest of the lineup. It's a comfortable and beautifully appointed interior that makes the Capstone a truly premium offering in the Tundra lineup.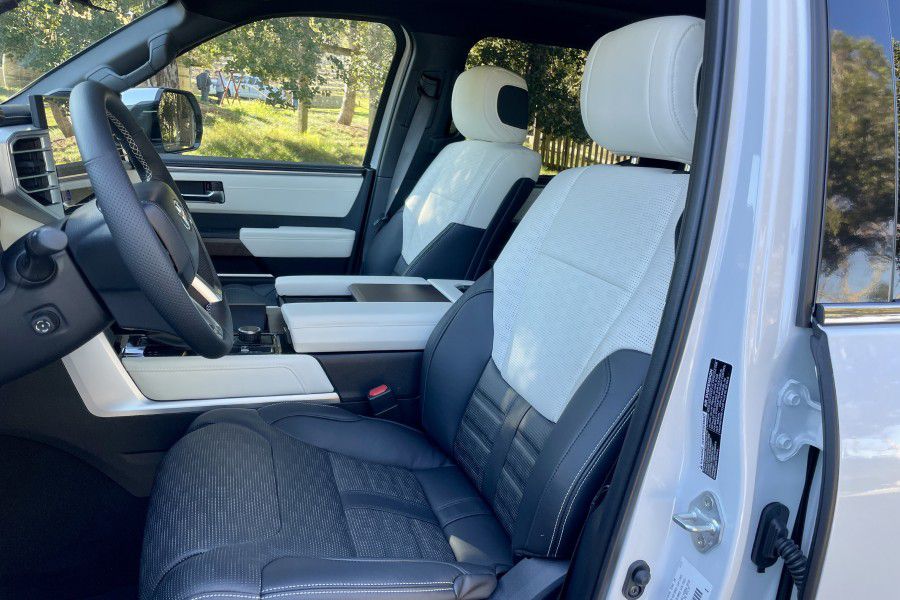 Photo by Nicole Wakelin
Striking Exterior Design Elements
Much like the interior of the Tundra Capstone gets special treatment, so does the exterior. There are bold 22-inch dark chrome alloy wheels, a color-keyed outer grille frame with a chrome grille along and additional chrome accents. Exterior badging includes Dark Chrome "Capstone" badges and color-keyed "Tundra" stamping on the tailgate. There are also premium LED headlights with LED daytime running lights and sequential turn signals as standard features.
The Capstone is the only trim to feature standard power running boards and bed step. Options include heated power extending and folding tow mirrors and load-levelling rear height control suspension. The Capstone has a good range of both functional features along with appearance enhancements that make it stand out from the rest of the lineup. This is a premium trim that comes at a higher price and Toyota gave it appropriate exterior upgrades to make it look like something special.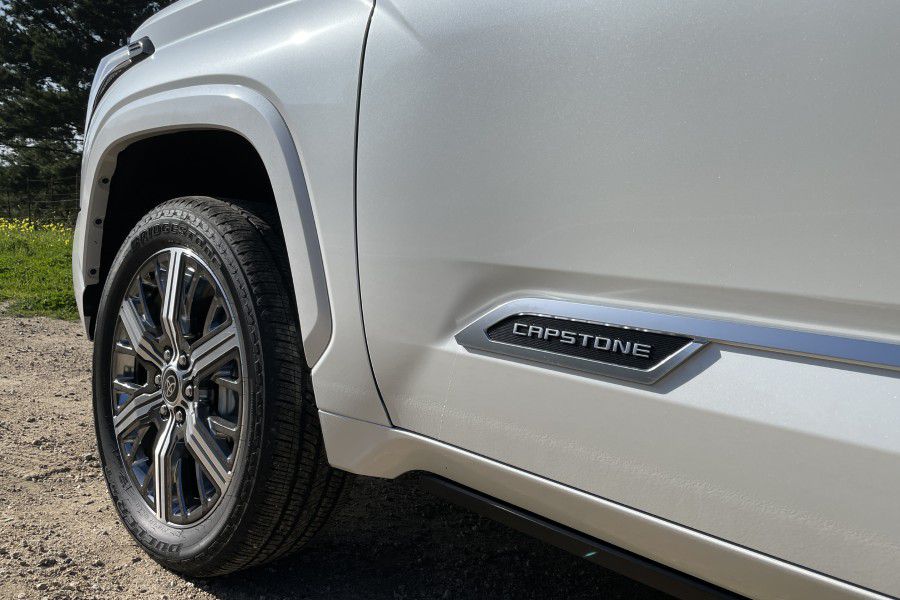 Photo by Nicole Wakelin
Only One Cab and Bed Configuration
The Capstone doesn't come with the wide variety of configurations available for some of the other Tundra trim levels. Although there are two Tundra powertrains, the only one you can get on the Capstone is the hybrid engine. In addition to only being available with the hybrid powertrain, the Capstone is also four-wheel drive only.
When it comes to cabs, the only option is the crew cab. This the roomier of the two available cabs, making it well-suited to those who frequently have rear passengers and want them to travel in comfort, especially over longer road trips. The Capstone is also only available with the shortest bed, which is just 5.5-feet long. While the Capstone doesn't have the range of choices available with other trims, what it does have creates a more premium truck. The only downside to the Capstone's configuration is the short bed, which limits payload.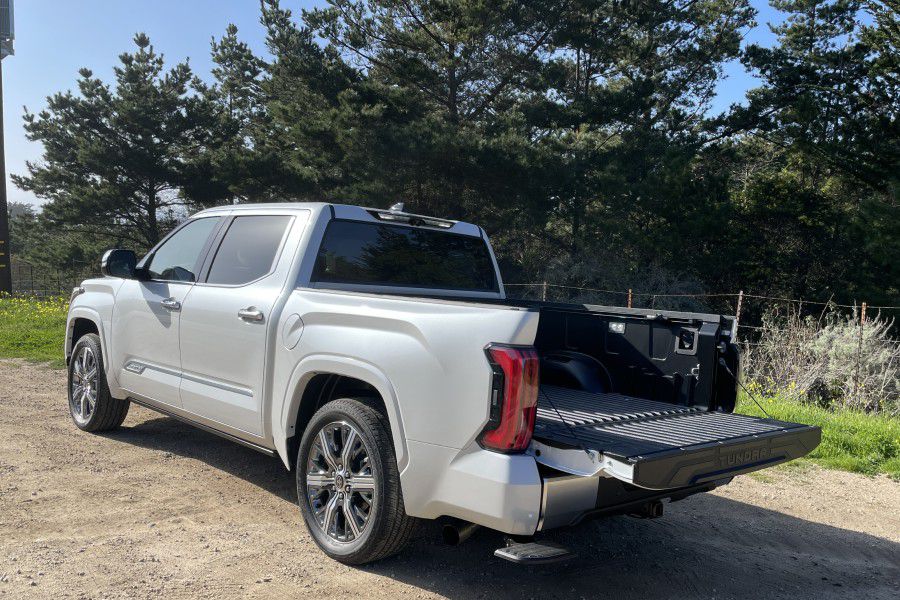 Photo by Nicole Wakelin
Lower Tow and Payload Rating
The Capstone has the lowest tow rating in the lineup with a maximum of 10,340 pounds. It also comes with the shortest bed available for the Tundra. That 5.5-foot bed offers a smaller payload than other trims with a maximum rating of up to 1,485 pounds. 
While those figures are still high and easily accommodate a wide range of needs, those who put a priority on towing and payload may find those numbers lacking. Any trim of the Tundra is a capable truck that can handle the rigors of towing and carrying a payload, but the Capstone isn't the best choice if those are your priorities.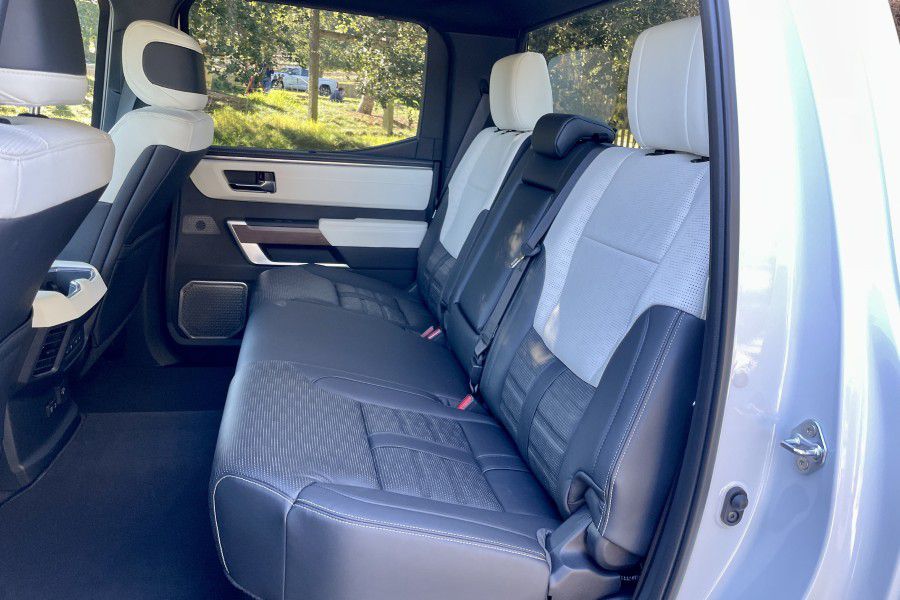 Photo by Nicole Wakelin
Infotainment With Premium Audio Standard
As the premium trim of the Tundra lineup, the Capstone comes standard with the most fully featured infotainment system. It includes a 14-inch touchscreen, wireless Apple CarPlay and Android Auto, wireless smartphone charging, and a 12-speaker JBL audio system. The Tundra also debuts an all-new infotainment system for Toyota. It has more intuitive menus that make it easier to find what you're looking for on the first try. This system has five times the processing power of the outgoing version along with a higher resolution touchscreen.
That screen is more responsive and lets you easily pinch and zoom just like you do on a smartphone or tablet. It also accepts voice commands. While this is a frustrating proposition with some systems, the new Toyota system does a good job of understanding spoken words. It even accepts natural language commands, so there's no need to memorize key phrases.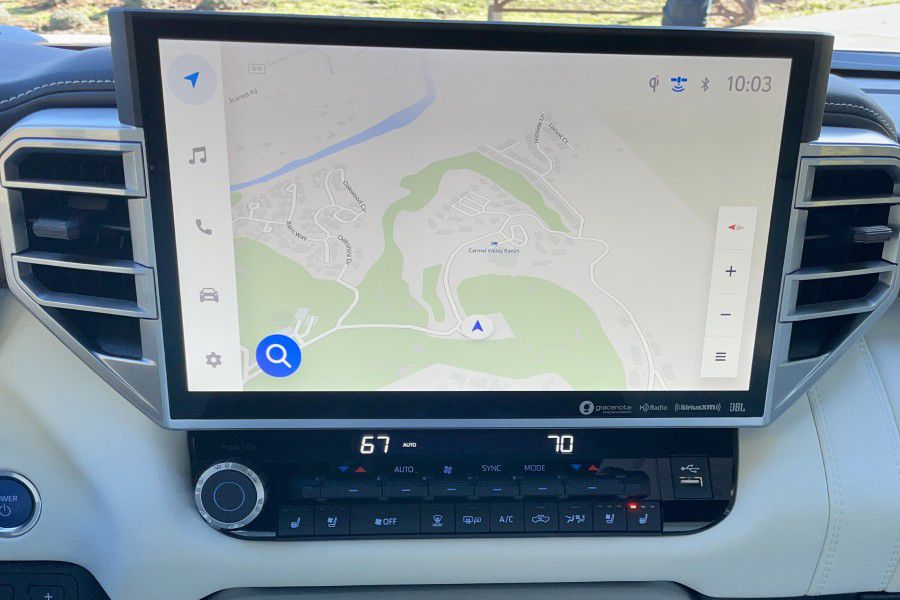 Photo by Nicole Wakelin
Excellent Standard Safety
The 2022 Toyota Tundra has not yet been crash tested by either the Insurance Institute for Highway Safety or the National Highway Traffic Safety Administration. Even without those ratings, the full Tundra lineup comes with an extensive list of standard safety features as a part of Toyota Safety Sense 2.5. This suite includes pre-collision with pedestrian detection, full-speed range dynamic radar cruise control, lane departure alert with steering assist, lane tracing assist, automatic high beams, and road sign assist.
Additional standard safety features include blind spot monitor with rear cross-traffic alert and trailer detection, parking brake support with rear cross-traffic alert, and hill start control. Those who tow will appreciate the option for power heated tow mirrors that include blind spot monitors and a panoramic view camera. It's a good range of features to keep you and your loved ones safe.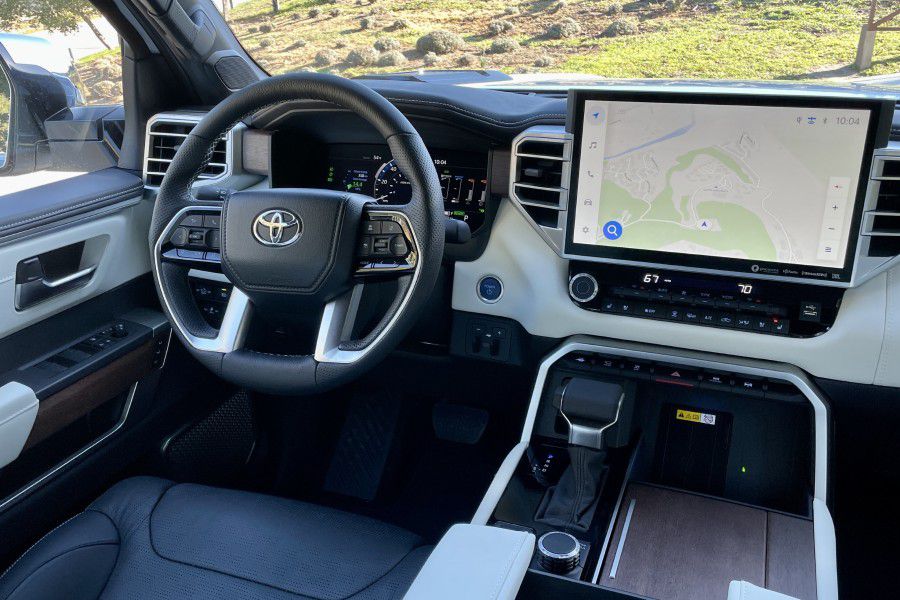 Photo by Nicole Wakelin
Final Thoughts
The 2022 Toyota Tundra sees significant improvements this year that make it more competitive in the segment. The lineup was already extensive with multiple engines, beds, and cabs. What it didn't have was a range-topping trim focused on providing a premium experience. That changes with the introduction of the new Capstone.
This trim has a long list of standard features that includes extensive standard safety, unique trim-exclusive accents, and premium extras including semi-aniline leather seats not available on any other trim. The drawback is that there's only one configuration, so you have only the hybrid engine, crew cab, and short bed for the premium price. It doesn't have the same towing and payload of some other trims, but it delivers on the promise of luxury which makes it a great addition to the 2022 Toyota Tundra lineup.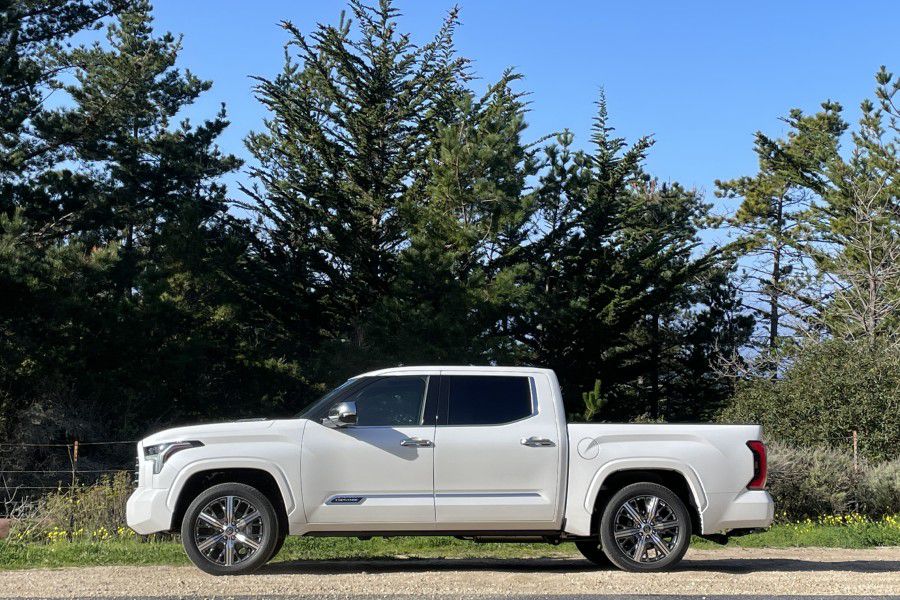 Photo by Nicole Wakelin