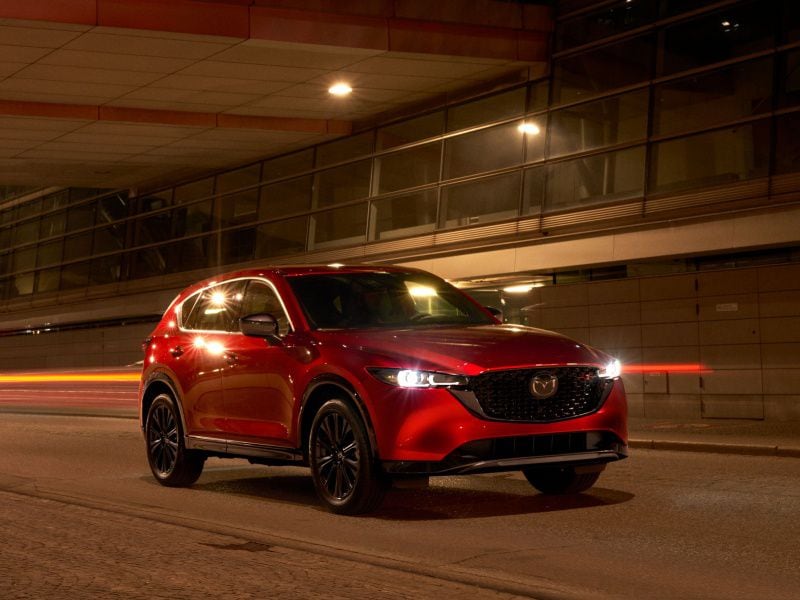 2022 Mazda CX-5 ・ Photo by Mazda
The 2022 Mazda CX-5 is a compact SUV with seating for five. It has an elegant design and upscale interior along with a smaller footprint that makes it a great option for city dwellers. All-wheel drive is standard with a wide range of trims and a choice of two responsive engines.
The 2022 Toyota RAV is also an SUV that has seating for five people with a roomy interior. It offers gas, hybrid, and plug-in hybrid engine options with front-wheel or all-wheel drive. There's also a good range of trims, making it easy to find one to fit your needs. Let's take a closer look to see which is the best.
A Multitude of Trims
The Mazda CX-5 comes in a range of eight trims with varying degrees of luxury priced from $25,900 to $38,650. The top two trims offer turbocharged engines with a more engaging drive, but what every trim has in common is a quiet, refined interior. The CX-5 is a premium brand, and it leans more in that direction the further you go up the trim ladder.
The Toyota RAV4 has a range of six trims with gas, hybrid, and plug-in hybrid engine options. Gas trims range from $26,525 to $35,025 making them slightly more affordable than the CX-5. The hybrid is $29,075 to $37,575 while the plug-in hybrid is $39,800 to $43,125 with nothing comparable in the CX-5 lineup.
: Toyota RAV4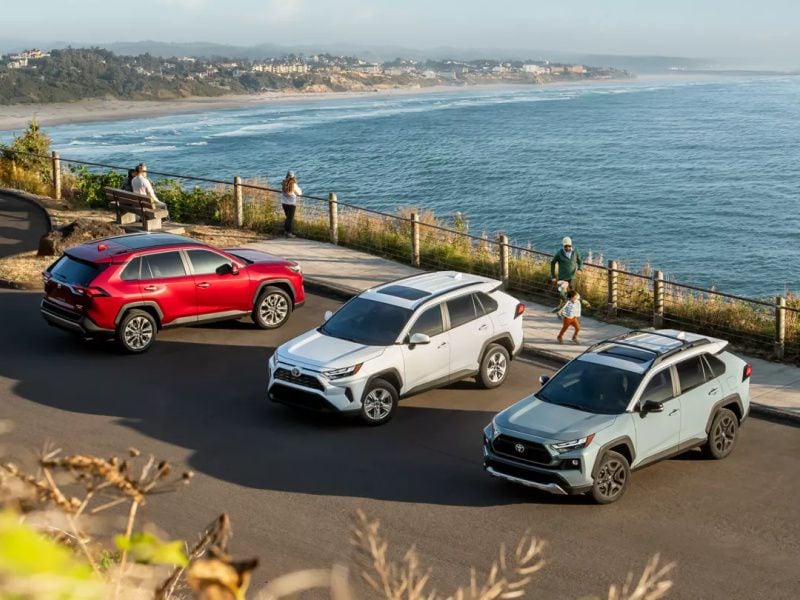 Photo by Toyota
An Engine for Driving Enthusiasts
There's only one gas-powered engine offered in the Toyota RAV4. The 2.5-liter 4-cylinder has 203 horsepower and 184 lb-ft of torque and is paired to a smooth 8-speed automatic transmission. It's strong enough to do the job, but it's not aggressive or performance oriented.
The Mazda CX-5 offers a 2.5-liter 4-cylinder with 187 horsepower and 186 lb-ft of torque as a base engine. Top trims offer a turbocharged version of this engine with 227 horsepower and 310 lb-ft of torque. Both are paired to a 6-speed automatic transmission. If you're looking for a more exhilarating option, then Mazda is a better pick.
: Mazda CX-5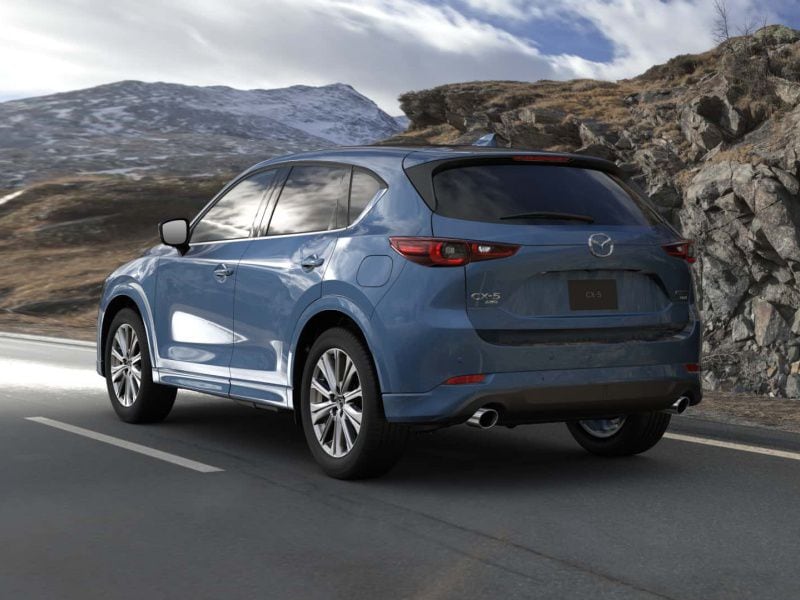 Photo by Mazda
What About a Hybrid or Plug-In Hybrid?
If you go with the Mazda CX-5, then there are no other options aside from the two gas engines. If you go with the Toyota RAV4, then there are two additional powertrains from which to choose. First, there's a hybrid powered by a 2.5-liter 4-cylinder engine with electric motors for 219 total system horsepower.
Next, is a plug-in hybrid that Toyota sells as the RAV4 Prime. The plug-in is powered by a specially tuned version of the same engine that's found in the hybrid. It delivers 302 total system horsepower. If you want the benefits of going hybrid, then the winner is clear.
: Toyota RAV4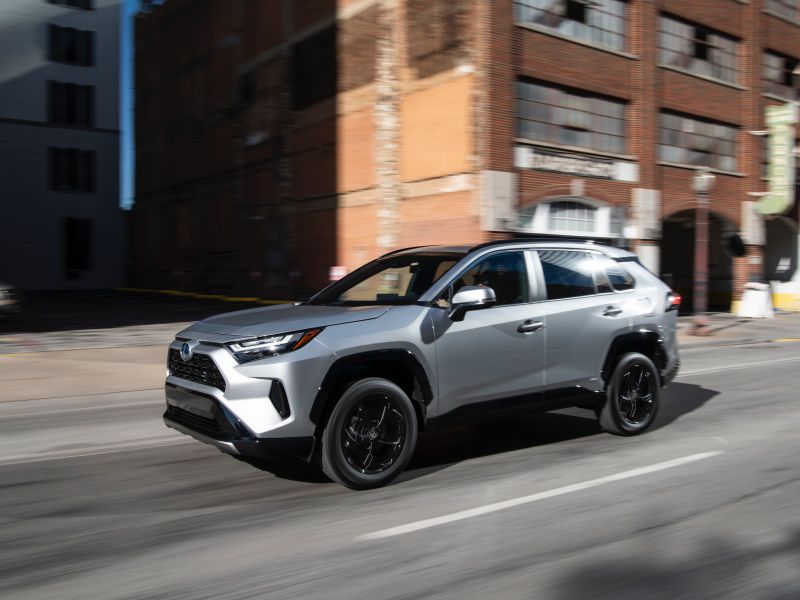 Photo by Toyota
A Matter of Fuel Economy
The 2022 Mazda CX-5 equipped with the base engine gets an EPA-estimated 24 mpg in the city, 30 mpg on the highway, and 26 mpg combined. The turbocharged engine drops to 22 mpg in the city, 27 mpg on the highway, and 24 mpg combined.
The Toyota RAV4 gets a wide range of fuel economy figures depending on the engine and the trim. The gas engine gets up to gets up to 27 mpg in the city, 35 mpg on the highway, and 30 mpg combined. The hybrid gets 41 mpg in the city, 38 mpg on the highway, and 40 mpg combined. The plug-in hybrid gets 94 mpge making it the most fuel efficient of the lot.
: Toyota RAV4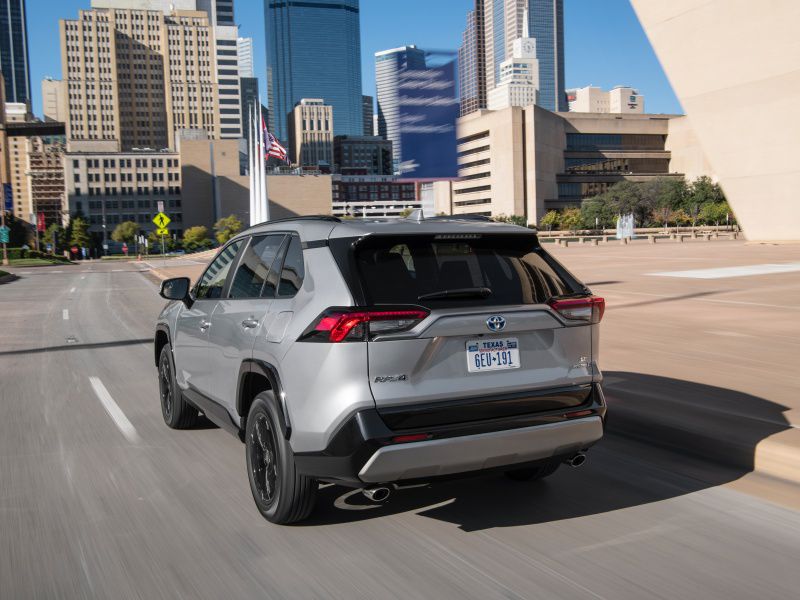 Photo by Toyota
Handling That Engages the Driver With a Smooth Ride
The Toyota RAV4 is a comfortable SUV with a good amount of room for passengers. It works well for families and has plenty of space for five adults, even those who are taller. It's a nice SUV to drive, but handling and driver engagement are not its forte.
The Mazda CX-5 is comparably sized but with more rear seat legroom, which make it better suited to tall adults. The ride is smooth, too, but where it beats the RAV4 is in handling. It's a more engaging car that is tailored to driving enthusiasts with responsive steering and a more refined suspension system.
: Mazda CX-5
Photo by Mazda
An Upscale Interior
The Toyota RAV4 has an attractive interior with comfortable seating and quality materials. While base trims are more modest and more affordable, top trims add features that create a more upscale feel. If you want an interior that looks more luxurious and takes its cues from luxury cars, however, then there's a better choice.
The Mazda CX-5 aims for a premium feel no matter the trim level. Base trims in the lineup are more modest but still get upscale touches including a leather-wrapped steering wheel and gear selector, premium cloth seats, and a 10.25-inch infotainment display screen. Top trims boast real wood and Nappa leather, creating a true premium experience.
: Mazda CX-5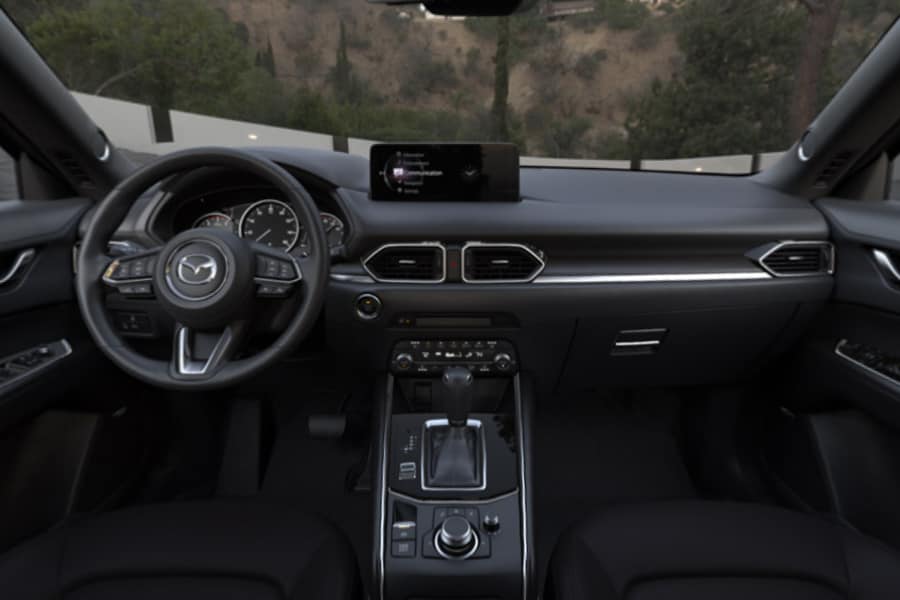 Photo by Mazda
Can It Carry All Your Stuff?
An SUV needs to be able to carry people, but it also has to be able to manage cargo. Whether it's just a few things tossed behind the second row or a full load with those seats folded down, one of the big perks of an SUV is its cargo capacity. The Mazda CX-5 has up to 30.8 cubic feet behind the second row and 59.3 cubic feet behind the first row.
The Toyota RAV4 offers 37.5 cubic feet behind its second row with 69.8 cubic feet behind the first row. That's a significant difference, and its one that makes the RAV4 a better choice if you have big plans for cargo.
: Toyota RAV4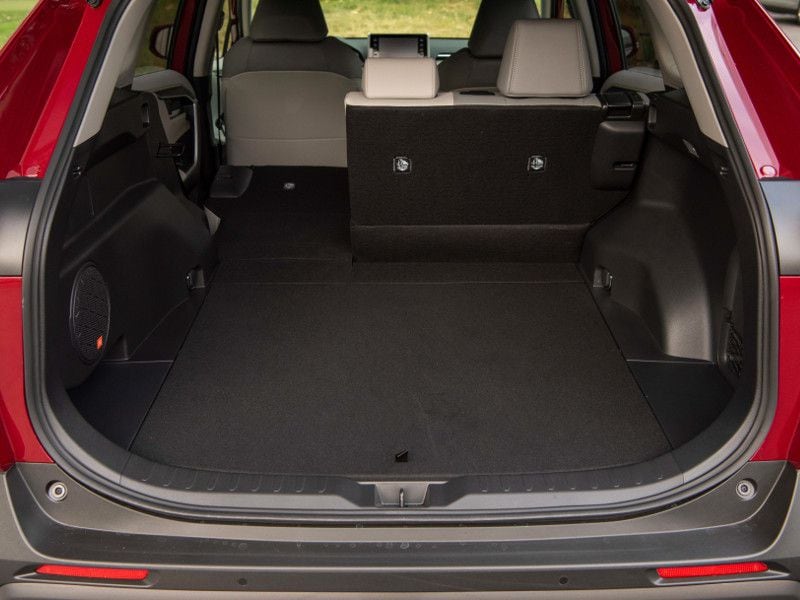 Photo by Toyota
Infotainment With or Without a Touchscreen
The Toyota RAV4 has a 7.0-inch or 8.0-inch touchscreen depending on which trim level you choose. It includes Apple CarPlay, Android Auto, and a 6-speaker audio system as standard features. Those who want a more premium experience have the option for an 11-speaker JBL audio system.
The CX-5 has a larger 10.25-inch screen, but it's not a touchscreen. Instead, it's a display screen controlled by a rotary dial on the center console. Apple CarPlay and Android Auto are standard along with a 4-speaker audio system. Both a 6-speaker and Bose 10-speaker premium audio system are available. This one goes to the RAV4 for its more intuitive touchscreens.
: Toyota RAV4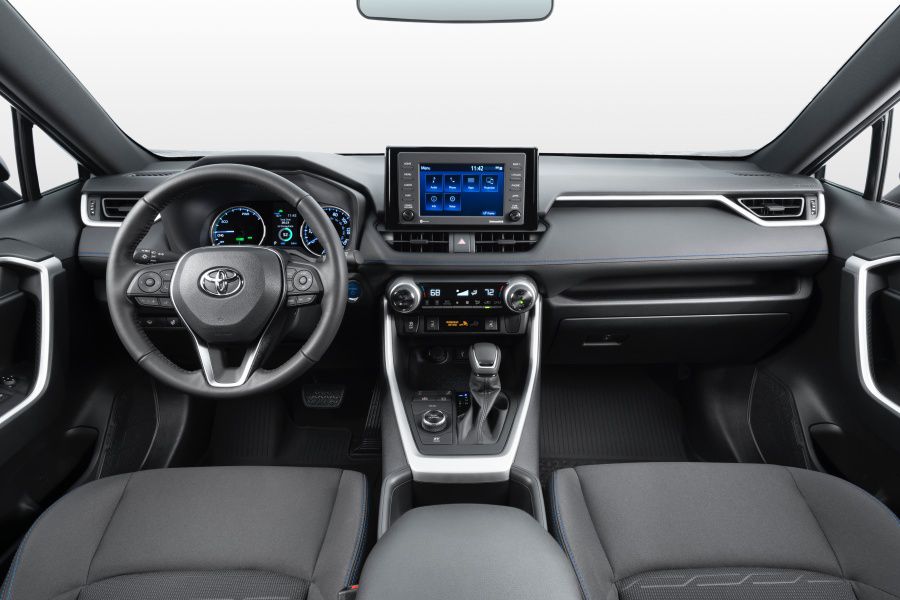 Photo by Toyota
A Large Suite of Standard Safety Features
Standard advanced safety features on the CX-5 include blind spot monitoring with rear cross traffic alert, automatic emergency braking with pedestrian detection, lane departure warning, and lane-keeping assist. Options include front and rear parking sensors, driver attention alert, reverse automatic braking, and traffic jam assist.
The RAV4 has pre-collision assist with pedestrian detection, lane tracing assist, lane departure alert with steering assist, automatic high beams, road sign assist, and full-speed dynamic radar cruise control. It offers both blind spot monitoring and rear cross-traffic alert as options, not as standard features like on the Mazda.
: Mazda CX-5
Photo by Mazda
And the Winner Is…
The Mazda CX-5 offers a more upscale experience with high quality materials and a beautifully designed interior. It also has a wider range of standard safety features and a smoother ride. Its more powerful turbocharged gas engine provides robust performance that engages the driver and complements its sharp handling.
The Toyota RAV4, however, is a stronger offering. There's a more intuitive infotainment system, more room for cargo, and a wider range of trims thanks to its hybrid options. The availability of both hybrid and plug-in hybrid powertrains and their greatly improved fuel economy help give the RAV4 the win.
: Toyota RAV4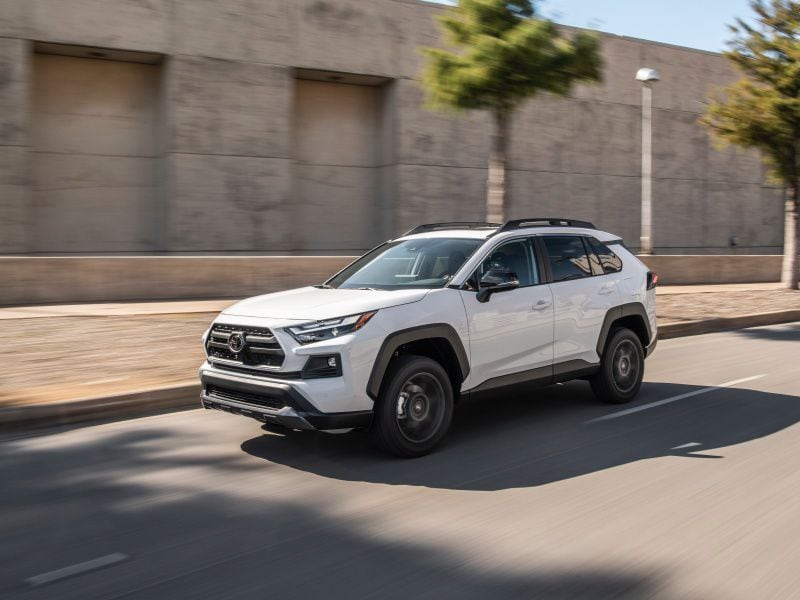 Photo by Toyota