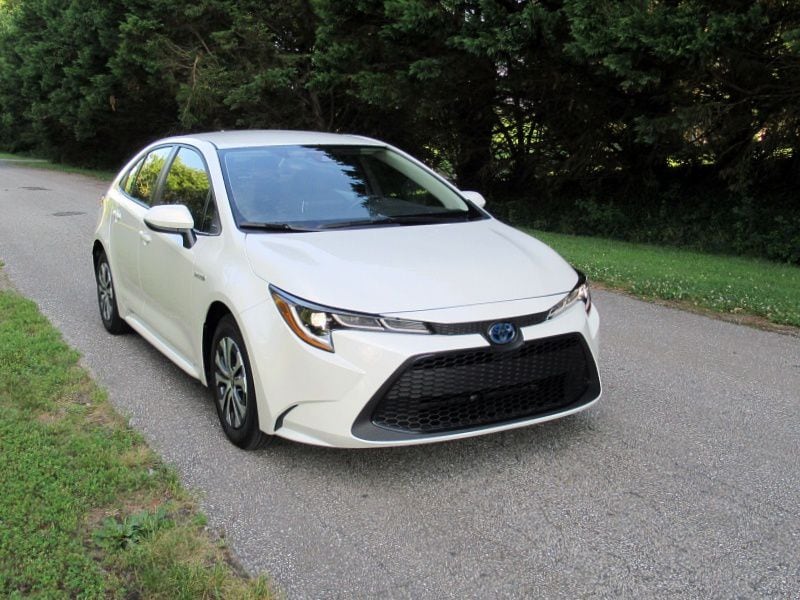 2020 Toyota Corolla Hybrid LE ・ Photo by Brady Holt
Everybody knows about the Toyota Prius. This fuel-saving icon has spent years as a default choice for fuel-savers who don't want to rely on electric charging. And for its entire two-decade-plus life, the Prius has faced criticisms about its unique styling. Sure, plenty of buyers appreciate how the Prius's futuristic design stands out from other cars, and its unusual silhouette is carefully sculpted to maximize aerodynamics. But for others, the Prius's funky looks are a deal-breaker.
That's one reason to consider the Toyota Corolla Hybrid. It wraps the same Prius mechanicals in the conventional body of a Corolla sedan — and it costs less, too. In this review, we'll discuss how the Corolla Hybrid and the Prius compare in each of eight categories, then name an overall winner. Keep reading to learn which one we picked and which one sounds like the better Toyota hybrid for you. 
Pricing
The 2022 Toyota Corolla Hybrid is priced from $23,650, undercutting the cheapest 2022 Toyota Prius's price tag of $24,525. Both are decently equipped even in their base forms, with a full suite of advanced driver aids, push-button start, automatic climate control, and six-speaker stereos. 
The Corolla Hybrid's price advantage grows if you'd like a more luxuriously equipped hybrid. New this year, a Premium Interior Package ($1,525) adds leatherette upholstery, a leather-wrapped steering wheel, a power-adjustable driver's seat, and heated front seats. (Its other primary option is $500 for blind-spot monitoring.) Adding both those features to the Corolla Hybrid brings the total to $25,675, compared with $28,745 for the equivalently equipped Prius XLE. 
Toyota Corolla Hybrid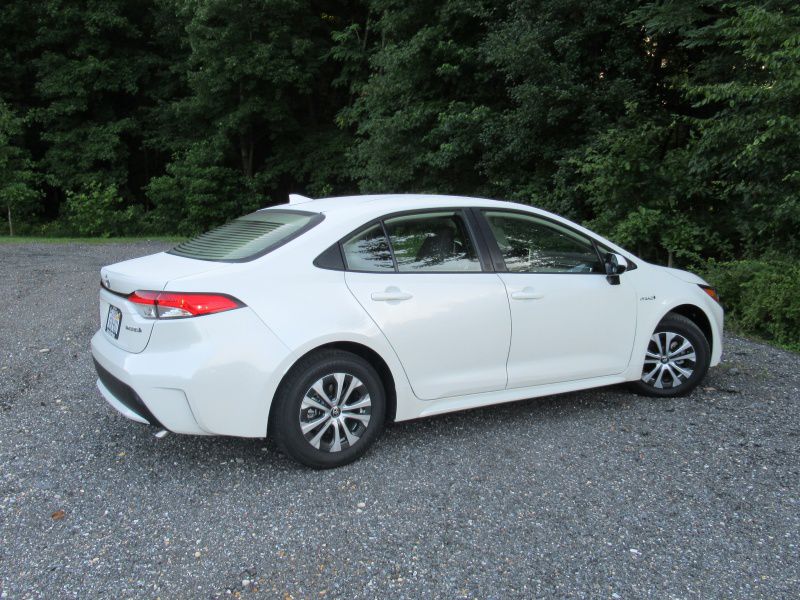 Photo by Brady Holt
Features
Until this year, you could only get the Corolla Hybrid in base LE form with few options. The new Premium Interior Package changes that, providing a more comfortable and upscale experience. That said, the Prius still gives you a wider range of models and options. 
Prius exclusives include a moonroof, a heated steering wheel, all-wheel drive, a GPS navigation system, a premium JBL sound system, a head-up display, and a self-parking system. Also, only the Prius is available as a plug-in hybrid, called the Prius Prime. You pay extra for all these Prius add-ons, but if you're interested in having any them, the Corolla Hybrid will ask you to do without. 
Toyota Prius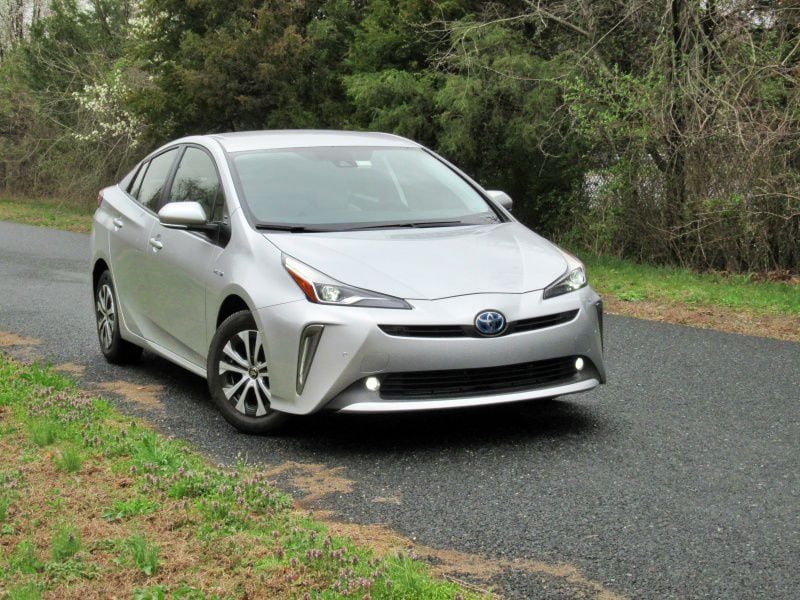 Photo by Brady Holt
Exterior Design
Prius sales took off in 2004 when Toyota turned it from an ordinary-looking sedan to a quirkily futuristic hatchback, and a unique design has continued to be central to the model's identity. That's no different for the current generation, which debuted in 2016. Angles and wedges dash decorate a body that's designed to prioritize aerodynamics. A 2019 styling update did clean up some of the most controversial details, creating simpler headlight and taillight designs. 
The Corolla Hybrid is more conventionally attractive. It's nearly identical visually to the gas-only Corolla sedan, which means it has slim, crisp headlights sitting astride a small grille and above a larger opening in the front bumper. The Corolla's rear end is plainer to our eyes, but it's nothing objectionable or polarizing. We'll let you choose your own winner between these two aesthetic approaches. 
Tie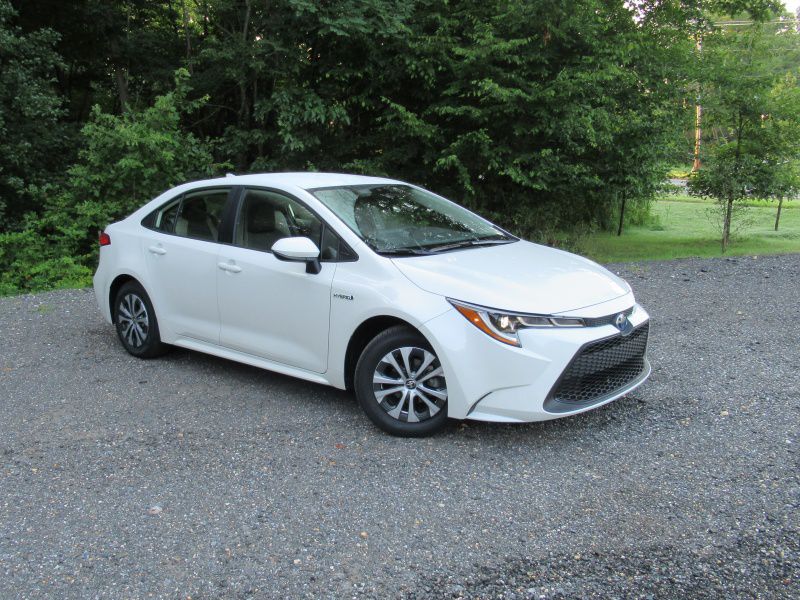 Photo by Brady Holt
Interior Design
Inside, the Prius and Corolla Hybrid again offer a choice between quirkily futuristic and conventionally attractive. Here, though, we're going to declare an objective winner: the Corolla. 
The Corolla was fully redesigned in 2020, while the current Prius dates back to 2016. At least to our eyes, the Corolla Hybrid's understated simplicity works better than the shinier, busier Prius instrument panel. Toyota backs up the Corolla's simple dashboard with nicely padded materials, so it doesn't come off as merely basic. But more significantly, the Corolla Hybrid wins for technology and ergonomics. It comes standard with an 8-inch infotainment touchscreen, compared with the 7-inch unit that's included on most Prius models. The top Prius Limited model has an 11.6-inch touchscreen that the Corolla Hybrid can't match, but we found it clunky to use because it replaces too many physical buttons. The Prius's unconventional center-mounted digital speedometer and unique gear selector also take getting used to. By contrast, the Corolla Hybrid is a model of simplicity. 
Toyota Corolla Hybrid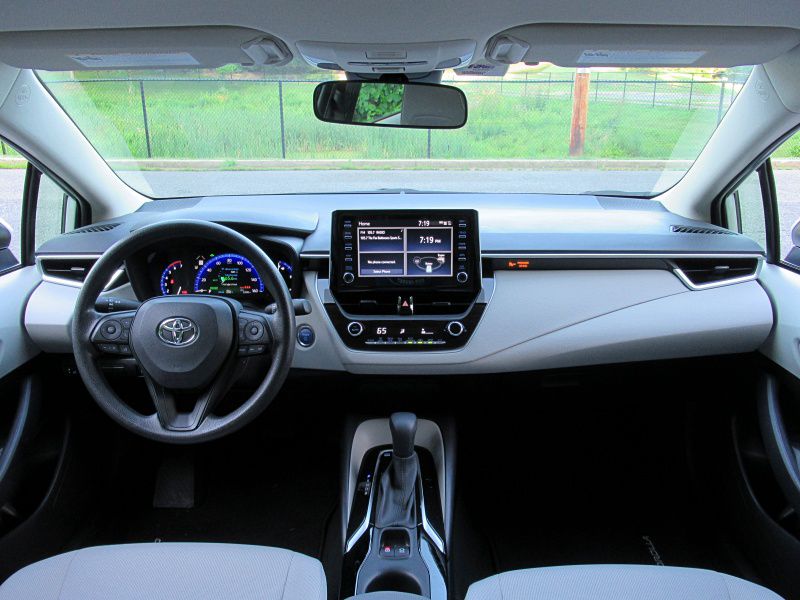 Photo by Brady Holt
Interior Space and Comfort
The Prius has spent most of its life offering an unusually roomy interior for a compact car. Its aerodynamic shape translates into a five-door hatchback body, and that results in more cargo space than some crossover suvs: 27.4 cubic feet of cargo space behind the rear seat and 50.7 cubic feet with the rear seat folded down. There's also enough space for four adults to sit without too much squeezing, with space for a fifth in a pinch. 
The gas-powered Corolla is also available as a hatchback, but every Corolla Hybrid is a four-door sedan. It has a 13.1-cubic-foot trunk; that's fine for a compact sedan, but it has nothing on the Prius — even though the Corolla is actually a couple inches longer. And while you can fold down the Corolla Hybrid's rear seat, there's only a small passthrough to connect the trunk with the passenger compartment. The Corolla's passenger space is about the same as the Prius's, but they're on different planets when it comes to cargo room.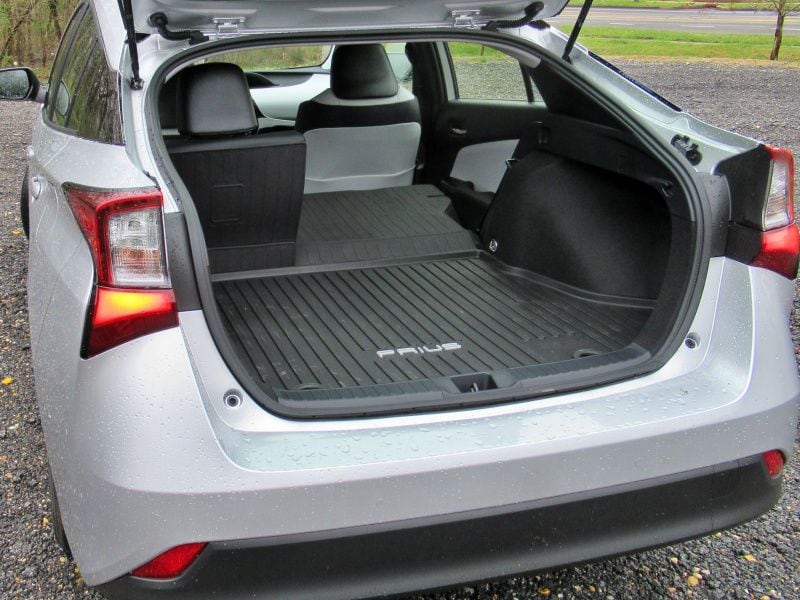 Photo by Brady Holt
Driving Impressions
The Prius and Corolla Hybrid have the same mechanical underpinnings, including the same suspension and the same powertrain: a 1.8-liter gasoline engine and electric motor that make a combined 121 horsepower channeled through a continuously variable automatic transmission (CVT). 
Not surprisingly, driving the Corolla Hybrid is a lot like driving the Prius. Both can accelerate gently using only their electric motors, but they get noisy if you try to drive them harder. They ride smoothly and have better handling composure than earlier Prius or Corolla models, but you wouldn't consider them sporty. Their driving fun comes from trying to maximize their gas mileage (which we'll discuss on the next page); if that doesn't excite you, the Prius and Corolla are generally pleasant, not terribly quick transportation appliances. We'll give the Prius the win for its two optional powertrains. First, there's the standard Prius's optional all-wheel drive; this feature costs about $1,200 extra on select trim levels and provides extra traction in slippery conditions. Secondly, there's the Prius Prime plug-in hybrid, whose bigger battery lets you spend more time in the blissful quiet of purely electric operation.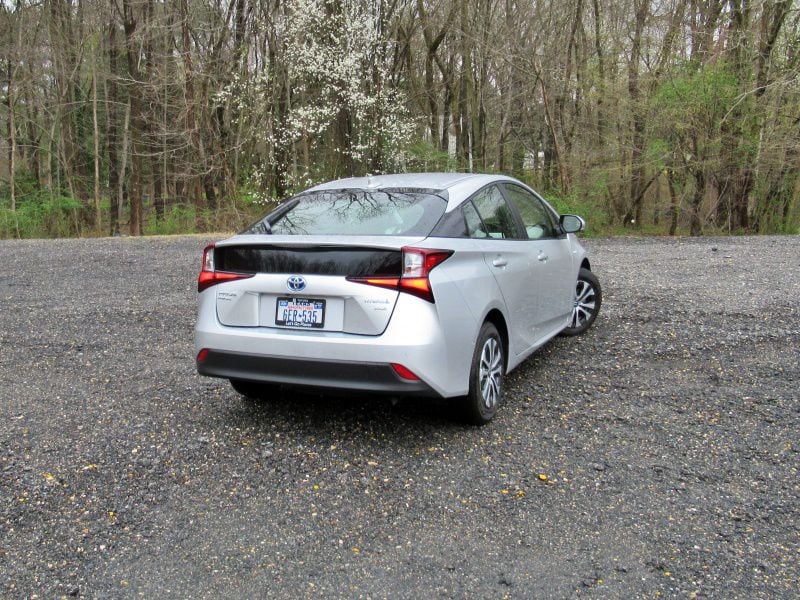 Photo by Brady Holt
Fuel Economy
Even though it looks like an ordinary Corolla, the Corolla Hybrid holds its own against the wacky-looking Prius's fuel efficiency. In EPA testing, it achieves 53 mpg in the city, 52 mpg on the highway, and 52 mpg combined. We did far better, averaging more than 65 mpg during a weeklong test. 
The heart of the Prius lineup achieves similar EPA ratings: 54 mpg city, 50 mpg highway, and 52 mpg combined. And all-wheel drive knocks those scores down to 51 mpg city, 47 mpg highway, and 49 mpg combined. But the base Prius L Eco, with weight-saving technologies and a different battery, manages 58 mpg city, 53 mpg highway, and 56 mpg combined. And the Prius Prime travels up to 25 gas-free miles per electric charge before averaging 54 mpg. We've tested a number of Prius models over the years and always beat EPA ratings; though we never got quite as high as that Corolla Hybrid, we did top 60 mpg in two AWD Priuses. And the Prius Prime gave us all-electric ranges of 24 to 27 miles per charge, followed by 67 mpg after the charge from the grid was used up.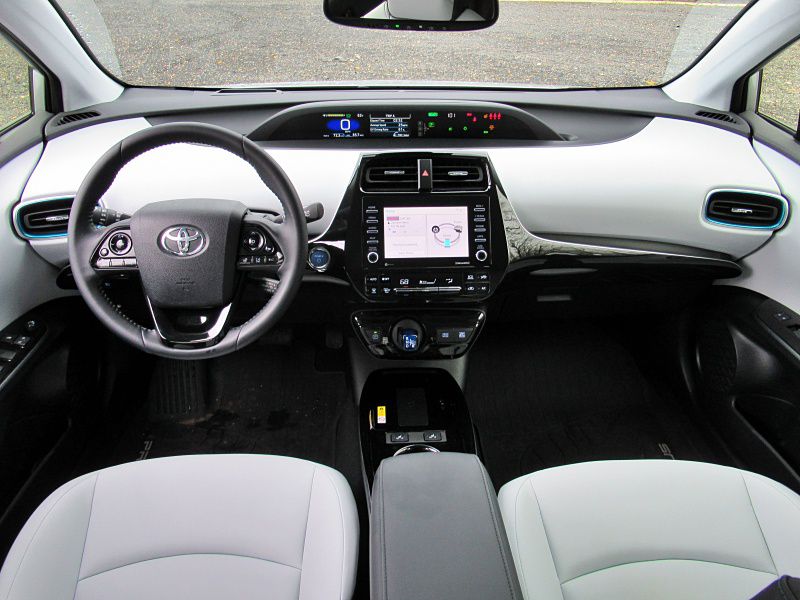 Photo by Brady Holt
Safety
Both the Prius and Corolla Hybrid come standard with a long list of advanced driver aids, including automatic emergency braking, adaptive cruise control, and lane-keeping steering assistance. The Corolla Hybrid has blind-spot monitoring as a $500 option, while it's standard on all but the base Prius. When it comes to the cars' slight differences, the Corolla Hybrid comes out on top. 
First of all, the Corolla Hybrid earned top scores in each Insurance Institute for Highway Safety crash test, qualifying it for the IIHS Top Safety Pick designation. The Prius was merely Acceptable (the second-highest score) in one test: a passenger-side small-overlap frontal impact. Secondly, while both Toyotas earned the top five-star overall score in National Highway Traffic Safety Administration testing, the Prius dipped to four stars for frontal-impact protection. The Corolla earned five stars from NHTSA for both frontal and side impacts. The Prius does edge out the Corolla Hybrid in the IIHS's headlight evaluation, but the latter otherwise wins this round.
Toyota Corolla Hybrid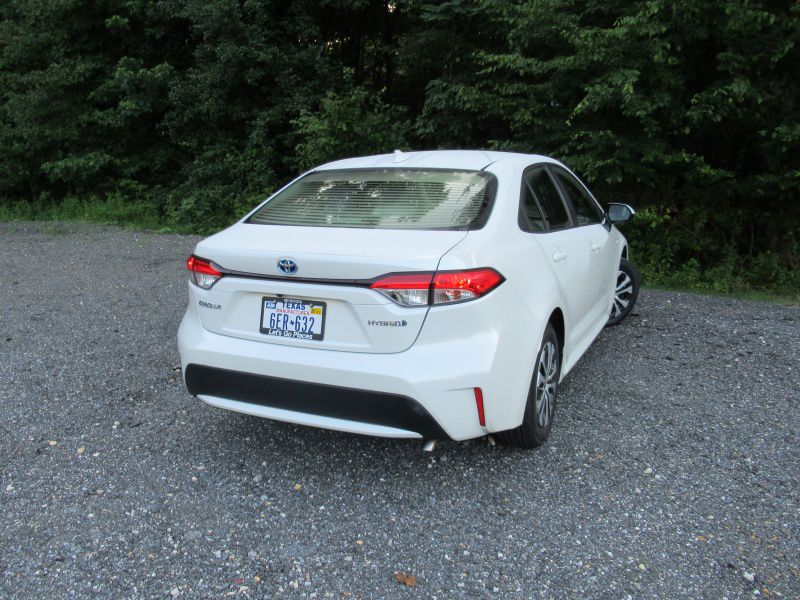 Photo by Brady Holt
Final Thoughts
If you like the idea of a Prius but don't like how it looks, the 2022 Toyota Corolla Hybrid is an appealing choice. It's a more conventional-looking way to get outstanding gas mileage. What's more, it has nicer interior materials, a bigger infotainment screen, slightly better crash-test scores, and a lower price. And Toyota broadened the model's appeal this year by expanding its list of optional features. 
Still, the 2022 Toyota Prius remains our favorite small Toyota hybrid. We love how much cargo room it packs into a 50-plus-mpg vehicle. We're big fans of the Prius Prime plug-in hybrid. And we appreciate how the Prius still has a longer list of options than the Corolla Hybrid. We'd encourage you to strongly consider the Corolla Hybrid, especially if it now has all the features you'd want from a Prius anyway. But to us, despite its downsides, the Prius is the more compelling overall package. 
Toyota Prius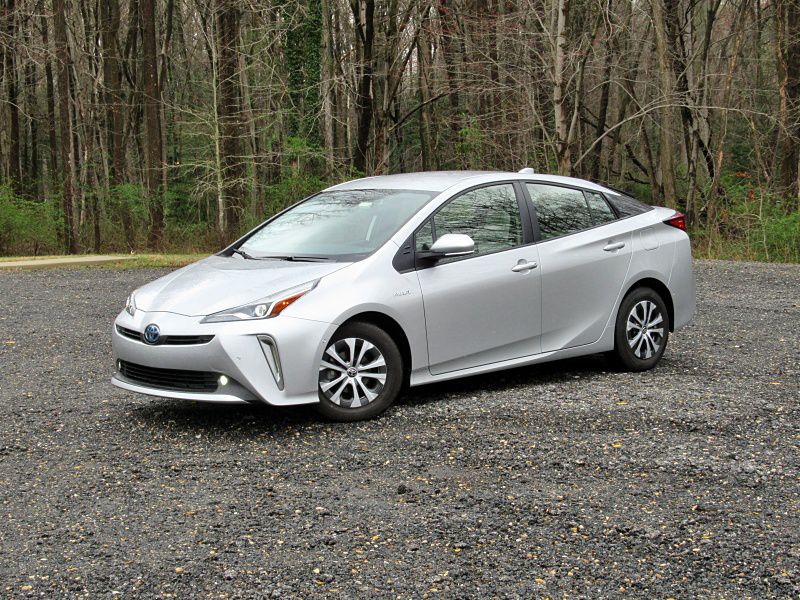 Photo by Brady Holt