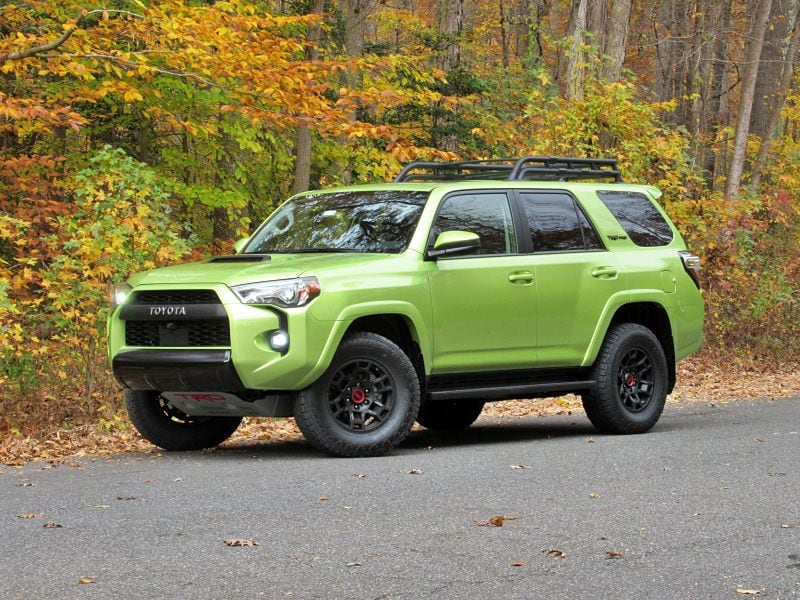 2022 Toyota 4Runner TRD Pro ・ Photo by Brady Holt
Most of today's SUVs are designed for everyday on-road use. They're optimized for comfort and fuel economy rather than rugged conditions. And they're more likely to be styled like luxury cars or performance machines than hardy trucks. 
Two popular mid-size models that buck this trend are the 2022 Subaru Outback and the 2022 Toyota 4Runner. They're outdoorsy rather than elegant, while they also have enough room to be useful family cars. But there are some important differences between these two vehicles. Fundamentally, the 4Runner is a truck-based traditional SUV while the Outback is a car-based crossover. We tested both models so we could evaluate what this difference could mean for you. Over the following pages, we'll discuss how the 4Runner and Outback compare in each of eight categories and name our overall winner. Keep reading to learn which one we picked and which one sounds like the better choice for you.
Pricing and Features
When you're on a tight budget, the Outback is an easy winner. It's priced from just $26,945, which is five figures less than the cheapest 4Runner ($37,305). That's despite the Subaru's standard all-wheel drive, while Toyota charges extra for the 4Runner's four-wheel drive. 
The gap narrows if you expect a powerful engine. We'll discuss this more later, but every 4Runner has a 270-horsepower V6. The base Outback engine is a 182-horsepower four-cylinder. To upgrade the Subaru with a 260-hp four-cylinder turbo, you're spending at least $35,145. Still, that's less expensive than even the cheapest 4Runner, and that money brings extra features like leatherette upholstery, heated front and rear seats, automatic climate control, a moonroof, and a power liftgate. The Outback's most off-road-ready Wilderness model, pictured on this page, starts at $36,995 with similar features (including the turbo engine). It's hard work to push an Outback past $40,000, but the 4Runner can top $50,000. Overall, this category isn't a close call.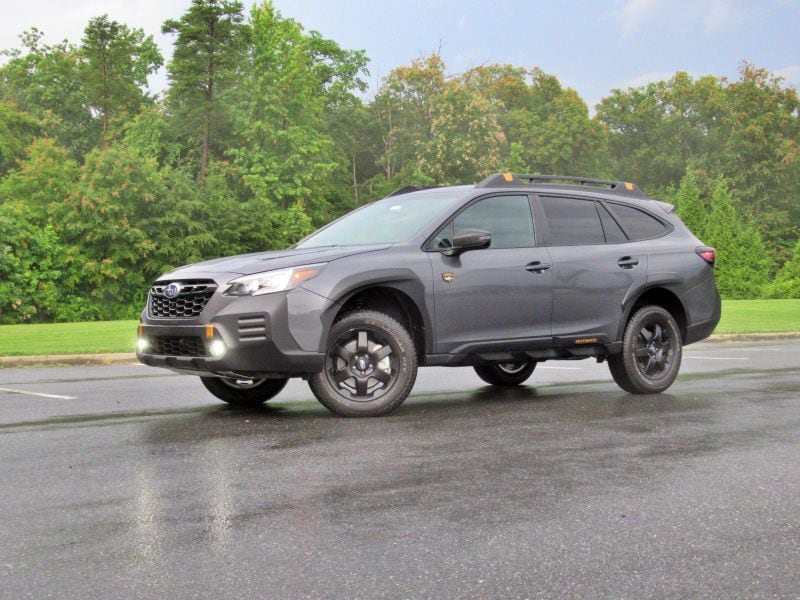 Photo by Brady Holt
Exterior Design
The 4Runner was last redesigned way back in 2010, and it was unusually truck-like even then. These days, its rugged design stands out even more. Its vertical front end looks like a battering ram with headlights, especially on our TRD Pro test vehicle. The bumper curves up and away from under the vehicle to provide more off-road clearance, and protective skid plates are visible underneath. The fenders are squared-off and flared, and the vehicle's body is a chunky box. 
The current Outback, released in 2020, looks more like a station wagon than an SUV. It comes across as purposeful, though, with sturdy-looking plastic cladding and indestructible-looking roof racks. The Wilderness, new this year, is dressed up with even more cladding, unique wheels, and higher ground clearance. There's nothing pretty about an Outback Wilderness, but it's not subtle about signaling its off-road focus. Either the 4Runner or the Outback would look right at home splashed with mud, but these are otherwise two different aesthetic approaches. We'll let you choose your own favorite.
Tie
Photo by Brady Holt
Interior Design
The 4Runner's interior is designed to be more sturdy than showy. Extra-large climate-control knobs are both functional and charming; they hearken back to an era when SUVs were simple, honest, utilitarian machines rather than tall family haulers. Yet Toyota has also brought the interior into this decade with an 8-inch infotainment touchscreen that arrived for the 2020 model year. 
Still, where some people might see character in the 4Runner's basic plastics, others would just see cheapness. The Outback's interior is unquestionably more modern and more richly finished, yet without coming across as pretentious or delicate. Our primary objection is that the car's 11.6-inch touchscreen infotainment system absorbs too many functions; for example, we'd rather tap a real button for our seat heaters than go through a screen menu. But overall, we pick the Subaru. 
Tie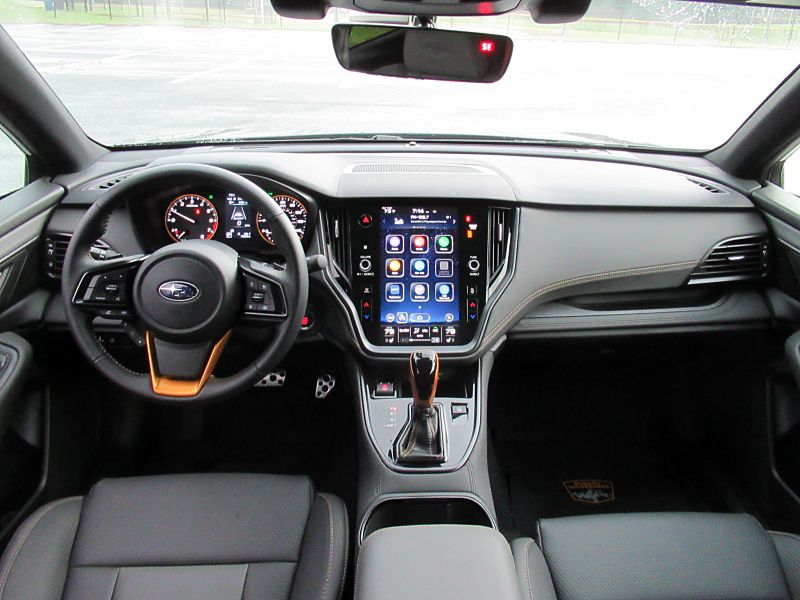 Photo by Brady Holt
Interior Space and Comfort
The Outback is a roomy, comfortable crossover with plenty of room for four adults and their backpacking gear. We found the front and rear seats to be well-shaped and comfortable, and cargo capacity measures a decent 32.5 cubic feet behind the rear seat and 75.7 cubic feet with the seat folded. 
Still, the 4Runner delivers more space. There's an available third-row seat; it's small, but every Outback seats just five people. The Toyota's cargo capacity is a whopping 47.2 cubic feet behind its second-row seat and 89.7 cubic feet behind the front seats. And if you need to tow, the 4Runner can handle up to 5,000 pounds, while the Outback tops out at 3,500 pounds with its turbocharged engine and 2,700 pounds on the base model. Tastes may differ between the 4Runner's towering seating position versus the Outback's easier entry and exit, but there's no question that the 4Runner is roomier.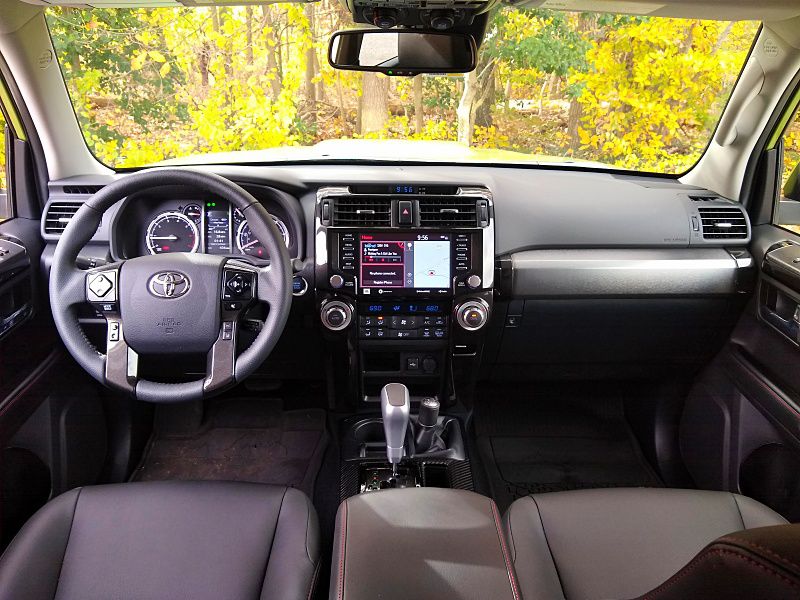 Photo by Brady Holt
Driving Impressions
The 4Runner drives with the character of a tough truck. Its 270-horsepower 4.0-liter V6 engine fires up with a roar, and it bellows when you push on the gas, too. And it shrugs off bumps with the confidence that mere potholes can't faze this machine. To some buyers, this character is a welcome relief from blandly smooth crossovers. But objectively, we're going to pick the Outback. 
The Outback rides more smoothly than the 4Runner, and it handles more nimbly. It's quieter and more maneuverable. The experience is quite similar to the Subaru Legacy mid-size sedan the Outback is based on. And while the Toyota is quicker than the base Outback, it can't keep up with the turbo Subaru. Not everyone wants an SUV that drives like a car, but the Outback's driving experience is difficult to fault. With clumsier handling and a lot more noise, however, it's easy to fault the 4Runner's.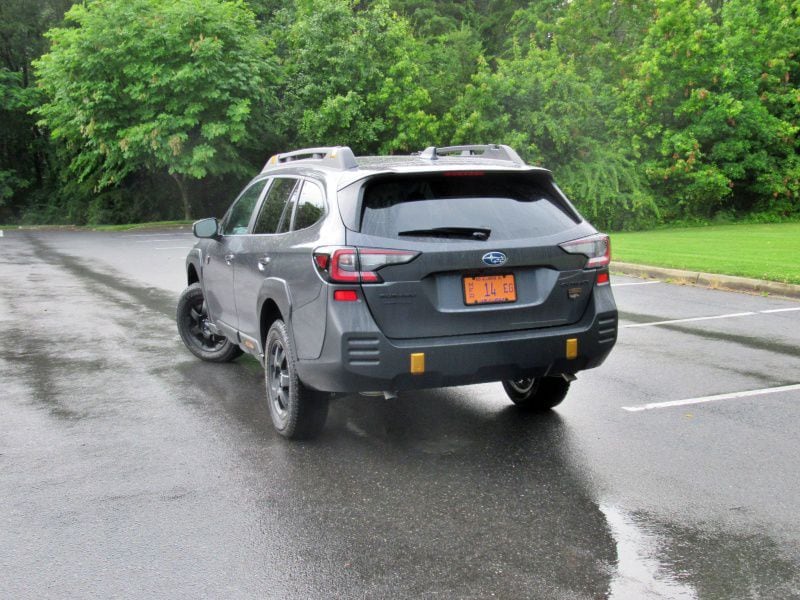 Photo by Brady Holt
Off-Road Capability
The standard Outback has 8.7 inches of ground clearance and Subaru's torque-vectoring all-wheel drive with the X-Mode terrain selections. The Wilderness model has all-terrain tires, a skid plate, a retuned suspension for better low-speed off-road driving, and revised X-Mode settings. And with 9.5 inches of ground clearance, the Outback Wilderness is just shy of the 4Runner's 9.6 inches. 
Still, the 4Runner is a different beast from the Outback. We'd trust the Outback to handle snow, mud, and rocks; we'd turn to the 4Runner if we needed to plow through deep puddles, climb boulder-strewn mountain trails, or survive the end of the world. The Toyota's available gear includes a two-speed transfer case, a locking rear differential, selectable off-road driving modes, an adjustable "Crawl Control" feature that maintains your speed automatically as you negotiate obstacles, and a system that can automatically disconnect the suspension sway bars to let the wheels rise up and down more on uneven surfaces. Our tested TRD Pro model adds Fox high-performance shocks, retuned springs, an even thicker front skid plate, and all-terrain tires. The Outback is capable by the standard of a crossover. The 4Runner is capable by just about any standard.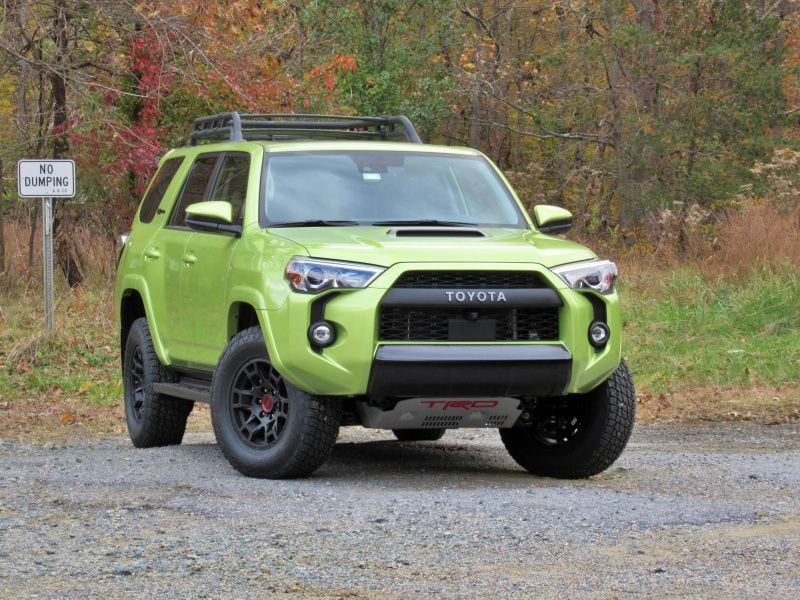 Photo by Brady Holt
Fuel Economy
The Outback's gas mileage varies by engine and trim level. The base non-turbo engine is a fuel-sipper, with EPA estimates of 26 mpg in the city, 33 mpg on the highway, and 29 mpg combined. That's better than many compact crossovers, much less rival mid-size models. Even the turbo model gets an impressive 23 mpg city, 30 mpg highway, and 26 mpg combined. The turbo-only Wilderness dips to 22 mpg city, 26 mpg highway, and 24 mpg combined due to powertrain tweaks and reduced aerodynamics. We matched that 24 mpg estimate in the Wilderness and saw 27 mpg in another turbo model. 
Regardless of its trim level or whether you get rear-wheel or four-wheel drive, the 4Runner gets the same EPA ratings. And they're not good: 16 mpg in the city, 19 mpg on the highway, and 17 mpg combined. Our test vehicle saw just 16 mpg overall. At gas prices of $3 per gallon (and they're higher as we write), the 4Runner will cost an extra $500 every 10,000 miles — even compared with the least efficient Outback.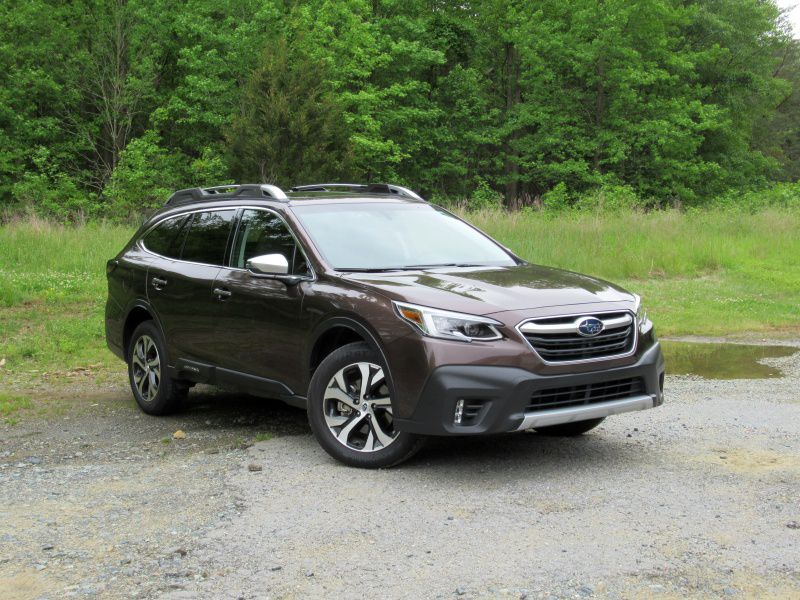 Photo by Brady Holt
Safety
The 4Runner has been around for so long, it's older than some crash tests. And not astonishingly, it doesn't do so well in those tests. It earned a low Marginal score (the second lowest of four grades) for small-overlap frontal impacts from the Insurance Institute for Highway Safety. And it managed just three out of five stars for front-passenger protection in a frontal-impact test conducted by the National Highway Traffic Safety Administration (and four out of five for overall protection). Toyota has steadily added safety features to the 4Runner, but lane-keeping steering assistance and rear automatic emergency braking are still missing. 
By contrast, the Outback earns the highest possible designation of IIHS Top Safety Pick+, along with five stars from NHTSA for frontal and side-impact protection. It matches the 4Runner's standard adaptive cruise control, forward automatic emergency braking, and lane-departure warning, and it adds lane-keeping steering assistance. Rear automatic emergency braking is included on most trim levels, too. The 4Runner is up to 1,000 pounds heavier than the Outback, which gives it some inherent advantages in a crash. But the Outback earned higher scores, includes more crash-avoidance technologies, and has superior handling and braking.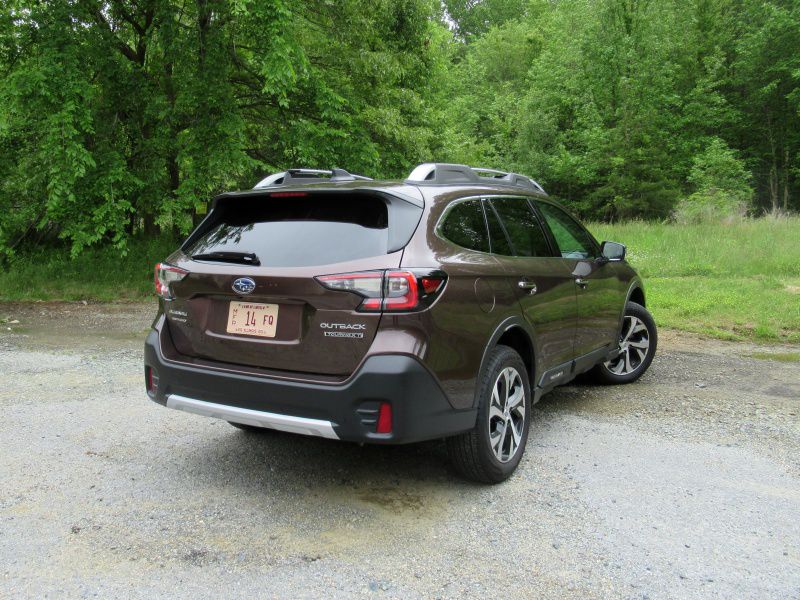 Photo by Brady Holt
Final Thoughts
The Toyota 4Runner is a highly appealing SUV to the right buyer. It's tough and capable, and it never lets you forget it. Yet unlike a purpose-built off-roader like a Jeep Wrangler or Ford Bronco, the 4Runner also has an extra-spacious interior and plenty of creature comforts. If you're an off-roading enthusiast, it's the obvious choice over the lighter-duty Outback. 
But if you're just looking to take the family camping without getting stuck on a rutted road, the Outback is more than ready. It has excellent ground clearance for a crossover and a highly regarded all-wheel-drive system, for times when your journey to an outdoor adventure takes you off smoothly paved roads. And for the daily grind, it's comfortable and easy to drive, and it's supremely affordable and economical. If you're buying an SUV for recreationally off-roading, rather than just transporting you to a trailhead, you may have to accept the 4Runner's higher price, lousy gas mileage, clumsier handling, and mediocre crash-test scores. The same applies if you're attached to driving a truck rather than just a taller, more capable car. Otherwise, the Outback is a standout.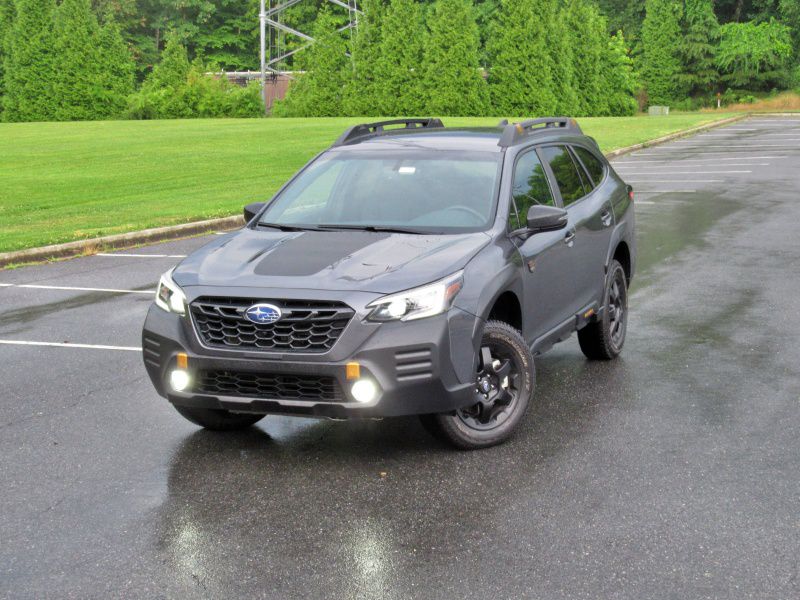 Photo by Brady Holt