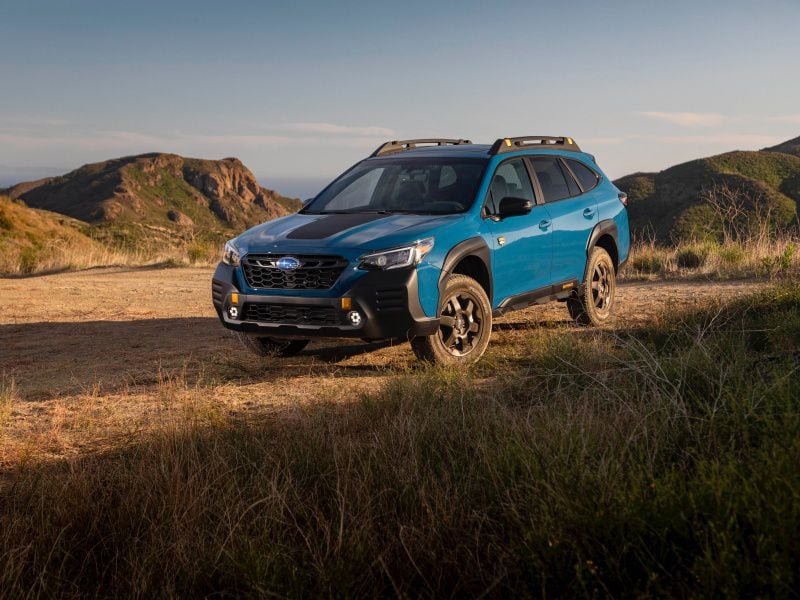 2022 Subaru Outback Wilderness ・ Photo by Subaru
In a sea of crossover SUVs, the Subaru Outback has found success by not crossing over too much. In other words, it has retained its car-like handling and interior comfort and convenience while also benefitting from some features found on SUVs. Truth be told, the Subaru Outback is really a station wagon, but its increased ride height, body cladding, standard all-wheel-drive, and sturdy roof rails give it an SUV vibe.  It has proved to be a winning combination, and it is strange that few other carmakers have tried to employ the same formula. Nothing in the American marketplace with the exception of a few luxury vehicles can be regarded as a close competitor. Of course, the Subaru image revolves around safety and security, and the Outback is all over those two attributes. When it comes to driving fun, in an Outback fun comes more from where you can go and how comfortable you are on the way versus how fast you can get there. In this 2022 Subaru Outback road test and review we'll tell you about all of those factors and more.
Exterior Style
The Subaru Outback looks like a station wagon that has been fitted with a lift kit, body cladding, beefy tires, rugged wheels, and a big roof rack. And that's not surprising because that is exactly what it is. The Outback's underpinnings are the same as the well-regarded Subaru Legacy sedan. In essence, it's the station wagon version of the body, but the changes have given it an off-road persona. For the 2022 model year, Subaru has doubled down on that gambit with the all-new Wilderness trim. It ups ground clearance to a serious 9.5 inches and adds all-terrain tires and some unique exterior styling features that emphasize its off-road aspirations. While other Outback trims aren't as overtly off-road-skewed as the Wilderness, every one of them has a rugged, utilitarian, go-anywhere look that is just the thing for taking the kids to preschool or scooting off to the book club.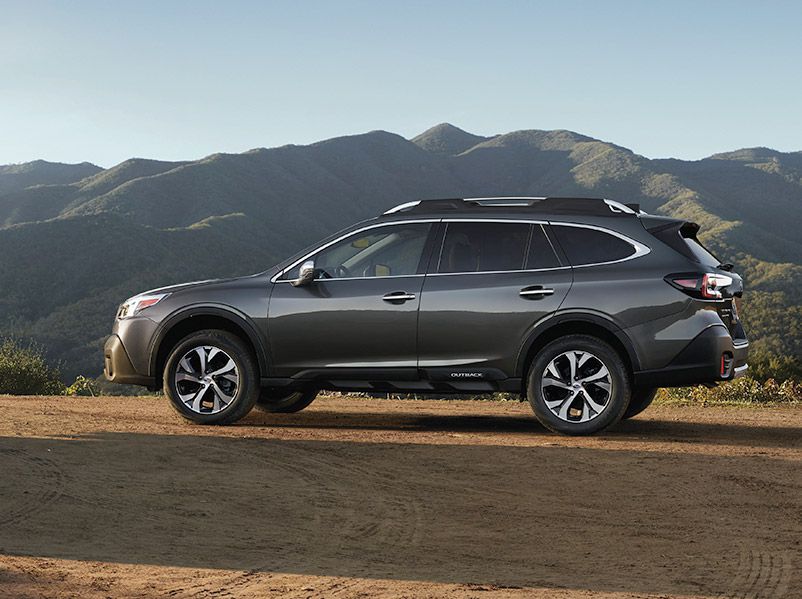 Photo by Subaru
Interior Design
Great interiors weren't an attribute you'd assign to Subaru vehicles a decade ago, but the brand has really upped its interior game. The Outback has a well-styled contemporary interior, and most trims are fitted with an impressive 11.6-inch infotainment screen. A family of four or even five will find that the two-row Outback delivers convenient around-town use and cushy long-distance cruising. The front bucket seats are comfortable on lengthy drives. Depending upon the trim level, the seats are covered in cloth, faux leather, or genuine leather. As you'd expect in a Subaru, child safety seats fit into the rear seating area without difficulty. The Outback's instruments are easy to read, and the controls in the "center stack" are conventional and simple to decipher. The rear seat is broad, and it folds to enlarge the cargo area. All trims have a tilt/telescoping steering wheel with audio, Bluetooth, and cruise control switches. The front seat head restraints are height and tilt-adjustable. In all, the Outback is a nice place for families to spend time together.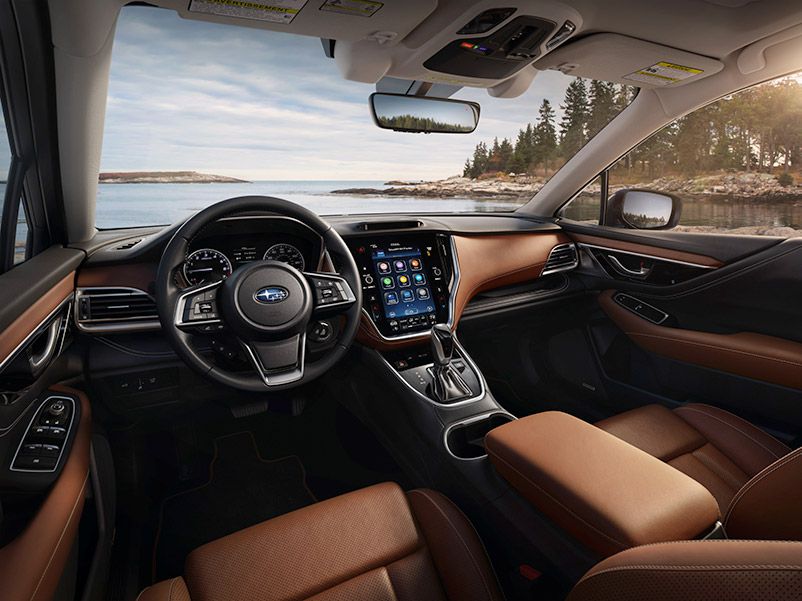 Photo by Subaru
Powertrain
Subaru specializes in using horizontally opposed engines, and every Outback model is so equipped. The base engine is a normally aspirated 2.5-liter four-cylinder "boxer" engine that produces 182 horsepower and 176 lb-ft of torque. It is paired with a continuously variable transmission that is able to feign eight separate "gears" that can be chosen by steering wheel-mounted shift paddles. The up-level engine is a turbocharged 2.4-liter "boxer" four cylinder that delivers 260 horsepower and 277 lb-ft of torque. It has a "high-torque" CVT that can also simulate eight speeds. The Wilderness trim gets different "gearing" than the more on-road-oriented trims. With the turbocharged engine the Outback will go from zero 60 mph in less than six seconds. With the base engine acceleration is more leisurely. Every Outback model has standard all-wheel drive, another Subaru staple.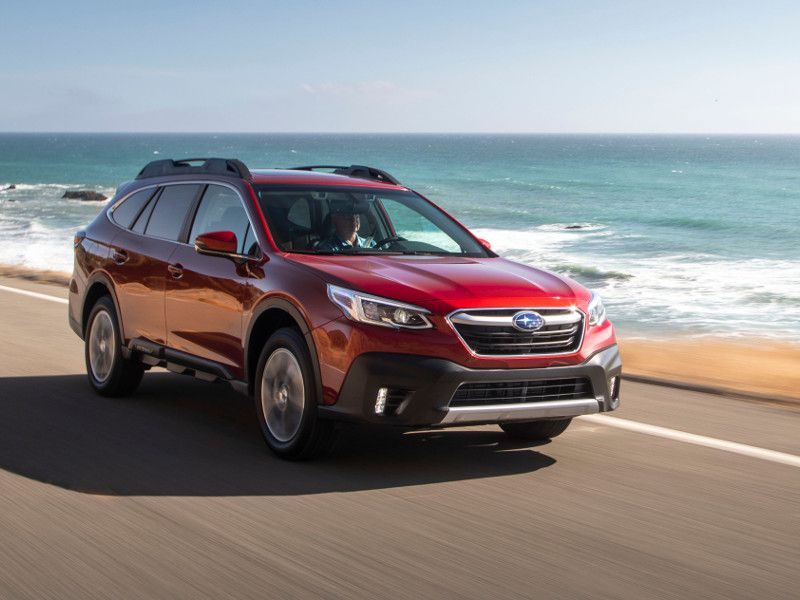 Photo by Subaru
Infotainment &Technology
In recent years, Subaru has improved its infotainment systems markedly. So the system in the current Outback is full-featured and easy to use. In the base model, the system is accessed via a dual 7.0-inch center information display featuring an upper 7.0-inch touchscreen with audio controls and a lower 7.0-inch touchscreen with controls for climate, safety, driving modes, and other vehicle systems. It offers AM/FM/HD Radio, Apple CarPlay, Android Auto, and Bluetooth hands-free phone and audio streaming. All other trims have tablet-style multimedia systems with 11.6-inch high-resolution touchscreens. Included in the display are on-screen controls for audio, heating and ventilation, driving modes and other features. It includes Apple CarPlay and Android Auto integration. In upper-level trims, the system also includes integrated navigation. A Harman Kardon premium audio system is available on some trims as well.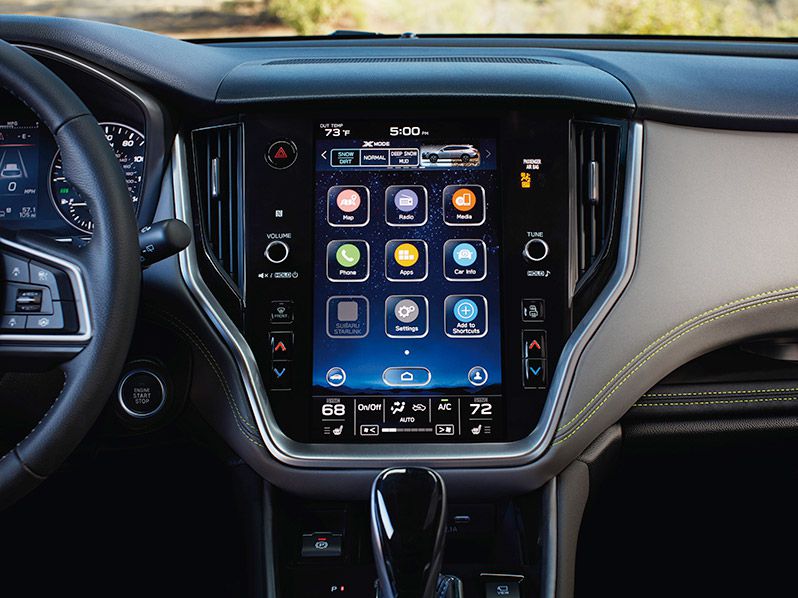 Photo by Subaru
Interior Space & Cargo-Carrying Ability
While the Subaru Outback is more a traditional station wagon than an SUV under the skin, it does offer a lot of versatility and cargo space. In total, it offers 109 cubic feet of passenger volume, so it feels roomy. Behind its second row seatbacks, it offers 32.5 cubic feet of cargo space. With the seatbacks folded, that jumps up to 75.7 cubic feet. In comparison, the Toyota RAV4, a more traditional crossover suv, is 10 inches shorter in overall length, but it offers 37.6 cubic feet of cargo space behind the rear seats. In total cargo space, the Subaru Outback outdoes the RAV4's 69.8 cubic feet of space. The Outback Wilderness and the RAV4 Adventure, essentially comparable models, both offer 3,500 pounds of towing when properly equipped.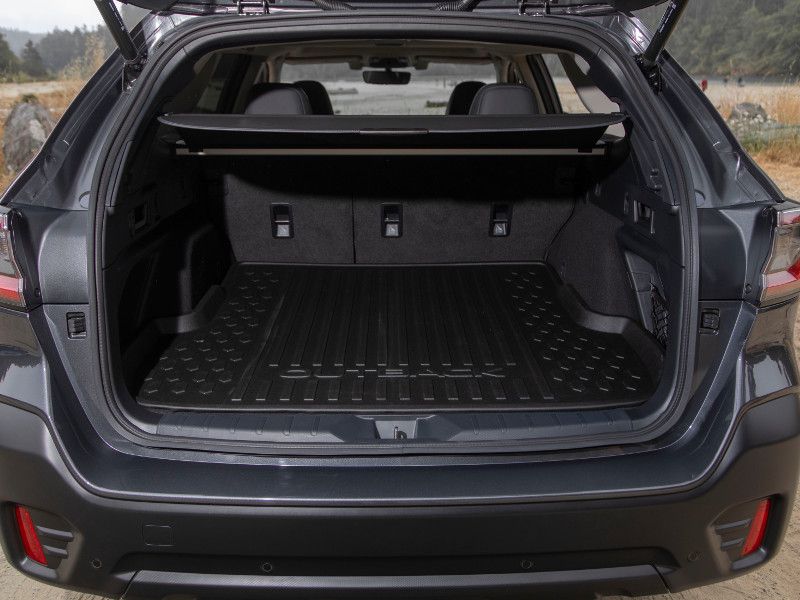 Photo by Subaru
Safety & Driver Aids
The 2022 Subaru Outback offers excellent overall safety, one of the pegs Subaru hangs its hat on. All Outback models have Subaru's EyeSight driver-assistance technology. It includes automatic pre-collision braking and throttle management, lane-departure and sway warning, and adaptive cruise control with lane-centering. Available electronic safety aids include driver distraction mitigation system, blind-spot alert with lane-change assist, rear cross-traffic alert, and reverse automatic braking. An upscale touch standard across the lineup is EyeSight head-up display putting warnings and system status in the driver's line of sight. The Outback offers an optional front view monitor that displays a 180-degree view of the front of the vehicle on the multimedia display using a camera located in the front grille. The 2022 Subaru Outback received a 5-Star overall rating in the 5-Star Safety Rating Program of the National Highway Traffic Safety Administration.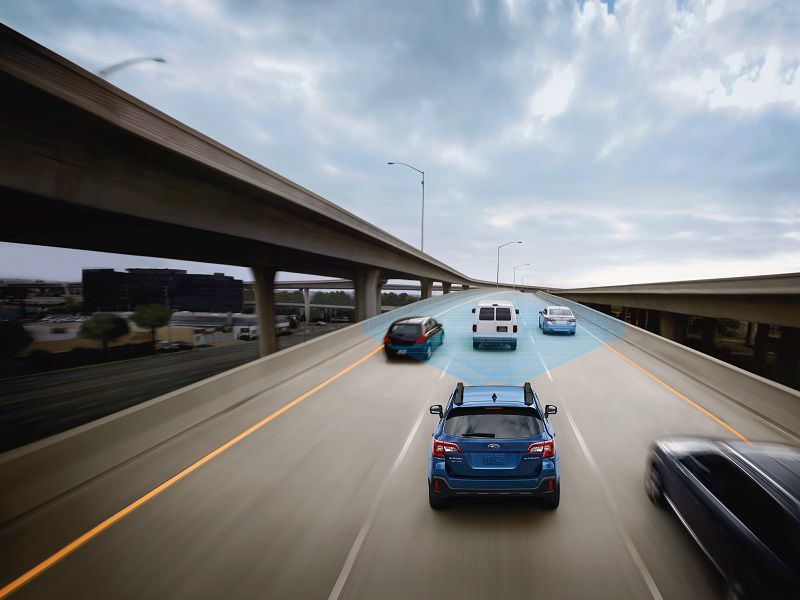 Photo by Subaru
Driving Impressions
If you are looking for a sharp-handling substitute for a sports sedan, the Subaru Outback isn't your vehicle. If you are a hardcore off-roader who loves to rock crawl, the Outback isn't your vehicle, either. But if you face inclement weather, have people and stuff to haul, and do a little off-roading getting to the fishing hole or the kayaking put-in point, the Outback will crush it for you. When properly maintained the Outback is rock solid and has the guts to take some punishment. Even with the turbocharged engine the Outback's acceleration isn't going to throw you back in your seat and the handling skews toward comfort, but that is hitting the market's desires on the nose. In Wilderness form, the Outback can perform some amazing all-terrain feats while still being totally comfortable inside. If you have a Subaru lifestyle — you know who you are, dog owner — you will love your Subaru.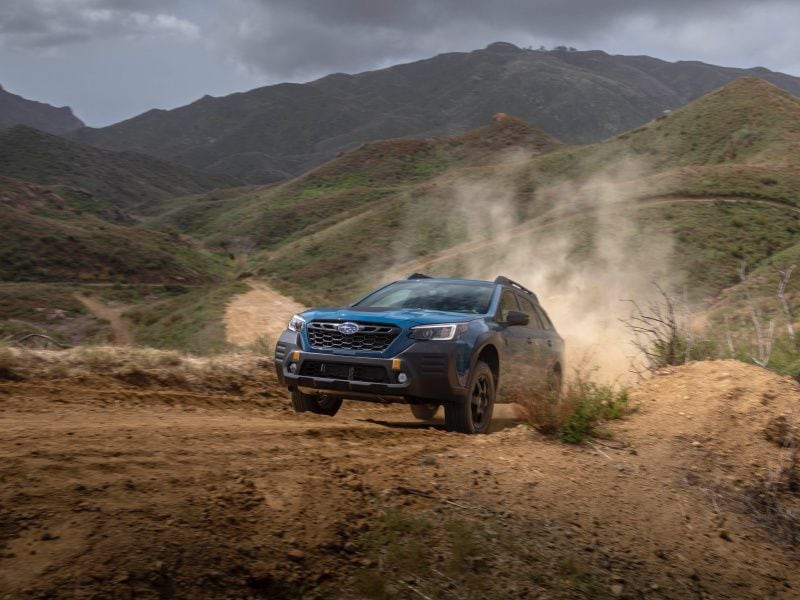 Photo by Subaru
Fuel Economy
As stated earlier, every 2022 Subaru Outback has all-wheel drive, and that has its effects on fuel economy. The Environmental Protection Agency (EPA) predicts a base Outback with a continuously variable automatic transmission will deliver 26 mpg in the city and 33 mpg when on the highway. The trims equipped with the 2.4-liter turbocharged engine are a bit thirstier. With the exception of the Wilderness, they all are rated at 23 mpg in city driving and 30 mpg on the highway. The Wilderness, which has a somewhat different CVT and off-road-oriented drive modes, is rated at 22 mpg city and 26 mpg highway. For a vehicle with off-road capabilities that go beyond window-dressing, that's not bad. In comparison, the 2022 RAV4 Adventure gets an estimated 25 mpg during city driving and 33 mpg on the highway. The RAV4 Hybrid, not to be confused with the RAV4 Prime plug-in hybrid, offers 41 mpg in city driving and 38 on the highway.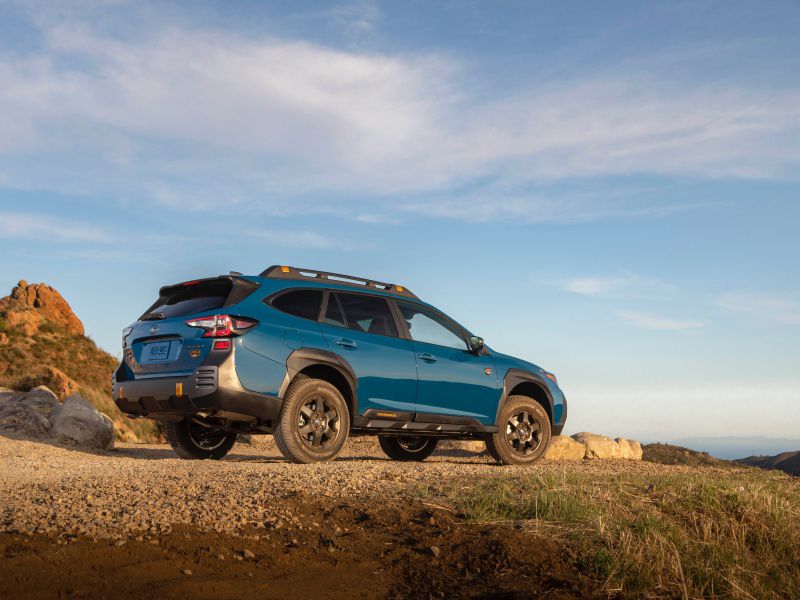 Photo by Subaru
Pricing & Value
The 2022 Subaru Outback is available in Base, Premium, Limited, Touring, Onyx Edition XT, Wilderness, Limited XT, and Touring XT trim levels. The Base model is well-equipped with all-wheel drive, automatic transmission, and the array of EyeSight Driver Assist technologies with useful items like adaptive cruise control with lane-centering. It has twin 7.0-inch displays as well. Moving up the price level buys more luxury, convenience , and safety. The Outback Premium at under $30,000 might be the highest value trim. It adds the All-Weather package with heated front seats, windshield, and exterior mirrors. Plus it has dual-zone automatic climate control, 10-way power driver's seat, and the impressive 11.6-inch Starlink media system. The new-for-2022 Outback Wilderness has revised suspension tuning with additional ground clearance, Yokohama all-terrain tires, and Wilderness-exclusive X-MODE. That system uses the Active AWD variable transfer clutch lock control to offer even more capability and control on slippery road surfaces and inclines. The Outback Touring includes all the standard equipment of the well-fitted Limited trim plus the 180-degree front view monitor, automatic power-folding mirrors, heated steering wheel, and ventilated seats. Genuine Nappa Leather upholstery adorns the interior. The overall message is Subaru has an Outback model to please a wide variety of shoppers.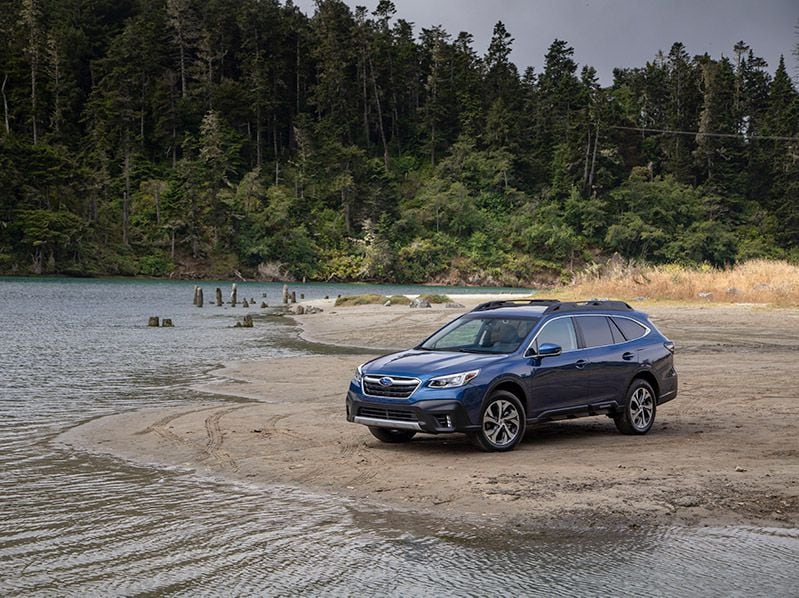 Photo by Subaru