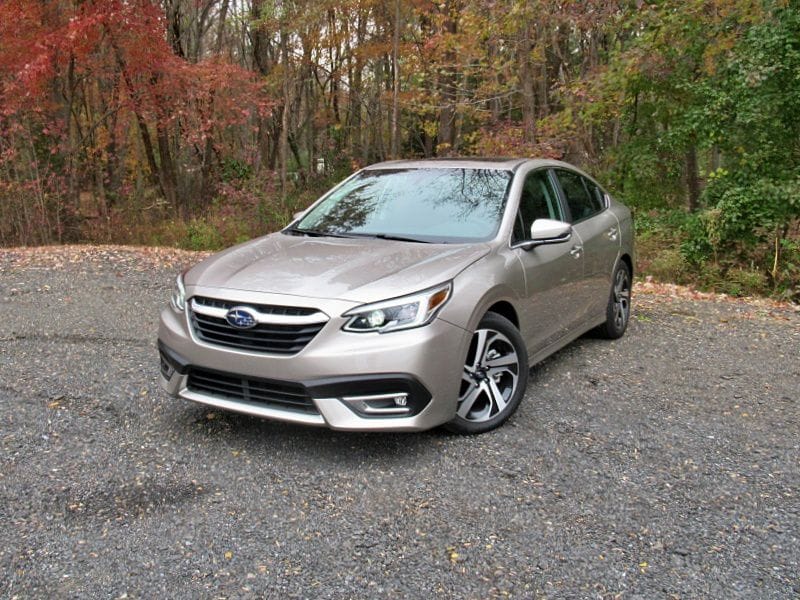 Subaru Legacy Limited ・ Photo by Brady Holt
Most people who want all-wheel drive buy an SUV. (Heck, so do many people who don't!) But those who prefer mid-size sedans have happily bought the Subaru Legacy for more than two decades. Like most Subarus, every Legacy comes standard with AWD. 
But there are other choices. One of them is the 2022 Toyota Camry, which is America's best-selling mid-size sedan. And for a couple of years now, it has also offered all-wheel drive as an option on select trim levels. For this review, we tested the Subaru Legacy and the Toyota Camry AWD to see how they compare in eight categories. We've also tested the more popular front-drive Camry models, in case you're interested in one of these comfortable, affordable sedans without being focused on their all-weather capabilities. Keep reading to find out which one we picked and which one sounds like the better choice for you. 
Pricing and Features
The base 2022 Toyota Camry LE costs $25,295, and all-wheel drive costs an extra $1,400 on top of that. That's a big premium over the entry-level 2022 Subaru Legacy, which costs just $22,995 despite standard AWD. 
With its automatic climate control, power-adjustable driver's seat, and alloy wheels, the Camry LE is closer to the next-up Legacy Premium; that model costs $25,245, which still undercuts the Camry despite adding heated front seats. Our favorite Camry bargain is the SE, like our test vehicle; it introduces upgraded partial-leatherette upholstery and dressier styling for only about $1,500 more than the LE. You can also get genuine leather for a similar price to the Legacy (right around $30,000). And Toyota's two years of free scheduled maintenance is a nice perk. But overall, the Legacy is the stronger bargain — even if you don't care about all-wheel drive.
Subaru Legacy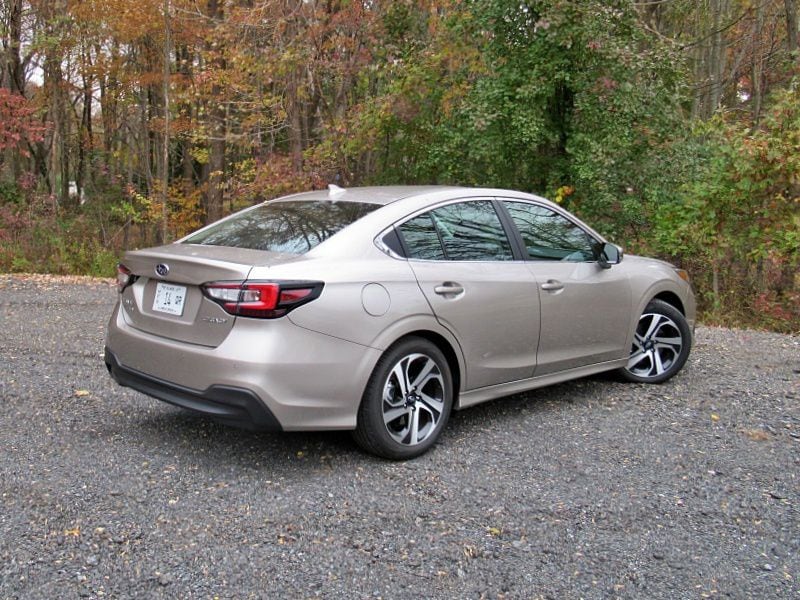 Photo by Brady Holt
Exterior Design
While the Camry is often considered a plain-vanilla sedan, today's model (last redesigned in 2018 and tweaked last year) wears a pretty aggressive face. That's especially true if you choose the sport-themed SE, XSE, or TRD trim levels, where the Camry's hourglass-shaped grille and slim headlights get your attention. And although this Toyota doesn't have a low, sporty roofline, its creased body avoids being slab-sided and dull.
The Legacy doesn't aim for much excitement. Its 2020-model redesign was a cautious nip-tuck upgrade over the 2015-2019 model, which itself was nothing radical for its day. On the other hand, there's nothing objectionable about this cleanly handsome sedan. If you'd rather have an attractively conservative car than something in-your-face, this Subaru is at your service. We won't choose a winner between these two design approaches. 
Tie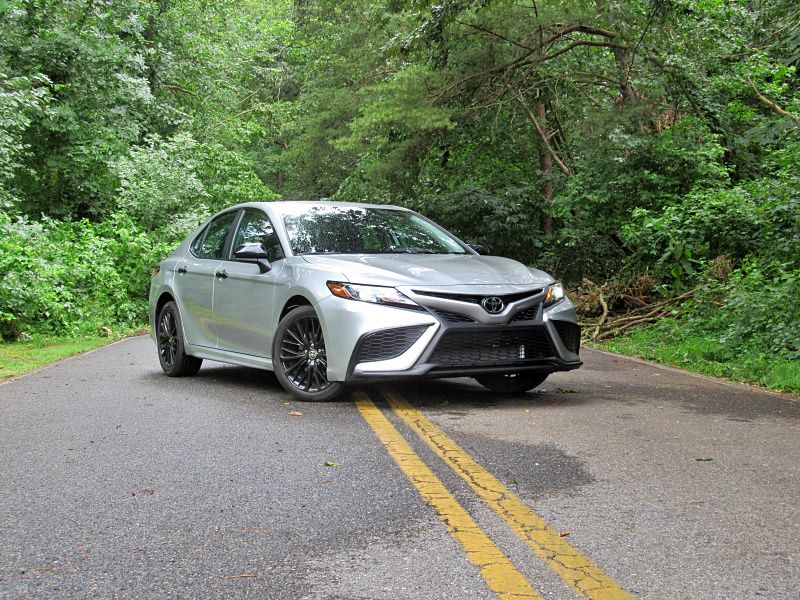 Photo by Brady Holt
Interior Design
The Camry has a gracefully flowing interior design, with a curve that swoops down to wrap around the gear selector. Not all cabin materials are fancy, but the styling gives it some extra panache in our eyes. Toyota updated the Camry for 2021 with a bigger 9-inch infotainment screen, which is standard or optional on all trim levels. Our test vehicle stuck with the base 7-inch unit, which is small for a 2022 vehicle. A design change to accommodate the bigger screen means that both units stick out a bit from the top of the dash.
The main pizzazz in the Legacy's interior comes from the big tablet-style 11.6-inch touchscreen, which is standard on all but the base model and dominates the instrument panel. We also appreciated richer interior materials than the Camry. But we're still going to call this category an overall tie, and that's mainly because the Camry's controls are simpler to use. The Subaru's big touchscreen absorbs too many functions, such as the climate controls; no cold-weather car should bury its seat heaters into touchscreen menus. The Legacy's interior is also plainer to look at than the Camry's, and Toyota provides more storage space. 
Tie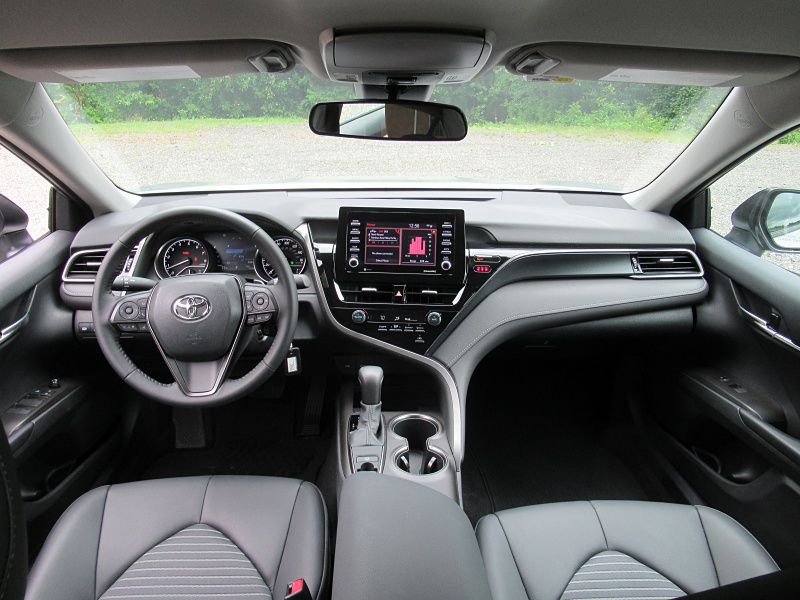 Photo by Brady Holt
Interior Space and Comfort
We come to another tie between these well-matched family sedans. In this case, though, it's not that the two sedans each succeed in different ways — they're just similar. Both have comfortable, well-shaped front seats (our own bodies slightly prefer the Camry's) and spacious rear seating (we slightly prefer the Subaru's). And they have identical 15.1-cubic-foot trunk volumes, each on the low side for a mid-size sedan. 
The Legacy has slightly better outward visibility, though the big-windowed Camry already has a better view out than most modern sedans. And Toyota makes it more affordable than Subaru to buy an optional heated steering wheel (a cold-weather boon) or ventilated front seats, but only the Legacy lets you add heated rear seats. 
Tie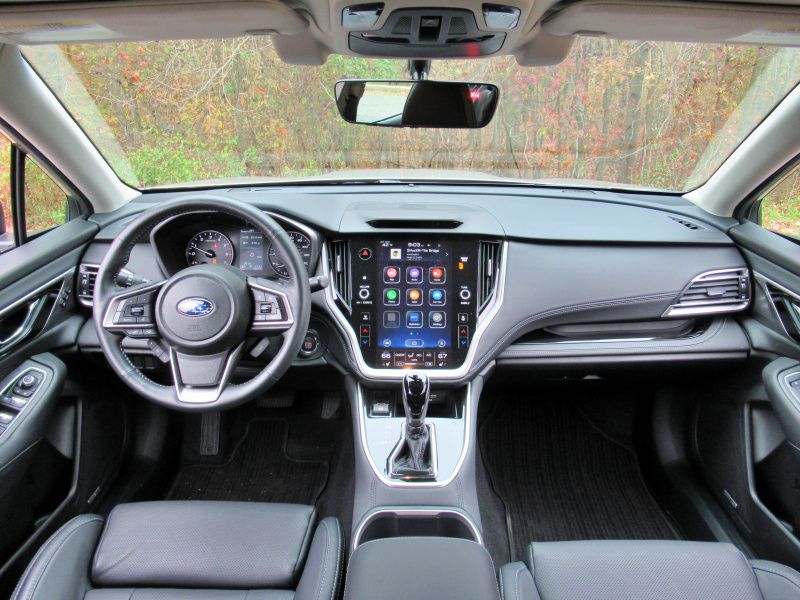 Photo by Brady Holt
Ride and Handling
The Toyota Camry is almost synonymous with dull-driving, comfort-focused transportation. But the modern Camry has moved beyond that stereotype. It still offers outstanding smoothness and quietness, but it has also become quite agile. Its steering is responsive and decently precise, and the car doesn't pitch and roll when it takes a curve. Whether you're trying to go straight or take a turn, it's comfortable and composed. 
The Subaru Legacy, meanwhile, is what a Camry used to be: soft. The ride absorbs bumps beautifully but without the Toyota's composure. The Subaru feels lighter and less substantial, and it is less agile and responsive than the Camry. The Legacy once went through a sports-sedan phase, but that was more than a decade ago. We didn't get a chance to test these AWD sedans in the snow, but both cars' systems have proven sure-footed. 
Toyota Camry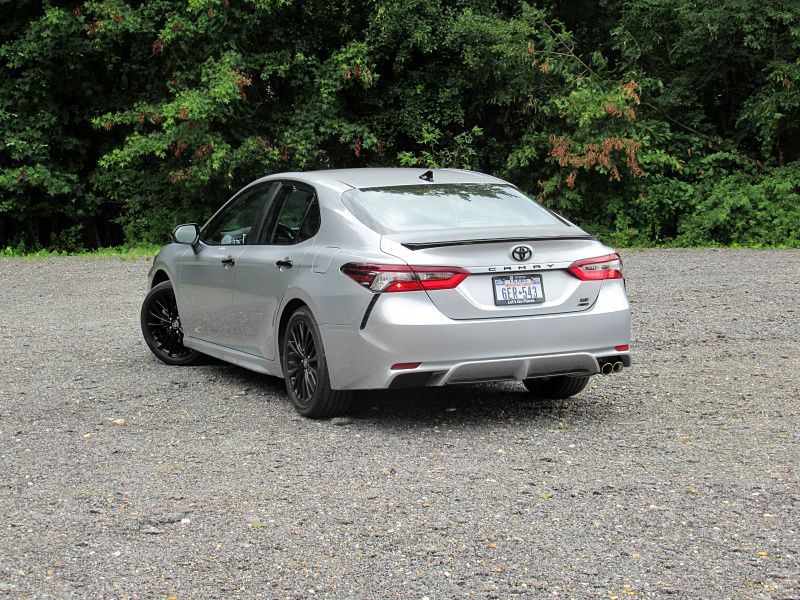 Photo by Brady Holt
Acceleration
The Camry's dynamic dominance continues under the hood. Toyota provides a 203-horsepower 2.5-liter four-cylinder as its base engine, mated to an eight-speed automatic transmission. That substantially outguns the Legacy's 182-horsepower 2.5-liter, which is paired with a continuously automatic transmission (CVT). Neither engine sounds beautiful, but the Legacy's is louder when it works hard — and with less reserve power, it has to work hard more often. And its sensitive throttle makes the Legacy jump off the line even when you're trying to be gentle. 
Upgrading the Camry's engine brings a big 3.5-liter V6 making a mighty 301 horsepower. Acceleration is smooth, quiet, and unimpeachably swift. The Legacy's top engine is a turbocharged 2.4-liter four-cylinder making 260 horsepower; it makes the Subaru effortlessly quick and it stays quiet, but it's neither as rich-sounding nor as quick as the V6 Toyota. The Camry also lets you buy a V6 for less money than Subaru charges for the cheapest turbo Legacy, though both cost well over $30,000. There's also a third option from the Camry: a 208-horsepower gas-electric hybrid, whose main advantage arrives on the next page. Only the Camry's base engine offers AWD, but it otherwise wins this round.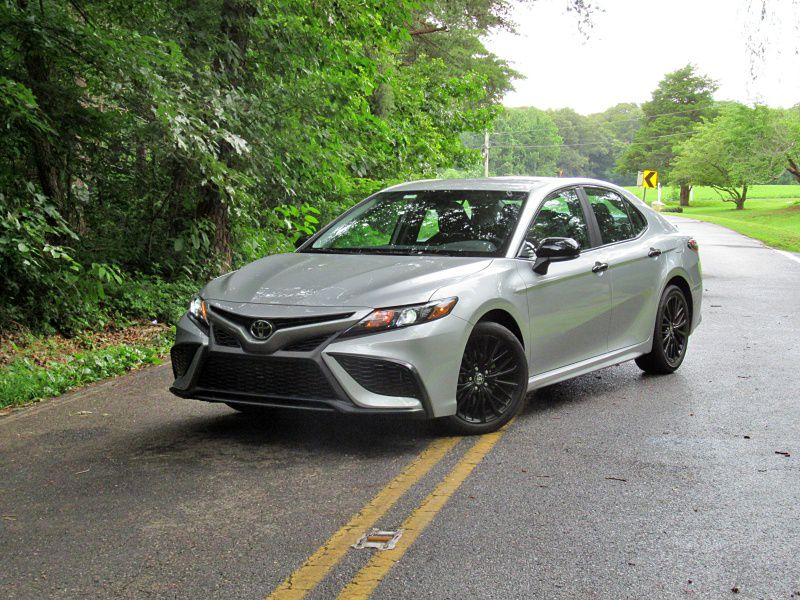 Photo by Brady Holt
Fuel Economy
When it comes to fuel efficiency, your winner mainly depends on whether you're planning to get all-wheel drive. The front-drive Camry is the most economical option, typically scoring 28 mpg in the city, 39 mpg on the highway, and 32 mpg combined in EPA testing with its base engine and an excellent 44 mpg city, 47 mpg highway, and 46 mpg combined with the gas-electric hybrid. 
The Legacy's base engine manages an EPA-estimated 27 mpg city, 35 mpg highway, and 30 mpg combined. That edges out the AWD Camry's 25 mpg city, 24 mpg highway, and 29 mpg combined. And the turbo Legacy manages 24 mpg city, 32 mpg highway, and 27 mpg combined, beating the front-drive V6-powered Camry's ratings of around 22 mpg city, 32 mpg highway, and 26 mpg combined. We averaged 33 mpg in an AWD Camry and 38 mpg in mostly highway driving with a front-drive four-cylinder model, while our base-engine Legacy trailed both at 31 mpg. Based on the EPA ratings, we'll call this category an overall tie: The Legacy slots between the AWD and front-wheel-drive Camry versions. 
Tie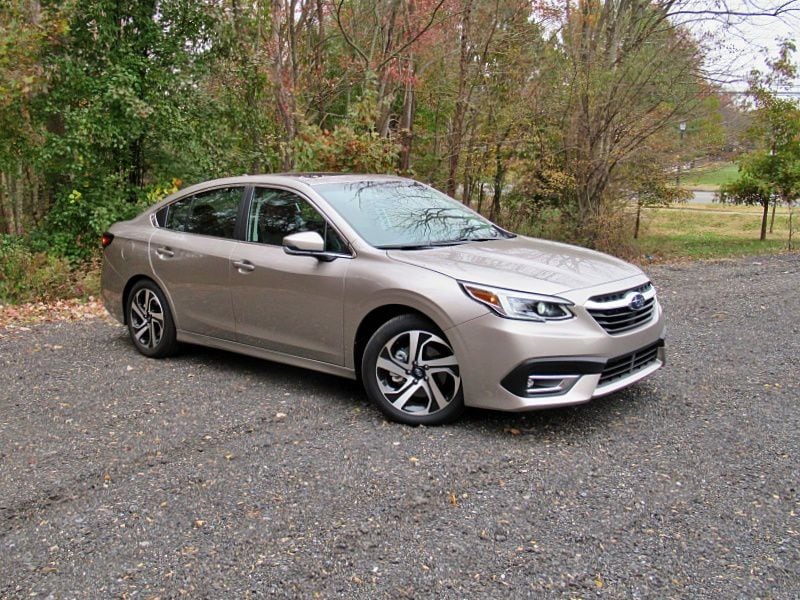 Photo by Brady Holt
Safety
Both the Camry and the Legacy offer outstanding safety. They earned the highest designation of Top Safety Pick+ from the Insurance Institute for Highway Safety and top five-star marks from the National Highway Traffic Safety Administration. 
Both sedans also come standard with advanced driver-assistance technologies like forward automatic emergency braking, lane-keeping steering assistance, and adaptive cruise control. Both charge extra for blind-spot monitoring and rear automatic emergency braking. We'll turn to the Legacy's standard all-wheel-drive system to break the tie, as it can provide additional traction and peace of mind in messy conditions. But both of these sedans are safety standouts.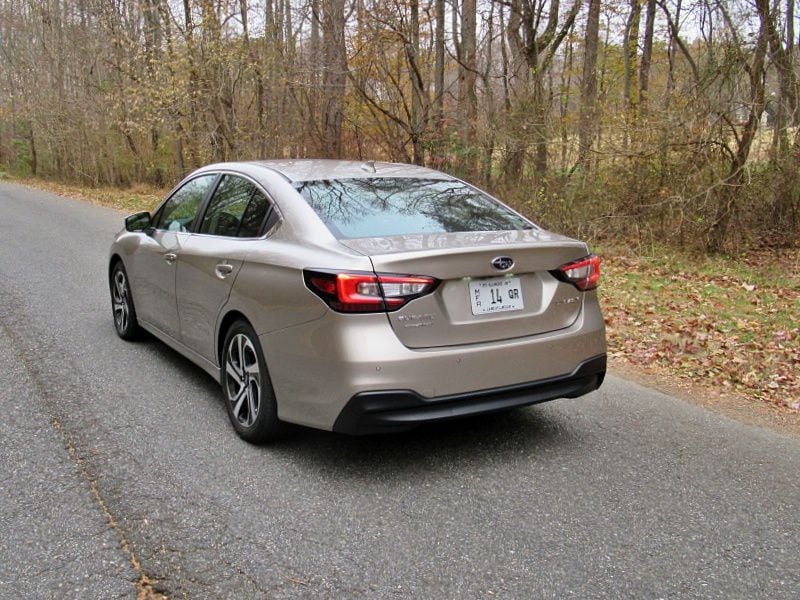 Photo by Brady Holt
Final Thoughts
If you're looking for a comfortable, affordable mid-size sedan with all-wheel drive, the 2022 Subaru Legacy remains on top. It undercuts the AWD 2022 Toyota Camry by several thousand dollars while matching or beating its interior space, build quality, gas mileage, and crash-test performance. 
Still, to us, the Camry is worth some extra money — especially if you're not attached to all-wheel drive. It's quicker, quieter, and more agile without being any less comfortable. Its interior is attractive yet user-friendly. Its available hybrid powertrain offers exceptional gas mileage, while its optional V6 has incredible speed. When you're looking for more than comfortable transportation, the Camry is a worthwhile upgrade from the Legacy. 
Toyota Camry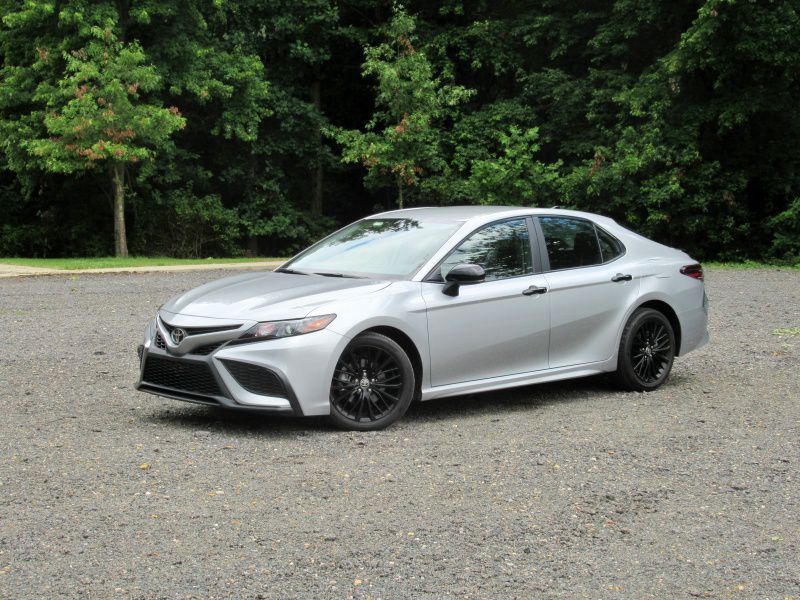 Photo by Brady Holt