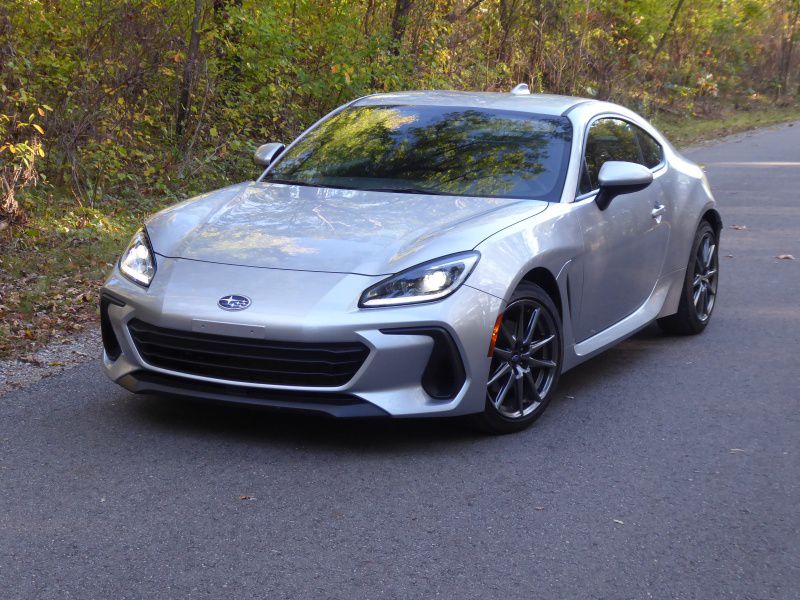 2022 Subaru BRZ ・ Photo by Ron Sessions
Entering its second generation with the introduction of the all-new 2022 version, the Subaru BRZ is an affordable 2+2 coupe embodying simple driving fun. It sits more than a half inch lower than the 2020 version and spans just over an inch longer nose to tail. Its low-slung stance is highlighted by a low, wide grille, and functional air intakes are framed by LED headlamps and substantially arched fender bulges, each filled with meaty rubber. The side glass tapers into a narrowed greenhouse capped by a double-bubble-shaped roof that pays homage to classic race cars. Functional side vents on the front fenders help reduce aerodynamic drag by exhausting air pressure from under the front end and engine compartment. At the rear, a ducktail spoiler atop the deck lid further aids with the BRZ's movement through the air.
Subaru offers two models, a well-equipped Premium and range-topping Limited. Including the $960 destination charge, the Premium is $28,955, and the Limited is $31,455. Rear-wheel drive is standard. The automatic transmission is a $1,600 upcharge.
More Power
The big news is even though the BRZ didn't get the turbo engine from the WRX this go around, it now has a beefier, more-powerful naturally aspirated 2.4-liter 4-cylinder under its sleek hood. The new horizontally opposed 2.4-liter pumps 228 horsepower, up 22 from the 206-hp 2.0-liter used in the 2020 version. It has a robust midrange and a nice exhaust growl. The engine's rev limit is now a rousing 7,000 rpm. Torque is up as well a healthy 15 percent from a measly 154 lb-ft in the last version to 184 lb-ft in the 2022 model. The BRZ has just enough exhaust presence from its prominent dual exhaust to let you know it's a performance car, but not so much that gets tiring after an hour or two behind the wheel. It has a pleasant bark when accelerating through the gears with two-thirds to full throttle above 5,000 rpm. Subaru also enhances the engine sound that's piped in through the car's audio system.
Transmission choices include a standard 6-speed manual or optional 6-speed automatic with steering-wheel-mounted paddle shifters, the former becoming a rarity these days.
Combined city/highway EPA fuel economy estimates are 22 mpg for the 6-speed manual and 25 mpg for the automatic. I saw 26.2 mpg during five days and 175 miles of mixed rural 2-lane and interstate driving in the automatic-transmission test car.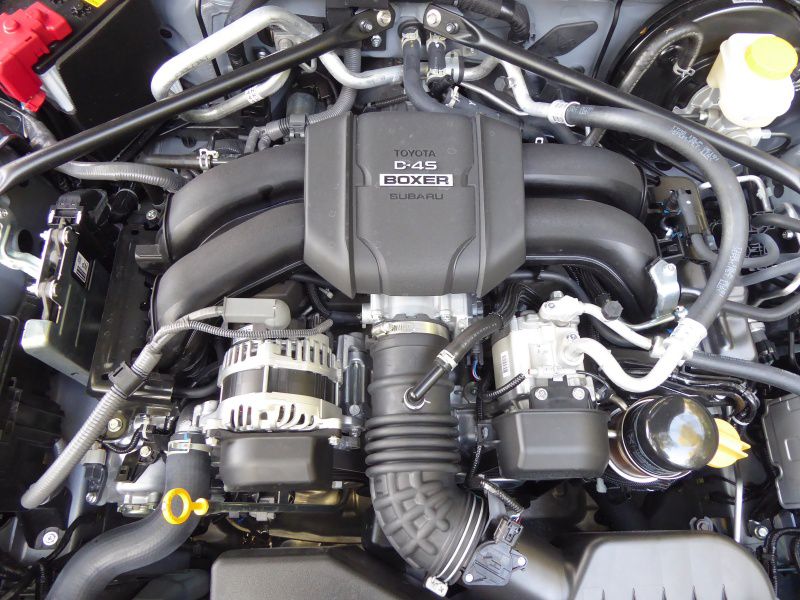 Photo by Ron Sessions
Front Row Seats for Fun
The foundation of the BRZ's driver-focused interior is a pair of low-mounted, body-hugging front bucket seats with ample thigh and lower-torso bolstering that keep their occupants planted when the roads get twisty, but are equally as comfortable on long interstate slogs. The front seat controls are manually adjustable fore-aft and for seatback tilt, and there's height adjustability for the driver's seat, too. Seat coverings are grippy cloth with Premium trim and leather and faux suede in Limited trim, both with red stitching and accents. Limited also adds front seat heaters. A grippy, leather-wrapped steering wheel with manually adjustable tilt and telescope adjustments is standard.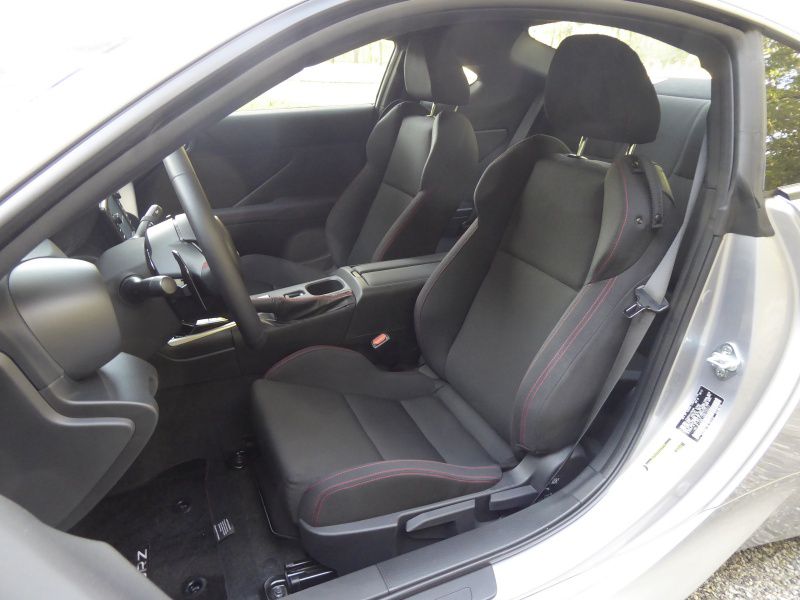 Photo by Ron Sessions
Made for Driving
Upon pushing the standard dash-mounted pushbutton start, the driver faces a configurable 7-inch digital gauge display with a large and prominent tachometer framing a digital speedometer readout. The gauge display can be configured to show coolant temperature, acceleration, braking and lateral-handling g-forces, charging system output and more. When Track mode is selected, the tachometer transforms into a linear graph for quick reads by the driver. Pedals are aluminum-trimmed.
There isn't an overabundance of storage space inside. The center console sits atop a high transmission tunnel and most of its space is taken up by the leather-wrapped shifter, handbrake, and drive-mode controls. Automatic-transmission models have a cup holder in front of the center armrest. With manual-transmission versions, the cup holders reside inside a storage bin under the center armrest, which also houses the USB ports. Opening the dual bomb-bay doors for the console storage bin to access the manual-transmission version's hard-to-reach cup holders while driving isn't easy. The doors, at least, have bins and bottle holders.
Interior amenities include dual-zone automatic climate control and aluminum-trimmed foot pedals.
Outward visibility to the front and sides is good courtesy of thin windshield pillars. As for rear visibility, it's good the BRZ comes with a backup camera.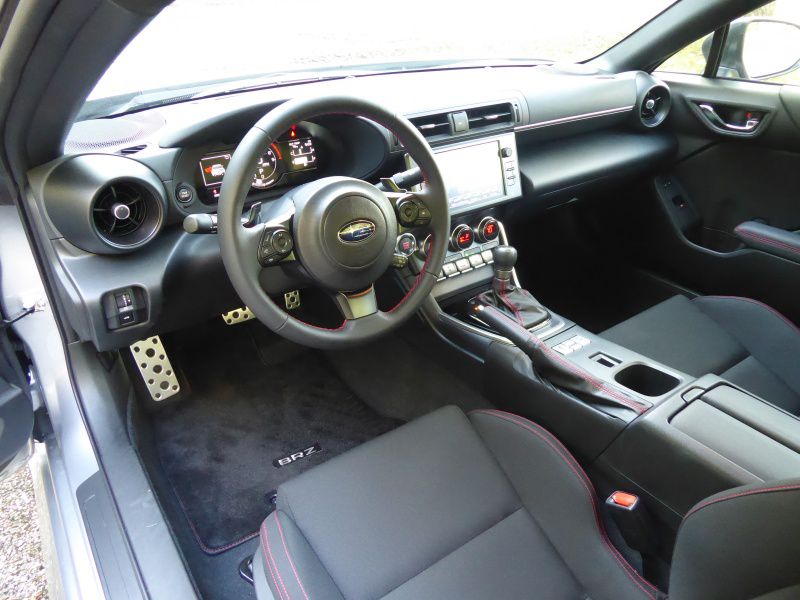 Photo by Ron Sessions
Infotainment
Upsized from the last-generation version's 7-inch infotainment screen, the 2022 BRZ gets a new standard 8-inch color touchscreen with Apple CarPlay and Android Auto cellphone mirroring capability. There is no imbedded navigation, so for maps and directions, you'll use the system that comes with your smartphone. The 8-speaker AM/FM audio system includes a 3-month trial of SiriusXM. The Limited version adds Starlink telematics.
With large, analog knobs for volume and tuning as well as hard shortcut buttons flanking the screen, using the system is simple and allows quick on-the-fly adjustments while keeping eyes on the road. The only problem is it's easy to bump the FM audio source tile on the screen when rotating the volume knob on a bumpy road. So it's best to use the steering wheel volume buttons in that case.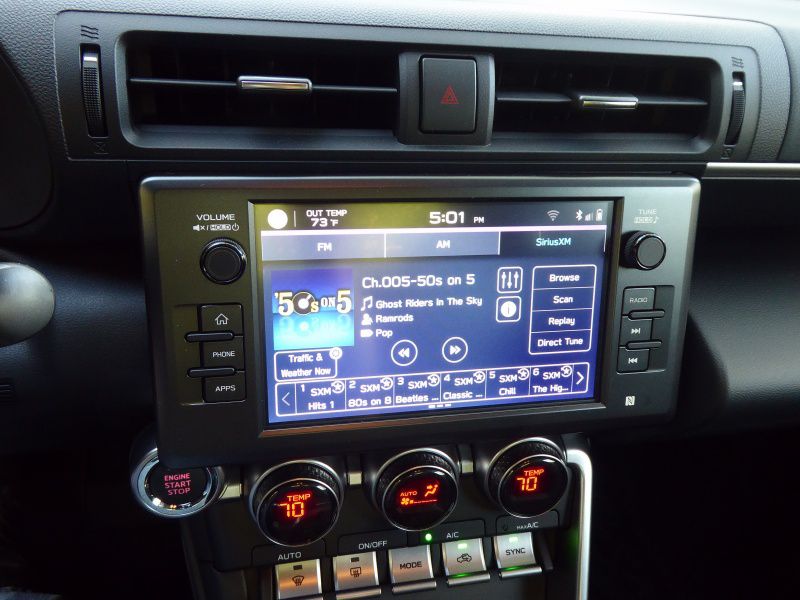 Photo by Ron Sessions
Driving Modes
When equipped with the 6-speed automatic transmission, the new BRZ offers a driver-selectable Sport mode. Using a switch on the center console, engaging Sport mode delivers quicker downshifts with rev-matching throttle blips and keeps the transmission downshifted in a lower ratio during hard cornering. The driver can also select a Snow mode or a new Track mode, which turns off the car's stability control system for tail-out, closed-course driving.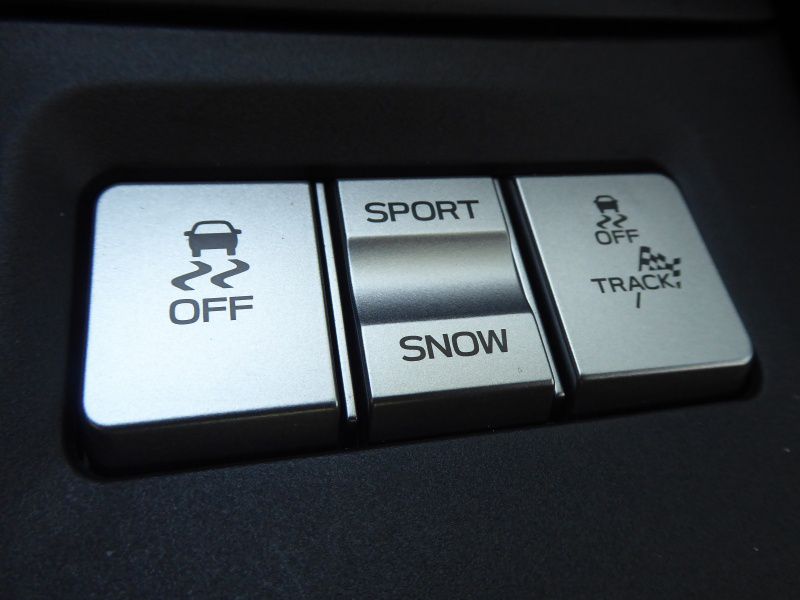 Photo by Ron Sessions
2+2 Back Seat
Offering a 2+2 in the classic sense, the rear seats are just for occasional use, and not by adults. It is possible to fit one person behind the front passenger seat if slid forward a few inches, but this will mean only a short-statured passenger can sit there. In practical use, the rear seat is just for pets, a briefcase, a purse, or a few packages. The rear seat does have a pair of LATCH child-seat lower safety anchors and tethers, however, for carrying a little one or two.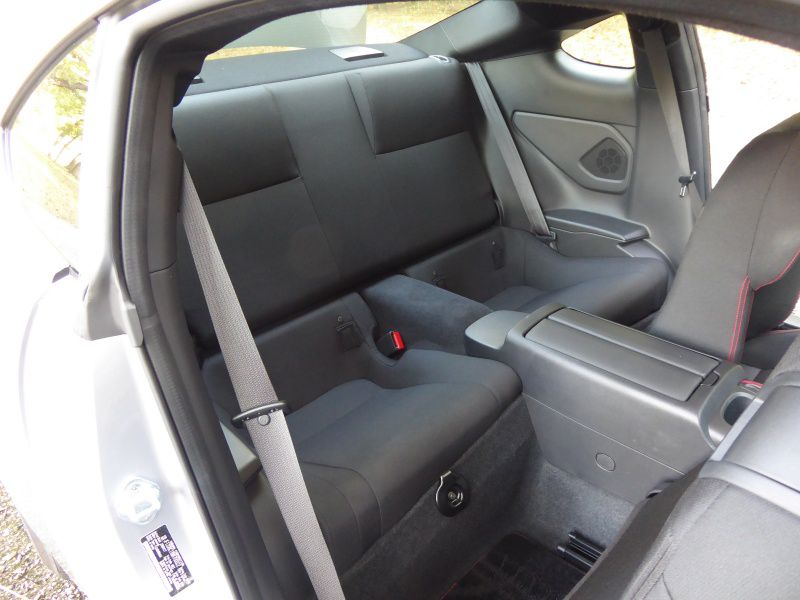 Photo by Ron Sessions
Trunk Access
As in any sport coupe, the BRZ's trunk space is on the small side. The mechanically identical Toyota GR86 offers 6.26 cubic feet of trunk space.  But folding down the one-piece rear seat back more than doubles the available cargo space for long items such as skis, a set of golf clubs, a mountain bike, or a medium-size step ladder. The front console is notched for clearance so the rear seat folds flat when lowered. The BRZ isn't equipped with a spare tire, just a tire inflator/repair kit. But underfloor in the spare tire well is a subdivided Styrofoam organizer that is perfect hidden storage for valuables such as a camera, tablet, or purse.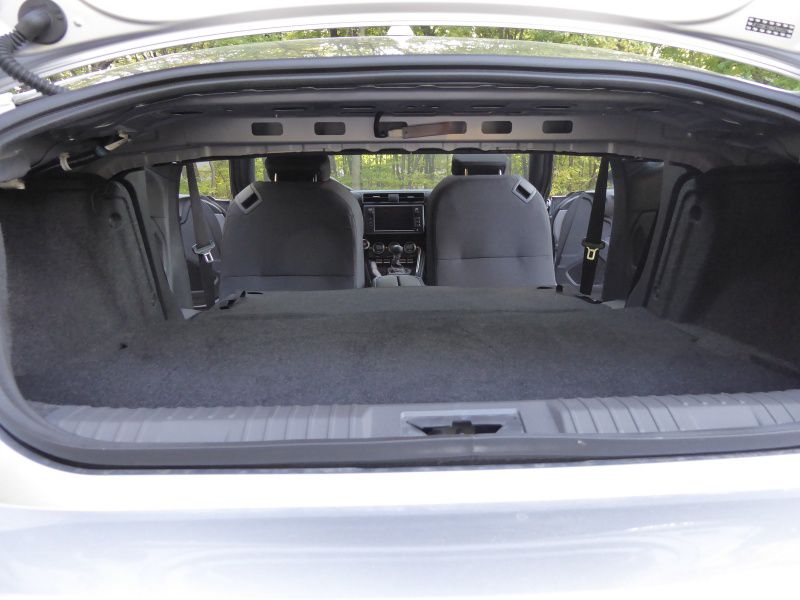 Photo by Ron Sessions
Safety and Driver Assistance
The 2022 Subaru BRZ is equipped with seven airbags, including a new driver's knee airbag and a backup camera with trajectory lines. On the base Premium model, Subaru's Eyesight advanced driver-assistive tech is limited to versions equipped with the automatic transmission, consisting of a pre-collision warning system with pedestrian detection and auto emergency braking, a lane departure warning system, adaptive cruise control, and automatic high-beam control. Moving up to BRZ Limited adds blind-spot and rear cross-traffic monitoring.
As of the posting of this review, neither the National Highway Traffic Safety Administration nor the Insurance Institute for Highway Safety has published crash test ratings for the 2022 Subaru BRZ.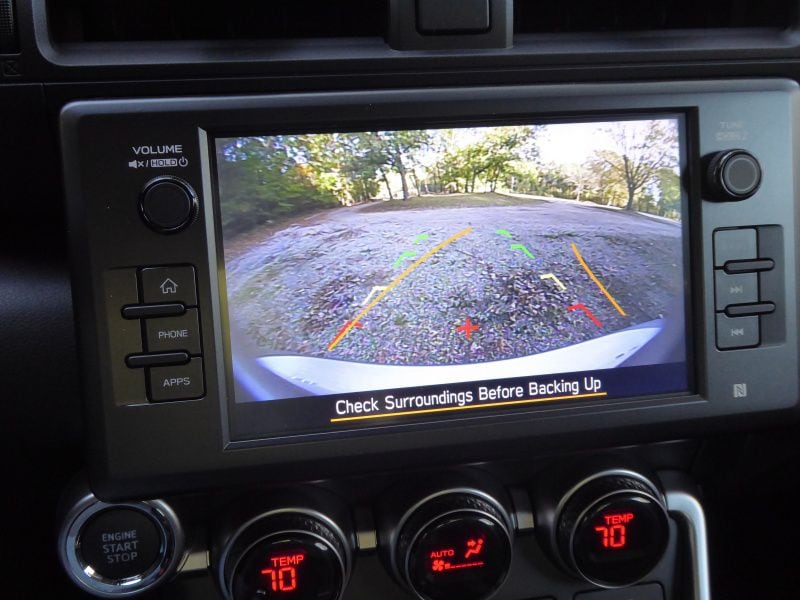 Photo by Ron Sessions
Driving Dynamics
A low center of gravity, a low curb weight just over 2,800 pounds (thanks to an aluminum roof, hood, and front fenders), precise steering, balanced handling, and a firm ride in a body with 50 percent higher torsional stiffness results in a car that's quick to respond to driver inputs. Fast-ratio electrically boosted steering with just-right effort and feedback helps in that regard, too.
The Limited rolls on 215/45R17 Michelin Primacy all-season tires, with meatier summer performance 215/40R18 Michelin Pilot Sport 4 rubber underpinning Premium models. A Torsen limited-slip rear differential is standard, not that the BRZ is the kind of car to do smoky burnouts with. The BRZ is a lightweight performance coupe, so handling and responsiveness trumped cabin isolation when priorities were being set and as a result, there is a hollow "pong" sound as the BRZ's tires travel over highway pavement seams and other road imperfections.
The automatic BRZ can now sprint from rest to 60 mph in 6.5 seconds, while the stick-shift version with its shorter gearing can do the deed in 6 seconds flat. That's at least a second quicker than the previous version could manage.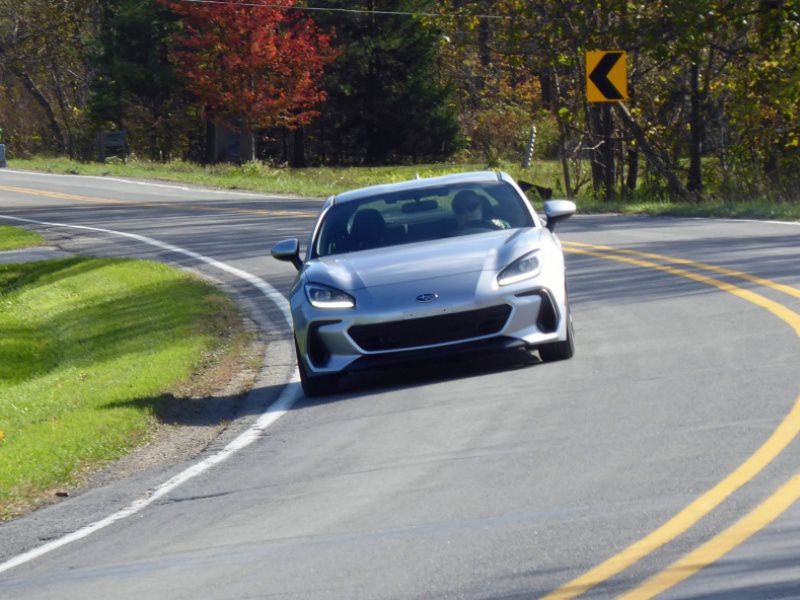 Photo by Ron Sessions
Pure Basic Fun
Along with its nearly identical twin, the Toyota GR86, the 2022 Subaru BRZ is one of a handful of cars that offer affordable, basic-driving fun. The BRZ doesn't attempt to offer blazing acceleration or room for much more than a driver and one lucky passenger, and it isn't a showcase of multimedia entertainment and connectivity. But what it does do is offer an analog-driving experience that gets to the core of why people love a simpatico relationship with machine that can take them places — literally and figuratively — where the journey of getting there is just as important as destination.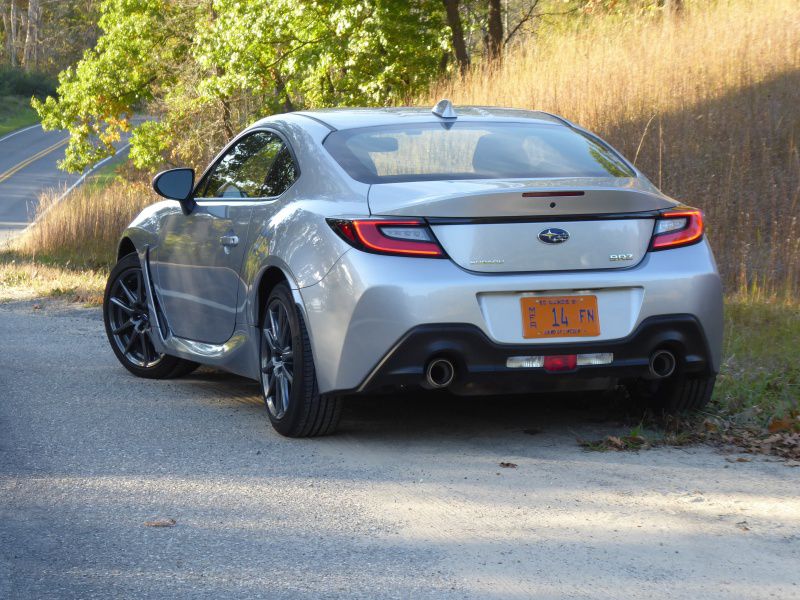 Photo by Ron Sessions