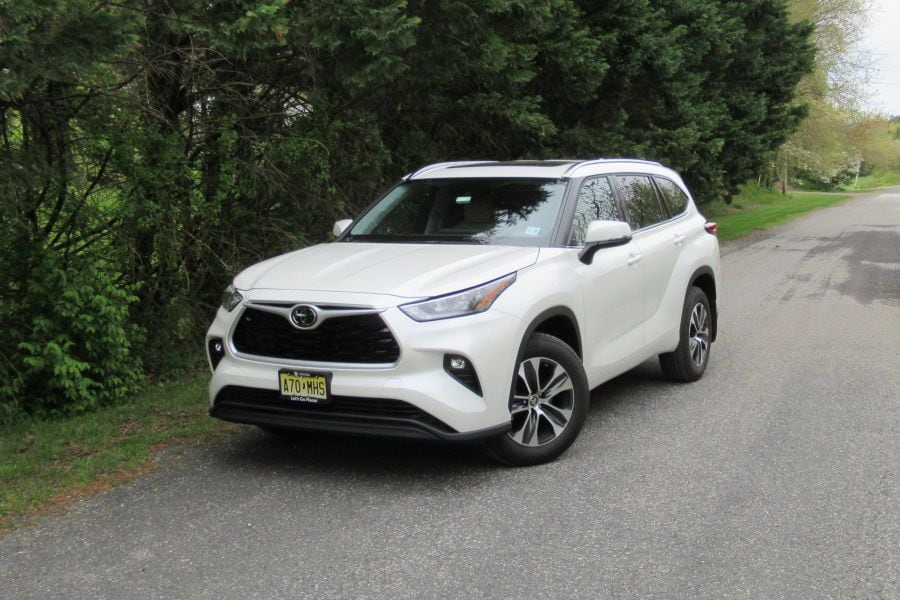 2020 Toyota Highlander XLE ・ Photo by Brady Holt
Toyota and Subaru were two of the first automakers to grasp the idea of the crossover SUV, long before the term existed. They took the rugged vibe of a traditional SUV but retained more of the comfort, agility, and fuel economy that most people preferred. 
The difference is that Toyota was relatively quick to develop a popular three-row crossover: the mid-size Highlander, which has offered three rows of seats for most of its 20-plus years on the market. It's the segment's best-seller today. But it took until 2019 for Subaru to mount a serious challenger to the Highlander — the Ascent — and Toyota fully redesigned the Highlander soon after. Both models trade maximum interior space for a less-bulky footprint than several leading competitors. For this review, we tested both the Highlander and the Ascent to compare them in each of eight categories and then name an overall winner. Keep reading to learn what we picked and which three-row crossover sounds like the better choice for you. 
Pricing and Features
The 2022 Subaru Ascent is priced from $32,295, but while its base version includes lots of features — including adaptive cruise control, tri-zone automatic climate control, and all-wheel drive — most folks will step up to the next-tier Premium ($34,795) for add-ons that include body-colored exterior trim, a leather-wrapped steering wheel, a power driver's seat, a blind-spot monitor, and an 8-inch infotainment touchscreen. The Onyx Edition introduces leatherette upholstery for $37,995, while the Limited has genuine leather for $39,595. The top-of-the-line Touring comes to $45,445. 
The 2022 Toyota Highlander starts at $35,405. That's a significant jump from the base Ascent before you even add all-wheel drive, which costs an extra $1,600 on each Highlander trim level. The base Highlander L has a couple features that are missing from the base Ascent: a power driver's seat, push-button starting, and an 8-inch touchscreen. But it costs even more than the Ascent Premium. Getting leatherette in the Highlander means the XLE ($40,605), genuine leather means the Limited ($44,560), and the top Platinum model starts at $47,660. You can also choose a gas-electric Highlander Hybrid for a $1,450 premium. 
Subaru Ascent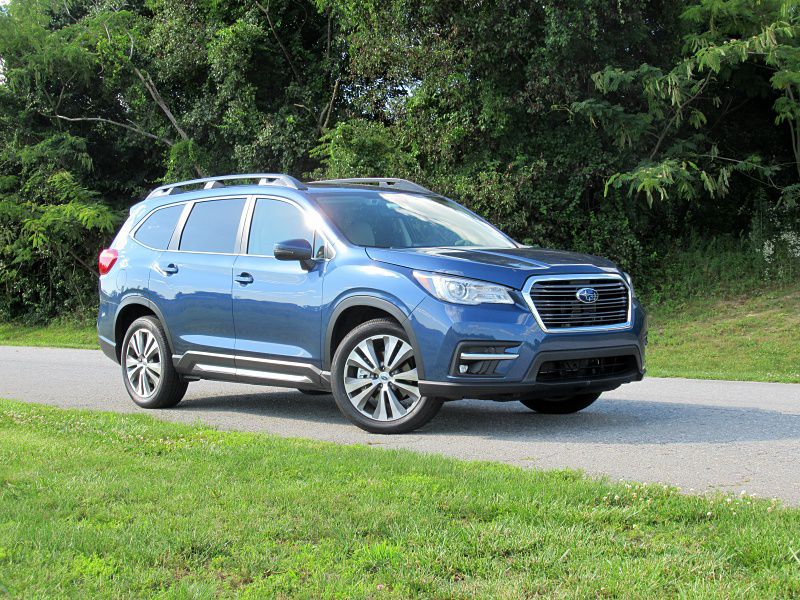 Photo by Brady Holt
Exterior Design
We don't think anyone is going to choose either the Highlander or the Ascent because they're in love with these crossovers' styling. Both are fairly conservative and neither is terribly graceful. The current Highlander generation closely resembles its predecessor, and it looks long and narrow. High, small headlights; small windows; a sporty bulge over the rear fender; and a boxy front end rescue it from anonymity, but this isn't a heart-stopper. 
While the Highlander is long and narrow, the Ascent is tall and narrow. It looks like a higher Subaru Outback from some angles, but except for sturdy-looking roof racks and a big of plastic cladding, it doesn't have the cheerfully rugged vibe of a smaller Subaru. It's just simple and gentle, with minimal flair or pretense. We'll let you pick your own styling favorite between these two models. 
Tie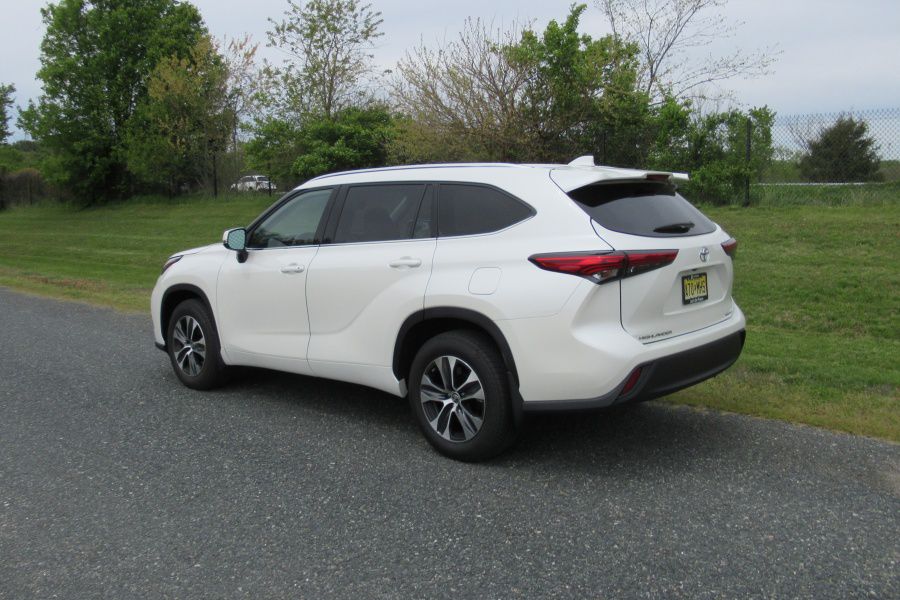 Photo by Brady Holt
Interior Design
The all-business vibe continues to the Ascent's interior. The dashboard offers simple symmetry with a vertically flowing instrument panel, simple controls, and an unassuming 8-inch touchscreen infotainment system on most trim levels (the base model gets a tiny 6.5-inch unit). There's nothing flashy or high-tech here, but we have no complaints about its ease of use. Build quality is generally solid, too, though we wish Subaru had invested more into how the exterior door handles and the gear selector move. The driver will use those any time they get into the Ascent, and both feel cheap.
The Highlander is flashier. It has a choice between an 8-inch screen and a class-leading 12.3-inch unit, along with a more flowing dashboard design. And the top Platinum model has extra-rich upholstery. But we wouldn't say it's a luxury-grade interior overall, and even the big screens aren't extra-slick. It's fancier than some past Highlanders, and it carves out lots of handy storage space. But we'll name this category an overall tie between the honest simplicity of the Subaru and the dressier-looking but equivalently finished Toyota. 
Tie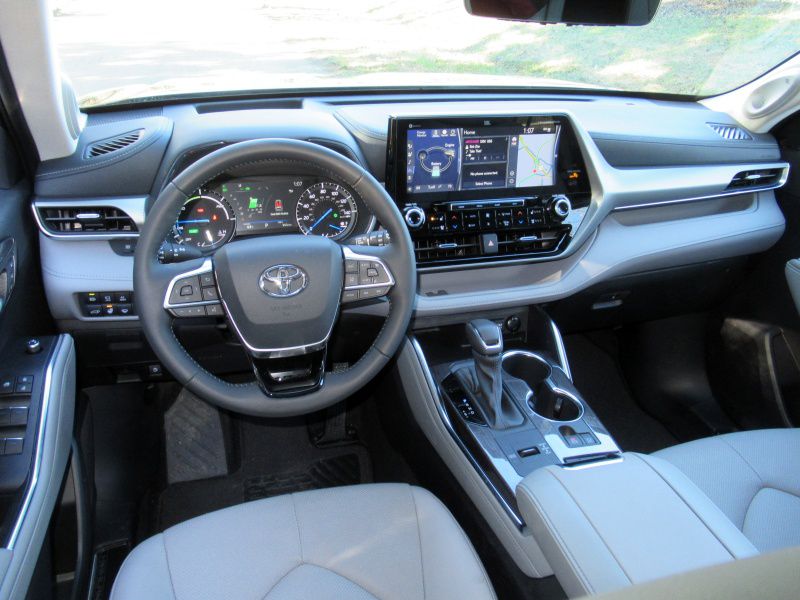 Photo by Brady Holt
Passenger Accommodations
Neither the Ascent nor the Highlander is the roomiest three-row crossover you can buy. Both can seat up to eight passengers if you choose their second-row bench seats — or seven if you pick second-row captain's chairs — but their third-row seats have limited legroom. Their front and second rows are similar; we found the Highlander's front seats a bit more comfortable than the firmer Ascent's, but your tastes may differ. 
Overall, we'll narrowly award this category to the Ascent. Its third row is a little bit bigger, and Subaru charges less to upgrade to features like heated front seats, heated second-row seats, and a heated steering wheel. But you'll find similar passenger accommodations between these two mid-size SUVs.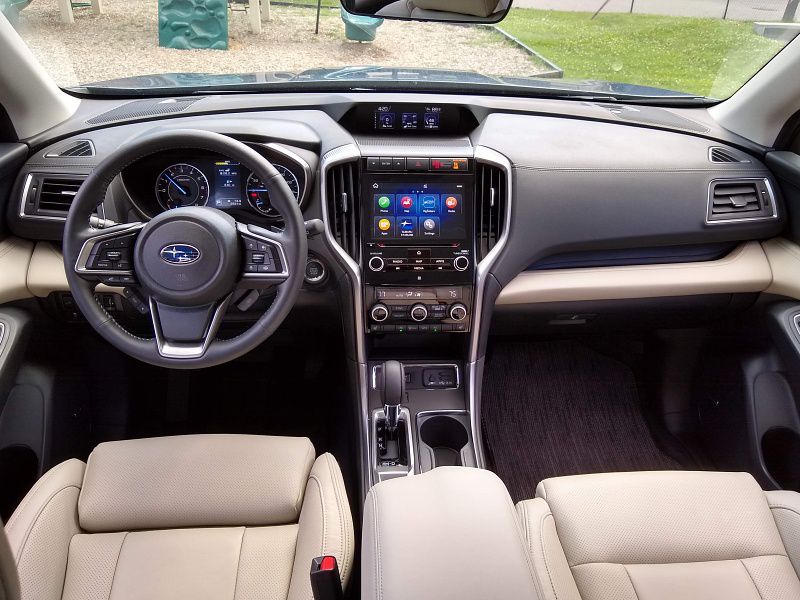 Photo by Brady Holt
Cargo and Utility
For cargo, these two crossovers are even more closely matched. The Ascent fits 17.8 cubic feet of cargo space behind the third-row seat, 47.5 cubic feet behind the second row, and 86.5 cubic feet with both rear rows folded down. The Highlander handles 16.0 cubic feet behind the third row, 48.4 cubic feet behind the second row, and 84.3 cubic feet behind the front seats. 
Because of their different shapes, the Highlander is better at fitting longer items while the taller Ascent can squeeze in taller ones. Both are rated to tow up to 5,000 pounds. We'll declare this category an overall tie.
Tie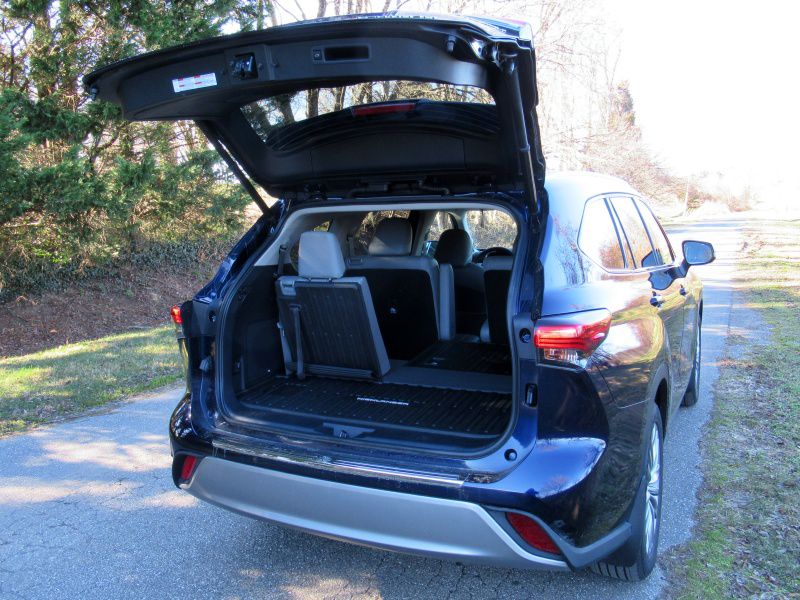 Photo by Brady Holt
Driving Impressions
The Highlander comes out swinging on paper with a mighty 295-hp 3.5-liter V6 engine as standard equipment. (There's also a Highlander Hybrid model with a 243-hp powertrain that includes a four-cylinder engine.) Still, this engine revs eagerly even in routine conditions, which means you don't get an extra-hushed driving experience. And while the Highlander rides and handles well most of the time, we don't love the way the vehicle shudders when hitting a bump. 
The Ascent isn't one of our favorite mid-size SUVs to drive, either. Its 260-horsepower four-cylinder turbo engine, the only one available, is decently quick but also on the noisy side. And we didn't like the loose-feeling steering, soft-feeling brake pedal, or extra-sensitive gas pedal. Still, we'll give the Subaru the overall nod for two reasons: its extra-comfortable ride and its promise of extra all-weather capability. The Ascent has 8.7 inches of ground clearance to the Highlander's 8.0 inches, and its symmetrical all-wheel drive and X-Mode torque-distribution settings give us more confidence.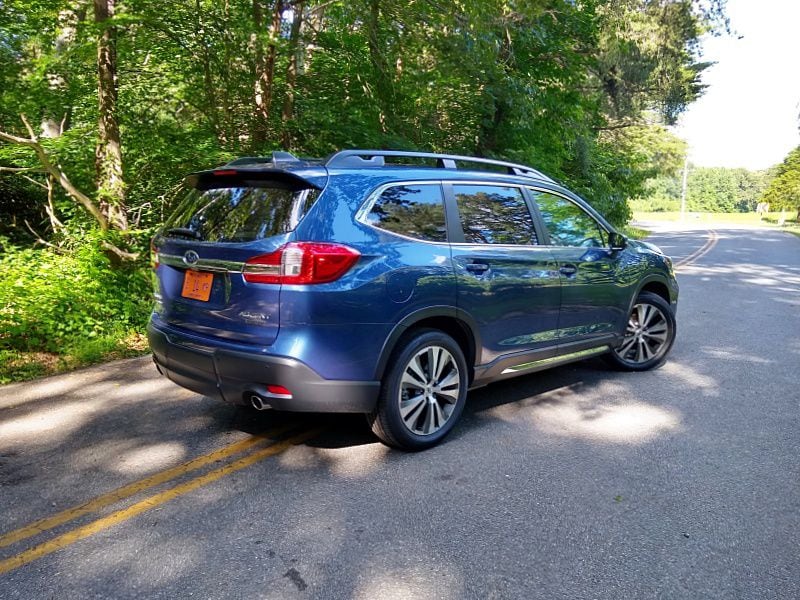 Photo by Brady Holt
Fuel Economy
The EPA pegs most of the Ascent's trim levels at 21 mpg in the city, 27 mpg on the highway, and 23 mpg combined, while the top Limited and Touring trim levels — weighed down with extra features — slip by 1 mpg. (Remember that all Ascents include AWD.) 
Those are good numbers for a three-row crossover, but even the more powerful V6 Highlander does just as well: an EPA-estimated 21 mpg in the city, 29 mpg on the highway, and 24 mpg combined with front-wheel drive, and 20 mpg city, 27 mpg highway, and 23 mpg combined with all-wheel-drive. And then there's the truly exceptional Highlander Hybrid, with ratings of 36 mpg in the city and 35 mpg on the highway (or about 1 mpg less for upper trim levels). In our hands, an upper-trim Ascent averaged 25 mpg, beating the 23 mpg we got from an AWD Highlander. But our tests aren't scientifically precise, and the Highlander Hybrid settles things regardless by returning 32 mpg in our hands.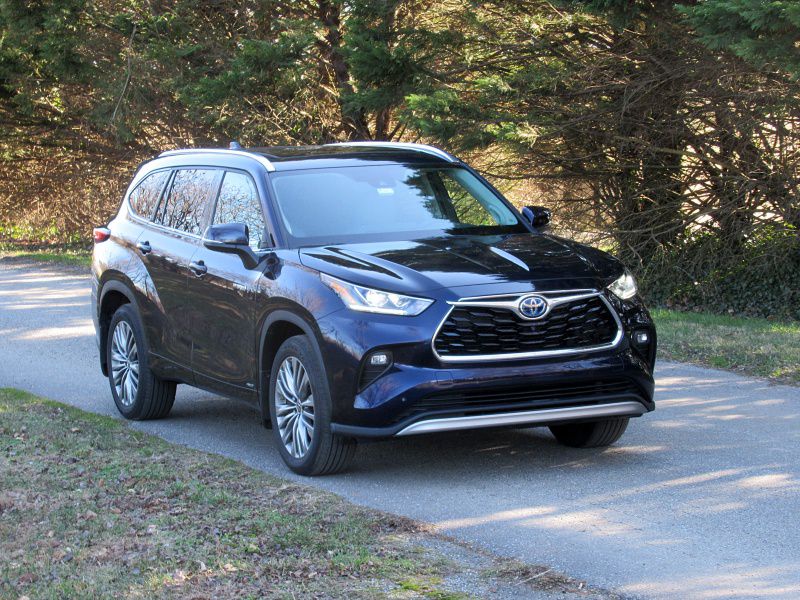 Photo by Brady Holt
Safety
The Highlander offers outstanding safety: a long list of standard driver-assistance technologies, the highest possible score of Top Safety Pick+ from the Insurance Institute for Highway Safety, and a five-out-of-five overall score from the National Highway Traffic Safety Administration. Still, the Ascent does even better. 
First, the Highlander earned four out of five stars for frontal-impact protection in NHTSA's testing; the Ascent scored five stars. Secondly, even the base Ascent's headlights earn the highest rating of Good from the IIHS; all but the top Highlander Platinum earn the second-highest of Acceptable. These are fairly minor differences, but they're in the Subaru's favor.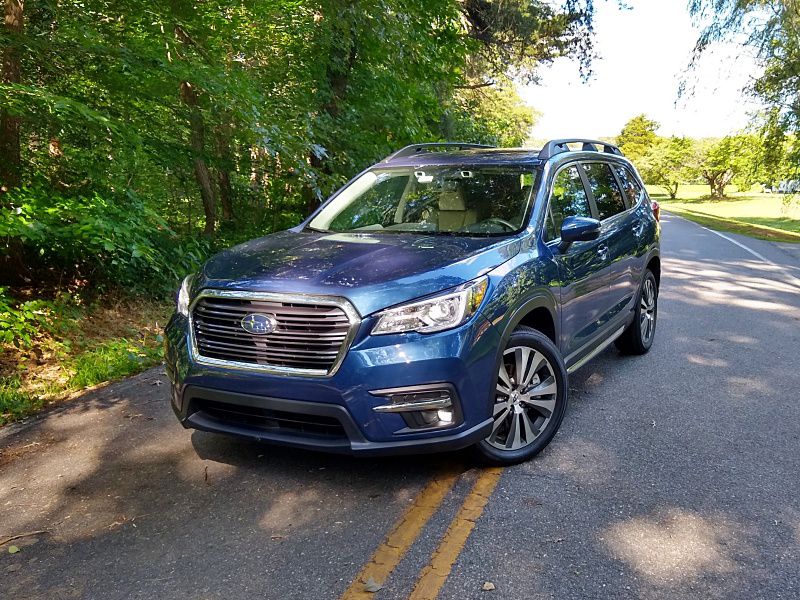 Photo by Brady Holt
Final Thoughts
The Highlander and Ascent both squeeze up to eight seatbelts into a comparatively small, comparatively economical, and highly safe package. That's a recipe for a great family car, even if we could wish they were each nicer to drive and had better-finished interiors. 
Our pick is the Ascent, and the key to its success is its value. Even though it keeps up with the Highlander in most ways, it costs thousands of dollars less. If we were buying a Highlander, we'd pay a bit more and give up some horsepower to get the outstanding hybrid model, which the Ascent has no answer to. But otherwise, the Subaru is our winner.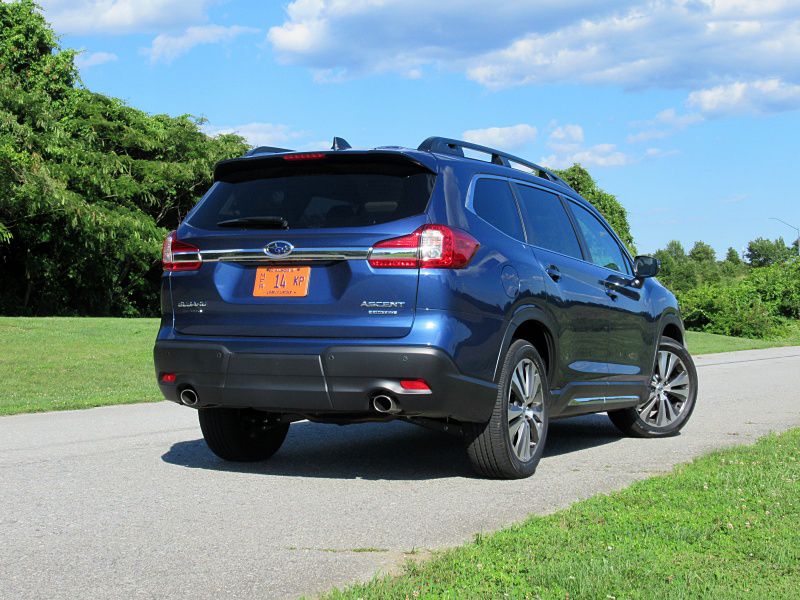 Photo by Brady Holt