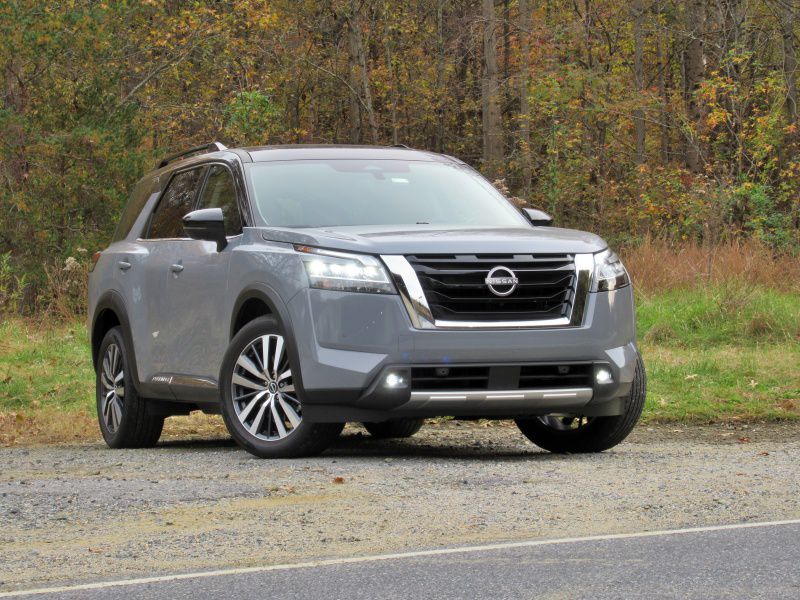 2022 Nissan Pathfinder Platinum ・ Photo by Brady Holt
The Toyota Highlander is the go-to choice for many buyers who want a mid-size crossover SUV. Comfortable, relatively economical, packed with useful features, and fitting up to eight passengers, the Highlander seems to check all the boxes. 
But the Highlander isn't the only crossover with these selling points. One strong competitor is the newly redesigned 2022 Nissan Pathfinder, which enters the new model year with crisper styling, a more luxurious interior, a more responsive powertrain, and sharper handling. For this review, we tested the Highlander and Pathfinder so we could compare them in each of eight categories and then declare an overall winner. Keep reading to find out which one we picked and which family-friendly SUV seems like the better choice for you. 
Pricing and Features
The Highlander is a decently affordable mid-size SUV. It's priced from $35,205 and comes packed with high-end standard features that include tri-zone automatic climate control, a power driver's seat, push-button starting, and adaptive cruise control. And the well-equipped XLE model, which adds leatherette upholstery, heated front seats, and a moonroof, is still attainable at $40,405. 
But the Pathfinder is a better deal. It's missing the Highlander's adaptive cruise control and power driver's seat, but it starts at $33,410 and has its own extra content. What's more, the mid-level SV model costs $36,200 with those missing features and more. And genuine leather, rather than imitation leatherette, arrives on the SL model for $39,590. In general, the Pathfinder undercuts a comparably equipped Highlander.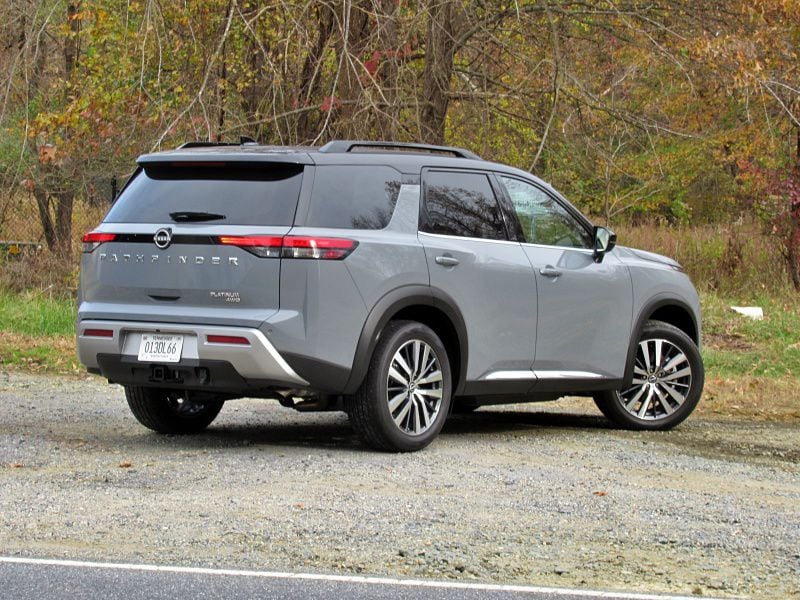 Photo by Brady Holt
Exterior Design
The current-generation Highlander arrived in the 2020 model years as a gentle evolution of its predecessor. Some details keep it from looking like a dull box: high, small headlights; small windows; a sporty bulge along the side that sweeps over the rear fender; and a boxy front end. Still, you'd have to know your Highlanders to avoid confusing a 2022 model with a 2014, especially from behind. 
The redesigned 2022 Pathfinder is a more radical departure from its predecessor. It's trim and crisp, with tautly tailored lines. It's wider and taller than the Highlander, giving it more traditional SUV proportions than the Toyota. Nifty details include a heavily chromed grille and spears on the headlights that point away to follow the hood. We're fans, but for this aesthetic decision, we'll let you choose your own preference between the more assertive Nissan and the more conservative Toyota. 
Tie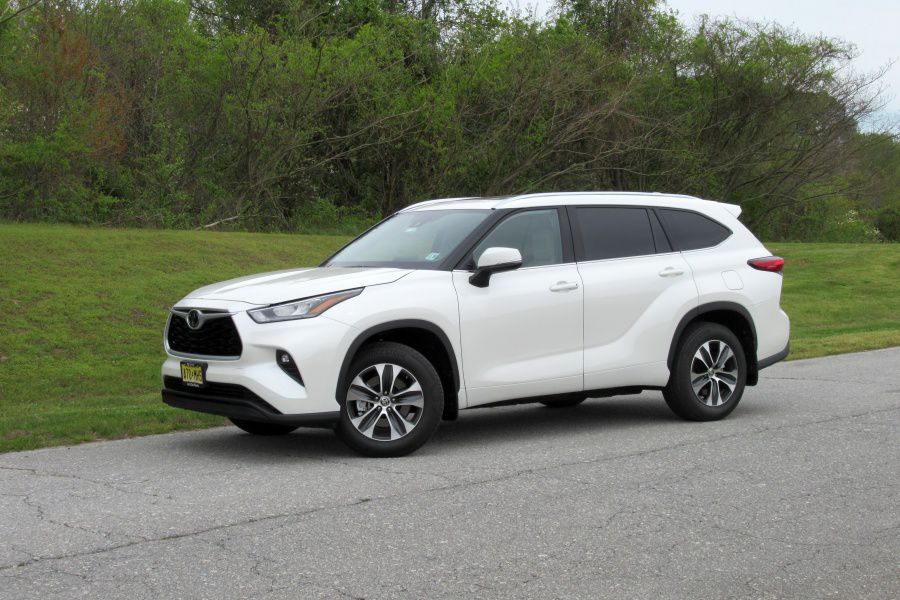 Photo by Brady Holt
Interior Design
The most recent Highlander generation brought a greatly improved interior over its predecessor. Changes included upgraded infotainment, a swoopier design, richer materials, and more user-friendly controls. Particularly on the top-of-the-line Platinum model, there's both a high-end and high-tech vibe, as a largest-in-class 12.3-inch touchscreen replaces the base 8-inch infotainment unit. That'll be a welcome improvement if you've owned Highlanders in the past, but our pick is still the new Pathfinder. 
The Pathfinder's interior isn't perfect. We'd have picked less shiny plastic on the dashboard, and its biggest available 9-inch infotainment screen isn't a show-stopper (base models have 8 inches). But this dashboard is more carefully finished than the Highlander's, with higher-quality materials and an extra dose of precision in the moving parts. While the Toyota's interior is a mix of premium and budget-grade pieces, the Pathfinder consistently feels like a more expensive crossover.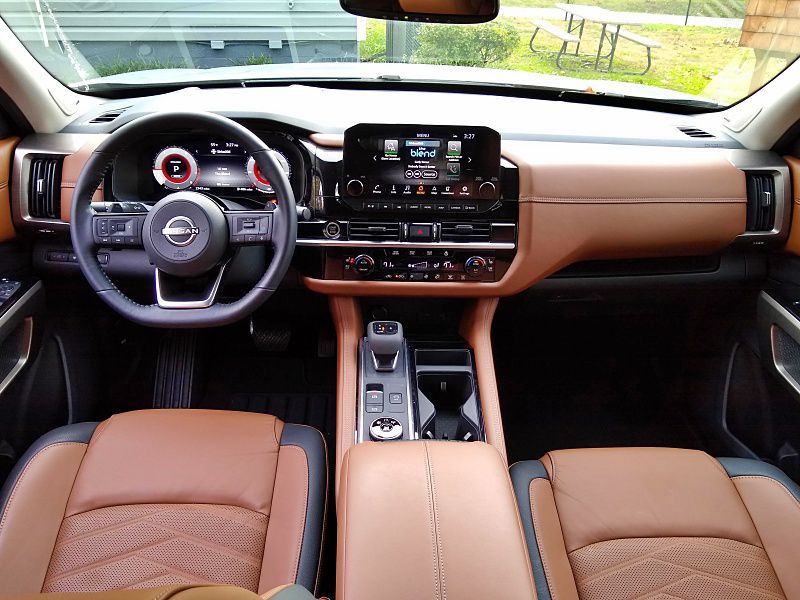 Photo by Brady Holt
Interior Comfort
Both the Highlander and the Pathfinder have three rows of seats with space. Unlike some similarly sized competitors, both provide seating for up to eight passengers if you stick with the standard second-row bench seat or seven passengers if you opt for second-row captain's chairs. Many mid-size SUVs have just two seatbelts in the third row, capping capacity as low as six. 
In both of these crossovers, the front and second-row seats are spacious, well-shaped, and comfortable. But neither impresses for third-row accommodations. There's limited legroom in the far back unless you've slid the second row forward, providing less knee space for passengers there. The Highlander offers the less-expensive way to get a power-adjustable driver's seat or ventilated front seats, while the Pathfinder is cheaper to buy with heated front seats, heated second-row seats, or a heated steering wheel. Overall, we'll call this category a tie. 
Tie 
Photo by Brady Holt
Cargo and Utility
The Pathfinder and Highlander are also closely matched when it comes to carrying cargo. The Toyota fits 16.0 cubic feet behind the third-row seat, 48.4 cubic feet behind the second row, and 84.3 cubic feet with both rear rows folded down. The Nissan trails a bit, offering a bit more space behind the third row but less total volume. By the numbers, the Pathfinder provides 16.6 cubic feet behind its third row, 45.0 behind its second row, and 80.5 cubic feet behind the front seats. 
However, Nissan offsets this disadvantage with greater towing power. The Pathfinder can pull up to 6,000 pounds with its standard 284-horsepower V6 engine, compared with 5,000 pounds for the Highlander's 295-hp V6 and just 3,500 pounds for the four-cylinder gas-electric Highlander Hybrid. With these minor pros and cons between the two SUVs, we'll call this category another overall tie. 
Tie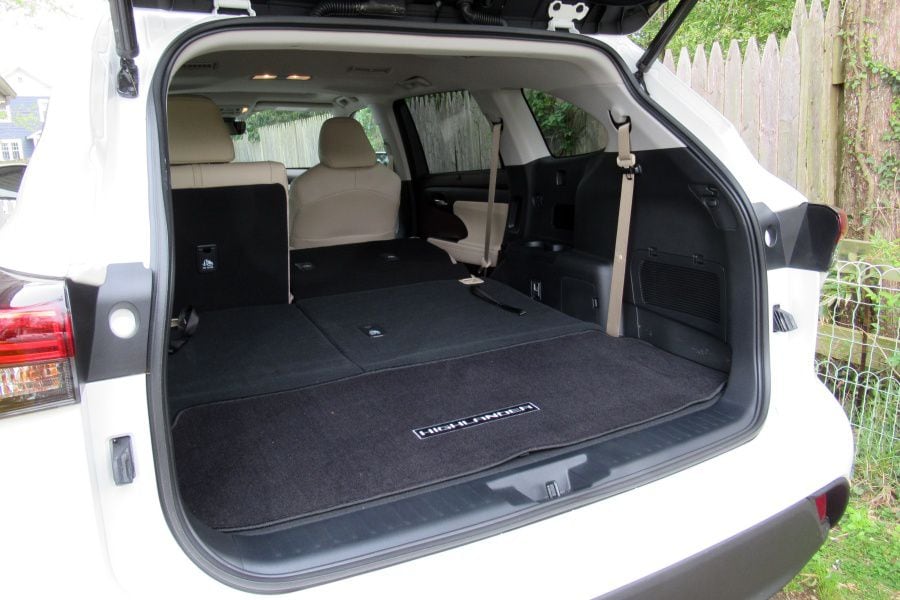 Photo by Brady Holt
Driving Impressions
Hit the road, and these two SUVs reveal their biggest difference. The new Pathfinder is greatly improved, with a tautly tuned suspension that gives this big crossover exceptional control. It's not cushy and soft, but it has excellent composure without extra slop in its body movements or its steering. It feels solid. We're also a fan of its new nine-speed automatic transmission, which shifts crisply; paired with a nicely tuned gas pedal, it helps the Pathfinder feel more responsive than the equally quick Highlander. 
The Highlander, meanwhile, lets its V6 surge noisily; this gives the impression that the engine is working harder than it likely needs to. Meanwhile, the four-cylinder-based Highlander Hybrid really does need to work harder to motivate this big eight-seat SUV; it's neither terribly noisy nor slow, but it does give up ground to the smoother, more powerful V6. Ride and handling are both fine, albeit looser and sloppier than the Pathfinder. And hitting a bump produces an insubstantial-feeling shudder.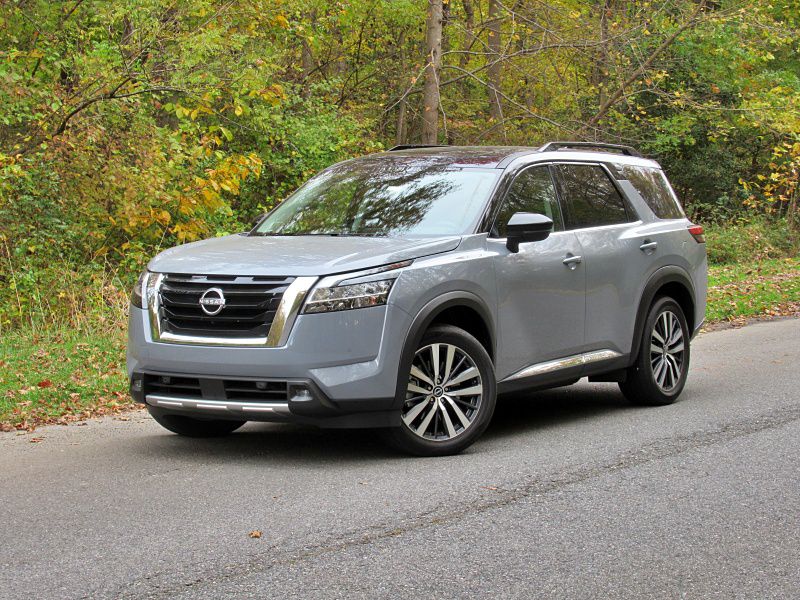 Photo by Brady Holt
Fuel Economy
The Highlander Hybrid is a fuel economy winner, with EPA ratings of 36 mpg in the city and 35 mpg on the highway, or about 1 mpg less for some trim levels, including our test vehicle. We managed 32 mpg overall in our Highlander Hybrid. 
Even the V6 Highlander is economical for its size, with an EPA-estimated 21 mpg in the city, 29 mpg on the highway, and 24 mpg combined with front-wheel drive, and 20 mpg city, 27 mpg highway, and 23 mpg combined with all-wheel drive. Our AWD V6 test vehicle averaged about 23 mpg in mixed driving. Most Pathfinders are close behind with an EPA-estimated 21 mpg city, 27 mpg highway, and 23 mpg combined with front-wheel drive and little AWD penalty: 21 mpg city, 26 mpg highway, and 23 mpg combined. Only the top AWD Platinum model, like our test vehicle, dips further; it averages 20 mpg city, 25 mpg highway, and 22 mpg combined. Our tested Pathfinder averaged 23 mpg, same as our V6 Highlander, but those results aren't scientifically precise like the EPA's. And Toyota seals the deal with the only hybrid option.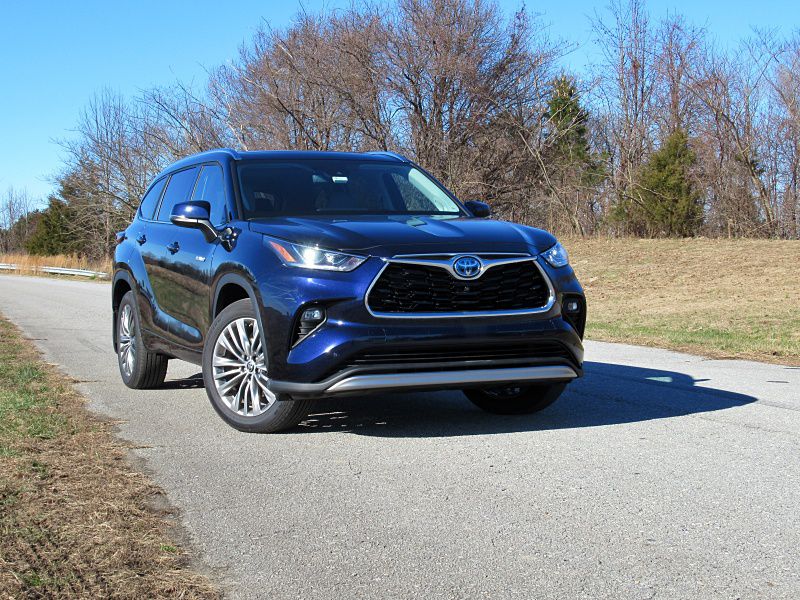 Photo by Brady Holt
Safety
Both the Highlander and Pathfinder are crash-test standouts, and both come standard with long lists of standard safety features. But the Highlander does just a bit better. 
First of all, while both SUVs earned top marks in most Insurance Institute for Highway Safety crash tests, the Pathfinder is the rare new car to falter in one longtime IIHS evaluation: the design of its head restraints. They're judged merely "Acceptable," costing the Pathfinder its chance to join the Highlander as an IIHS Top Safety Pick+. And while the redesigned Pathfinder hasn't been tested by the National Highway Traffic Safety Administration, the best it can do is tie the Highlander's top five-star performance. What's more, only Toyota comes standard with lane-keeping steering assistance and adaptive cruise control. The Nissan counters on the features list with standard blind-spot monitoring (missing from the base Highlander) and reverse automatic emergency braking (the Highlander only has a forward system until you reach upper trim levels). But the Toyota's perfect crash-test record puts it over the top.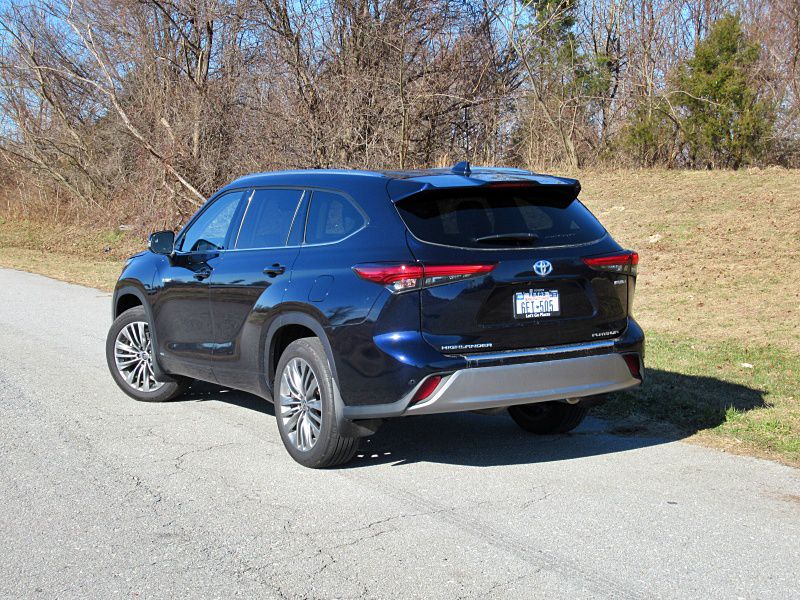 Photo by Brady Holt
Final Thoughts
It's easy to see the Toyota Highlander's appeal. Comfortable, safe, and economical, it gets the family-hauling job done without fuss, and it's increasingly fancy while doing so. But for the money, we come away more impressed with the Pathfinder. 
The Pathfinder drives more like a luxury suv than an old minivan: responsive and composed without being too stiff. Nissan also did a better job at sweating the all details on the Pathfinder's dashboard, even though it costs less than the Toyota. And one of the Nissan's biggest liabilities — middling interior space for cargo and third-row passengers — is also a Highlander drawback. If you'll commute in stop-and-go traffic more than you'll wind happily through empty country roads, the Highlander Hybrid's incredible city gas mileage has a unique appeal that Nissan doesn't try to match. But otherwise, where the two crossovers differ most, the Pathfinder is a cut above the Highlander.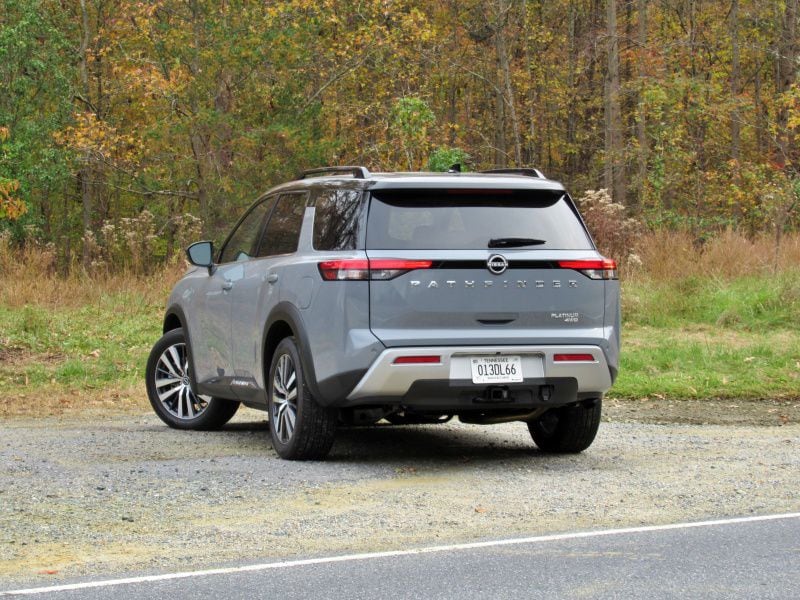 Photo by Brady Holt