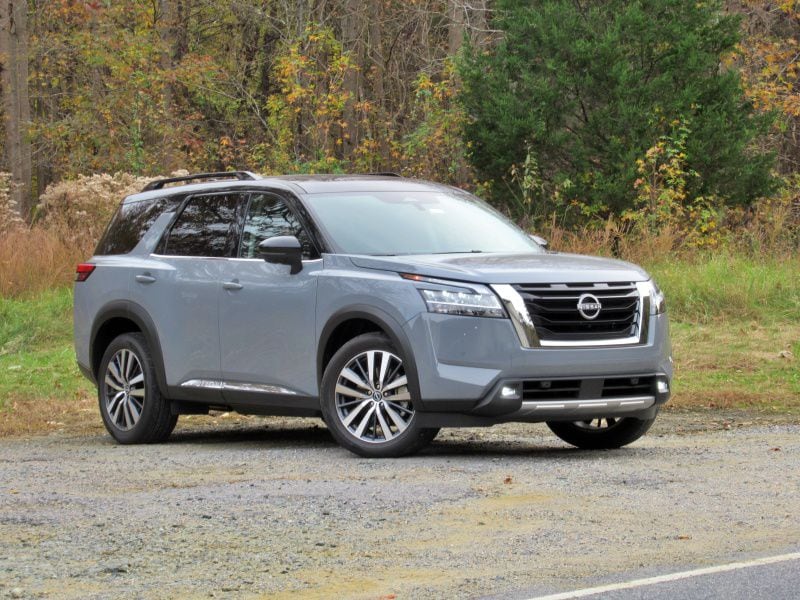 2022 Nissan Pathfinder Platinum ・ Photo by Brady Holt
With COVID-19 crimping supply chains, car-buyers have gotten used to marked-up prices and long waiting lists. But before there was a pandemic, there was the Kia Telluride. This three-row mid-size crossover hit the market in 2019 as a 2020 model with equal parts luxury, functionality, and affordability, dominating most competitors on all three fronts at once. And the market quickly caught on. Telluride supply could never keep up with demand. 
This year, the long-popular Nissan Pathfinder is newly redesigned. The 2022 Pathfinder brings crisper styling, sharper driving manners, and a richer interior than its predecessor. To see if that's enough to beat the beloved Telluride, we recently spent a week testing each SUV. In this review, we'll describe how the Pathfinder and Telluride compare in eight different categories, then declare an overall winner. Keep reading to learn which one we chose and which sounds like the better three-row crossover for you. 
Pricing and Features
The Pathfinder is priced from $33,410 with a long list of standard safety, comfort, and convenience features. The next-up SV, $36,200, buys a power driver's seat, heated front seats, and adaptive cruise control. The leather-trimmed SL costs $39,590, and the top-of-the-line Platinum starts at $46,190. That's pretty good for a three-row mid-size crossover.
But the Telluride's sticker prices are even more appealing, despite additional standard features. The base LX ($32,790) has leatherette upholstery, GPS navigation, an in-cabin intercom, and a full suite of advanced driver-assistance systems that include adaptive cruise control. You'd spent $40,000 to get all this on some competitors. The S ($35,290) adds a power driver's seat, heated front seats, and a sunroof, while the EX ($37,790) has genuine leather, ventilated front seats, and a power liftgate. The SX ($42,690) has a bigger sunroof and a Harman Kardon surround-sound stereo, and it's available with richer Nappa leather and ventilated second-row seats. You'll need to get dealer price quotes to see if the Pathfinder ends up costing less than the Telluride in the end, but going by the MSRP, Kia wins easily.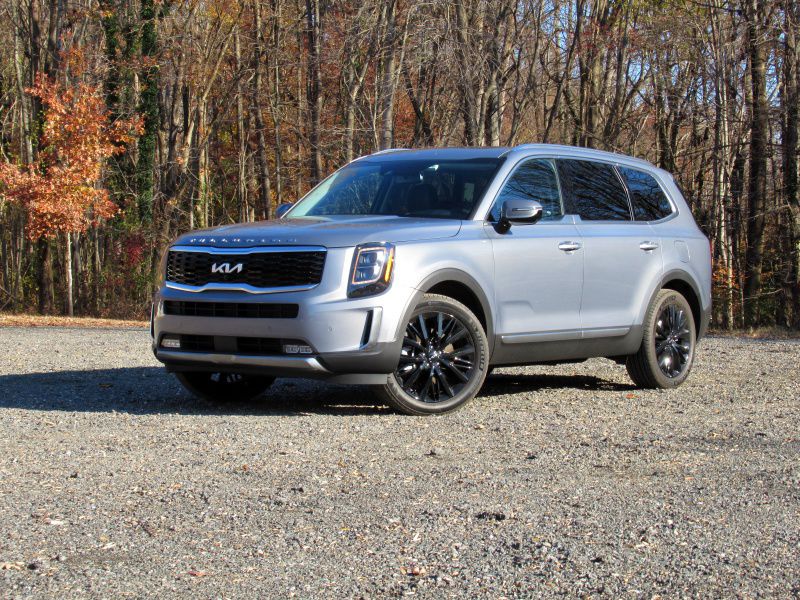 Photo by Brady Holt
Exterior Design
The previous-generation Pathfinder was a light-duty crossover that looked even softer than it was. The redesign is still nothing like the rugged truck of generations past, but it's designed with more flair. It's trim and crisp, with tautly tailored lines. Nifty details include a heavily chromed grille and spears on the headlights that point away to follow the hood, while boxy proportions and skid-plate-inspired bumpers give a hint of off-roading.
The Telluride, meanwhile, has an even boxier shape than the Pathfinder. A high roof and big windows recall proudly square luxury suvs like the Range Rover or Toyota Land Cruiser, but without knocking off any of their details. Softer edges than the Pathfinder and most newer crossovers (including other Kia models) threaten to date the Telluride — or you could consider it more timeless and cleanly styled than trendier, busier models. We'll let you choose your own aesthetic winner. 
Tie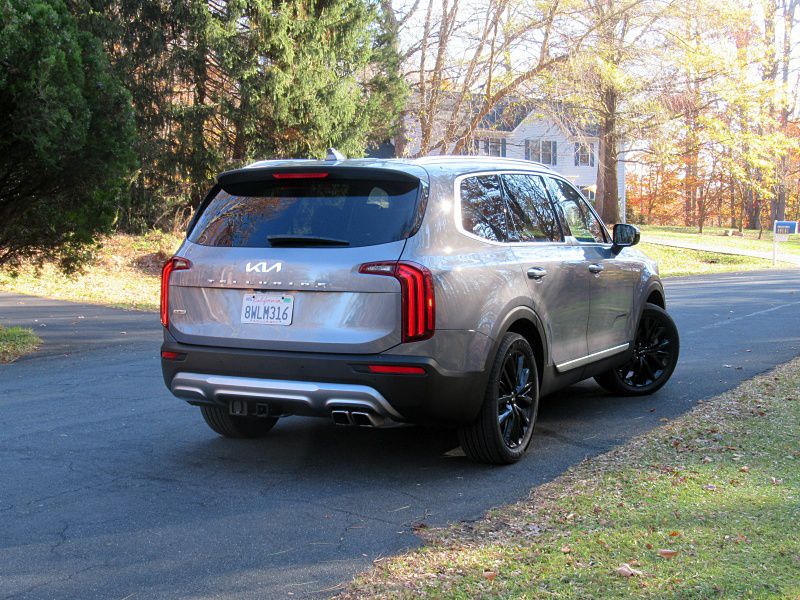 Photo by Brady Holt
Interior Design
Back in 2020, the Telluride introduced the fanciest cabin in its class, and it remains impressive. The dashboard is simple yet elegant, with straight lines and rich materials that include metal accents and textured woodgrain. Leather-wrapped grab handles on the center console clarify that you're in an SUV. Most controls are simple to use, and even the base model gets a big 10.25-inch infotainment touchscreen.
The Pathfinder comes close to the Telluride. The dashboard is leather-padded, and you feel a heftier precision in moving parts like the turn signal stalk. The top Platinum, like our test vehicle, has a slickly reconfigurable digital gauge cluster rather than the Kia's simple analog dials and small central display. And while the Pathfinder's infotainment screens are smaller than the Telluride's and don't look special — Nissan gives you 8 inches on the S and SV, 9 inches on the SL and Platinum — we found them even simpler to use. Still, Kia has richer-feeling materials in parts of the cabin, especially on the SX. And the Telluride's big screen lets you view radio information side-by-side with the GPS map; that's a nice perk, especially on base models.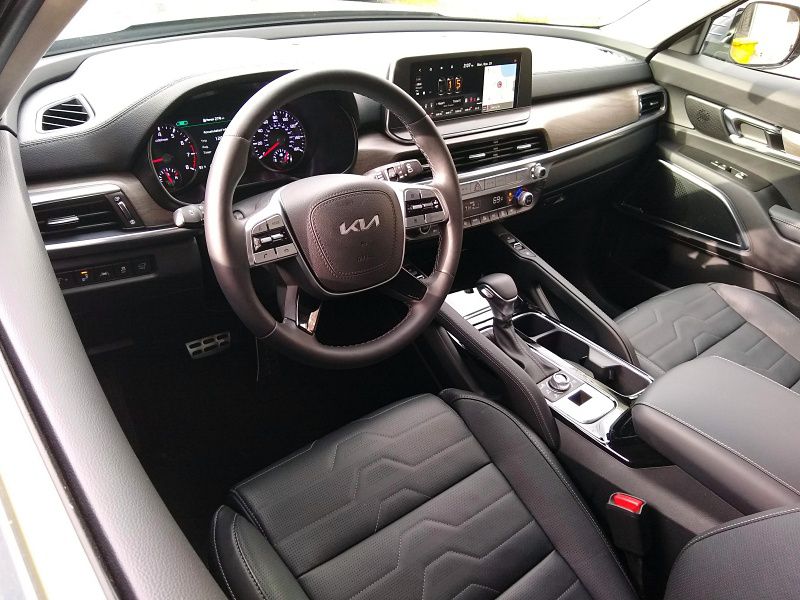 Photo by Brady Holt
Passenger Accommodations
The Pathfinder has comfortable space for up to five adults, with supportive and well-shaped front and second-row seats. A three-passenger third row boosts total capacity to eight (or seven if you pick the optional second-row All but the base model includes heated front seats, heated second-row seats are optional on the SL and standard on the Platinum, and the Platinum also adds ventilated front seats. 
The Telluride does even better. The biggest difference is in the far back, where the Kia's third row is much better at fitting adults than the Nissan's. But the Telluride also has more room to spread out in the second row. Plus, it's more widely available with ventilated front seats and it's the only of the two — one of the few SUVs at any price, for that matter — to offer ventilated second-row seats.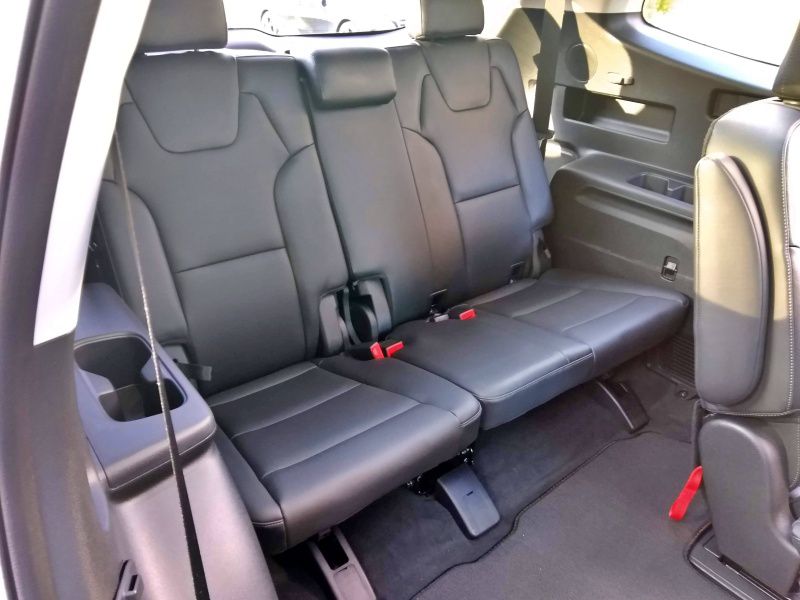 Photo by Brady Holt
Cargo and Utility
The Pathfinder and Telluride both offer plenty of cargo capacity, especially once you fold down their third rows. But the Kia consistently offers more. 
The Telluride's biggest advantage is behind the third row, where it fits an above-average 21 cubic feet to the Pathfinder's 17 cubic feet. Behind their second rows, the Telluride has 46 cubic feet and the Pathfinder has 45 cubic feet. And with both rows folded down, the Kia has 87 cubic feet to the Nissan's 81 cubic feet. The Pathfinder can tow more than the Telluride: 6,000 pounds versus 5,000 pounds. But more buyers will notice the Kia's extra cargo room inside. 
Photo by Brady Holt
Driving Impressions
The Telluride is a pleasant crossover to drive. It's quiet, it rides smoothly, and it has decent handling. And its 3.8-liter V6 — making 291 horsepower and 262 lb-ft of torque, and paired with an eight-speed automatic transmission — has plenty of power to get you moving without much fuss. Still, we preferred driving the Pathfinder. 
The new Pathfinder boasts a tautly tuned suspension that gives this big crossover exceptional control. It's not cushy and soft, but it has excellent composure without extra slop in its body movements or its steering. A new nine-speed automatic and nicely calibrated accelerator pair nicely with the Pathfinder's 3.5-liter V6, which makes 284 hp and 259 lb-ft of torque. It's quicker than the slightly more powerful Kia. Overall, while the Telluride has the same easygoing characteristics that would make a great minivan, the Pathfinder has the extra solidity that makes a great luxury suv. 
Nissan Patfhinder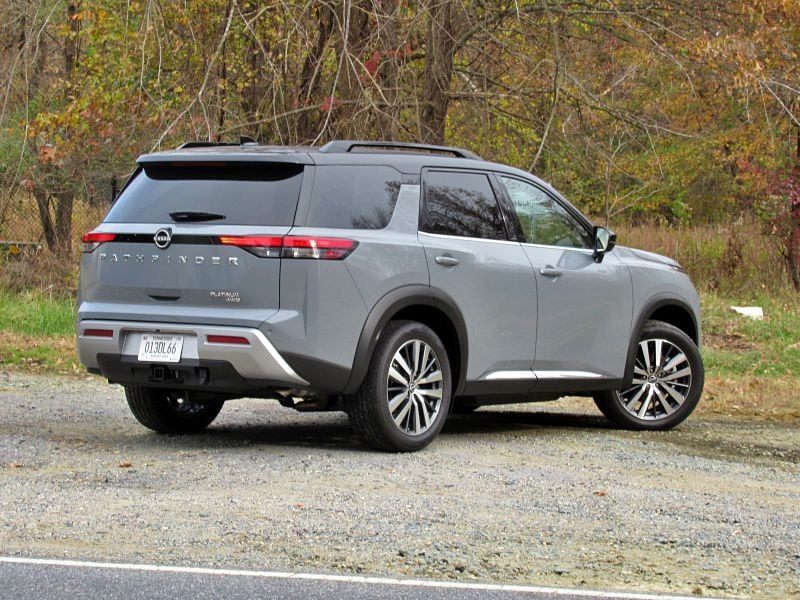 Photo by Brady Holt
Fuel Economy
The Pathfinder edges out the Telluride's EPA fuel economy ratings. Most Pathfinder models get an EPA-estimated 21 mpg in the city, 27 mpg on the highway, and 23 mpg combined with front-wheel drive and see little all-wheel-drive penalty: 21 mpg city, 26 mpg highway, and 23 mpg combined. Only the top AWD Platinum model, like our test vehicle, dips further; it averages 20 mpg city, 25 mpg highway, and 22 mpg combined. 
The Telluride is a bit behind: an estimated 20 mpg in the city, 26 mpg on the highway, and 23 mpg combined with front-wheel drive and 19 mpg city, 24 mpg highway, and 21 mpg combined with all-wheel drive. Our non-scientific testing matched this experience: Our Pathfinder averaged 23 mpg and our Telluride saw 22 mpg, each 1 mpg over its EPA combined rating.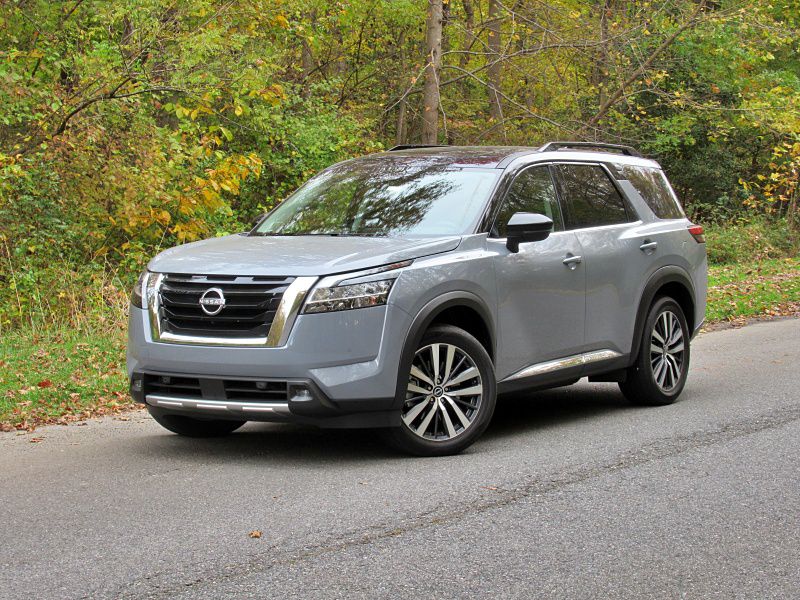 Photo by Brady Holt
Safety
Both the Telluride and Pathfinder come packed with advanced safety and driver-assistance technologies, and both have excelled in most crash testing. Whichever one you buy, you'll get forward automatic emergency braking with pedestrian and bicyclist detection, blind-spot monitoring, and a lane-departure warning. The Pathfinder also includes rear automatic braking, unavailable on the Telluride; the Kia counters with adaptive cruise control and lane-keeping assistance, which Nissan reserves for upper trim levels. And only the Telluride is offered with a blind-spot camera, which activates on the gauge cluster 
In the event of a crash, the Telluride earned an Insurance Institute for Highway Safety Top Safety Pick designation. It edges out the Pathfinder with a superior head-restraint design, though Nissan provides better headlight illumination, at least on base models. In National Highway Traffic Safety Administration tests, the Telluride earned five out of five stars overall but just four stars for frontal-impact protection; NHTSA hasn't tested the Pathfinder. For now, we'll call this a tie. 
Tie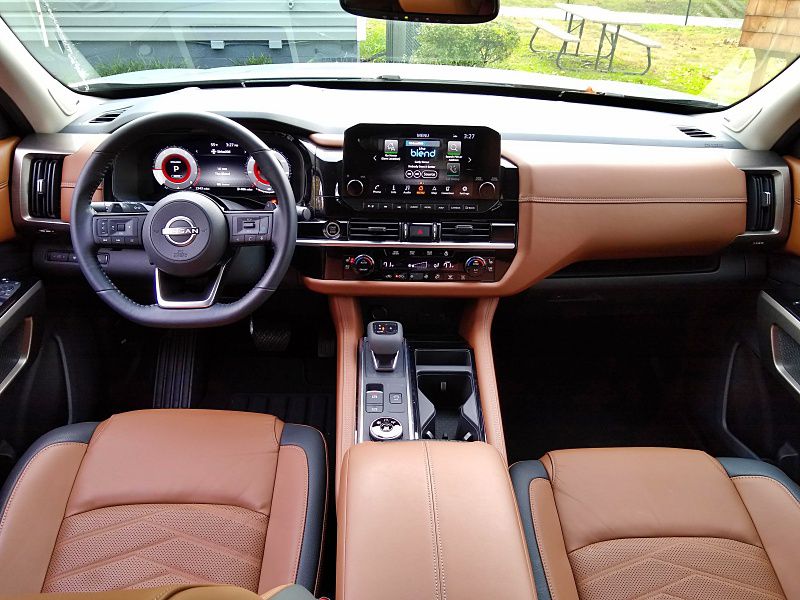 Photo by Brady Holt
Final Thoughts
The 2022 Kia Telluride remains a class act. At its worst, it's merely competitive rather than outstanding. And in many ways, it comfortably exceeds that mark — from pricing to interior decor to spaciousness to styling. These qualities are often mutually exclusive, yet Kia brings them all. 
The 2022 Nissan Pathfinder is another appealing crossover. On the road, it feels both more upscale and more fun to drive. Its interior is also nicely finished, including some details that Nissan does better than Kia. But the Telluride's roomier interior and extra standard features are hard to overlook. Even if markups push the price higher than the Pathfinder's, we'd still pick the Kia if you're planning to use the third-row seat. 
Kia Telluride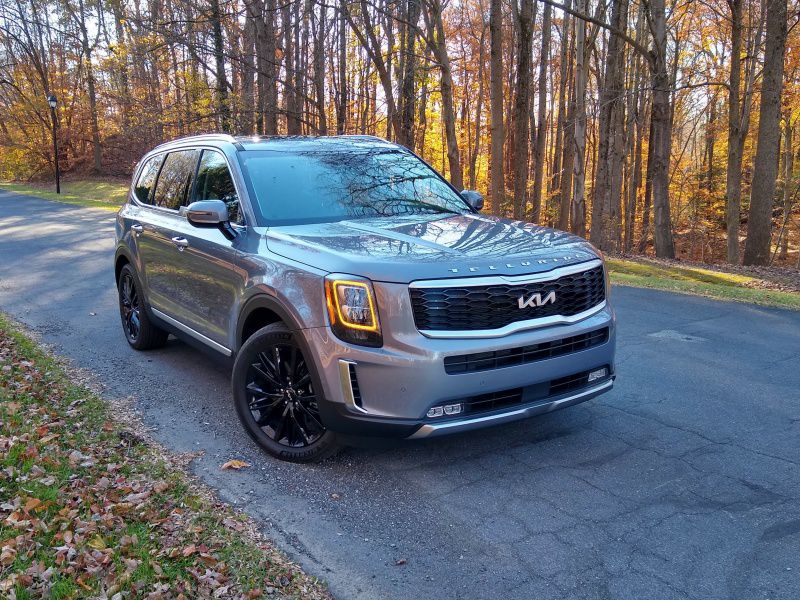 Photo by Brady Holt