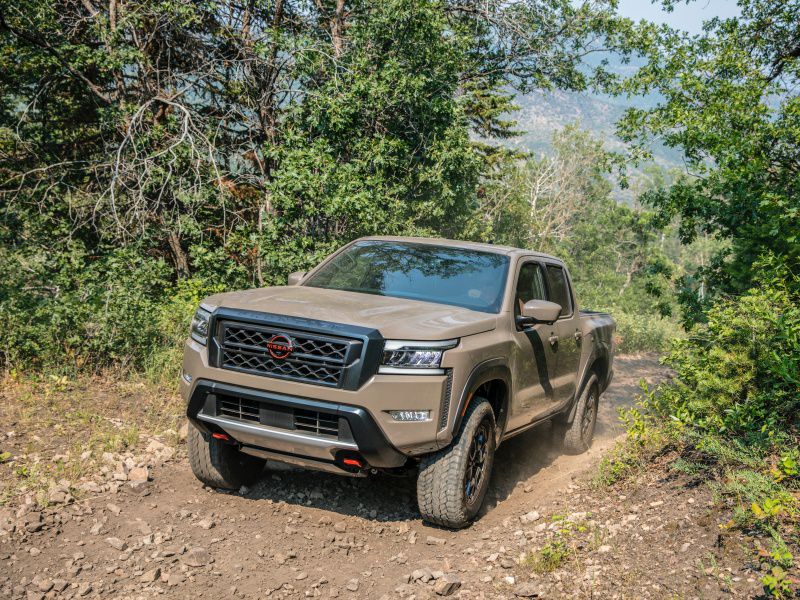 2022 Nissan Frontier ・ Photo by Nissan
In many cases, a newer vehicle is a better one. It benefits from the latest advances in engineering and reflects the latest consumer tastes. 
But it's not always clear which vehicle is newer. Take the 2022 Nissan Frontier and the 2022 Chevrolet Colorado, two popular mid-size pickup trucks. The Frontier is redesigned this year, but it borrows heavily from a predecessor that dates back to 2005. The Colorado hasn't changed much since 2015, but it was entirely new that year. But regardless of which truck is really newer, newer isn't always better anyway. So for this review, we've tested both these pickups, letting us compare them across eight categories and then naming an overall winner. Keep reading to see which one we picked and which one sounds like the better choice for you. 
Pricing and Features
Judging strictly by base prices, the Colorado is the better deal than the Frontier. The Chevy starts at just $25,200, compared with $27,840 for the Nissan. But that difference obscures the Frontier's extra standard equipment, which costs extra on the Colorado. Notable Nissan advantages include a V6 engine, cloth upholstery instead of vinyl, cruise control, and keyless entry with push-button starting (the base Colorado WT doesn't even have a keyfob remote, and every model requires a metal key). 
Accounting for comparable features tips the value scale toward the Frontier's favor. And Nissan seals the deal with a long list of features you can't get on the Colorado at any price. Most are safety and driver-assistance features: forward and reverse automatic emergency braking, adaptive cruise control, a surround-view parking camera, and blind-spot monitoring. You also can't get the Colorado with a sunroof, and part shortages mean that few to no 2022 Colorados will include heated front seats.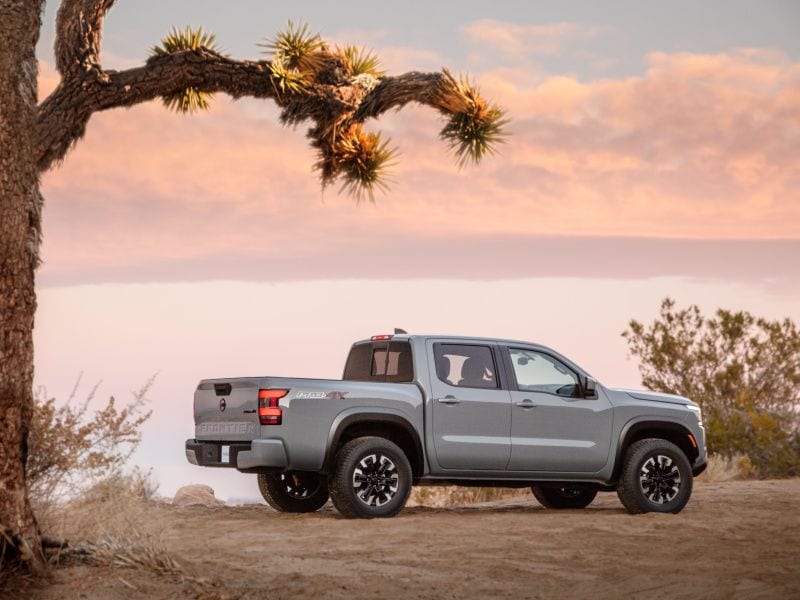 Photo by Nissan
Exterior Design
Until this year, Nissan had barely touched the Frontier's styling since 2005 — an eternity in the auto world. The new Frontier is modernized with a squared-off grille and high, rectangular LED headlights. Unlike the previous generation, the grille has no chrome; it's a mix of gray plastic and body-colored trim, with a design that varies by trim level. Especially on the S and SV models, it's not quite exciting; the off-road-themed Pro-X and Pro-4X look tougher. 
The Colorado, meanwhile, is more gently rounded than the Frontier Some buyers might wish for a more assertive look for their pickup, but Chevy's confident restraint also has its appeal. The Colorado's own off-road model, the ZR2, has a reshaped bumper that highlights the truck's protective skid plates, which curve up from under the truck to meet an enlarged grille. It's a great mix of style and function, since this new bumper shape leaves fewer low-hanging bumper pieces to catch on a rock. Overall, though, we'll let you choose your own favorite between the curvier Chevrolet and the more angular Nissan. 
Tie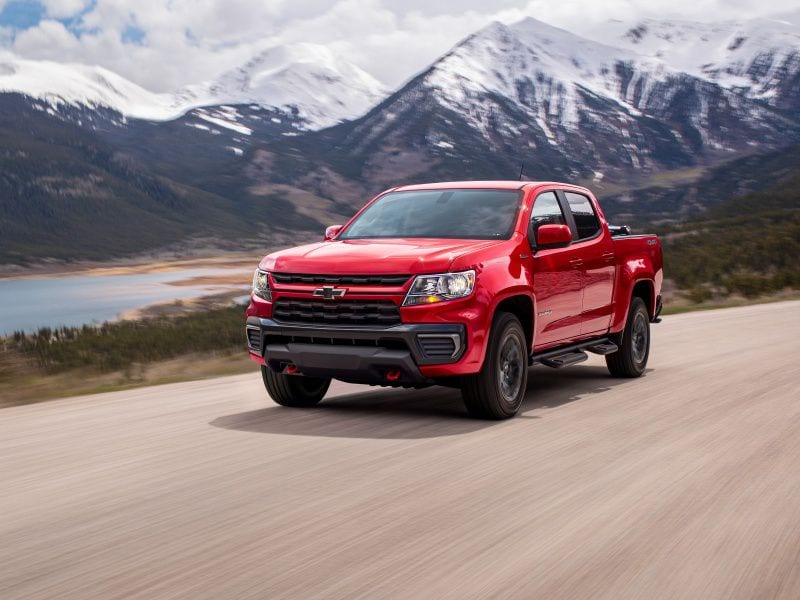 Photo by Chevrolet
Interior Design
The Frontier's interior is all-new for 2022, and it includes spiffy infotainment systems — a big upgrade from last year's 2005-era cabin. A smooth-operating 8-inch touchscreen system is standard, while fully loaded Frontiers have a 9-inch screen. The dashboard has few frills; it's blocky and solidly built, and the controls are easy to use. Except for some shiny black plastic around the infotainment screen, it looks like an all-business truck. We also liked the padded-plastic interior door panels, which give a sturdy vibe without coming off as simply cheap. And the Pro-4X adds brightly colored accents. It's a nice ambiance for a pickup. 
The Colorado's interior is also more straightforward than flashy. But without rugged truck-like design cues and with plain materials, it risks coming across as drab. The Colorado's controls are simple, and the infotainment system works well. But the screen is smaller than the Frontier's: 7 inches on base models and 8 inches on the rest of the lineup. The Colorado's interior isn't bad for a truck, but Nissan put more effort into the details.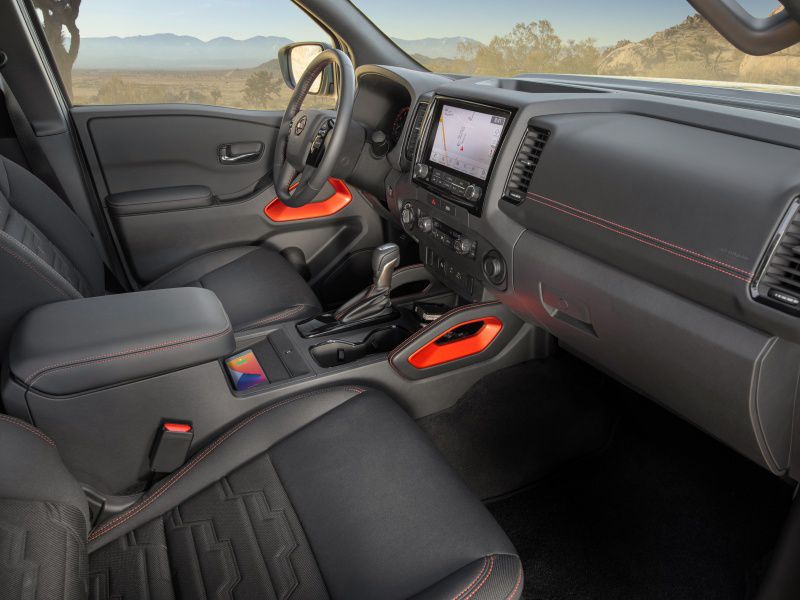 Photo by Nissan
Interior Comfort
A usefully spacious interior is a key Colorado strong point. There's plenty of legroom and headroom in the front, and it's easy to get comfortable behind the wheel. Adults can even fit fine in the crew cab model's backseat, though as on the Frontier and all other mid-size competitors, the extended cab's rear seating is best saved for emergencies and storage space. 
The Frontier has comfortable front seats, and we had no trouble getting comfortable behind the wheel despite a curious lack of a telescoping steering column. (It adjusts only for tilt.) But in the rear, the seatback is bolt-upright, and there's limited leg and knee space. This is a holdover from the 2005 Frontier, which trailed its class for rear-seat accommodations even at the time. True, the Colorado's likely absence of heated seats is a big comfort downside in colder climates. (Chevy says some trucks will still receive them and it can retrofit some others once supplies arrive.) But we otherwise preferred being in the Colorado.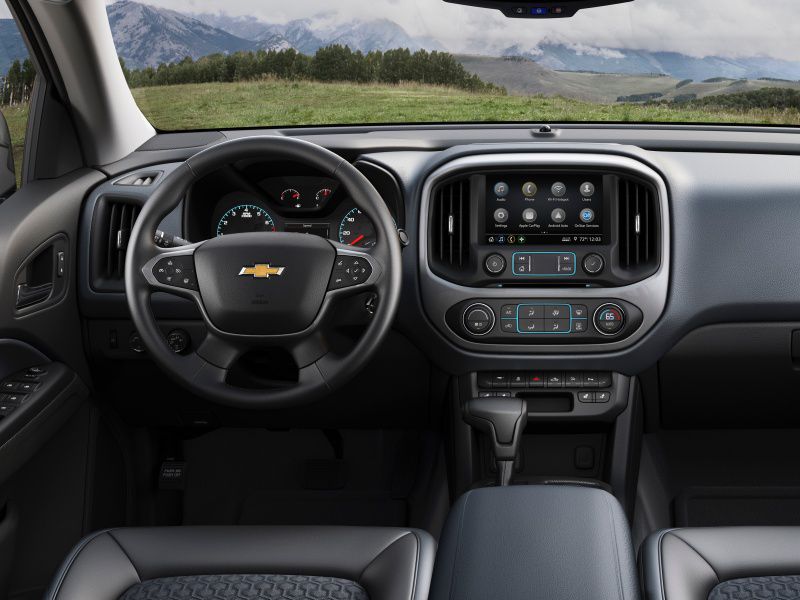 Photo by Chevrolet
Driving Experience
Even though the 2022 Frontier rides on an updated version of the previous generation's underpinnings, it rides and handles well even by today's standards. And its 3.8-liter V6 engine — which Nissan introduced in the last year of the previous-generation Frontier — makes a hearty 310 horsepower and 281 pound-feet of torque. It's neither too loud for everyday use nor too quiet for a trucky vibe, and it delivers smooth acceleration. Our main objection to the Frontier's driving experience is annoyingly heavy low-speed steering. 
Still, the Colorado remains our favorite traditional pickup to drive. It's a master of civility, even if you get the ZR2 off-road model: smooth, quiet, and agile. Even as the Frontier rides and handles better than many competitors, the Colorado goes a step further on both counts. Its 308-hp 3.6-liter V6 engine has perhaps less character than the throatier Nissan's, and the base 2.5-liter four-cylinder is hopelessly lethargic in comparison. (A fuel-saving four-cylinder diesel is also available.) Still, as long as we're driving the V6, we're happiest behind the Chevy's wheel.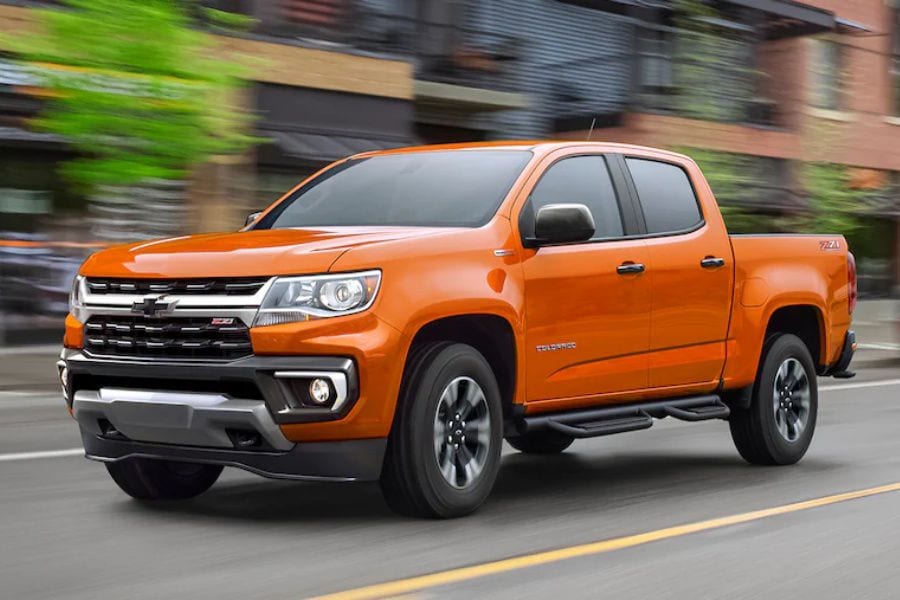 Photo by Chevrolet
Fuel Economy
Although the Frontier's engine and nine-speed automatic transmission are nearly brand-new, the Colorado gets slightly better gas mileage. The EPA pegs the V6 Colorado at 18 mpg in the city, 25 mpg on the highway, and 21 mpg combined with rear-wheel drive and 17 mpg city, 24 mpg highway, and 19 mpg combined with four-wheel drive. 
Those figures compare with 18 mpg in the city, 24 mpg on the highway, and 20 mpg combined on the rear-drive Frontier and 17 mpg city, 22 mpg highway, and 19 mpg combined with four-wheel drive. And that's before we mention the Colorado's two four-cylinder options, which Nissan doesn't challenge. The base gas engine manages 19 mpg city, 25 mpg highway, and 22 mpg combined with rear-wheel drive and about 1 mpg less with 4WD. The rear-drive Colorado diesel gets a whopping 20 mpg in the city, 30 mpg on the highway, and 23 mpg combined, with 4WD again costing about 1 mpg.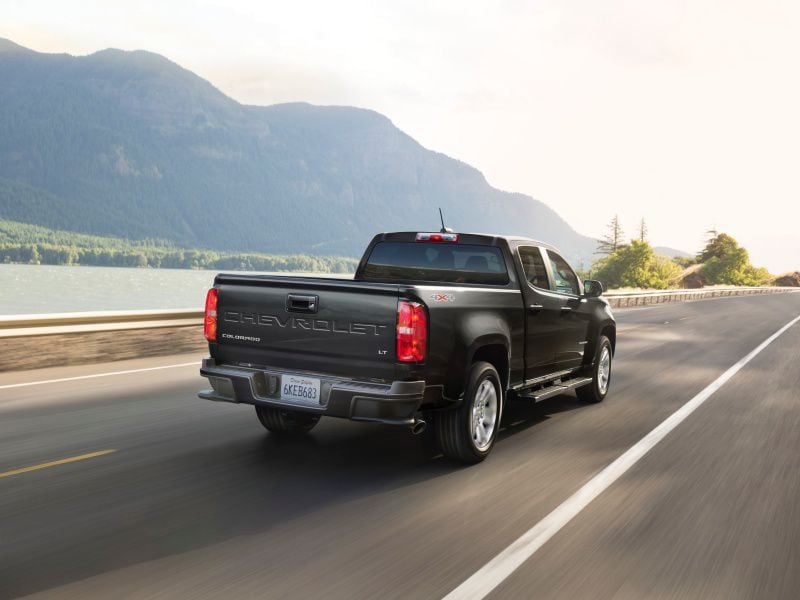 Photo by Chevrolet
Capability
The Frontier is a capable off-roader, especially on the top Pro-4X trim level adds an electronic locking rear differential, additional skid plates, and Bilstein off-road shocks. Ground clearance ranges from 8.6 to 9.8 inches, depending on the trim level. And when it's time to work rather than play, the Frontier is rated to tow between 6,260 and 6,670 pounds, depending on the trim level. Its payload ranges from a modest 1,160 pounds to a more competitive 1,610 pounds — with popular crew cab models falling on the low end of that range. 
The Colorado does better on both fronts. Its payload ranges from 1,380 pounds to 1,543 pounds, but the best performer is the best-selling LT crew crab model. And all V6 Colorados can tow up to 7,000 pounds, while the diesel manages 7,700 pounds. And when you go off road, the ZR2 has electronic front and rear locking differentials, extra underbody protection, and Multimatic shock absorbers — it goes farther to separate itself from the standard Colorado. Ground clearance is less than the Nissan's at 8.2 inches to 8.9 inches, but otherwise the Colorado is the capability winner. 
Chevrolet Colorado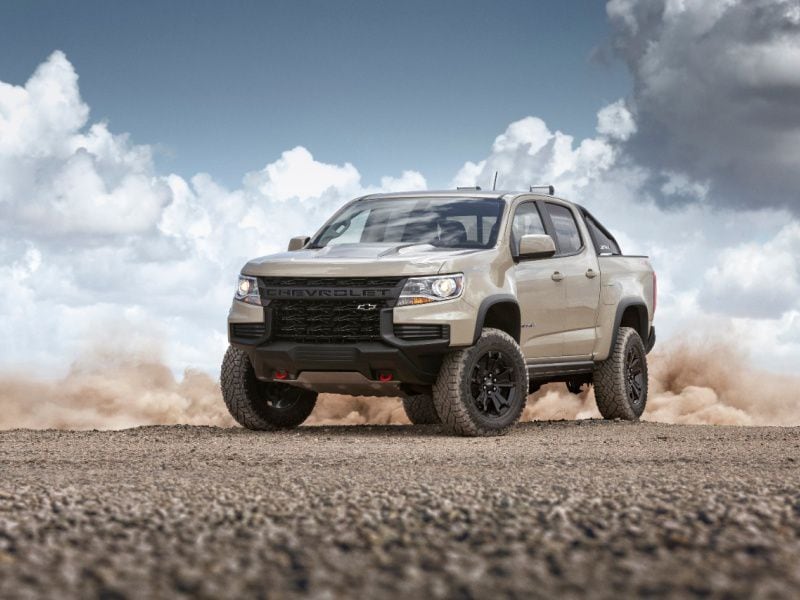 Photo by Chevrolet
Safety
A big upgrade to the 2022 Nissan Frontier was the introduction of new safety technologies. A forward-collision warning with automatic emergency braking is standard, and every model is available with an optional safety suite that includes rear automatic braking, blind-spot monitoring, a lane-departure warning, rear parking sensors, and adaptive cruise control. Some competitors make many of these features standard, but Nissan at least charges a modest $990 for the lot. A handy surround-view parking camera is also available on high-end models. 
The Colorado lags badly. You can add an optional forward-collision warning and lane-departure warning on certain trim levels, and a federally mandated backup camera is standard — and that's it. You'll find few new cars with so little safety technology. Crash-test scores aren't great, either: an OK four out of five stars in National Highway Traffic Safety Administration testing, but a low Marginal score in one Insurance Institute for Highway Safety test. The new Frontier hasn't yet been tested, but it should do better — and it has more interventions to help prevent a collision. 
Nissan Frontier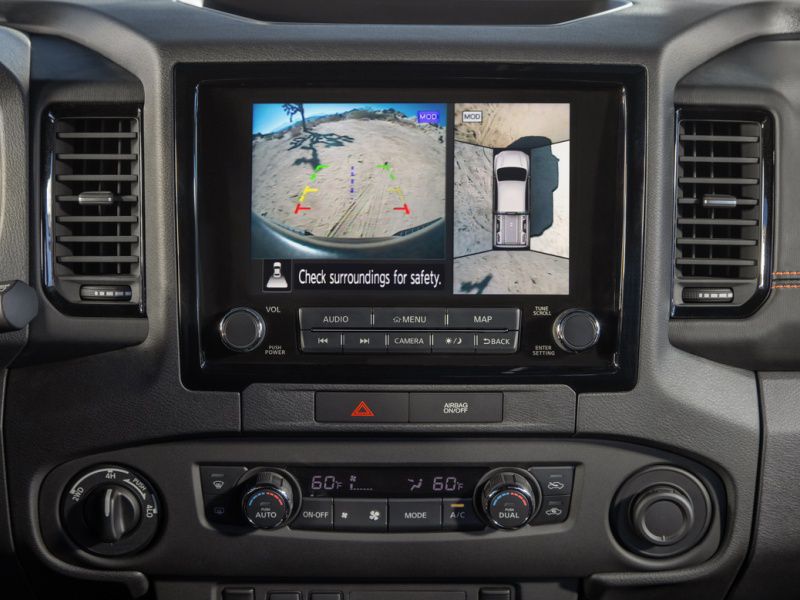 Photo by Nissan
Final Thoughts
The Chevrolet Colorado is a frustrating truck to review. Chevy aced the trickiest parts — outstanding ride and handling and a decently roomy interior in a modestly sized body. It handles itself with aplomb whether off-road, towing a trailer, or just commuting to work. Then it handicaps itself with a skimpy list of safety features and interior amenities. 
So our winner is the Nissan Frontier. It's a solid truck in its own right, with chunky good looks, pretty good driving manners, and a well-finished cabin with nicely executed infotainment screens. It comes up a bit short for capability and fuel efficiency, and its rear seat isn't as adult-friendly as the Colorado's. If you're not interested in safety technology or a long list of creature comforts, you might be ready to forgive the Chevy — and we're definitely tempted. But the Frontier is the better-rounded mid-size pickup. 
Nissan Frontier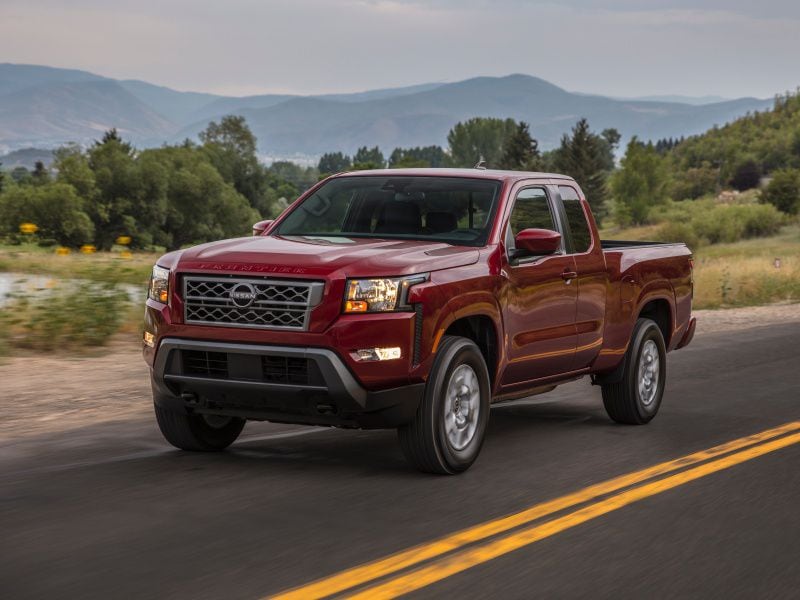 Photo by Nissan