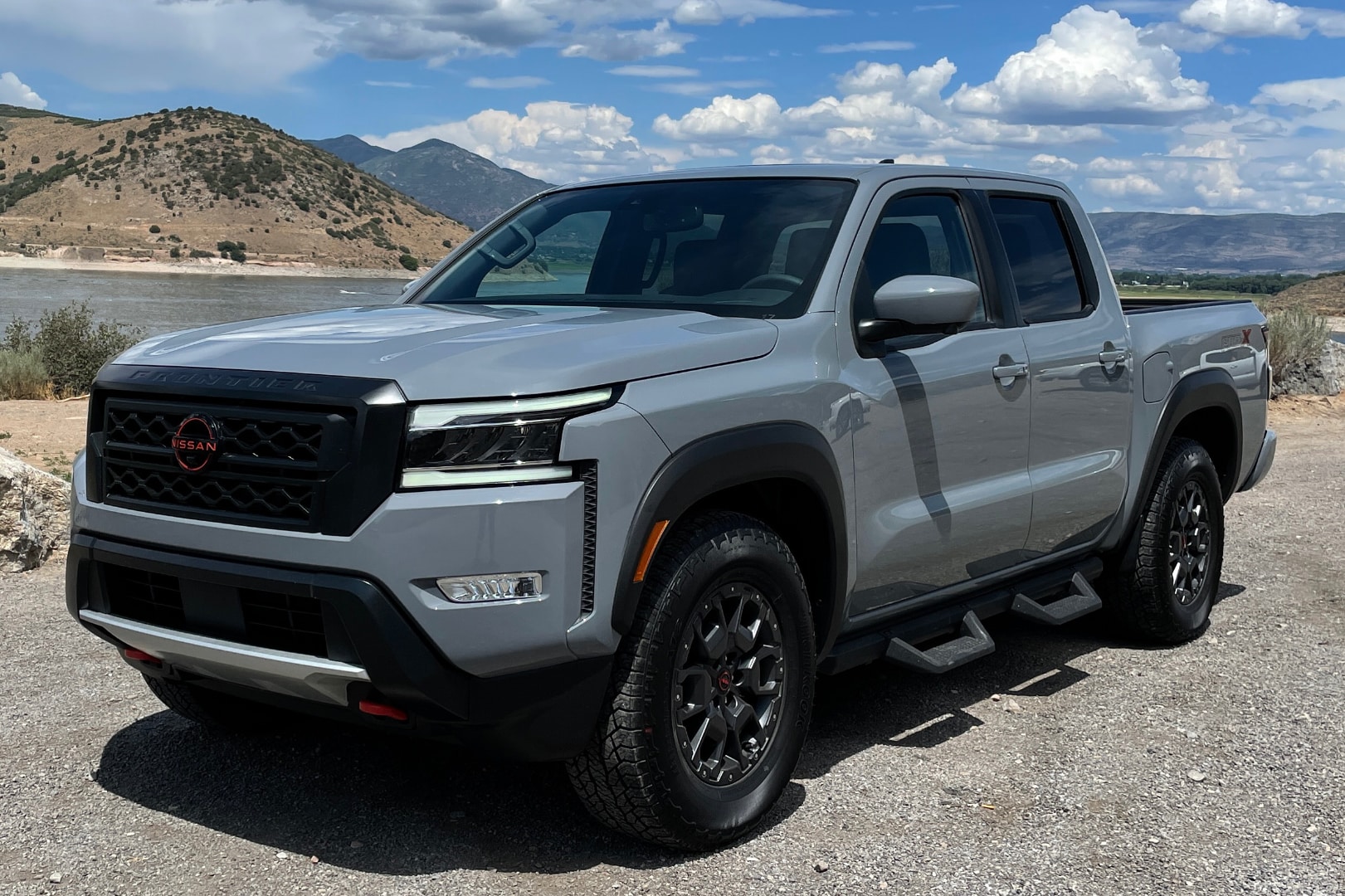 2022 Nissan Frontier Front ・ Photo by Nicole Wakelin
The 2022 Nissan Frontier is all-new with its first full redesign since 2005. It has a new exterior look that's more rugged and modern, a new interior, and an updated suspension system. Nissan also retuned the engine, which was new for the 2020 model year. This mid-size truck delivers the versatility to tow and carry a payload and the capability to handle off-road adventures combined with a comfortable interior.
It's available with either rear-wheel or four-wheel drive in a choice of four trims. There's an available 9.0-inch infotainment touchscreen and wireless charging with standard Apple CarPlay and Android Auto. It also has a wide range of available safety features including automatic emergency braking with pedestrian detection and rear automatic braking. Let's take a closer look at the all-new 2022 Nissan Frontier to see if it's the right mid-size truck for you.
Four Trims to Choose From
The 2022 Nissan Frontier has four trims with front- or rear-wheel drive, king or crew cabs, and short or long beds. The S and SV offer rear-wheel or four-wheel drive. The Pro-X is rear-wheel drive only while the Pro-4X is exclusively four-wheel drive. A crew cab with seating for five and a short bed is standard, but the SV has an available long bed. The S and SV are also offered with a 4-person king cab and a short bed.
The base S starts at $27,840 with cloth seats, 16-inch wheels, 8.0-inch infotainment touchscreen, Apple CarPlay, and Android Auto. The SV starts at $30,540 with premium cloth seats, 17-inch wheels, and an 8-way power driver's seat. The Pro-X adds Bilstein shocks, front skid plate, 10-speaker audio, and a 9.0-inch infotainment screen for $34,240. The Pro-4X adds additional skid plates, hill descent control, and an available Off-Road mode for $37,240.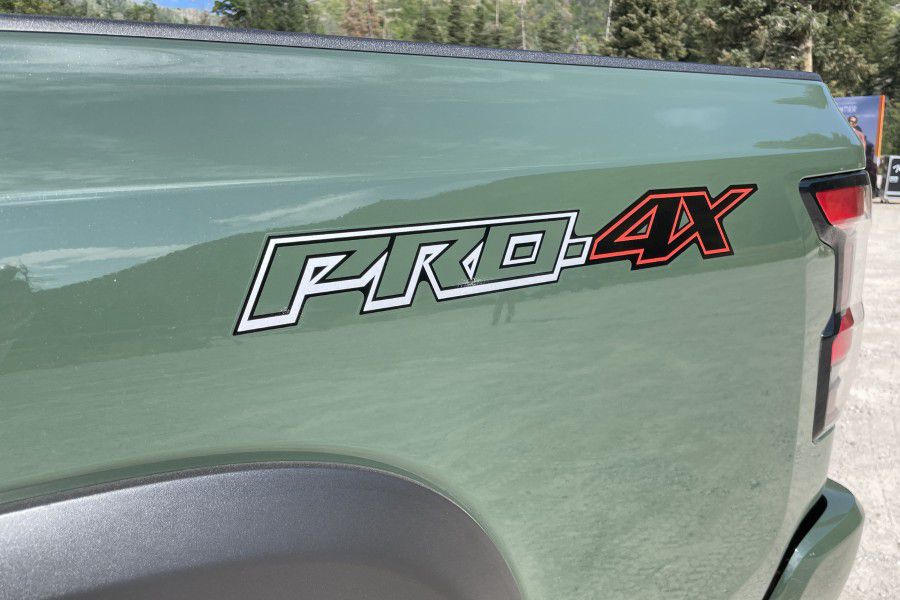 Photo by Nicole Wakelin
A Responsive Powertrain
The Frontier is all-new this year, but its powertrain was introduced for the 2020 model year and was retuned for this year. It features a 3.8-liter V6 engine with 310 horsepower and 281 lb-ft of torque paired to a 9-speed automatic transmission. It's a responsive engine that has no problem getting the Frontier up to speed. There's plenty of power for highway passing and it's an engaging truck to drive.
Though powerful and responsive, this isn't a gruff performance engine. It's mild-mannered with smooth, even acceleration. While that might not be to everyone's tastes, it does create a more relaxing and comfortable ride for passengers. You hear the engine, and you know it's working, but the sound is never intrusive. The 9-speed transmission delivers that power smoothly, balancing performance with comfort to make the Frontier an enjoyable and relaxing ride.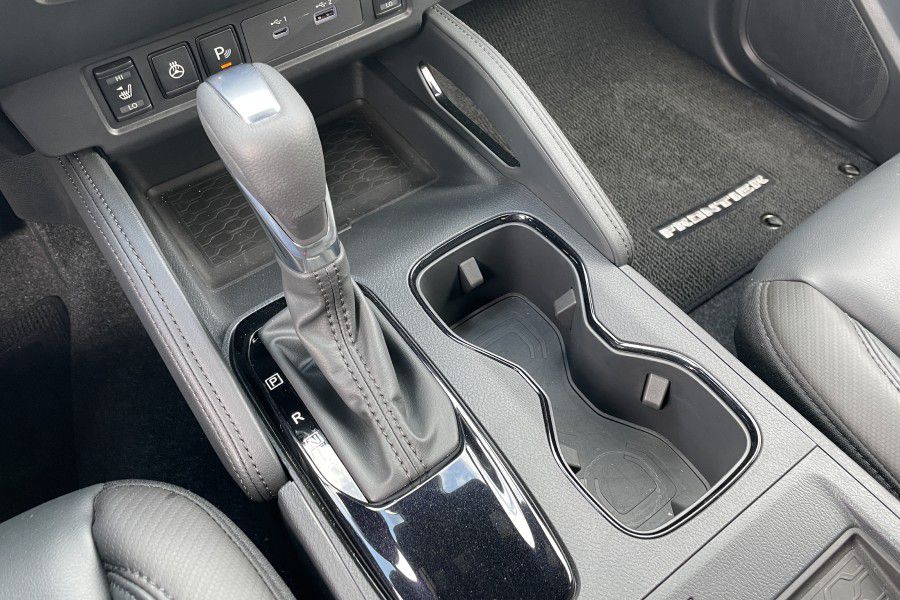 Photo by ZR1 Registry
Solid Off-Road Capability
The Frontier has great on-road manners, making it ideal for the daily commute and long road trips, but it also has solid off-road capability. The S and SV trims will do the job with their optional four-wheel drive, but your best bet is to go to the top of the lineup and look at either the Pro-X or Pro-4X. These two trims are designed for the off-road enthusiast with extra standard and available features. These include multiple skid plates, Bilstein shocks, and an electronic locking rear differential.
We found the Frontier to be a capable off-roader, whether driving through mud or across rugged terrain. Handling instills confidence when you're driving, so even those new to off-road driving will find the Frontier a good choice. The newly available Off-Road Mode on the Pro-4X automatically turns on the cameras when the Frontier is in 4-low and makes navigating narrow trails easier on you and your truck.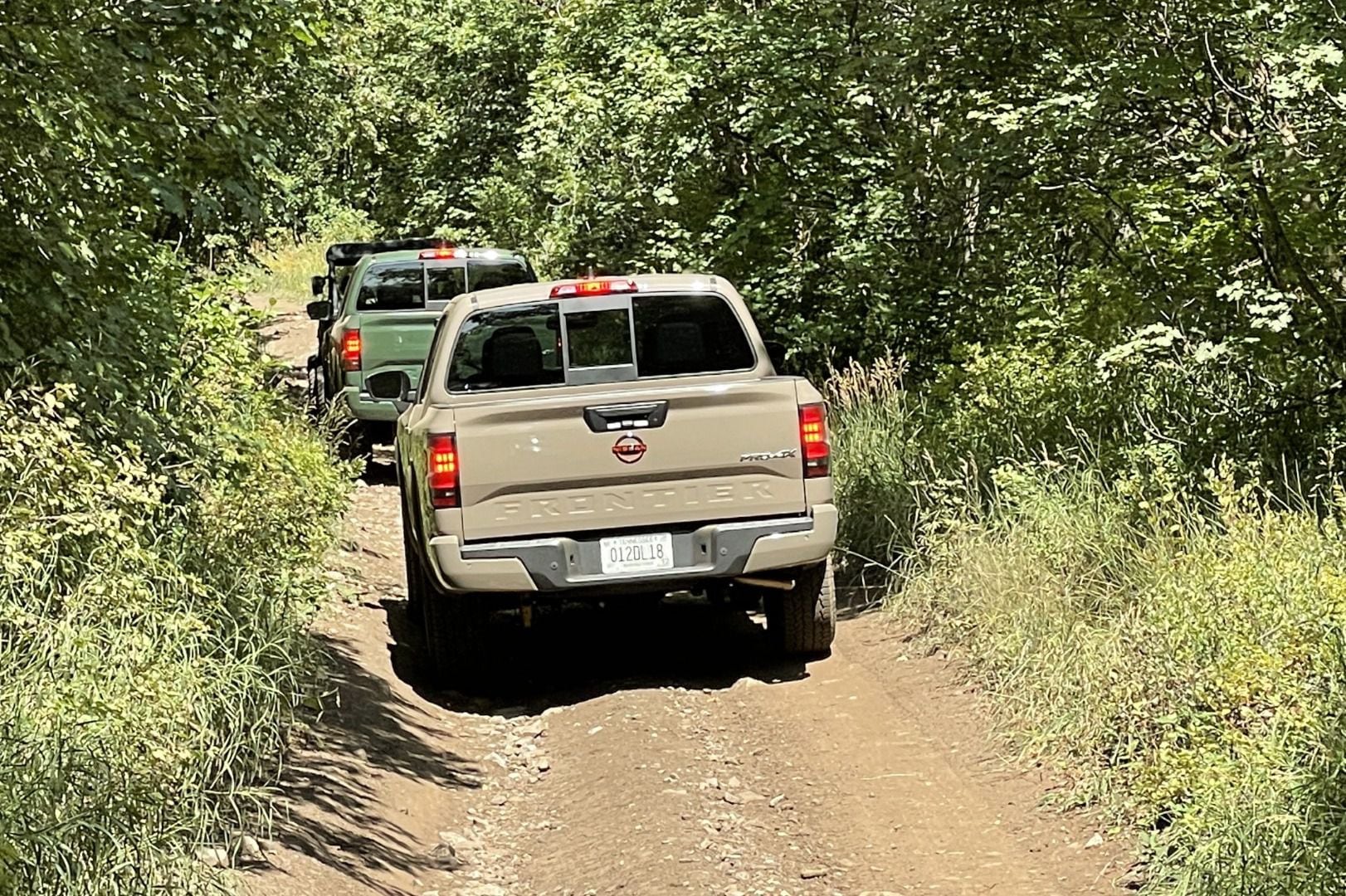 Photo by Nicole Wakelin
A Passenger-Friendly Ride
The ride in the Frontier is smooth despite its off-road capability. Trucks, especially off-road trims, can be bouncy and uncomfortable, but we didn't experience this with the Frontier. The ride was well-mannered; confident steering made highway lane changes and twisty roads easy to manage.
The suspension system takes care of rough pavement and unseen potholes so passengers can ride in comfort. It's also remarkably quiet. Road and wind noise was minimal, even at highway speeds. The Frontier strikes a good balance between the rough-and-tough capability and durability and regular driving comfort. If you have a long daily commute with lots of highway driving, then the Frontier is a good choice. It's also a great choice for those who venture into more urban environments thanks to dimensions that make it easy to park.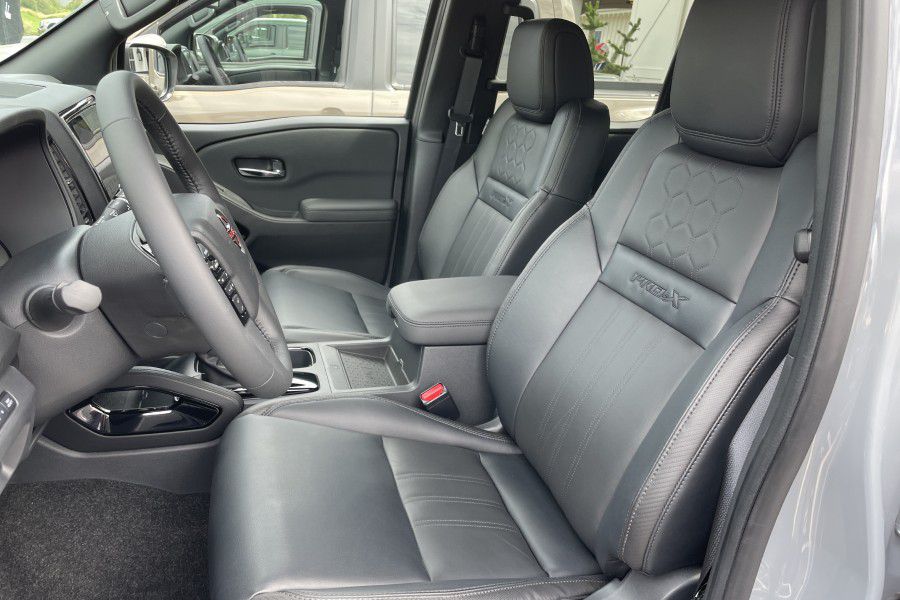 Photo by Nicole Wakelin
Towing Capability
The Frontier is a mid-size truck, so it doesn't have the capability of full-size options like the Titan, but it's still ready to get work done. The crew cab has a maximum payload rating of up to 1,480 pounds and a max tow rating of 6,570 pounds when properly equipped. The king cab ups those numbers to a maximum payload of 1,610 pounds and a maximum tow rating of 6,720 pounds when properly equipped.
There are also standard and available features to make getting work done with your Frontier easier. Standard features include a locking tailgate with dampened opening, bed rail protectors, and a rear step-up bumper to make reaching into the bed less of an effort. Available features include a Class IV receiver hitch, under rail cargo bed lights, spray-in bedliner, and a tie-down system with four adjustable cleats to make securing cargo easier.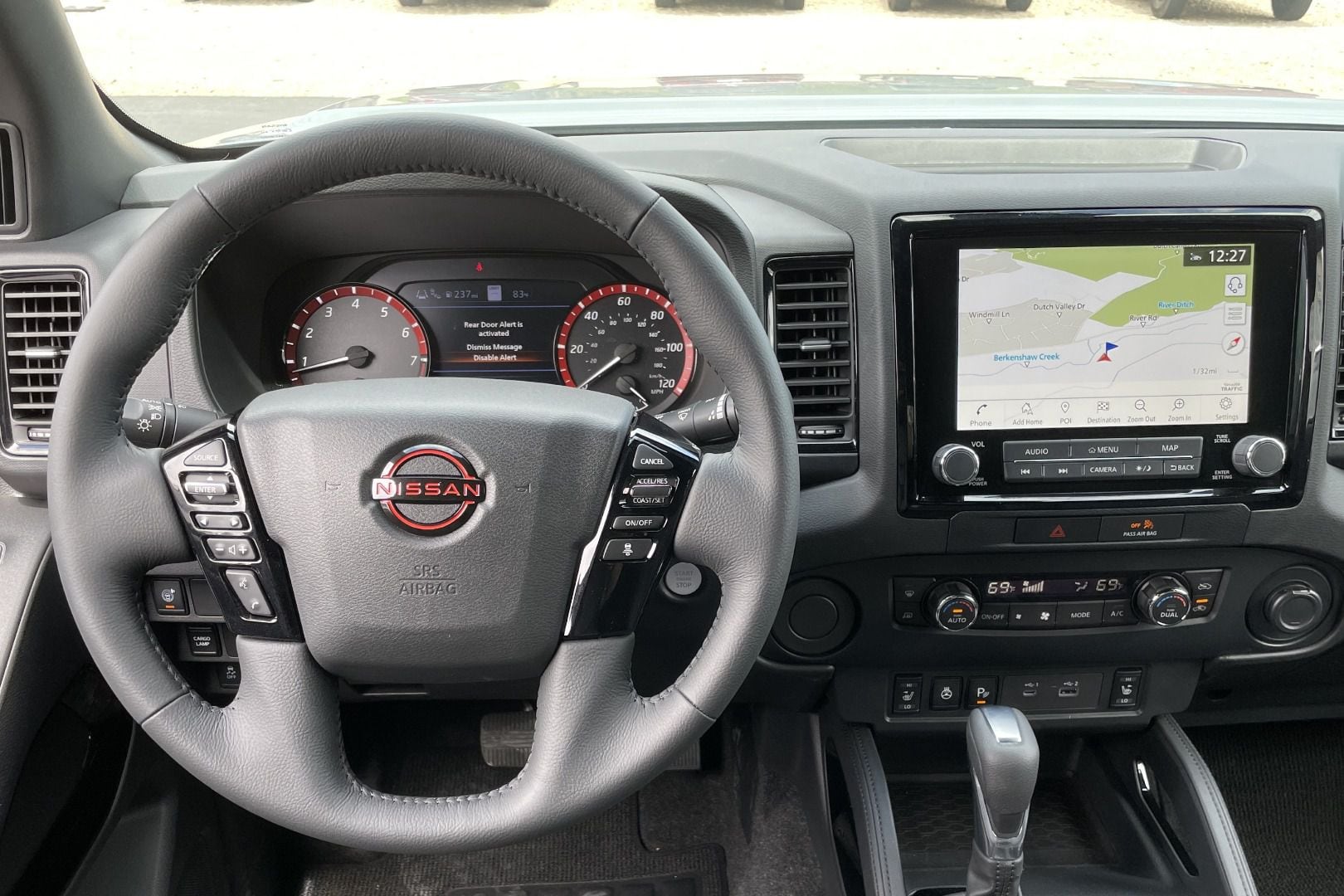 Photo by Nicole Wakelin
A Comfortable Interior With Plenty of Room
The interior of the Frontier gets a big update with better materials and better styling that shed its former outdated look. There are standard cloth seats with available leatherette and leather on top trims. Heated front seats are available as is an 8-way power driver's seat with lumbar. The crew cab is the most spacious option with seating for five. Three adults can get comfortable in the rear seats without feeling squished.
The king cab takes seating down to four with two fold-down rear seats. It's really only an option if rear seat passengers won't frequently be along for the ride. Front passengers are treated to Nissan's Zero Gravity seats. These provide the support to stay comfortable over long trips while still being soft enough to provide a relaxing ride. The interior of the Frontier is an attractive and comfortable place for passengers.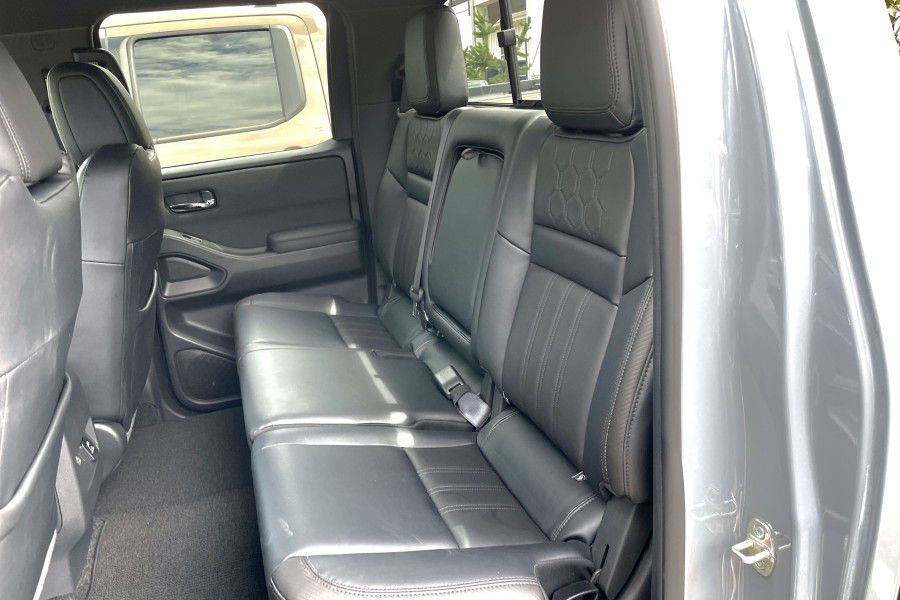 Photo by Nicole Wakelin
Large Infotainment Touchscreens on Every Trim
Standard infotainment in the Frontier includes an 8.0-inch touchscreen, AM/FM/SiriusXM, 6-speaker audio, Apple CarPlay, Android Audio, two front and two rear USB ports, and navigation with voice recognition. The Pro-X and Pro-4X trims add a 10-speaker audio system and a 9.0-inch infotainment touchscreen as standard features. There's also an optional 10-speaker Fender premium audio system that's available on all but the base S trim.
The Frontier has a good standard touchscreen size and smartphone connectivity on every trim, which is a plus. The system is easy to use with logically organized menus that are quick to learn. It makes finding what you need easy with a minimum of distraction. In addition to being the only way to get the 9.0-inch touchscreen, the top two trims are also the only trims to feature WiFi hotspot connectivity.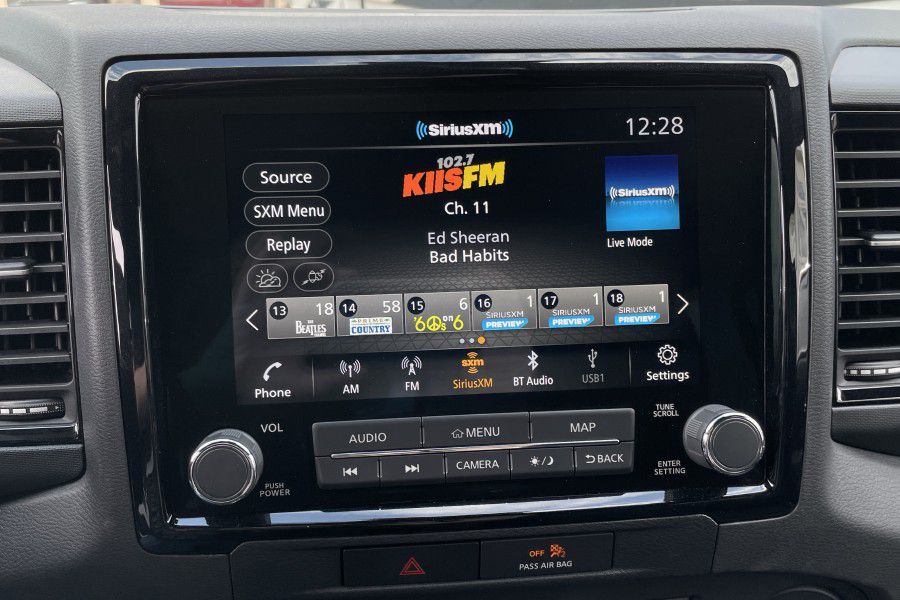 Photo by Nicole Wakelin
Advanced Safety Features Are Optional
The 2022 Nissan Frontier has not yet been crash-tested by either the Insurance Institute for Highway Safety or the National Highway Traffic Safety Administration. It does come with a wide range of safety features, but unfortunately, most don't come standard, even on top trims. Standard features include intelligent driver alertness, intelligent forward collision warning, and rear door alert. Additional safety features are optional.
These include automatic emergency braking with pedestrian detection, lane departure warning, blind spot warning, rear cross traffic alert, rear sonar system, rear automatic braking, high beam assist, and intelligent cruise control. There's also traffic sign recognition available for the top two trims. It's a comprehensive list of safety features, but you will have to add them to whichever trim you choose.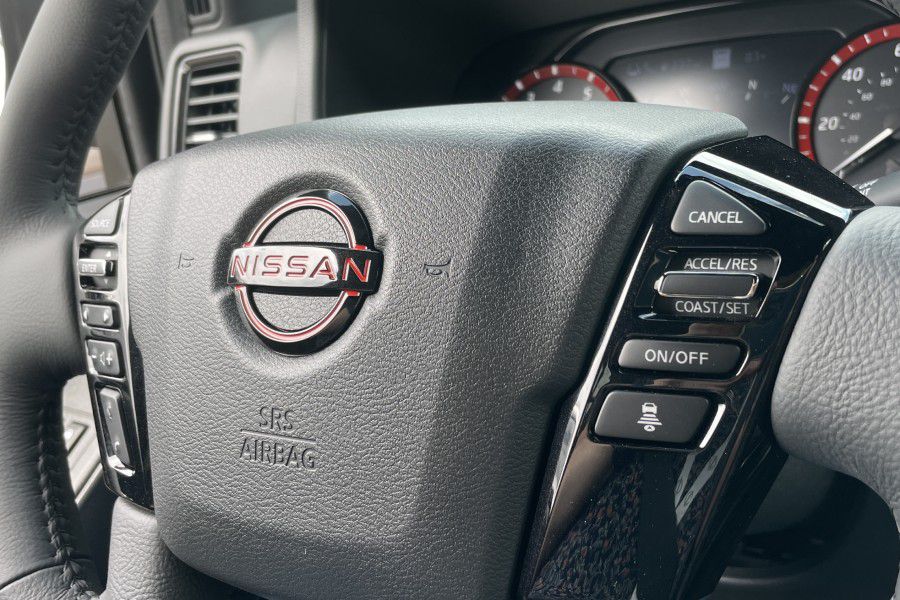 Photo by Nicole Wakelin
Final Thoughts
The 2022 Nissan Frontier benefits greatly from its much-needed redesign. The exterior has a bold, modern look and the interior no longer falls behind its competitors. It also has a good range of trims to appeal to those who simply want a capable mid-size truck and those who want something with more off-road prowess.
In addition, it has a responsive engine with smooth power delivery that doesn't disturb passengers. Infotainment is also good with key features including a large screen and smartphone connectivity on every trim. Safety features, while abundant, aren't standard, even on top trims. Overall, the 2022 Nissan Frontier is a capable, attractive, and comfortable truck that delivers the benefits of a full-size truck in a smaller, more manageable package with budget-friendly pricing.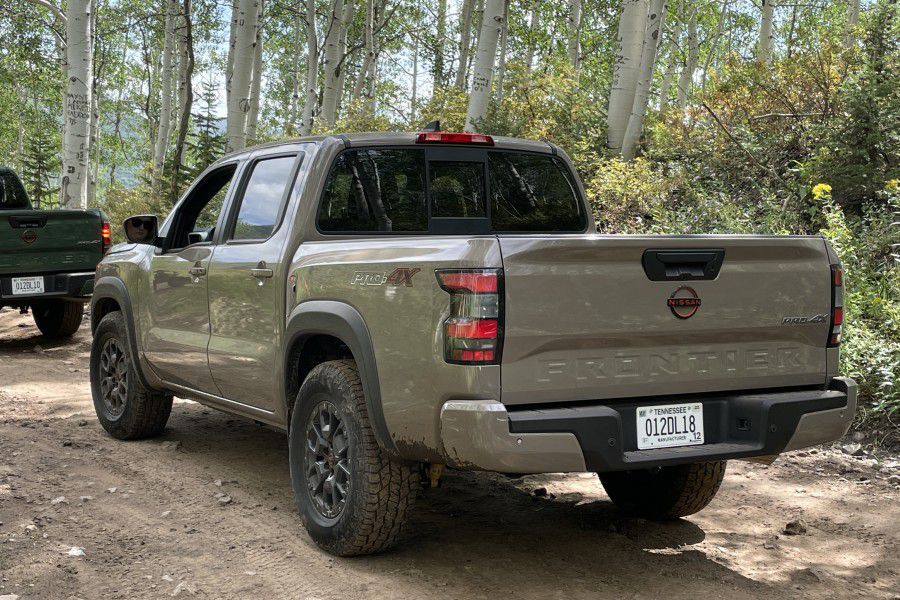 Photo by Nicole Wakelin