2022 Mitsubishi Eclipse Cross SEL ・ Photo by Brady Holt
If you're looking for a small crossover SUV, one often-overlooked brand has three different choices. That's Mitsubishi, a Japanese carmaker that's currently a corporate partner with the better-known Nissan. With attractive starting prices and a long warranty, Mitsubishis can be a tempting value option in a crowded marketplace — or an option for someone who doesn't want the same crossover as everyone else. 
The brand's two smallest and least expensive crossovers are the 2021 Mitsubishi Outlander Sport and the newly updated 2022 Mitsubishi Eclipse Cross, each priced from the low $20,000s. Both of these small crossovers pay homage to better-known Mitsubishis: the larger Outlander crossover and the long-discontinued Eclipse sporty coupe, respectively. Between the two, the Outlander Sport is slightly smaller and less expensive, while the Eclipse Cross is pricier and more upscale. For this review, we tested both Mitsubishis so we could go into detail about their respective pros and cons, to help guide you toward the better choice for you. 
Exterior Design
At a glance, the Outlander Sport and Eclipse Cross can look pretty similar, at least from the front. The Eclipse Cross debuted as a 2018 model, and soon after, Mitsubishi restyled the 2011-era Outlander Sport with a matching front end. That means high, slim LED headlights above a foglamp array and astride a heavily chromed hourglass-shaped grille. Especially with the 18-inch alloy wheels that are included on all but the base trim level, the Outlander Sport avoids looking a decade old or uncommonly cheap. The vehicle's stubby profile doesn't quite match the flashy front end, but some buyers will appreciate that the Outlander Sport looks taller and more purposeful than some lower, sleeker models in this class. 
The Eclipse Cross, meanwhile, hit the market with a polarizing design that included a hatchback-like profile with a split rear windshield. The 2022 model smooths out those details, including the rear windshield, and makes the rear end a bit longer. The result is a more harmonious vehicle that still avoids looking generic. It won't suit you if you're looking for a simple, functional-looking SUV, but it's closer to a luxury car than most budget-priced subcompact crossovers. We'll let you choose your own winner. 
Tie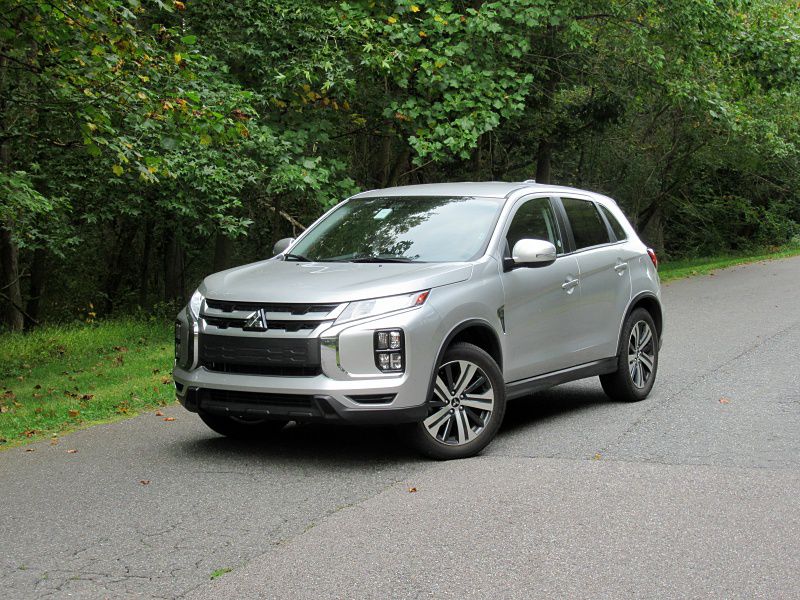 Photo by Brady Holt
Interior Design
Inside, the Outlander Sport's dashboard hasn't changed much since 2011. It's mostly made from plain plastics, and even many of the soft-touch surfaces look like they'd be rock-hard. There's little design verve to this gently rounded dash, but the controls are user-friendly and the gauges are attractive and easy to read. An important update is the infotainment system. It's not gorgeous, but our test vehicle included a good-sized and functional 8-inch touchscreen with Android Auto and Apple CarPlay. (Base models have a 7-inch screen without advanced smartphone integration.) 
The Eclipse Cross is more modern and upscale. Its dashboard is more graceful than the Outlander Sport's — or most subcompact crossovers'. The infotainment screen perches on top of the dash; to us, that makes it look smaller than the Outlander Sport's, but the choice of screens is identical between the two models. In a valuable update for 2022, the Eclipse Cross ditched a clunky touchpad infotainment interface in favor of a simple touchscreen. With that issue resolved, the more upscale Eclipse Cross is the easy winner of this category over the just-the-basics Outlander Sport. 
Mitsubishi Eclipse Cross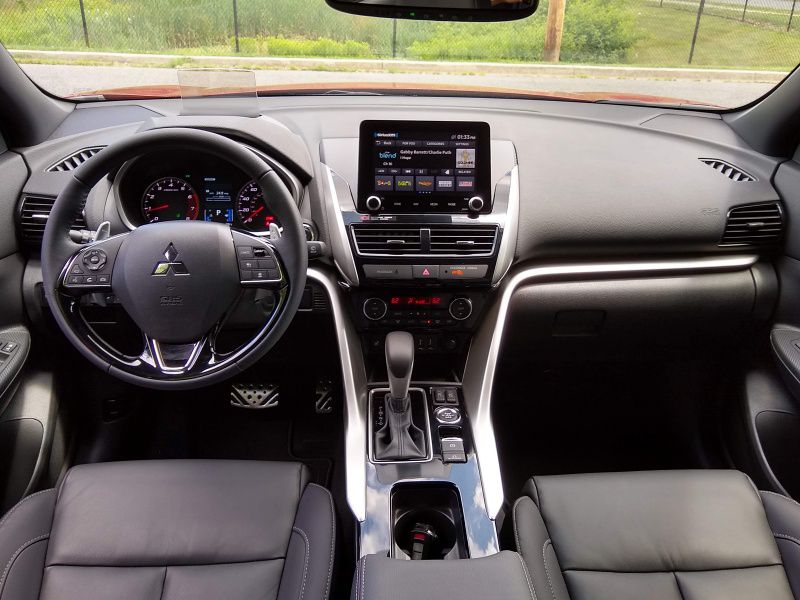 Photo by Brady Holt
Interior Comfort
Both the Eclipse Cross and Outlander Sport have uncommonly high seating positions for subcompact crossovers. That's perfect if you like an SUV feel without the bulk of a larger SUV. But we'll give this category to the Eclipse Cross for better-shaped front seats and more rear legroom. 
Up front, the Eclipse Cross has firm and nicely bolstered seats that are heated on all but the base ES model. Upper trim levels include power adjustability, synthetic suede or genuine leather upholstery, heated rear seats, and a heated steering wheel. The rear seat adjusts fore-aft to maximize either legroom or cargo space; with the seat all the way back, legroom is ample. The Outlander Sport is also roomy for a subcompact SUV, and there's plenty of headroom even above the high-mounted seats, but the front seats are flat and rear knee space isn't abundant. Heated front seats are available, but you can only get the Outlander Sport with cloth upholstery and manually adjustable front seats. 
Mitsubishi Eclipse Cross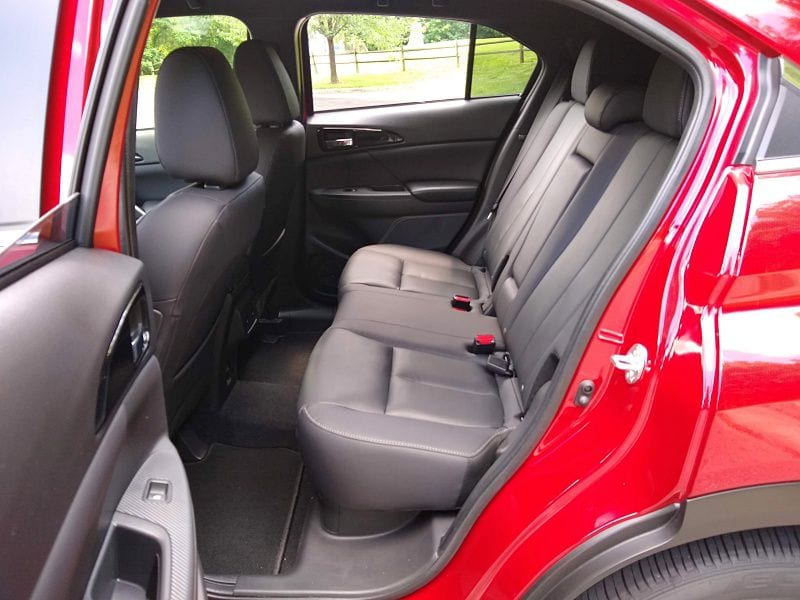 Photo by Brady Holt
Cargo and Utility
The Eclipse Cross is 7 inches longer than the Outlander Sport, which makes it roughly the length of a compact crossover rather than a mere subcompact. It's also slightly taller. 
Still, the two crossovers have nearly identical cargo capacities — in both cases, they have usable space but nothing remarkable even for a subcompact. That's because the Eclipse Cross puts its size into styling rather than functionality, with a more sloping roof than the upright Outlander Sport. By the numbers, the Outlander Sport has 21.7 cubic feet behind its rear seat and 49.5 cubic feet with the rear seat folded. The Eclipse Cross has 23.4 cubic feet behind the rear seat and 50.1 cubic feet in total. Only the Eclipse Cross is rated to tow; it can pull a decent 1,500 pounds. 
Mitsubishi Eclipse Cross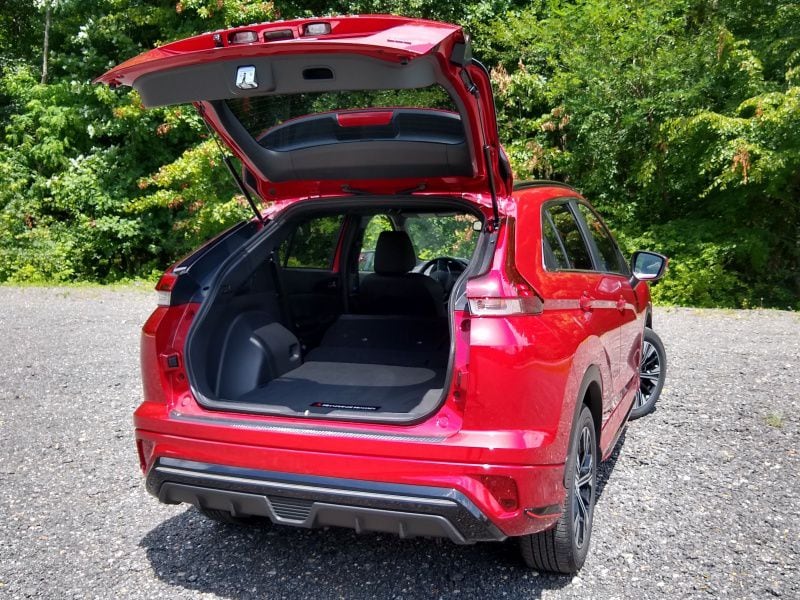 Photo by Brady Holt
Driving Experience
Both the Outlander Sport and Eclipse Cross are tuned more for a comfortable ride than sporty handling. Even with their 18-inch wheels, these little crossovers avoid being too stiff over bumps. They also have light, low-effort steering and tight 35-foot turning circles. But when it's time to drive harder, these Mitsubishis don't have much excitement to offer. We'd pick the Eclipse Cross on a winding road, but neither is agile for such a small vehicle. 
The bigger issue is under the hood. The Eclipse Cross has a 1.5-liter 152-horsepower turbocharged four-cylinder engine, paired with a continuously variable automatic transmission (CVT). That's class-competitive on paper, but the engine drones under all but gentle acceleration, making it seem even slower. The Outlander Sport has an even noisier and slower 2.0-liter 148-horsepower non-turbo engine on most trim levels. You won't have to be a driving enthusiast to wish for more getup. The top Outlander Sport GT model upgrades to a 2.4-liter 168-hp four-cylinder, but while it's quicker, it's neither zippy nor quiet, and you can't find this engine on most of the lineup. 
 Mitsubishi Eclipse Cross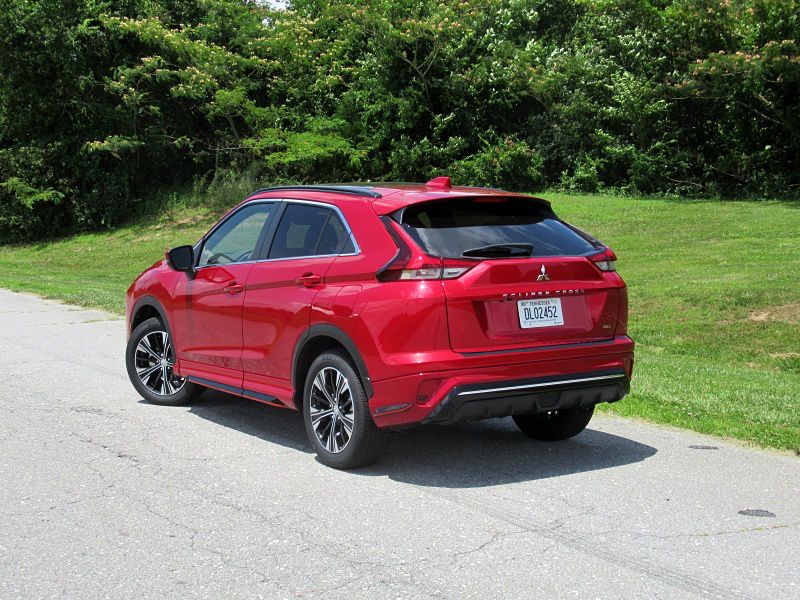 Photo by Brady Holt
Fuel Economy
Even though these Mitsubishis aren't big or quick, their gas mileage isn't amazing. The EPA rates the 2.0-liter Outlander Sport at 24 mpg in the city, 30 mpg on the highway, and 27 mpg combined with front-wheel drive and 1 mpg less with AWD. 
Most Eclipse Cross models do 1 mpg worse than the Outlander Sport overall, with ratings of 25 mpg city, 28 mpg highway, and 26 mpg combined with front-wheel drive and 25 mpg city, 26 mpg highway, and 25 mpg combined with all-wheel drive. We saw about 25 mpg while testing both vehicles — less than many larger, more powerful crossovers. The base Eclipse Cross ES gets about 1 mpg better than the rest of the lineup, while the 2.4-liter Outlander Sport gets 25 mpg in mixed driving with either front- or all-wheel drive. But in their most common configurations, the Outlander Sport stretches your fuel dollar a bit further. 
Mitsubishi Eclipse Cross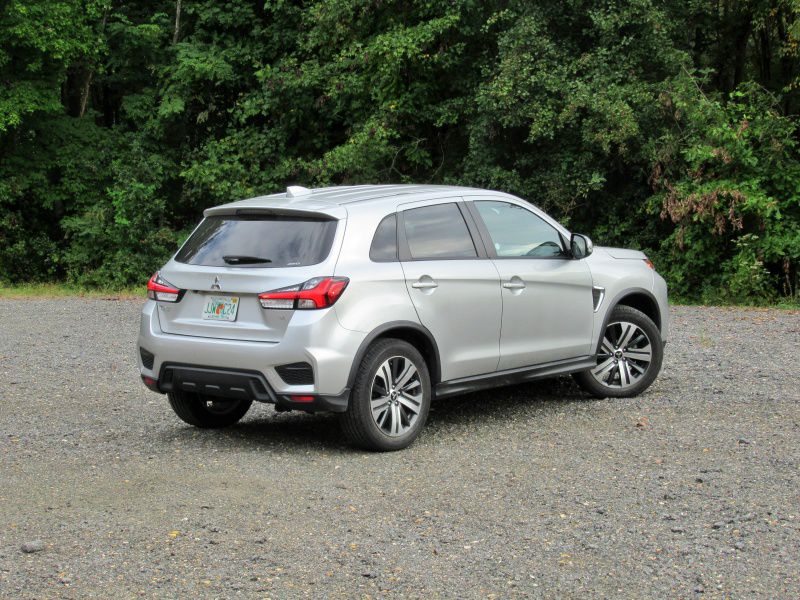 Photo by Brady Holt
Safety
Both the Eclipse Cross and Outlander Sport did well in crash tests and have plenty of advanced safety features. But the newer Eclipse Cross does a bit better. It earned the highest score of Good in the Insurance Institute for Highway Safety's small-overlap offset crash test, in which the Outlander Sport managed the second-highest Acceptable. That was great back in 2012, when many popular cars flunked this then-new test, but it's now indeed merely "acceptable." The Eclipse Cross also earns five out of five stars in National Highway Traffic Safety Administration testing, while the Outlander Sport manages a four-star NHTSA score. 
Both SUVs are nicely equipped with a forward collision warning, automatic emergency braking, pedestrian detection, and a lane-departure warning even on their base models. Blind-spot monitoring with a rear cross-traffic alert is available on their upper trim levels. While the Outlander Sport's technology and crash safety are impressive for such an old design, the Eclipse Cross does better. 
Mitsubishi Eclipse Cross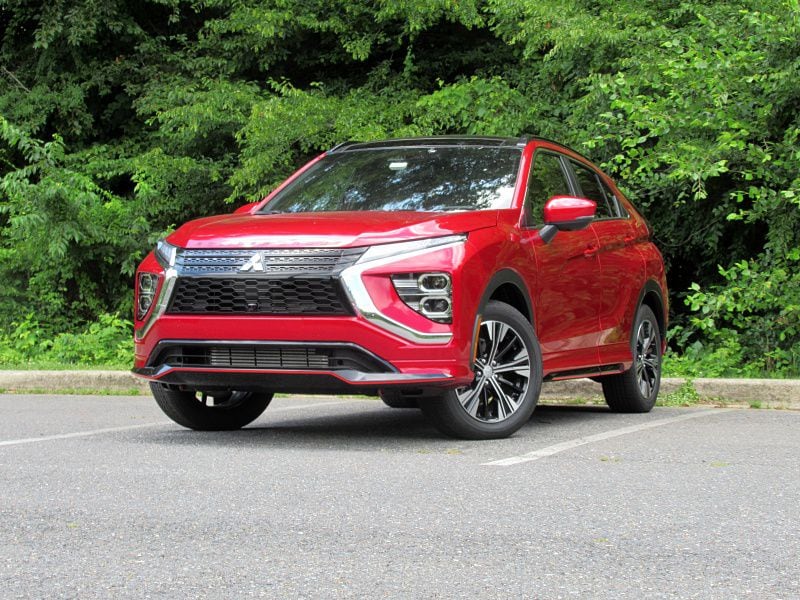 Photo by Brady Holt
Final Thoughts
We wavered while choosing a winner between the Eclipse Cross and Outlander Sport. On the one hand, these are budget SUVs, and the Outlander Sport's lower price and better gas mileage are tempting strengths in that context. On the other hand, the Eclipse Cross is measurably superior in too many ways to ignore. It's fancier, roomier, safer, and quieter. Between the two Mitsubishis, the Eclipse Cross is worth the extra money — especially after this year's new updates. 
That said, we'd encourage you to shop either crossover against their formidable competitors. The Mitsubishis offer glitzy styling, high seating positions, long warranties, and low base prices, and the Eclipse Cross adds an upscale interior design. However, there are excellent competitors that are quicker, quieter, more agile, and more economical. And many of those are even less expensive, depending on the features you're interested in. Our favorite budget-priced small crossovers include the Kia Soul, Seltos, and Sportage; Hyundai Kona and Venue; Nissan Kicks; and Toyota Corolla Cross. None of these beats either the Outlander Sport or Eclipse Cross in every way, but many folks will find the qualities they're looking for in one of these crossovers. 
Mitsubishi Eclipse Cross
Photo by Brady Holt