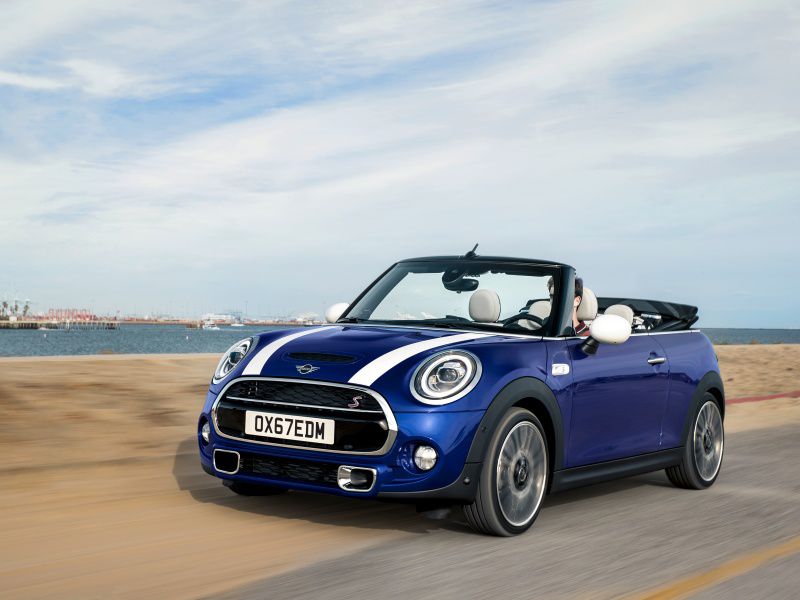 2021 Mini Cooper S convertible ・ Photo by MINI
The 2022 MINI Convertible is a sporty soft-top with personality to spare. Part of its appeal is the wide range of appearance options that let you customize your MINI so that it fits your personal style. This car is as much about style as it is about substance. Its standout design comes with a hefty dose of performance. Three engines deliver ample power to get this small car up to speed and include the option for a manual transmission.
Precise handling with available drive modes make driving the MINI Convertible along twisting back roads something to enjoy. It also has a comfortable interior in a range of three well-equipped trims. Let's take a closer look at the 2022 MINI Convertible to see if this is the right convertible for you to enjoy the summer sun.
Three Times, Each With Its Own Engine
There's a choice of three trims starting with the Cooper at $27,900. It has a 1.5-liter 3-cylinder engine with either a 6-speed manual or 7-speed automatic transmission. Standard features for this trim include an 8.8-inch infotainment touchscreen, a power-folding soft-top, synthetic leather seats, and 15-inch wheels. The Cooper S comes in at $31,900 with a 2.0-liter 4-cylinder engine, 16-inch wheels, a drive mode selector, and heated side mirrors.
The top trim is the John Cooper Works, which starts at $38,900. It adds a 2.0-liter 4-cylinder engine paired to an 8-speed automatic transmission. It also has 17-inch wheels and performance seats to hold you in place during more aggressive driving. The MINI Convertible has a small trim lineup, but each trim has powerful engine options that it an engaging convertible to drive. The available manual transmission adds to its appeal for those who enjoy the added control it offers.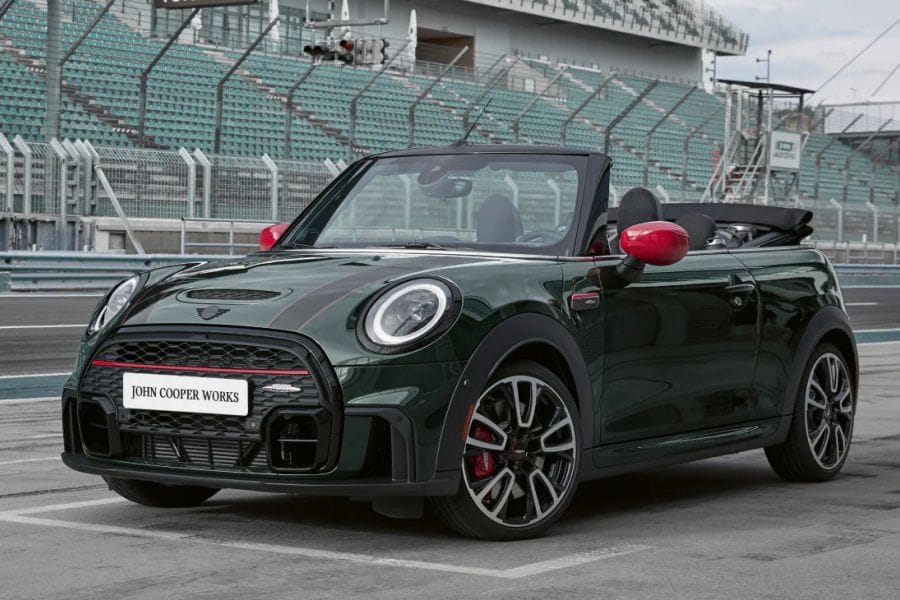 Photo by MINI
Personalize Your MINI
While every car has options, including the MINI Convertible, there's a bit more involved here than what's typical. Instead of just adding features to make the interior more comfortable or changing up a few pieces of trim, the MINI convertible has a seemingly endless number of appearance options for a fully custom look.
It starts with a roof that can be plain black or adorned with a Union Jack woven right into the fabric. You can also add stripes to the hood, or bonnet since MINI embraces its English heritage. Side mirrors can also be customized with a mirror finish or a range of colors and even patterns. The inside has options, too, with aluminum or silver checkered trims and vibrant fabrics. Half the fun of having a MINI is making it your MINI. If you like the idea of personalizing your car, then there's plenty of opportunity to get creative here.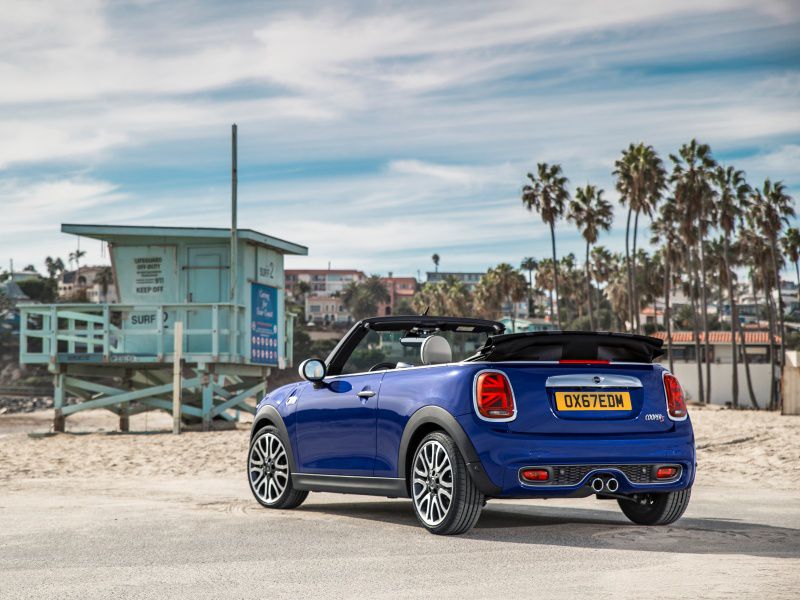 Photo by MINI
Three Responsive Powertrains
There are three engines in the MINI Convertible, one for each trim. The base engine is a 1.5-liter 3-cylinder with 134 horsepower and 162 lb-ft of torque. It's paired to either a 6-speed manual or a 7-speed automatic transmission. Your second engine option is a 2.0-liter 4-cylinder with 189 horsepower and 206 lb-ft of torque. While the base engine is more modest, the 2.0-liter delivers better acceleration that's more in line with the MINI convertible's sporty demeanor. The manual transmission offers an engaging drive enthusiasts will adore.
At the top of the lineup is a 2.0-liter 4-cylinder with 228 horsepower and 235 lb-ft of torque. This is paired only to an 8-speed automatic transmission. Sadly, you lose the option for a manual on the sportiest of engine offerings, but the automatic delivers power well. The drive is aggressive with quick acceleration and power to spare.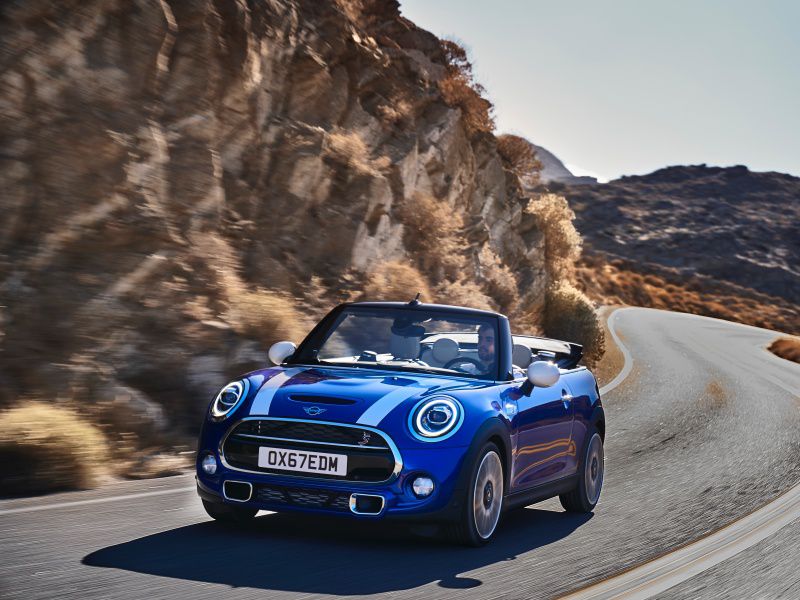 Photo by MINI
Responsive Handling With a Stiff Ride
The MINI is all about enjoying the drive with crisp responsive handling. It's a sporty choice, not a leisurely lounger, so sitting behind the wheel means being engaged in the driving experience. Minor steering adjustments are all that are required to easily maneuver the MINI Convertible. The available drive modes make a noticeable difference in steering and handling so you can decide how relaxed or sporty a drive suits your preferences.
The suspension system is also tuned toward performance. That makes it handle beautifully along twisting roads, but it does produce a harsher ride. Rough pavement won't go unnoticed, and potholes, no matter how small, can deliver quite a jolt. It makes for a rougher ride for passengers over poor roads. It's less noticeable during highway driving and on smoother road surfaces.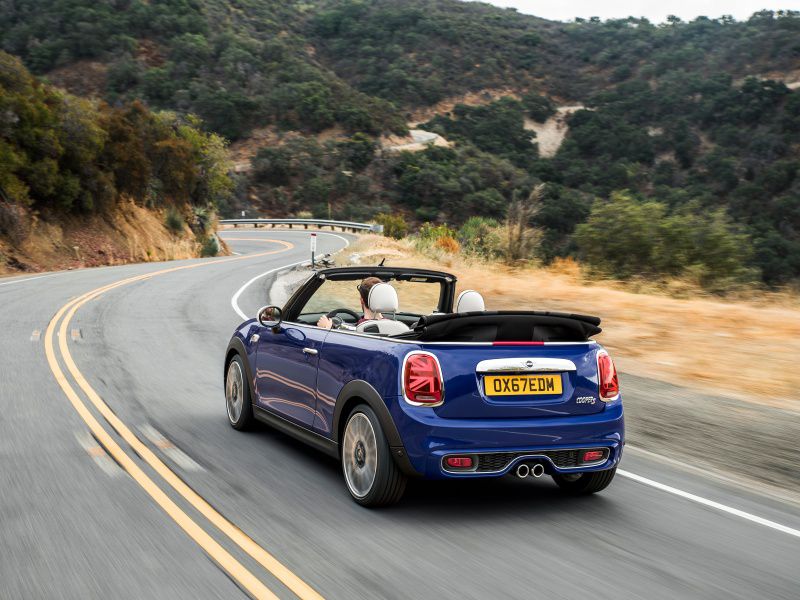 Photo by MINI
A Cute and Comfortable Interior
The interior of the MINI Convertible matches its appealing exterior. It's cute, with lots of round accents, including the air vents and the massive infotainment surround that changes colors depending on which controls are used. An abundance of toggle switches adds additional character. Materials throughout are high quality with attractive finishes and unique accents.
When it comes to passenger comfort, the MINI convertible is surprisingly roomy up front despite its compact dimensions. Even tall passengers will have plenty of headroom and legroom in the front. Seating is supportive and holds you in place during more spirited driving. There is a back seat with room for two passengers, but it's small. Two adults might be able to squish back there, but it's not going to be comfortable for long. It's best used for children. Or better yet, think of ithe rear sears as additional storage for whatever won't fit in the 5.2-cubic-foot trunk.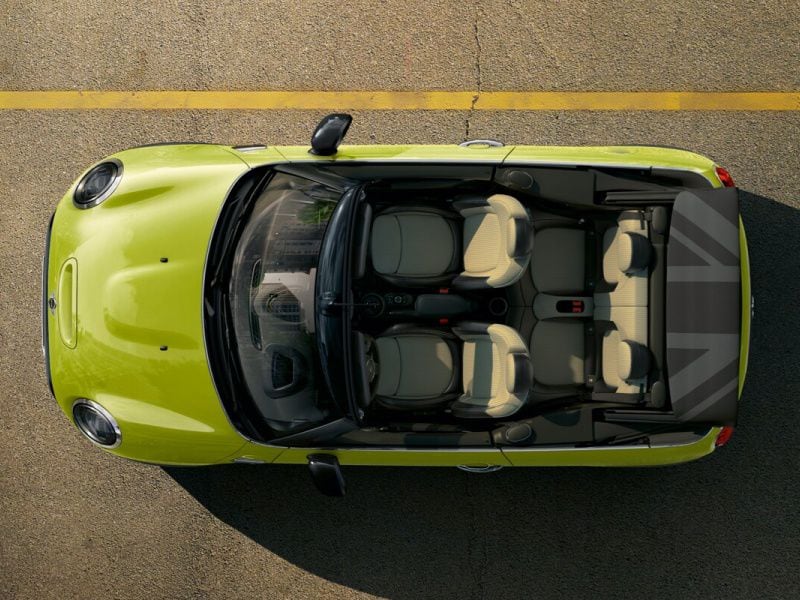 Photo by MINI
Budget-Friendly Fuel Economy
The 2022 MINI Convertible gets varying fuel economy depending on its engine. The 1.5-liter gets an EPA-estimated 29 mpg in the city and 38 mpg on the highway with the automatic transmission or 27 mpg in the city and 37 mpg on the highway with the manual transmission. Move up to the 2.0-liter engine and it gets 27 mpg in the city and 36 mpg on the highway with the automatic or 23 mpg in the city and 33 mpg on the highway with the manual.
The lowest fuel economy figures come from the powerful 2.0-liter engine. It gets up to 24 mpg in the city and 33 mpg on the highway. That's not a terrible decrease, but it will impact your wallet as gas prices rise. No matter which engine you choose, the MINI convertible gets good fuel economy that won't break your budget.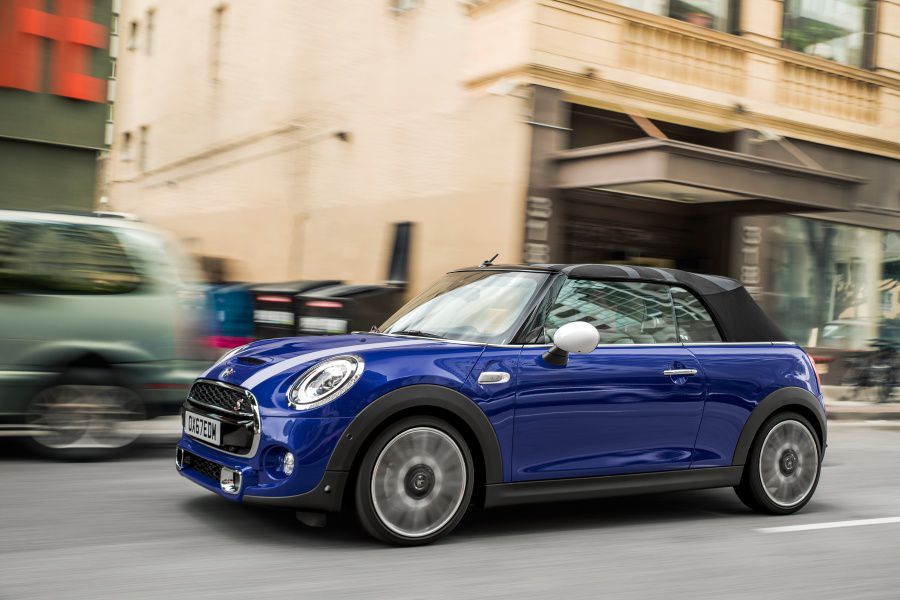 Photo by MINI
Infotainment Lacks Smartphone Connectivity
Infotainment in the MINI Convertible includes an 8.8-inch touchscreen with a 6-speaker audio system and AM/FM radio. There's no larger screen available, but the standard screen is large enough to make the system easy to use. As for smartphone connectivity, it isn't standard. Apple CarPlay is only available as an option. Android Auto isn't available at all. It's a big negative for what is otherwise a solid system.
It's easy to use with well-organized menus. Top trims add a premium Harman Kardon audio system and navigation. The large round screen surround makes infotainment in the MINI the focus of the interior rather than an afterthought. It adds to the MINI's appeal rather than being just a screen stuck to the dashboard.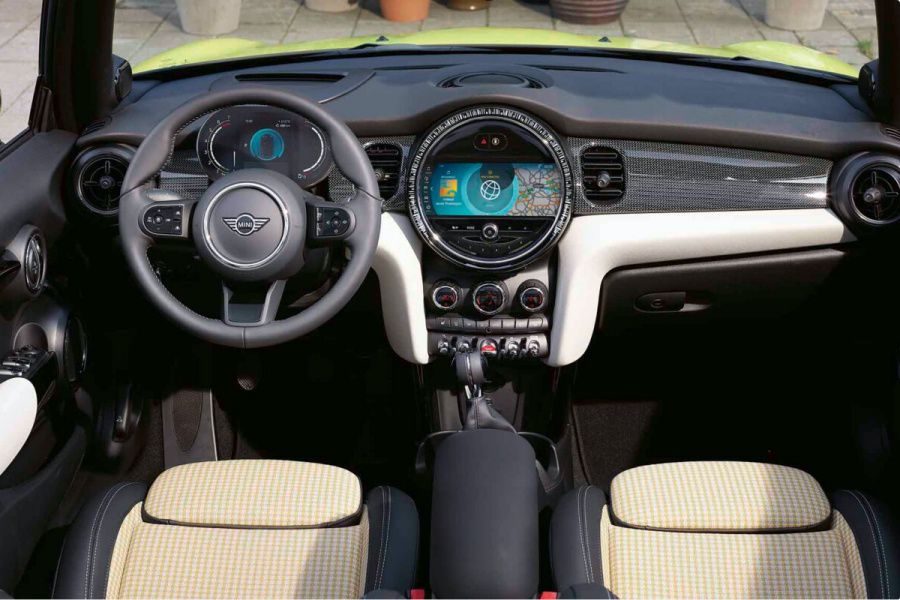 Photo by MINI
Key Safety Is Standard
The 2022 MINI Convertible has not yet been tested by either the Insurance Institute for Highway Safety or the National Highway Traffic Safety Administration. Standard features include forward collision warning, lane departure warning, rear parking sensors, and automatic emergency braking.
There's also a fully recessed active rollover protection system. This is a safety feature that's key when you're driving a convertible. Since there's no fixed roof over your head, the system detects when the car is rolling and automatically deploys to protect passengers in the absence of a roof. Available safety features include rear parking sensors and active cruise control. It's not a long list of safety features, but it does have key features standard rather than offering them only as options on top trims.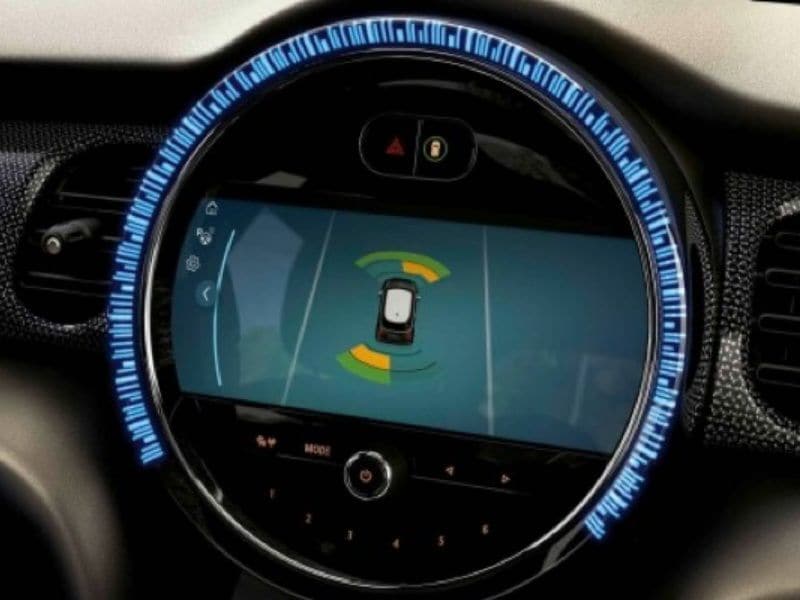 Photo by MINI
Final Thoughts
The 2022 MINI Convertible is a fun little convertible with plenty of character. A wide range of appearance options gives you the chance to create a truly unique ride. It has three responsive engines that engage the driver with crisp sporty handling, but its performance focus does produce a stiff ride that can be hard on passengers over rougher road surfaces.
The interior is surprisingly roomy for front passengers, but the back seats are too small for most adults. Standard safety is good, and a large infotainment touchscreen makes the system easy to use, but the lack of standard smartphone connectivity is a major drawback. The 2022 MINI Convertible delivers a performance-focused ride with style for miles and the joy of a droptop.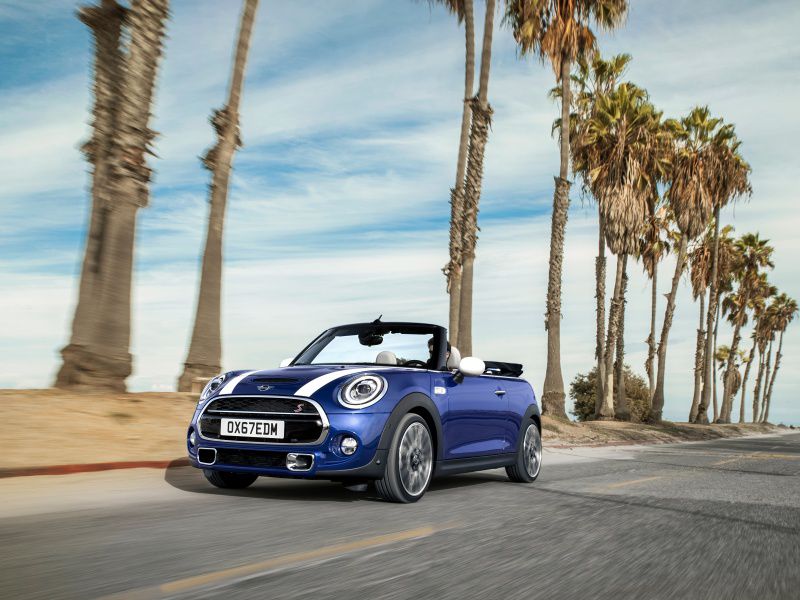 Photo by MINI