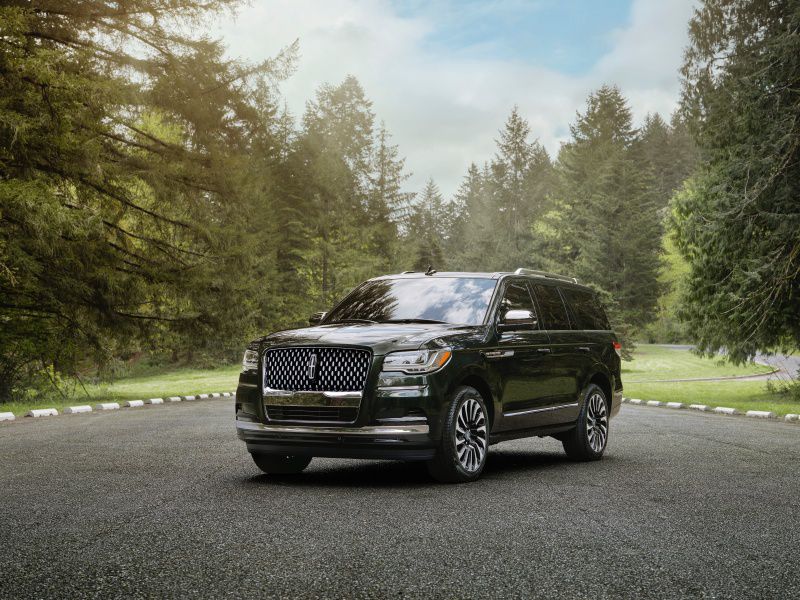 2022 Lincoln Navigator ・ Photo by Lincoln
There are a huge number of SUVs and crossovers from which to choose. Narrow that down to three-row models and the number of choices drops significantly. If you're looking for a luxury option, then your choices narrow further, but what you're left with is quite impressive. Three-row luxury SUVs are big, bold, and loaded with features you won't find in other vehicles, not even as options.
The 2022 Jeep Grand Wagoneer revives a discontinued nameplate in grand fashion. The Grand Wagoneer has a beautiful and roomy interior with a long list of standard features that ensure luxury no matter which trim you choose. It also has off-road capability not common in the segment. The 2022 Lincoln Navigator also has a richly appointed interior and features galore. Let's take a look at these two luxury SUVs to see which is the best.
Comparably Priced But With Differing Standard Features
The 2022 Lincoln Navigator has three trims starting with the Standard at $76,710. It has power running boards, 20-inch wheels, wood interior accents, 13.2-inch infotainment touchscreen, 10-way power front seats, and premium synthetic leather seats. The Reserve adds a panoramic roof and 24-way power front seats at $87,045. The Black Label is the most premium offering at $102,980. It has unique interior themes and exclusive concierge services.
The 2022 Jeep Grand Wagoneer Series I starts at $86,995 with a tri-pane sunroof, 24-way power front seats, premium 19-speaker audio, and a 12.0-inch infotainment touchscreen. The Series II at $93,995 adds Palermo leather seats and a digital rearview mirror. The Obsidian at $98,995 adds 23-speaker audio and black accents while the Series III at $103,995 has a front passenger display screen. Although it has a higher base price, the Grand Wagoneer also has more premium features at every trim level.
: Jeep Grand Wagoneer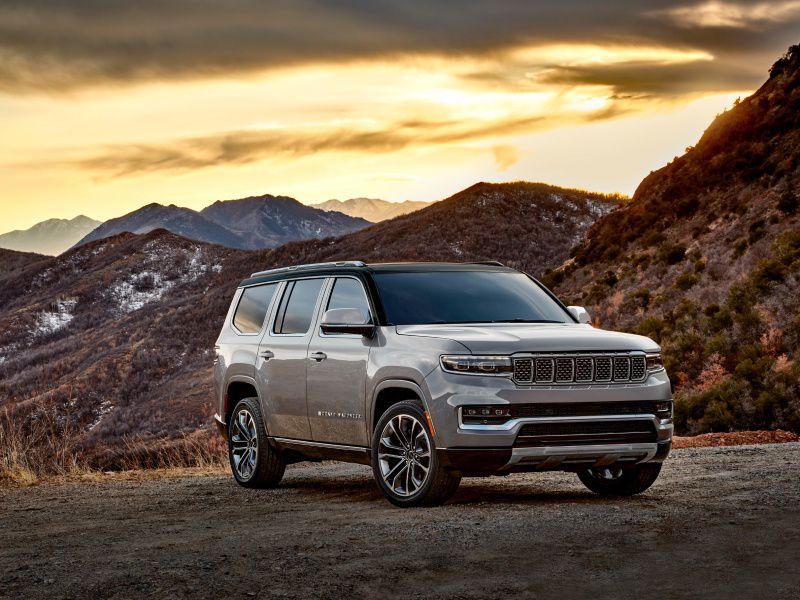 Photo by Jeep
Two Powerful Engine Options
Power for the Navigator comes from a 3.5-liter twin-turbo V6 engine with 440 horsepower and 510 lb-ft of torque. This is paired to a smooth 10-speed automatic transmission that delivers power evenly and quietly. Getting this large SUV up to highway speeds is not a challenge, and there's still plenty of power leftover for passing slower vehicles.
The Grand Wagoneer gets its power from a 6.4-liter V8 engine with 471 horsepower and 455 lb-ft of torque. This is paired to an 8-speed automatic transmission. It too has the power to easily get up to highway speeds but doesn't have as refined a transmission as the Navigator. However, the extra horsepower of the Grand Wagoneer makes it a more responsive and aggressive drive experience. We give this one to the Grand Wagoneer for delivering the extra power needed to make highway merges effortless.
: Jeep Grand Wagoneer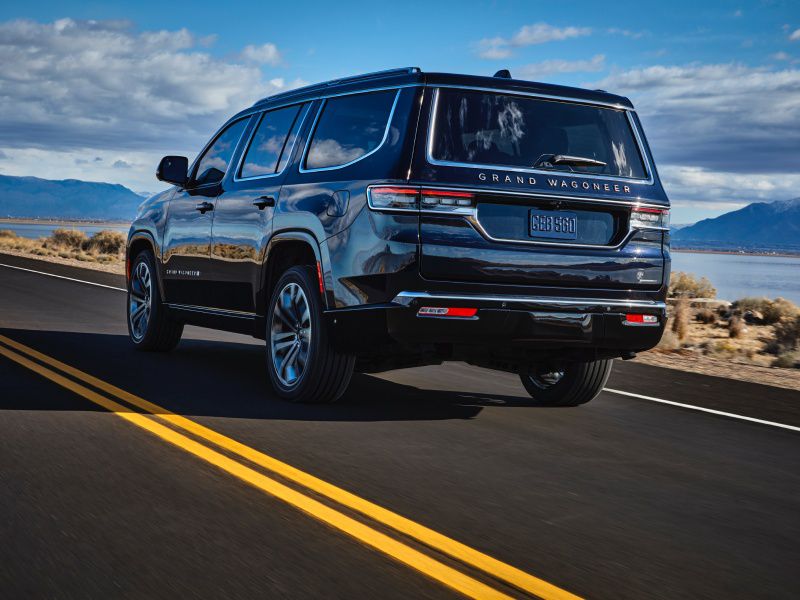 Photo by Jeep
The Smooth Ride of a Luxury Vehicle
A large part of any luxury car's appeal is how it rides. There's a high expectation for comfort with a suspension system that easily hides uneven road services so all but the worst potholes go unnoticed. The Lincoln Navigator delivers exactly this ride so passengers can simply relax throughout the trip. Its adaptive air suspension with road preview not only hides road imperfection, it uses 12 sensors to take continuous vehicle readings and make adjustments at a rate of 100 times per second to ensure the best ride possible.
The Grand Wagoneer also delivers a smooth and quiet ride with good manners even over rough pavement. It too has a refined suspension system that helps keep things smooth and level. Although both are impressive, the Navigator is better with a quieter and more relaxing ride than the Grand Wagoneer.
: Lincoln Navigator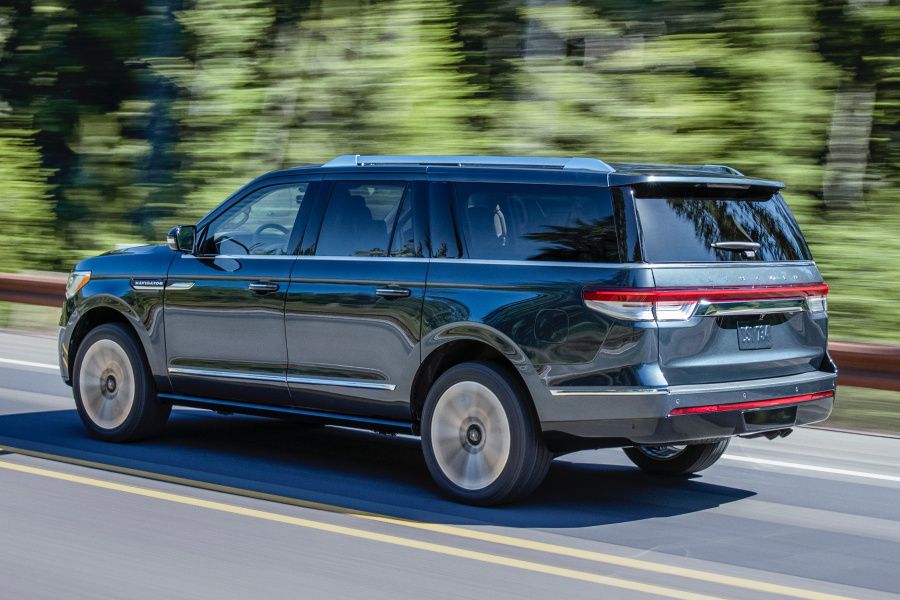 Photo by Lincoln
Luxury Interiors With no Shortage of Features
Another big part of the luxury package is the interior. Leather and wood trims, power-adjustable seats, and ample convenience features are to be expected, even on base trims. The Lincoln Navigator delivers a luxury experience across its lineup with premium synthetic leathers, power adjustable and massaging seats, and laser-etched wood accents. It's beautifully appointed and comfortable no matter where you choose to sit.
The Jeep Grand Wagoneer also has an impressive interior across its four-trim lineup. What makes it stand out is that more of those premium features are available on its base trim. This includes a premium audio system and more seat adjustability than what's offered on the base Navigator. It also has standard Nappa leather seating surfaces. Both are premium. Both are beautiful. The Grand Wagoneer, however, comes out ahead for offering more features right from the start.
: Jeep Grand Wagoneer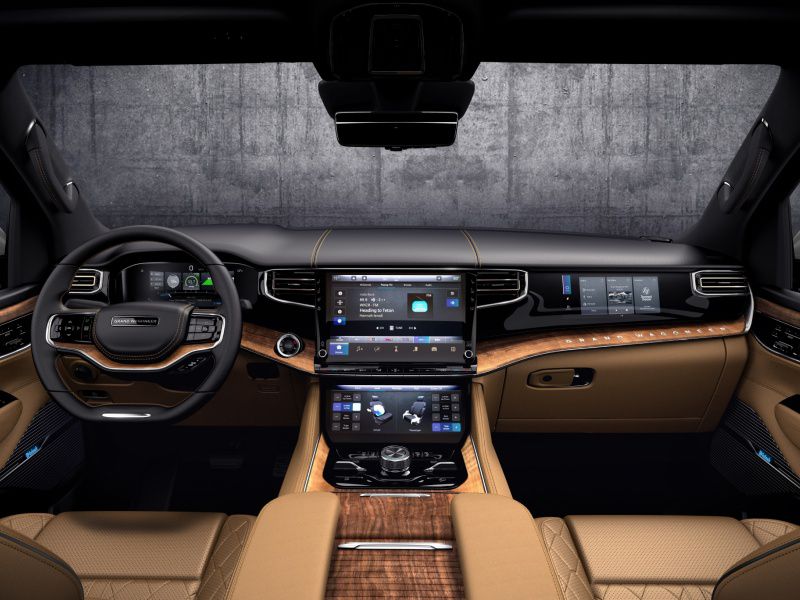 Photo by Jeep
Room for Cargo and the Capability to Tow
These SUVs offer seating for up to eight, along with plenty of room for everyone's cargo. The Lincoln Navigator has up to 20.9 cubic feet behind the third row, 63.6 cubic feet behind the second row, and 103.3 cubic feet behind the first row. It's also available with a long wheelbase that increases those numbers to 36.0, 79.6, and 120.2 respectively. Additionally, it can tow up to 8,700 pounds when properly equipped.
The Grand Wagoneer offers 27.4 cubic feet behind the third row, 70.9 cubic feet behind the second row, and 94.2 cubic feet behind the first row. While not as much as the extended wheelbase Lincoln, it has more room behind the second and third row in its standard configuration without having to go to a larger, more expensive variant. It also offers a maximum tow rating of up to 9,850 pounds for added versatility.
: Jeep Grand Wagoneer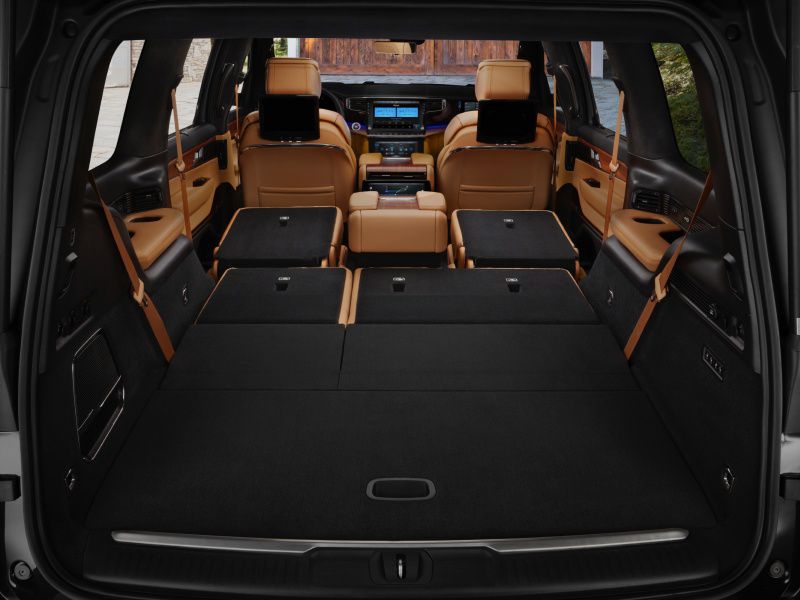 Photo by Jeep
A Clear Choice for Off-Road Enthusiasts
The Lincoln Navigator has rear-wheel drive with optional four-wheel-drive that's standard on the Black Label trim. It also features a series of drive modes that the driver can quickly select. These include Conserve, Deep Conditions, Excite, Normal, and Slippery. Each mode tailors vehicle systems to current road conditions or simply to your personal preferences whether fuel-efficient or performance focused. It's a capable vehicle that can manage poor road conditions with ease.
The Jeep Grand Wagoneer is available only with four-wheel drive. It also has an electronic limited slip differential and two-speed transfer case for added off-road capability. Drive modes of Auto, Sport, Rock, Snow, and Sant/Mud are selectable at the touch of a button. While both have the capability to handle winter weather and can go off-road, the Grand Wagoneer has more rugged off-road features that allow it to do more and go further when the pavement ends.
: Jeep Grand Wagoneer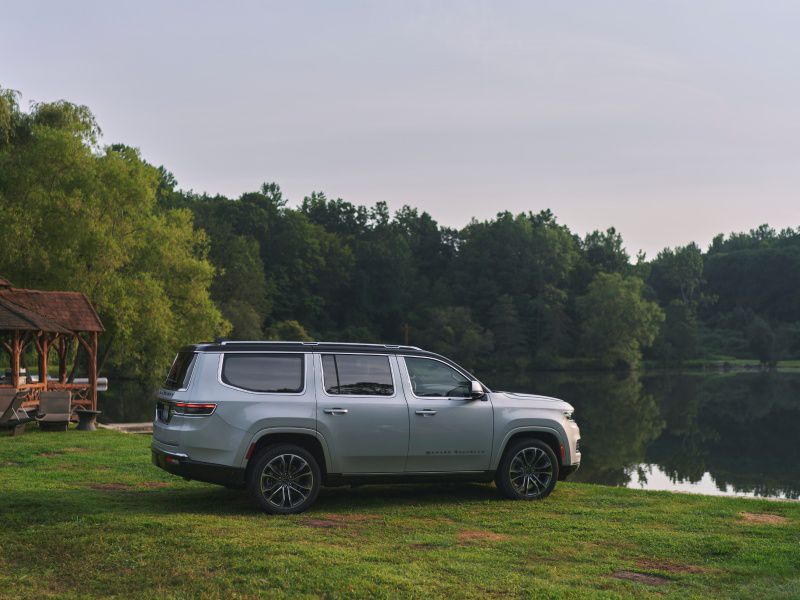 Photo by Jeep
The Latest in Infotainment
Infotainment in the Lincoln Navigator includes a 13.2-inch touchscreen with Apple CarPlay and Android Auto. It has crisp graphics and a responsive screen. It is easy to use with menus that are quickly learned so new passengers can use the system with minimal instruction. There's also a second 5.8-inch screen between the second-row captain's chairs that lets occupants control their own climate and audio.
The Jeep Grand Wagoneer has a 12.0-inch infotainment screen with a standard 19-speaker McIntosh audio system. It's a slightly smaller screen that what Lincoln offers, but with equally intuitive menus and good touch response. There's also an available front passenger display screen that's standard on the Series III. This offers the unique ability to control select infotainment functions from a dedicated screen and lets the passenger even view their own entertainment options. We give this to Jeep for the extra screen and better standard audio.
: Jeep Grand Wagoneer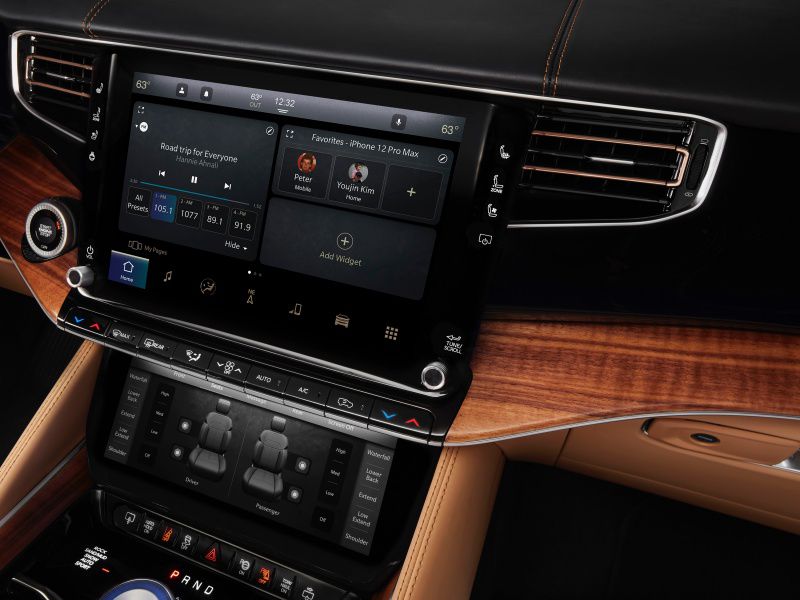 Photo by Jeep
Ample Advanced Safety Tech With Handsfree Driving
Much like luxury cars have long lists of standard comfort and convenience features, they also come with good standard safety. While there are some features that are optional or relegated only to the highest trims, even base models of luxury cars are exceptionally well-equipped when it comes to safety. Both of these SUVs include automatic emergency braking, blind-spot warning with rear cross-traffic alert, and parking assist systems as standard features. They also have handsfree driver assistance systems.
Jeep offers Active Drive Assist which will keep you in your lane at your preset speed to reduce the fatigue of longer drives. Lincoln offers ActiveGlide, which is its version of Ford's BlueCruise. It covers over 130,000 miles of handsfree Blue Zones in North America. While the two systems are comparable, we found the ActiveGlide system created a more natural drive experience that mimicked the way people realistically drive.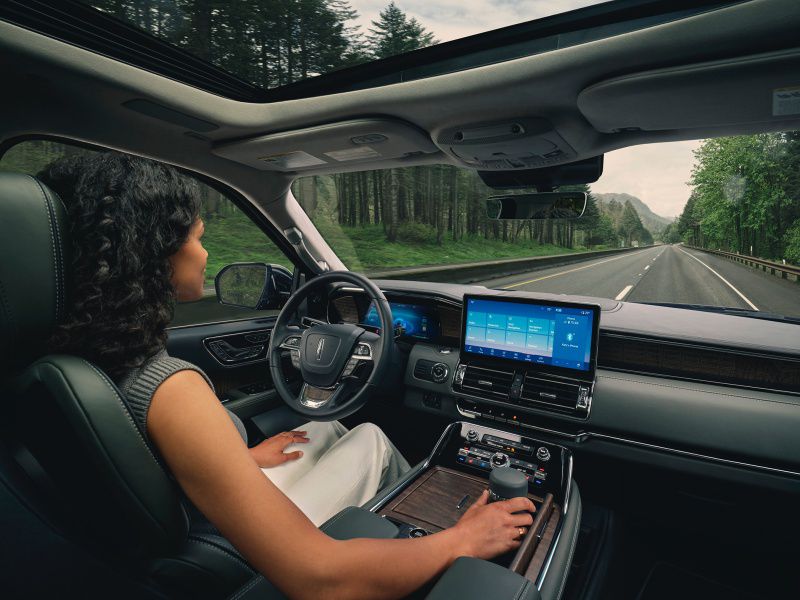 Photo by Lincoln
Final Thoughts
The 2022 Lincoln Navigator and 2022 Jeep Grand Wagoneer are luxury suvs that have a lot to offer. Both are large enough to easily accommodate eight people and have plenty of room for cargo. They're also capable of towing larger items. In addition, they offer a long list of standard features that create a luxury experience in every trim.
The Navigator comes out ahead for its new handsfree driving system and remarkably smooth, quiet ride, but that's not enough to put it ahead. The Grand Wagoneer offers a higher level of luxury overall, better off-road capability, unique infotainment features, and a more responsive powertrain.
: Jeep Grand Wagoneer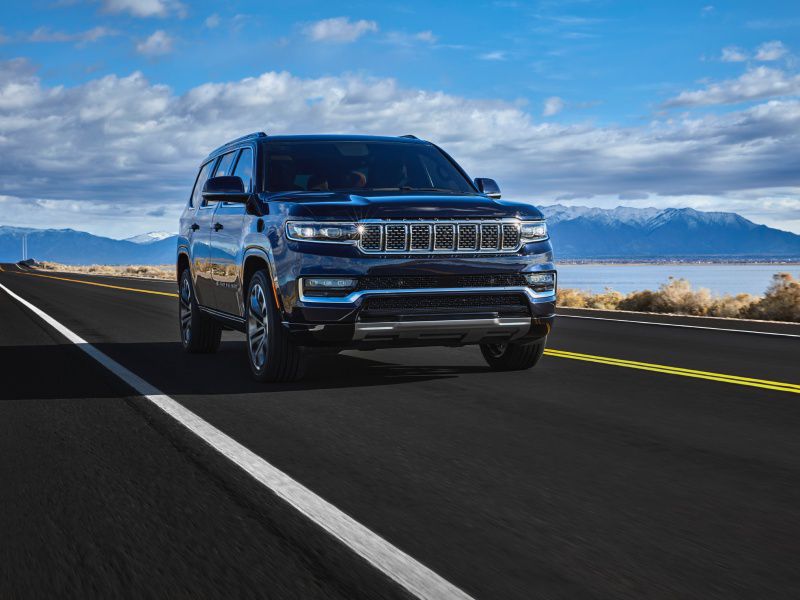 Photo by Jeep