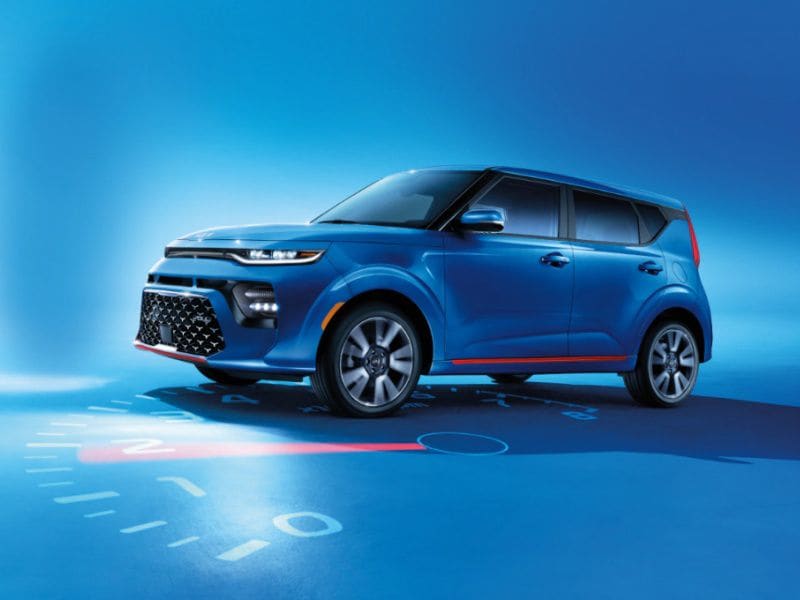 2022 Kia Soul ・ Photo by Kia
The Kia Soul is one of the best values on the American market. It combines many of the positive attributes of a hatchback and a crossover SUV in a versatile, affordable package. The fact that it is one of the most dependable vehicles of its type is icing on the cake. Kia sold more than 75,000 Soul hatchbacks in 2021, so Americans grasp the fact that the Soul offers a good value. The Soul also has a sprightly, fun-to-drive personality that takes it out of the realm of "econoboxes," though it is a very economical car to drive. Another positive aspect is its size. While the Soul has a compact footprint, it will accommodate five passengers and a lot of stuff.
Exterior Design
One thing that has always set the Kia Soul apart is its exterior shape. The profile has been smoothed out and softened over the years, but the Soul still has the profile that made it distinct when it was introduced. The Soul is one of those rare vehicles that is actually larger than you might guess from seeing its photos. It rides on a 102.4-inch wheelbase, and it's 165.2 inches in overall length. But it is wide (70.9 inches) and tall (63.0 inches) for a hatchback, and that contributes to its roomy, versatile interior. In contrast, the Nissan Kicks crossover suv is 169.1 inches long, 69.3 inches wide and 63.4 inches tall. But while the Kicks tries to channel an SUV vibe, the Soul turns its back on all-wheel-drive lacks any off-road pretension to concentrate on the task of urban assault vehicle. As it has throughout its life, the Soul offers a youthful, frivolous demeanor, and it revels in the fact it's not quite like anything else out there.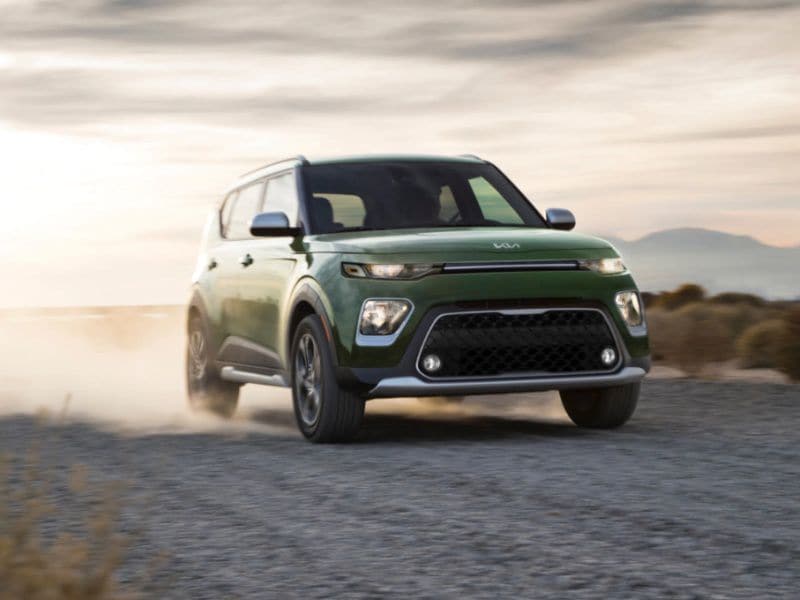 Photo by Kia
Interior Style
What you will immediately notice when you enter the Kia Soul's interior is how much space it offers. As we said, it looks smaller than it actually is. With a base price well under $20,000, the Soul certainly isn't a luxury car, but one might be surprised how well-finished and interesting the interior is. The cabin isn't lush, but it is cleanly designed with youth-oriented features like ambient lighting. The instrument cluster is clear and concise, and the infotainment system is exceptionally easy to operate. Kia continues to win praise for its straightforward design that makes controls easy to find and intuitive to operate. Useful items like a tilt/telescoping steering wheel and outside temperature display are standard across all trim levels. A six-way adjustable driver's seat is the base configuration, but as you go up through the trims an 8-way power-adjustable driver's seat and a 10-way power-adjustable seat are optionally available as is leather upholstery. The rear seat accommodates three, and the standard 60/40 split seatback helps the Soul accept odd-sized cargo.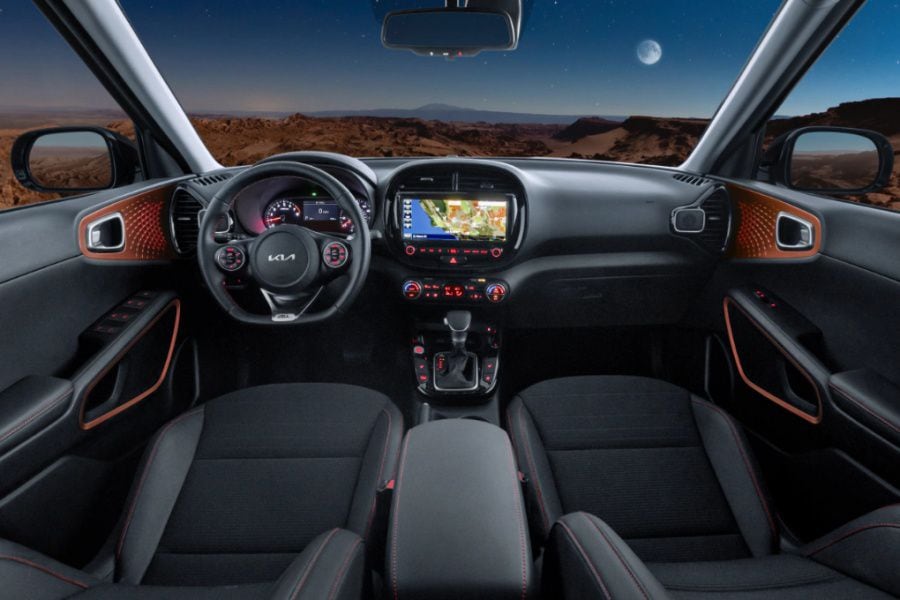 Photo by Kia
Powertrains
Two powertrains are available in the Soul. Both get the job done, but those who seek additional firepower will choose the Turbo. Most Souls are equipped with a 147-horsepower 2.0-liter four-cylinder engine with a continuously variable automatic transmission. Though vehicle testers are not usually enthusiastic about continuously variable transmissions, the Soul's CVT works just fine, and it contributes to the Soul's good fuel economy. If you'd like more punch from under the hood, the Soul Turbo is powered by a 201-horsepower turbocharged 1.6-liter four-cylinder, and it is accompanied by a seven-speed, dual-clutch automatic that offers quick manual shifts.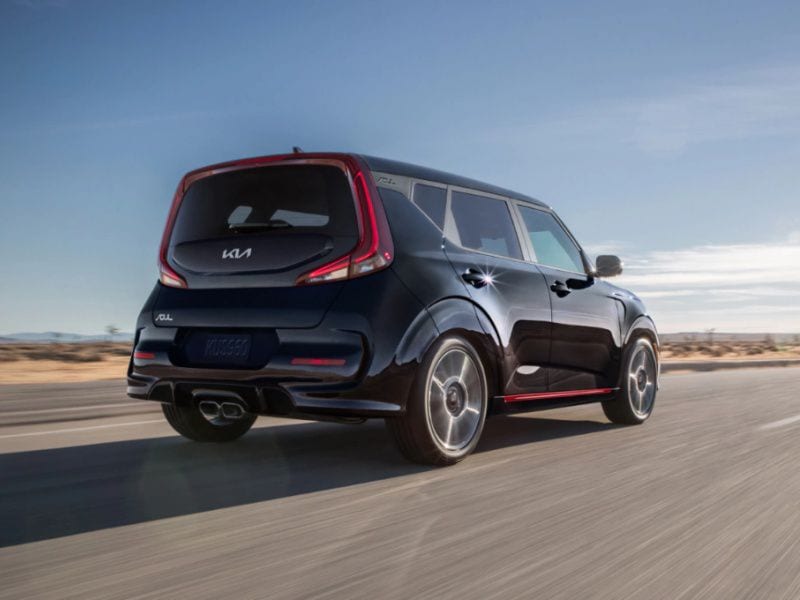 Photo by Kia
Driving Impressions
For a vehicle that has a low entry price and utilitarian aspirations, the Kia Soul delivers a more involving driving experience than you would guess. With a curb weight as low as 2,800 pounds, the 147-horsepower base four-cylinder engine doesn't have that much mass to push around. Because of that, the Soul seems lively around town as the CVT dials up ratios that maximize the engine's strengths. The zero-to-60-mph of time of 8.0 seconds is reasonably good for a car of this ilk, and you never have trepidation when accelerating onto an expressway. The Soul really comes into its own with the 201-horsepower turbo motor and its dual-clutch manumatic. Its sub-6.5-second 0-to-60-mph time is transformative, and even after you quit playing with the shift-it-yourself aspects of the dual-clutch transmission, you will still appreciate the acceleration of the turbo. That said, most folks won't choose the Turbo trim as they will be perfectly satisfied with the performance of the 2.0-liter four-cylinder and CVT.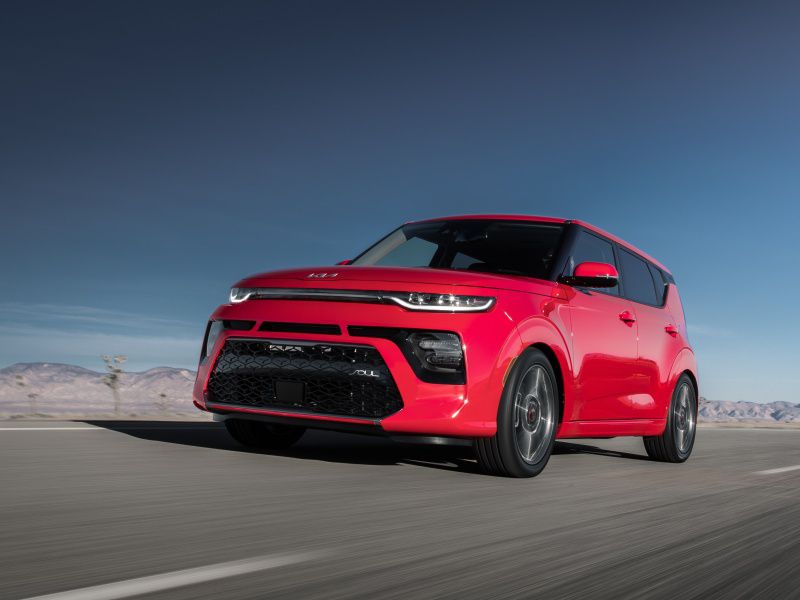 Photo by Kia
Cargo & Towing
One of the Soul's prime benefits is its voluminous interior space. Despite its short length, its cabin size and cargo-carrying ability rival several subcompact and compact crossover SUVs. With the rear seatback folded, it offers 62.1 cubic feet of cargo volume. And it delivers a robust 24.2 cubic feet with the second-row bench seat in use. That's more space than the Hyundai Kona and Toyota C-HR. A multi-position system maximizes the utility of the cargo area. Interior volume is an impressive 120.9 cubic feet. The Soul can be equipped with roof rails that accept a variety of carriers. With front-drive and small-displacement four-cylinder engines, it is not designed as a tow vehicle.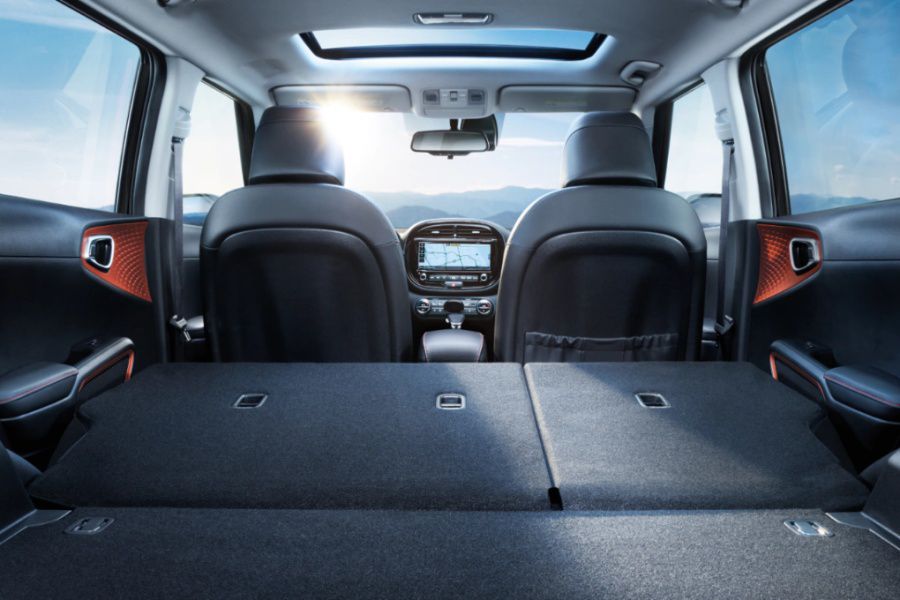 Photo by Kia
Infotainment & Tech
One reason the Kia Soul scores so well in quality surveys is its easy-to-understand and easy-to-use controls. Despite the Soul's low cost, a sophisticated 6-speaker infotainment system with an 8-inch touchscreen display is standard. It features AM/FM radio, Apple CarPlay and Android Auto compatibility, and standard Bluetooth connectivity. When upgrading above the base LX model, the system has a 10.2-inch touchscreen, AM/FM/MP3/Satellite radio, and voice-activated navigation. A Harman Kardon audio 7-speaker audio system with a subwoofer is the standard sound system in the 2022 Kia Soul Turbo. For a low-priced vehicle, the Soul's infotainment offerings are outstanding.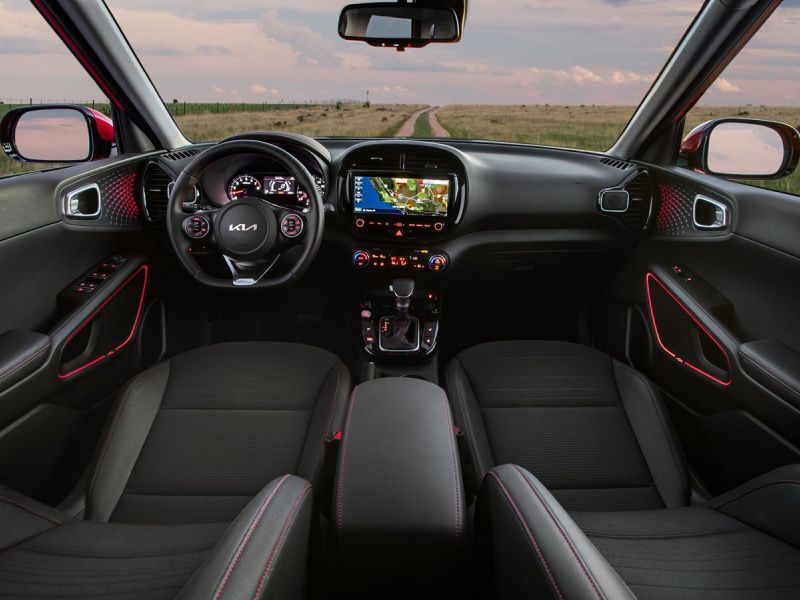 Photo by Kia
Safety & Driver Aids
The Kia Soul offers a high degree of safety that is uncommon in an inexpensive vehicle. The Insurance Institute for Highway Safety gave the virtually identical 2021 Soul the Top Safety Pick designation, its second-highest accolade. The National Highway Traffic Safety Administration (NHTSA) gave the 2022 Soul a four-star rating in its %-Star Safety Rating Program. All but the base Soul LX have a robust array of standard active safety features. The list includes Forward Collision-Avoidance Assist, Lane Keeping Assist, Driver Attention Warning, Blind Spot Collision Warning, Lane Change Assist, and Rear Cross-Traffic Assist. The Soul Turbo adds Forward Collision-Avoidance Assist – Pedestrian.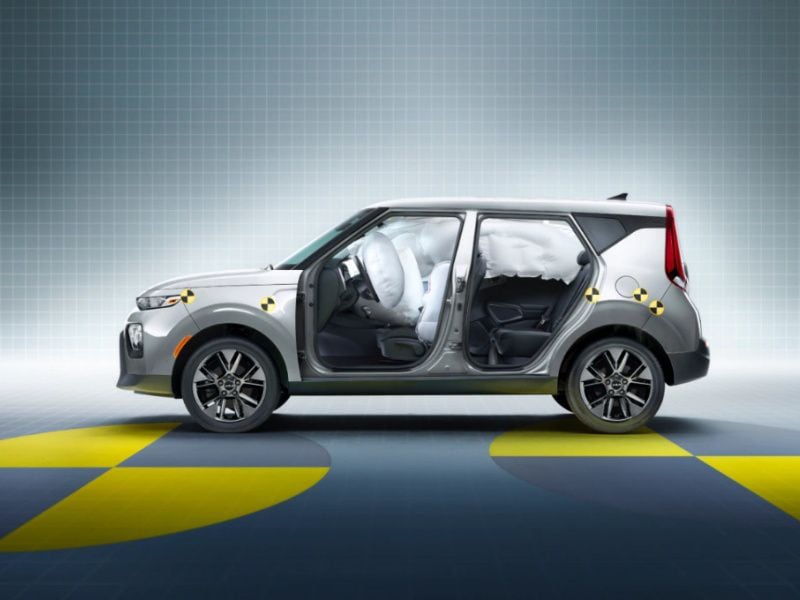 Photo by Kia
Fuel Economy
If the Kia Soul had a weakness, it would be the fact that its fuel economy estimates lag those of some of its rivals. But they don't lag by much. The Soul with the base 147-horsepower 2.0-liter four-cylinder engine and CVT gets 29/35/31 city/highway/overall fuel economy when equipped with 17-inch wheels. With 16-inch and 18-inch wheels, fuel economy inexplicably dips to 28/33/30 city/highway/combined. The 2022 Soul Turbo with the 201-horsepower 1.6-liter four-cylinder engine 2.0-liter Plus version is rated at 27/32/29 city/highway/combined mpg. In comparison, the 2022 Nissan Kicks is EPA-rated at 31/36/33 in city/highway/combined mpg, but it offers just 122 horsepower.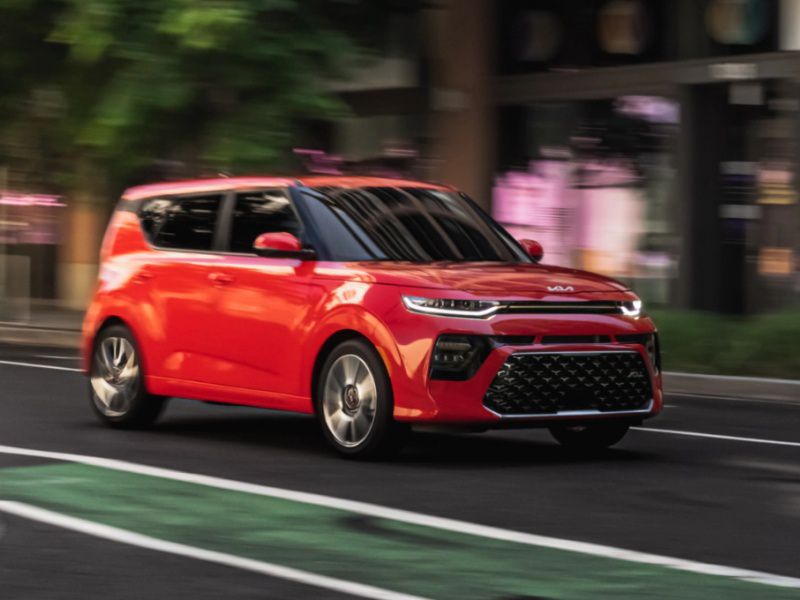 Photo by Kia
Trim Levels
The 2022 Kia Soul is available in six trim levels — LX, S, X-Line, GT-Line, EX, and Turbo. Plus a wide variety of accessories and options are available. Yes, the family resemblance extends across the entire lineup, but each trim level has its own personality. The Soul LX is the most modest, but it still offers 6-speaker audio, Apple CarPlay, Android Auto, and an 8-inch touchscreen display. The optional Technology package brings with it several safety and drive-assist features. The mid-range is very ripe with choices. The S, X-Line, and GT-Line all offer standard pushbutton start, dual-zone automatic climate control, and wireless device charging. The EX is the fully loaded "luxury" version of the Soul, and at the top of the line is the Soul Turbo with its high-horsepower engine and Harman Kardon audio. As with most models, the highest value-trims are the least expensive, but even if you add bells and whistles, you are hard-pressed to push a non-Turbo's price past $26,000 or so.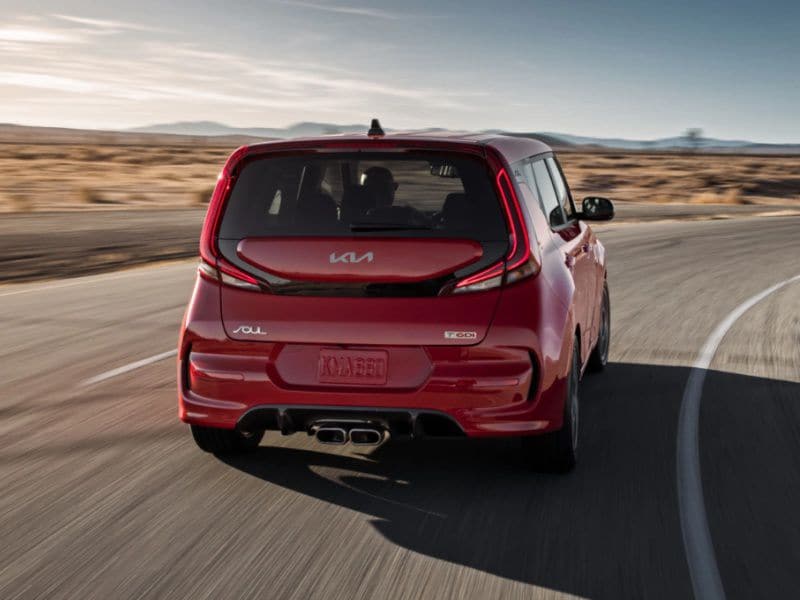 Photo by Kia
Pricing & Value
The Kia Soul has planted its flag proudly at the low-price/high-value end of the market. The base Soul LX has an MSRP of $19,190 plus a $1,175 destination charge. The somewhat better-equipped Soul S has an MSRP of $21,490 plus the $1,175 destination fee. The middl- of-the-road Soul X-Line and Soul GT-Line have an identical MSRP of $22,590 MSRP plus destination. And the hot 201-horsepower Soul Turbo delivers a lot of equipment and even more driving fun for a still very economical $27,790 plus destination. Since the Soul offers exceptional versatility, high product quality, and its very own sense of style, you are likely to find a combination you like at a price you can afford. The way we see it, each of the Soul variants is a very good value.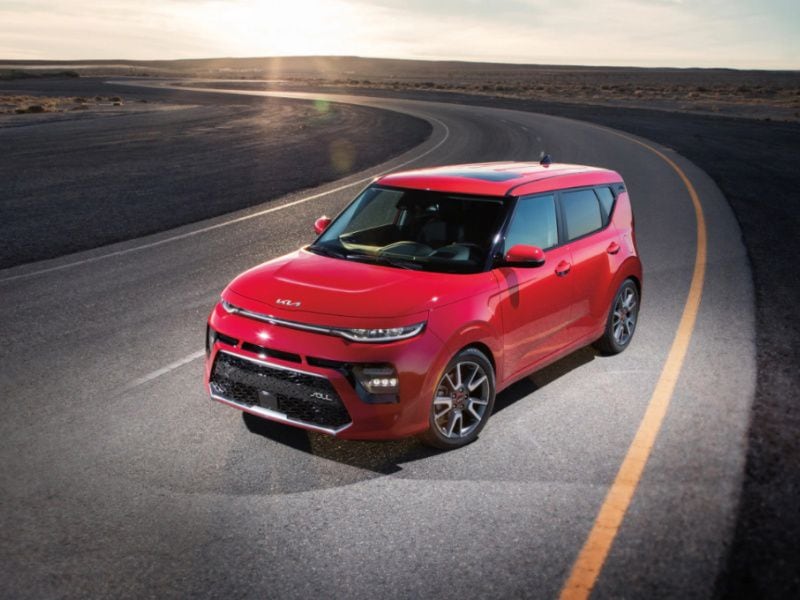 Photo by Kia