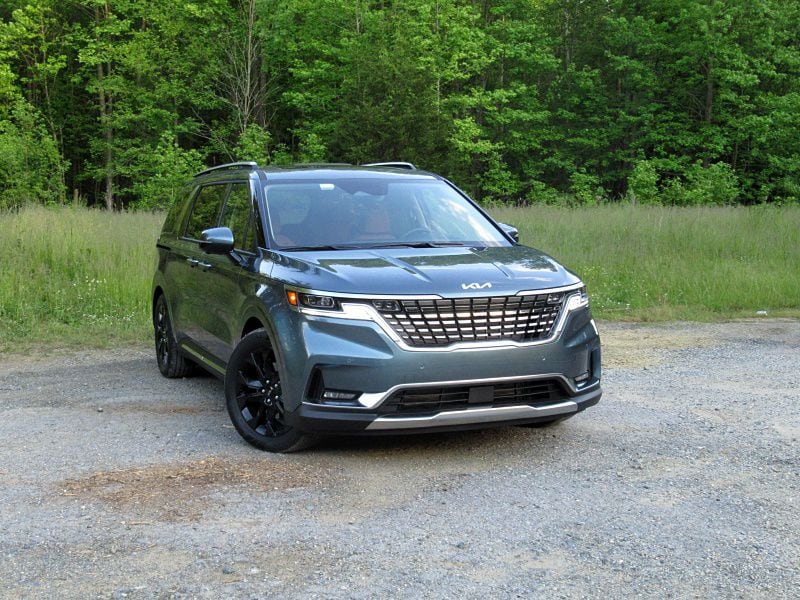 2022 Kia Carnival SX Prestige ・ Photo by Brady Holt
A couple years ago, Kia shook up the midsize crossover segment with the hot new Telluride. Stylish and luxurious yet also family-friendly and affordable, this SUV became an overnight success with critics and customers alike. 
Now, Kia is trying to bring the same approach to another family ride. It replaced the Sedona minivan with the all-new 2022 Kia Carnival, which brings more technology and fresh style to this segment. To see how it stacks up to an established leader in the segment, we tested the Carnival and the 2022 Honda Odyssey so we could compare them across eight categories and then name our overall winner. Keep reading to learn which one we chose and which one could be the better fit for your family.
Pricing and Features
Unlike what you'd expect from a Kia, the Carnival actually has a slightly higher base price than the Odyssey: $32,100 versus the Honda's $32,090. Still, Kia's longtime value focus evaporates that $10 advantage. 
The base Carnival LX is equipped more similarly to the Odyssey EX ($35,490); the base Odyssey LX is missing Carnival features that include a touchscreen infotainment system, power sliding doors, and blind-spot monitoring. The Kia is also much more affordable if you want spill-resistant leatherette upholstery, bringing it for as little as $34,100 on the Carnival LXS compared with the $38,760 you'd spend for genuine leather in the Odyssey EX-L. Other widely available Carnival features that are hard to find on the Odyssey include a hands-free liftgate, wireless smartphone charger, navigation system, in-car intercom, and in-car camera with views of the backseat. All those are included on the Carnival EX ($37,600), while Honda saves them for the Odyssey Touring ($42,800) or in some cases even the $47,820 Elite. The top Carnival SX Prestige is nearly as expensive at $46,100, but with more stuff. When you want more toys for your buck, Kia wins. 
Kia Carnival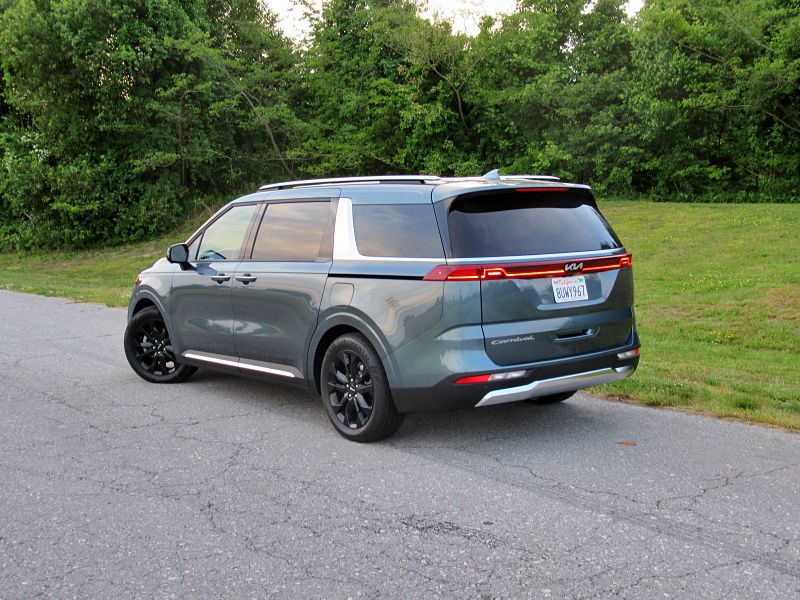 Photo by Brady Holt
Exterior Design
Kia likes to say the Carnival doesn't look like a minivan. It said that when it launched its last new minivan, too, the redesigned 2015 Sedona. To us, the Carnival has a wholly conventional minivan shape. It has a crisply handsome front end that's less bulky than the Sedona's, and an intricate concave grille. It also has some unique details around the back like the textured-silvery C-pillars behind the sliding doors and the extra-slim taillights. But this is obviously a van.
The Odyssey stands out more from the crowd to us, though we've now seen similar-looking Odysseys for more than a decade. Honda radically redesigned the van way back in 2011, making it wider and lower and creating a lightning-bolt effect along the sides. But the most recent redesign was a cautious evolution of this theme, and that was back in 2018. Honda also tweaked the styling for 2021. We won't name an official winner between these two different-looking minivans. 
Tie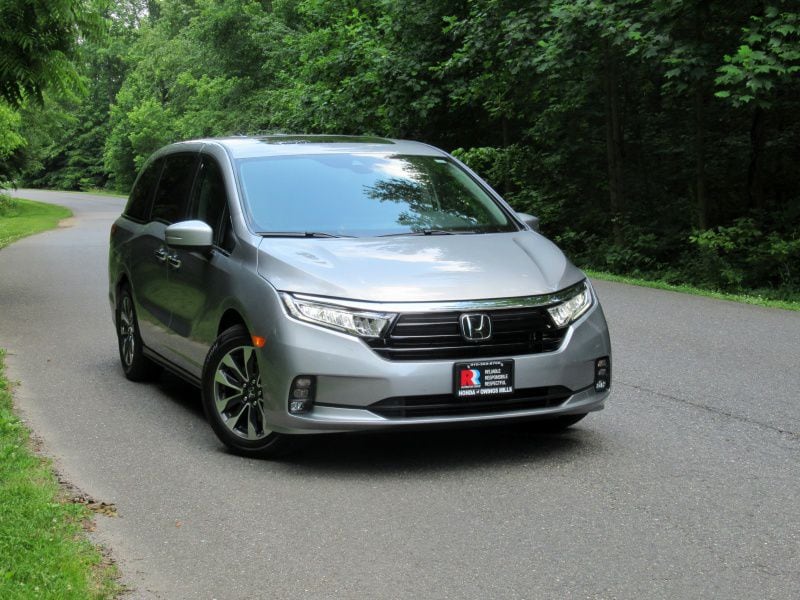 Photo by Brady Holt
Interior Design
Inside, the Carnival is a modern, high-tech luxury car. Most trim levels come with a huge 12.3-inch touchscreen, which flows toward the gauge cluster. The top SX Prestige model like our test vehicle also replaces the gauges with a second digital screen, creating the look of a single huge screen spanning most of the dashboard. The van also has rich materials, slick moving parts, and an elegant array of color choices. And despite the high-tech vibe, the controls are mostly easy to use.
By contrast, the Odyssey interior is about family-friendly function. It doesn't set out to dazzle you like the Carnival does. Honda skips the flashy colors and big screens; the Odyssey has an 8-inch infotainment touchscreen on most trim levels and a mere 5-inch display on the LX. But the Odyssey does have simple controls and huge storage areas: a big console bin and an open space between the front seats that's perfect to toss a purse. What's more, even if the Odyssey isn't ultra-luxe, it doesn't feel cheap. Everything is sturdy, and the dashboard is padded and stitched. Choose the Odyssey interior for maximum minivan functionality and the Carnival for un-minivan ultra-luxury. 
Tie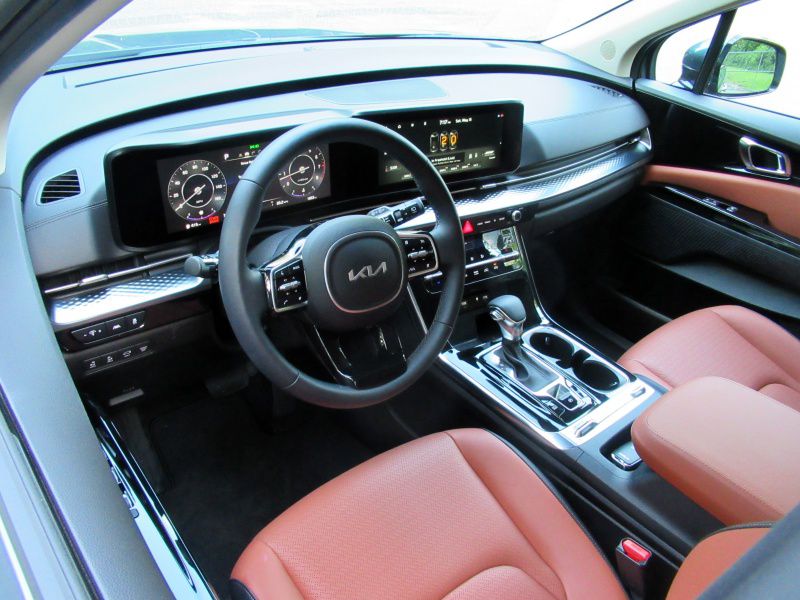 Photo by Brady Holt
Interior Comfort
The Carnival aims to impress on the comfort front as well. Most notably, our SX Prestige test vehicle included lounge-style second-row seats that you can slide way back to enjoy pop-up footrests. 
Still, we're going to award this category to the Odyssey for its more useful Magic Slide second row. It lets you adjust the seats fore and aft and side to side, repositioning your kids closer together or farther from each other, or making more room to fit three people across. The Magic Slide feature is available on every Odyssey but the LX. The Carnival has a similar feature, but the Honda executes it more slickly. The Odyssey's third row also felt more comfortable than the Carnival's, though both vans have comfortable driver accommodations.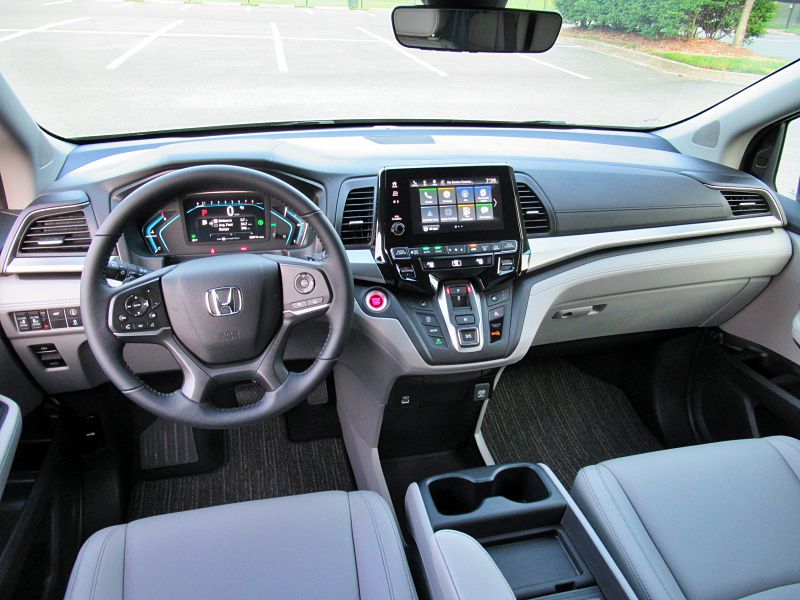 Photo by Brady Holt
Cargo and Utility
All minivans have incredible amounts of cargo room that would astonish someone used to an SUV. Still, between the two of them, the Carnival generally has even more. 
Behind the third-row seat, the Carnival has 40.2 cubic feet of cargo capacity, trouncing the Odyssey's 32.8 cubic feet. Behind the second row, that increases to 88.8 cubic feet in the Honda though 86.9 cubic feet in the Kia. Maximum capacity with the second-row seats removed is 144.9 cubic feet in the Odyssey, just behind the Carnival's 145.1 cubic feet. Both vans' third-row seats fold flat easily, but neither has a smooth process for tumbling or removing the second-row seats. The Carnival lacks the old Sedona's handy system that flattened the second-row seats against the front seats, but you can fold down the seats or tumble them forward to make it easier to load cargo around them. The Odyssey allows the same thanks to a 2021 upgrade. The Carnival SX Prestige's second-row seats aren't removable, but its other trim levels win the cargo contest. Both vans can tow up to 3,500 pounds and come only with front-wheel drive.
Kia Carnival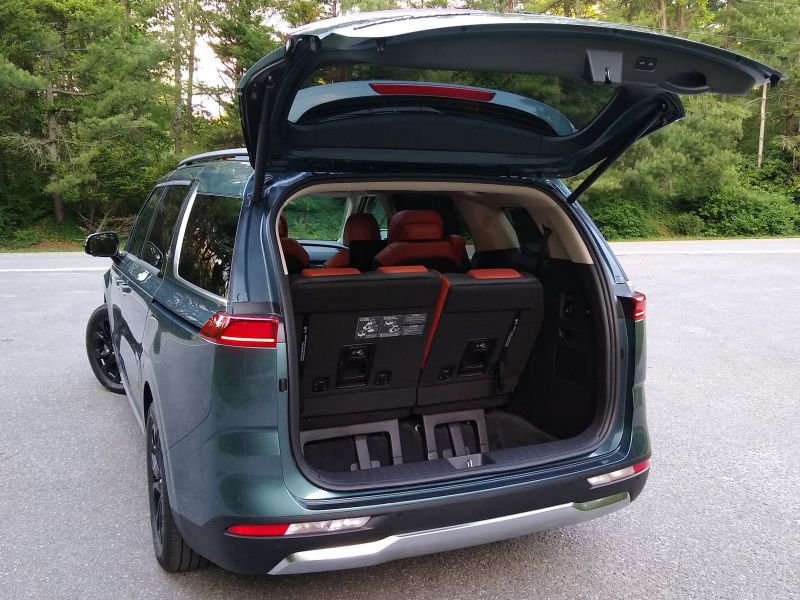 Photo by Brady Holt
Driving Impressions
The Carnival drives with little drama. It has a smooth 290-horsepower V6 engine and a quiet ride, and a class-leading 37.7-foot turning circle. But we're happier in the Odyssey. 
The Odyssey delivers a driving composure that's missing from other minivans, with every detail honed just so. It's not an overtly sporty experience; some earlier Odyssey generations have been livelier. But there's a feeling of control to this van. The ride is firm, yet when you hit a bump in the Odyssey, the suspension handles it adroitly. In contrast, the Carnival is more likely to shudder like the big softly sprung box that it is. The Honda's firmer steering also inspires more confidence than the Carnival's, even if the Odyssey still isn't a backroads dance partner. The Honda's 280-horsepower V6 shows no sign of its slight horsepower deficit, and the throttle and transmission are sensibly tuned to avoid jumpy, jerky acceleration. The Odyssey is a bit noisier inside than the Carnival, but no less comfortable and certainly more agile.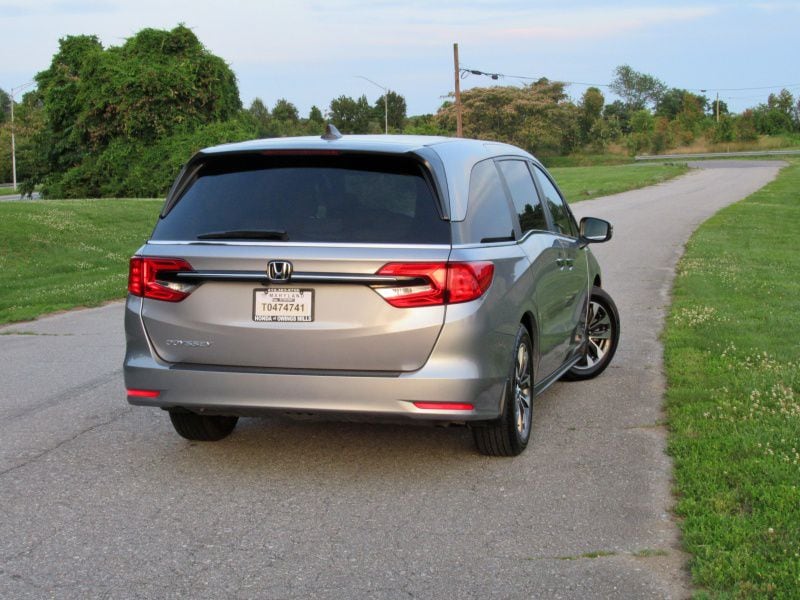 Photo by Brady Holt
Fuel Economy
The Odyssey and Carnival have similar EPA fuel economy ratings. Both score 19 mpg in city driving and 22 mpg in mixed conditions, but the Honda does better on the open highway: 28 mpg versus the Kia's 26 mpg. It's a small difference, but it comes out in the Odyssey's advantage. 
In non-scientific testing, we also got better mileage when we tested an Odyssey than when we tested a Carnival. The Odyssey averaged about 26 mpg, while the Carnival was around 25 mpg. Both vans use regular-grade fuel, and unlike competing vans, neither is available with a gas-electric hybrid powertrain.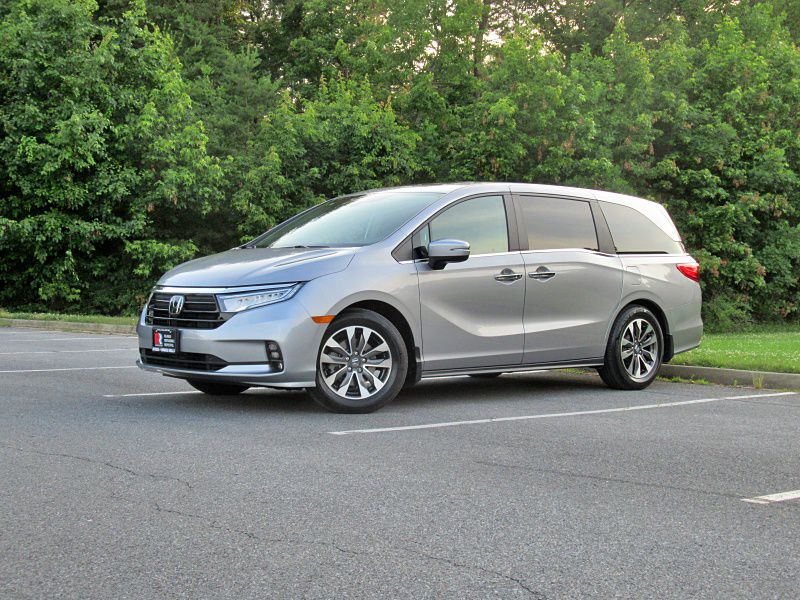 Photo by Brady Holt
Safety
The all-new 2022 Kia Carnival hasn't yet been crash-tested as of this writing, but it comes loaded with advanced safety features. Even the base model comes standard with forward automatic emergency braking with pedestrian detection and automatic lane-keeping steering assistance. Blind-spot monitoring with a rear cross-traffic alert and Safe Exit Assist, which alerts passengers if they're about to leave the car into oncoming traffic, arrive on the LXS. Other upgrades include added capability of the automatic emergency braking system to detect cyclists and turning vehicles (EX and up), rear automatic braking and a surround-view parking camera (SX and SX Prestige and up), and a blind-spot camera view (SX Prestige only). 
The Odyssey has a shorter list. Automatic emergency braking, pedestrian detection, and lane-keep assistance are all standard, but blind-spot monitoring is missing from the base LX model. And no Odyssey has a surround-view camera, a blind-spot camera, rear automatic braking, cyclist or turning-vehicle detection, or the Safe Exit Assist warning. We'll still call this category a tie because the Odyssey has already demonstrated excellent crash-test performance while the Carnival hasn't yet been tested. 
Tie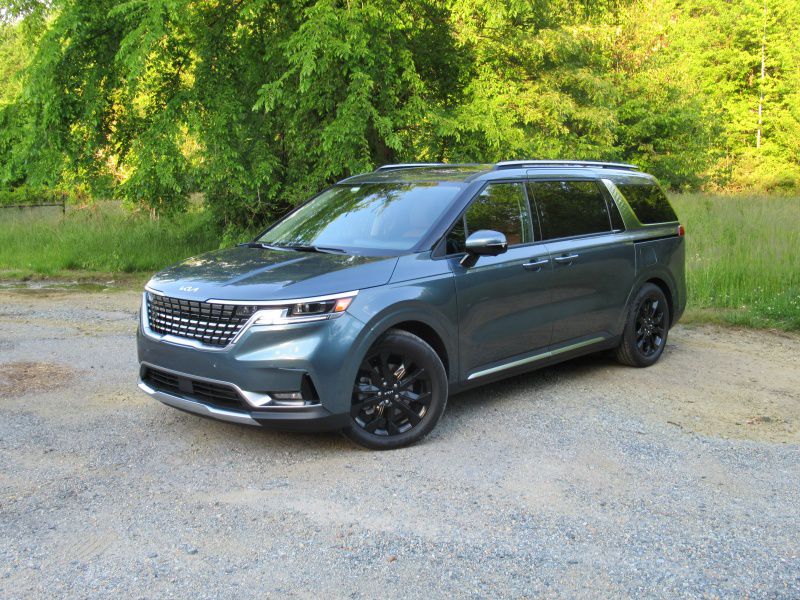 Photo by Brady Holt
Final Thoughts
Your winner of this comparison will depend on your priorities. Are you drawn to the Odyssey's useful cabin storage, more adjustable second-row seating, or comparatively poised driving manners? Or are you more taken with the Carnival's dressier dashboard, longer list of features for the money, or quieter ride? 
In the end, we picked the Odyssey. Even if it doesn't scream "luxury," it avoids screaming "cheap," too. While we wish Honda wouldn't restrict so many features to high-end trim levels, this is the van that seems better suited for the daily grind of family life. Being fancier for less money is always a tempting combination, but if you're not looking for a luxury vibe, we think you'll feel right at home with the Odyssey's steady competence.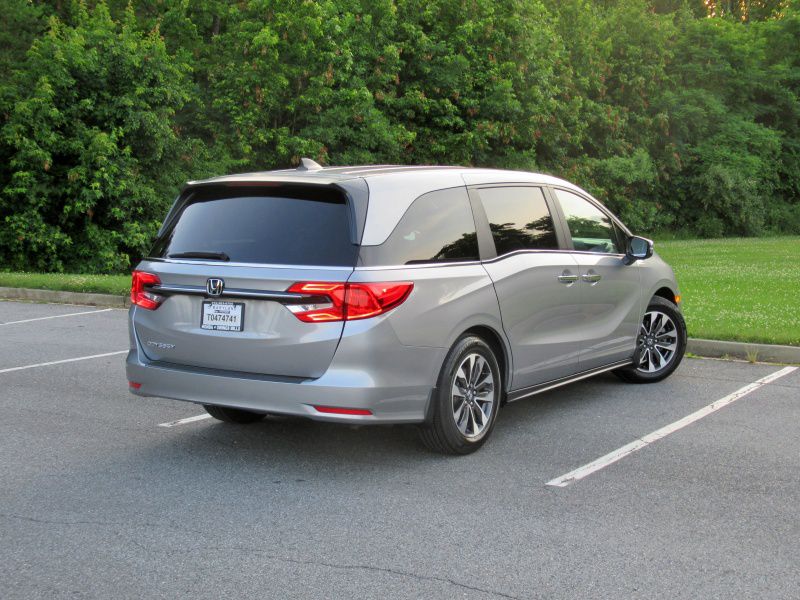 Photo by Brady Holt