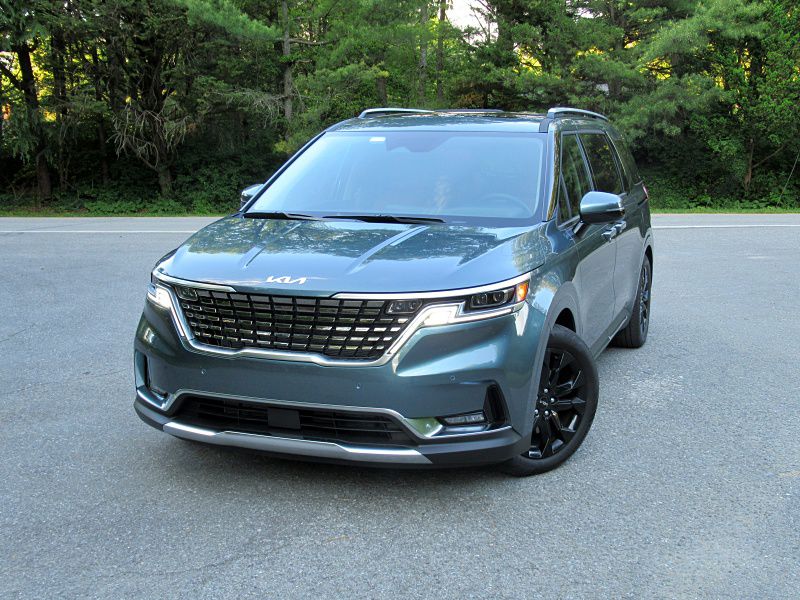 2022 Kia Carnival SX Prestige ・ Photo by Brady Holt
In 2017, there was a hot new minivan on the block — the stylish, luxurious, high-tech Chrysler Pacifica. But now the Pacifica is the oldest current minivan. The newest is the 2022 Kia Carnival, which replaces the old Kia Sedona and is making a splash for being stylish, luxurious, and high-tech. Sound familiar? 
Which of these vans is the best: the all-new Kia or the long-popular Chrysler? In an added wrinkle, Chrysler has just updated the Pacifica with fresh styling, more features, and an upgraded interior. We recently tested the all-new Carnival and the updated 2021 Chrysler Pacifica so that we could compare the vans across eight categories and then name an overall winner.
Exterior Design
The Pacifica has been a classy minivan ever since its debut. It's clean and simple without being dull. We particularly like the bold, confident lines where the rear windows, rear windshield, and taillights come together harmoniously. For 2021, Chrysler gave the van a slightly more aggressive front end by squaring off the grille and headlights; it also added a lightbar to connect the taillights. 
Kia likes to say the Carnival doesn't look like a minivan, but it does to us. That's fine, though. From the front, it's a conventionally handsome van with crisp, confident headlights and an intricate concave grille. Around the sides and back are some unique details, such as silvery textured C-pillars and extra-slim taillights that span the rear of the vehicle. Still, we don't see anything that suggests the Carnival isn't a van. We'll let you choose your styling winner between these two vehicles. 
Tie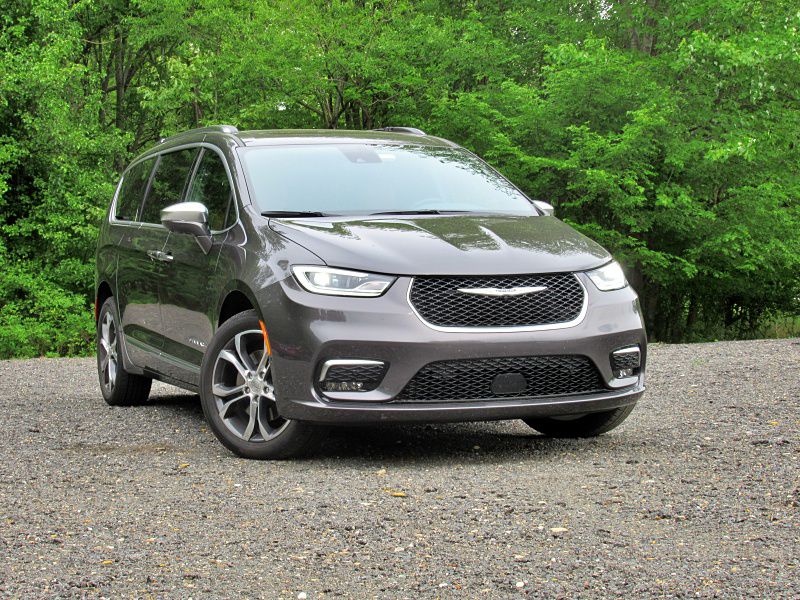 Photo by Brady Holt
Interior Design
Both the Carnival and the Pacifica aim for a more upscale design than the minivan norm. The Pacifica has gentler curves and also a more traditional van-like dashboard, with a disconnected feel between the dash and center console. A dash-mounted gear selector (in the Pacifica's case, a rotary knob) is also a minivan cue. Thanks to the 2021 update, every Pacifica now has a 10.1-inch infotainment touchscreen. 
The Carnival has a more angular and more car-like dashboard than the Pacifica. The dashboard and center console are connected like in a regular sedan, and there's a conventional console-mounted gear selector. There's also a higher-tech vibe; most models include a huge 12.3-inch infotainment touchscreen (base models have an 8-inch unit), and it flows into the gauge cluster to create the vibe of one single screen. The top SX Prestige trim level, like our test vehicle, furthers this vibe with a digital gauge cluster. We'll give the Carnival the win in this category because it has some nicer interior materials than the Pacifica, has a larger touchscreen in addition to more physical controls, and avoids the Pacifica's arguably dated-looking woodgrain trim. 
Kia Carnival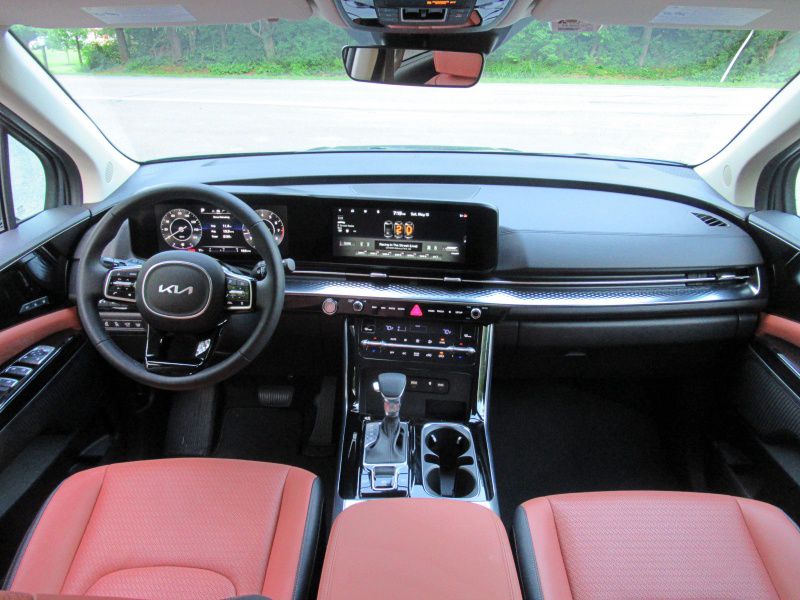 Photo by Brady Holt
Interior Comfort
The Carnival has a comfortable interior with seating for either seven or eight passengers. Like most minivans, the second row offers a choice of two or three seats and the seats adjust fore-aft. You can even adjust them side to side, too. The top SX Prestige model adds heated and ventilated second-row seats that offer pop-up footrests for lounge-style seating. The lounge seats have limited availability, arguably limited utility, and other downsides, but they emphasize the Kia's focus on passenger comfort. 
The Pacifica is comfortable, too, but its seats are harder than the Sedona's. The second-row seats are designed to fold into the floor (more on that on the next page), which doesn't make them uncomfortable but does force a few compromises — including less-cushy padding and the loss of fore-aft adjustability. The top Pacifica Pinnacle model, like our test vehicle, has a different second-row seat that doesn't fold and is a bit more comfortable and adjustable, but even then we'd rather sit in the Kia. 
Kia Carnival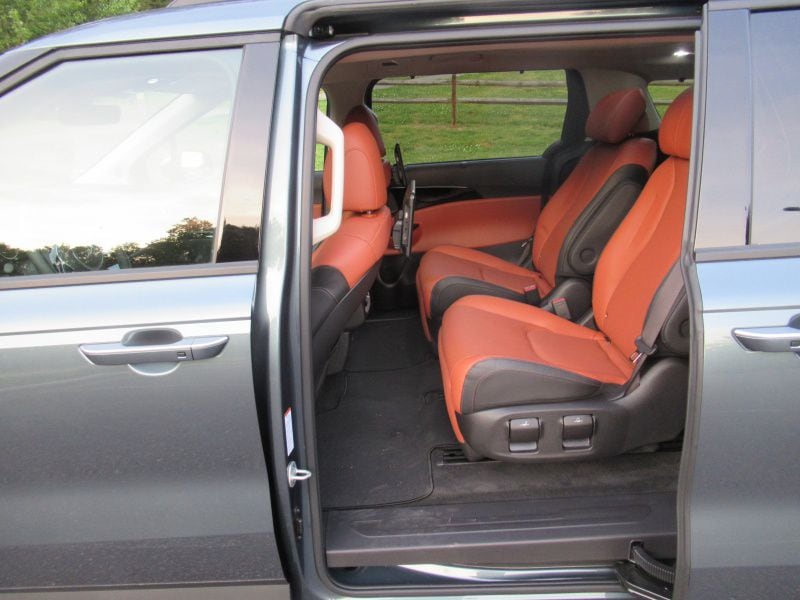 Photo by Brady Holt
Cargo and Utility
The Carnival has class-leading cargo space: 40.2 cubic feet behind its third-row seat, 86.9 cubic feet behind its second row, and 145.1 cubic feet in total. Those figures compare with 32.3 cubic feet behind the Pacifica's third row, 87.5 cubic feet behind the second row, and 140.5 cubic feet behind the front seats. Still, if you carry cargo often, you probably want the Pacifica. 
All of today's minivans let you fold the third-row seat into a cargo well behind it. The Pacifica, though, has a class-exclusive trick called Stow 'n Go that Chrysler pioneered in 2005. It lets you fold the middle-row seats into the floor, too, except on the Pinnacle trim level and the gas-electric Pacifica Hybrid. In the Carnival (or those Pacificas), getting maximum cargo capacity means wrestling bulky seats out of the van, finding a place to store them, and then wrestling them back into place when you're done. Chrysler's solution is much more useful, and it matters more to us than a few extra cubic feet. The Pacifica also has a slightly higher towing capacity of 3,600 pounds versus the Carnival's 3,500 pounds.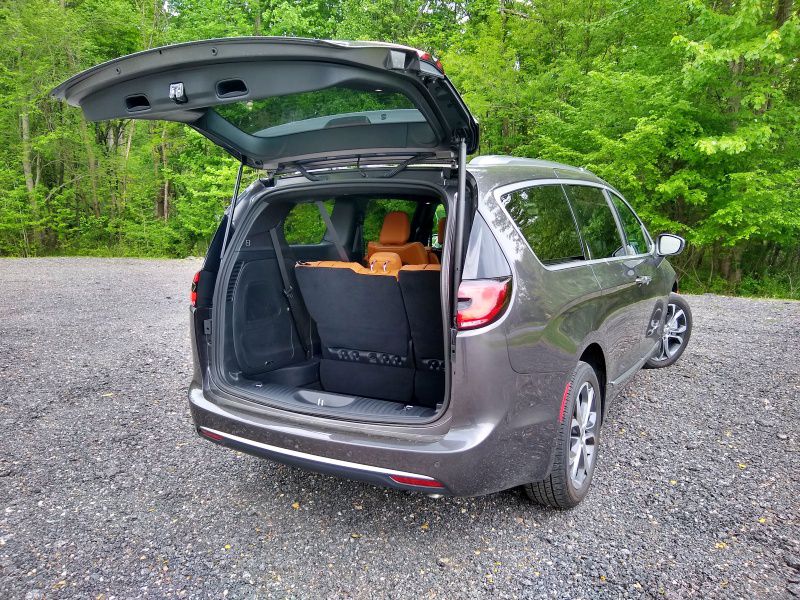 Photo by Brady Holt
Driving Impressions
The Carnival drives with little drama. It has a smooth 290-horsepower V6 engine and a quiet ride, and a class-leading 37.7-foot turning circle. However, it feels like the softly sprung box on wheels, without a supremely composed ride or agile handling. 
The Pacifica feels heavier, even though it's not. Some people will appreciate that sense of solidity, while others might find it intimidating. In another tradeoff, the Chrysler's steering requires a bit more effort than the Carnival's, but it rewards you with sharper handling. Its 287-horsepower V6 engine has similarly smooth, quiet thrust to the Kia's. To break this tie, we'll turn to a new Pacifica feature: an optional all-wheel-drive system, which provides a better driving experience in mud or snow.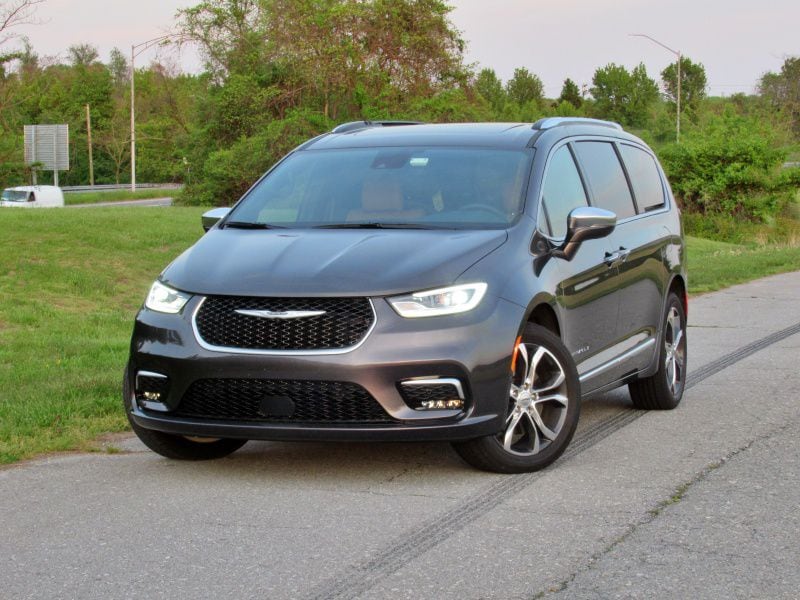 Photo by Brady Holt
Fuel Economy
The Carnival gets an EPA-estimated 19 mpg in the city, 26 mpg on the highway, and 22 mpg combined. That's the lowest rating of any front-wheel-drive minivan on the market, but not by much; it's a virtual tie with similarly powerful rivals. The Pacifica, for instance, gets 19 mpg city, 28 mpg highway, and 22 mpg combined with front-wheel drive; the all-wheel-drive Pacifica dips to 17 mpg city, 25 mpg highway, and 20 mpg combined. We averaged 21 mpg in our AWD Pacifica and 25 mpg in our Carnival. 
The real winner is the available Pacifica Hybrid, a plug-in model that you charge up using electricity from the grid. It's rated to travel 32 miles per electric charge, burning no gasoline at all during that time, then averages an EPA-estimated 30 mpg once the range is used up. We haven't done quite that well while testing Pacifica Hybrids, but you can handle many commutes or run a day's worth of errands using little to no gasoline.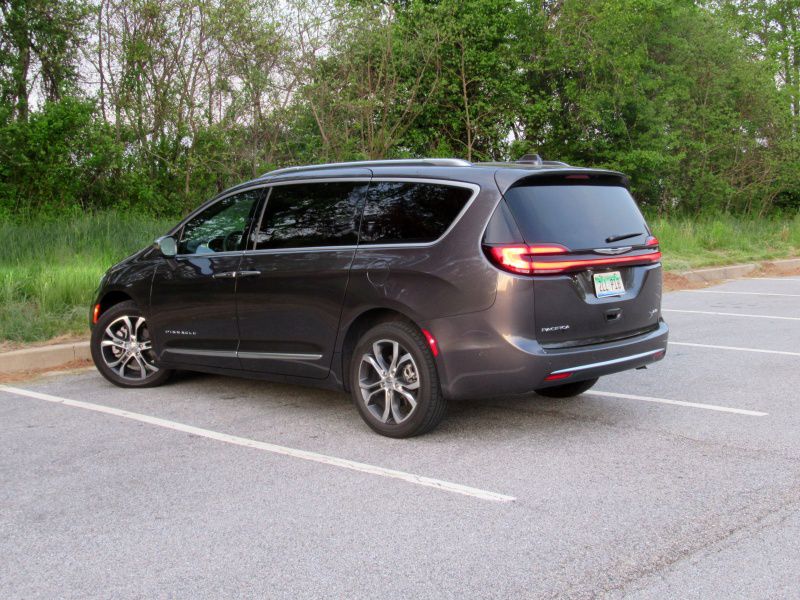 Photo by Brady Holt
Safety
Both vans come standard with advanced safety features that include forward automatic emergency braking and lane-keeping steering assistance. But the Carnival has even more advanced safety features. Safe Exit Assist, which alerts passengers if they're about to leave the car into oncoming traffic, is standard equipment most Carnival models. And depending on the trim level, you can also add cyclist and turning-vehicle detection to the automatic emergency braking, rear emergency braking, and a blind-spot camera view. 
Still, we'll call this category a tie until the Carnival is able to prove its safety performance. Kia is optimistic its van will earn top marks, but it hasn't yet been crash-tested. The Pacifica, meanwhile, has already earned a top five-star rating in National Highway Traffic Safety Administration crash tests. And while the Insurance Institute for Highway Safety hasn't fully tested the Pacifica, it earned the top score of Good in each evaluation it did face. 
Tie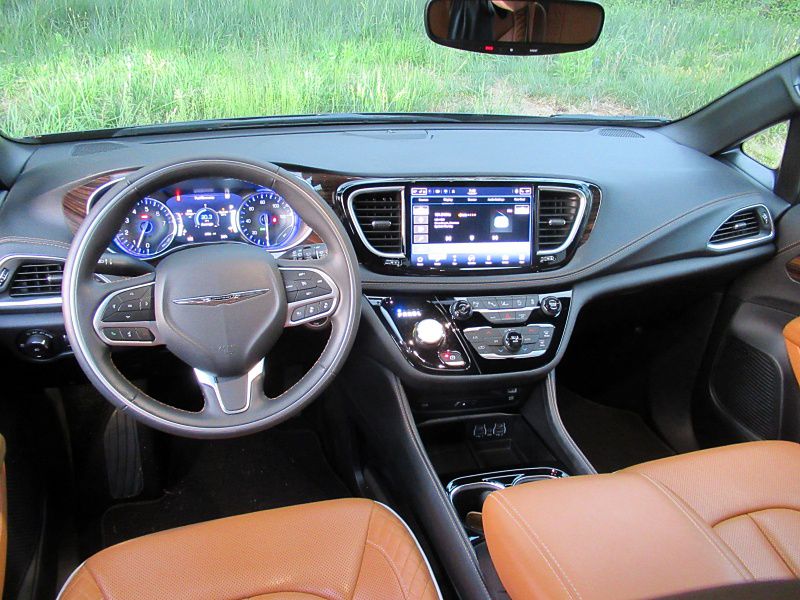 Photo by Brady Holt
Pricing and Features
Chrysler recently discontinued the base models of the Pacifica, spinning them off into a value-oriented van called the Chrysler Voyager. That means every Pacifica comes loaded with standard features, but at a high starting price of $35,495. In addition to the safety features we mentioned on the previous page, its standard equipment includes three-zone automatic climate control, a power liftgate, second-row sunshades, and the big 10.1-inch infotainment screen. 
The Carnival's base price is substantially less, at $32,100. But it doesn't have any of those features standard on the base LX model. Nor can you equip the Carnival with a built-in vacuum cleaner, all-wheel drive, a hybrid powertrain, or sensor-based hands-free sliding doors. (The Kia's instead open by themselves if you stand nearby with the key for three seconds, which is slower and can also be triggered accidentally.) Still, the Carnival EX ($37,600) has everything you'll find in the base Pacifica Touring and much more. And a fully optioned Pacifica costs well over $50,000, significantly more than a luxed-up Carnival. 
Kia Carnival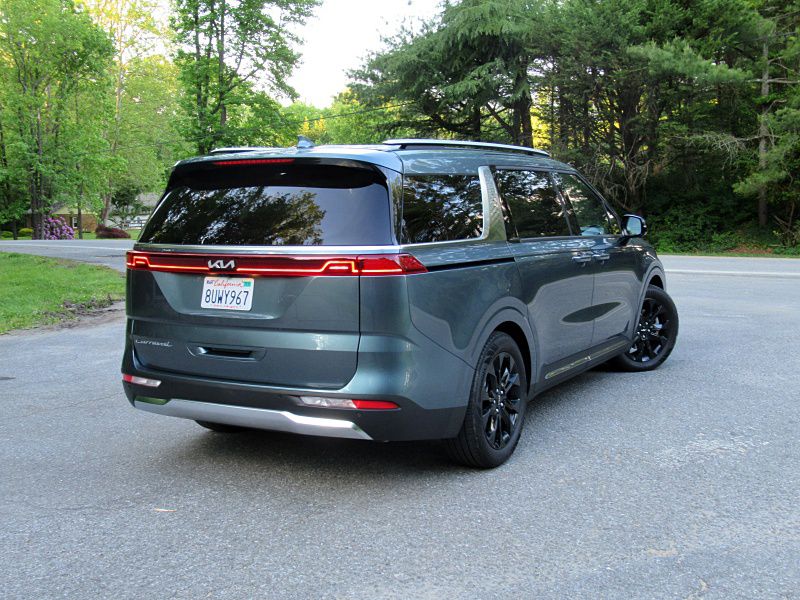 Photo by Brady Holt
Final Thoughts
Despite its age, the 2021 Chrysler Pacifica remains an impressive minivan. It's still the most configurable van for switching between passengers and cargo, yet it feels luxurious more than utilitarian. And while its base price is steep, Chrysler makes up for that somewhat with its long list of standard features and its exclusive content. 
Still, our pick is the Carnival. It has more features for the money than the Pacifica, more comfortable seats, a higher-quality interior, and a bigger, easier-to-use infotainment system. You might choose to give up some cushioning to get the Pacifica's reconfigurable Stow 'n Go seating, and you might pay extra to get the Chrysler's more responsive handling, all-wheel-drive system, hybrid powertrain, or built-in vacuum cleaner. But especially given its lower price, the Carnival impressed us more overall. 
Kia Carnival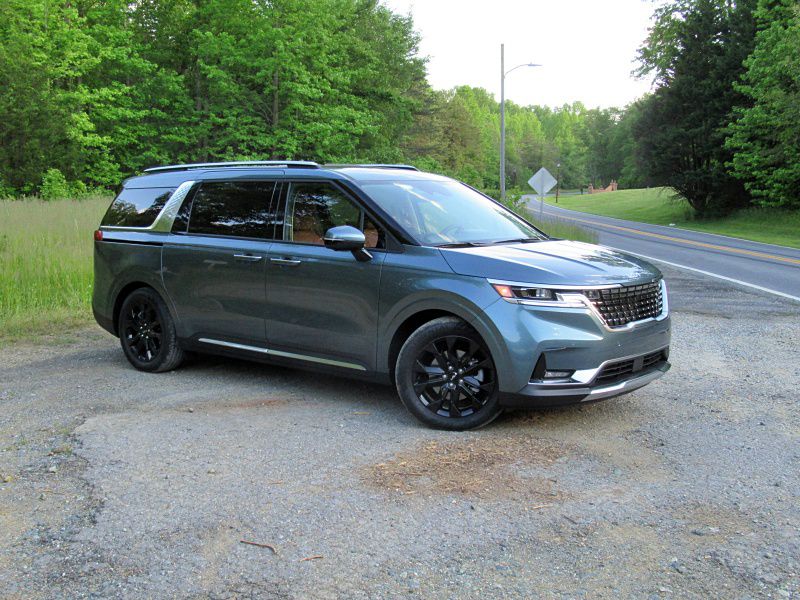 Photo by Brady Holt