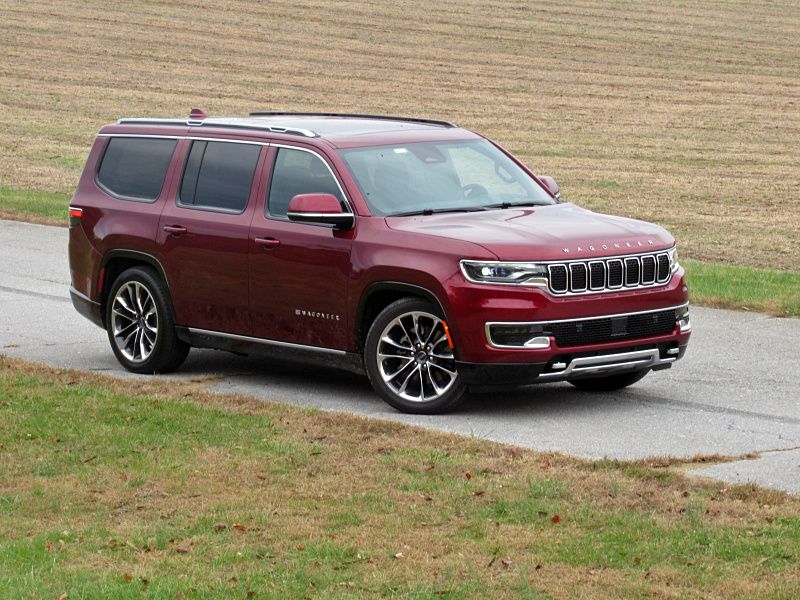 2022 Jeep Wagoneer ・ Photo by Brady Holt
Once a maker of rugged but bare-bones off-road machines, Jeep has evolved into one of America's premier luxury brands. Yet even as many Jeeps have gotten posher and more expensive, the brand never fielded a full-size flagship — until this year. 
The new 2022 Jeep Wagoneer and Grand Wagoneer are unapologetically immense, with acres of well-finished space wrapped in a body that could only be a Jeep's. The Grand Wagoneer is a lavishly equipped rival to luxury-brand models like the Cadillac Escalade, while the standard Wagoneer — with fewer features and a smaller engine, but the same styling — is priced closer to a Chevrolet Tahoe. For this review, we tested the Wagoneer and another big SUV that fits between mainstream and pure luxury: the 2022 GMC Yukon. Over the following pages, we'll discuss how these big SUVs compare in each of eight categories, then name an overall winner. Keep reading to learn which one we chose and which one sounds like the better fit for you. 
Pricing and Features
The GMC Yukon is no budget-friendly SUV. Its base price is $51,600, the top Denali model starts at $72,500, and our Denali test vehicle surged to $83,795 with options. Still, the Wagoneer currently starts at a whopping $68,495 for the base Series II trim level and $73,845 for the Series III. 
Attentive readers might wonder why the Wagoneer lacks a Series I. Good news: It's due sometime later in the 2022 model year, stripping out some of the Series II's many standard features to bring the price below $60,000. Currently, every Wagoneer includes leather upholstery, heated and cooled front seats, a heated steering wheel, a hands-free power liftgate, 20-inch wheels, adaptive cruise control, and lane-keeping assistance. You won't find any of that on the base Yukon SLE. Still, many of those features arrive on the SLT for $58,400 — still five figures less than today's base Wagoneer. GMC saves some advanced driver aids and the nicest interior trim for the top Denali model, and the Wagoneer has some exclusive features like an extra passenger-side touchscreen and a 19-speaker sound system. But the GMC is the value leader overall. 
GMC Yukon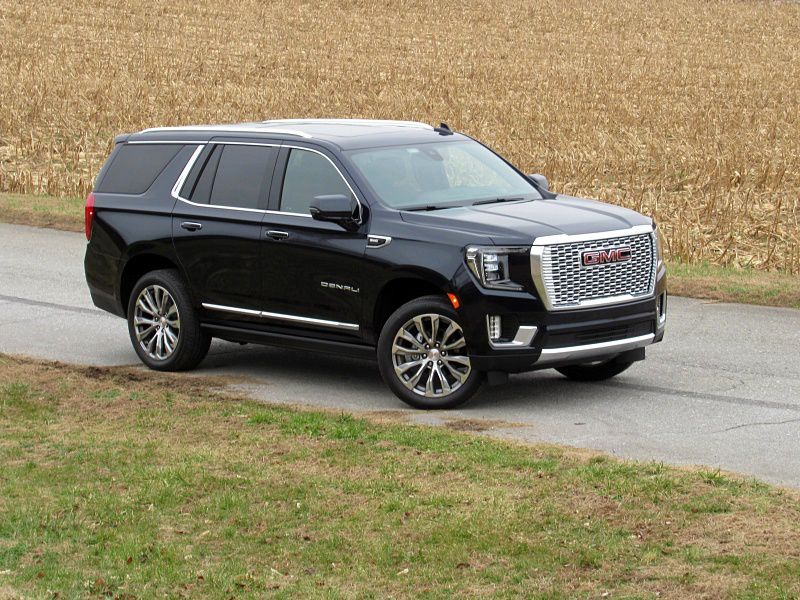 Photo by Brady Holt
Exterior Design
The Wagoneer doesn't have Jeep badging. Wherever you look, it says only Wagoneer — grille, doors, tailgate, and wheels. But it doesn't have to say it. The seven-slot grille and confidently boxy shape are Jeep staples. In a world of enormous grilles and flashy curves, the Wagoneer offers understated simplicity. Its most powerful presence comes in its sheer size: It's nearly 5 inches longer and 3 inches wider than the already ample GMC Yukon. 
The latest Yukon, introduced in 2021, is an edgier truck. Angular headlights and taillights adorn a body with more twists and curves than the simpler Wagoneer. The Yukon is still a boxy SUV, especially when you look at its big upright grille, but GMC softened a few details. There's also a higher beltline with smaller windows than the Wagoneer. And especially on our tested Denali test vehicle, there's a big chrome grille. Another option is the Yukon's mechanical twin: the Chevrolet Tahoe, which has a different — though also unsubtle — front end. We'll let you choose your favorite. 
Tie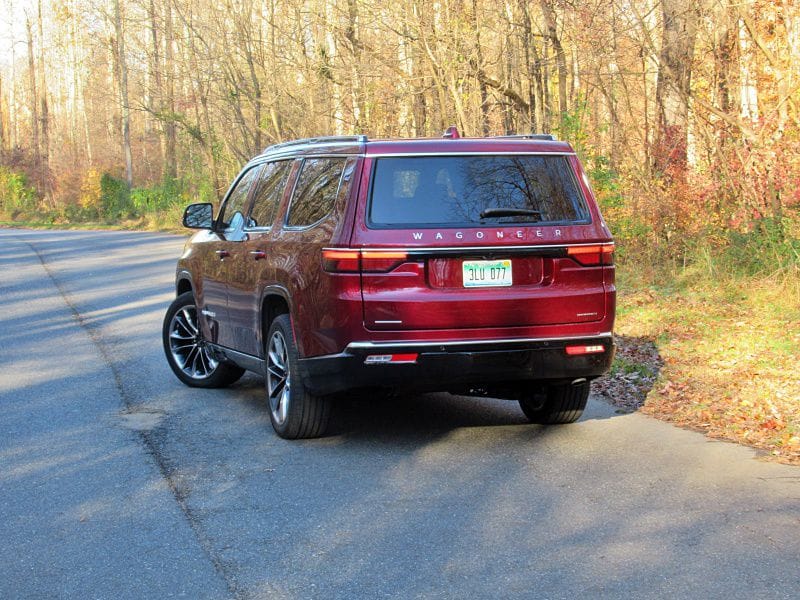 Photo by Brady Holt
Interior Design
Jeep designed the Wagoneer's interior to impress. Graceful lines flow around a big 10.1-inch infotainment touchscreen, and optional upgrades put three additional 10-inch screens in front of the front passenger and the two outboard second-row passengers. The design is simple yet elegant, and all those screens make it sleekly modern. Still, we're going to award this category to the Yukon. 
The first issue is ergonomics. The Wagoneer achieves that sleekly clean look by minimizing physical buttons. In particular, tightly clustered touch-sensitive controls for the seat heaters required repeated, carefully attentive taps to cycle through their three heating levels. The Yukon's controls are a model of simplicity. Secondly, at least on our Denali test vehicle, GMC fills the Yukon with more dazzling materials than the Wagoneer. Wood trim is genuine and beautifully textured, compared with the Wagoneer's glossy imitation. Jeep pulls out all the stops for the Grand Wagoneer, but it starts at nearly $90,000. The Yukon's interior isn't perfect, and its buttons and knobs don't look flashy. And if you don't get the Denali, you miss out on its richest materials. But as we moved past first impressions, we preferred the GMC.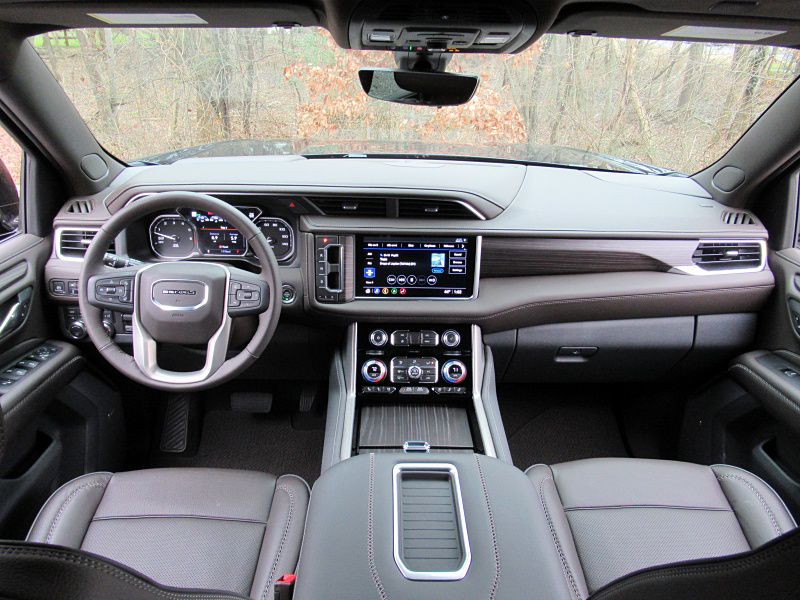 Photo by Brady Holt
Passenger Accommodations
For years, the GMC Yukon and Chevy Tahoe struggled to provide a comfortable third-row seat. It's something you should be able to take for granted in such a behemoth, but their solid rear axle suspension robbed passenger space. The latest generation switched to a more modern independent rear suspension, and the result is that the third row is finally adult-friendly. The front and second rows remain comfortable, too. 
But the Wagoneer is even more impressive. Not only is its third row as comfortable as most SUVs' second rows, but its front and second-row seats are cushier than the GMC's, too. Jeep put the Wagoneer's bigger size to good use, making more room for people to spread out wherever they're sitting. And kids will appreciate its bigger side windows. Each vehicle can seat eight adults (or seven with available second-row captain's chairs), but the Wagoneer does it better. 
Jeep Wagoneer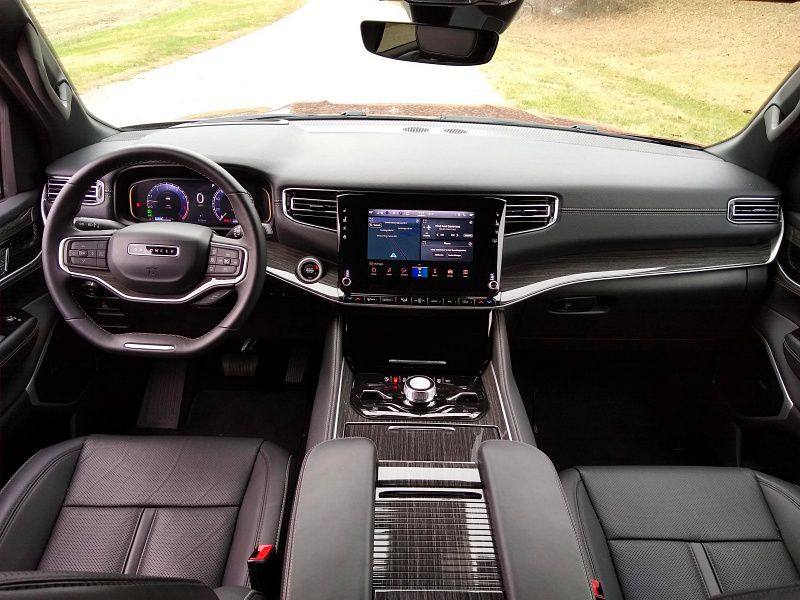 Photo by Brady Holt
Cargo and Utility
Despite its slightly smaller size, the GMC Yukon comes out a bit ahead of the Jeep Wagoneer for cargo capacity. Specifically, the Yukon provides 25.5 cubic feet behind the third row, 72.6 cubic feet behind its second row, and 122.9 cubic feet behind its front seats. Those figures are class-leading — except for the extended-length Yukon XL and its Chevrolet Suburban twin, which have 41.5, 93.8, and 144.7 cubic feet, respectively. 
The Wagoneer's cargo hold measures 27.4 cubic feet behind the third row, 70.8 cubic feet behind the second row, and 116.7 cubic feet behind the front seats. Still, we'll call this category an overall tie for a couple of reasons. First, the Jeep's optional adjustable-height suspension lets you lower the vehicle, meaning you don't have to lift your cargo up as high. Secondly, the Wagoneer can tow a heavier trailer: a class-leading 10,000 pounds. The Yukon tops out at 8,400 pounds. 
Tie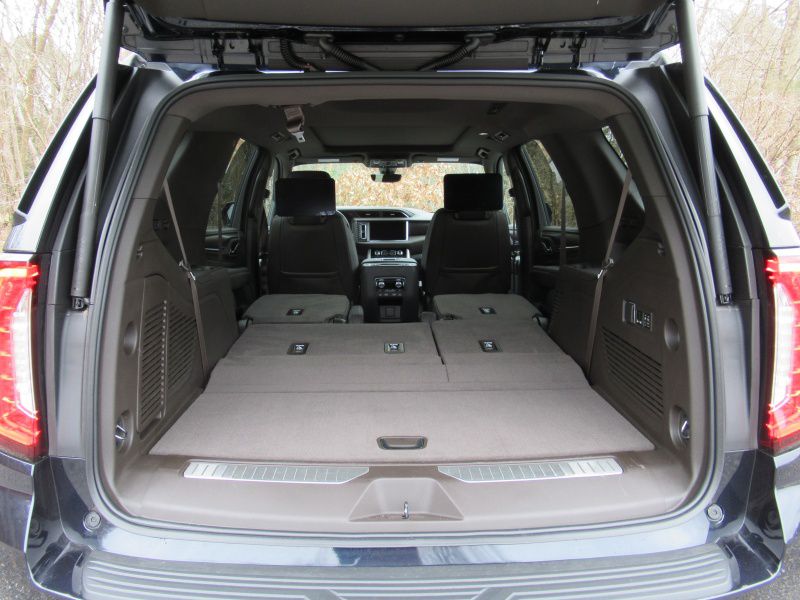 Photo by Brady Holt
Driving Impressions
The Wagoneer is designed to be big and comfortable, and that's exactly how it drives. Unlike most modern full-size SUVs with giant alloy wheels, it has a splendidly cushy ride — a classic American luxury vehicle. Agile handling isn't the Wagoneer's forte, but it beat our low expectations given the excellent ride. And although this massive SUV doesn't fit easily into small spaces, the turning circle is a tidy 38 feet. Every Wagoneer has a confidently powerful 392-horsepower 5.7-liter V8 engine; the Grand Wagoneer instead has a 471-hp 6.4-liter V8. 
The Yukon is a bit more agile than the Wagoneer, and we particularly liked its firm, responsive steering. But especially with our tested Denali's 22-inch wheels, the ride is stiff for a big luxury suv. And the turning circle measures 38.1 feet with the base 18-inch wheels and 39.7 feet with larger ones. GMC provides a choice of three engines: a 355-hp 5.3-liter V8 is standard, a 420-hp 6.2-liter V8 is standard on the Denali and newly available on the off-road-focused AT4, and the 277-hp 3.0-liter diesel V6 is optional. Overall, we pick the Wagoneer for its smoother ride and extra standard horsepower. 
Jeep Wagoneer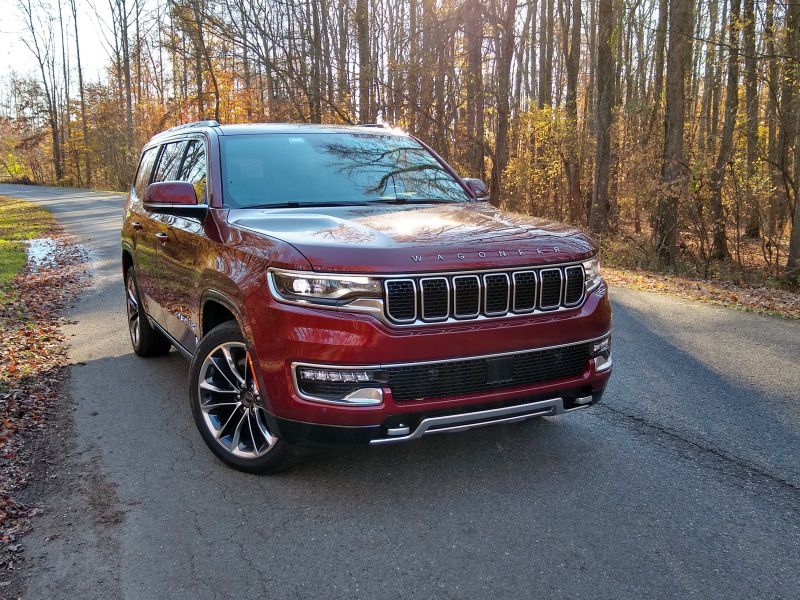 Photo by Brady Holt
Fuel Economy
The Yukon's range of engines is a draw if you're concerned about fuel consumption. The diesel is the big winner, with EPA estimates of 21 mpg in the city, 27 mpg on the highway, and 23 mpg in mixed driving with rear-wheel drive and 1 mpg less with four-wheel drive. That's better than many mid-size crossovers. However, the rest of the lineup is much less economical. The base 5.3-liter V8 tops out at 15 mpg city, 20 mpg highway, and 17 mpg combined (1 mpg less with 4WD) on regular-grade fuel, while the 6.2-liter achieves similar results on premium. 
The Wagoneer, sold only with one engine choice, averages an EPA-estimated 16 mpg in the city, 22 mpg on the highway, and 18 mpg combined with two-wheel-drive and about 1 mpg less with four-wheel drive. That can't come close to the diesel Yukon, but it beats the GMC's two gas engines — including the less-powerful 5.3-liter. And unlike the 6.2-liter Yukon, Jeep recommends only mid-grade gasoline rather than premium. We'll call this category an overall tie. 
Tie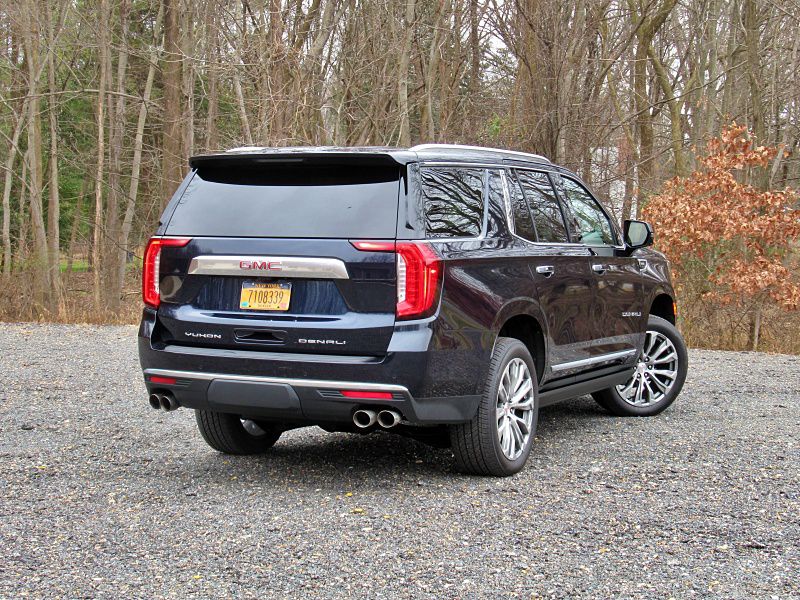 Photo by Brady Holt
Safety
As part of last year's redesign, GMC brought the Yukon's driver-assistance technologies up to date. Automatic emergency braking became standard equipment rather than limited to high-end models, while blind-spot monitoring and lane-keeping assistance are now included on all but the base SLE model (where they're optional). Even so, the Wagoneer comes out ahead. 
It wouldn't be fair to say simply that the Wagoneer has all of the above as standard equipment. After all, a base Wagoneer currently costs some $17,000 more than a base Yukon. Even so, GMC continues to keep its most effective automatic emergency braking system — paired with adaptive cruise control — as an extra-cost option that's exclusive to the top Denali model. That means most Yukon buyers won't get the systems even if they want them. Both are standard on the Wagoneer, at a lower price than a Yukon Denali. A bicyclist-detection feature in the Jeep's automatic emergency braking, unavailable on the GMC, is also standard. These aren't massive differences, but they're in the Jeep's favor. As we write, the Wagoneer hasn't yet been crash-tested and the Yukon scored an acceptable four out of five stars from the National Highway Traffic Safety Administration. 
Jeep Wagoneer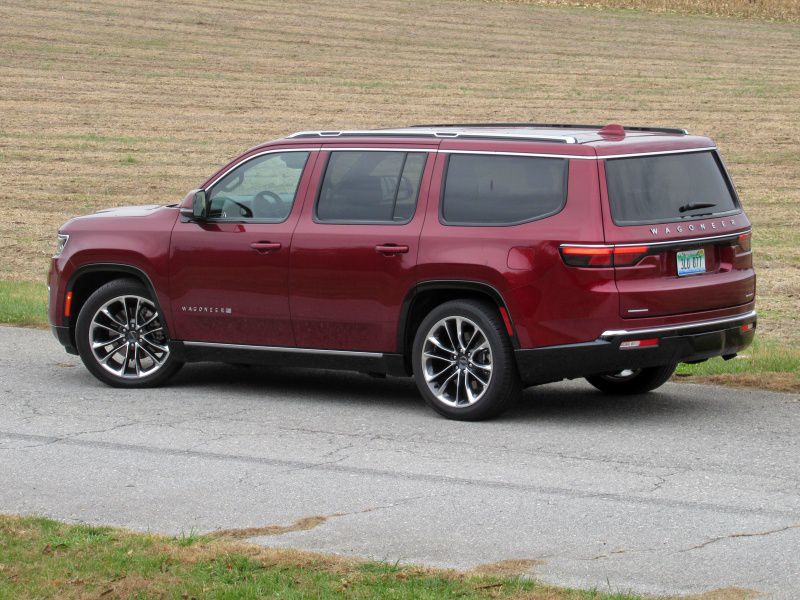 Photo by Brady Holt
Final Thoughts
Especially until the more affordable Series I model hits the market, the Jeep Wagoneer won't be for everyone. In a world where every big SUV is expensive, it's even more so. But we came away impressed with this mighty yet comfortable machine. It's incredibly spacious, it rides well while still towing a huge trailer, it's powerful while getting fairly acceptable gas mileage, and it looks modern without being aggressively so. 
We're also fans of the Yukon. It's roomy enough to fit everyone inside, even if they can't stretch out as much as in the Jeep. It handles more nimbly, even if that results in a bumpier ride. Its interior is nicely finished (especially on the Denali) and ergonomically sensible, even if it doesn't look as sleek. It's available with a fuel-sipping diesel, even if its other engines aren't especially economical. It's less expensive than even a comparably equipped Wagoneer — and so far, every comparable Wagoneer is a costly, heavily optioned model. But Jeep justifies its higher price with a superbly executed SUV that's equal parts luxurious and family-friendly. If you like big SUVs, we think you'll love the Wagoneer.
Jeep Wagoneer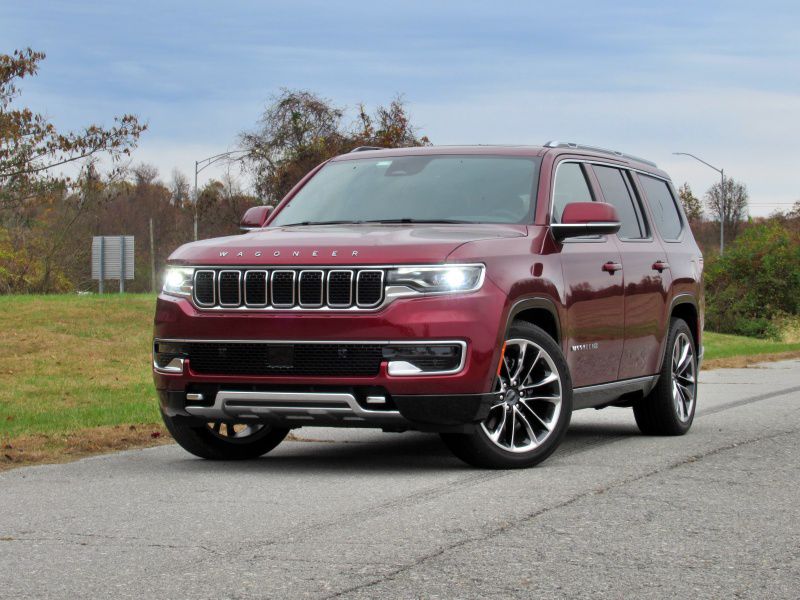 Photo by Brady Holt