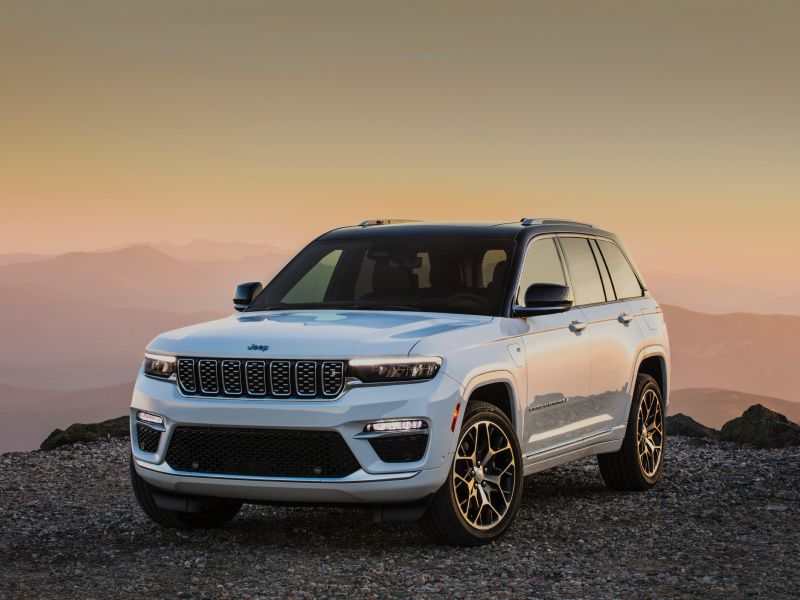 2022 Jeep Grand Cherokee ・ Photo by Jeep
There are so many SUVs on sale today that sorting through them can be headache inducing – and there are more on the way. Chevrolet and Jeep have been at it as long as anyone, and the two automakers' latest mid-size SUV offerings are worth a closer look. The Chevrolet Blazer returned in 2019 as a sporty crossover, while the Jeep Grand Cherokee got a complete overhaul for 2022 with new styling and features. Which one is best for you? That depends on what you need to do and where you need to go. Let's dive in and find out where you'll be best served.
Pricing and Features
The Jeep Grand Cherokee starts out more expensive than the Chevy Blazer and stays that way. Its starting price of just under $38,000 is thousands more than the Blazer's, but it's the top-end trim levels that push the Grand Cherokee above and beyond the Chevy. The top Summit Reserve trim starts at just shy of $64,000, and that's before the addition of desirable options such as the $1,995 Advanced ProTech Group IV with a head-up display, night vision, and pedestrian/animal detection.
The Chevrolet Blazer's price tag tops out in the high-$40,000 range, but can be pushed past $50,000 with options. The Blazer's less hardcore capabilities and not-a-V8 powertrain help explain the price difference between the two.
: Chevrolet Blazer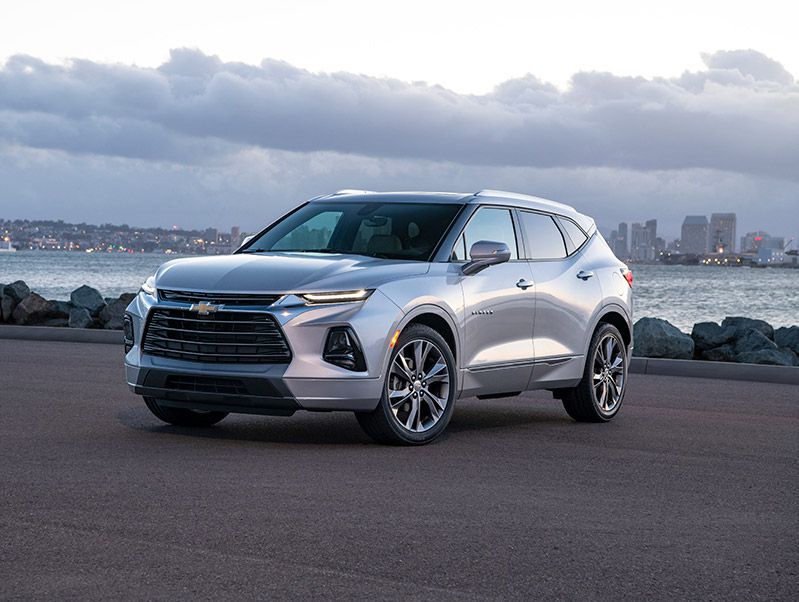 Photo by General Motors
Exterior Design
The all-new Jeep Grand Cherokee sports updated exterior styling with stronger lines and a less rounded shape overall. The brand's signature upright grille design remains, though it's flanked by new headlights and more muscular front-end shape. Jeep also offers striking two-tone paint options that truly help the Grand Cherokee stand out, though all but one cost an additional $400. 
Chevrolet made no effort to hide the fact that it was chasing the Camaro's spirit with the Blazer design, both inside and out. The SUV features sharp styling with a prominent grille and slivers for headlights. Strong, straight lines highlight the Blazer's profile, while a gently sloped roof and rising beltline give it a sleek and aggressive look overall.
: Tie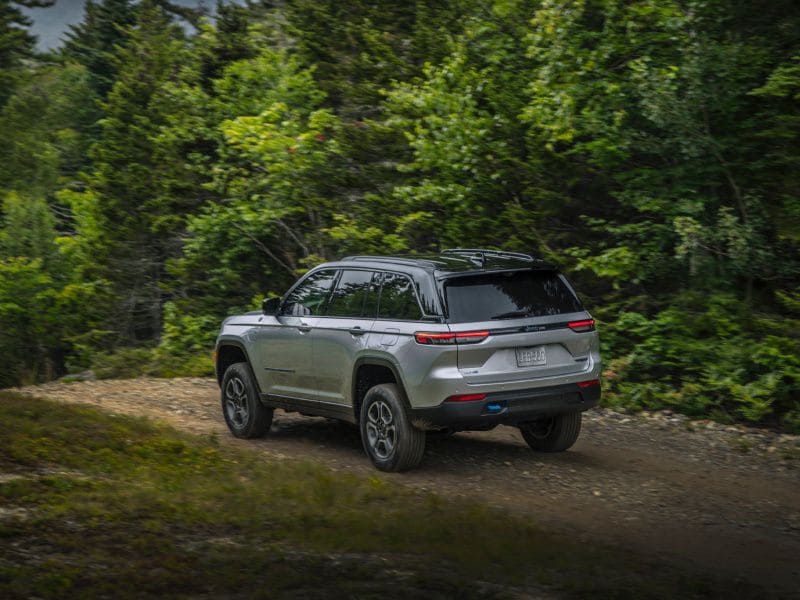 Photo by Jeep
Interior Design
The 2022 Jeep Grand Cherokee offers one of the industry's best interiors, full stop. Jeep improved materials quality and redesigned the SUV's cabin to be intuitive, comfortable, and quiet in almost all driving situations. Top trims' interiors could be mistaken for a luxury brand's design, but even the "entry-level" models offer better-than-basic finishes and materials. The new infotainment display and controls are mounted neatly into the center stack and offer an intuitive way to interact with the vehicle while driving.
The 2022 Chevrolet Blazer's interior is a mixed bag of sorts. The design and layout are stylish and attractive, but they're let down by below-average materials quality and less-than-generous passenger space. The Blazer's high beltline and oversized C-pillar can make outward visibility challenging at time as well.
: Jeep Grand Cherokee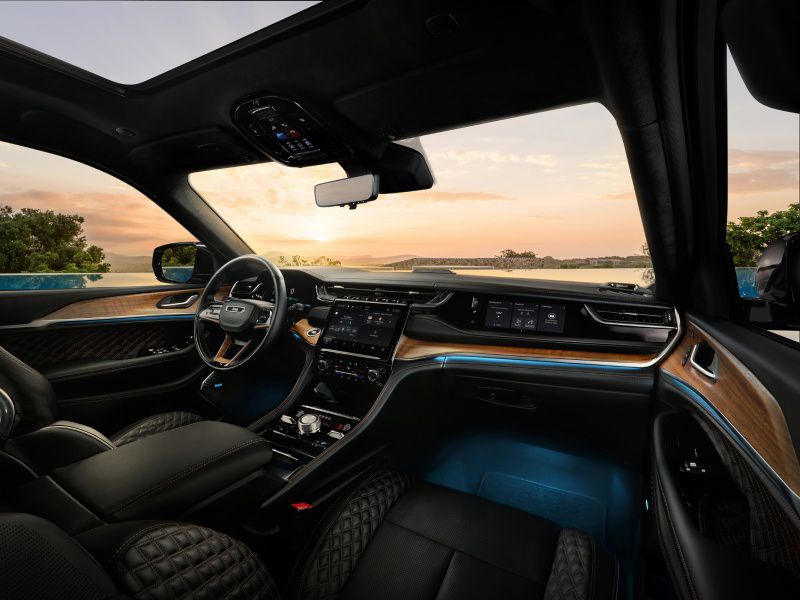 Photo by Jeep
Interior Comfort
The new Grand Cherokee seats up to five people in two rows of seating. Front-seat passengers are treated to deep, well-padded buckets that offer a great degree of adjustability. Top trims offer heating and ventilation to further bump comfort, and the front cabin area has been designed to offer good support and ergonomics for a wide variety of body styles. Second-row seating accommodations are just as spacious and comfortable, making the Grand Cherokee one of just a few vehicles with a back seat that can truly be used by adults on long trips. Outward visibility is good in all directions.
The Chevy Blazer also offers five seats, but its sloping roof cuts into rear headroom. The front seats offer decent padding and support, and there is no shortage of places to rest arms and elbows while driving. The back seats fall short, however, on legroom and headroom. Kids in car seats and young adults will likely be fine, but taller adults might not be so enthused about their accommodations.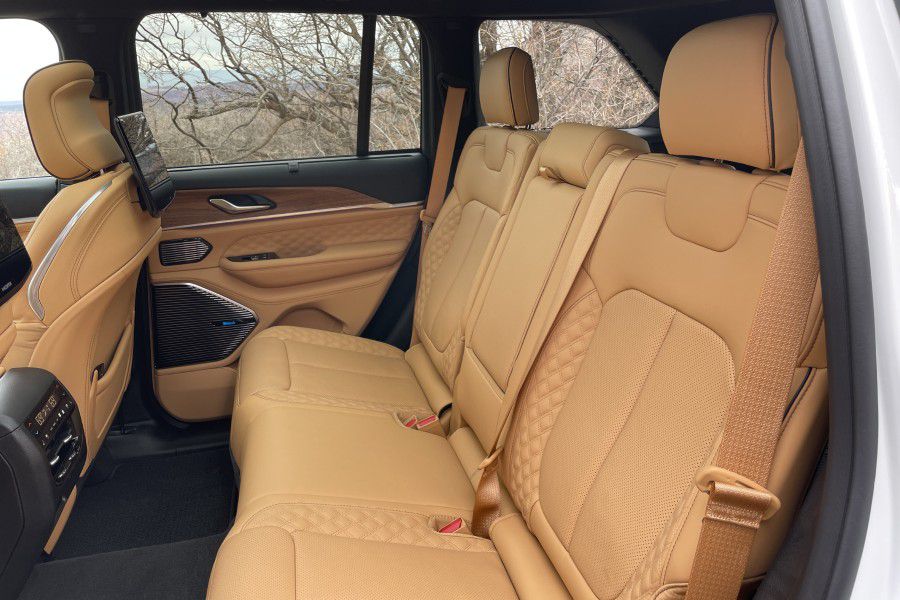 Photo by Nicole Wakelin
Cargo Space and Utility
With the second-row seats upright, the 2022 Grand Cherokee offers 37.7 cubic feet of cargo space. The area opens up to 70.8 cubic feet with the seats folded flat. Those aren't stellar numbers, especially in the mid-size SUV world, but the Jeep's cargo area is shaped conveniently to accept tall cargo. That said, some owners may have a hard time hoisting cargo over the Grand Cherokee's tall load floor. A power liftgate is optional. 
The Chevrolet Blazer offers less than the Grand Cherokee, at just 30.5 cubic feet behind the back seats. Though the space expands to 64.2 cubic feet with the seats down, the Blazer is less practical that all of its competition when it comes to hauling gear. Chevy does offer a power liftgate and a hands-free power liftgate, but they can't overcome the shortage of real estate in the cargo hold.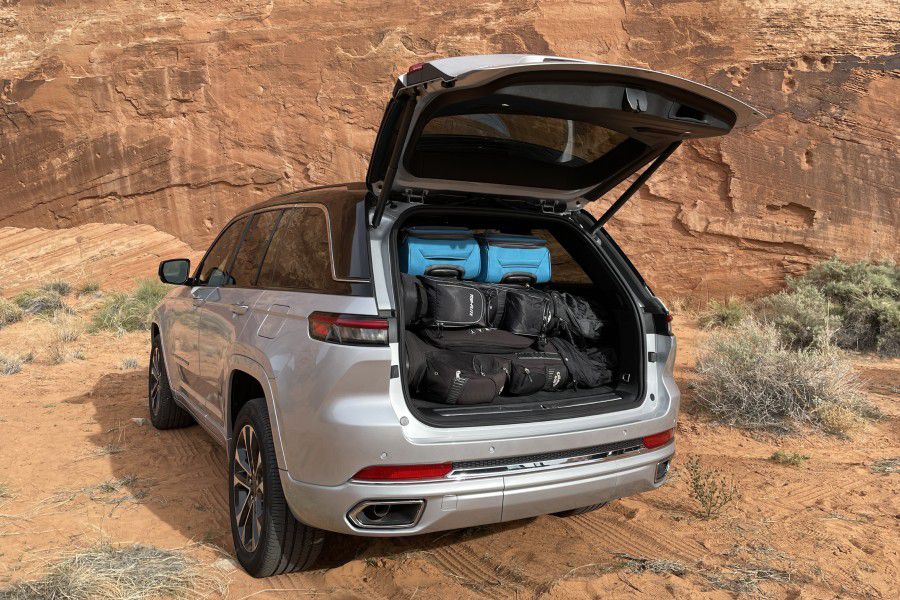 Photo by Nicole Wakelin
Driving and Performance
Jeep offers a trio of strong powertrains for the 2022 Grand Cherokee. The standard engine is a 3.6-liter V6 that makes 290 horsepower and 257 pound-feet of torque. A 5.7-liter Hemi V8 is available that makes 357 horsepower and 390 pound-feet of torque. A plug-in hybrid powertrain is available in the 4xe model that makes 375 horsepower and 470 pound-feet of torque. All engines are paired with an eight-speed automatic transmission and either rear- or four-wheel drive. Though they're more than adequate to get the job done, none of the available engines generate enough grunt to make the Grand Cherokee thrilling to drive. The Jeep's ride is comfortable and confident, but there should be no expectation that the Grand Cherokee will make an engaging companion for a backroad drive.
The Blazer comes standard with a 2.0-liter four-cylinder engine that produces 228 horsepower and 258 pound-feet of torque. A 3.6-liter V6 is available that makes 308 horsepower and 270 pound-feet of torque. Both engines come with a nine-speed automatic transmission and either front- or all-wheel drive. With the V6 engine on board, the Blazer offers strong acceleration, and both of its engines pair well with the smooth-shifting automatic transmission. Though down on power compared to the Grand Cherokee, the Blazer feels just as lively, and it offers sharper handling than the Jeep. That said, the ride can be harsh at times, and the cabin lets in more wind and road noise than most would expect. 
: Tie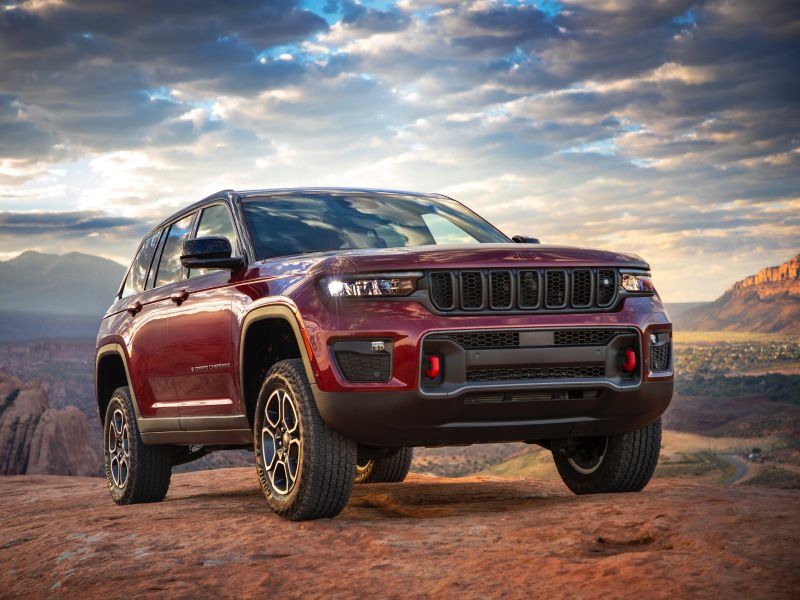 Photo by Jeep
Fuel Economy
When equipped with the base six-cylinder engine and rear-wheel drive, the Grand Cherokee returns fuel economy of 19/26/22 mpg city/highway/combined. Four-wheel drive has no impact on those ratings. The 5.7-liter V8 and four-wheel drive shift fuel economy estimates to 14/22/17 mpg. That the Jeep's V8 is thirsty should come as no surprise, but some owners might not be prepared for the frequency of fuel stops needed and the cost to refill at each stop.
Smaller engines with fewer cylinders typically return better fuel economy than larger engines, which is exactly why the Blazer absolutely decimates the Grand Cherokee on fuel economy. The base four-cylinder engine paired with front-wheel drive generates fuel economy of 22/29/25 mpg. All-wheel drive shifts those numbers slightly to 22/27/24 mpg. The optional V6 returns 19/27/22 mpg with front-wheel drive and 19/26/21 mpg with all-wheel drive.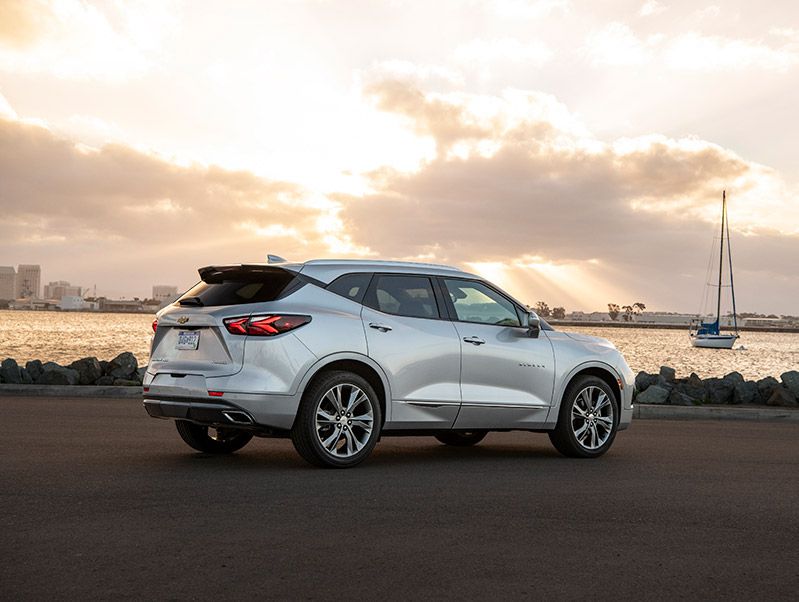 Photo by General Motors
Safety
Neither major ratings agency has crash-tested the 2022 Jeep Grand Cherokee yet. Since it's an all-new model, we can't draw any conclusions from last year's Jeep, either. That said, the SUV offers a generous list of standard driver aids that includes blind spot warnings, forward collision mitigation, and rear parking sensors.
The 2022 Blazer earned "Good" scores in crash tests performed by the Insurance Institute for Highway Safety (IIHS) and either "Marginal" or "Poor" scores for its headlights. Standard safety equipment includes automatic emergency braking, a following distance indicator system, forward collision alerts, front pedestrian braking, and lane keep assist with lane departure warnings. All Blazers also come with GM's OnStar, which can call for help after a crash.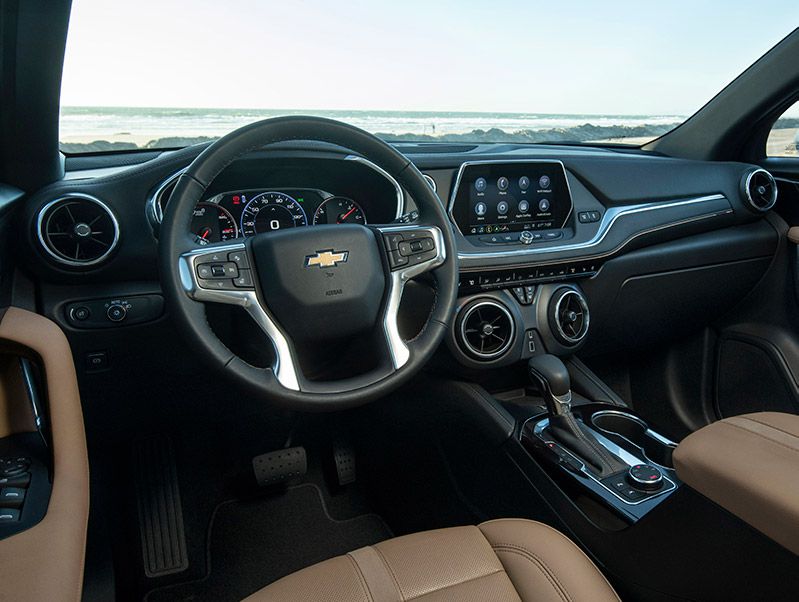 Photo by General Motors
Final Thoughts
Both the Jeep Grand Cherokee and Chevrolet Blazer offer plenty to like in the mid-size SUV space, but each caters to a slightly different audience. The Grand Cherokee is great for outdoors-minded owners that need capability and space, while the Blazer is a great companion for urban drivers and people wanting a sharp commuter vehicle. There's also the price difference to consider, as the Grand Cherokee can become quite a bit more expensive than the Chevy. In either case, however, buyers get a well thought-out SUV with good tech and better-than-decent safety features.
The 2022 Grand Cherokee is one of the best and most complete SUVs on sale today. There's very little it can't do, and its cabin design, comfort, and standard features make it a compelling buy.
: Jeep Grand Cherokee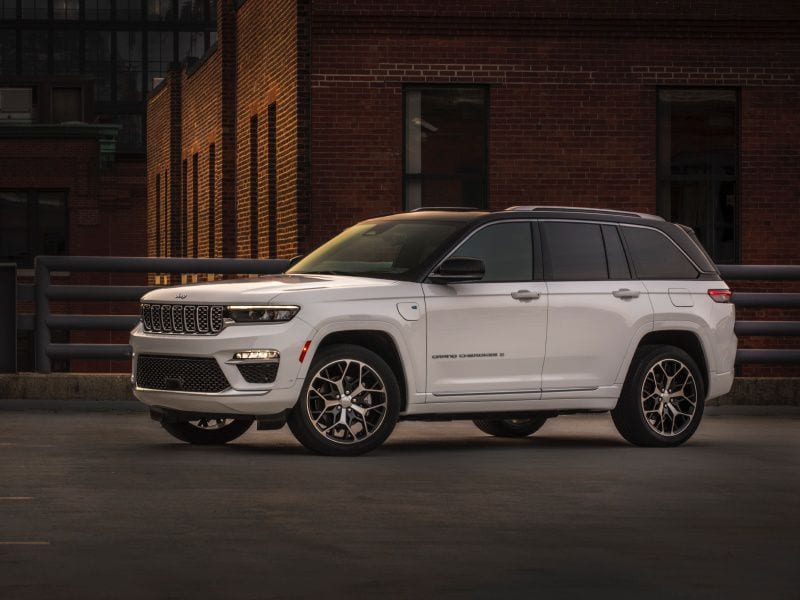 Photo by Jeep