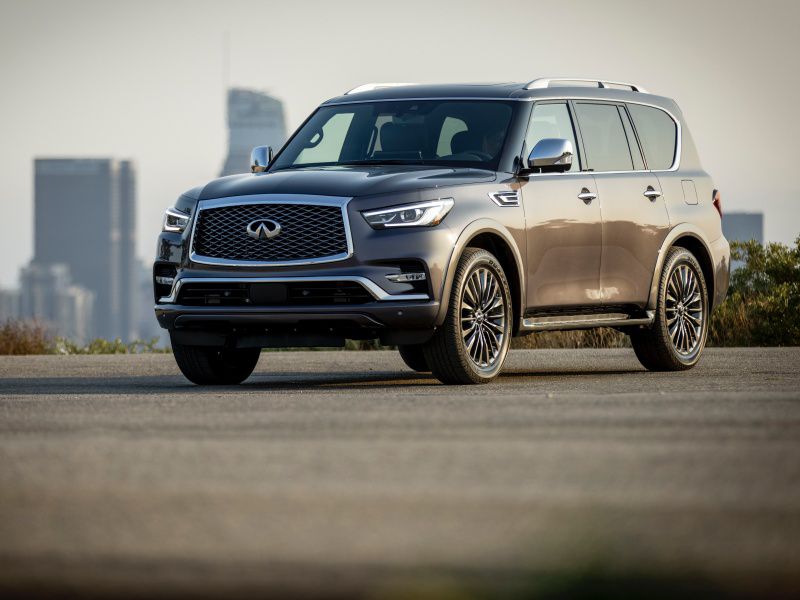 2022 Infiniti QX80 ・ Photo by Infiniti
Full-size SUVs seem to be as common now as the sedan was just a couple of decades ago. The lumbering family haulers are appealing vehicles, with plenty of space, deluxe features, and the latest safety tech. But they're expensive and aren't always the most agile vehicles on the road. The Infiniti QX80 is a veteran full-size luxury SUV that brings plenty of standard gear and decent capability for its price. Infiniti added a new 12.3-inch touchscreen for 2022 that brings wireless Apple CarPlay and Android Auto, wireless smartphone charging, and a new climate control panel.
Styling
The QX80 has grown out of its awkward phase, showcasing more refined styling and less frumpy proportions. The overly styled, bubble-shaped SUV got a makeover in 2018 that smoothed out the busy front end and brought a clean rear-end design. The result is a large vehicle that meshes well with the rest of the Infiniti lineup. The QX80 also wears its size with grace, and the large 22-inch wheels that come with top models gives the Infiniti an athletic, muscular look that works with the overall package.
Inside, Infiniti made good use of the QX80's space with wide, deep seats, and expansive passenger space across the first two rows. The front cabin is well organized, though the lower center stack features a clumsy mix of tech features that seem like an afterthought.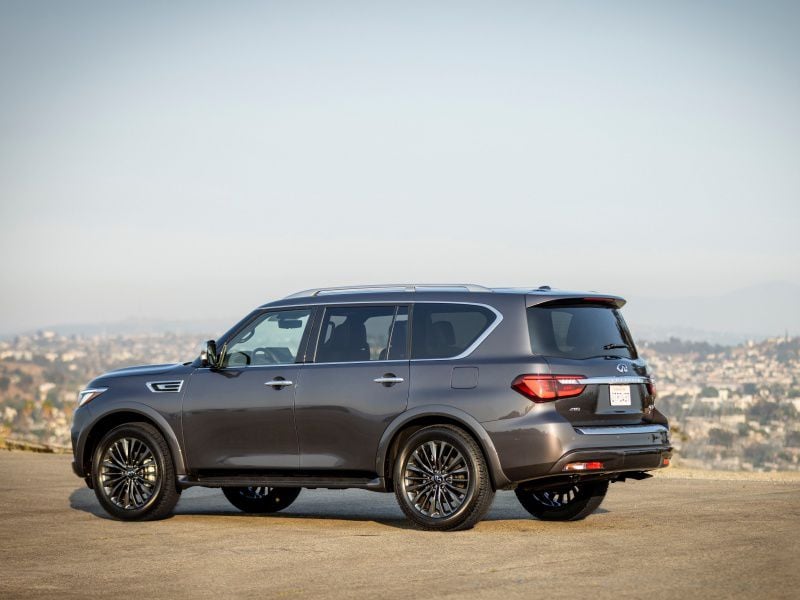 Photo by Infiniti
Powertrains
The QX80 comes standard with a 5.6-liter V8 that makes 400 horsepower and 413 pound-feet of torque. It's paired with a seven-speed automatic transmission and either rear- or four-wheel drive. The big V8 has no problem motivating the QX80 with authority, and the SUV feels quicker than it needs to be in most situations. Though muted from inside the isolating cabin, the engine produces a satisfying V8 soundtrack and a pleasant roar under full throttle. The automatic transmission is smooth and refined but is slow to downshift when asked.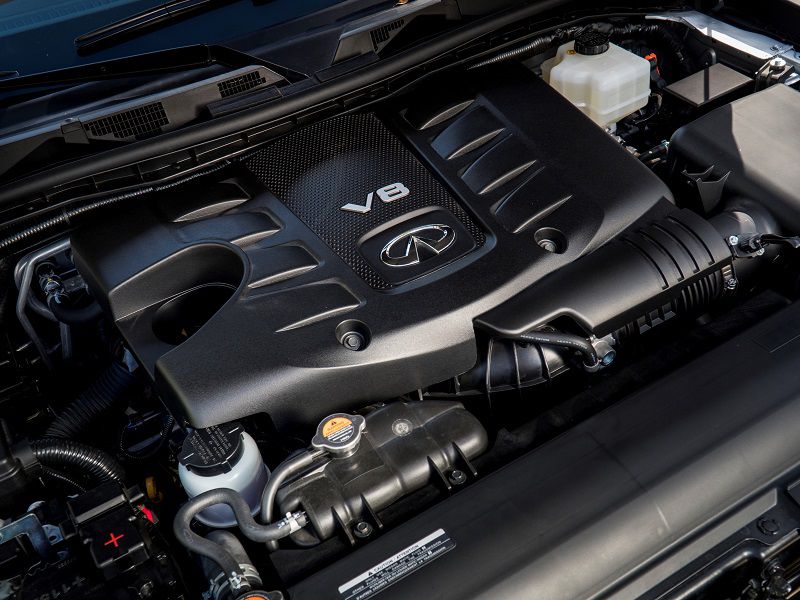 Photo by Infiniti
Driving and Handling
The QX80 trades sharpness and agility for comfort and smoothness, which is just fine in a large luxury SUV. Its independent suspension system soaks up bumps and bangs from potholes, broken pavement, and other imperfections, while solid sound deadening keeps most unpleasant noises out of the passenger compartment. The base model's 20-inch wheels are wrapped in enough rubber to keep the ride decent, but the top trim's 22-inch rollers and lower profile tires don't completely ruin the ride.
Photo by Infiniti
Interior
Though dated, the QX80's interior is comfortable, quiet, and spacious. Infiniti hasn't done much to update the cabin in several years, but the materials are nice and build quality is solid, so most will give the QX80 a pass. Standard Napa leather upholstery is a great starting point, and the perforated semi-aniline leather in the top Sensory trim is hard to beat. Technology features and displays are neatly organized, but some controls are too easy to confuse when the vehicle is in motion, such as the climate temperature and stereo volume dials, which are similarly sized and located next to each other on the dash.
Passenger space isn't a huge problem for the QX80, but its third-row seat might be a challenge for some. It's too hard to access, and once there, passengers find a surprisingly cramped space. People who need more seating can opt for a second-row bench seat instead of captain's chairs that can accommodate three adults.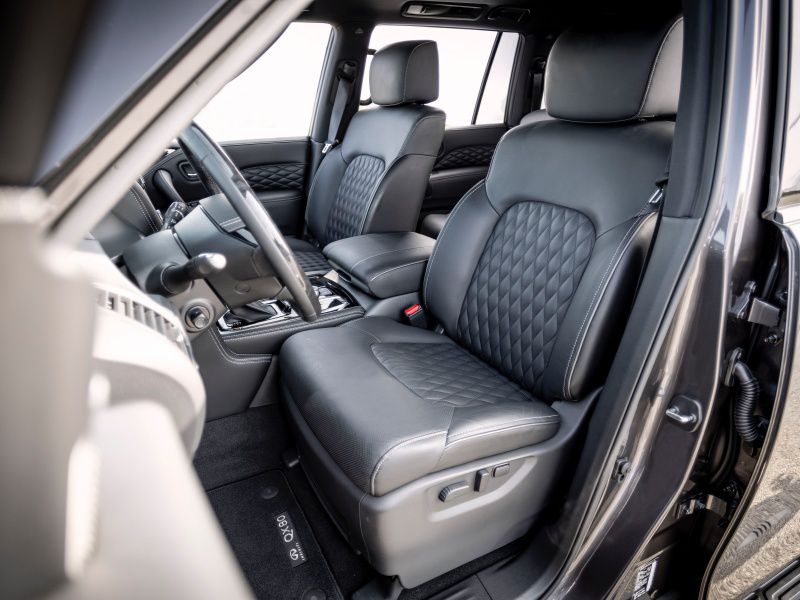 Photo by Infiniti
Technology
Infiniti ditched its confusing dual-screen infotainment system for 2022 and opted instead for a large 12.3-inch display. The system brings navigation and wireless Apple CarPlay/Android Auto, along with SiriusXM radio and more. The InTouch interface is intuitive and easy to understand, but the system stutters at times, such as when scrolling through radio stations or making a settings change. The standard Bose 13-speaker audio system provides bright, clear sound, but the optional 17-speaker system is louder and provides higher quality audio. The only real upgrade when stepping up to higher trims is a rear-seat entertainment system that comes with the top model.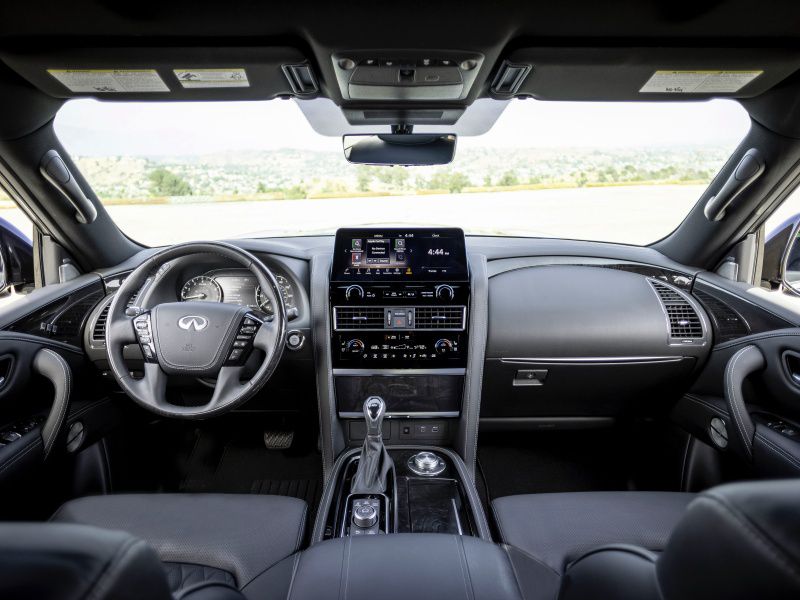 Photo by Infiniti
Fuel Economy
The upside to a big V8 and plenty of power is strong capability, but the downside comes in the form of poor fuel economy. With 2WD, the QX80 is rated at 14 mpg in the city, 20 mpg on the highway, and 16 mpg combined. When equipped with 4WD, the SUV returns just 13 mpg city, 19 mpg on the highway, and 15 mpg combined. Those are unimpressive numbers that put the QX80 behind nearly all of its rivals.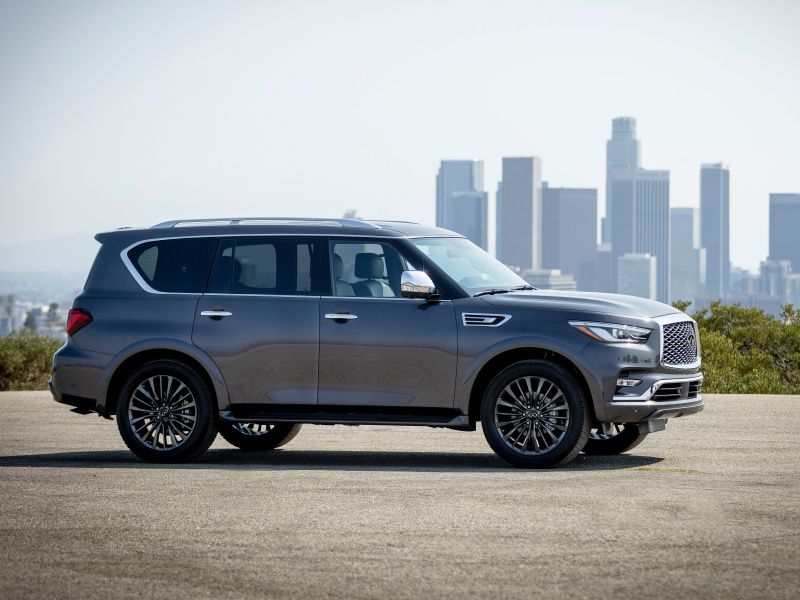 Photo by Infiniti
Safety
The 2022 QX80 has not been crash tested by the Insurance Institute for Highway Safety (IIHS), but the 2021 model received four stars from the National Highway Traffic Safety Administration. It earned three and four stars for front driver side and front passenger side crash safety, respectively, five stars in all side crash tests, and three stars for rollover prevention. A lower rollover score is not uncommon for SUVs, as their higher center of gravity makes it more likely to tip during an evasive maneuver.
Standard safety equipment includes forward collision warnings, automatic emergency braking with pedestrian detection, blind spot monitoring with rear cross-traffic alerts, lane departure alerts, trailer sway control, and more.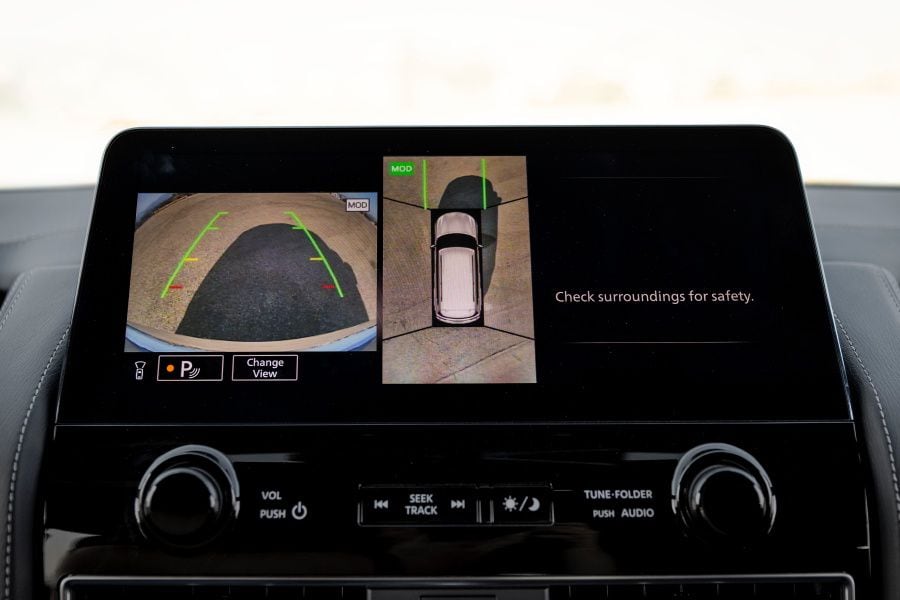 Photo by Infiniti
Value
One notable payoff for the 2022 Infiniti QX80 is that it's less expensive than its competitors. The BMW X7 starts at almost $76,000, the Mercedes-Benz GLS-Class at almost $79,000, and the Jeep Grand Wagoneer at nearly $90,000. That makes the QX80 a value pick at around $72,000 to start, and its standard features list is strong enough to compete with much pricier SUVs.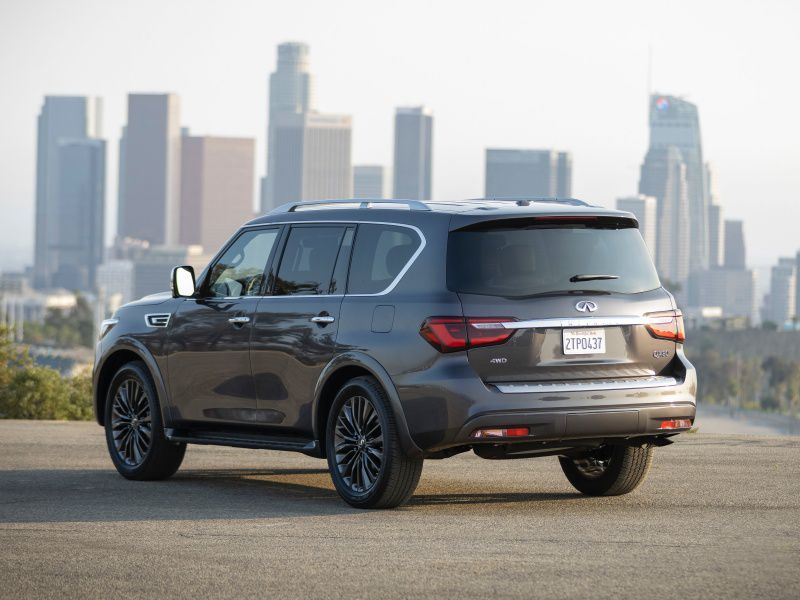 Photo by Infiniti
Competitors
SUVs are all the rage, so there's no shortage of challengers for the QX80. It faces off against the BMW X7, Mercedes-Benz GLS-Class, Jeep Grand Wagoneer, and Lexus LX, among others. The Infiniti is an older design than the others and lacks some of the most desirable features – such as a panoramic sunroof – but its price and feature set help make it competitive.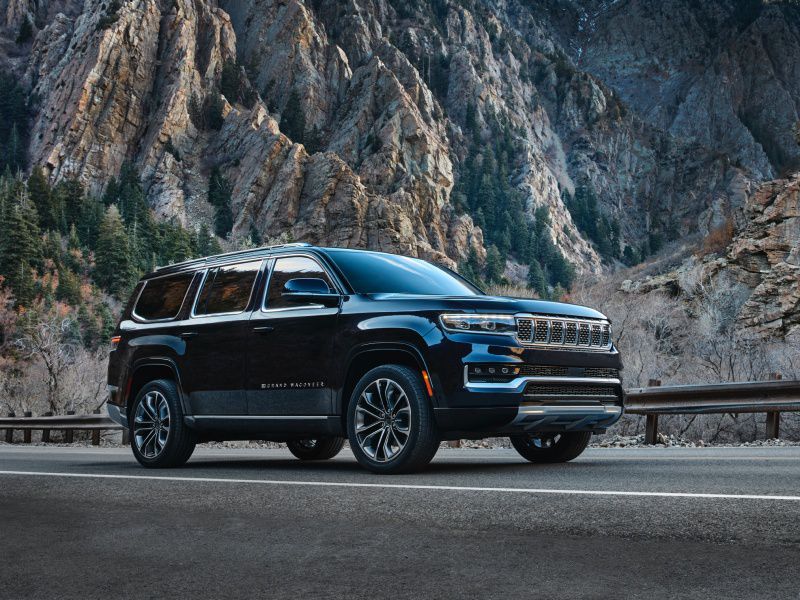 Photo by Jeep
Final Thoughts
The QX80 may be a value pick in its segment, but there are more compelling vehicles for less money in the non-premium market. There are also so many great vehicles in the Infiniti's segment that it's hard to ignore them in favor of the QX80. It's competitive and has great standard features, but its main fault is that everything around it is just so good that it pales in comparison.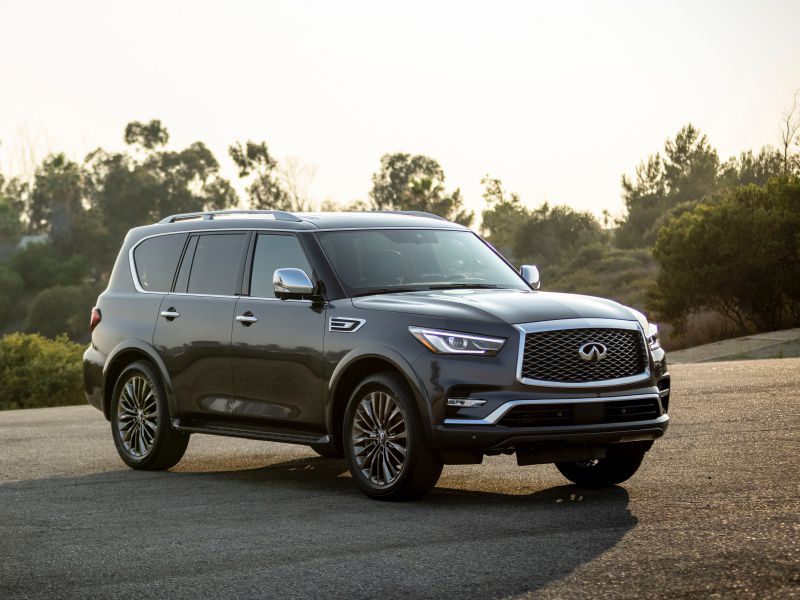 Photo by Infiniti