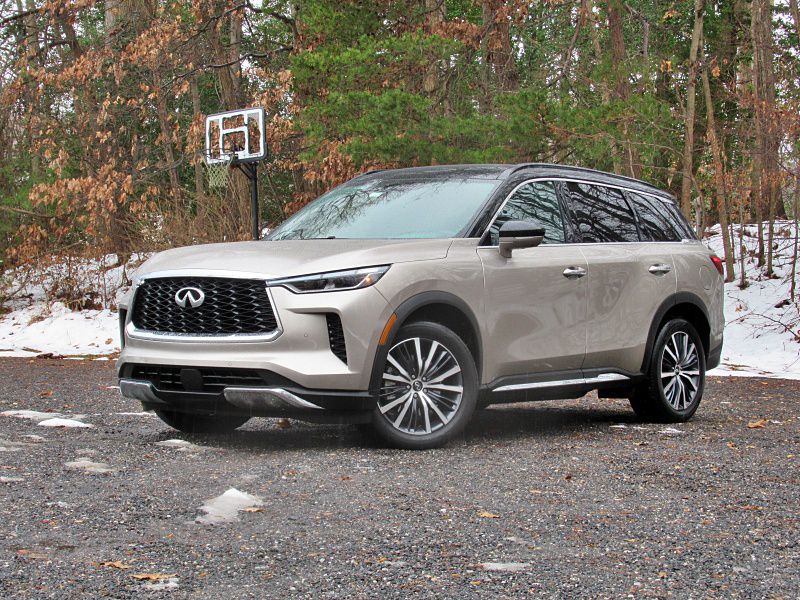 2022 Infiniti QX60 Autograph ・ Photo by Brady Holt
The Infiniti QX60 has long been a popular luxury crossover SUV, bringing graceful looks and three rows of seats without exploding your budget. This year, it's newly redesigned for the first time since 2013, and we welcome the improvements to its interior materials, driving experience, and technology. 
But the QX60 faces a tough rival: the Nissan Pathfinder. The Pathfinder lacks a luxury badge, but it shares many parts with the QX60 (Infiniti is Nissan's premium brand). And the similarly redesigned 2022 Pathfinder is a formidable contender that also packs plenty of high-end appeal. To explore what you get for your extra cash with the QX60, we drove them back-to-back and then spent a week testing each vehicle. In this review, we'll discuss how they compare in each of eight categories, then name our overall winner. Keep reading to learn which one we chose and which one sounds like the better choice for you. 
Pricing and Features
This category should come as no shock: the mainstream-branded Pathfinder costs much less than the premium-badged QX60. Specifically, the Nissan's base price stands at $33,410, while the Infiniti begins at $46,850. 
The gap can narrow based on the features you want. The base QX60 Pure model already has heated genuine-leather seats, a heated steering wheel, a panoramic moonroof, and a power liftgate. The Pathfinder SL is the most affordable way to get the Nissan with leather, and a package that includes a moonroof brings the total to $42,490. However, other QX60 trim levels all cost at least $52,900, which is several thousand dollars more than a fully loaded Pathfinder Platinum. And these pricier QX60s are the only way to get the ProPilot Assist suite of driver aids, a navigation system, a wireless smartphone charger, or hands-free liftgate operation. In other words, choose the options you're interested in and check the price difference between the two models; it will vary widely. The QX60 does have some exclusive options: massaging front seats, a 17-speaker stereo, and a rearview camera mirror. But the Pathfinder otherwise wins easily. 
Nissan Pathfinder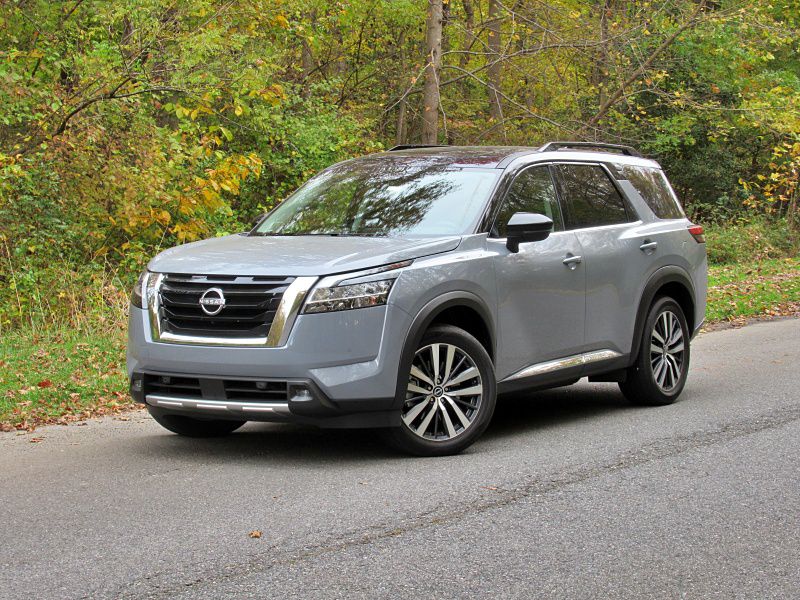 Photo by Brady Holt
Exterior Design
The previous-generation Pathfinder and QX60 were visually unrecognizable as mechanical cousins. The Infiniti was far ritzier, pairing gracious curves with sharp lines and topping it all off with chrome. But for 2022, the QX60 became simpler at the same time the Pathfinder became more elegant. The two SUVs also have a more similar shape than before, especially from the rear.
The Pathfinder makes more of an effort to look more like a tough truck than the QX60, with chiseled front end and crisply accented fenders. But it aimed upscale, and it hit home. The Infiniti, meanwhile, has an appealing subtlety, and the whole is more than the sum of its parts. But many of those parts now hew closely to the Nissan's. We'll let you pick your own favorite. 
Tie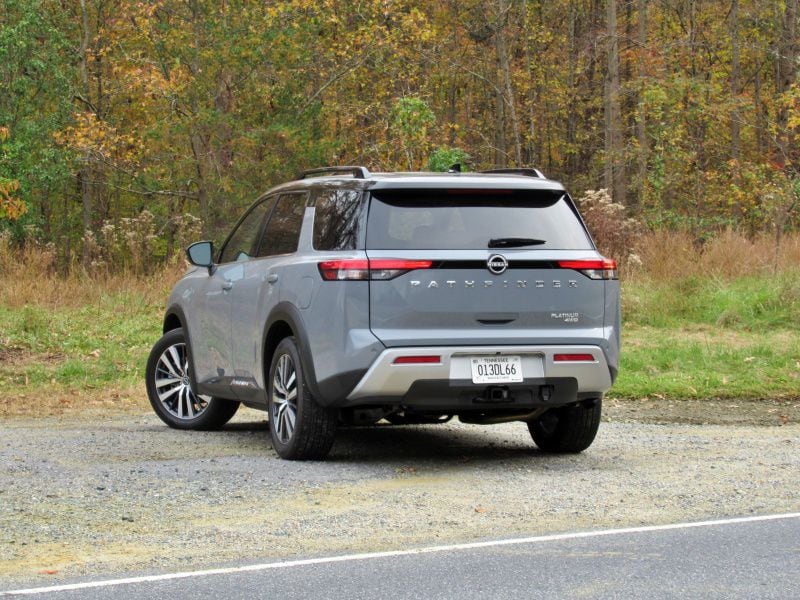 Photo by Brady Holt
Interior Design
Inside, the QX60 distances itself more from the Pathfinder with a flowing and poshly finished dashboard. Particularly on our top-of-the-line $63,945 test vehicle, the cabin is lavishly lined with rich materials. Infiniti also boasts a big 12.3-inch infotainment touchscreen above a sleek-looking array of touch-sensitive controls. 
Still, Nissan also gave the Pathfinder an excellent interior. Upper trim levels in particular also feature excellent materials, and moving parts operate crisply. The choice of 8-inch and 9-inch touchscreens isn't as generous as the Infiniti's jumbo unit, but the graphics and functionality are similar: The Infiniti simply adds space to show the radio information off to the right side. And while the Pathfinder's instrument panel doesn't look as sleek as the Infiniti's, Infiniti clustered a sea of 22 similar-looking touch-sensitive buttons, making it hard to quickly tap the right one. Nissan cut this number in half by smartly distributing these functions above and below the dashboard vents and providing a tuning knob for the radio; we also prefer physical controls over touch-sensitive ones. We'll still give the overall nod to the more upscale Infiniti, but the Pathfinder combines superior ergonomics with still-pretty-good cabin quality.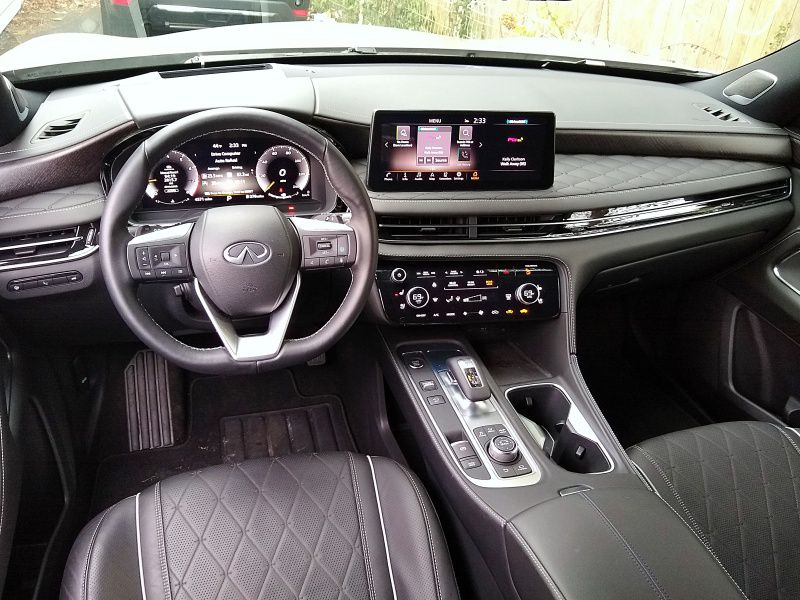 Photo by Brady Holt
Passenger Accommodations
The Pathfinder and QX60 offer similar passenger accommodations with nearly identical (and excellently supportive) seats. But there are a couple of differences. We'll discuss the Infiniti's advantage first: optional massaging front seats. Choose among three modes: lumbar, relaxing, and refreshing. 
But we'll give the win to the Pathfinder for carrying more people inside. Infiniti modified the QX60's third-row seat versus the Pathfinder's to fit just two people, rather than the Nissan's three. In place of a center seatbelt and cushion, there's a small plastic tray. We can accept that someone would be pretty pinched in that center-rear position — but we'd rather have it than not. This tweak means that the Pathfinder seats up to eight passengers and the QX60 up to seven with their second-row bench seats; the totals drop to seven and six, respectively, with second-row captain's chairs. Both crossovers have tight third-row seating with less legroom than their respective previous-generation models, but Nissan lets you make more use of its in-a-pinch extra row.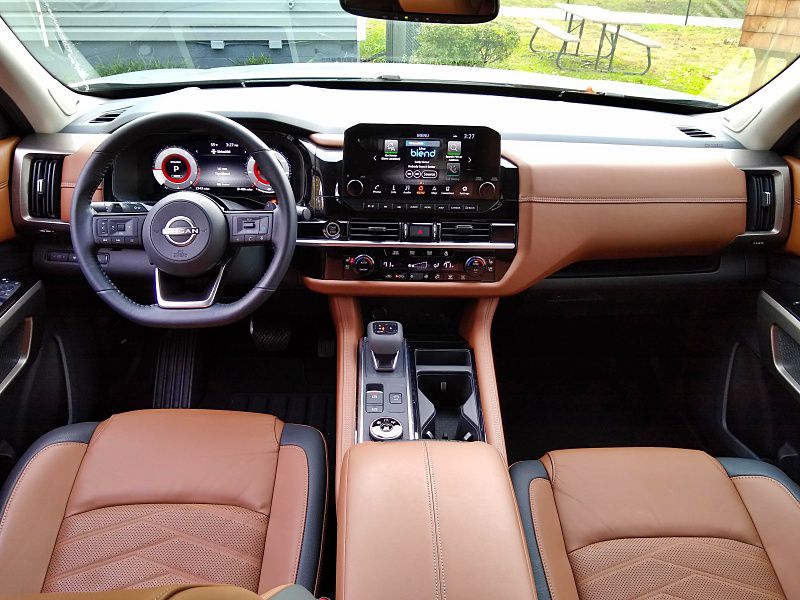 Photo by Brady Holt
Cargo and Utility
Subtle differences in these crossovers' designs also leave them with slightly different cargo capacities — once more in the Nissan's favor. The Pathfinder fits 16.6 cubic feet behind its third row, 45.0 behind its second row, and 80.5 cubic feet behind the front seats. That's acceptable but not amazing for a mid-size three-row crossover. 
The QX60 gives up a bit more space over its cousin. It holds 14.5 cubic feet of cargo space behind the third row, 41.6 cubic feet with its third row folded down, and 75.4 cubic feet with both the second and third rows folded. Both SUVs can tow up to 6,000 pounds.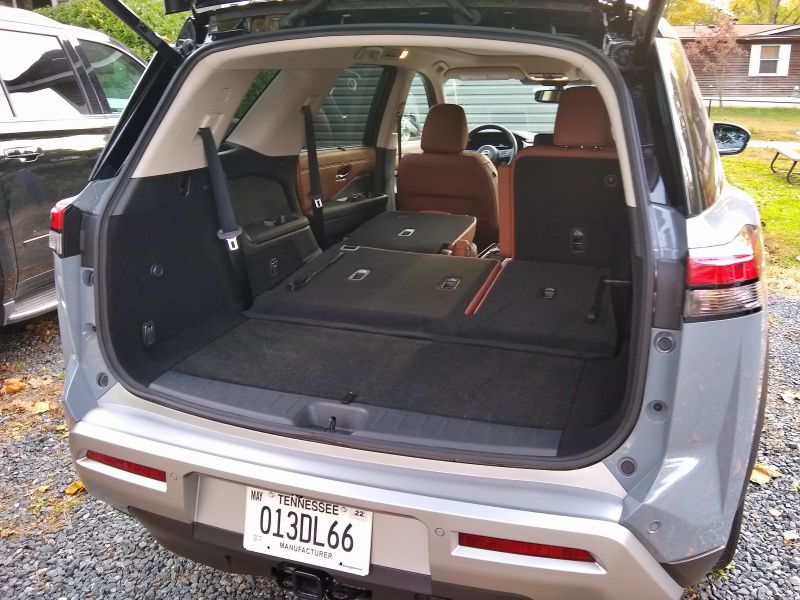 Photo by Brady Holt
Ride and Handling
We didn't love driving the previous-generation Pathfinder and QX60. While they're not terrible, we found that they rode stiffly over bumps without even the tradeoff of agile handling. 
The new models are better on both fronts: smoother and more agile, if not exactly sporty. Their steering wheels feel more connected to the road, and especially when you're pointing the SUV down the freeway, there's a reassuring firmness. Unlike some luxury crossovers, the Infiniti doesn't extend beyond its Nissan counterpart with fancier technology like an adaptive suspension system. However, the QX60 is slightly quieter than the Pathfinder, enough to give it the nod between these two similar-driving vehicles.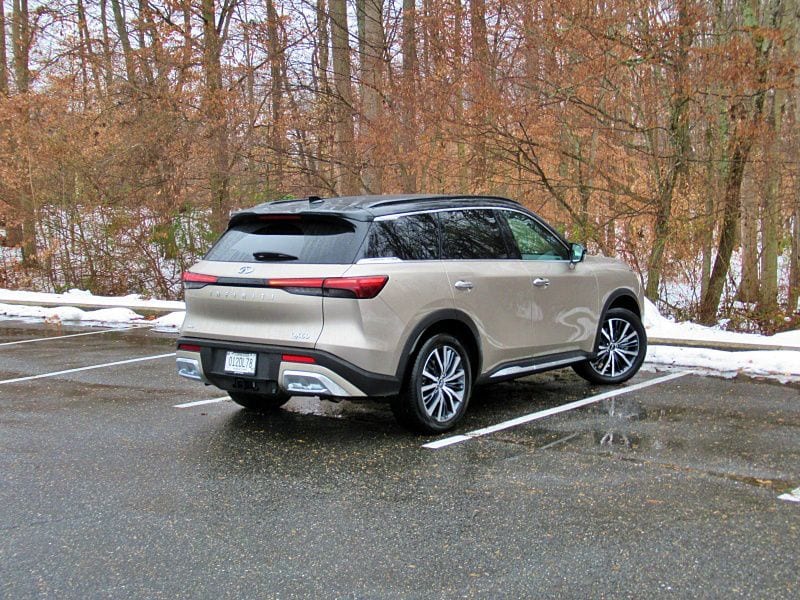 Photo by Brady Holt
Acceleration and Fuel Economy
Just as they share the same suspension, the QX60 and Pathfinder have the same 3.5-liter V6 engine and nine-speed automatic transmission. That's a crisp-shifting upgrade over last year's continuously variable automatic, which gives the vehicles more assertive performance. 
However, Infiniti retuned the engine to get slightly more horsepower: 295 hp instead of the Pathfinder's 284 hp. We don't think anyone would notice the difference on the road. However, they would most definitely notice that Infiniti's tuning calls for premium-grade gasoline while the Pathfinder operates far less expensively on regular. Most Pathfinder trim levels also edge out the QX60's EPA estimates; the most economical Nissan scores 21 mpg in the city, 27 mpg on the highway, and 23 mpg combined. We averaged 23 mpg in each of our test vehicles, but refueling the QX60 would cost a lot more.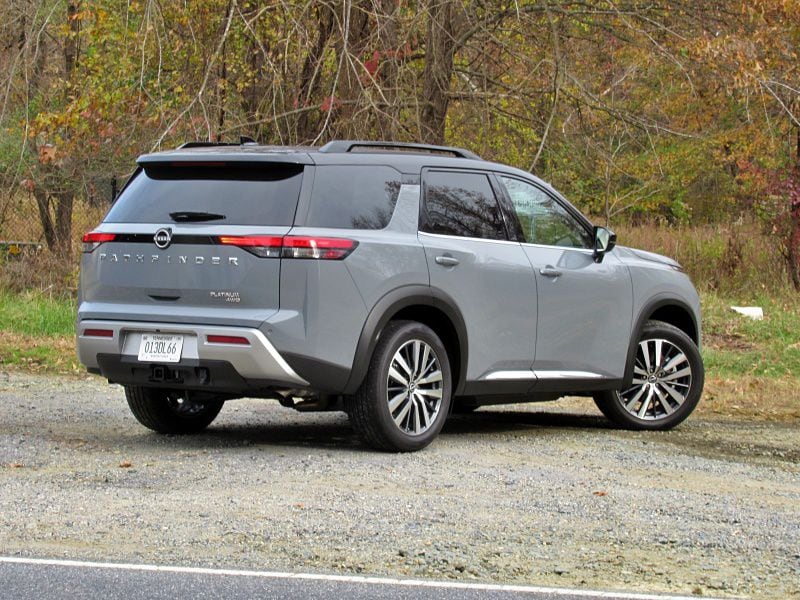 Photo by Brady Holt
Safety
Since they're fundamentally the same vehicle under the skin, it should come as no surprise that the Pathfinder and QX60 offer nearly identical safety records: excellent crash-test performance and similar lists of advanced safety features. 
There are only a few differences. First, while neither of the SUVs comes standard with its most advanced ProPilot suite of advanced driver aids on its base trim level, that absence is more disappointing on the much pricier Infiniti; to get adaptive cruise control, lane-keeping assistance, or a surround-view parking camera, you're pushed into a QX60 that costs more than a fully loaded Pathfinder. Similarly, a head-up display is only available on the top QX60 Autograph model for north of $60,000, while the top Pathfinder includes it for less than $50,000. Offsetting the difference is the Infiniti's exclusive rearview camera mirror, which lets you toggle between a standard reflection or a camera view that eliminates blind spots. Overall, we'll call this category a tie between two similar SUVs. 
Tie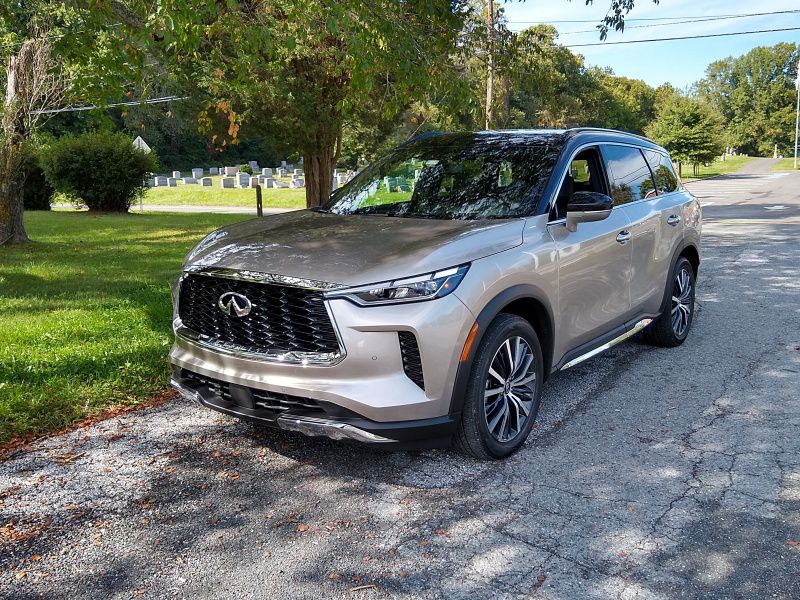 Photo by Brady Holt
Final Thoughts
Until this year, it was clear that anyone seeking luxury would buy an Infiniti QX60 over a Nissan Pathfinder. Between the two, only the Infiniti looked like a high-end car inside or out. 
That's no longer the case. Both SUVs improved greatly in their new redesign — but the Pathfinder made an even bigger leap. Both inside and out, it's more similar than before to the QX60. And the Pathfinder has practical advantages, too: simpler controls, lower fuel costs, and a higher seating capacity. The Infiniti still has the assets of a flashier interior with richer materials, a more graceful exterior design, a quieter ride, and a longer list of features. And depending on the options you'd be looking for, its price premium can be fairly modest over the Nissan. But overall, the QX60's advantages have gotten pretty slim over its outstanding new sibling. For our money, we'd happily take home a loaded Pathfinder. 
Nissan Pathfinder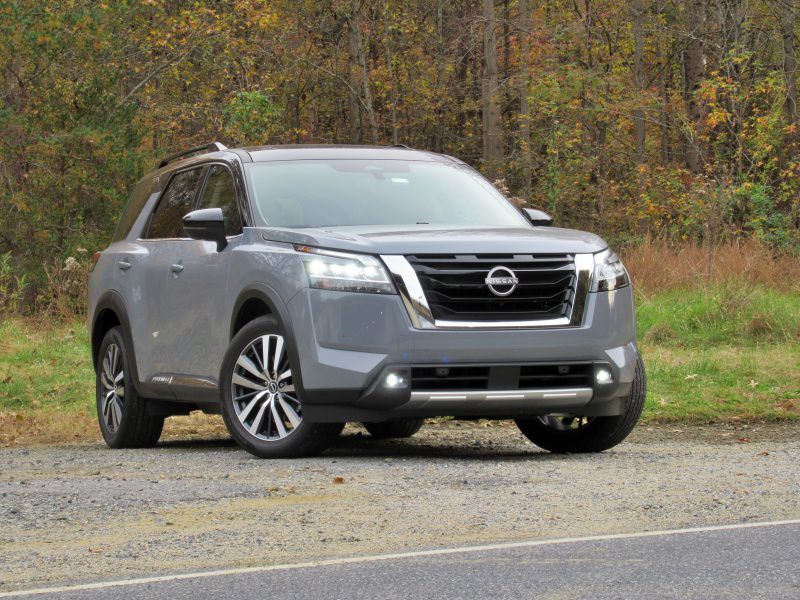 Photo by Brady Holt