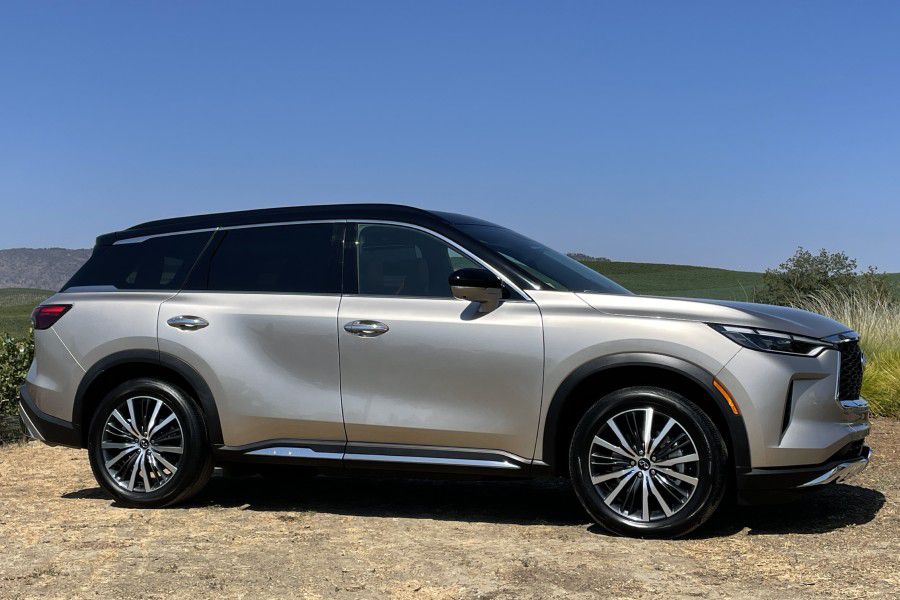 2022 Infiniti QX60 Profile ・ Photo by Nicole Wakelin
The 2022 Infiniti QX60 is all-new with updated exterior styling, a more luxurious interior, and plenty of standard tech and safety features. This 7-passenger SUV has room for the whole family with richly appointed trims that ensure a luxury experience no matter which trim you choose. It has a fully featured infotainment system with premium audio options and connectivity to keep everyone charged and ready for the day.
People are the focus, but the QX60 is also ready to handle your cargo. It has a large interior with plenty of room behind the third row, and it can tow along larger items that might not fit. There's a responsive V6 engine and a new transmission this year that provides a smoother ride. Let's take a closer look at the all-new 2022 Infiniti QX60 to see if it's the right choice for you and your family.
Four Well-Equipped Trims
The 2022 Infiniti QX60 is all-new with a choice of four trims. As a luxury suv, even the base Pure trim delivers a premium experience. It starts at $46,850 with standard features including 18-inch wheels, leather seats, an 8-way power driver's seat, a leather-wrapped steering wheel, and a 12.3-inch infotainment touchscreen with wireless Apple CarPlay and Android Auto. The Luxe trim starts at $52,900 and adds 20-inch wheels, navigation, ProPilot Assist with Navi-link, blind-spot warning, and intelligent cruise control with full speed range, stop, and hold.
The Sensory is priced at $56,350 with front seat massagers, heated outboard second-row seats, wireless smartphone charging, and a motion-activated power liftgate. The Autograph offers exceptional luxury at $60,350 with semi-aniline leather seats with quilting and contrast stitching, second-row captain's chairs and a 10.8-inch head-up display. It's a feature-filled lineup that creates a calm and welcoming space for passengers to relax.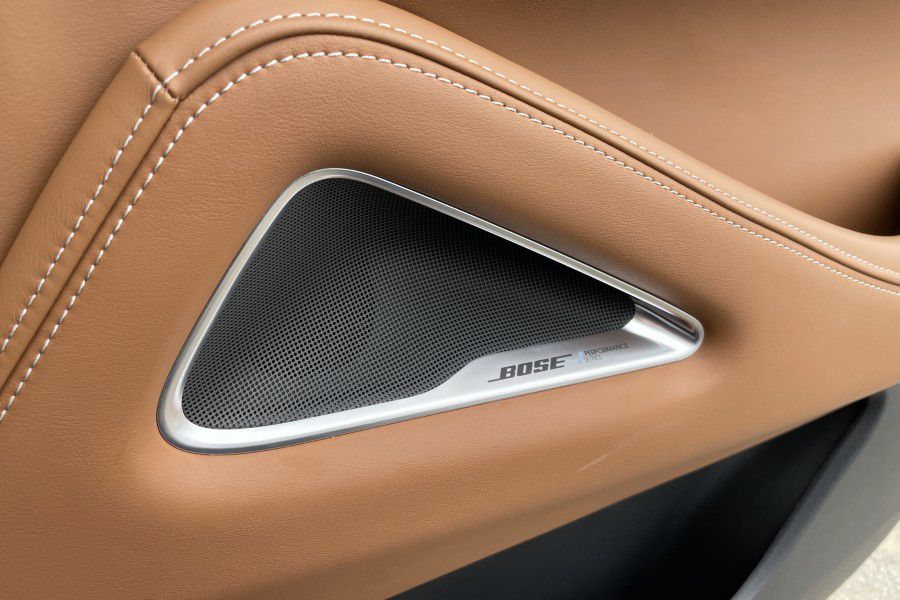 Photo by Nicole Wakelin
Same Engine, New Transmission
Power for the 2022 Infiniti QX60 comes from a 3.5-liter V6 engine with 295 horsepower and 270 lb-ft of torque. This is the same engine as in the previous model year, but the transmission has changed. Instead of a continuously variable automatic, there's a 9-speed automatic transmission. This might seem like a minor change since the engine isn't different, but it has a big impact on how the QX60 drives.
The new transmission is quieter, especially under hard acceleration. It also delivers power more smoothly, which improves both the drive experience and the ride. Shifts are well-timed to provide strong acceleration for highway merges. The combination of a powerful V6 engine and a refined automatic transmission make this new powertrain a big improvement. It's responsive and well-mannered, making the QX60 an enjoyable SUV to drive.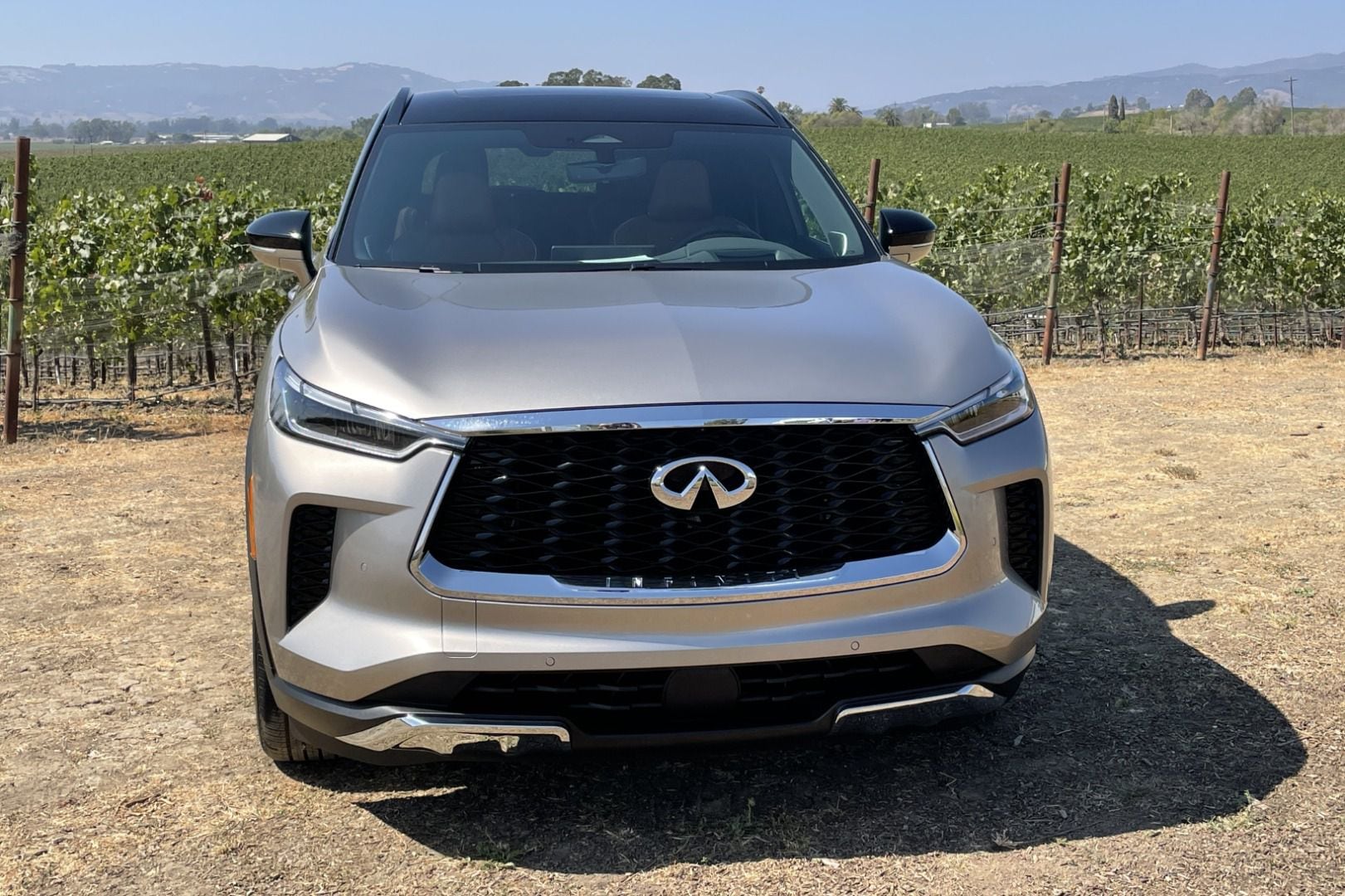 Photo by Nicole Wakelin
Luxury Car With Responsive Handling
There's a certain ride quality to a well-designed luxury car that sets it apart from the rest. The Infiniti QX60 captures that luxury magic with a refined ride that makes even rough road surfaces seem smooth. Whether it's pebbled pavement, unfinished seams, or even potholes, this SUV's suspension system hides it all so passengers simply enjoy the ride. It's also quiet; even the sound of passing trucks on the highway is kept outside the cabin.
Further improving the overall ride for passengers and driver alike is crisp handling. The QX60 responds quickly to driver inputs. It balances nicely between the more relaxed handling of a luxury car and the aggressive handling of a sports car. This keeps the driver engaged in the process while allowing them to enjoy their time behind the wheel no matter how long the trip.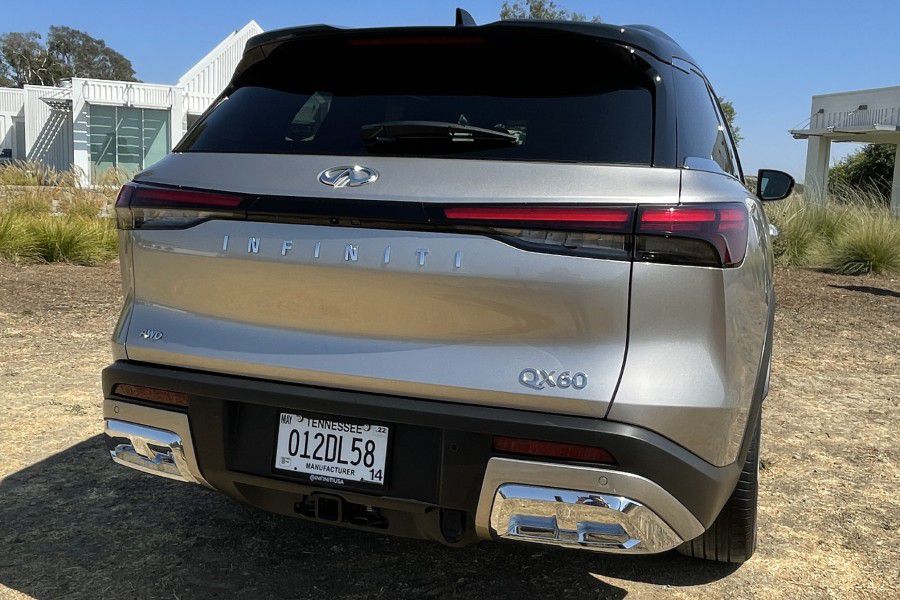 Photo by Nicole Wakelin
Limited Availability of Captain's Chairs
There's standard seating for up to seven people in the Infiniti QX60's beautiful and richly appointed interior. The third row seats two and is snug for all but the briefest drives and is best left to the kids. The standard second-row bench seat accommodates three with enough space for adults to get comfortable. Front passengers get the most premium experience with zero-gravity seats designed to reduce weariness over longer drives.
The 60/40 split-folding second row moves up and forward at the touch of a button, even with an empty car seat still installed. This makes for easier access for third-row passengers. There are also second-row captain's chairs, which take seating down to six. These are more comfortable, especially over longer trips. The only downside is their limited availability. Captain's chairs come standard only on the top Autograph trim and are unavailable even as part of a package on lower trim levels.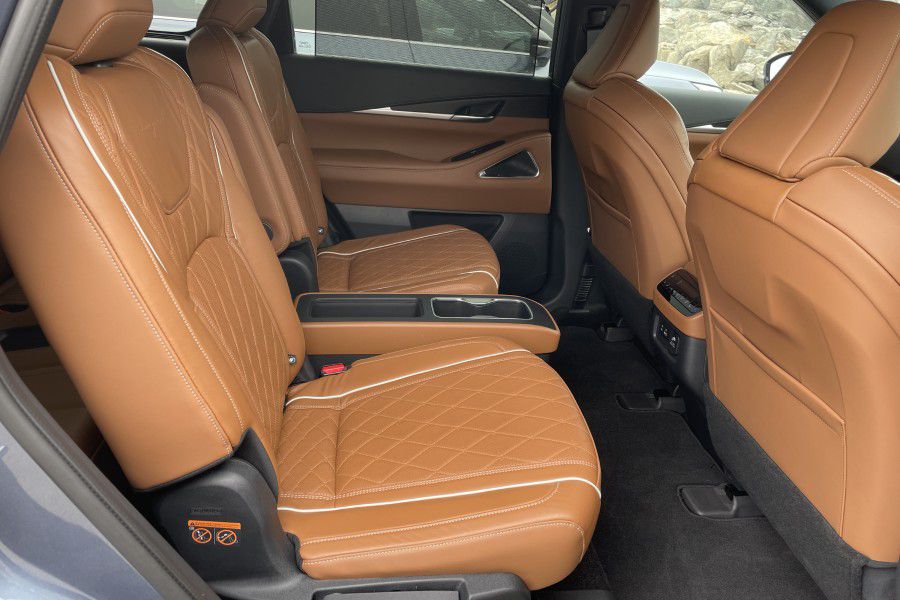 Photo by Nicole Wakelin
12.3-inch Infotainment Touchscreen Comes Standard
Standard infotainment in the QX60 includes a 12.3-inch touchscreen. That's larger than what's found in the top trims of some competitors, and it helps make the system easier to use. Especially when using navigation, your drive route is clear even when travelling congested city streets. There's also standard wireless Apple CarPlay with USB-based Android Auto.
Six USB ports are spread across all three rows with a seventh port in the Autograph. A 9-speaker audio system is standard with the option for a 17-speaker Bose system on the Luxe that becomes standard on the Sensory and Autograph. Navigation is standard on all but the base trim. It's a comprehensive system with key standard features and connectivity for the whole family. The large touchscreen is responsive and the system is intuitive so it's simple to use even for passengers who may be unfamiliar with the menus.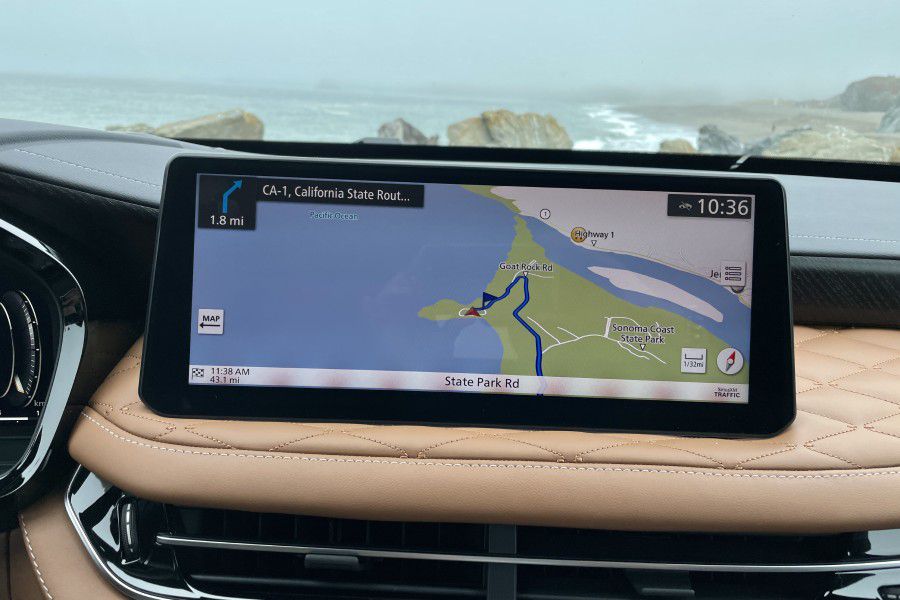 Photo by Nicole Wakelin
Cargo and Towing Capabilities
The Infiniti QX60 puts the focus on passenger comfort, but it doesn't forget that it's an SUV. That means it needs to also be ready to handle plenty of cargo. The QX60 is up to the challenge with a large interior. It has 14.5 cubic feet for cargo behind the third row, so even with a full load of passengers there's plenty of room for their belongings.
Fold the third row and there's 41.6 cubic feet for cargo. Fold the second row, and cargo capacity expands to 75.4 cubic feet. The QX60 can manage whatever cargo and passenger configuration works best for your needs from moment to moment. It can also tow with a standard rating of up to 3,500 pounds that increases to 6,000 pounds when properly equipped.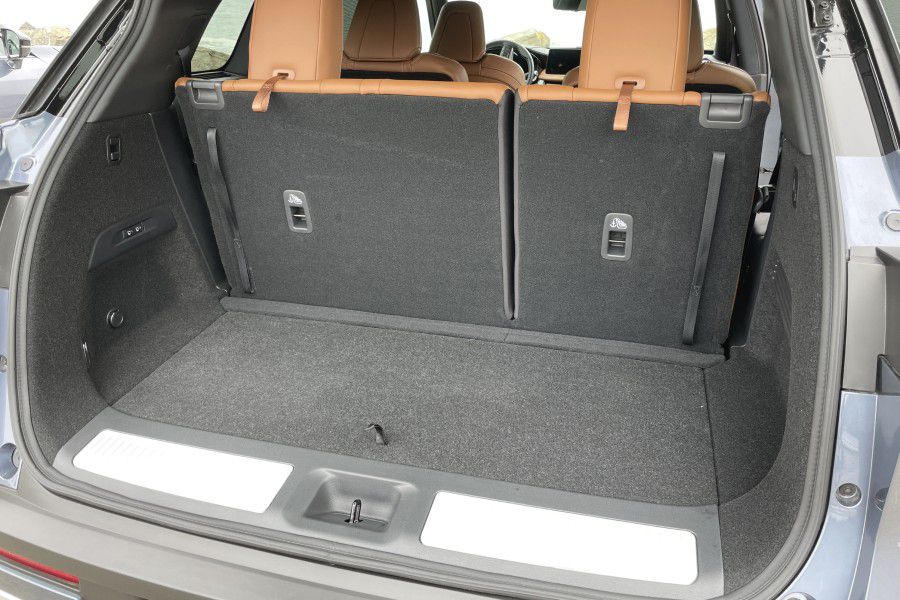 Photo by Nicole Wakelin
Extensive Standard Safety
The 2022 Infiniti QX60 has not yet been crash-tested by either the National Highway Traffic Safety Administration or the Insurance Institute for Highway Safety. It does, however, have a wide range of standard safety features to keep you and your family safe. These include forward emergency braking with pedestrian detection, predictive forward collision warning, rear automatic braking, rear cross traffic alert, rear view monitor with rear sonar, lane departure warning with haptic steering, and blind-spot warning.
Additional safety features available include blind-spot intervention, lane departure prevention, Around View monitor with moving object detection, front sonar, traffic sign recognition, and driver attention alert. It's a comprehensive offering that doesn't force you to move up a trim just to get key safety features.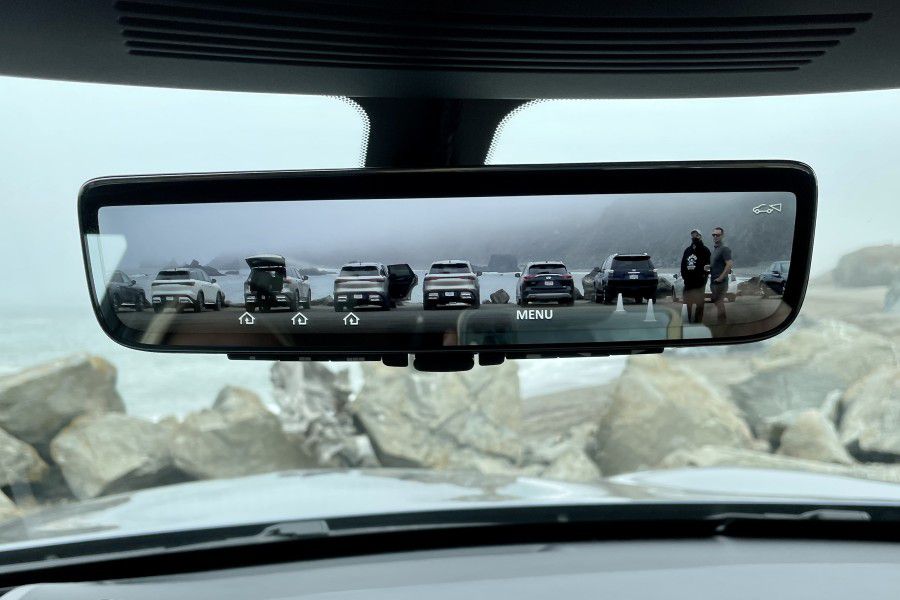 ProPilot Assist With Navi-link
The Infiniti QX60 features advanced driver assistance technologies through ProPilot Assist with Navi-link. This enhanced version of ProPilot Assist improves on the system's overall performance. Originally, it assisted the driver in single-lane highway driving by managing speed, braking, and steering. This technology doesn't replace the driver; rather, it makes the process of driving easier.
The addition of Navi link to ProPilot Assist uses the in-car navigation system to predictively react to the road ahead. This gives it the ability to slow down in advance of curves and ahead of highway off-ramps. It's a subtle change that creates a more natural driving pattern that better mimics how a human drives. The system can also automatically slow the car to stay within posted speed limits in conjunction with available traffic-sign recognition. It can even come to a full stop for as long as 30 seconds and restart without driver input.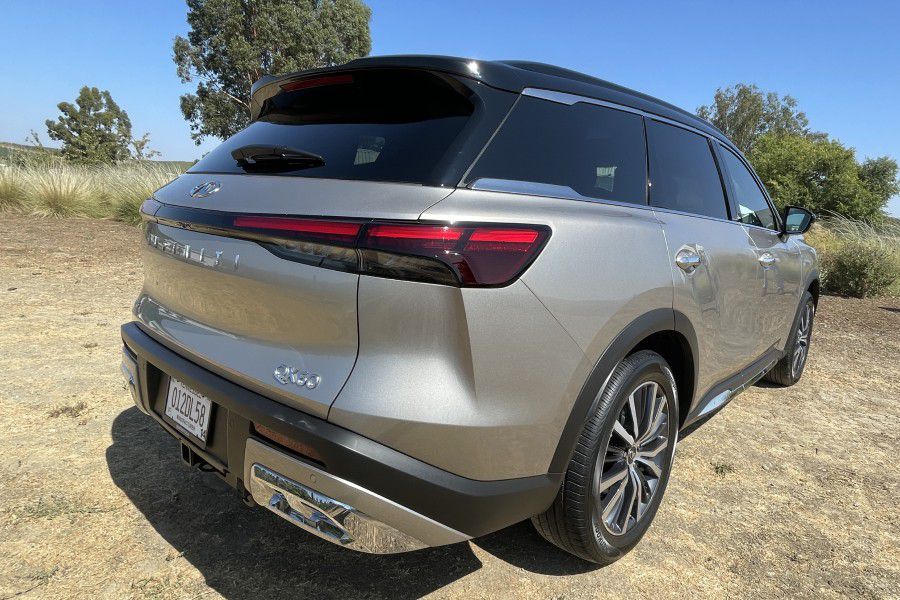 Photo by Nicole Wakelin
Final Thoughts
The Infiniti QX60 is a luxurious and beautiful SUV inside and out. It has a comfortable, roomy interior with ample space for cargo and the ability to tow larger items. It also has a powerful and responsive engine that smoothly moves the QX60 down the road. It delivers solid performance with the comfort and amenities of a luxury car.
There's also good standard safety with advanced driving assistance features that give a glimpse at autonomous driving technologies of the future. Its fully featured infotainment system has a large touchscreen and key connectivity along with enough USB ports to keep the whole family connected. A range of four trims lets you choose just how much luxury you want, with the top Autograph delivering an exceptional premium experience. The 2022 Infiniti QX60 is a luxury suv the whole family will enjoy.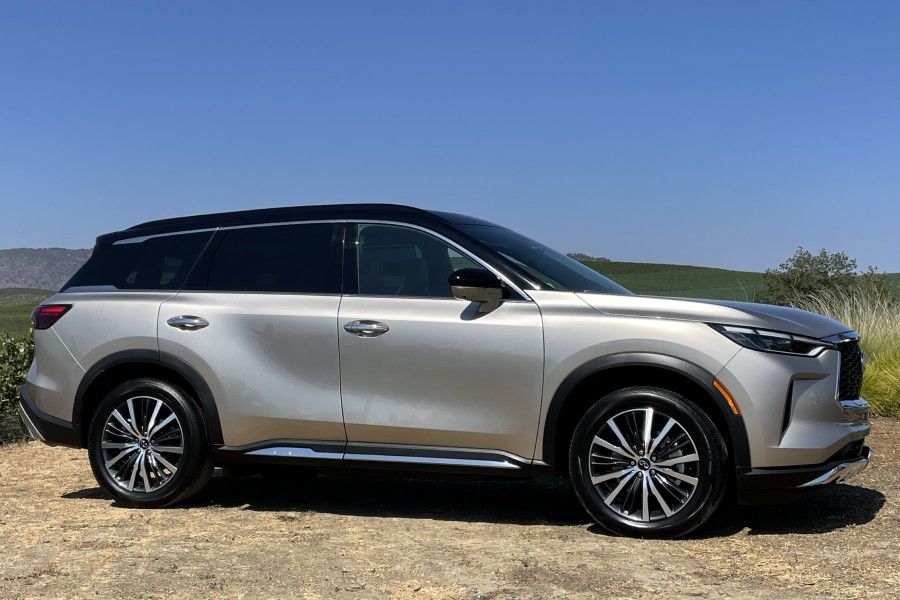 Photo by Nicole Wakelin