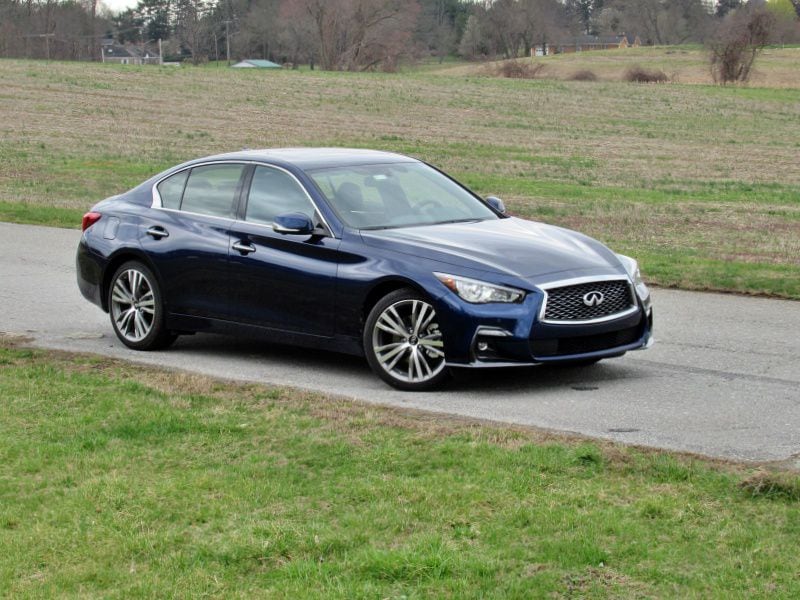 2022 Infiniti Q50 Sensory ・ Photo by Brady Holt
Audi versus BMW, Mercedes-Benz versus Lexus — these are matchups of firmly established luxury marques. But when you want a luxury experience with a lower price tag, you'll find that a less prestigious premium brand might have a lot to offer. 
Two such examples are Acura and Infiniti. These Japanese brands (the luxury divisions of Honda and Nissan, respectively) haven't resonated with customers to the same extent as their Lexus countrymate. That means you get a compelling bargain if you're looking at a compact luxury sedan like the 2022 Acura TLX or 2022 Infiniti Q50. For this review, we've tested both the TLX and the Q50 to compare them in eight categories and then name an overall winner. Keep reading to learn which one we chose and see which one sounds like the better smartly priced luxury sedan for you.
Pricing and Features
With a base price of $38,500 versus the Q50's $42,100, the TLX has instant appeal to price-conscious buyers. However, the difference stems largely from the Infiniti's extra standard equipment. Its base Luxe model is equipped similarly to the $42,500 TLX Technology model, while also throwing in a higher-end stereo, a power-adjustable steering column, and a standard V6 engine instead of a four-cylinder (though it loses the Acura's GPS navigation system). 
Other TLX trim levels include the sport-themed A-Spec ($45,250), fully loaded Advance ($49,500), and V6-powered A-Spec ($53,300). The rest of the Q50 lineup comprises the fully optioned Sensory ($47,800) and the Red Sport 400 ($55,950), which upgrades from a 300-horsepower V6 to a 400-horsepower one. All-wheel drive costs about $2,000 extra on all Q50 models and the TLX's base, Advance, and A-Spec trims (the TLX Advance and A-Spec have standard AWD). Overall, the Q50 and TLX are similarly priced when comparably equipped, but the TLX has a broader model range with a lower-cost base model plus more optional high-end features like rain-sensing windshield wipers, heated rear seats, a head-up display, and a wireless smartphone charger.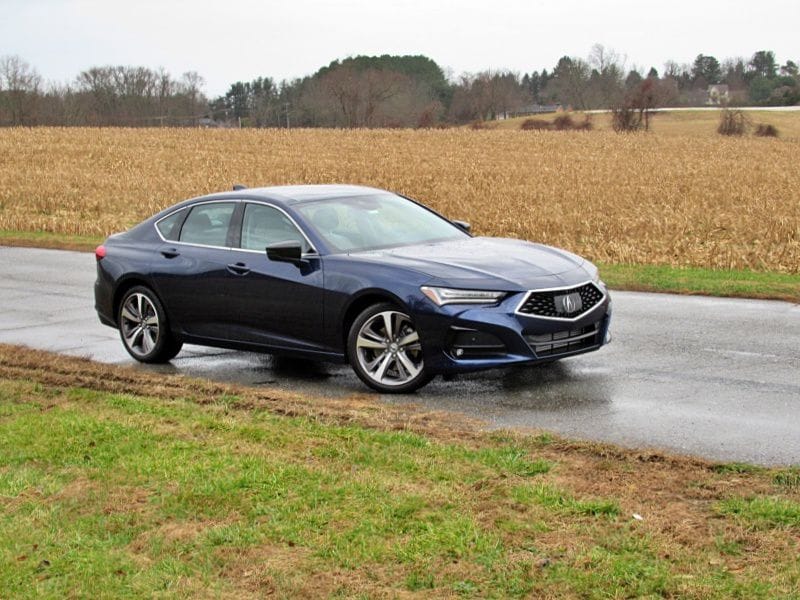 Photo by Brady Holt
Exterior Design
When it redesigned the TLX for 2021, Acura made the sedan look both sportier and classier, an impressive achievement. The old TLX was a rather ordinary-looking sedan retrofitted with an aggressive face, and the new model is lower and wider for a more assertive stance. It's a more cohesive design than before, and its well-chosen proportions give it presence without needing over-the-top design cues. 
The Q50 hasn't been redesigned since its introduction way back in 2014. To some eyes, that gives it a timeless classiness; to others, it's getting stale. It's taller and narrower than the TLX, and it has a lower beltline with bigger windows, resulting in a more upright look than the lower-slung Acura. It has fewer hard edges and more chrome. But to be clear, this is still a sports sedan, not a car styled only as a luxury cruiser. The Q50's slim headlights sit astride an upright mesh grille that dips to the ground, lending the vehicle a sense of assertive presence. We'll let you choose between the flashier TLX and the subtler Q50. 
Tie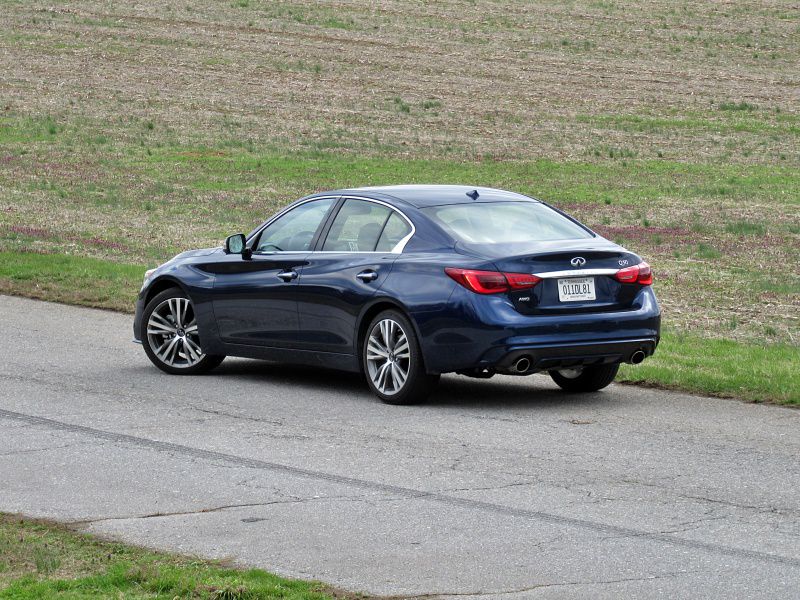 Photo by Brady Holt
Interior Design
Inside, the Q50's age is even more apparent. It's simple without being minimalistic; the vertically oriented instrument panel simply sticks with design standards from a decade ago. Infiniti provides two touchscreens that sit on top of each other (one measuring 8 inches and one measuring 7 inches), providing plenty of screen real estate but no flash. It's user-friendly, with simple buttons and knobs. And many Q50 interior materials are rich, though others aren't. Overall, you don't feel like you're in a cheap car, but you don't feel like you're in a current-model luxury sedan either.
In the TLX, the experience is obviously more modern and arguably higher-end. A large driving-mode selector above a push-button shifter dominates the aggressively high-tech instrument panel. A 10.2-inch infotainment display is standard, perched atop the dashboard. Acura softens the cabin ambiance nicely with rich wood and leather trims, so it doesn't feel cold and sterile. Our only serious complaint is that the infotainment system uses a touchpad controller with no touchscreen capability: We've found ourselves needing to take our eyes off the road to operate it. Otherwise, the TLX wins this round.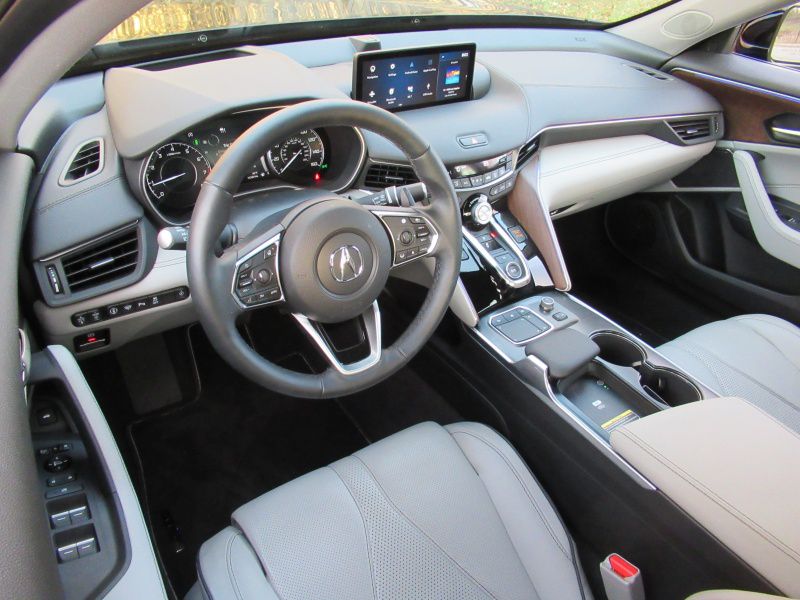 Photo by Brady Holt
Passenger Accommodations
The TLX is a longer and wider car than the Q50. You feel that difference in the front seats, where the driver and passenger are nestled into their own cocoons across a wide, high center console. We also found the Acura's front seats more supportive than the Infiniti's, even with our test vehicle's "sport seats." 
However, Acura doesn't use its extra size for a big backseat. We felt cramped in the back of the TLX, having to splay our legs to avoid being jammed against the front seatback. The Q50's backseat isn't massive, either, but it's more adult-friendly. Both sedans have 13.5 cubic feet of trunk space. Your winner in this category depends on whether you'll be carrying anyone tall in the backseat. 
Tie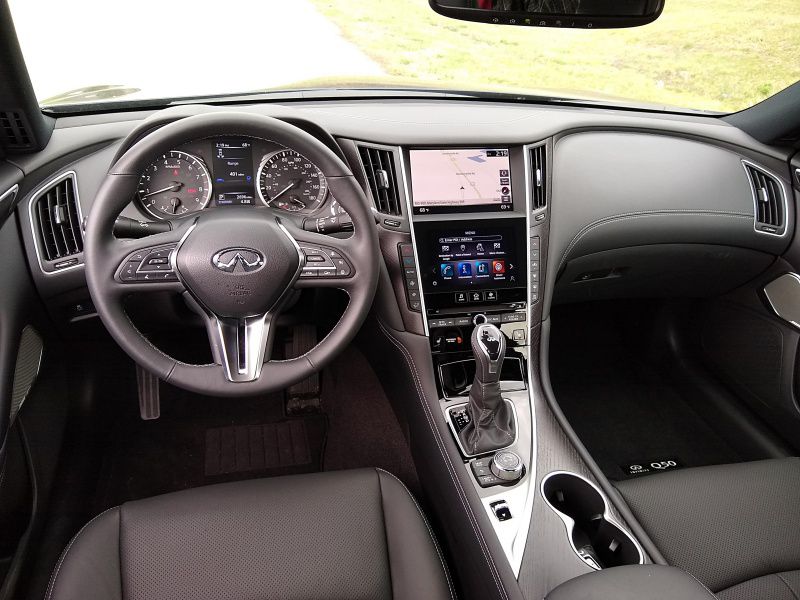 Photo by Brady Holt
Ride and Handling
The Q50 is a rear-wheel-drive compact sports sedan (with optional all-wheel drive), which gives the Infiniti more performance credibility than the front-wheel-drive-based TLX (which also has AWD as an option). But we preferred the Acura's ride and handling. 
The TLX's selectable driving modes include three levels of steering weight that, impressively, all feel natural and nicely connected to the wheels. That gives it a greater sense of precision than we felt in the Q50. Acura is rightfully proud of the TLX's "super handling all-wheel drive" system, which quickly distributes torque to different wheels to help pull you around corners. And the max-performance TLX Type S includes more handling upgrades than the Q50 Red Sport 400, which focuses on straight-line speed — a topic we'll get to in a moment. The Infiniti handles with capable composure, and we wouldn't call the Acura the world's best-handling sports sedan, but our pick is the TLX.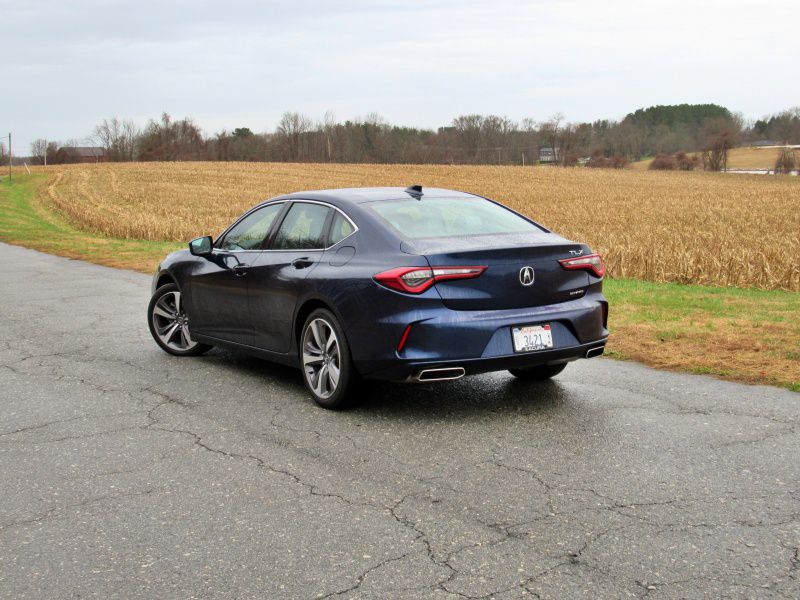 Photo by Brady Holt
Acceleration
The TLX's base engine is a 2.0-liter turbocharged four-cylinder that produces 272 horsepower and 280 lb-ft of torque. That's enough for lively acceleration, and the engine sounds nice for a four-cylinder. But the Q50 is quicker. 
The Infiniti comes standard with a turbocharged 3.0-liter V6 with 300 hp and 295 lb-ft of torque. And it reaches 60 mph roughly a second quicker than the base TLX, needing barely 5 seconds — competitive with the TLX Type S, whose 3.0-liter V6 turbo makes a mightier-sounding 355 hp and 354 lb-ft of torque. And the Q50 Red Sport 400 is quicker still, having elevated the Q50's base engine to 400 hp and 350 lb-ft of torque; it hits 60 mph in less than 5 seconds. We also appreciated the rich sound of the Q50's standard six-cylinder engine. The TLX is hardly a slow sedan, but the Q50 is faster.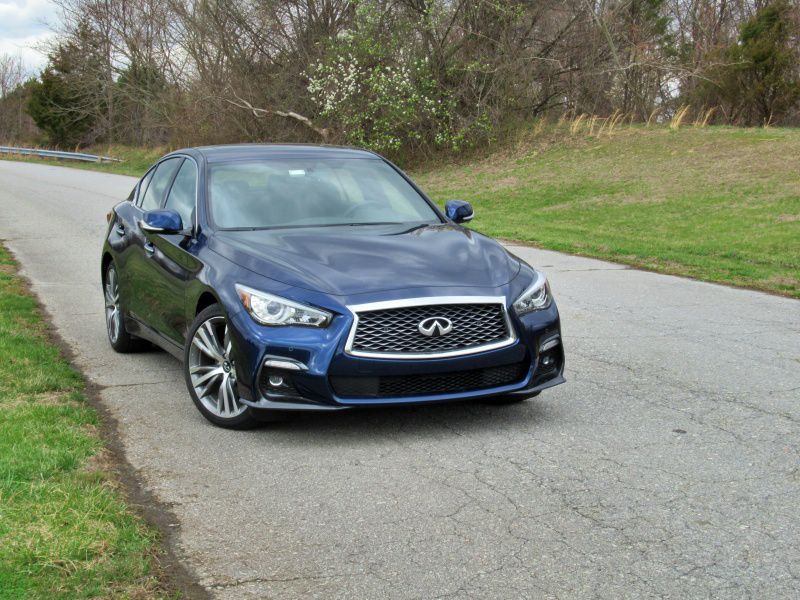 Photo by Brady Holt
Final Thoughts
With greater speed often comes greater fuel consumption, and while Infiniti keeps things closer than you might expect, the Q50 is no exception. The 300-hp version gets an EPA-estimated 20 mpg in the city, 29 mpg on the highway, and 23 mpg combined with rear-wheel drive, and about 1 mpg less with all-wheel drive. Our 300-hp AWD test vehicle averaged 25 mpg, comfortably beating the EPA's 22 mpg estimate. 
The most economical front-drive four-cylinder TLX has EPA estimates of 22 mpg city, 31 mpg highway, and 25 mpg combined. AWD cuts those figures by about 1 mpg. Our four-cylinder AWD test vehicle only matched that EPA estimate to average 24 mpg, though we'll caution that our anecdotal results aren't scientific like the EPA's. The V6-powered Type S — sold only with AWD — manages 19 mpg city, 24 mpg highway, and 21 mpg combined in EPA testing, trailing the Q50 Red Sport 400's ratings of 19 mpg city, 26 mpg highway, and 22 mpg combined. But we'll award this category to the TLX for its superior EPA estimates on its more common version.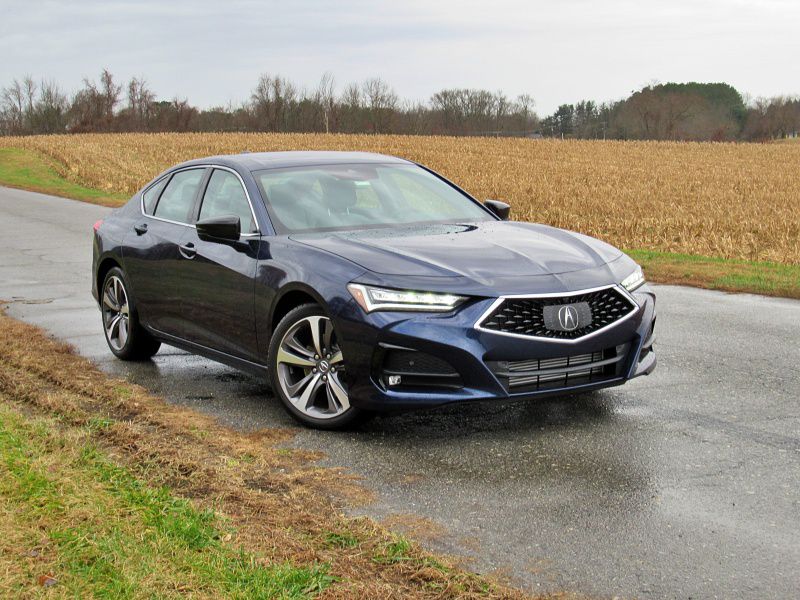 Photo by Brady Holt
Safety
The TLX earned the highest possible scores of Top Safety Pick+ from the Insurance Institute for Highway Safety and five out of five stars in all tests from the National Highway Traffic Safety Administration. It also comes packed with standard safety and driver-assistance features, including forward automatic emergency braking with pedestrian detection, a lane-departure warning, and lane-keeping steering assistance. Optional upgrades include blind-spot monitoring, a head-up display, and a surround-view parking camera. 
The Q50 has also done well in crash tests, but it's less superlative than the TLX. Its headlights scored Marginal in evaluations by the IIHS, but it was Good for its frontal and side impacts and for its automatic emergency braking system. The 2022 model hasn't been tested by the National Highway Traffic Safety Administration, but even the 2014 Q50 earned five out of five stars. The Q50's safety features are all standard equipment on even the base model, including blind-spot monitoring, a surround-view camera, and rear automatic braking. But you can't get it with a head-up display or pedestrian-detection capabilities. And the TLX includes most of the same safety features as a similarly priced Q50.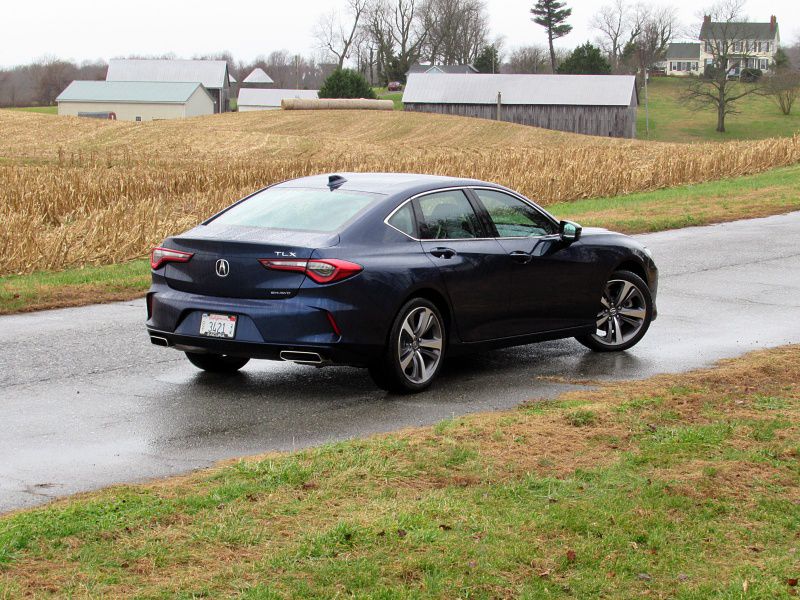 Photo by Brady Holt
Final Thoughts
The Infiniti Q50 has aged gracefully, especially if you're a fan of its stylistic restraint. It brings a big engine and lots of standard features at reasonable prices, and it's roomier than many competing compact luxury sedans. If you're interested in a posher alternative to a family sedan, or a classy and relatively affordable path to lots of horsepower, the Q50 has a lot of appeal.
On the other hand, the Acura TLX is less expensive, more beautifully finished, sharper to drive, and less expensive to refuel. You might wish it were roomier, even quicker, and even more economical. And while the Acura's interior is flashier than the Infiniti's, we wish more of the TLX's controls were as simple as the Q50's. But overall, the TLX is the more complete luxury sedan unless you're attached to six cylinders or carrying adults in the backseat.
Acura TLX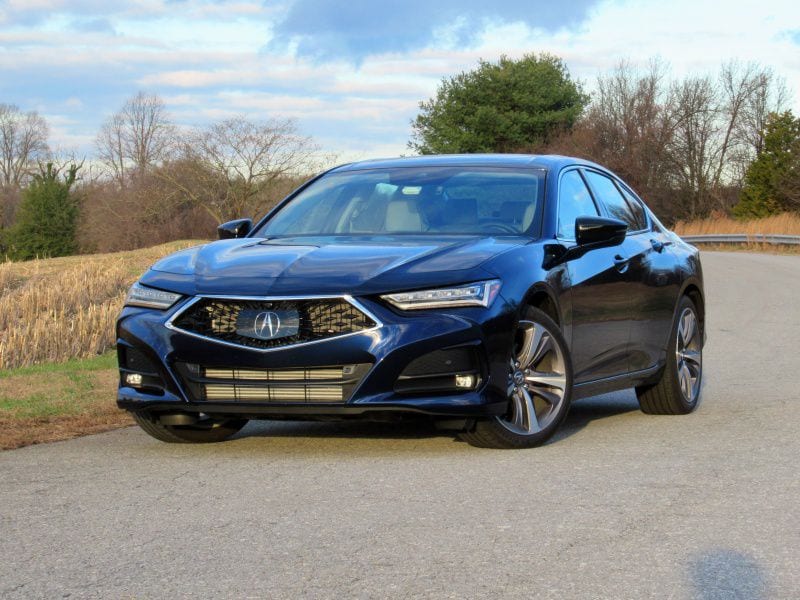 Photo by Brady Holt