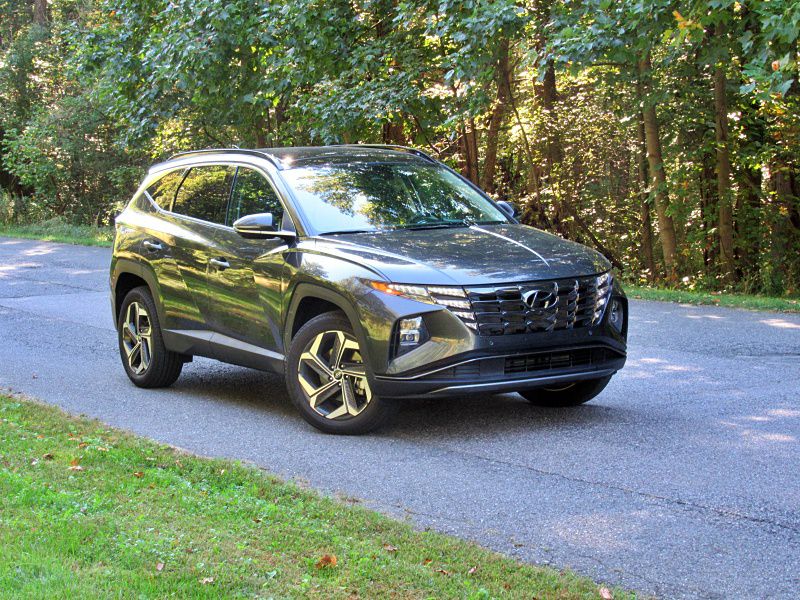 2022 Hyundai Tucson Limited ・ Photo by Brady Holt
Hyundai is a well-known name for folks seeking a bargain. The South Korean carmaker built its reputation on providing lots of features at a reasonable price, and it has steadily upped its styling and engineering as well. But sometimes, even better deals can lurk elsewhere. 
Take the 2021 Mazda CX-5. This compact crossover is similarly priced to the competing 2022 Hyundai Tucson, but it has even more standard features. It also lives up to Mazda's reputation for performance. Yet the Tucson is newly redesigned for 2022, and the new model also moves well beyond mere affordability. But which one is best? We tested both the CX-5 and Tucson for this review so we could compare them across eight categories and then name an overall winner. Keep reading to learn more about these two compelling values.
Pricing and Features
Looking purely at their base prices, the Tucson is slightly less expensive than the CX-5 — $24,950 versus $25,370. But Mazda brings a lot of extras for that additional $420: adaptive cruise control, blind-spot monitoring, rain-sensing wipers, a leather-wrapped steering wheel, push-button engine starting, and a plus-sized 10.25-inch infotainment screen. All of those features are available on the Tucson, too, just at higher prices. 
Moving up to higher-end features, the CX-5 introduces leatherette upholstery at $27,110 and genuine leather at $30,560, while the Tucson's cheapest upgrade from cloth is a $30,700 leather-trimmed model. Hyundai has a couple of exclusive options, including a wireless smartphone charger, a panoramic sunroof instead of a standard-size one, and a "smart park" feature that lets you drive your vehicle a few feet using the keyfob as a remote control. It's also cheaper to get the Tucson with ventilated front seats, heated rear seats, or a surround-view parking camera. And Hyundai provides three years of free scheduled maintenance and a longer warranty. But we think many buyers will find the Mazda to be the more attractive overall value. 
Mazda CX-5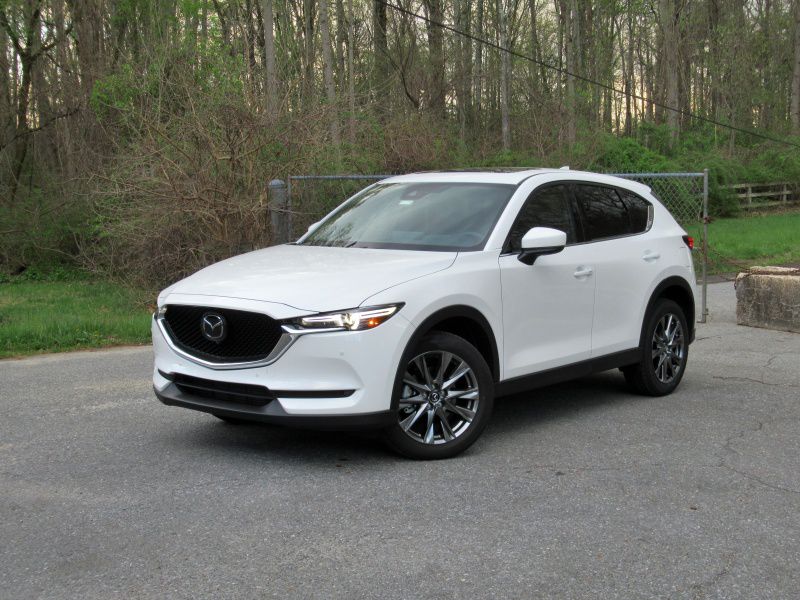 Photo by Brady Holt
Exterior Design
Mazda has established itself as a design leader, and although the current-generation CX-5 dates to 2017, its looks remain a selling point. It hunches forward aggressively, with a sloping rear windshield and a small rear overhang. It has slim headlights and taillights, and a bold grille. Yet it's also a clean design, not overly decorated with busy details — a timeless look that's neither in-your-face contemporary nor at risk of aging poorly. Every CX-5 has alloy wheels: 17 inches on the most popular trim levels and 19 inches on pricier models. 
The Tucson is a more modern design. The latest Hyundai models have featured sharply angled exteriors with lots of creases running in different directions. To us, the 2022 Tucson is an especially successful iteration of that design theme. Unlike on a sedan, the Tucson lets these designs double as squared-off fender bulges for an aggressive SUV look. Part of each headlight hides within the grille, and a lightbar and twin spikes decorate the taillights. The rear wiper hides up by the roof under the spoiler for a smoother rear end. And all but the base model ride on 19-inch alloy wheels. We won't choose for you between the more exuberant Tucson and the more restrained CX-5. 
Tie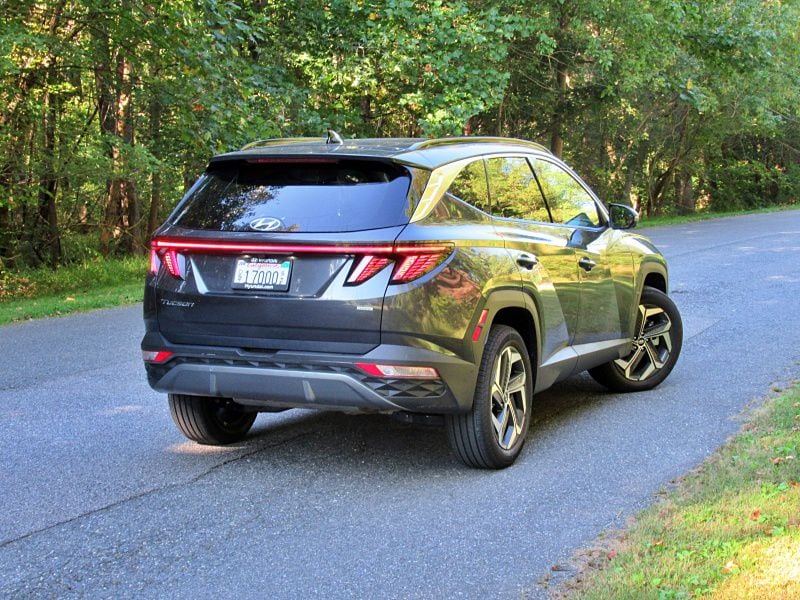 Photo by Brady Holt
Interior Design
Mazda styled the CX-5's interior boldly back in 2017. It simplified the dashboard by moving the audio controls to the console between the front seats, providing an elegant minimalism. It's paired with excellent cabin materials for a mainstream compact crossover. Mazda just complemented the experience this year by replacing a tiny 7-inch infotainment screen with a 10.25-inch unit. It's not a touchscreen; you have to navigate the system using the console's buttons, which isn't ideal. Mazda also could have made better use of the space. Still, this is a classy interior that has aged well. 
The Tucson's interior is more sleekly contemporary. Its instrument panel is a flat plane of glossy black trim, which smoothly incorporates a flush-mounted touchscreen — 8 inches standard with an available upgrade to a 10.25-inch unit. But it's difficult to spot the right button on the glossy plane, and models with the 10.25-inch screen ditch physical buttons and knobs entirely in favor of extra-fussy touch-sensitive controls. With neither interior being a winner for ergonomics, the Mazda's richer materials break the tie for us. But you can also choose your own preferred aesthetic. 
Mazda CX-5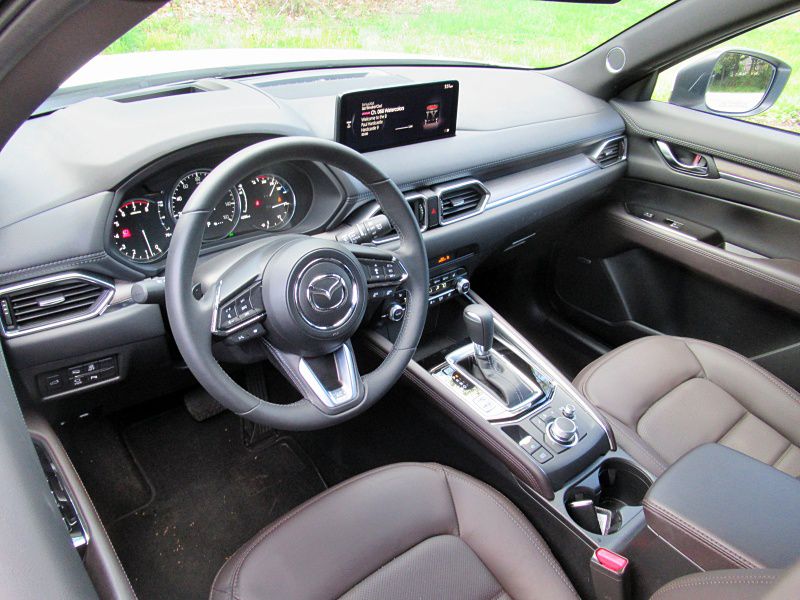 Photo by Brady Holt
Interior Comfort
Until this year, the CX-5 and Tucson were two of the smaller compact crossovers on the market. A gulf has now opened up between them — in the Hyundai's favor. The Tucson has gotten longer and wider, which means more room to spread out in both the front and rear seats. And as we mentioned, it's also cheaper to equip the Tucson with comfort features like ventilated front seats and heated rear seats. 
The Mazda's front seats feel cozier and more intimate than the airier Hyundai's. Some people might prefer that. But no one would pick the Mazda's backseat. Adults can fit there, but legroom is pinched unless the front seats are well forward.
Hyundai Tucson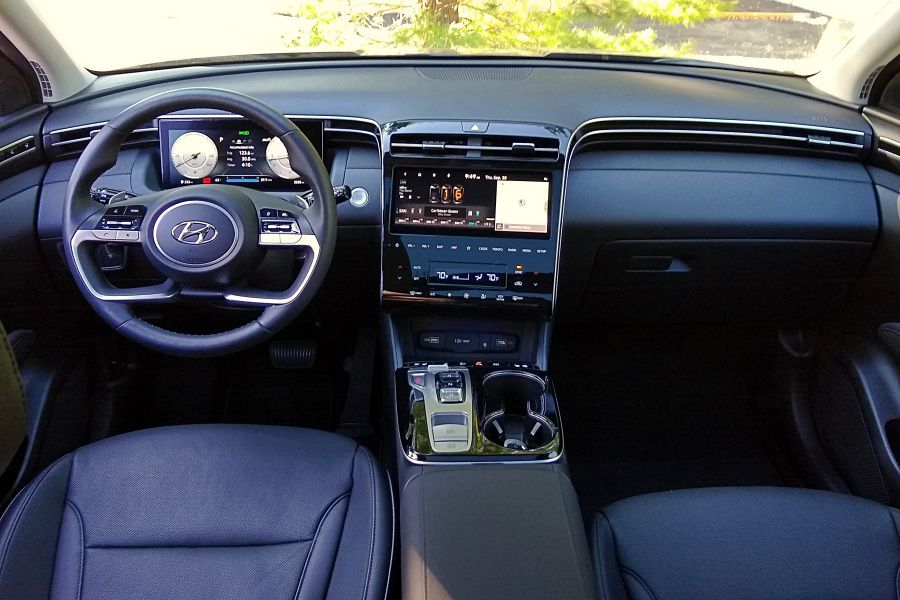 Photo by Brady Holt
Cargo and Utility
The Tucson has become a class leader for cargo capacity, holding an outstanding 38.7 cubic feet of cargo space behind its rear seat and 74.8 cubic feet with the rear seat folded down. That's better than some mid-size SUVs. An adjustable-height cargo floor lets you either maximize space or create a level surface with the folded seatbacks. 
The CX-5 fits 30.9 cubic feet behind the rear seat and 59.6 cubic feet with the rear seat folded. That's not tiny, but it's among the smallest cargo holds in its segment. You'll feel the difference when you're trying to squeeze in a bulky piece of furniture or the whole family's camping gear. Both SUVs can tow up to 2,000 pounds, which is good for a compact crossover, but the Tucson is the easy winner when you're carrying stuff inside. 
Hyundai Tucson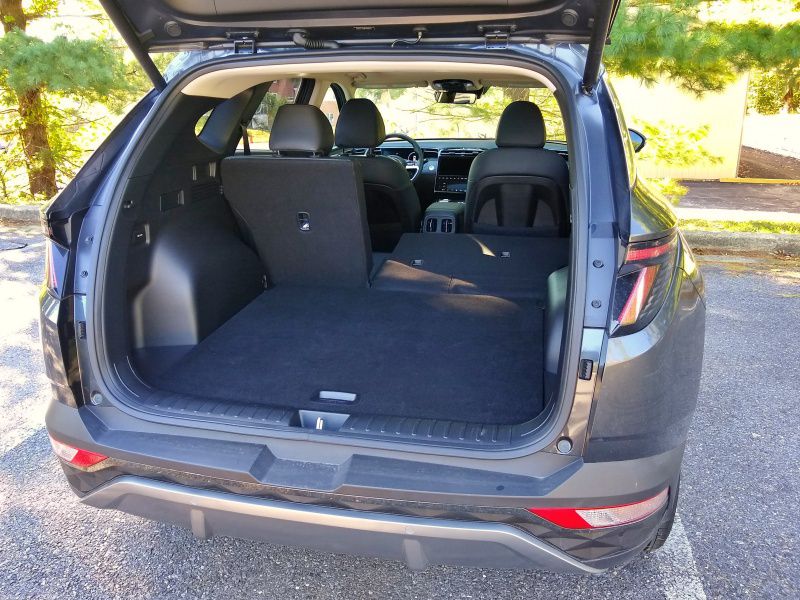 Photo by Brady Holt
Driving Impressions
The 2022 Tucson offers a sharper driving experience than before. Its standard engine is a 187-horsepower 2.5-liter four-cylinder, up from last year's base 161-horsepower 2.0-liter and even the uplevel 181-hp 2.4-liter. And you can upgrade to a 226-horsepower gas-electric hybrid model for only about $1,000 extra on select trim levels. The Tucson also offers engaging handling along with a pretty smooth ride — better than many compact crossovers. 
But it's not better than the CX-5. This Mazda supplies the sportiest steering and handling of any mainstream-brand compact SUV, offering an experience comparable to some luxury-brand models. It's not as sharp as a great-driving sedan, but it does better than the Hyundai. What's more, while even the CX-5's base 186-hp 2.5-liter four-cylinder engine feels livelier and sounds quieter than the Tucson's, Mazda lets you go even faster. Top-trim CX-5s are turbocharged to 250 hp and an incredible 320 lb-ft of torque on premium fuel. (You can use regular fuel instead of premium to still get 227 hp and 310 lb-ft.) Some people might prefer the ease of the Tucson's lighter steering, but the CX-5 is quicker and more agile while still supplying a firm though comfortable ride.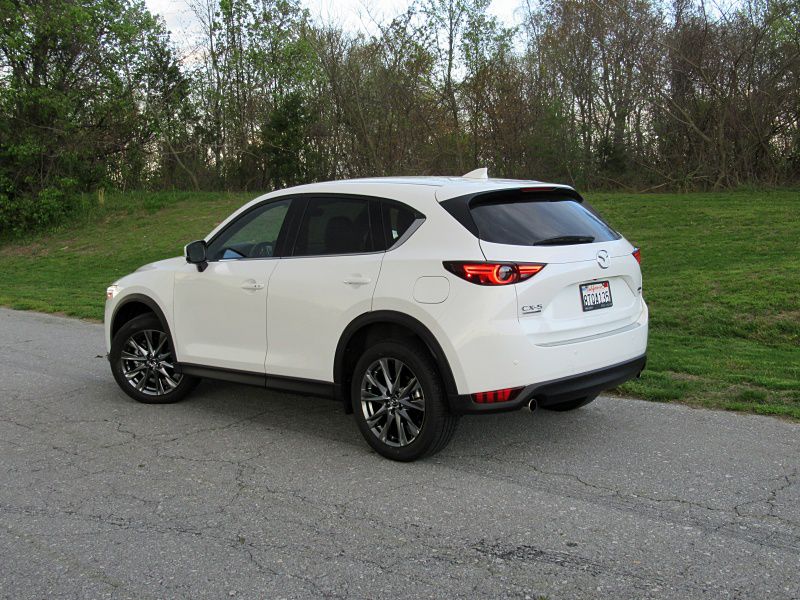 Photo by Brady Holt
Fuel Economy
Though it improved over the previous generation, the base Tucson isn't an especially efficient crossover. With front-wheel drive, it gets an EPA-estimated 26 mpg in the city, 33 mpg on the highway, and 29 mpg on the highway. And all-wheel drive cuts those figures to 24 mpg city, 29 mpg highway, and 26 mpg combined. The aging CX-5 provides similar ratings of 25 mpg city, 31 mpg highway, 28 mpg combined with front-wheel drive and 24 mpg city, 30 mpg highway, and 26 mpg combined with all-wheel drive.
The bigger difference is the Tucson Hybrid. It's not the most economical hybrid you can buy, but it already trounces any non-hybrid competitor despite its extra boost of power. It gets an estimated 38 mpg in the city and on the highway with front-wheel drive and about 1 mpg less with all-wheel drive. Mazda briefly offered a diesel CX-5 as its own fuel-saving option, but it was expensive and didn't deliver great mileage. And the upper-trim CX-5 turbo gets 25 mpg with front-wheel drive and 24 mpg with all-wheel drive.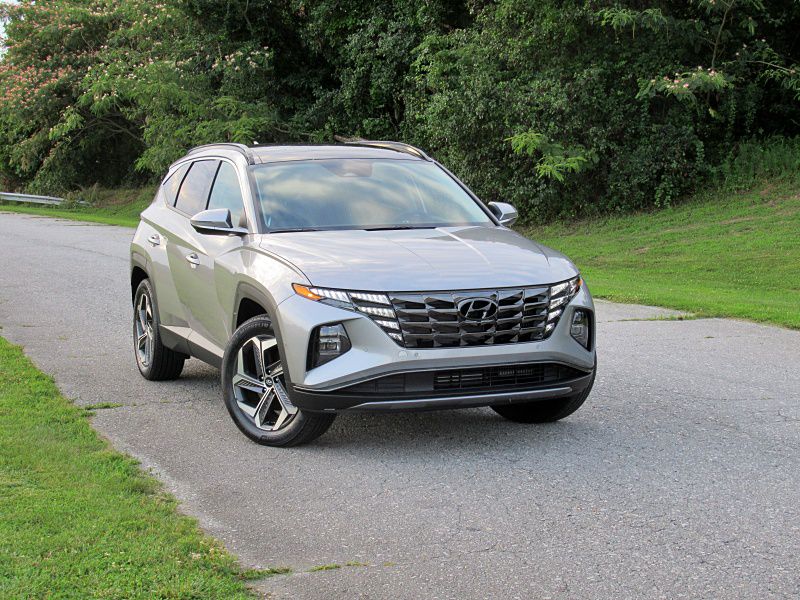 Photo by Brady Holt
Safety
Both the CX-5 and Tucson are safety standouts. They earned the highest possible rating of Top Safety Pick+ from the Insurance Institute for Highway Safety, and they're both packed with safety features. Still, a couple of factors give the Mazda the edge. 
First, the CX-5 has a few more standard safety and driver-assistance features that cost extra on the Tucson: blind-spot monitoring, a rear cross-traffic alert, and adaptive cruise control. Secondly, while the National Highway Traffic Safety Administration hasn't yet tested the new Tucson, the CX-5 earned a top five-star score. The Tucson is available with a nifty blind-spot camera mirror on its top trim level, but only the CX-5 offers a head-up display.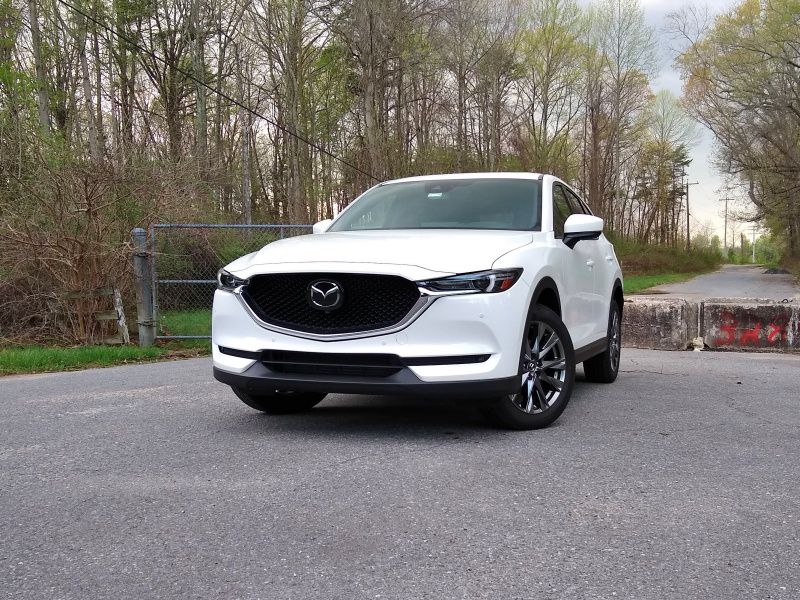 Photo by Brady Holt
Final Thoughts
For many crossover buyers, the CX-5 will be a revelation — an upscale, fun-to-drive vehicle that costs less than many ordinary competitors. While its infotainment could be better and its gas mileage has room to improve, these are relatively minor issues compared with the Mazda's many strengths. 
But we think the more functional Tucson is the better choice for more people. It's much roomier, yet it's no less economical and not even so much less fun to drive. Its value advantage will grow next year, too; Mazda is eliminating the cheaper, more economical front-wheel-drive option from the 2022 CX-5 lineup. We're also particular fans of the new Tucson Hybrid, since it's quicker and quieter than the gas-only Tucson in addition to using much less fuel, though its limited model lineup might not have the perfect combination of features for you. Overall, especially if you'll stick to the base infotainment screen, this is a budget crossover that goes far beyond the bare minimum and avoids major flaws.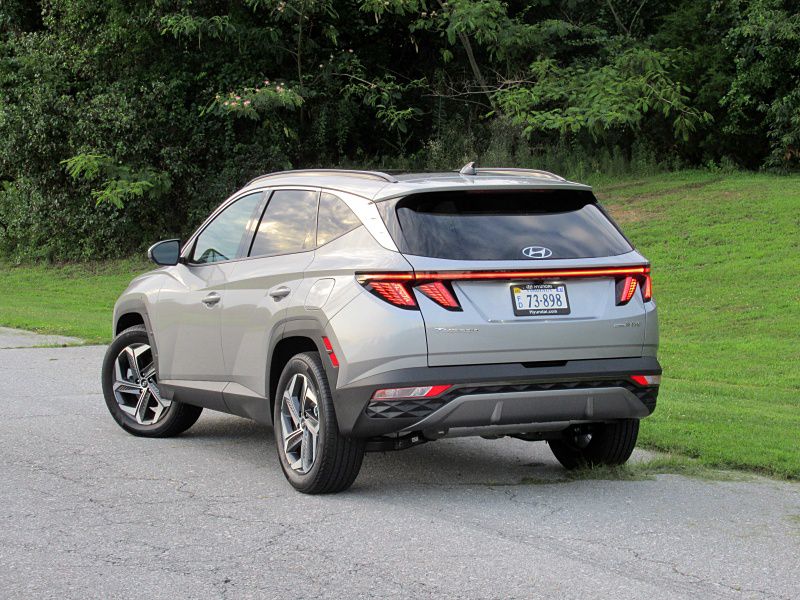 Photo by Brady Holt