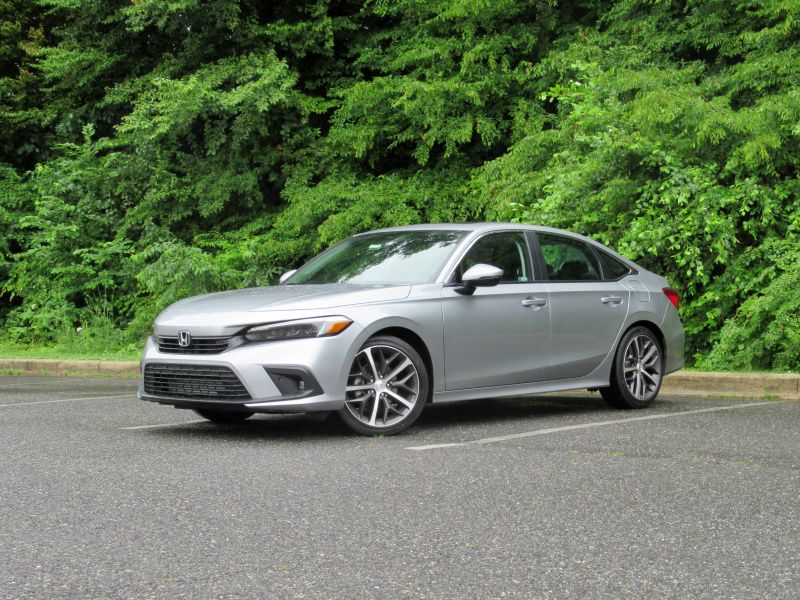 2022 Honda Civic Touring ・ Photo by Brady Holt
There are two types of compact sedan. One is small so that it can cost less, and affordability touches every aspect of the vehicle: lower-grade interior materials, a less sophisticated suspension, and fewer features. The other is a great car that just happens to be small. 
Today, we have two examples of the latter: the newly redesigned 2022 Honda Civic and the 2021 Mazda3. These aren't the cheapest compact sedans you can find, but they're luxuriously finished, opulently equipped, and fantastic to drive. We tested both cars so that we could compare them across eight categories and choose an overall winner. Keep reading to learn which one we picked and which is the better choice for you. 
Pricing and Features
The 2021 Mazda3 starts at $20,650 despite a long list of high-end features, including push-button starting, an eight-speaker sound system, adaptive cruise control, alloy wheels, and rain-sensing windshield wipers. A bigger engine and upgraded infotainment system cost just $1,000 more, while the Select model introduces leatherette upholstery along with blind-spot monitoring and automatic climate control at just $22,850. You get a moonroof, power driver's seat, and heated front seats on the Preferred ($24,500) and genuine leather, a navigation system, and a 12-speaker stereo on the Premium ($27,000). A mighty turbocharged engine arrives at $30,050. 
The 2022 Honda Civic starts at $21,700 for the base LX trim level. While push-button starting, automatic climate control, and adaptive cruise control are welcome standard features, the Civic LX has just one USB port and plastic wheel covers. For blind-spot monitoring or even basics like a second USB port, split-folding rear seat, and rear center armrest, you need the $24,700 Civic EX. And the top $28,300 Touring model is the only way to get a power driver's seat, a rear cross-traffic alert (usually paired with blind-spot monitoring), and SiriusXM satellite radio. 
Mazda3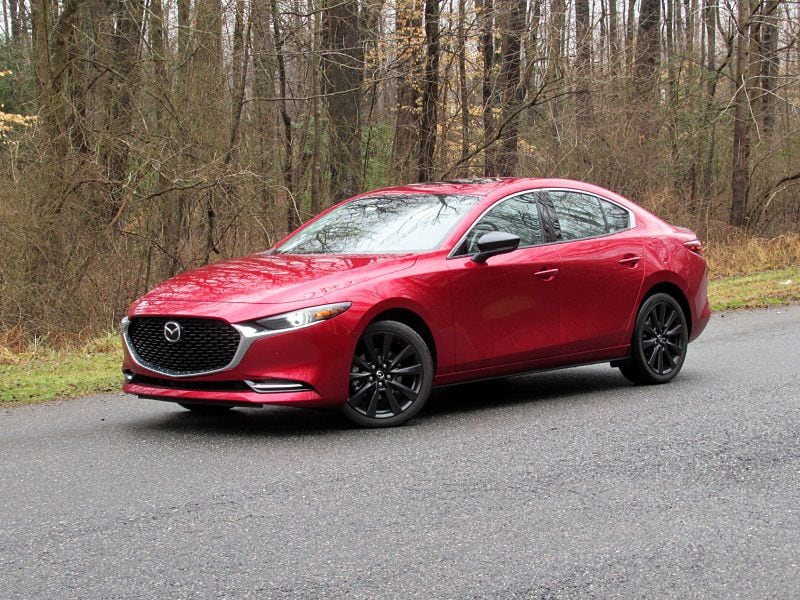 Photo by Brady Holt
Exterior Design
The Mazda3 wears an assertive design, with a low, aggressive front end with a long hood and slit-like headlights astride a big grille. Around the back, the Mazda3 sedan has crisp taillights and an upright trunk — a more serious and upscale look than the racy forward-leaning Mazda3 hatchback. It was last redesigned as a 2019 model.
The Civic is all-new for 2022, but it's more conservatively styled than the Mazda3. After a polarizing redesign back in 2016, Honda has dialed back all the Civic's wedges, angles, and bulges. Extra shapes are kept to a minimum; there are just slim headlights astride a slim grille, a conventionally sleek roofline, and big simple taillights. A kick in the windowline just past the back door gives some spice to the profile, but this is not a risk-taking design overall. A similarly subdued hatchback will join the lineup later this year. You can decide for yourself if you prefer the milder Civic or the bolder Mazda3. 
Tie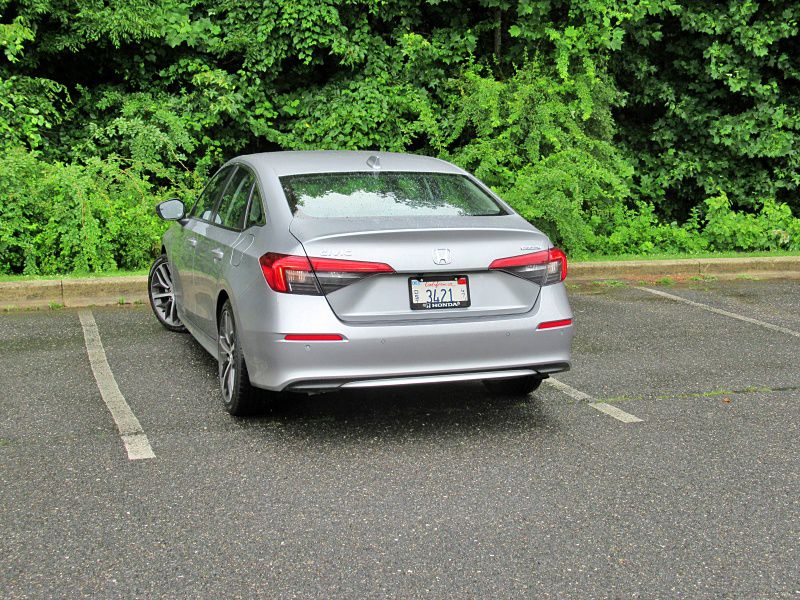 Photo by Brady Holt
Interior Design
Inside, Honda has returned to the Civic's roots of simple design, user-friendly ergonomics, and top-notch build quality. The dashboard is a straight horizontal line, decorated with a beautifully finished honeycomb that also houses the dashboard vents. An infotainment touchscreen perches on top (7 inches on most models, 9 inches on the tested Touring), and it's complemented with easy-to-use physical controls. 
The Mazda3's dashboard design also embraces minimalism. Mazda located the audio/infotainment controls located on the console between the front seats, reducing the number of buttons up on the dash. The Mazda3 comes standard with a big 8.8-inch infotainment screen. But the system doesn't include touchscreen inputs; the Mazda's controls have a steeper learning curve and are more distracting to use than the Honda's. Plus, unlike the Civic, Android Auto and Apple CarPlay smartphone integration are missing from the base Mazda3. Both interiors are classy and use top-notch materials, but we'll give Honda the nod for its superior ergonomics.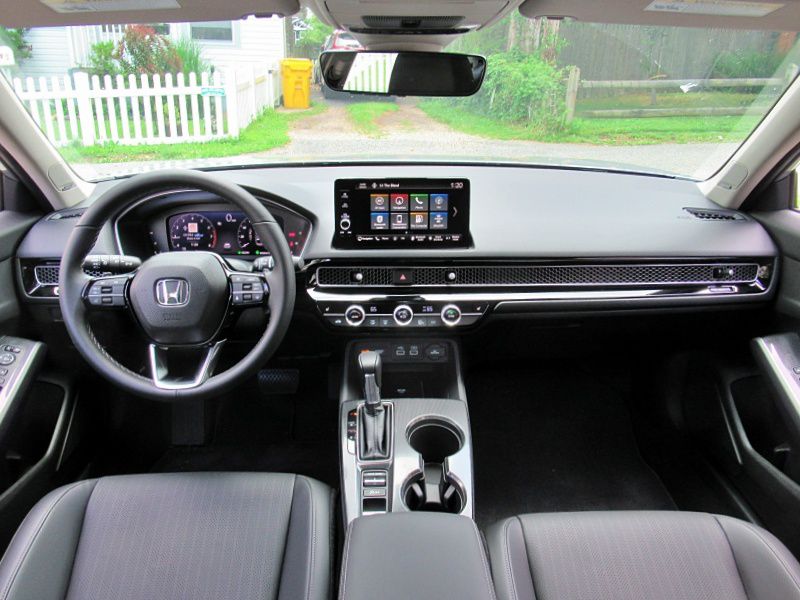 Photo by Brady Holt
Interior Comfort
Although the Civic and Mazda3 are roughly the same size, the Honda has a big advantage in the back seat. The Civic can seat four adults without breaking a sweat, thanks to generous rear legroom. The Civic sedan also has a generously sized 14.4-cubic-foot trunk. We loved its front seats as well, though some drivers will wish there was adjustable lumbar support. 
In the Mazda, the front seats offer plenty of room, and similar to the Honda's, they're a perfect balance between supportive and relaxing: They hug you gently so you won't slide around, but they don't confine you between massive bolsters. But unless the front seats are well forward, rear passengers in the Mazda will have their knees jammed into the front seatbacks. Trunk space trails the Civic's, too, at 13.2 cubic feet. (If you'll be shopping the hatchbacks, the Civic has a cargo advantage here as well.) While the Mazda3 is perfectly comfortable if you're not planning to pack in all your friends for a road trip, the Civic is the more functional choice.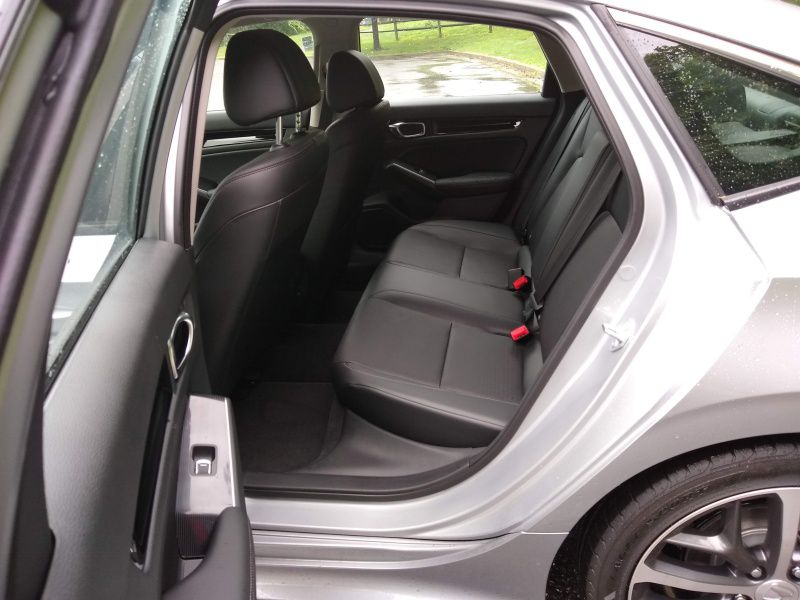 Photo by Brady Holt
Ride and Handling
The Mazda3 and Civic are the two best-driving economy cars on the market today. Neither is a razor-sharp performance vehicle, but they're expertly tuned with firm yet comfortable suspensions. They have a luxury-like tautness that avoids devolving into stiffness, making them fun to drive yet also comfortable and easy to drive. 
We'll award a narrow victory to the Mazda, though. First, it's slightly quieter on the highway, where the Civic suffers from a bit of extra road noise. And secondly, it's the only one with optional all-wheel drive, which helps the vehicle drive with confidence in snowy, muddy, or slippery conditions. But we'd happily spend the day behind the wheel of either of these excellent cars.
Mazda3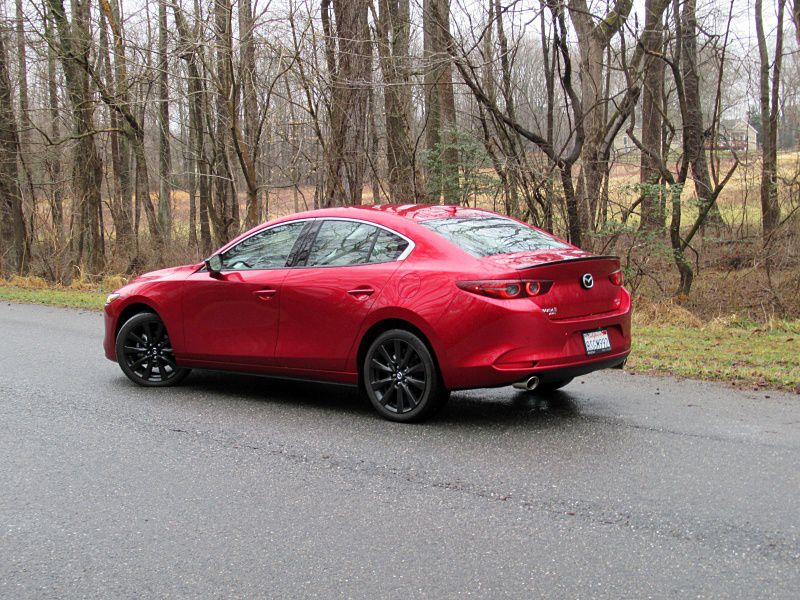 Photo by Brady Holt
Acceleration
Unless you choose the cheapest possible trim level of the Mazda3 sedan, you'll get a big engine. The base engine is a peppy 155-horsepower 2.0-liter four-cylinder, but most Mazda3 models use a 186-horsepower 2.5-liter four. It moves this little car with greater effortless authority. You can also upgrade to a rocketlike 2.5-liter turbo that makes 227 horsepower on regular-grade fuel and 250 horsepower on premium. No Mazda3 engine sounds luxury-car rich, but they all operate smoothly. Every Mazda3 sedan uses a six-speed automatic transmission; it's not a cutting-edge piece of engineering, but it shifts smoothly. The Mazda3 hatchback also offers a six-speed manual.  
The Civic's base engine is a 158-horsepower 2.0-liter, but unlike the Mazda3's case, this is the engine that powers the best-selling trim levels (LX and Sport). The EX and Touring have an eager, nice-sounding 180-horsepower 1.5-liter, but there's no Civic equivalent to the Mazda3 Turbo yet. Every Civic sedan uses a continuously variable automatic transmission, while the hatchback will offer a six-speed manual. While we have no fault with the Civic's engines, the Mazda3 provides more power in most circumstances. 
Mazda3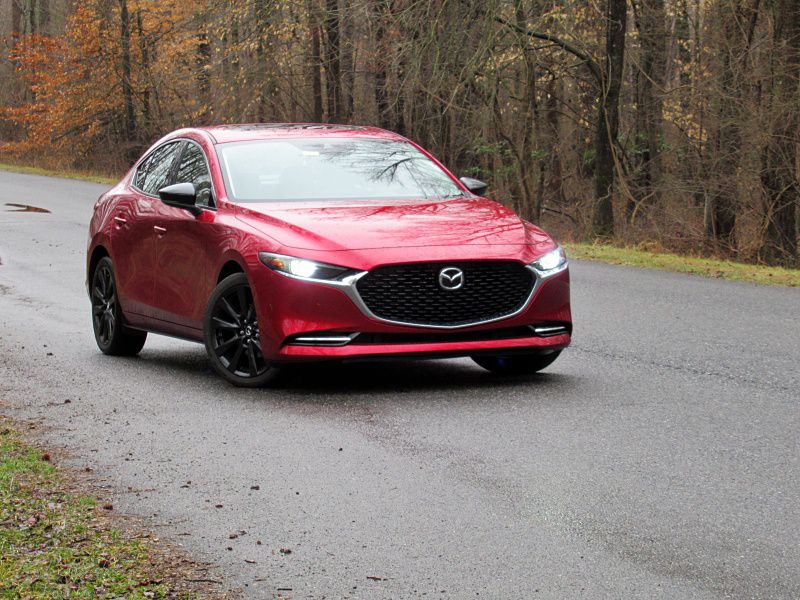 Photo by Brady Holt
Fuel Economy
At the gas pump, you'll feel the Mazda3's big-displacement engine and old-school six-speed automatic. The most typical powertrain (the 2.5-liter non-turbo) gets an EPA-estimated 26 mpg in the city, 35 mpg on the highway, and 30 mpg combined. The base 2.0-liter gets about 1 mpg better, while all-wheel drive cuts it to 25 mpg city, 33 mpg highway, and 28 mpg combined. The turbo engine, sold only with AWD, scores 23 mpg city, 32 mpg highway, and 27 mpg combined. These figures are worse than some mid-size sedans. We averaged 29 mpg in an AWD non-turbo Mazda3 and 26 mpg in a turbo. 
The Civic is much more economical. Its base 2.0-liter engine scores 31 mpg city, 40 mpg highway, and 35 mpg combined on the LX and about 2 mpg less on the Sport. The EX turbo does even better: 33 mpg city, 42 mpg highway, and 36 mpg combined. The Touring scores 31 mpg city, 38 mpg highway, and 34 mpg combined. Our Touring test vehicle averaged 38 mpg overall, widening its gap with the Mazda. 
Honda Civic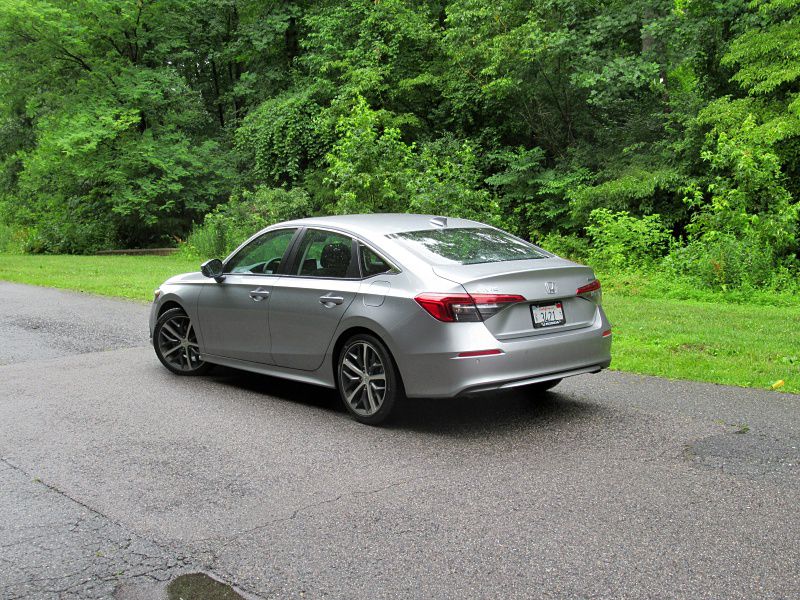 Photo by Brady Holt
Safety
The Mazda3 earned near-perfect crash-test scores, and its standard equipment includes automatic emergency braking with pedestrian detection, along with a lane-departure warning and automatic lane-keeping steering assistance. Blind-spot monitoring with a rear cross-traffic alert is included on most trim levels as well. 
The all-new Civic hasn't yet been crash-tested, but it comes with the same standard safety equipment plus bicyclist-detection capabilities. However, blind-spot monitoring is limited to the EX and Touring, and only the Touring has a rear cross-traffic alert. The Civic Touring also includes rear automatic braking, which is limited to the top $32,600 Mazda3 Turbo Premium Plus. But overall, Mazda wins this category.
Mazda3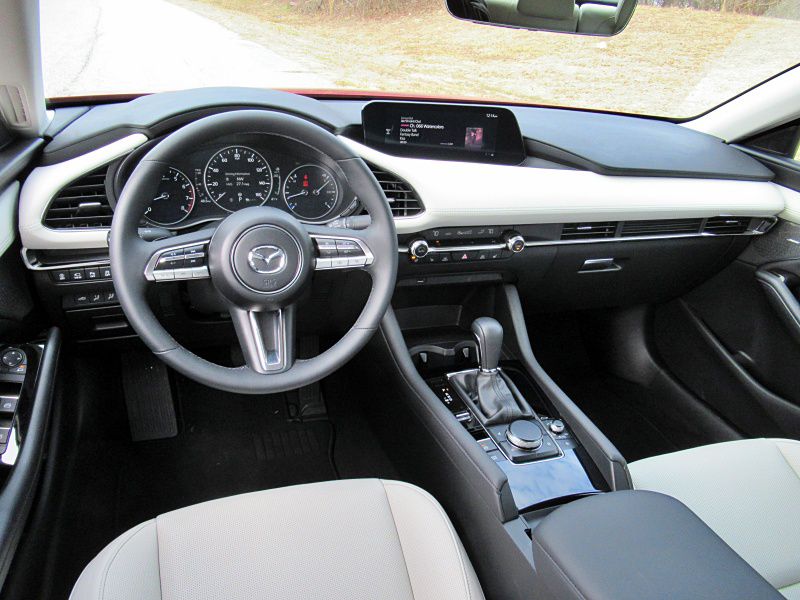 Photo by Brady Holt
Final Thoughts
We're privileged to have a choice between two economy cars that are as fine as the 2022 Honda Civic and the 2021 Mazda3. The redesigned Civic sports an upscale interior and superbly refined driving manners, joining the Mazda3 that had already excelled in these areas. 
But we're going to award the win to the Civic. Not only is it practically a budget-priced luxury sports sedan, but it's also an exceptional economy car, with a spacious interior, user-friendly controls, and great gas mileage. The Mazda3 is another excellent option, and its extra power and available all-wheel drive are tempting strengths. And it's less expensive than the Civic. But the Honda is a great car for a wider variety of buyers. 
Honda Civic
Photo by Brady Holt