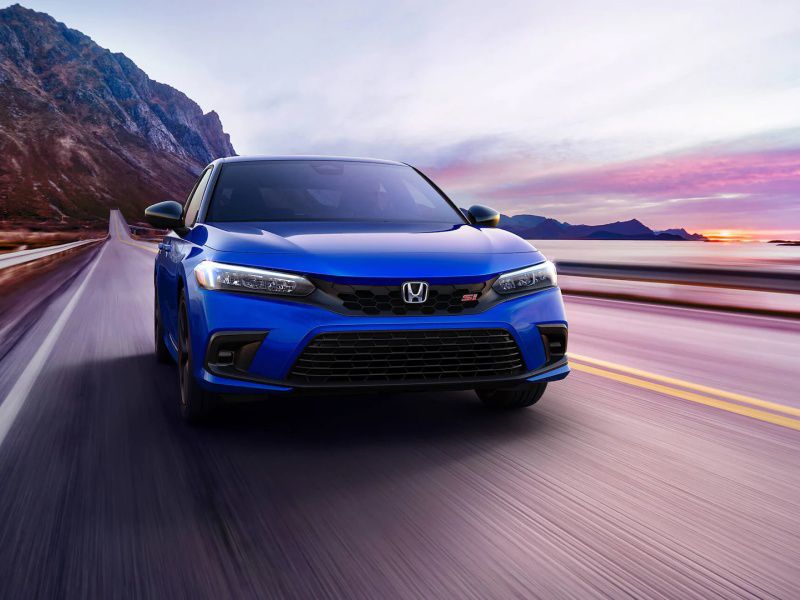 2022 Honda Civic Si ・ Photo by Honda
The Honda Civic sedan is a long-time favorite for those who want an affordable, reliable, compact sedan. It's available in a range of trims with a variety of engines to suit different buyers. That list of trims includes the performance-focused 2022 Honda Civic Si. It offers the most powerful engine of the lineup and a standard manual transmission, which is something that's becoming harder and harder to find.
The Civic Si combines that powertrain with eye-catching styling that makes it look like a sports sedan. That sporty feel extends to the interior where there are vibrant colors and supportive sports seats. Handling is crisp and controlled, and there's a good range of standard safety features along with a fully featured infotainment system. There's lots to like about the Civic Si, so let's take a closer look at the Honda Civic Si sedan to see if it's right for you.
Priced to Fit Modest Budgets
The Civic Si is a standalone trim of the Civic sedan with a price of $28,315. That includes a standard 1.5-liter turbocharged 4-cylinder engine paired to a 6-speed manual transmission. There's seating for five people with supportive front sport seats that have embossed Si logos on the headrests. Infotainment includes a 9-inch color touchscreen, wireless Apple CarPlay and Android Auto, and a 12-speaker Bose premium audio system. There's also a leather-wrapped steering wheel, sport pedals, and an aluminum and leather-wrapped shift knob.
A one-touch moonroof is also standard along with heated side mirrors, dual chrome exhaust finishers, and a Gloss Black decklid spoiler. You can also choose from either normal, sport, or individual drive modes that let you tailor the drive to your preferences. It's a long list of standard features for the price making the 2022 Honda Civic Si a solid value for performance enthusiasts.
Photo by Honda
A Peppy Turbocharged Engine
Power for the 2022 Honda Civic Si comes from a 1.5-liter turbocharged 4-cylinder engine. It delivers 200 horsepower with 192 lb-ft of torque. This is paired to a six-speed manual transmission, a rarity in today's cars. This is the only powertrain option so if you don't know how to drive a manual you're out of luck. Considering how much fun it is to drive the Civic Si, we strongly recommend you take the opportunity to learn so you don't miss out.
Although not a monstrous horsepower figure, this sedan has plenty of pep. Hit the gas and it effortlessly gets up to highway speeds. There's still power aplenty for highway passing, too. The manual is an absolute joy to drive. A relatively short throw makes it easy to row through the gears and the light clutch keeps it from becoming tiresome in heavy traffic. It's an undeniably fun little sedan.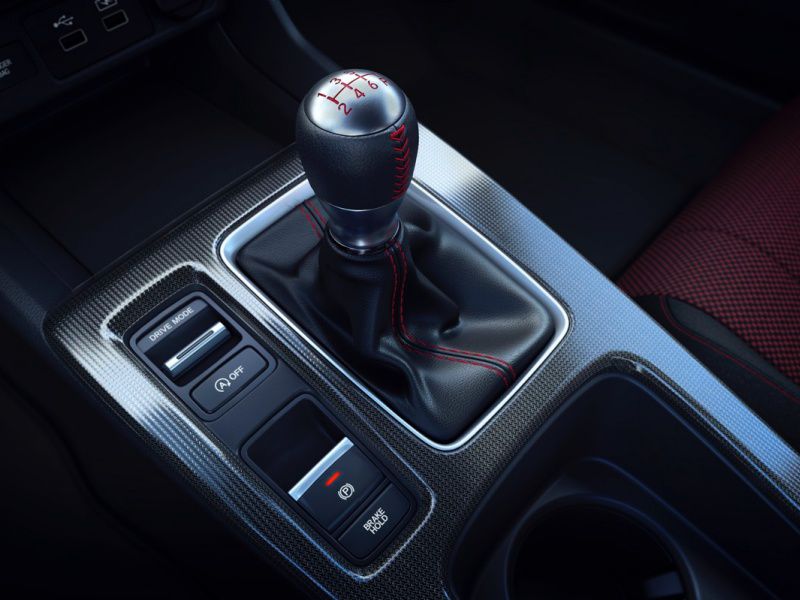 Photo by Honda
Handling Befitting a Performance Sedan
It doesn't matter how good a car looks or even how much power is under the hood if it handles poorly. This is especially true for sports cars that are driven more aggressively; the handling needs to make the whole experience better. If it's sloppy and uncontrolled, then you can't take advantage of all its power. The Honda Civic Si has great handling with good control that lets you truly enjoy the experience.
A choice of normal, sport, or individual drive modes lets you adjust the drive to fit your whims. Even in normal, steering is tight and the suspension system keeps the car level in the corners. Choose sport and everything tightens up further providing a drive experience that is sure to put a smile on your face. If you want to make the drive uniquely yours, then you can do that too with individual mode.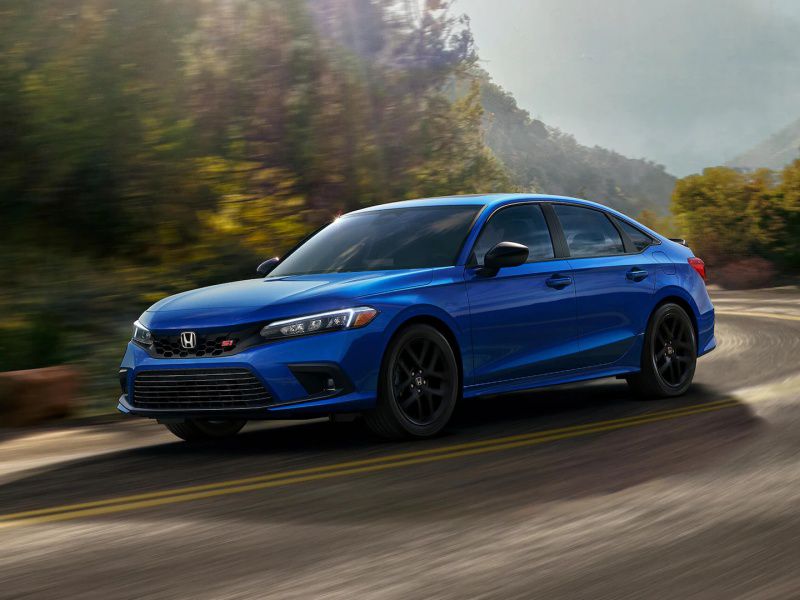 Photo by Honda
A Stiff But Comfortable Ride
The Honda Civic Si differs from the rest of the Civic lineup for its performance focus. It's still a sedan. It still has room for five passengers. But it doesn't have the smooth, compliant ride found of other trims. This is a sports sedan, so it has a stiffer suspension system that improves handling, especially in the corners. The drawback is a less well-mannered ride.
On smooth pavement, the Si is an easy, comfortable car that lets passengers relax. That changes over broken pavement or when navigating narrow city streets with their frequent potholes and sewer grates. You will feel those road imperfections as they jostle passengers and driver alike. Despite the harsher ride, it manages not to be too harsh unless you're completely nailing unseen potholes. Otherwise, it's an expectedly stiff ride, which is the price you pay for sports car handling.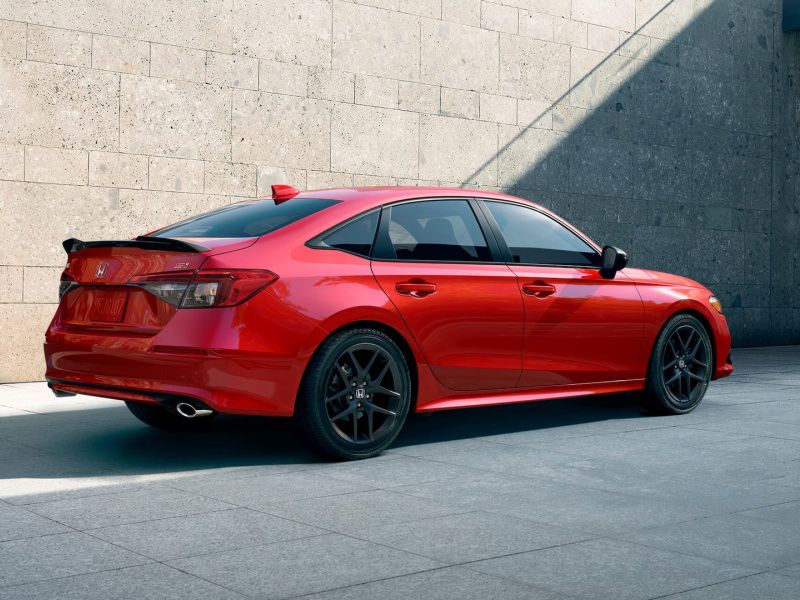 Photo by Honda
A Striking Interior
The interior of the Civic Si is visually striking with sporty design elements that make it stand out from the rest of the lineup. Rather than aiming for an upscale feel with high-end leathers and wood trims, the Si keeps it fun. It has standard aluminum sport pedals and red contrast stitching on the steering wheel, doors, console, and shifter. That red makes a second appearance as trim on the unique honeycomb dashboard panel.
There's room for five with those up front getting the most supportive seats. They have bolstering to keep you firmly in place while still being plenty large enough for bigger adults. Three can sit in the rear seats, but legroom becomes tight if you have tall adults along for the ride. Shoulder room also gets narrow, which makes the rear sets best for only two passengers except for on shorter trips.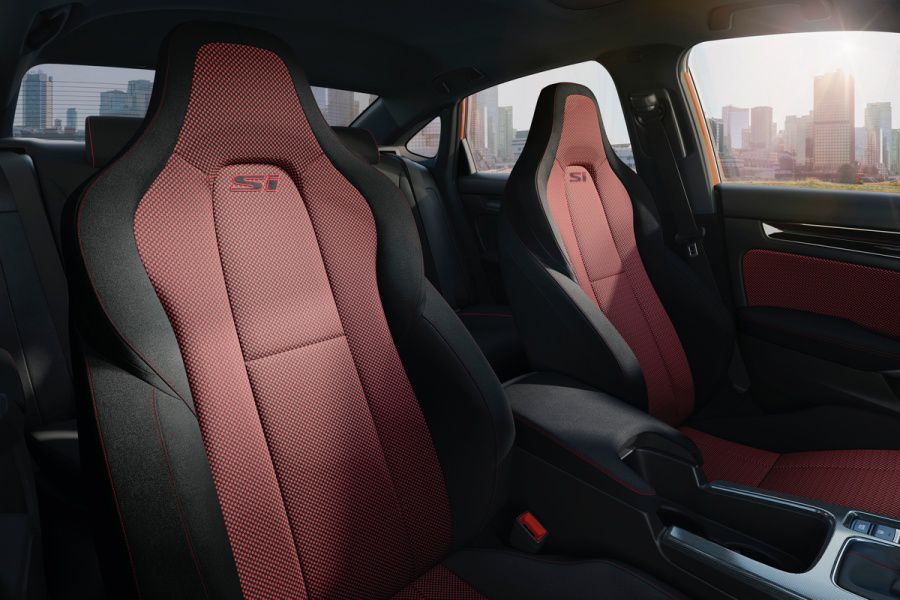 Photo by Honda
Good Fuel Efficiency
The Honda Civic overall gets fuel economy figures that make it a great commuter car. The 1.5-liter turbocharged 4-cylinder found in the Touring trim gets an EPA-estimated 33 mpg in the city, 42 mpg on the highway, and 36 mpg combined. That's with a continuously carriable automatic transmission and 20 less horsepower than the Si.
The Si, with its performance-tuned engine and manual transmission, comes in with lower figures. It gets an EPA-estimated 27 mpg in the city, 37 mpg on the highway, and 31 mpg combined. If your focus is on fuel economy, then this is not the Civic trim for you. Still, the Si has surprisingly strong numbers for a sports sedan. It exudes strong performance and won't completely ruin your budget if gas prices rise.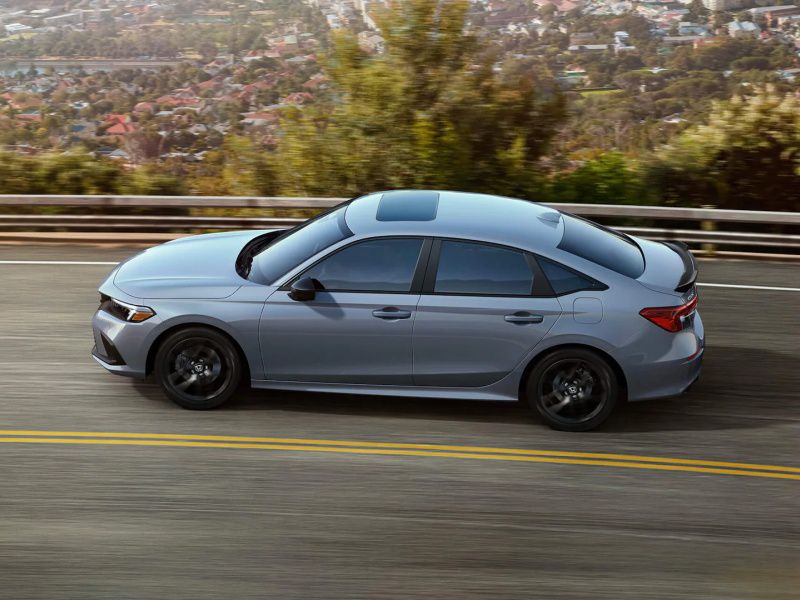 Photo by Honda
A Large Touchscreen for the Infotainment System
Infotainment includes a standard 9.0-inch touchscreen with wireless Apple CarPlay and Android Auto, SiriusXM, HD Radio, and two USB ports. It also includes a 12-speaker Bose audio system with a subwoofer that delivers rich sound. Overall, the infotainment system is easy to use and doesn't take long to master with a screen that's reachable by both driver and front passenger.
Having wireless connectivity for your smartphone, especially in a smaller sedan like the Civic, helps keep the front console from looking like a cluttered mess and is a big bonus. We also like that a premium audio system comes standard, rather than being offered only as an upgrade; furthermore, a large 9.0-inch touchscreen with a volume knob is standard, rather than a finicky touch control.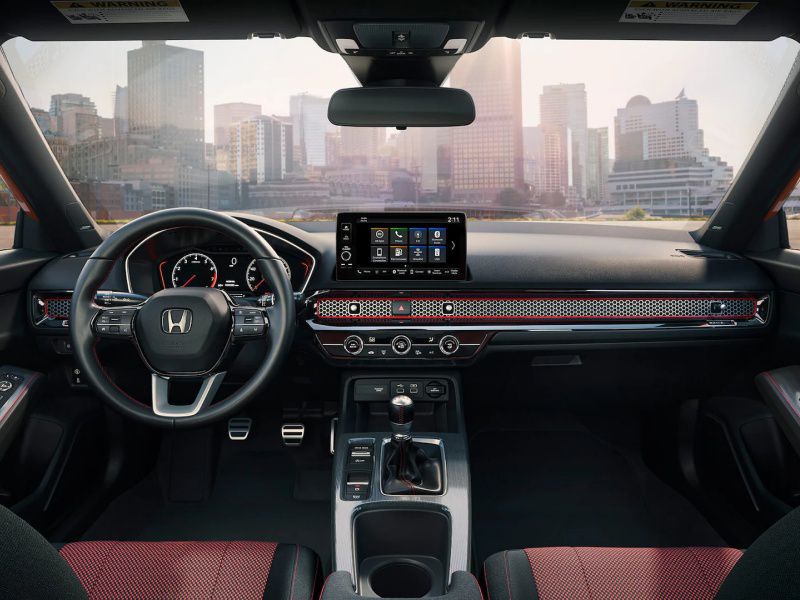 Photo by Honda
Extensive Standard Safety
The 2022 Honda Civic Si boasts a long list of driver assistance features that are all standard. Forward collision warning, collision mitigation braking, lane departure warning, lane keeping assist, adaptive cruise control, road departure mitigation system, and traffic sign recognition are included as a part of the Honda Sensing suite of advanced safety features.
Additional safety features include a rear seat reminder, automatic high-beam headlights, and blind spot warning with rear cross-traffic alert. There's also a multi-angle rearview camera with dynamic guidelines that helps you more easily see the path your car will follow when in reverse. It's a comprehensive list of safety features that are all standard, so you don't have to worry about stretching your budget to get key features as part of an options package.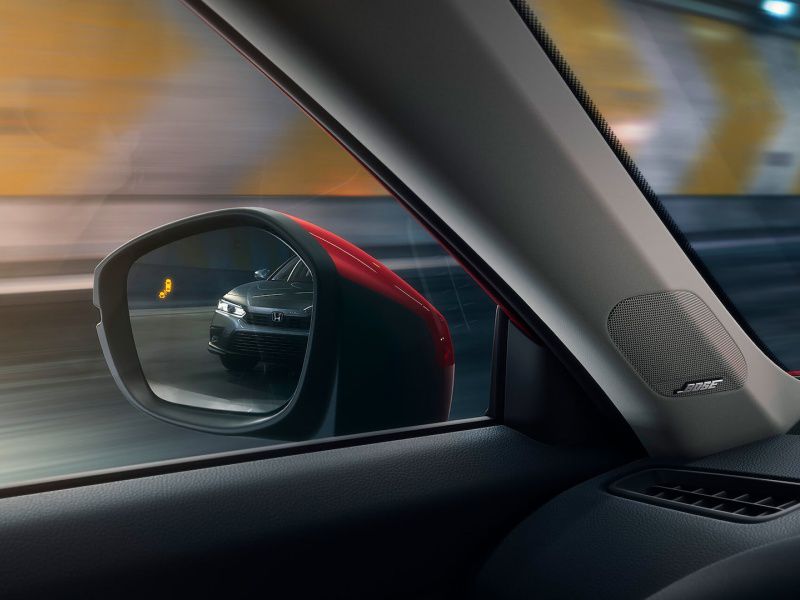 Photo by Honda
Final Thoughts
The 2022 Honda Civic Si is a great little sports sedan. It strikes a balance between performance and passenger comfort, making this car equally suited to more spirited driving or longer road trips. It has a powerful engine with a wonderful manual transmission and handling that ensures that power remains well controlled no matter the road ahead.
Its bold exterior design is well-matched by an attractive interior with bright colors that make the small space come alive. Seating is comfortable and supportive so passengers will enjoy the trip nearly as much as the driver. It does have a stiff ride that can make rough road surfaces uncomfortable, but overall it makes sure passengers are happy. Good standard safety, an intuitive infotainment system, and affordable pricing round out this offering, making the 2022 Honda Civic Si a worthy sports sedan.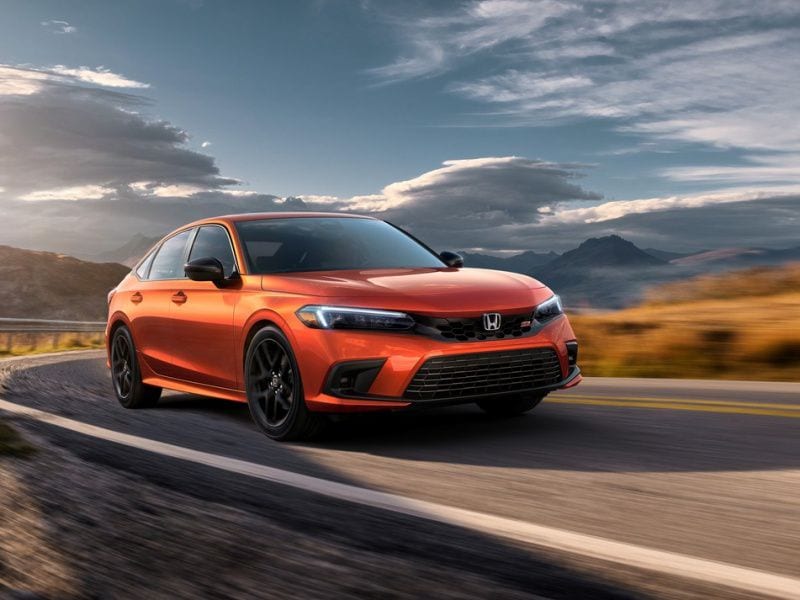 Photo by Honda