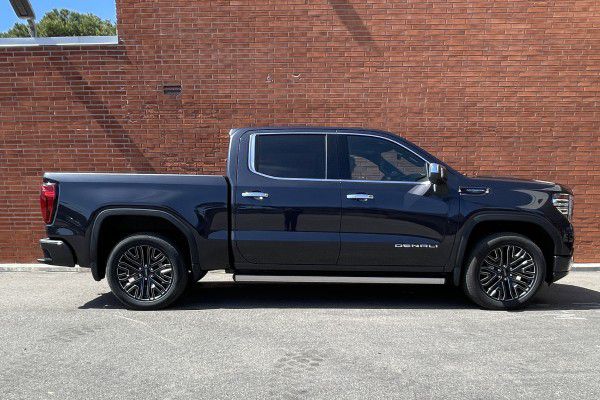 2022 GMC Sierra 1500 Denali Ultimate Profile ・ Photo by Nicole Wakelin
The 2022 GMC Sierra 1500 Denali Ultimate is an all-new trim in the Sierra 1500 lineup. It builds on the existing Denali sub-brand with an even more luxurious offering that's sure to catch the eye of the most discerning truck shoppers. It has unique design elements that differentiate it from the rest of the Sierra 1500 trims both inside and out. This includes 22-inch wheels, a Vader chrome grille, and special badging featuring Mount Denali.
The Alpine Umber leather interior features full-grain leather with open-pore Paldao wood accents for a premium look. There's a leather-trimmed instrument panel with more full-grain leather on the door panels and center console lids. There's also a long list of comfort and convenience features to make this a true luxury truck. Let's take a closer look at the 2022 GMC Sierra 1500 Denali Ultimate to see if it's the right luxury truck for you.
A Premium Product With a Premium Price
GMC has established its Denali lineup as a more luxurious sub-brand within the already premium GMC family of trucks and SUVs. The Denali Ultimate takes that ever further with an even higher level of luxury. While the base Sierra 1500 Pro is $34,600, the Denali Ultimate comes in at $81,100. That's a significant price difference, and it brings with it a long list of standard features that make this a luxury vehicle.
This includes Super Cruise driver assistance technology, a powerful V8 engine, a stunning Alpine Umber interior with lots of leather, and a 12-speaker Bose premium audio system. There are also 16-way power adjustable front sets with massage. The exterior is striking with its Vader chrome grille, 22-inch Low Gloss Black Wheel, and signature badging. There is no mistaking this trim of the Sierra 1500 as one that stands above the rest.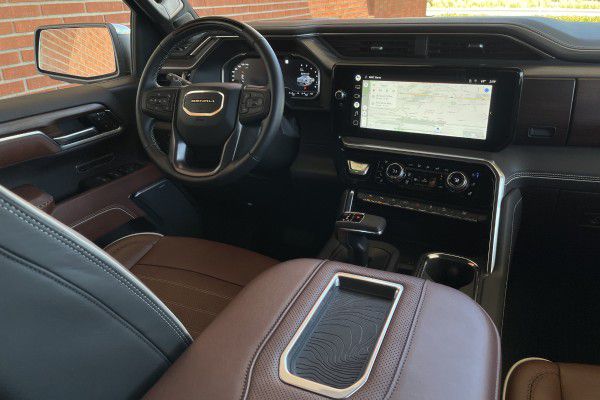 Photo by Nicole Wakelin
The Power You Need
This is not a small truck, so it needs a powerful engine. Under the hood of the Denali Ultimate is a standard 6.2-liter V8 engine with 420 horsepower and 460 lb-ft of torque. Optional is a 3.0-liter 6-cylinder turbodiesel with 277 horsepower and 460 lb-ft of torque. Both are paired to a 10-speed automatic transmission. We spent our drive time with the standard V8 engine.
It's a powerful option that had no trouble getting this truck up to speed. Even merging into heavy highway traffic was not an issue with well-timed shifts from the 10-speed automatic transmission. Power delivery is smooth and even, so it never feels or sounds like the engine is straining. That powerful yet well-mannered ride helps the Denali Ultimate maintain its luxury aesthetic whether cruising the highway at high speeds or meandering along country roads.
Photo by Nicole Wakelin
A Truck With a Luxury Car Ride
Trucks aren't generally the best vehicles if passenger comfort is your priority. Especially with an empty bed, they tend to bounce over uneven pavement, which can be unforgiving on side roads. Even in highway driving, road and wind noise added to typical truck handling can be, well, unpleasant. The Denali Ultimate, however, is a luxury truck, and it never forgets to make passengers a priority.
It includes a premium suspension system that monitors each wheel and adjusts vertical suspension every 2 milliseconds to keep the ride smooth. The continuous damping control suspension system ensures that changing road surfaces aren't a challenge. Whether a freshly paved highway, imperfect side roads, or a dirt trail, the Denali Ultimate has a smooth, consistent ride that keeps the driver in control and lets passengers relax.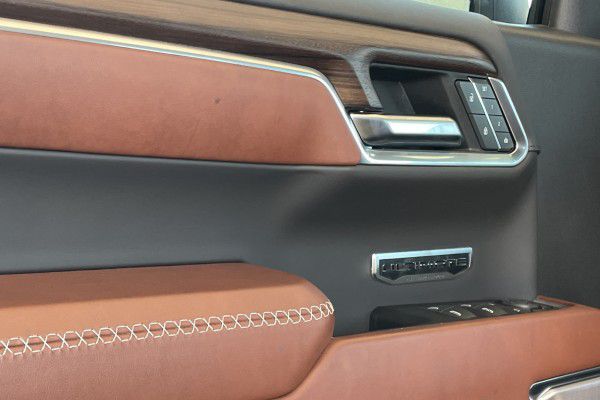 Photo by Nicole Wakelin
The Interior Is Simply Stunning
It's hard not to like the interior of the Denali Ultimate. From materials to design, this truck is beautiful and delivers a high level of comfort for those lucky enough to go for a ride. It features an Alpine Umber interior with full grain-leather on the door panels, center console lid, and seats. There's more leather on the instrument panel and door-pillar handles along with a microsuede headliner.
Front passengers get 16-way power-adjustable front seats with heat and massage making long trips something to enjoy. There's a power sunroof to let in plenty of light, stainless-steel speaker grilles, and embossed and laser-etched topographical maps of the summit of Mount Denali throughout the cabin. You'll see this on the open-pore Paldao wood on the passenger-side dashboard, on the rear sets and door panels, and in the leather on the front and back of the front seats. It's beautiful and luxurious.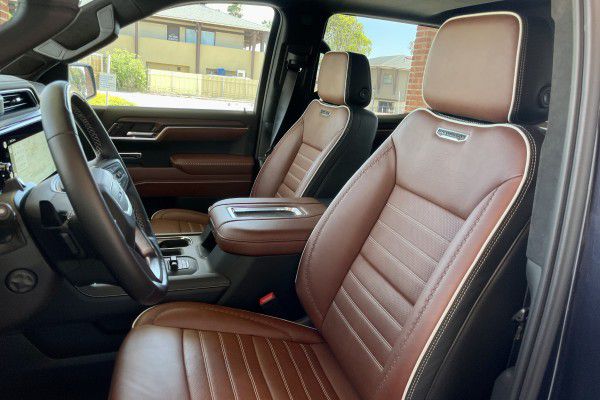 Photo by Nicole Wakelin
The Exterior Gets Its Own Unique Look
GMC wasn't content to simply upgrade the interior of the Denali Ultimate. It also made enhancements to the outside of this truck to give it a unique look. It still fits with the rest of the Sierra 1500 lineup, but with special badging and finishes that you won't get on other trims. Those design cues include a grille finished in Vader chrome. There's also a Vader chrome GMC logo on the front fender that features Mount Denali.
This Denali Ultimate rolls on 22-inch wheels with a Low Gloss Black finish and machined accents that match well with the smoky look of the grille and badging. It manages to look luxurious and impressive without becoming flashy. Instead of an overabundance of bright chrome accents, the Vader chrome gives this truck a dose of refinement uncommon in the segment.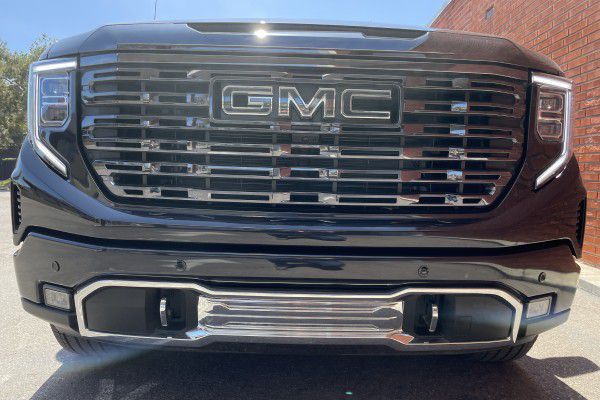 Photo by Nicole Wakelin
Towing Capability
Even if you're buying a truck because you want a luxury vehicle with a smooth ride, a beautiful interior, and a long list of standard features, it still needs to do the work of being a truck. That means it has to have the capability to tow a trailer and manage a payload. Whether it's getting you through the workday or some weekend family fun, even a luxury truck needs to do truck things.
Equipped with the 6.2-lier V8 engine, the Denali Ultimate has a maximum tow rating of up to 8,900 pounds and a maximum payload rating of 2,010 pounds. Choose the optional turbodiesel engine, and the tow rating drops to 8,800 pounds with the same maximum payload. There's also a standard carbon fiber composite bed to provide durability and resistance to scratches and the six-position MultiPro tailgate for added versatility when loading cargo.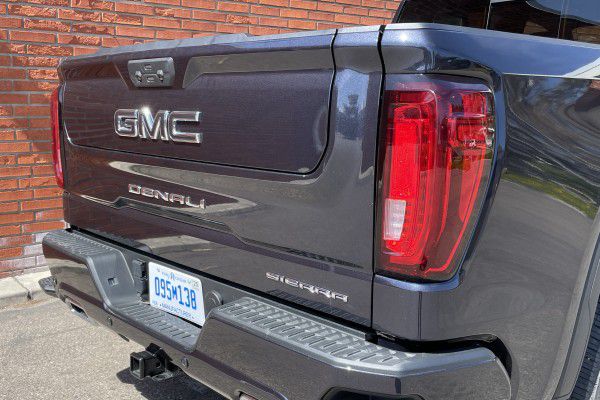 Photo by Nicole Wakelin
Infotainment With a Large Touchscreen
Standard infotainment for the Sierra 1500 GMC Denali Ultimate includes a 13.4-inch touchscreen with built-in Google. This makes features including Google Maps, Google Assistant, and Google Play easily accessible. There's both wireless Apple CarPlay and Android Auto to help eliminate cord clutter and keep your premium interior looking its best along with voice-activated technology for your phone.
Audiophiles will enjoy the 12-speaker Bose premium audio system. It includes a Richbass woofer with speakers mounted throughout the cabin for a concert-like sound experience no matter where you sit. The system is easy to use with the ability to personalize the screen to show two areas of information at once. You could choose to show navigation and trailering information when you're towing but show only navigation while following a complicated route.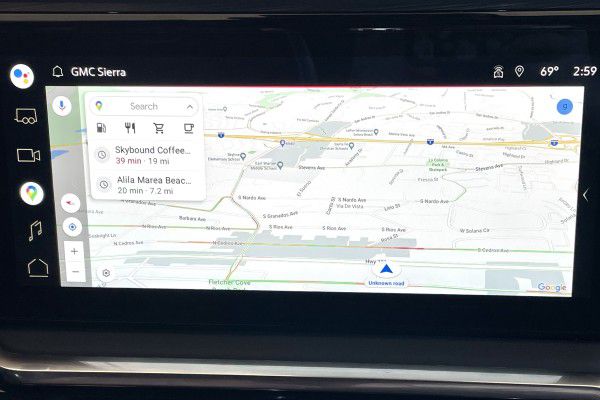 Photo by Nicole Wakelin
Enhanced Super Cruise Hands-Free Driver Assistance
The Denali Ultimate comes standard with GMC Pro Safety. This suite of safety features includes forward collision alert, following distance indicator, front pedestrian braking, enhanced automatic emergency braking, and Buckle to Drive. It also includes Super Cruise hands-free driver assistance. This covers over 200,000 miles of roads within the U.S. and Canada. The system was recently enhanced with automatic lane changes to maintain a pre-set speed. It even works while towing a trailer.
We had the opportunity to try Super Cruise on several stretches of highway during our drive and found it easy to use. It can be disconcerting the first time you take your hands off the wheel and requires no small amount of trust to try any hands-free driving system. Super Cruise does a great job mimicking the speed adjustments and steering of a human driver, so it's easy to get comfortable and let it do its job.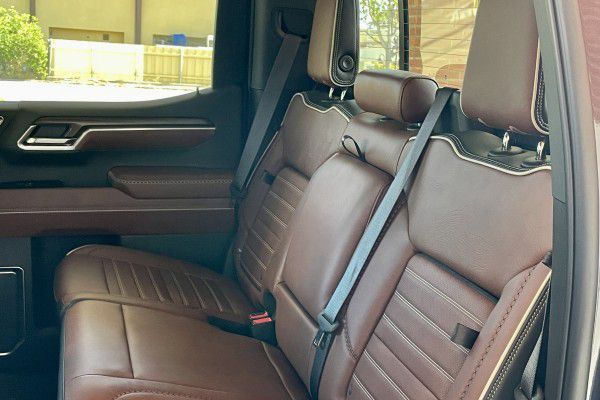 Photo by Nicole Wakelin
Final Thoughts
The GMC Sierra 1500 Denali Ultimate adds a new level of luxury to the Sierra lineup. While the Denali sub-brand has already established itself as a luxury offering, the Denali Ultimate delivers more features and more premium materials. It has stand out styling with exterior design cues that include smoky chrome finishes and unique badging, but the focus is on the interior.
Rich leather trims adorn most every surface with bold contrast stitching that add plenty of visual appeal. Real wood accents with topographical maps of Mount Denali etched into their surfaces creates even more of a luxury look with matching detailing on the leather seats. It's comfortable, visually stunning, and well-equipped while still having the capability to do the work of towing a trailer or carrying a payload. The 2022 GMC Sierra 1500 Denali Ultimate offers a true luxury experience for truck buyers.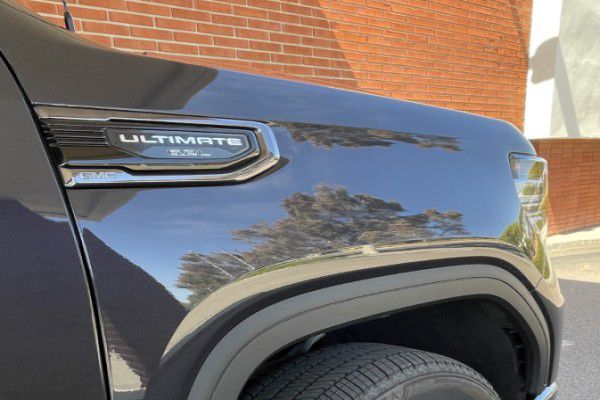 Photo by Nicole Wakelin