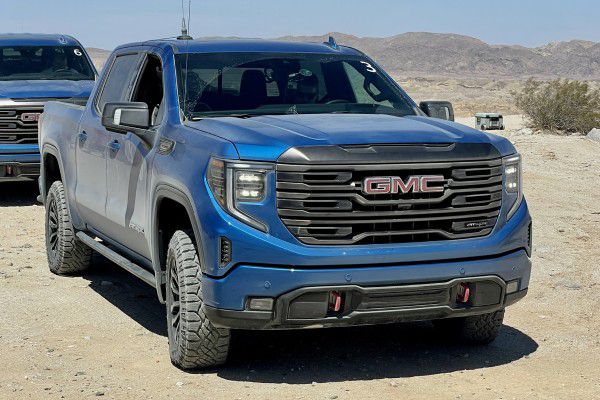 2022 GMC Sierra 1500 AT4X Front ・ Photo by Nicole Wakelin
The 2022 GMC Sierra 1500 AT4X is an all-new off-road trim that adds improved capability to an already capable truck lineup. It combines that off-road prowess with an upscale interior adorned with high-quality materials that make driving this truck a premium experience. It has many of the same features found on the rest of the Sierra lineup with enhancements specifically targeting the off-road enthusiast.
Special attention was given to the suspension system with dampers and springs that increase suspension travel. There are also front and rear locking differentials and a uniquely calibrated off-road chassis. In addition to these mechanical enhancements, there are also design cues not found on the rest of the lineup. This gives the Sierra 1500 AT4X special appeal with a strong and rugged presence. Let's take a closer look at the 2022 GMC Sierra 1500 AT4X to see if this is the right off-road truck for you.
A Premium Offering With a Premium Price
The AT4X is the most off-road focused option in the GMC Sierra 1500 lineup of eight trims. While the Pro starts at $34,600, the AT4X sits near the top of the lineup with a price of $75,700. This is just behind the Denali and new range-topping Denali Ultimate, which is priced at $81,000. The AT4X is available only with a crew cab and a short box with four-wheel drive.
Standard features include 16-way power adjustable front seats with massage, heated steering wheel and front seats, a full-grain leather interior, Vanta ash wood accents, 13.4-inch infotainment touchscreen, 12-speaker Bose audio, and automatic emergency braking. The AT4X is also strong on capability with a powerful V8 engine, unique dampers and springs for off-roading, a two-speed transfer case with a larger steel shield, and front and rear locking differentials. The AT4X has the capability to off-road with a cabin full of creature comforts.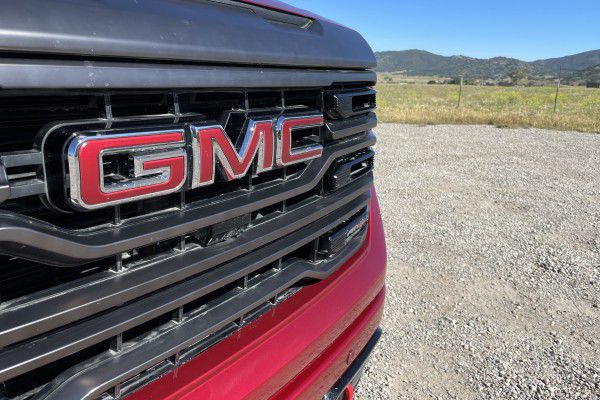 Photo by Nicole Wakelin
The Power of a V8
There's only one powertrain option for the AT4X. It includes a 6.2-liter V8 engine with 420 horsepower and 460 lb-ft of torque. This is paired to a 10-speed automatic transmission. Those are big numbers and you feel all that power when you're sitting behind the wheel of the AT4X. It accelerates aggressively from a stop and merges effortlessly with high-speed highway traffic.
Though you hear the engine, the sound isn't intrusive. This is a premium truck, so the noise of the engine is kept nicely muted under all but the hardest acceleration. Combining with that power is a transmission that delivers smooth and well-timed shifts. Upshifts and downshifts come at the right moment to ensure you have all the power you need whether maneuvering through heavy highway traffic or managing steep grades with a trailer. The AT4X is a powerful and responsive truck that provides an enjoyable drive.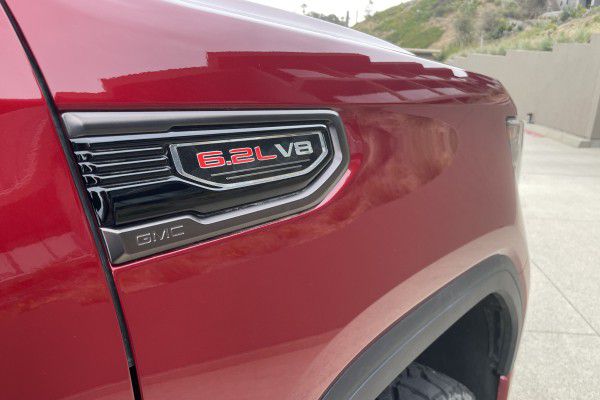 Photo by Nicole Wakelin
Impressive Off-Road Capability
Of the Sierra 1500 trims available, this is the one you want if you have serious off-roading in your future. It comes with extensive off-road features including front and rear e-locking differentials, Multimatic DSSV spool-valve dampers, springs that increase front and rear suspension travel, and off-road suspension and chassis calibration. There's also a two-speed transfer case with a larger steel shield along with drive modes that include Terrain Mode with one-pedal rock crawling.
We had the opportunity to take the AT4X off-road in the desert and were impressed with its capability. It managed sand, loose rocks, and steep ascents easily, delivering controlled, confident handling even in the most challenging off-road conditions. While this isn't a small truck, it proved nimble enough to crawl over rocks and easily traversed a wide range of off-road challenges. If your plans call for off-roading, then the AT4X is the Sierra 1500 trim for you.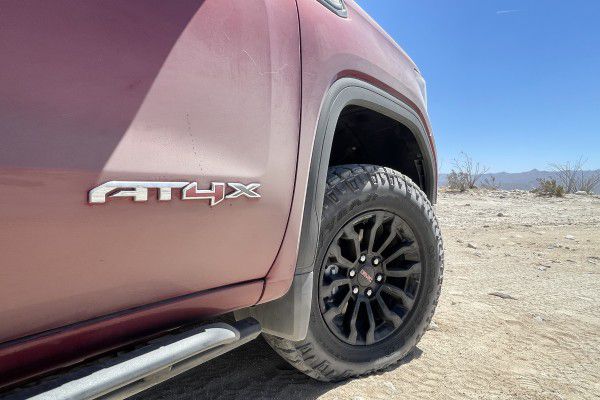 Photo by Nicole Wakelin
Good On-Road Manners
One of the drawbacks to an off-road capable vehicle is compromised on-road manners. The suspension travel that helps overcome rugged terrain can prove bouncy and unwieldy at highway speeds. Off-road tires add to the challenge with less controlled handling and increased noise. The GMC Sierra 1500 AT4X is an off-road truck, but it's also a luxury truck, so it provides a smooth, quiet, and surprisingly refined ride during on-road driving.
Though there is more bounce and sway than what you might find in less off-road-worthy vehicles, it's not something that makes the AT4X feel uncontrolled. Even when making quick lane changes at highway speeds, there's minimal roll so passengers and driver alike stay relaxed. The noise from the standard mud-terrain tires is nicely muted, and there's a minimum of wind noise so the cabin stays quiet. You can off-road in the AT4X and still enjoy a long-distance road trip.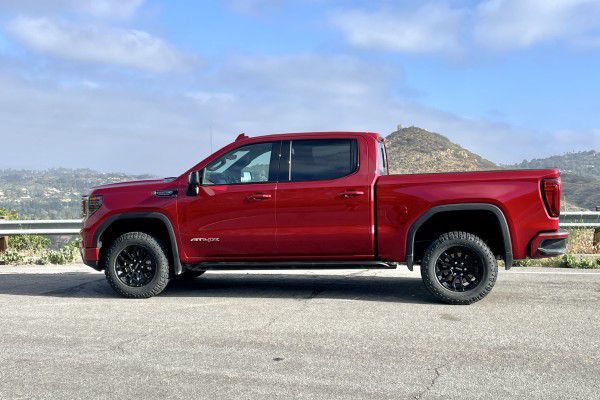 Photo by Nicole Wakelin
A Luxurious Interior
GMC is a premium brand, so no matter which trim of the Sierra 1500 you choose, it's well-appointed and comfortable. The AT4X sits near the top of the lineup just behind the Denali and new Denali Ultimate trims, so it has an exceptionally lush interior. Standard features include 16-way power front seats, leather seating surfaces, wood accents, dual-zone automatic climate control, heated driver and front passenger seat as well as heated rear outboard seats and a heated steering wheel.
There's no shortage of comfort features that make riding in the GMC Sierra 1500 AT4X feel more luxury car than off-road truck. Seating is supportive and comfortable with rich leather trims that add visual appeal. There's room for even the tallest passengers with plenty of legroom and headroom. Whether it's a weekend away, a long-distance road trip, or the daily commute, the AT4X has a comfortable and welcoming cabin.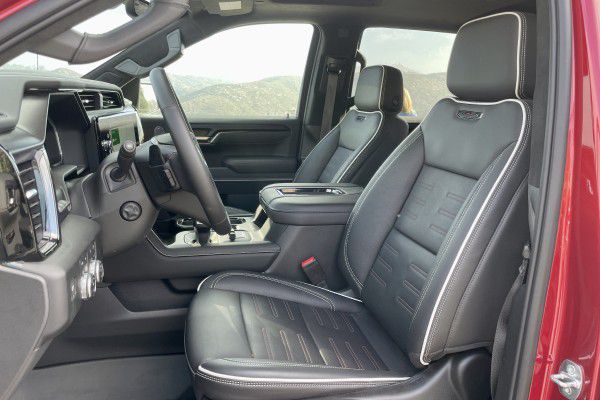 Photo by Nicole Wakelin
High Towing and Payload Ratings
Trucks need to provide the versatility to carry people and cargo. The AT4X is up to that challenge with a maximum tow rating of 8,900 pounds and a maximum payload rating of 1,420 pounds. This makes it easy to get work done and it lets you take along whatever you need for weekend adventures. In addition, the AT4X has features to make managing cargo easier.
A trailering package is standard with hitch guidance, and there's an integrated trailer brake controller. The GMC MultiPro tailgate with six different positions is also standard and there's a spray-on bedliner that both protects the bed and provides a non-skid surface to prevent cargo from shifting. There are cab mounted cargo lamps to make it easier to see what's in that bed while cargo tie downs are available as an option. There's also available rear under seat storage and a console-mounted safe for securing valuables.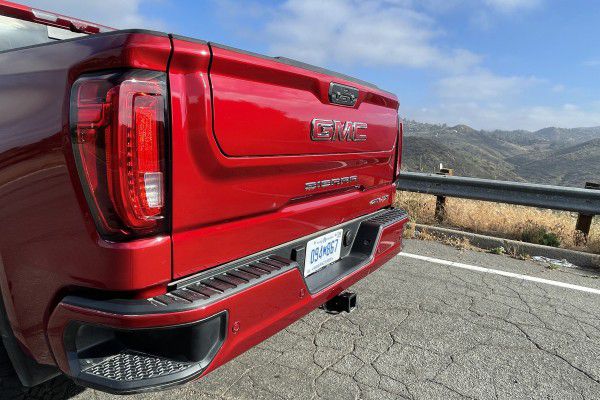 Photo by Nicole Wakelin
Extensive Infotainment Features
Standard infotainment includes a 13.4-inch touchscreen with wireless Apple CarPlay and Android Auto so there won't be a clutter of cords to manage. The large screen makes it easy to navigate through the menus and easy to see so the driver avoids unnecessary distraction. The screen can be configured to show multiple items at once or simply one thing across the full screen. This is particularly handy when trying to follow navigation through more congested urban routes.
There's a 12-speaker Bose premium audio system that includes AudioPilot Noise Compensation and a Richbass subwoofer. Those 12 speakers are placed throughout the cabin, so you get high-quality sound no matter where you sit. And although not technically part of the infotainment system, there's also a standard MultiPro Audio System in the tailgate for having fun when you arrive at your destination.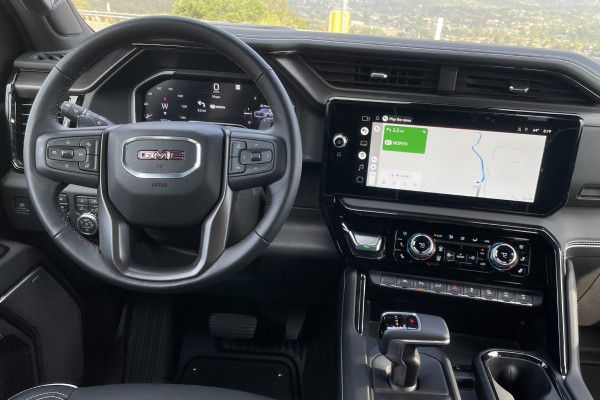 Photo by Nicole Wakelin
Good Standard Safety
The AT4X comes with a long list of standard safety features to set your mind at ease. Included in the standard GMC Pro Safety package are forward collision alert, following distance indicator, front pedestrian braking, lane keep assist with lane departure warning, Buckle to Drive, and automatic emergency braking.
There is also standard front and rear park assist, an HD surround vision camera, rear cross-traffic braking, rear pedestrian alert, and a Safety Alert Seat. This unique feature vibrates the seat on the left, right, or on both sides to help you know the direction of any potential crashes. It's a solid combination of features that helps keep you and your loved ones safer on the road.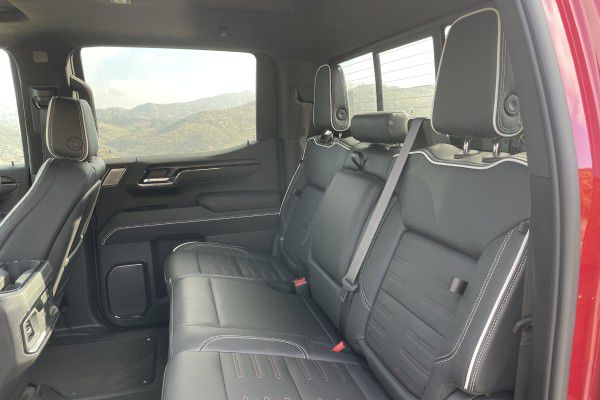 Photo by Nicole Wakelin
Final Thoughts
The all-new 2022 GMC Sierra 1500 AT4X adds a capable off-road trim to the Sierra 1500 lineup. While there was already the AT4, this takes things a step further in capability and in luxury. It has standard features for off-roading including front and rear locking differentials, off-road tires, and a two-speed transfer case that let you take this truck further than ever before.
It balances that capability with a beautiful interior. Plush leather seats with eye-catching accent stitching and wood trims give the AT4X a luxury vibe. There are also 16-way power adjustable and massaging seats for front passengers with a smooth ride despite this truck's off-road prowess. Those looking for a premium off-road truck will find the GMC Sierra 1500 AT4X a great fit.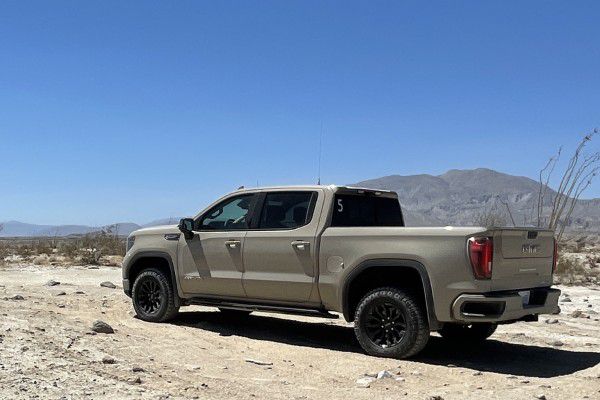 Photo by Nicole Wakelin