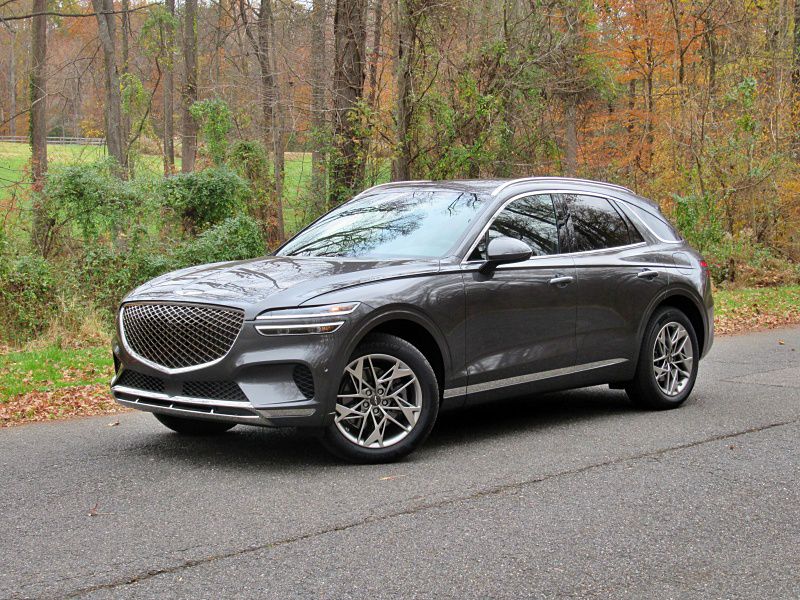 2022 Genesis GV70 2.5T ・ Photo by Brady Holt
When it created its first compact luxury crossover, Genesis borrowed some pieces from the BMW playbook. These include a performance-focused rear-wheel-drive-based platform, a choice of turbocharged four- and six-cylinder engines, and an infotainment system that offers both a touchscreen and a console-mounted knob. 
But the all-new 2022 Genesis GV70 also borrows a winning formula from its parent company: Hyundai, the Korean carmaker famous for its bargains. So the GV70 also brings a tempting base price of $41,500, lots of standard equipment at that price, extroverted styling, and an overachieving spec sheet that includes a 300-horsepower base engine. Of course, there's another excellent luxury SUV in this segment that borrows even more from the BMW playbook: the 2022 BMW X3. For this review, we tested the GV70 and the X3 to compare them in eight categories and then name an overall winner. Keep reading to see which one we chose and which sounds like the right compact luxury crossover for you. 
Exterior Design
Rather than use its design to emphasize sporty performance, the X3 wears a quietly classy exterior. An upright profile, big windows, chrome details, rounded-off lights, and simple lines command little attention, for better or for worse. Available performance packages let you black out the X3's chrome accents and get bigger, sportier-looking air intakes. The current X3 generation debuted in 2018, and BMW tweaked the styling this year to connect the two pieces of BMW's signature "kidney" grille, reshape the front and rear bumpers, and add flashier lighting to the taillamps. The BMW X4, a mechanical sibling of the X3, gives up some cargo space to achieve a racier profile.
By contrast, GV70 is styled with sporty purpose. It's lower and wider than the X3, giving it a more assertive stance. Flowing lines also make it look smaller and lither than it is. A hunched-forward rear end — somewhere between the boxy X3 and coupe-like X4 — and small rear windows emphasize this look. Split-level headlights and taillights and a big, intricately patterned grille are also among the GV70's flashy details. You'll choose for yourself which design you like more. 
Tie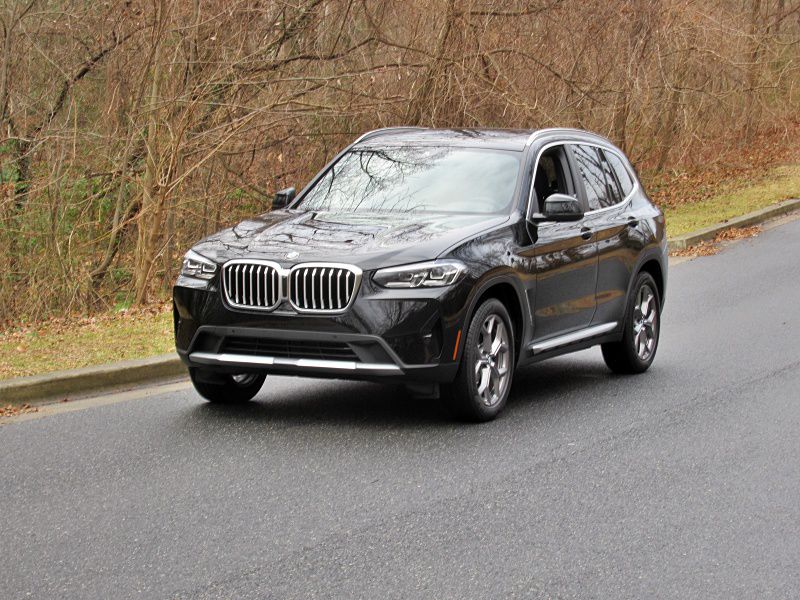 Photo by Brady Holt
Interior Design
The X3 has a straightforward interior. It doesn't jump out to dazzle you, with restrained minimalism that borders on dullness. A digital gauge cluster conveniently incorporates a GPS navigation map; a 10.25-inch touchscreen infotainment system comes standard; and we liked our test vehicle's open-pore wood trim. To us, the X3's keyfob feels plasticky and insubstantial, and the interior door pulls have a rough edge. But the BMW is otherwise solidly built, and we liked how the infotainment screen's simple icons and quick responses favor clarity over splashy graphics. 
The GV70 wasn't content with simplicity. An elongated oval that runs from left of the steering wheel to the passenger side of the vehicle; it incorporates the vehicle's climate controls and even aligns smoothly with the two-spoke steering wheel. Audio and other infotainment controls are on the center console between the front seats, and a huge 14.5-inch touchscreen sits up on the top. More materials jump out to impress than in the staid X3, too. But while Genesis gives you many ways to interact with the GV70 infotainment system, each approach has unwelcome complexities. The X3 wins this category for superior ergonomics.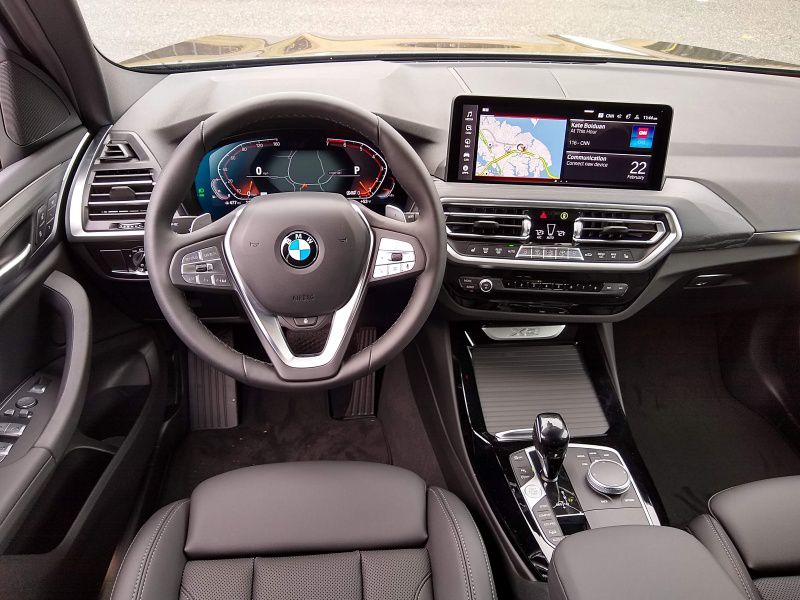 Photo by Brady Holt
Passenger Accommodations
The GV70's swoopy styling makes it look small, but it's actually a bit roomier than the X3. We're also fans of its nicely padded seats, which strike a nice balance between welcomingly cushy and firmly supportive. There's more clearance for your knees in the backseat. And a lower starting price than the BMW gives you the budget to upgrade your Genesis with optional extras like ventilated front seats, driver-seat memory settings, a heated steering wheel, and second-row windowshades. 
To be clear, neither of these luxury suvs is cramped. On the contrary, both are among the roomiest models in their class. And both are packed with high-end comfort amenities. But the Genesis impressed us a bit more. 
Genesis GV70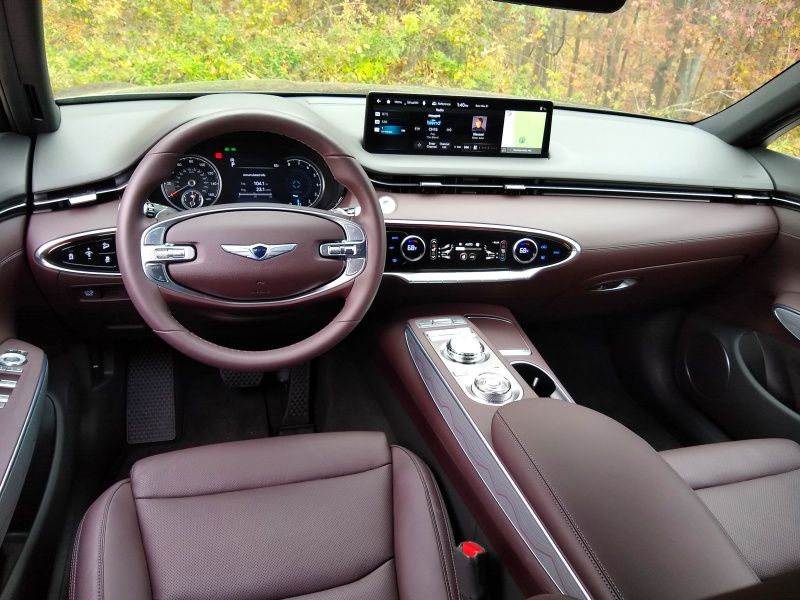 Photo by Brady Holt
Cargo and Utility
To our eyes, the GV70's cargo hold looks fairly modest. But it stacks up well on paper. Genesis quotes 28.9 cubic feet behind the rear seat and 56.9 cubic feet with the rear seat folded, which is better than most compact luxury crossovers. The GV70 can also tow a respectable 3,500 pounds. 
Still, the X3 does a bit better on both fronts. For cargo, the X3 has nearly identical volume behind the rear seat (28.7 cubic feet) but more total space with the rear seat folded down (62.7 cubic feet). And if you'll tow a trailer, the BMW can handle an outstanding 4,400 pounds.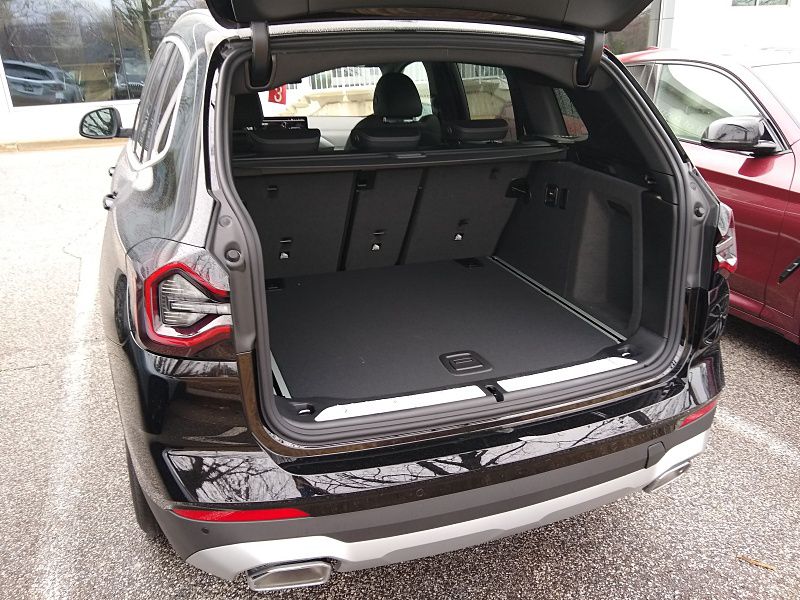 Photo by Brady Holt
Ride and Handling
The X3 drives with unflappable composure and fluidity. Its ride is firm but comfortable, its handling is adroit, and its steering is responsive (if less precise than we'd expect from a BMW). We also loved its super-customizable driving modes, which let you build your own ideal regarding everything from steering responsiveness to transmission shift points to even the air conditioner's energy usage. 
Still, we'll give the slight edge to the more playful GV70. While the BMW is poised and capable, we found the Genesis to be sharper. At the same time, we had no complaints about the GV70's ride quality, either. The max-performance X3 M model would surely perform better than the top GV70 on a racetrack, but that would also come at the cost of ride smoothness. Overall, the more typical versions of both the X3 and GV70 deliver a compelling blend of agility and performance. While both could benefit from a bit more steering feel, the GV70 impressed us more.
Genesis GV70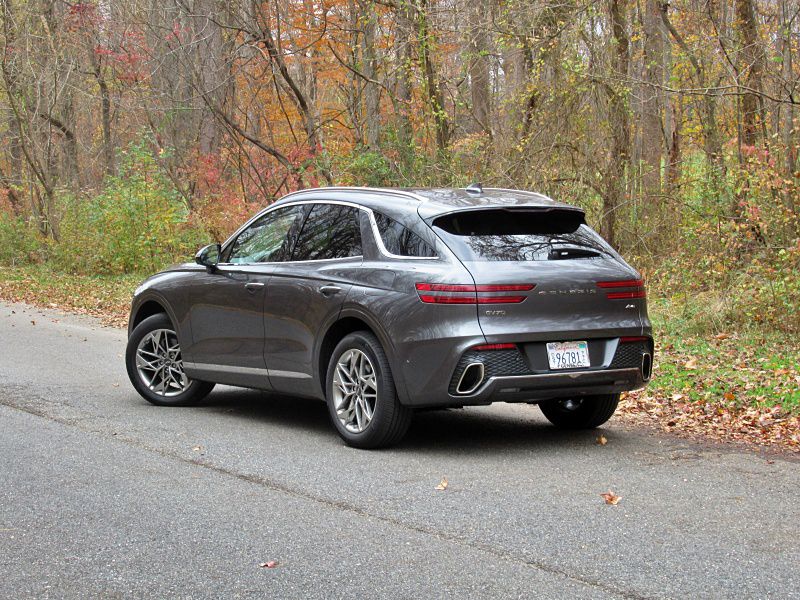 Photo by Brady Holt
Acceleration
On paper, the base GV70 2.5T mops the floor with the X3 30i. The Genesis comes standard with a 2.5-liter turbocharged four-cylinder engine making 300 horsepower and 311 lb-ft of torque, compared with the BMW's standard 2.0-liter four-cylinder that puts out 248 hp and 258 lb-ft of torque. But in instrumented testing, the BMW actually comes out on top. Our test of an X3 30i gives us no reason to doubt it. While the GV70's engine is certainly powerful and sounds pleasant enough, the BMW provides even livelier, richer-sounding, and smoother acceleration. 
The X3 M40i also holds a performance advantage over the equivalent GV70 3.5T. The Genesis has a turbocharged 3.5-liter V6 with 375 hp and 391 lb-ft of torque, compared with the X3's turbocharged 3.0-liter inline-six with 382 hp and 365 lb-ft of torque. But once again, the BMW wins the racetrack war. Both luxury suvs go fast and sound great. For maximum performance, the BMW X3 M cranks the same 3.0-liter to 473 hp and 457 lb-ft in its base form and 503 hp and 479 lb-ft on the Competition model. The GV70 has no comparable insanity. 
BMW X3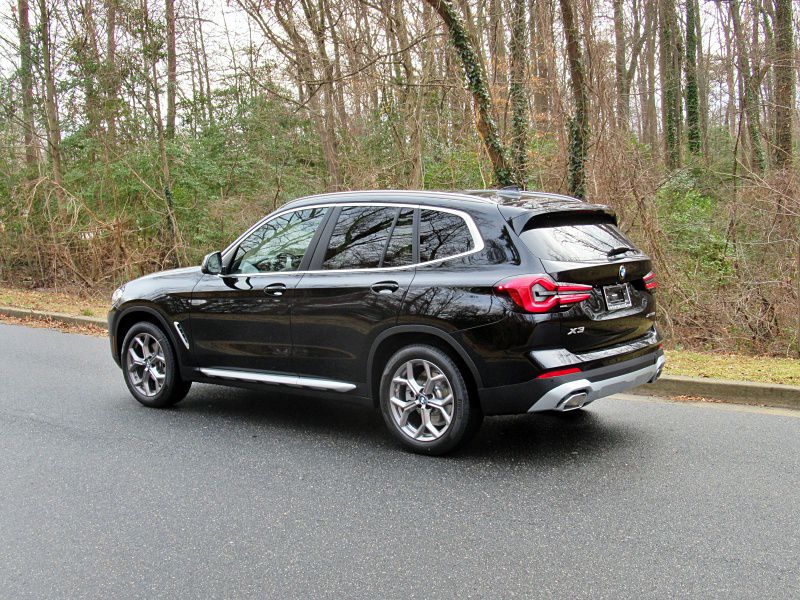 Photo by Brady Holt
Fuel Economy
The GV70 is sold only with all-wheel drive, which cuts a bit into its gas mileage. Most 2.5T models, including our test vehicle, get an EPA-estimated 22 mpg in the city, 28 mpg on the highway, and 24 mpg combined, which is excellent for a 300-horsepower AWD luxury suv. A sport package with bigger wheels and higher-friction tires reduces those estimates by about 2 mpg. The 3.5T achieves an estimated 19 mpg city, 25 mpg highway, and 21 mpg combined.
Meanwhile, the rear-drive X3 30i scores 23 mpg city, 29 mpg highway, and 25 mpg combined, while AWD cuts about 1 mpg. Even the M40i — newly equipped with a mild-hybrid system that upgrades the X3's stop-start function and can even let the gas engine switch off when you're coasting — achieves 21 mpg city, 26 mpg highway, and 23 mpg combined. We spent a week in the mechanically identical X4 M40i and averaged an incredible 27 mpg, trouncing the 23 mpg in our GV70 2.5T. (We also tested an X3 30i and GV70 3.5T, but not long enough to reliably measure mileage.) The X3 M gets just 17 mpg, but BMW otherwise wins.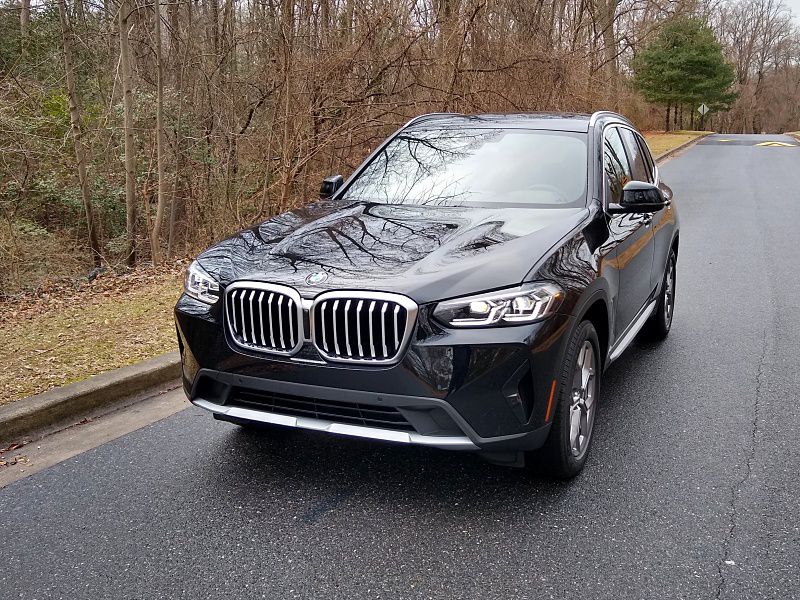 Photo by Brady Holt
Pricing and Features
The 2022 BMW X3 is a reasonable value. The 30i starts at $43,700 with standard equipment that includes a full suite of advanced driver aids, a 10.25-inch infotainment touchscreen with GPS navigation, a 12-speaker sound system, and automatic windshield wipers. Our $48,295 test vehicle added all-wheel drive, heated front seats, a heated steering wheel, and a panoramic moonroof, for a fairly complete package below $50,000. The M40i starts at $57,800 with AWD and some other high-end add-ons as standard equipment, while the X3 M rises to $69,900.
The 2022 Genesis GV70 starts at just $41,500 for an AWD model with most of the X3's standard features. The Select, $45,500, includes just about everything from our tested $48,295 X3 along with ventilated front seats and a 16-speaker sound system. And the 3.5T starts at $53,100, equipped equivalently to the 2.5T Select but with genuine leather upholstery. Genesis makes you get a loaded GV70 for a few features that are common options on the X3, like heated rear seats, a heated steering wheel, and genuine leather. But even those loaded GV70s are priced reasonably enough. 
Genesis GV70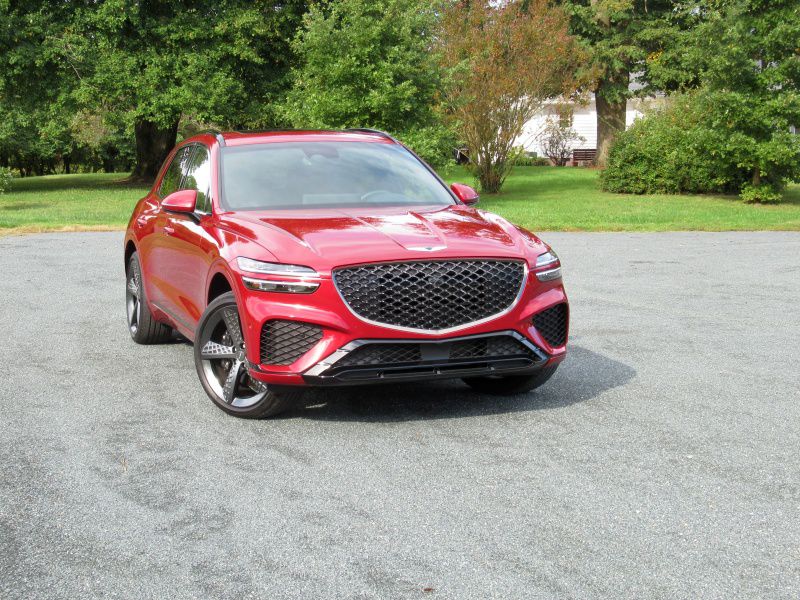 Photo by Brady Holt
Final Thoughts
We came away greatly impressed with the X3. This stately-looking SUV delivers an admirable blend of comfort, performance, versatility, and fuel economy. Its user-friendly controls are a welcome break from the frustrating complexity found in too many luxury cars (including both the GV70 and many older-model BMWs). Also contrary to expectations, BMW provides generous standard equipment and plenty of reasonably priced options.
But the GV70 is impossible to ignore. This bolder-looking, crisper-driving, and more richly finished crossover would be impressive even if it cost just as much as the X3. And it doesn't. It's not perfect, but whether you're looking for a well-rounded luxury crossover at a good price or are actively seeking something more extroverted than the X3, the GV70 is a great place to start. 
Genesis GV70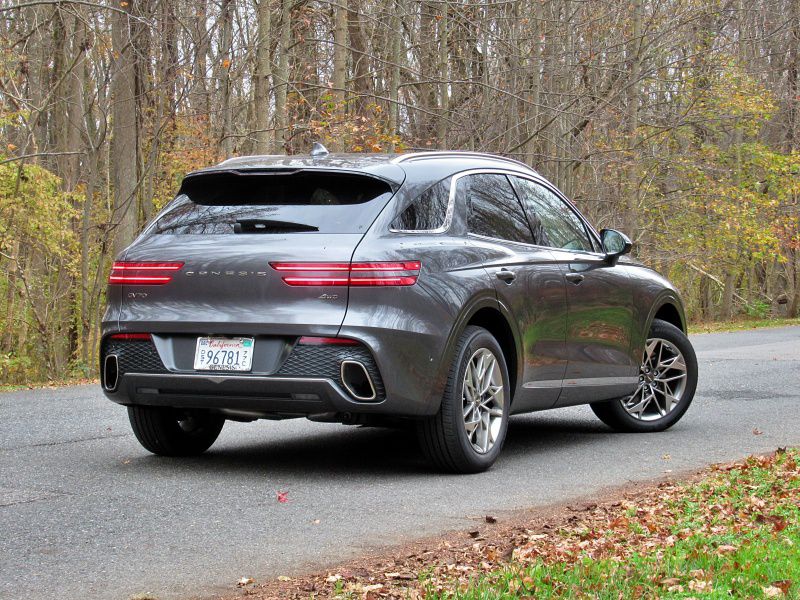 Photo by Brady Holt