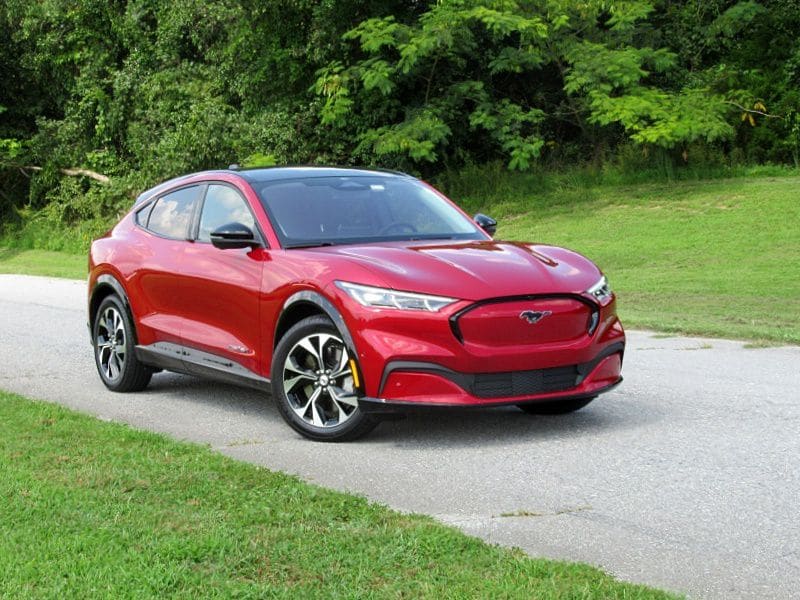 2021 Ford Mustang Mach-E ・ Photo by Brady Holt
Ford created the Mustang Mach-E to make headlines. The Mustang brand is famous and powerful, so when Ford used it for an all-electric SUV, it won front-page coverage around the world. It was a clear sign that Ford was serious about electric vehicles, and the company wanted the world to hear it. 
But behind the imagery, what's the Mustang Mach-E like? We spent a week in Ford's all-electric mid-size crossover so we could evaluate its pros and cons, and see whether this EV could fit your life. Keep reading as we share what we learned about this unusual Mustang and how it fits into the modern new electric-car landscape. The Mustang Mach-E starts at $42,895 and qualifies for a $7,500 federal tax credit. Depending on the model you select, it can travel between 211 miles and 305 miles per charge.
Classic Mustang Exterior
Ford didn't just borrow the Mustang name to create the Mach-E. This isn't an ordinary-looking SUV with a galloping-horse logo on the grille. Mustang character is everywhere — details like the headlights and taillights, to proportions like the long hood, sloped roofline, and wide, low stance. At 64 inches tall, the Mach E is nearly a foot higher than the Mustang coupe, but it's 4 inches lower than the similarly sized Ford Edge crossover. 
Even if it weren't an EV, the Mach-E would get attention. It's a sleekly attractive five-door take on the classic Mustang coupe. A blank grille and the front fender's charging port are the only clues that there's no engine under the hood. (That is, besides the fact that the E in Mach-E stands for electric.) Ford also smoothed out the Mach-E's body by eliminating physical door handles in favor of push-button entry.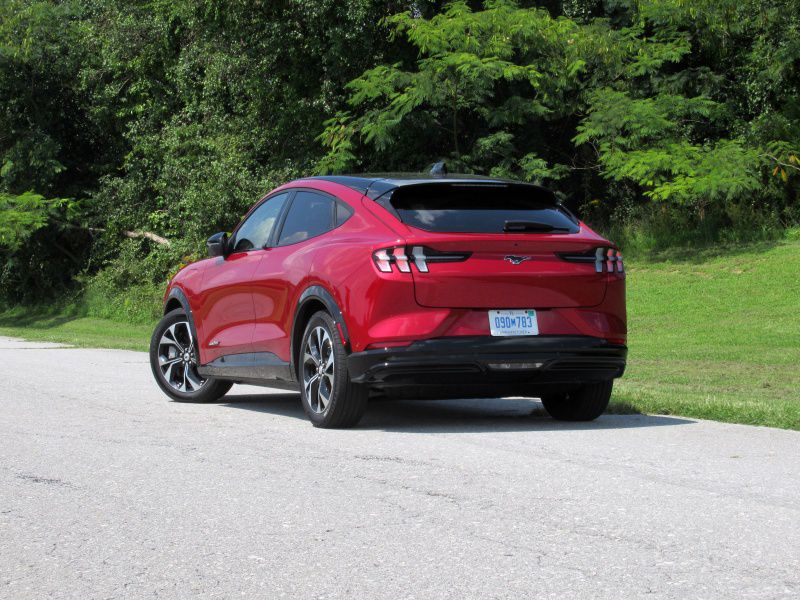 Photo by Brady Holt
Tech-Focused Interior
Tesla won big in the EV world with big touchscreens, and that's the dominant element of the Mach-E interior, too. In the Ford, it's a 15.5-inch vertical screen that occupies the center of the dashboard. With a small digital gauge cluster tucked subtly behind the steering wheel, and mostly straight lines on the dash, the screen is the first thing you notice. 
Still, the experience is Ford-like, for better or for worse. This isn't a futuristic spaceship like an ultra-minimalist Tesla. The Mach-E feels more like a normal car, with some physical buttons and knobs rather than purely touch controls. You set a console-mounted gear selector to Park, Reverse, or Drive, rather than a Tesla's hidden stalk off the steering column. And while fabric upholstery on the upper dashboard sets the Mach-E a bit apart from ordinary cars, it remains on the same plane of existence — a mix of familiar materials and textures. The Mach-E doesn't exactly have a luxury-car interior, though; it's mostly well-finished, but it doesn't have that extra sheen of opulence that would make it high-end.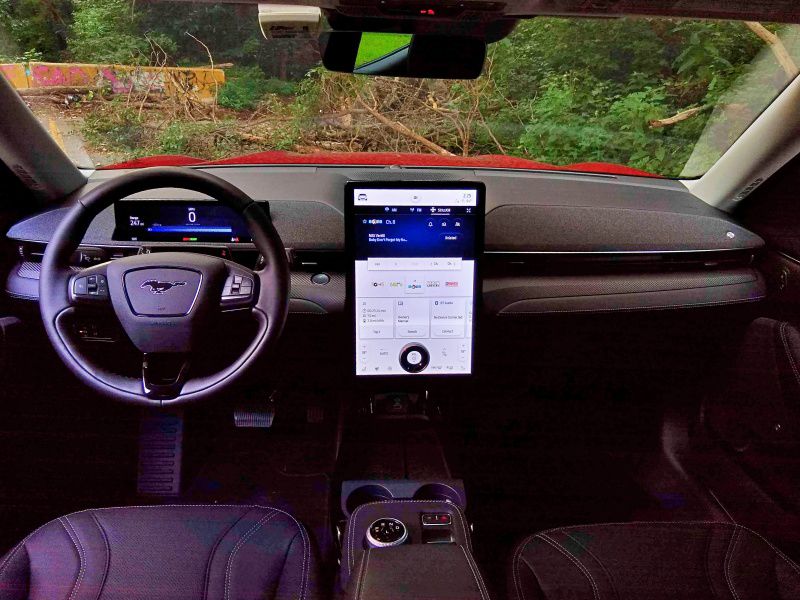 Photo by Brady Holt
Controls That Work Well
A downside to Tesla's tech-focused interior is a steeper learning curve for some controls. Ford keeps some physical dashboard controls — notably a big stereo volume/power knob that sits within the touchscreen — and a more familiar interface. There are also ordinary stalks and knobs for Tesla touchscreen-only functions like windshield wipers and headlights. And the speedometer is in front of the driver, not on the center screen. 
We'd still have preferred even more physical buttons and knobs, which we've found less distracting than navigating screen menus while driving. And the Ford interface sometimes wastes space on the big screen. But it's generally intuitive and responsive, and it cleverly expands and reduces certain views while retaining easy access to others. Another valuable perk to the Ford's system is that it supports Android Auto and Apple CarPlay smartphone integration. That means you can use the big screen for your familiar mobile apps, while Tesla only provides access to its own interface. Tesla has a bigger wow factor, with slicker graphics and more radical departures from the automotive norm, but the Mustang Mach-E is easier to get used to.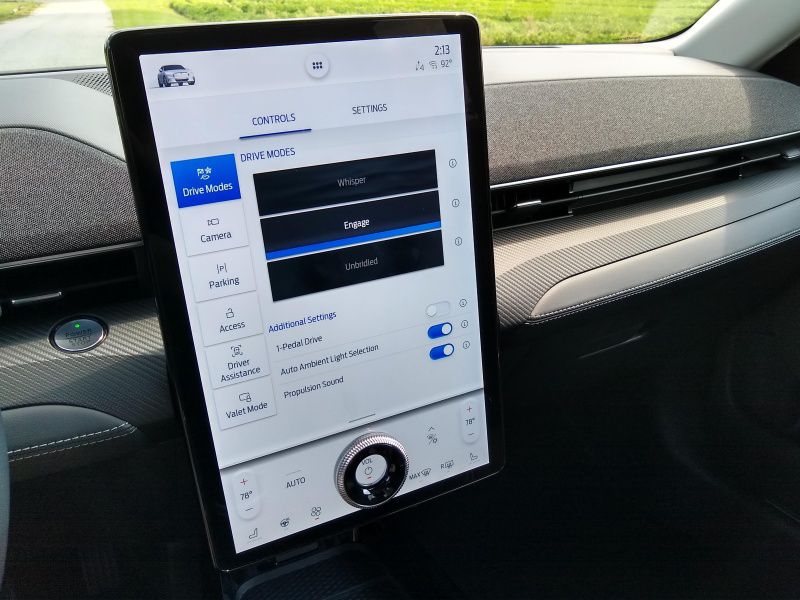 Photo by Brady Holt
Plenty of Room
The Mustang Mach-E is low and sleek for an SUV, barely more than a big five-door hatchback. Still, this is a roomy and functional vehicle — especially for a Mustang. 
The Mach-E is a five-door, five-seat crossover that can fit adults in the front and the back. You don't have a towering truck-like seating position, but you sit higher than we expected from such a sporty-looking vehicle. The seats are well-shaped and supportive, and their bolsters speak to the Mustang's performance pedigree. Cargo volume is useful but not incredible: 29.7 cubic feet behind the rear seat and 59.7 cubic feet when you fold the rear seat down. The low roof means those numbers are less than the smaller Ford Escape crossover or the Tesla Model Y. Ford does provide a front trunk (known as a frunk) with another 4.7 cubic feet of storage space where there'd otherwise be an engine. That's about as much room as you'd find in the regular trunk of a tiny sports car like a Mazda MX-5 Miata. Note that the Mach-E isn't rated to tow a trailer.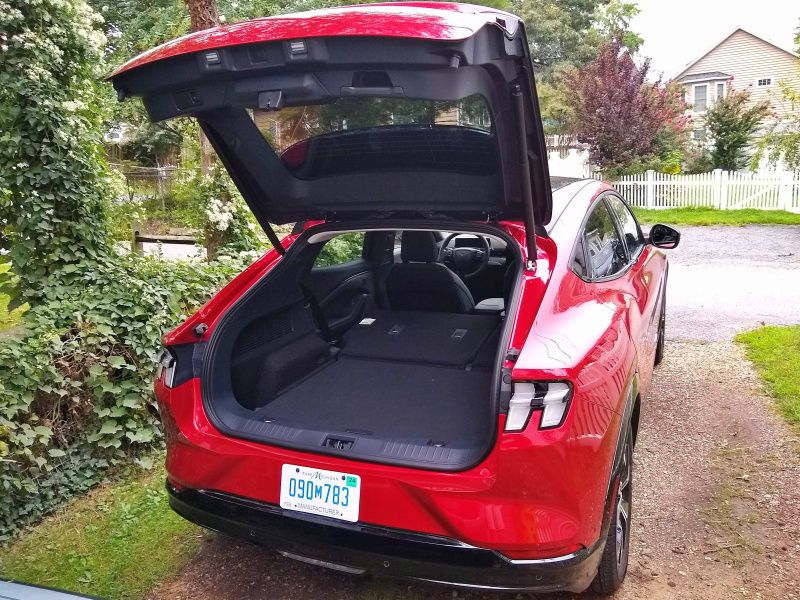 Photo by Brady Holt
Sporty Driving Manners
Electric cars deliver peak torque right off the line, which means they'll get moving in a hurry. Even the base Mustang Mach-E has 266 horsepower and can reach 60 mph in about 6 seconds. There's also a mid-level 348-horsepower model (like our test vehicle) that can break 5 seconds and a top 480-horsepower version with a quoted 3.5-second run. 
Straight-line speed isn't unusual in electric vehicles, but the Mustang Mach-E also brings a well-sorted suspension with a composed ride and agile handling. For better or for worse, Ford doesn't isolate you from the road; some EVs have extra-polished but detached driving manners, but the Mach-E is more like a traditional Mustang. That vibe also extends to the wide hood; this isn't a sporty car that tries to feel small and lithe. Instead, it's big and brash — even without a V8 engine burbling under the hood. Drivers can choose among three driving modes: Whisper, Engage, and Unbridled, each with their own balance of performance and efficiency. In each mode, you can also select "one-pedal driving" in which lifting off the accelerator is enough to slow the vehicle, and "propulsion sound," a computer-generated noise that simulates an accelerating engine.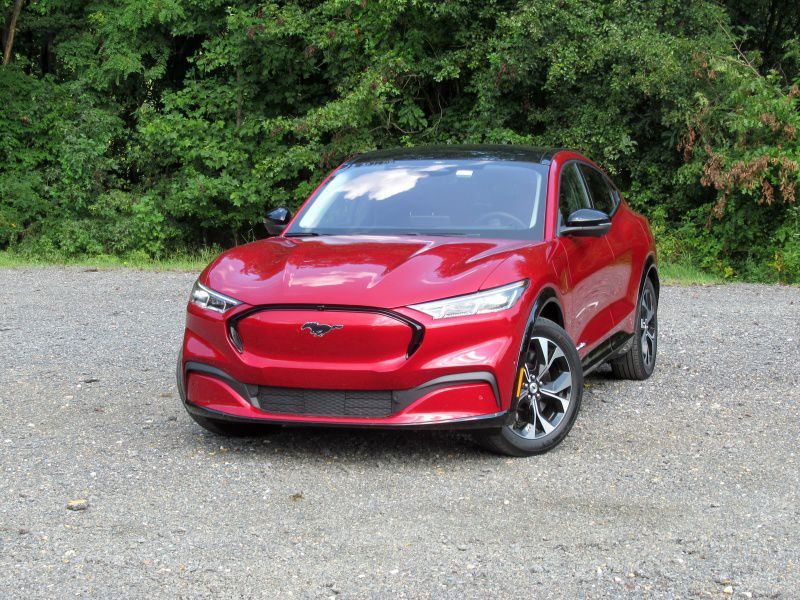 Photo by Brady Holt
Hands-Free Driving
When you're not in the mood for exuberant driving, the Mach-E can take some driving tasks off your hands. Every model includes adaptive cruise control and automatic lane-keeping steering assistance, handy driver's aids that are widely available today. But to combat Tesla's famous Autopilot, the new model year also brings BlueCruise, Ford's hands-free driving technology. 
Unlike Autopilot or even Tesla's "Full Self Driving," Ford actively encourages drivers to take their hands off the steering wheel and let the system take control, albeit while remaining attentive and ready to grab the wheel if needed. Besides BlueCruise, only General Motors' Super Cruise offers hands-free driving; by contrast, Tesla tells drivers (though sometimes with a wink and a nod) to hold onto the wheel. BlueCruise works on more than 100,000 miles of U.S. controlled-access highways that Ford has meticulously scanned and taught to its cars. On other streets, you hold the steering wheel for the more conventional driver aids. Ford might have saved BlueCruise for top-of-the-line Mach-E models, but it's optional even on the base model and standard on the rest of the lineup.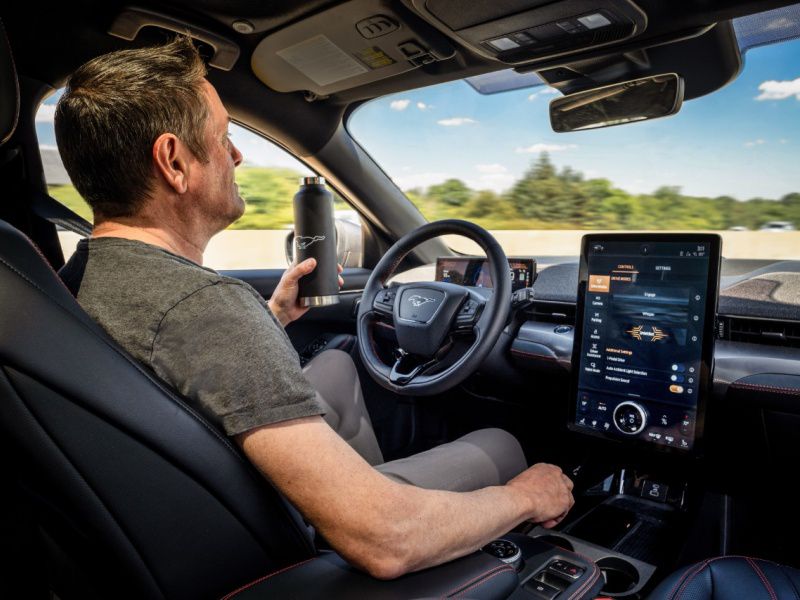 Photo by Ford
Up to 305 Miles Per Charge
The base Mustang Mach-E's battery pack can travel an EPA-estimated 230 miles with rear-wheel drive and 211 miles with all-wheel drive. The larger battery pack pushes range to 300 or 305 miles (depending on the trim level) with rear-wheel drive and 260 to 270 miles with all-wheel drive. Rear-drive models average the equivalent of 97 to 101 mpg in EPA tests, while all-wheel-drive 82 to 93 MPGe. Our AWD model, rated at 90 MPGe and 270 miles per charge, averaged 104 MPGe and was on track for 298 miles of range (we didn't run it to empty). 
Ford estimates that a public fast-charging station will push the Mach-E to an 80 percent charge within an hour, with the first 60 miles arriving in as little as 10 minutes. A standard 220-volt car charger (common at home or in many public charging stations), a full charge from zero takes 10 hours — in other words, it would be done overnight even if you arrived home with an empty battery, which won't be too common. Even plugging into a 110-volt three-prong household outlet is good enough for 3 miles of range per hour.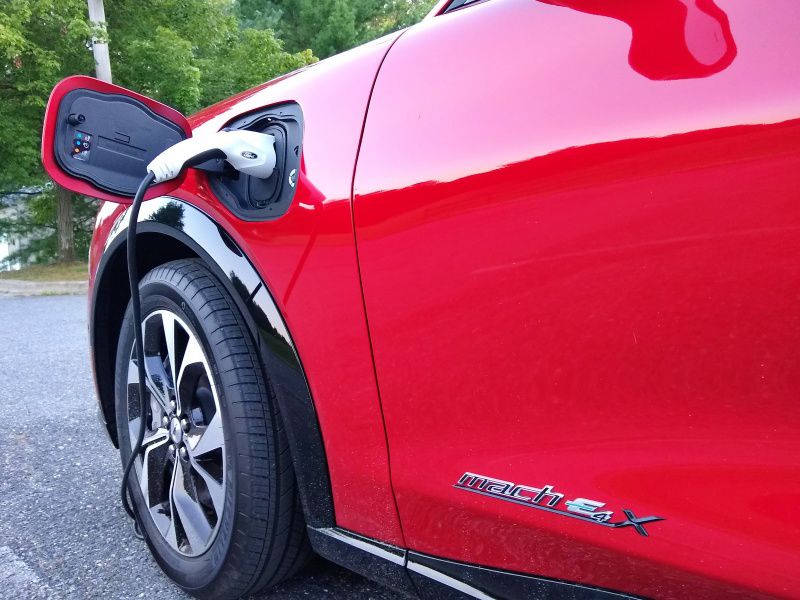 Photo by Brady Holt
Priced Like a Ford Edge
As long as you factor in the Mustang Mach-E's $7,500 federal tax credit, it's priced similarly to the Ford Edge mid-size crossover. The base Select starts at $42,895 (or $35,395 after the tax credit) with a long list of standard features: leatherette upholstery, the jumbo 15.5-inch infotainment screen with GPS navigation, a wireless smartphone charger, leatherette upholstery, and a long list of advanced safety features: automatic emergency braking, adaptive cruise control, blind-spot monitoring, front and rear parking sensors. 
Unfortunately, heated front seats and a heated steering wheel — EV staples when you don't want your range to go into your heater — are part of a pricy $3,200 package. It's a good deal overall, also bringing a power liftgate, a surround-view parking camera, automatic self-parking, and BlueCruise. But it's an expensive way to get heated seats. The next-up Premium starts at $48,100 with the Select's options plus a panoramic sunroof and a 10-speaker stereo. The larger battery pack arrives at $50,775 for the California Route 1 (without the latter two Premium features) and $53,100 on the Premium, where it's optional. The 480-hp GT starts at $59,995.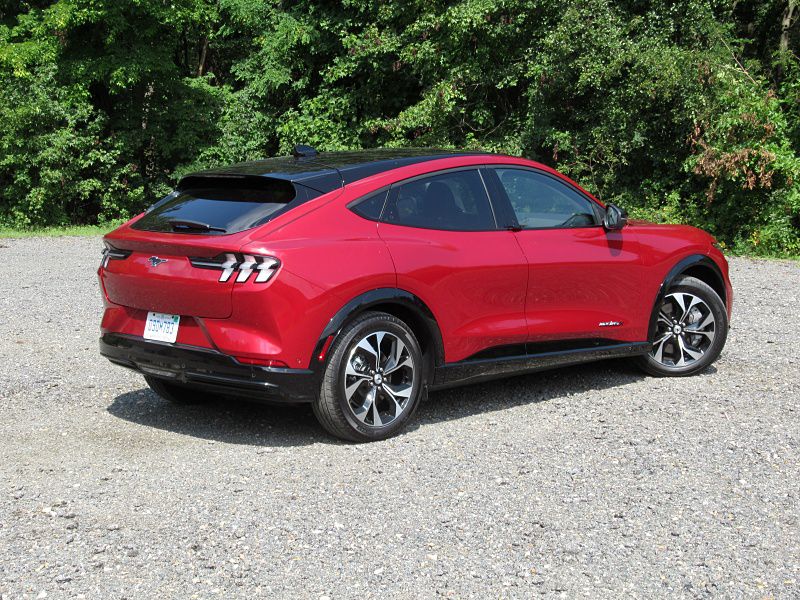 Photo by Brady Holt
Competitors to Consider
The Mustang Mach-E's top rival is the Tesla Model Y, largely because Tesla is the first thing anyone thinks of for electric vehicles. But the Model Y is substantially more expensive; while Tesla prices change often, it currently starts at a steep $58,990 and isn't eligible for the Ford's $7,500 federal tax credit. The Model Y has a longer range (318 miles), a roomier cabin, and Tesla's proprietary Supercharger fast-charging network, but the Mach-E generally stacks up nicely despite costing much less.
A few other all-electric crossovers are also available. There's the Volkswagen ID.4, which is the leading option if the Mach-E is too expressive and performance-focused. This is a sensible-looking, fairly affordable crossover that starts at $39,995 before the tax credit, but it brings little driving excitement and has frustrating dashboard controls. For not much more money, the new Audi Q4 e-tron is a luxury version of the ID.4 with a fancier interior and simpler controls. Upcoming challengers include the Hyundai Ioniq 5, Kia EV6, Nissan Ariya, Subaru Solterra, and Toyota bZ4x, but none is likely to match the Ford's sporty demeanor or BlueCruise capabilities.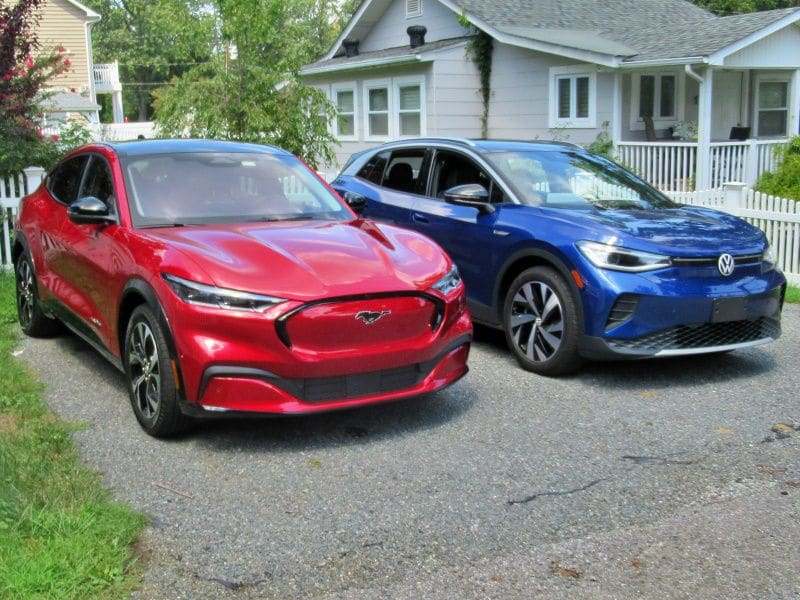 Photo by Brady Holt
Detroit's EV
The Mustang Mach-E takes the style and flavor of an American classic sports car, turns it into a useful SUV, and then gives it an eco-friendly electric powertrain. The result isn't an ultramodern driving pod of the future, but the Mach-E has clear nods to Tesla's success on that front — the big screen, BlueCruise, and electrification in general — while retaining a connection to gas-powered cars.
Ford hasn't created a perfect EV. Base-model range could be better, and not everyone will love the old-school-sporty driving experience. But the Mustang Mach-E demonstrates that electric vehicles can be more than iPhones with wheels. It brings a unique character — mostly well-executed — without resorting to luxury-car prices. And when your budget is higher, this Ford adds a higher dose of performance and range per charge. Mustang fans who love multistate road trips might wish Ford had created a gas version of the Mach-E. But this crossover has a lot to like whether you're passionate about electric vehicles or are drawn to any compelling mix of performance and functionality. This isn't the only American electric car, but it's the most classically American.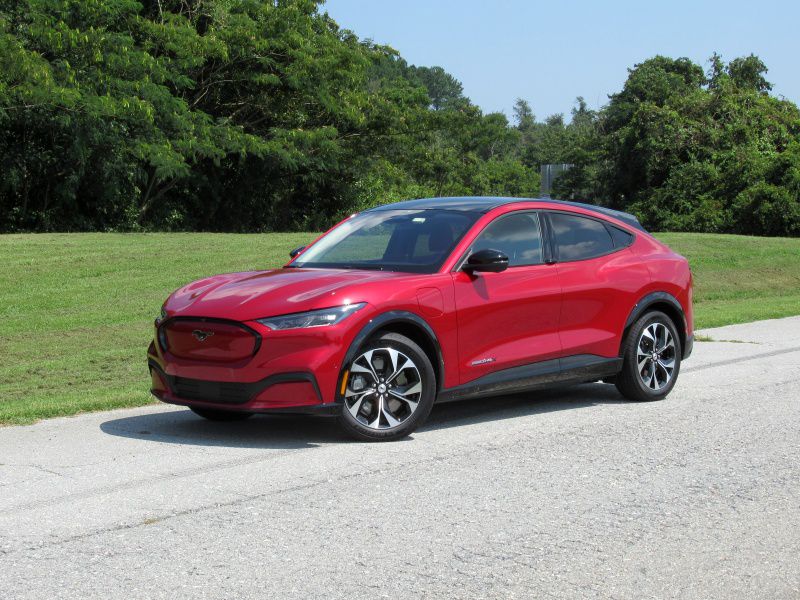 Photo by Brady Holt