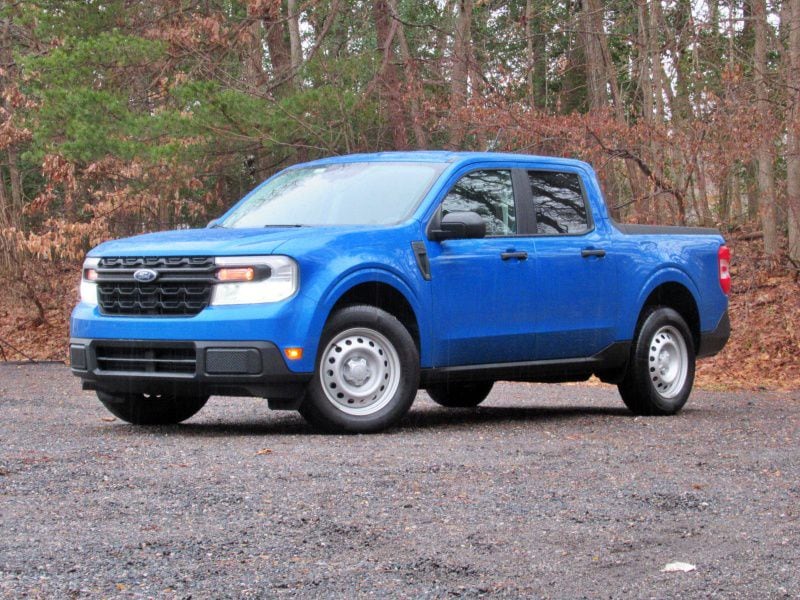 2022 Ford Maverick XL Hybrid ・ Photo by Brady Holt
The Ford Ranger has spent its life as Ford's smallest pickup, dating all the way back to 1982 — minus a hiatus from 2011 to 2019. But like the rest of America's smallest pickups, the 2019 Ranger isn't small. It's a "mid-size" truck, but at its debut, the only pickups smaller than "medium" had left production years ago.
Enter the all-new 2022 Ford Maverick. It measures 11 inches shorter, 3 inches lower, and 5 inches narrower than today's Ranger, making it one of the first compact pickups sold in the U.S. (the other being the similarly sized 2022 Hyundai Santa Cruz) since the 2011 Ranger. But the Maverick isn't merely smaller and more affordable than the Ranger, priced from a mere $19,995. It also rides on a front-wheel-drive-based platform, and its base powertrain is a fuel-sipping gas-electric hybrid. For this review, we've tested the Maverick and the Ranger to compare them in eight categories and then name an overall winner. Keep reading to learn which one we chose and which smaller-sized Ford pickup is right for you. 
Exterior Design
Ask an illustrator to sketch a small pickup truck, and they'll come up with the Ford Maverick. It's a straightforward rounded-off box with straight lines, big headlights, and an upright profile. It doesn't set out to be overtly cool, yet some buyers will love its disciplined focus on simplicity. That's exemplified on our base XL test vehicle, which sports work-truck-style steel wheels. Ford adds a couple of nifty design details like a smartly creased tailgate and an off-center rear license plate. 
The Ranger is clearly bigger than the Maverick, at least in person. Yet even with our test truck's off-road-ready stance, we found it less purposeful than the little Maverick. The front end curves away from the bumper to meet the hood; the headlights and grille are small; and the taillights are oddly big. A more squared-off Ranger is coming for the 2023 model year. Even now, flared fenders and some off-road-themed appearance packages make the Ranger look tougher, and some buyers will appreciate the Ranger's extra chrome on certain trim levels. We'll let you choose your own winner. 
Tie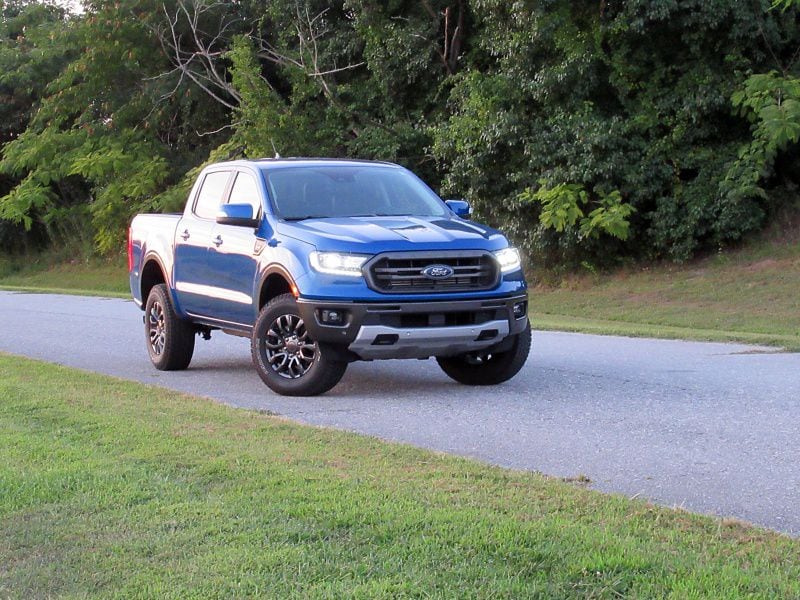 Photo by Brady Holt
Interior Design
Inside, the Maverick continues its vibe of simple and unpretentious. This isn't a luxury vehicle, and it isn't an off-road toy. There are hard plastics, exposed screw heads, and straight lines everywhere. No one would confuse this for a sedan's dashboard, but except for splashes of color on certain trim levels, it doesn't try to be overtly tough or playful. An 8-inch infotainment touchscreen is standard, and we welcomed its big, simple fonts and ultra-quick responses. 
The Ranger's interior is like its exterior, too: upright but with rounded-off edges. We found no glaring issues with its appearance, build quality, or ergonomics. But nor is there anything endearing about the Ranger's interior like the Maverick's. It's inoffensive, but there isn't much design flair. Most Rangers' 8-inch infotainment system offers a few more features like GPS navigation, but the result is a more cluttered screen. (The base Ranger XL has a tiny 3.5-inch display.) An ideal separation between the two trucks' interiors would be the humble, proudly all-business Maverick and a bolder, tougher-looking, or more opulently finished Ranger. And that's maybe what Ford has in mind for next year's model. For now, we pick the Maverick. 
Ford Ranger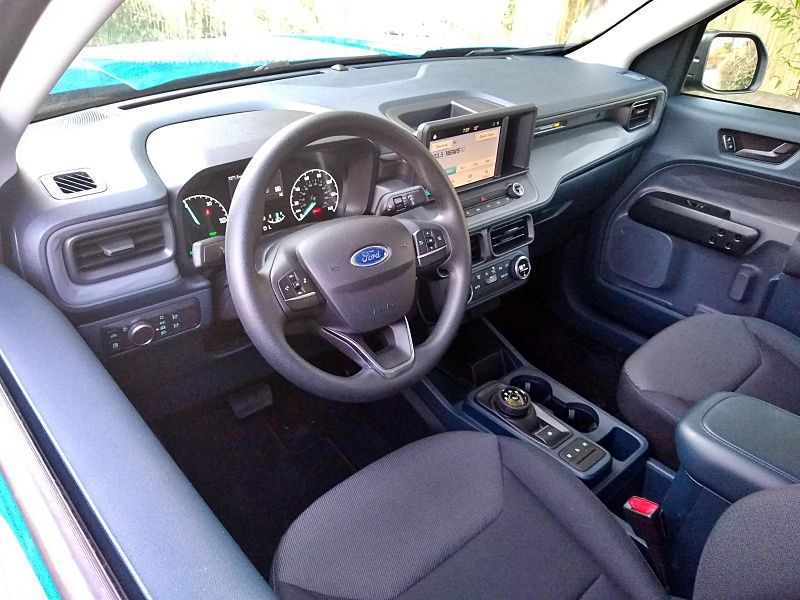 Photo by Brady Holt
Passenger Accommodations
The Maverick is sold exclusively as a four-door crew cab, which is also the more popular Ranger configuration. You can also get the Ranger as an extended cab with a tiny rear seat area that's best saved for cabin storage and rare emergencies. 
Comparing crew cab to crew cab, you'd probably assume the Ranger would be roomier than the smaller Maverick. Not so. And that's because of the Maverick's space-efficient car-based body. By the numbers, the Maverick equals or even edges out the Ranger for front- and rear-seat space. And subjectively, we preferred the smaller Ford's driving position, entry/exit, and outward visibility. Cowhide fans will lament that the Maverick comes only with cloth seats or imitation leatherette; genuine leather is included on the top Ranger trim level. On the other hand, both trucks offer heated front seats, and only the Maverick has an optional heated steering wheel. Overall, we'll call this category a tie between the two pickups' similarly sized front and rear seats. 
Tie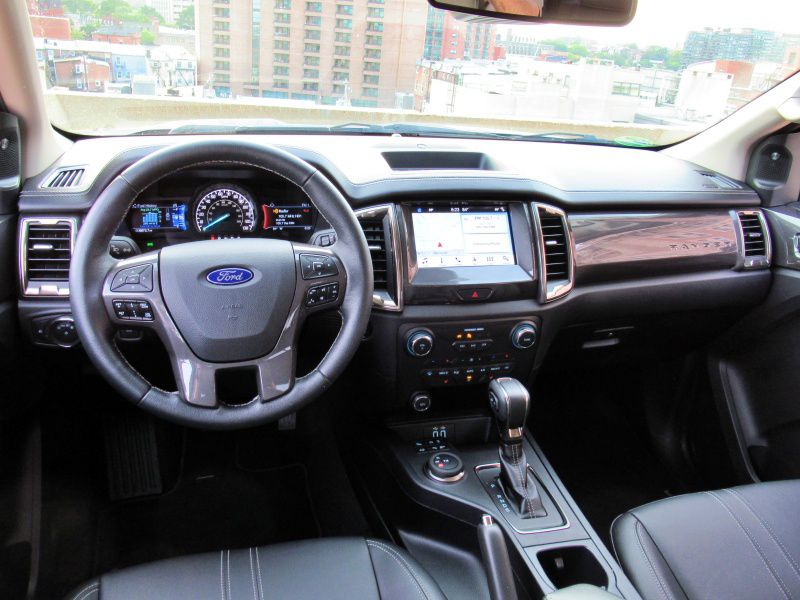 Photo by Brady Holt
Cargo and Capability
The Ranger can handle a payload of up to 1,860 pounds and tow up to 7,500 pounds. Those are exceptional ratings for a mid-size truck. The crew cab has a 5-foot-long bed, while the extended cab has a 6-foot-long bed. The Ranger also has a hardy off-road-ready platform. Options include dedicated driving modes for grass/gravel/snow, mud/ruts, and sand; a "Trail Control" off-road cruise control system; an electronically locking rear differential; an off-road suspension and tires; skid plates; and displays showing the truck's pitch, roll, and steering angle. 
The Maverick trails the Ranger in each way. Payload is respectable at 1,500 pounds, but towing tops out at 4,000 pounds with the optional turbo engine and towing package. And other Mavericks can only pull half that amount: the same 2,000-pound rating as the three-cylinder version of the Ford Escape compact crossover. Meanwhile, the Maverick's bed is a mere 54 inches long, and while this car-based pickup could probably handle some mud or snow, it's not designed for true off-road adventures. The Maverick makes smart use of its size, but the Ranger is the obvious choice for harder work or play.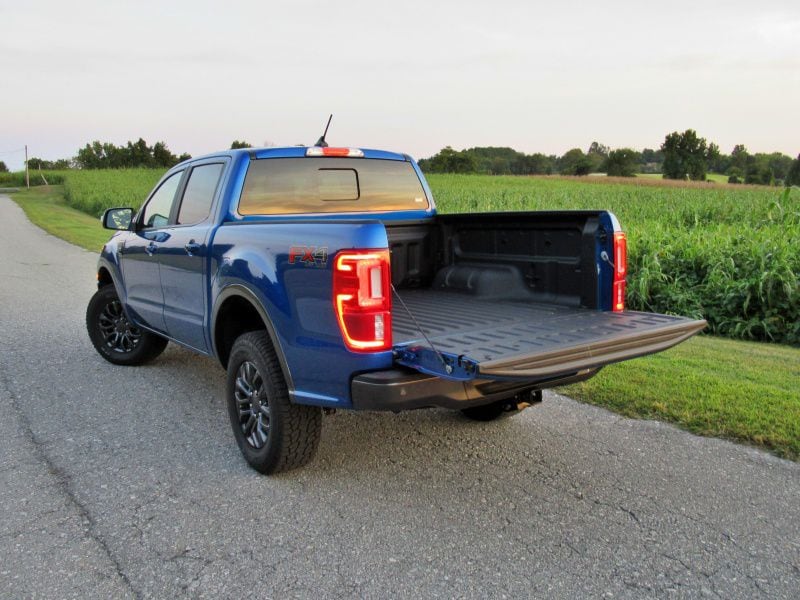 Photo by Brady Holt
Driving Impressions
The highlight of the Ranger's on-road driving experience is a smooth, lively, and hearty-sounding 270-horsepower 2.3-liter turbocharged four-cylinder engine. The rest is less special. While it's decently quiet, the Ranger has a bouncy ride, vague steering, and clumsy handling compared with today's best mid-size pickups. Yet it also doesn't have the potentially fun rough-and-tumble attitude of a couple competing trucks, either. 
The Maverick, meanwhile, drives like a good small car. It's light and lithe, with firm and responsive steering, yet a crossover-smooth ride. Our test vehicle had the base standard hybrid powertrain: a 2.5-liter gasoline four-cylinder paired with an electric motor for a total of 191 horsepower. This isn't a speed demon, but it's still not slow for a small pickup. And its gruff-sounding gas engine doesn't seem out of place in the utilitarian Maverick. The optional 250-horsepower 2.0-liter turbocharged four-cylinder engine scoots the Maverick forward more quietly and effortlessly. 
Ford Maverick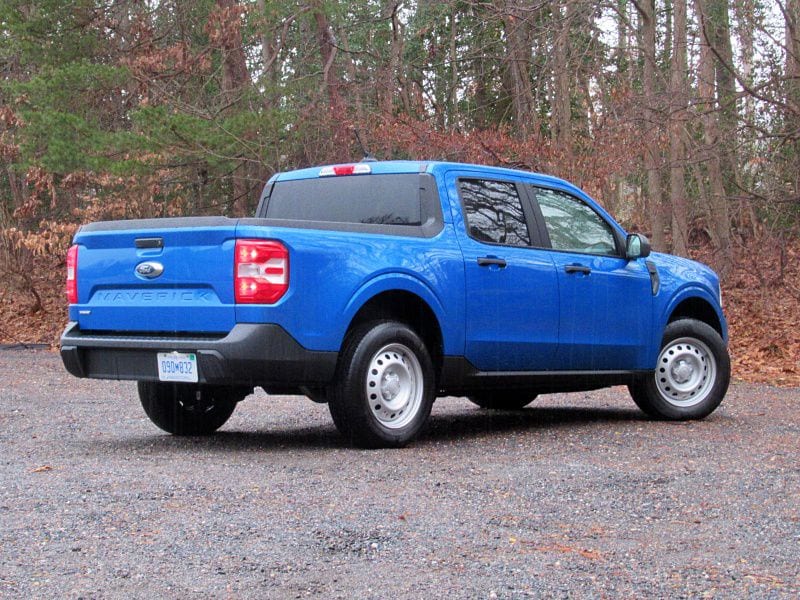 Photo by Brady Holt
Fuel Economy
The Ranger gets excellent gas mileage for a powerful mid-size truck. The EPA pegs it at 21 mpg in the city, 26 mpg on the highway, and 23 mpg overall with rear-wheel drive and 20 mpg city, 23 mpg highway, and 22 mpg combined with four-wheel-drive. We averaged 23 mpg during a weeklong test of a 4WD Ranger. 
Still, that's nothing next to the smaller, lighter Maverick. Even with the optional turbo engine, its EPA ratings are 23 mpg city, 30 mpg highway, and 26 mpg combined with front-wheel drive and 1 mpg less with all-wheel drive. The hybrid Maverick, sold only with front-wheel drive, is the best of any pickup you don't have to plug in. The EPA estimates an incredible 42 mpg city, 33 mpg highway, and 37 mpg combined. We averaged 38 mpg in a weeklong test that included many highway stretches. Our individual drives ranged from 32 mpg to more than 50 mpg. You'll find some of its best performance where gas-only pickups are at their worst: bumper-to-bumper traffic. If you're planning on long drives on open freeways, though, the two Maverick engines should be similarly efficient. And either one handily beats the Ranger's mileage. 
Ford Maverick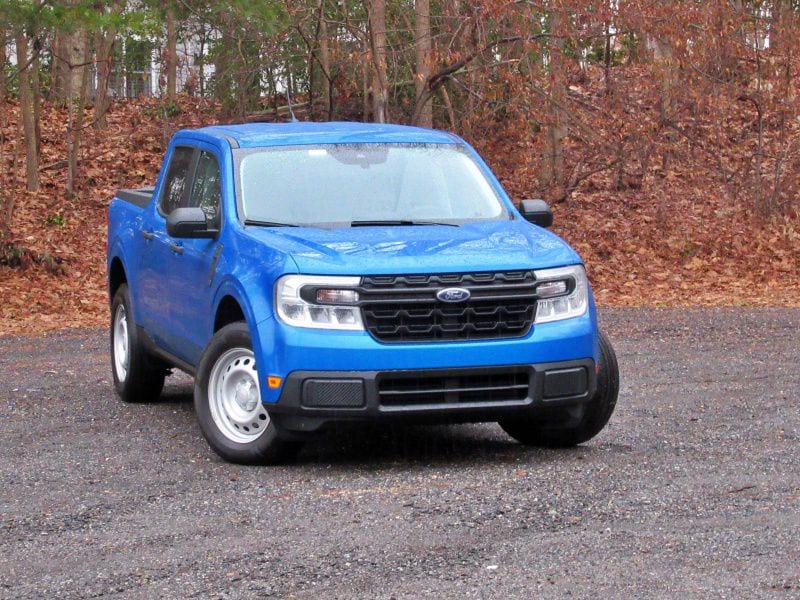 Photo by Brady Holt
Pricing and Features
The base 2022 Ford Maverick XL like our test vehicle starts at a headline-grabbing $19,995. It's admittedly a bit bare-bones, with no cruise control or alloy wheels, but it does come with some other unexpectedly high-end features: an 8-inch touchscreen, a six-speaker stereo, and LED headlights with automatic high beams. Even a top Lariat model with the turbo engine, all-wheel drive, and the optional Luxury Package costs $33,565, which is a reasonable price these days for a well-equipped pickup.
The 2022 Ford Ranger costs significantly more. Not only does the base Ranger XL cost $25,500, but that's an extended cab instead of a crew cab, which starts at $27,900. And that's with the 3.5-inch infotainment display and no LED lighting or automatic high beams. The Ranger is available with some features that you can't get on the Maverick: GPS navigation, genuine leather upholstery, and even a rear windshield defogger. But a loaded Ranger Lariat like our test vehicle tops $45,000. 
Ford Maverick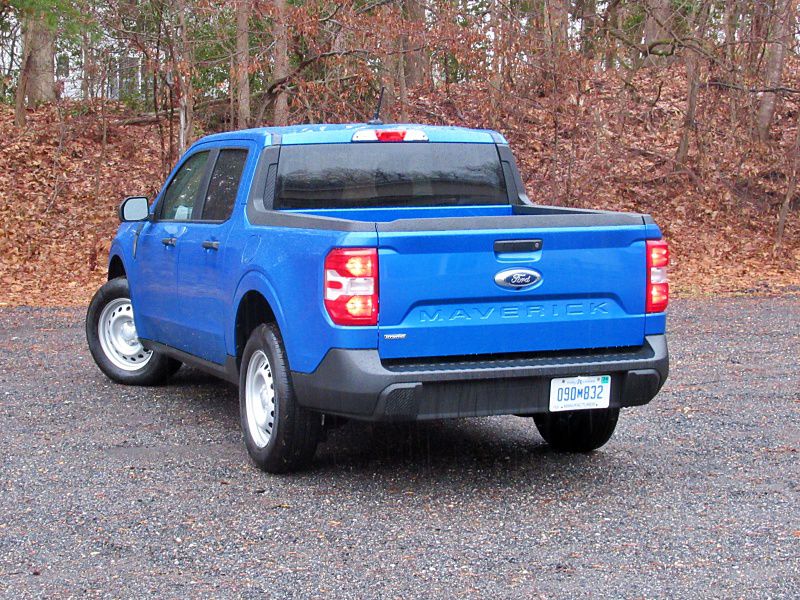 Photo by Brady Holt
Availability
If this article has sent you rushing to your Ford dealership to buy a Maverick, a word of warning: Odds are slim you'll find a Maverick there waiting for you. A pandemic-upended supply chain means skimpy inventory of most new cars, but the Maverick also faces incredible demand and a long waiting list. Ford won't even let you place an order for one until the summer, since it has its hands full for the rest of the 2022 model year with existing orders from dealers and customers. 
You can hunt for an unclaimed Maverick that's heading to the dealer, or buy a gently used one, but both options would likely cost much more than the sticker price. For what it's worth, of course, even a marked-up Maverick can still be an incredible bargain for a pickup. But you'll have an easier time finding a Ranger.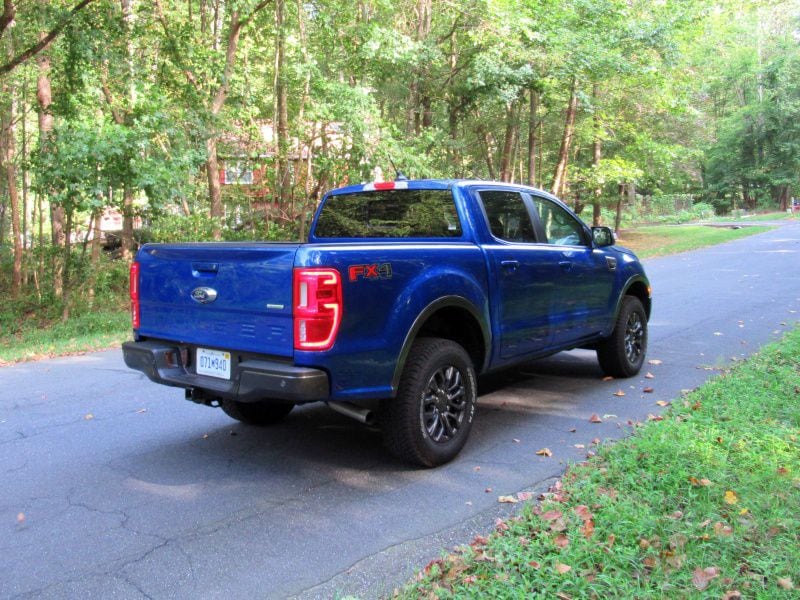 Photo by Brady Holt
Final Thoughts
Some loyal pickup truck buyers are bound to shake their heads at the Maverick. Who'd want a Ford Escape with a little bed when they could get a four-by-four Ranger with nearly twice the towing capability?
A lot of people, it turns out. The Maverick's affordability, simplicity, and fuel economy are a major draw from folks who'd like having a pickup bed but don't need to fill it up with flagstones. And in a world where nearly all pickups have gotten big, a small option is refreshing even for some longtime truck buyers. And did we mention its delightful driving manners? If you're going to put your pickup to work pulling a trailer or climbing mountain trails, the Ranger (or one of its mid-size competitors) is likely a better fit for you. The same applies if you'd pick the extended-cab Ranger's 6-foot bed. But for many buyers, the Maverick is a more logical choice — all while demonstrating that the logical choice doesn't have to be boring and sad. 
Ford Maverick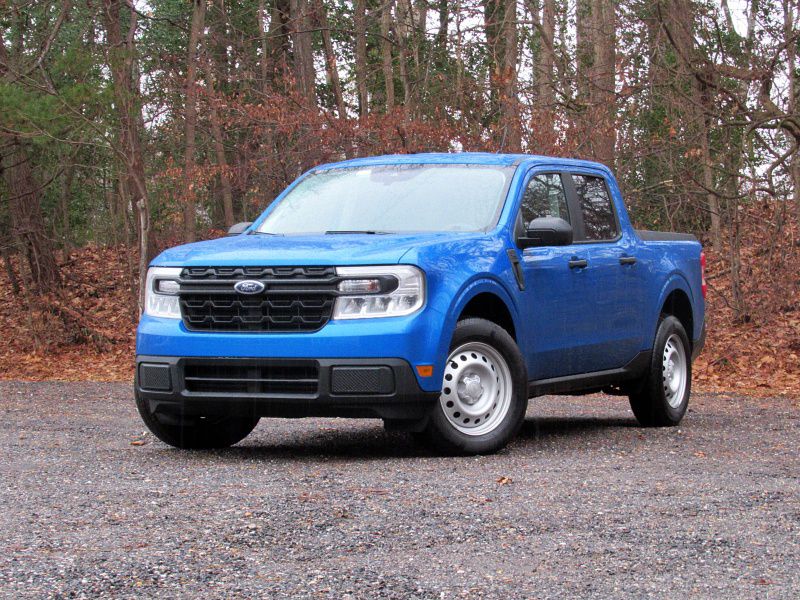 Photo by Brady Holt