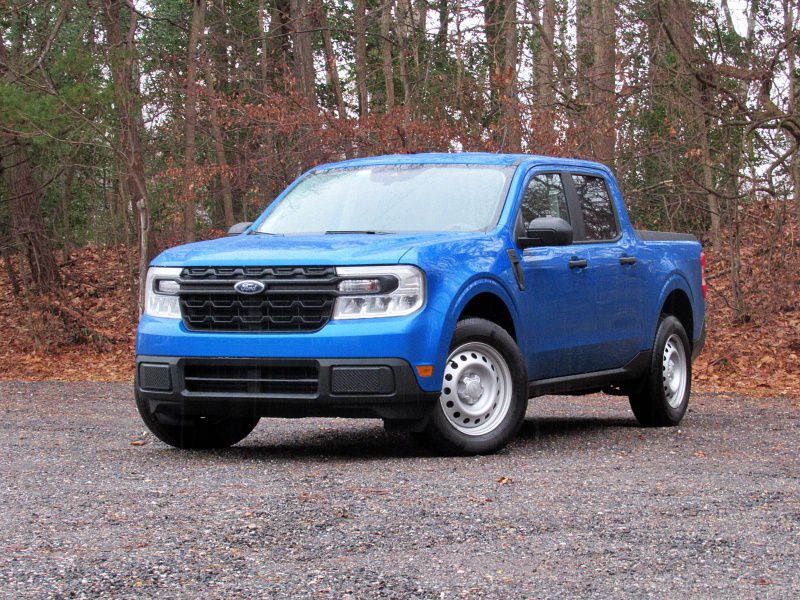 2022 Ford Maverick XL Hybrid ・ Photo by Brady Holt
You've probably seen the headline-grabbing figures: 42 miles per gallon in the city and a base price of $19,995. The all-new 2022 Ford Maverick Hybrid isn't just one of the most economical new vehicles you can buy for that money, and it isn't just America's most affordable gas-electric vehicle. It's also a pickup. How did that happen? 
Meet Ford's new entry-level model, a car-based compact pickup with something for everyone. After it discontinued all its sedans and hatchbacks — and even dropping its smallest crossover SUV — Ford has a lot riding on the Maverick. As such, it's set up to fit an unusual number of market niches: modestly sized pickup, pickup with car-like handling, affordable pickup, economical pickup, low-cost hybrid, and low-cost Ford. And we came away charmed. Keep reading to learn what we liked about the new Maverick Hybrid and see if this unusual pickup could be right for you. 
Incredible Pricing
Most hybrids are expensive, or at least more expensive than their gas-only counterparts. Not the Maverick. Ford uses a 191-horsepower gas-electric powertrain as the pickup's base engine, with a 250-hp turbocharged gas-only four-cylinder as the optional upgrade. (Important caveat that we'll come back to: Only the turbo Maverick offers all-wheel drive. The hybrid is sold only with front-wheel drive.) 
The base $19,995 XL model like our test vehicle is admittedly a bit bare-bones, with no cruise control or alloy wheels. But it does come with some other unexpectedly high-end features: an 8-inch touchscreen, a six-speaker stereo, a Wi-Fi hotspot, automatic emergency braking, and LED headlights with automatic high beams. The next-up XLT, $22,280, is a still-affordable way to get cruise control, alloy wheels, and a longer list of options. Even the top Lariat model barely cracks $30,000 fully loaded, though you can't get genuine leather upholstery, a GPS navigation system, or even a rear windshield defogger. Inventory shortages make it tough to find a Maverick, and any available vehicle will likely sell for more than its sticker price. But that sticker price is such an excellent starting point that you should still get a bargain.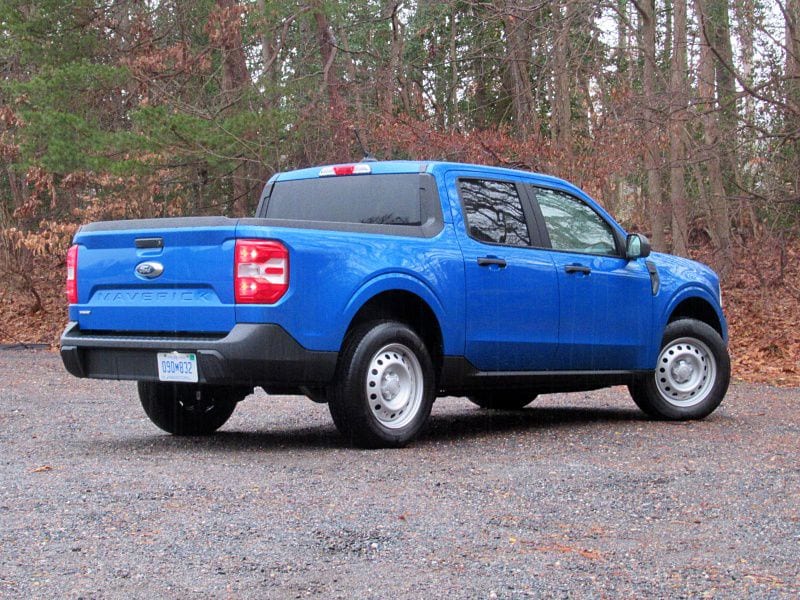 Photo by Brady Holt
Incredible Mileage
The EPA estimates that the Maverick will return 42 mpg in the city, 33 mpg on the highway, and 37 mpg combined. That means the Maverick is an economical little pickup on the open highway and one of the best fuel-sippers in stop-and-go traffic. 
Like most hybrids, the Maverick's electric motor can provide the most assistance under gentle throttle: coasting and accelerating gently. And braking helps recharge the hybrid system's battery. That's why our trip computer reported 42 mpg on a trip where we inched past a freeway-blocking car wreck, conditions that would have sunk a gas-only pickup's mileage. Overall, during our weeklong test, we averaged 38 mpg. In the most favorable conditions, we had one drive that topped 50 mpg; our worst was 32 mpg. The Maverick has a selection of driving modes that includes "Eco," which we selected most of the time. (Curiously for a hybrid, it's not the default option, and you have to cycle past "Tow" and "Slippery" to get it back each time you restart the vehicle.) As we noted, and will remind you again, the Maverick Hybrid is sold only with front-wheel drive.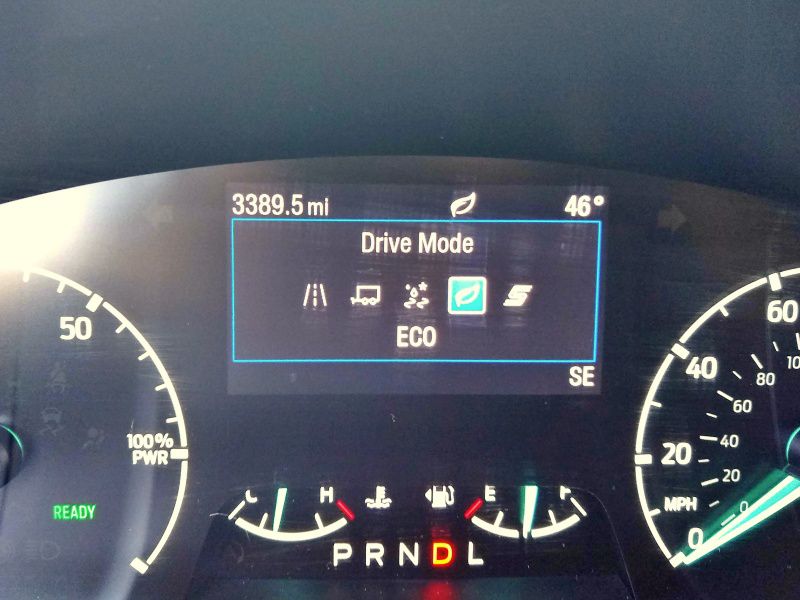 Photo by Brady Holt
Looks Small But Useful
The Maverick hit the market at the same time as another all-new compact car-based pickup: the Hyundai Santa Cruz. Hyundai made a plaything, something overtly funky and sporty. Ford, working from the same type of light-duty unibody underpinnings, made a truck. 
It may sound counterintuitive, but a lack of design pizzazz part of the Maverick's appeal. It's a straightforward rounded-off box with straight lines, big headlights, and an upright profile. It doesn't set out to be overtly cool, yet some buyers will love its disciplined focus on honest simplicity. If an illustrator is jotting down a generic pickup truck, it could be the Maverick. Our tested base-model XL exemplifies that theme with work-truck-style steel wheels. Unlike the Santa Cruz, the Maverick doesn't shout "I'm a car." Still, especially in person, it's small enough to stand clearly apart from conventional pickups. (For comparison, the Maverick measures 11 inches shorter, 3 inches lower, and 5 inches narrower than the mid-size Ford Ranger.) The gas-electric Maverick has a tiny "hybrid" badge on the tailgate, but that's the extent of the visual differences between the pickup's gas and hybrid versions.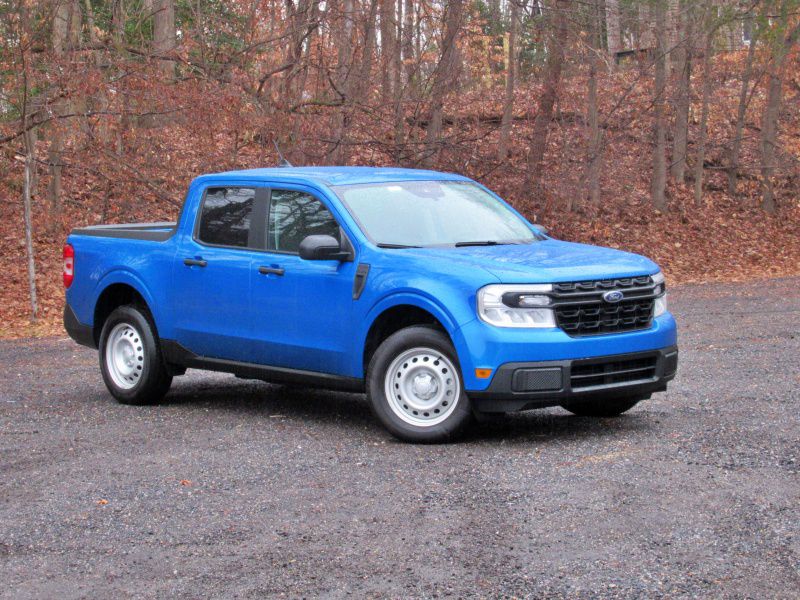 Photo by Brady Holt
Function-First Interior
Inside, the Maverick continues its vibe of simple and unpretentious. This isn't a luxury truck, and it isn't an off-road toy. There are hard plastics, exposed screw heads, and straight lines everywhere. Except for splashes of color on certain trim levels, it doesn't try to be overtly tough or playful. 
Still, we think the Maverick's interior comes off as purposeful, not cheap and dour like many budget-focused vehicles. And the blocky design means no one would confuse this dashboard for a sedan's. We also loved the simple controls, including on the standard 8-inch infotainment system. It's quick to respond, and even stubborn technophiles can't complain about its big fonts and uncluttered display. Android Auto and Apple CarPlay smartphone integration are standard equipment. Our top complaint is that Ford didn't do more for the hybrid's interior. The tachometer swaps for a gauge showing how hard you're pushing the gas pedal or brake, something we can just as easily figure out with our foot. More detailed information — even the basics of hybrid battery-charge level — is restricted to Mavericks with an optionally upgraded gauge cluster: the top Lariat and certain XLTs.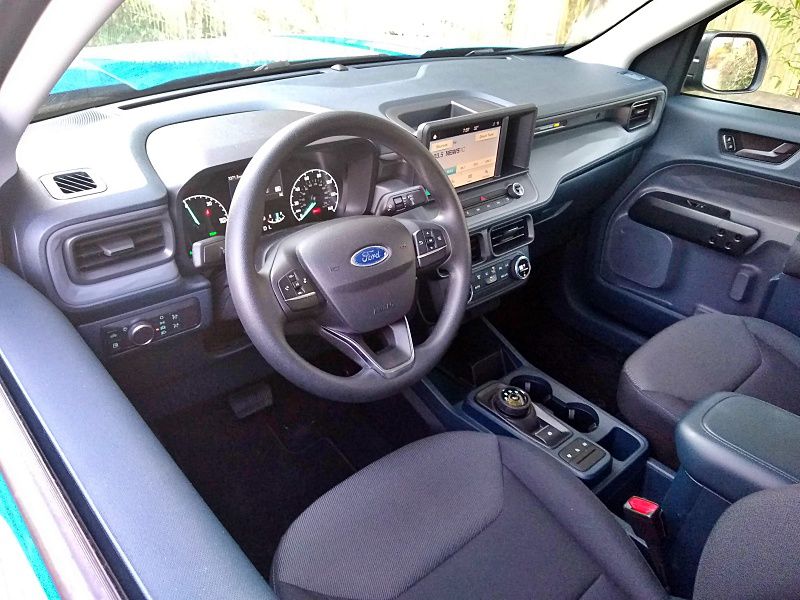 Photo by Brady Holt
Roomier Than It Looks
Given that it's one of the smallest pickups on the market, you'd be astonished if the Maverick had a roomy interior. Still, it provided more space than we expected. The front seats are comfortable, and even tall adults can fit in the back — though they wouldn't stretch out and relax like they could in a full-size Ford F-150. There's just as much space in the compact Maverick as in the mid-size Ford Ranger, plus easier access and better visibility to boot. 
Credit the Maverick's space-efficient crossover-style unibody platform. This lighter-duty suspension won't pull such heavy loads or take a bruising from a boulder-strewn mountain trail, but it leaves extra room for the passenger compartment. One issue is that you can't get the Maverick with leather upholstery; still, imitation leatherette, heated front seats, a power-adjustable driver's seat, and a heated steering wheel are welcome options. 
Photo by Brady Holt
Not a Cargo Hauler
The little Maverick can handle a respectable 1,500-pound payload in its little 54-inch-long bed. And Ford cleverly configured the tailgate to lock into a partially lowered position, allowing 4-by-8 sheets of plywood to rest atop it and the wheel wells. Other neat touches include the bed's built-in bottle opener. But overall, the Maverick isn't a major cargo-hauling pickup, especially in hybrid form. 
The turbocharged Maverick is available with an optional package that doubles its towing capacity from a modest 2,000 pounds to 4,000 pounds. However, that engine is stronger than the Maverick Hybrid's. And that towing package is only available with all-wheel-drive Mavericks, while the hybrid offers only front-wheel drive. As a final nitpick, unlike a growing number of pickups today, the Maverick's tailgate is undamped; it drops straight down when you unlatch it, rather than easing itself down gently. Ford sells an aftermarket "tailgate assist" strut for $50 plus installation, but it takes away your bottle opener and one of the bed's tie-down points.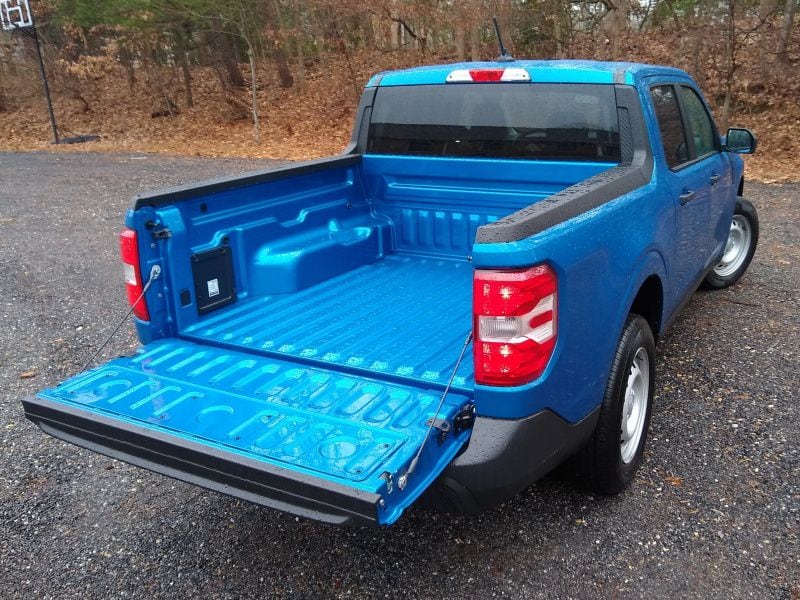 Photo by Brady Holt
Lively Handling
You'll find small sedans that handle with less verve than the Ford Maverick Hybrid. The steering is firm, direct, and responsive, and it's paired with a well-sorted suspension that delivers impressive composure whether you're going in a straight line or around a curve. Firm without being stiff, this is a delightfully agreeable pickup to drive if you aren't dedicated to the character of a bouncy traditional truck. 
With just 191 horsepower and a continuously variable automatic transmission, don't expect the Maverick Hybrid to set any speed records. Still, it's not embarrassingly slow for a small pickup. And its engine, which sounds a bit industrial when used in the Ford Escape Hybrid crossover, isn't a bad fit for the Maverick. When you want to go faster, the 250-hp turbo engine costs only around $1,100 extra, and it lets you get all-wheel drive. However, the EPA estimates the hybrid will do 3 mpg better than the gas-only Maverick on the highway — and an incredible 19 mpg better in city driving. 
Photo by Brady Holt
Indirect Competitors
The closest competitor to the Maverick Hybrid is the gas-only Maverick. As we mentioned, the turbo costs only a little bit more, brings much quicker acceleration, and lets you upgrade to AWD and a higher towing capacity. On the other hand, the Maverick Hybrid's gas mileage and value make for an incredible combination if you don't need maximum acceleration and capability. 
While it's not sold as a hybrid, the Hyundai Santa Cruz is the next-closest competitor to any Maverick. It has a choice of an extra-quick turbo engine and a base motor with equivalent power (though not equivalent gas mileage) to the Maverick Hybrid. It's funky, spunky, and fun to drive, and it's more high-tech and upscale than the Maverick. If the Ford's gas mileage or the Hyundai's AWD don't settle the matter for you, it's a matter of choosing your preferred vibe. We'd also shop the Maverick Hybrid against some gas-electric compact crossovers, which make you give up a separate pickup bed but which give you a single open cargo hold. In addition to the Ford Escape Hybrid, the Toyota RAV4 Hybrid, Honda CR-V Hybrid, and Hyundai Tucson Hybrid are appealing. But they all cost much more than the Maverick Hybrid.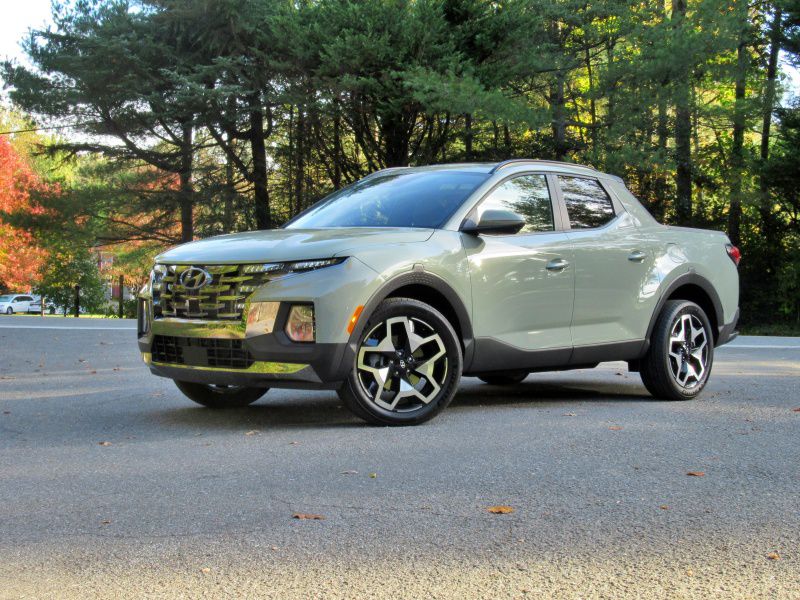 Photo by Brady Holt
Smart Little Pickup
Ford could have made a cheap pickup truck that was merely a cheap pickup truck. Or Ford could have made something brilliant to drive, outrageously economical, and intelligently styled, and charged a fair bit of money for it. 
Instead, Ford sweated the details on the Maverick Hybrid, creating a vehicle that's better than any $20,000 pickup has a right to be. We wish for an AWD option that would make this little pickup a viable choice for more prospective buyers. But when two-wheel drive is just fine, the 2022 Ford Maverick Hybrid is a smartly designed vehicle that's sensible without being stodgy. Between customer and dealer orders, the entire 2022 model run sold out several months ago, and for good reason. If you can find a Maverick Hybrid, we think you will happily take it home.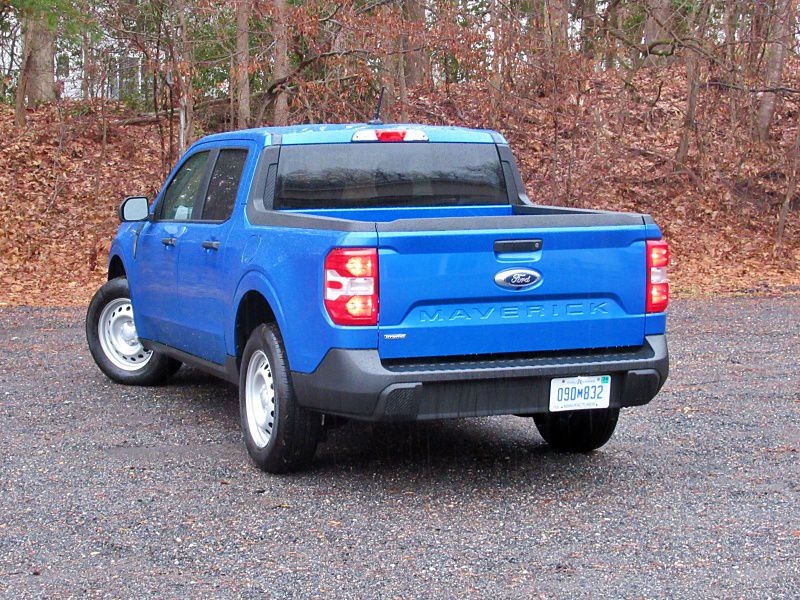 Photo by Brady Holt