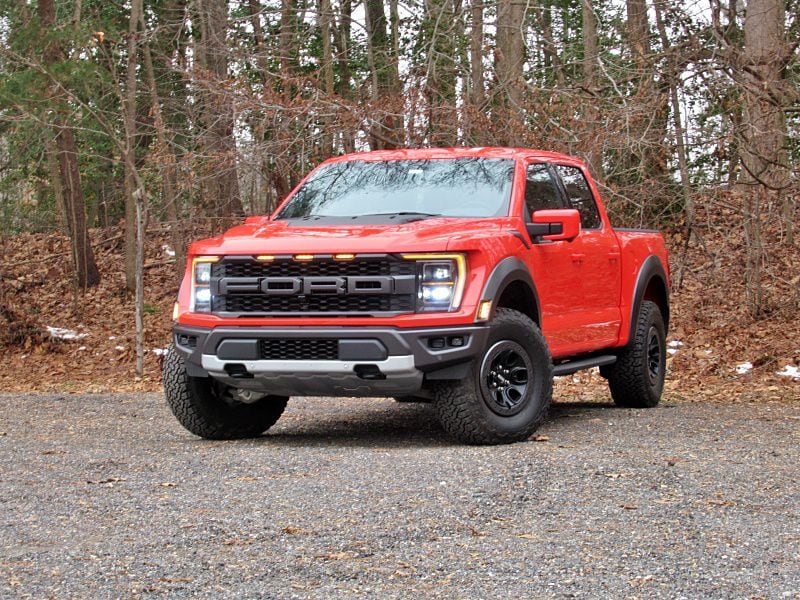 2021 Ford F-150 Raptor ・ Photo by Brady Holt
The Ford F-150 needs little introduction. It's the best-selling model of the Ford F-Series full-size pickup line, which is more popular than any other vehicle in the entire country. 
Like other half-ton pickups, the 2022 Ford F-150 has a wide range of trim levels and body styles, ranging from simple work vehicles to decked-out four-wheel-drive luxury cars with beds. Like other modern half-ton pickups, the F-150 is spacious, comfortable, and civilized, yet also absurdly capable. But Ford carves out a niche with unusual innovation for a best-seller. Not content to stick with a winning formula, the F-150 has been the full-size pickup responsible for the segment's first high-performance off-road model, its first weight-saving aluminum body, its first fuel-saving turbocharged engines, its first true gas-electric hybrid model in nearly a decade, and (coming soon) its first all-electric model. But it has inspired imitators, while other trucks have sought to establish themselves in other ways. For this review, we've tested two very different F-150 models — an economical PowerBoost hybrid and a dune-hopping Raptor. Keep reading to see what we learned from our time with these pickups and whether the F-150 sounds like the right truck for you.
Massive Model Range
The 2022 Ford F-150 is available in a dizzying array of configurations. You can choose among eight trim levels, three body styles (regular cab, extended cab, and crew cab), three bed lengths, and six powertrains. 
Prices start as low as $29,990 for an XL rear-wheel-drive regular cab, but a fully loaded Limited crew cab can top $80,000. We'd say the heart of the lineup for most retail buyers are the XLT and Lariat four-wheel-drive crew cabs, which start at $45,385 and $52,545, respectively. That's in line with the competition, even though these F-150 models come standard with high-end safety equipment that includes front and rear automatic emergency braking, a lane-departure warning with lane-keeping assistance, and blind-spot monitoring. You'll pay extra for all that on most pickups. The Lariat's extra $7,000 buys leather upholstery, power-adjustable front seats with heating and ventilation, and a bigger infotainment screen; that's a reasonable enough surcharge. The PowerBoost Hybrid costs several thousand dollars extra on most trim levels, while the Raptor — equipped similarly to the Lariat before you add its off-road gear — starts at $65,375.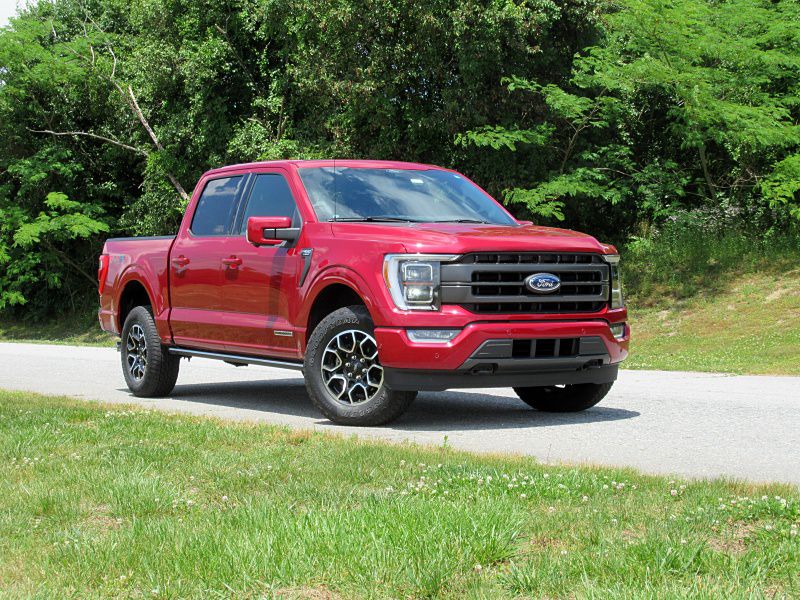 Photo by Brady Holt
Familiar Exterior Design
Ford redesigned the F-150 just last year, but the result wasn't a dramatic departure from the recent past. The headlights and taillights got simpler and less angular, but pretty much everything else is in the same place as before: vertical headlights that sit against a big, upright grille, plus a boxy cab whose windowline dips down partway along the front doors. 
The F-150 doesn't have an in-your-face vibe as much as some jumbo pickups, and it keeps its details simple. This conservative approach might turn off some truck buyers who wish Ford had pushed the design envelope more, but we can't imagine this styling making many enemies. There's nothing controversial like the Chevrolet Silverado or Toyota Tundra. For a tougher vibe, the off-road-ready F-150 Tremor brings different wheels and a tweaked bumper and grille. Then there's the all-out Raptor, which measures nearly 7 inches wider than the F-150, has more angular headlights, introduces extra grille lighting, and simplifies its grille to focus on four big letters: F-O-R-D.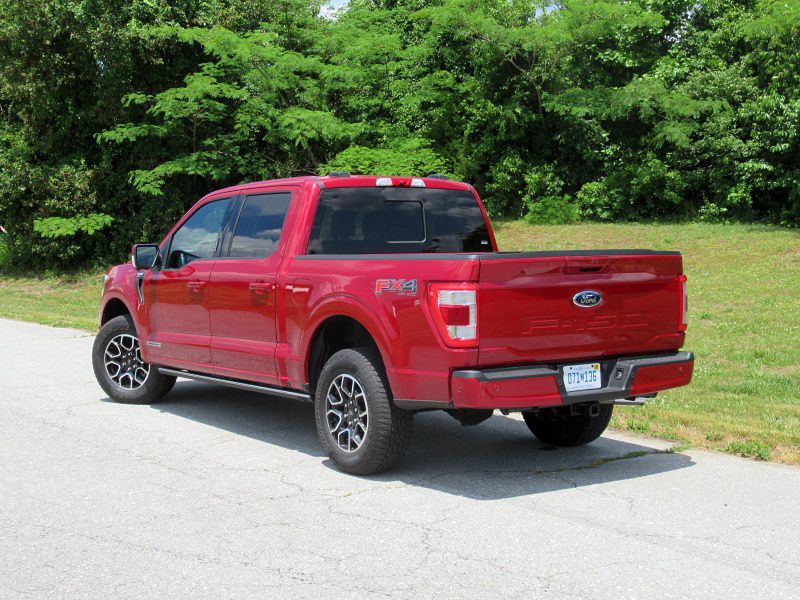 Photo by Brady Holt
The Big Screen
Inside, the new F-150 changed more dramatically from its predecessor. The 2020 F-150 included an 8-inch infotainment touchscreen, which looked lost in this big truck's massive dashboard. That problem is over, with most trim levels now including a jumbo 12-inch unit. 
Ford makes pretty good use of the space, letting you divide it into various split-screen views — GPS navigation and radio information, for instance — with plenty of room to see each section. The size also lets the icons spread out, so it's easier to tap what you want. And the F-150 provides plenty of physical buttons and knobs to quickly handle simple tasks. The F-150 interior is less posh than the downright gorgeous RAM 1500's, and the newly updated 2022 Chevrolet Silverado is also arguably more visually striking. On the other hand, the F-150 interior is solidly finished and avoids feeling downright cheap. For truck buyers who don't prefer the poshest possible pickup, that's the perfect balance. A clever trick is also available: You can fold away the console-mounted gear selector, unfold the top of the center console, and create a flat workspace between the front seats.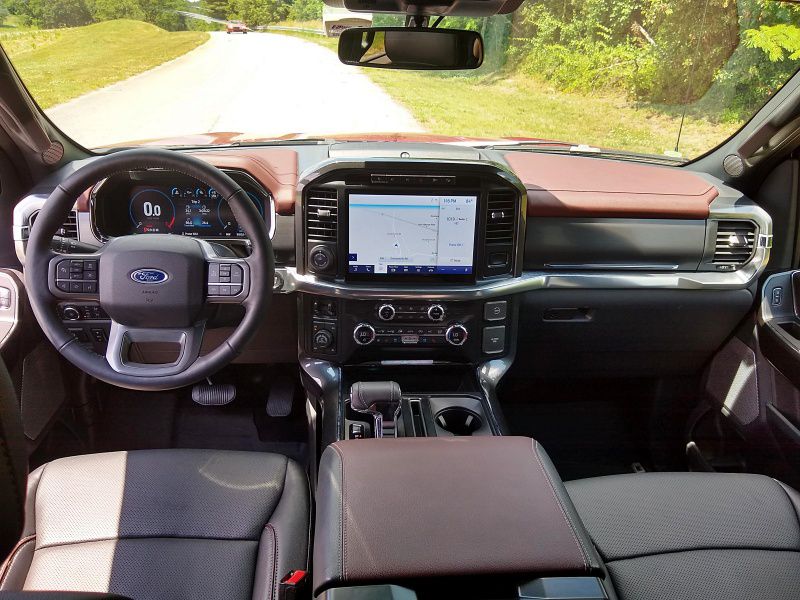 Photo by Brady Holt
Ample Space
The 2022 F-150 has big, cushy, and comfortable front seats. Heating, ventilation, power-adjustability, and leather upholstery are included on most trim levels, while other available upgrades include a heated steering wheel, heated front seats, and even massaging front seats. 
In the back, the most popular "SuperCrew" crew cab body style has acres of space and a soft cushion, but we've been even more comfortable in other trucks with higher, better-shaped rear seating. The extended cab (SuperCab in Ford-speak) differs from Chevy and Ram with its rear-hinged doors; that makes them less convenient to use if you'll carry passengers often, but they let you open up a bigger pass-through if you're loading cargo into the rear seat area. Behind the F-150's cab is either a 5.5-foot-long bed (SuperCrew only), a 6.5-foot-long bed (optional on the SuperCrew, standard on the regular cab and SuperCab), or an 8-foot-long bed (optional on the regular cab and SuperCab). An optional step folds down from the tailgate for easier access into the bed.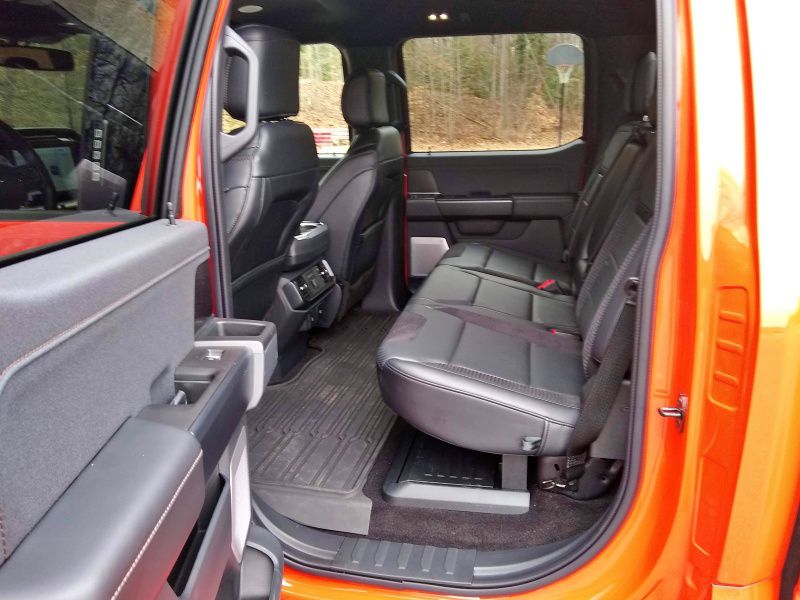 Photo by Brady Holt
Gentle Yet Capable
The F-150 delivers class-leading towing and payload capabilities. They vary widely by configuration, but they range all the way up to 14,000 pounds of towing capacity and 3,325 pounds of payload capacity. The F-150 is also capable off-road, especially in its Tremor and Raptor configurations. The latter is built to bounce into the air at high speeds, especially in its "Baja" driving mode; we did not attempt this during our test. 
Despite all this capability, the F-150 is a gentle, easy truck to drive. It doesn't match the Ram 1500's ride quality, but it's quiet and painlessly smooth. Even the Raptor rides well for a pickup, thanks to its pliant suspension and its smallish wheels wrapped in plenty of rubber. The F-150 doesn't corner with eager agility, but that's what you'd expect in this segment. Overall, this Ford stands out for capability more than comfort, but that's not a bad thing: It drives similarly to most of its competitors, yet it can work and play harder.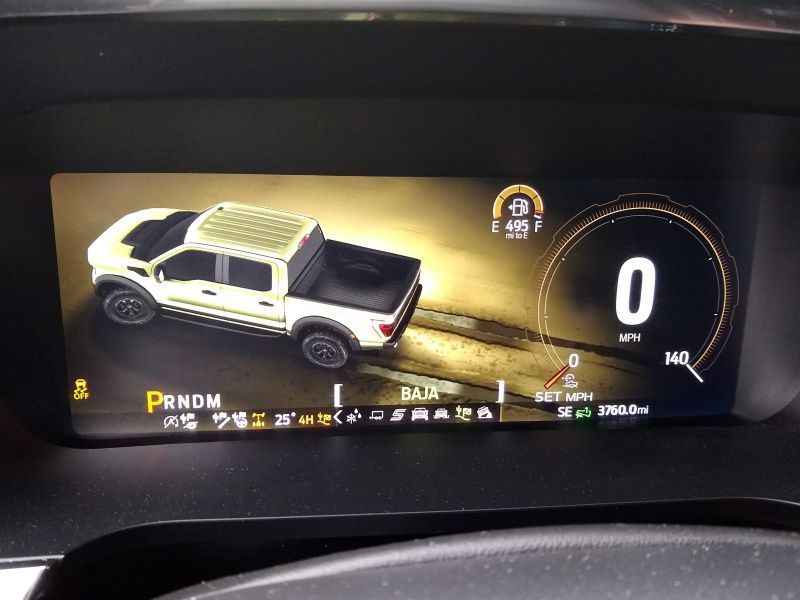 Photo by Brady Holt
Advanced Powertrains
The F-150 is available with a choice of six different powertrains. The base engine is a naturally aspirated 3.3-liter V6 making a decent 290 horsepower and 265 lb-ft of torque. Most people buy one of three turbocharged V6 engines, which Ford calls EcoBoost: a 2.7-liter with 325 hp and 400 lb-ft, a 3.5-liter with 400 hp and 500 lb-ft, and a 3.5-liter with 450 hp and 510 lb-ft (the latter is exclusive to the Raptor). The "PowerBoost" hybrid pairs the 3.5-liter V6 with an electric motor to make 430 hp and a wild 570 lb-ft of torque. A naturally aspirated 5.0-liter V8 (400 hp, 410 lb-ft) rounds out the list. 
Ford has spent the last decade demonstrating that its EcoBoost V6s work well in trucks, providing more horsepower and towing capacity than equivalently economical V8s. (We'll discuss gas mileage on the next page.) You can even use the F-150 as a generator with 2 kilowatts of power available with gas engines and a mighty 7.2 KW with the PowerBoost hybrid. Traditionalists still have options, too: the non-turbo 3.3-liter V6 and 5.0-liter V8.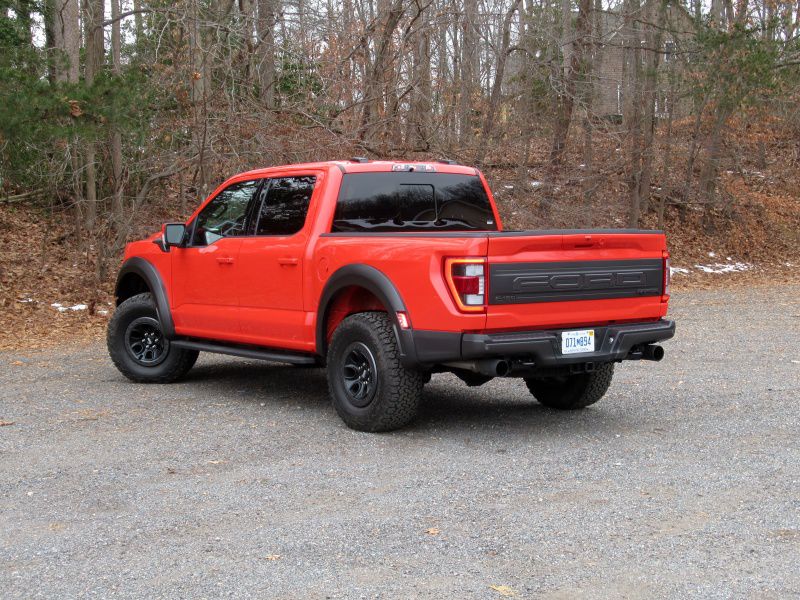 Photo by Brady Holt
Economical Results
The F-150 delivers excellent EPA ratings for a half-ton pickup. At the top of the mileage chart is the PowerBoost hybrid; it scores an estimated 25 mpg in both city and highway driving with two-wheel drive, while four-wheel-drive cuts it by 2 mpg. That's nothing special on the highway, but it's amazing fuel economy for stop-and-go traffic. Our 2WD test truck averaged only about 23 mpg in mixed driving despite our attempts to treat the trunk gently. 
Sticking with gasoline only, the rear-drive 2.7-liter V6 is rated at 20 mpg city, 26 mpg highway, and 22 mpg combined, while 4WD cuts off about 1 mpg. The base 3.3-liter V6 manages up to 21 mpg combined, and the 5.0-liter V8 and the 400-hp 3.5-liter V6 each average 20 mpg combined (all giving up about 1 mpg for 4WD). The Raptor gets a lousy 15 mpg combined, and we saw just 14 mpg in our test. Unlike the Ram 1500 or Chevrolet Silverado, the F-150 no longer offers a turbodiesel engine. It's true that Ford has other great fuel-saving options, all using regular-grade gasoline but none of them sips fuel on the open highway like a diesel competitor.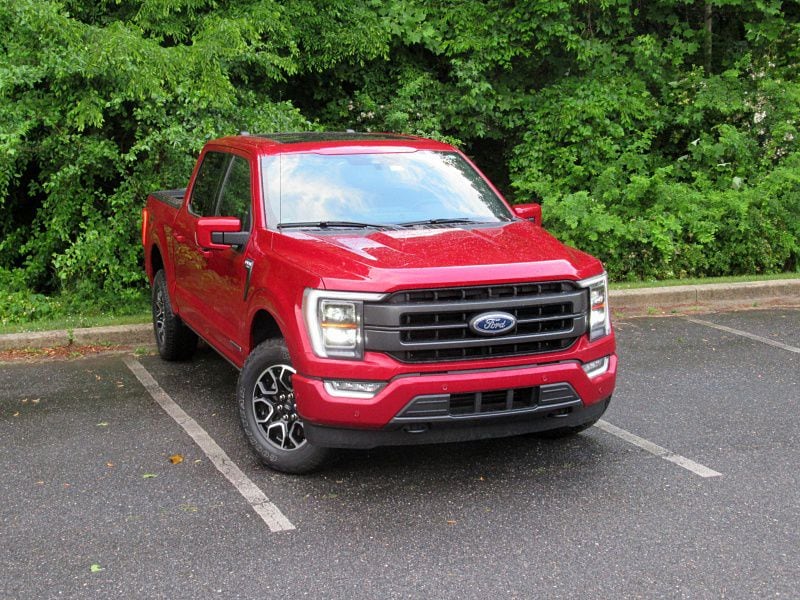 Photo by Brady Holt
The Rest of the Crowd
The F-150 faces tough competitors. One of our favorites is the Ram 1500, which provides a smoother ride and richer interior than the Ford — as befits, in our opinion, current trucks' luxury-grade price tags. But setting aside its diesel and its wild supercharged 702-hp V8, the Ram's best-selling V6 and V8 engines trail the Ford's for power and fuel economy. And Ram charges extra for more safety equipment.
The other sales leader is the Chevrolet Silverado 1500 (and its GMC Sierra mechanical twin). The Silverado offers a simpler vibe than the cushy Ram and the more technologically advanced F-150, which endears it to some truck buyers. At the same time, its newly updated interior looks more upscale than the Ford's. But it doesn't match the F-150's powertrain lineup, especially considering that its biggest engine slurps costly premium fuel. The newly redesigned 2022 Toyota Tundra is a formidable F-150 competitor that also brings the class's only other hybrid and even more standard safety features. But it has fewer configurations than the F-150 and its styling is more polarizing. The other full-size pickup on the market, the aging Nissan Titan, has dwindled into minimal relevance unless you find one at a steep discount.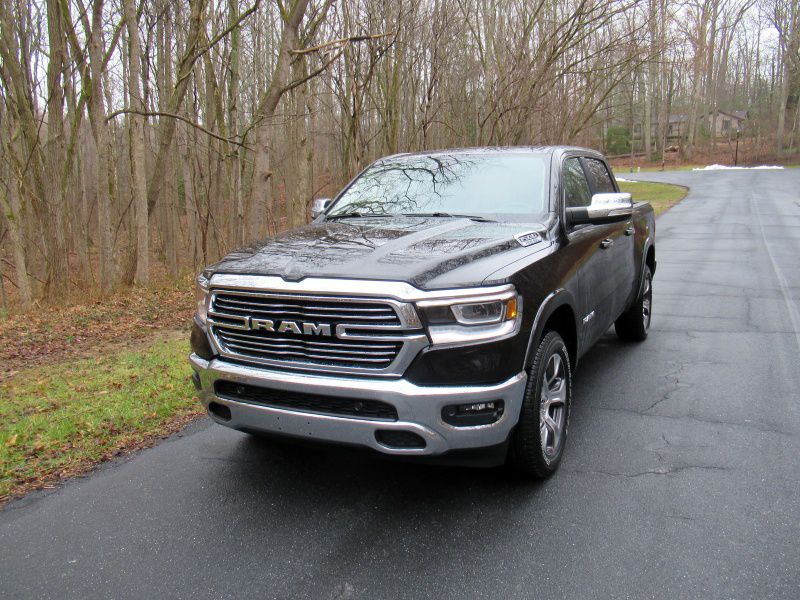 Photo by Brady Holt
A Lot to Like
We can't say the Ford F-150 won our hearts. The 2021-model redesign was a cautious evolution of its predecessor, we'd have expected better real-world gas mileage from the hybrid, and the interior could be posher. But part of the issue has nothing to do with the current F-150: We've just gotten spoiled by Ford moving the bar so often. 
Ford was able to settle for a mild redesign because the F-150 didn't need major work. After only these modest changes, it pairs excellent engines, top-notch capability, handy technology, lots of widely available safety features, class-competitive pricing, and overall competence. The F-150 hybrid is an economical commuter vehicle that doubles as a portable generator, and the Raptor is an off-road legend that's comfortable in everyday use. You can find other pickups that do something or other better than the F-150, but the Ford's overall package is a force to be reckoned with.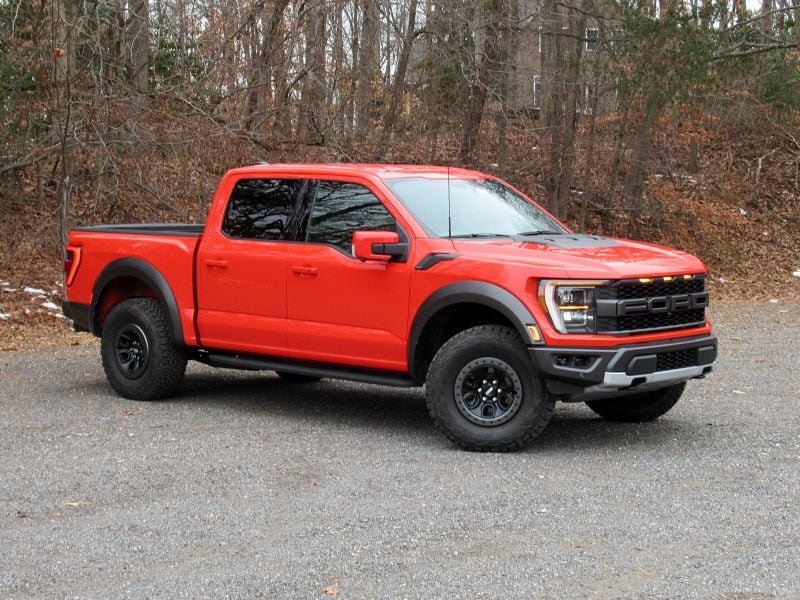 Photo by Brady Holt