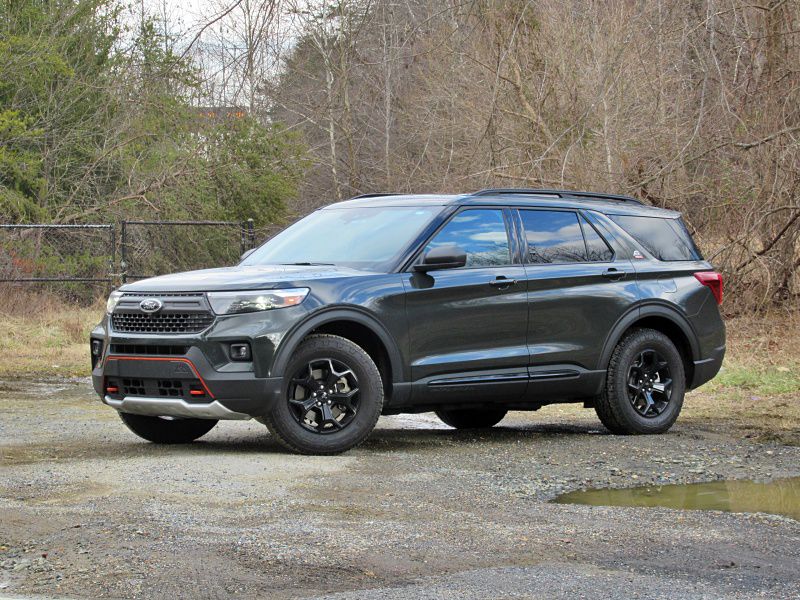 2022 Ford Explorer Timberline ・ Photo by Brady Holt
For more than 30 years, the Ford Explorer has been one of America's go-to family vehicles. Along the way, it cemented the idea of a comfortable SUV for light-duty on-road use. The Explorer has evolved over that time, too, picking up a third-row seat and shedding its V8 engine and off-road capability to become a comfort-focused crossover. The latest generation also boasts powerful but economical turbocharged engines and the latest safety advances. 
Still, a relative newcomer is getting a lot of attention these days. That's the Hyundai Palisade, the Korean automaker's third try at a three-row mid-size crossover since 2007. And unlike its two previous attempts, the Palisade is generously spacious in addition to being luxuriously finished and relatively affordable. But is that enough? For this review, we tested both the Explorer and the Palisade to compare them in eight categories and choose an overall winner. Keep reading to learn our pick and which one is better for you. 
Pricing and Features
The base Explorer starts at $33,100, while the entry-level Palisade SE costs a near-identical $33,150. Both are well-equipped on their base models with advanced safety features and fully featured infotainment systems. The base Explorer includes automatic climate control and a power liftgate, while the base Palisade counters with adaptive cruise control and a dressier exterior design. 
We'll give the nod to Hyundai because things get special faster. The Palisade gets genuine leather for the price Ford introduces artificial leatherette: both just over $40,000. That's also the price of the Palisade's larger infotainment screen (10 inches instead of the standard 8 inches) which costs more than $50,000 in the Ford, along with useful built-in second-row windowshades. A fully optioned Palisade — the decadently trimmed-out Calligraphy, like our test vehicle — is less than $50,000, while top Explorers approach $60,000. The Palisade also has neat exclusive features like a blind-spot camera and an in-cabin intercom, and Hyundai includes three years of free scheduled maintenance. 
Hyundai Palisade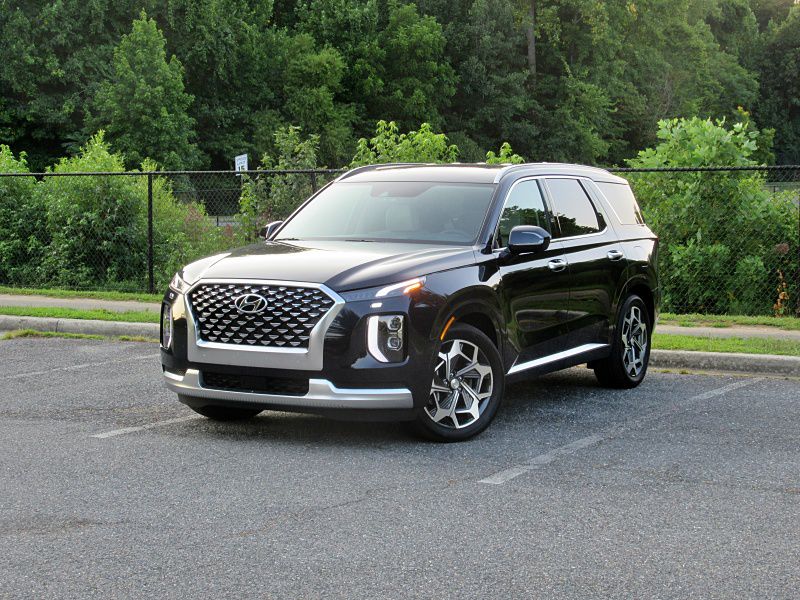 Photo by Brady Holt
Exterior Design
The Palisade hit the market in 2020 along with the Kia Telluride, its corporate cousin. The Telluride is a simpler, boxier design, while the Palisade has a more dramatically sculpted body with flashier details. There's a big, thick-rimmed chrome grille; stacked headlamps that work together to create a crescent moon of light when they're switched on; and silvery insets next to the taillights. 
The current-generation Explorer is also a fairly new design, also dating to 2020. But it wears similar styling to its predecessor — disguising a new transformation from front- to rear-wheel drive. The headlights and grille are high but slim, without an aggressive vibe. The rear end has blocky taillights and, as on the Palisade, a blacked-out roof pillar makes it look like the rear windshield glass wraps around to the side windows. Small windows make the Explorer look lower than the boxier, glassier Palisade. And you can dress up the Ford with the sporty-looking ST-Line and ST or the outdoorsy Timberline like our test vehicle. We'll let you choose your winner. 
Tie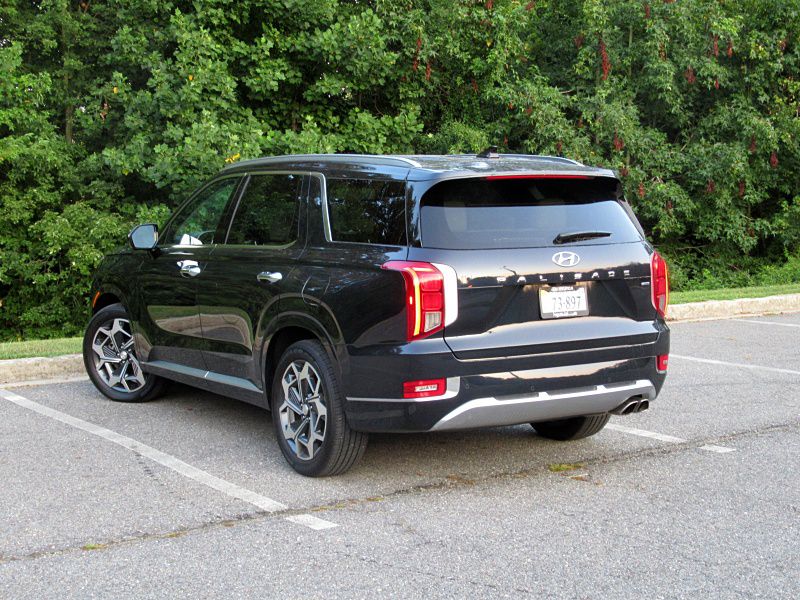 Photo by Brady Holt
Interior Design
Most Explorers have a simple, straightforward interior design. There's a symmetrical dashboard where user-friendly buttons and knobs cluster below a touchscreen. The dashboard vents pop out for a chunkier look, but the dash is otherwise rounded and simple. All but the fanciest trim levels have materials that feel more durable than upscale, and sometimes downright cheap. Panel fits aren't precise, and the most common 8-inch touchscreen isn't huge. An unusual vertical 10.1-inch unit is available on top trim levels. 
The Palisade's cabin has more design flourishes and richer materials. The infotainment screen is visually connected to the gauge cluster, and the instrument panel then flows down below it into the center console. There's a hidden storage area below this floating console, plus another big storage area between the seats. Clever retractable cupholders let you choose between open storage or a space for your drinks. A 10.25-inch horizontal touchscreen is a widely available upgrade over the base 8-inch screen. Our top Calligraphy test vehicle includes particularly beautiful wood trim and rich leather, but all Palisades are attractively finished. 
Hyundai Palisade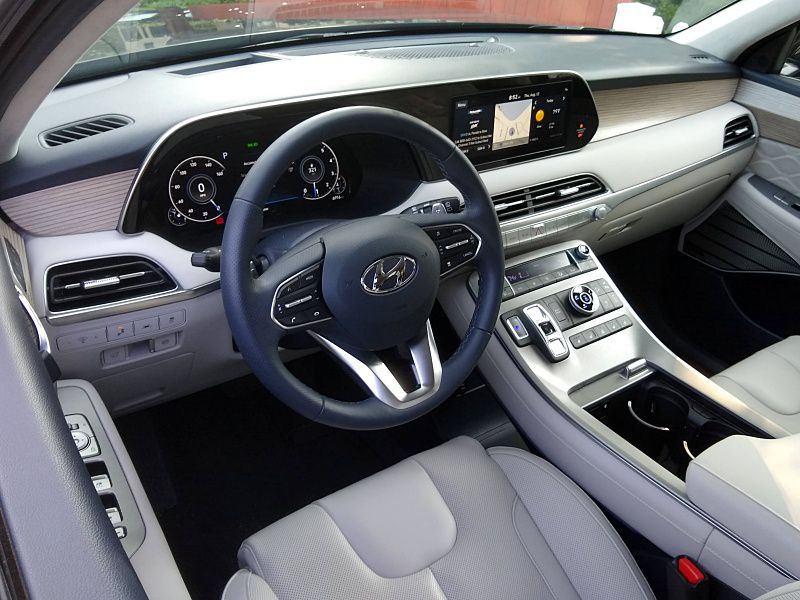 Photo by Brady Holt
Passenger Accommodations
The Explorer has extra-comfortable front seats: cushy without being too soft, and supportive without being too confining. The second row is comfortable and spacious, too. But the Palisade wins for a couple of reasons. 
First, the Explorer is available with a maximum capacity of seven passengers, and it falls to six passengers with the optional second-row captain's chairs. The Palisade seats up to eight (or seven with captain's chairs). The Palisade also has more third-row legroom, making it more habitable for adult passengers. We preferred the Explorer's front seats, but the Palisade can haul more people in greater overall comfort.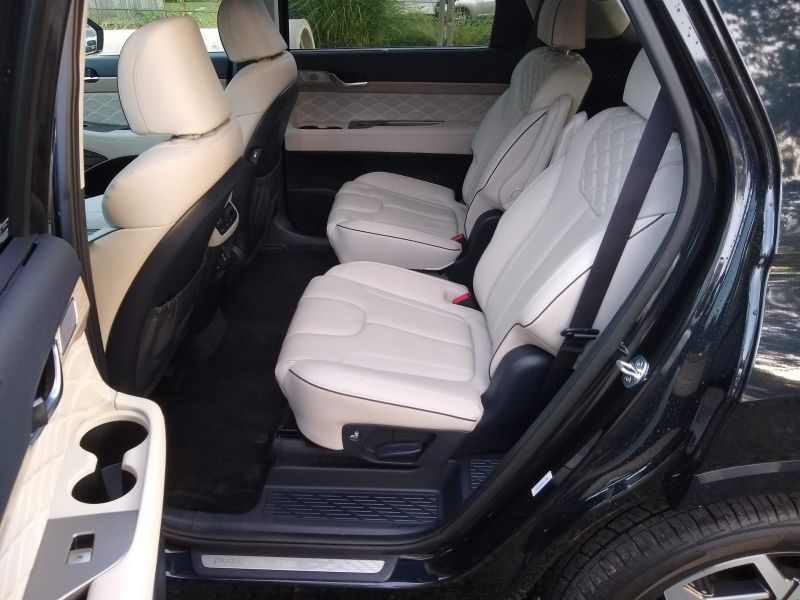 Photo by Brady Holt
Cargo and Utility
Though the Palisade is roomier for passengers, the Explorer fits a bit more cargo. Behind the third-row seat, the Explorer fits 18.2 cubic feet versus 18.0 cubic feet in the Palisade. Fold down the third rows, and you have 47.9 cubic feet in the Ford and 45.8 cubic feet in the Hyundai. The Explorer's total capacity is 87.8 cubic feet, while the Palisade's is 86.4 cubic feet. We don't expect you'd notice these differences, but the advantages are Ford's. 
The Explorer also has a slightly higher towing capacity. The Palisade's 5,000-pound limit is the norm among three-row crossovers, but Ford provides a bit more: 5,300 pounds with its base four-cylinder engine and 5,600 pounds with its available V6.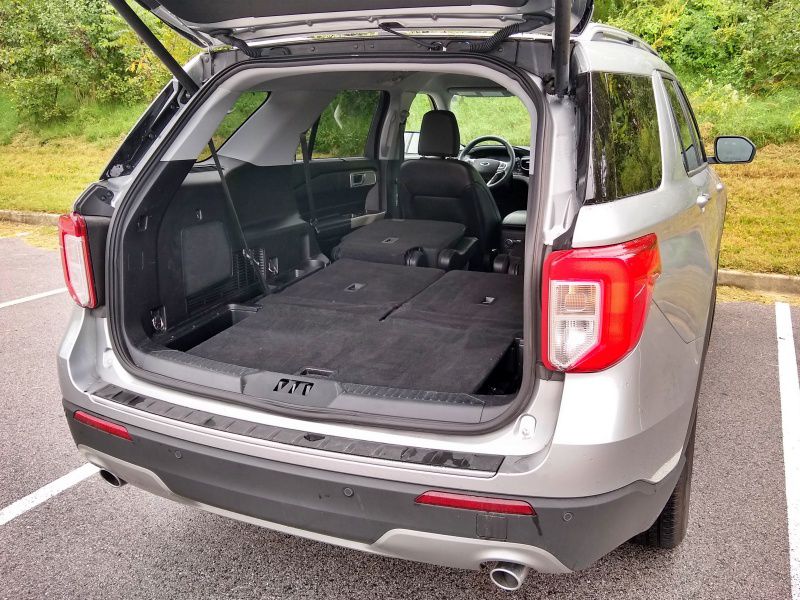 Driving Impressions
Like most three-row crossovers, the Palisade rides on a front-wheel-drive-based platform (with optional all-wheel drive), and every trim level uses a naturally aspirated V6. This engine makes 291 horsepower and 262 pound-feet of torque, which is typical for the segment. The Palisade is quiet and rides smoothly, and it's easy to drive, but there's not much excitement in either the acceleration or handling. 
Ford bucked the norm, and we think the risk paid off. Its base engine is a turbocharged 2.3-liter four-cylinder engine that makes 300 horsepower and 310 pound-feet of torque. Part of Ford's EcoBoost line of turbos, this engine is lively and sounds hearty. Upper-trim Explorers switch to a wild 400-horsepower V6, and a V6-based gas-electric hybrid is also available. And its platform is rear-wheel-drive-based, also with optional AWD. The Explorer is agile, yet we also liked its comfortable ride. The steering is super-light at low speeds, so you can easily spin the wheel when you're parking — and then it firms up nicely when you get moving. There's also an ST performance model with less body roll but a stiffer ride. The Palisade is quieter but we otherwise pick the Explorer.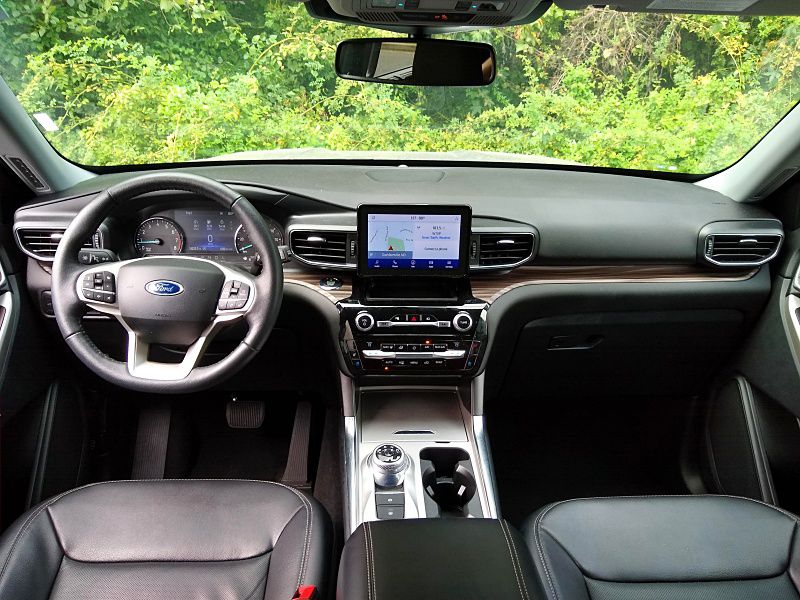 Photo by Brady Holt
Fuel Economy
Despite its lively power, the Explorer is economical for a big three-row crossover. EPA estimates put the 2.3-liter at 21 mpg in the city, 28 mpg on the highway, and 24 mpg combined. All-wheel-drive models fall by 1 mpg. We fell just short of the EPA estimates, averaging 23 mpg with our rear-wheel-drive test vehicle and 21 mpg on our AWD model. The 400-hp V6 gets a still-decent 21 mpg combined with rear-wheel drive and 20 mpg with all-wheel drive. The V6 hybrid isn't extra-thrifty, but it's economical considering its power: 27 mpg combined with rear-wheel drive and 25 mpg with AWD. 
The Palisade's conventional V6 engine isn't a gas-guzzler, but nor is it a standout. The EPA pegs it at 19 mpg city, 26 mpg highway, and 22 mpg combined with front-wheel drive and 19 mpg city, 24 mpg highway, and 21 mpg combined with all-wheel drive. Our AWD test vehicle averaged 23 mpg, like our rear-drive Explorer, but we didn't conduct scientifically precise testing in controlled conditions. Based on the EPA data, Ford wins.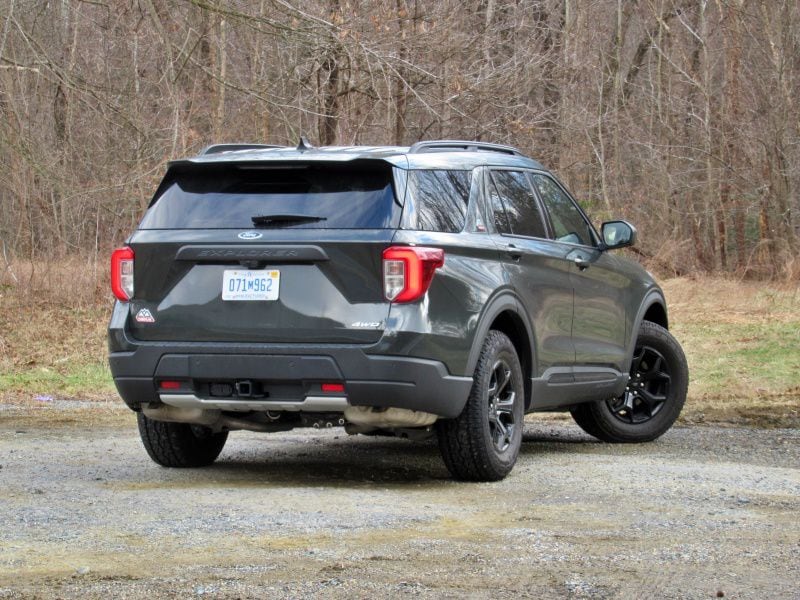 Photo by Brady Holt
Safety
Both the Explorer and the Palisade are safety standouts. Both earned the highest possible designation of Top Safety Pick+ from the Insurance Institute for Highway Safety, along with five out of five stars from the National Highway Traffic Safety Administration. And both are packed with standard technologies like forward automatic emergency braking and lane-keeping steering assistance. 
However, Hyundai provides a few extra features. One is an available blind-spot camera mirror, which turns part of the gauge cluster into a camera view when you put on your turn signal — a visual complement to the radar-based blind-spot monitor that each vehicle includes as standard equipment. Another is an ultrasonic occupant detector, which can tell if something is moving around inside your vehicle like a trapped child or pet. And Hyundai also has a "safe exit" alert if you're about to open your door into the path of a passing vehicle. Lastly, while both these SUVs are available with rear automatic emergency braking, it's only standard on the Palisade. 
Photo by Brady Holt
Final Thoughts
If the Explorer were a budget alternative to the Palisade, it would be a tempting option. It has excellent engines, comfortable front seats, agreeable ride and handling, stellar safety scores, and a functional enough interior. It's not especially roomy or richly finished, and it doesn't go the extra mile for high-end features and design touches like the Palisade. But at the right price, that's not a big deal. 
Unfortunately, the Explorer doesn't manage to undercut the Palisade's price. The Hyundai is a luxury car that's priced at a discount. And while the Ford comes out ahead here and there, the Palisade avoids major flaws. Unless you're dedicated to a more SUV-like feel or a big engine, the Palisade delivers more for the money. And as we mentioned, you can also consider the Palisade's boxier cousin — the similarly excellent Kia Telluride.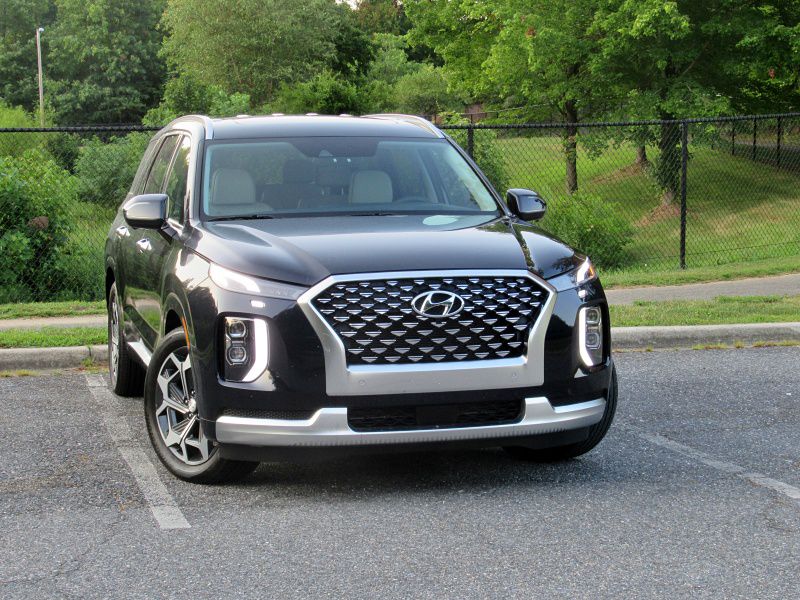 Photo by Brady Holt