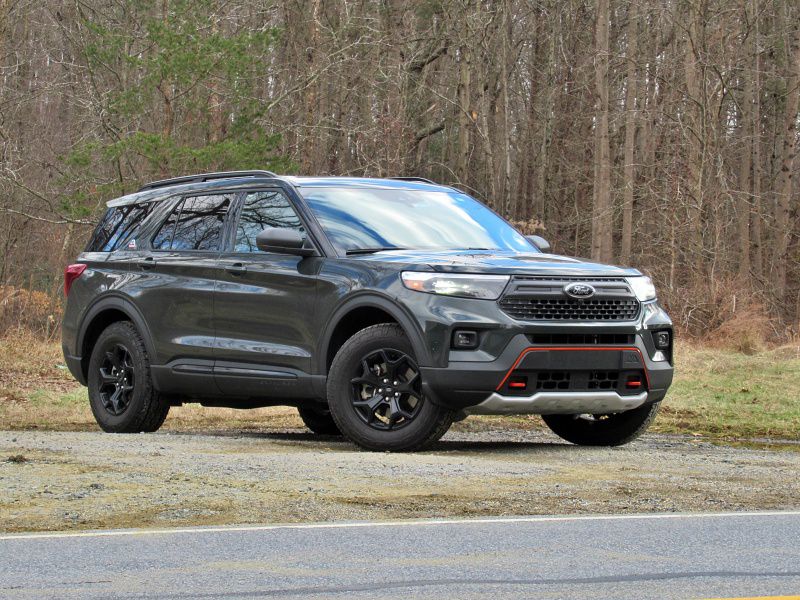 2022 Ford Explorer Timberline ・ Photo by Brady Holt
Ford and Honda are two pioneers of the mid-size SUV segment. The 1991 Ford Explorer ushered in the idea of a family-friendly SUV, moving beyond capability and utility to everyday comfort and luxury. And the 2003 Honda Pilot demonstrated that many buyers would happily pick a minivan shaped like an SUV, even if it meant less off-road prowess and a lower towing capacity. 
Today, the 2022 Explorer and 2022 Pilot are two of the most popular three-row mid-size crossovers. The modern Pilot is an evolution of the 2003 original, and today's Explorer splits the difference between an all-show crossover and a hardier traditional SUV. For this review, we tested the Pilot and Explorer so we could compare them in eight categories and then declare an overall winner. Keep reading to learn which one we picked and which one is better for you. 
Pricing and Features
Like most mid-size three-row crossovers, the Explorer is priced from the low $30,000s (to be precise, $33,100) and rises past $50,000 with all the options. Most buyers choose the mid-level XLT, which costs about $35,000 with cloth upholstery and $40,000 with leatherette. We tested the $45,430 Limited, which has genuine leather, and the off-road-focused Timberline ($46,245). Every Explorer includes a power liftgate, tri-zone automatic climate control, and a long list of safety features. 
For 2022, Honda eliminated the base Pilot LX model, which had cost $32,550. The cheapest Pilot — the $36,830 Sport — now costs substantially more than the cheapest Explorer. It does include some extra-cost Explorer features like adaptive cruise control, a power-adjustable driver's seat, and heated front seats. But the big difference is that Honda charges just $39,060 for a well-equipped Pilot EX-L with leather, a moonroof, a power liftgate, and even integrated second-row sunshades. We wish Honda made a few features more widely available, like heated rear seats, a Wi-Fi hotspot, and a neat in-cabin intercom. Overall, we'll call this category a tie: Ford has a lower starting price, but Honda generally provides more for your money once you start adding features. 
Tie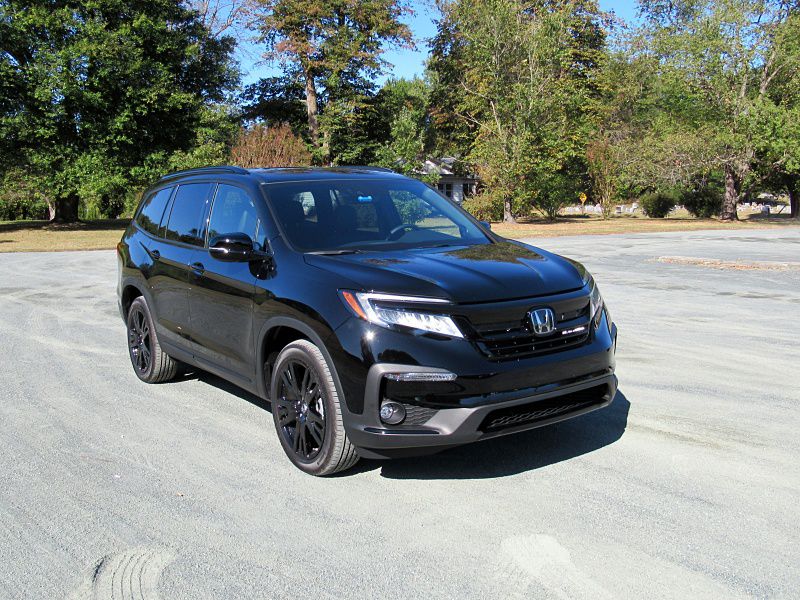 Photo by Brady Holt
Exterior Design
The Pilot has seen mostly minor styling tweaks since its current generation debuted in 2016. This redesign softened the boxy, maximum-utility vibe of the previous Pilot, but this is still a vehicle designed to be roomy first and flashy second. Some special edition models have black wheels and trim, including our aptly named Black Edition test vehicle and the new off-road-themed TrailSport. 
The current-generation Explorer arrived in 2020. It wears similar styling to its predecessor — disguising that year's transformation from front- to rear-wheel drive — but it's more assertively styled than the Pilot. The headlights and grille are high but slim. The rear end has blocky taillights, while a blacked-out roof pillar makes it look like the rear windshield glass wraps around to the side windows. A high windowline makes the Explorer look lower than the boxier, glassier Pilot. And you can dress up the Ford with the sporty-looking ST-Line and ST trim levels or the outdoorsy Timberline model like our test vehicle. We'll let you choose your winner. 
Tie
Photo by Brady Holt
Interior Design
Most Explorers have a simple, straightforward interior design. The dashboard vents pop out for a chunkier look, but the dash is otherwise rounded and simple. All but the fanciest trim levels have materials that feel more durable than upscale, and sometimes downright cheap. Panel fits aren't precise, and the most common 8-inch touchscreen isn't huge. An unusual vertical 10.1-inch unit is available on top trim levels. 
The Pilot, too, is more sensible than flashy. Gentle lines flow across the dashboard for a cleanly cohesive look. The 8-inch touchscreen — included on every 2022 Pilot — integrates smoothly into the dash rather than sticking out like the Explorer's. Though Honda has slightly nicer materials, we'll grant Ford the win for its superior infotainment and control layout. The Explorer's infotainment screen presents more information at the same time, yet it spaces out the icons more than the Pilot so that it's easier to tap the right one. Plus, there's the option to upgrade to the larger screen. Lastly, except for a volume knob, the Pilot's audio controls rely on the touchscreen or touch-sensitive controls; the Explorer's buttons and knobs require less attention.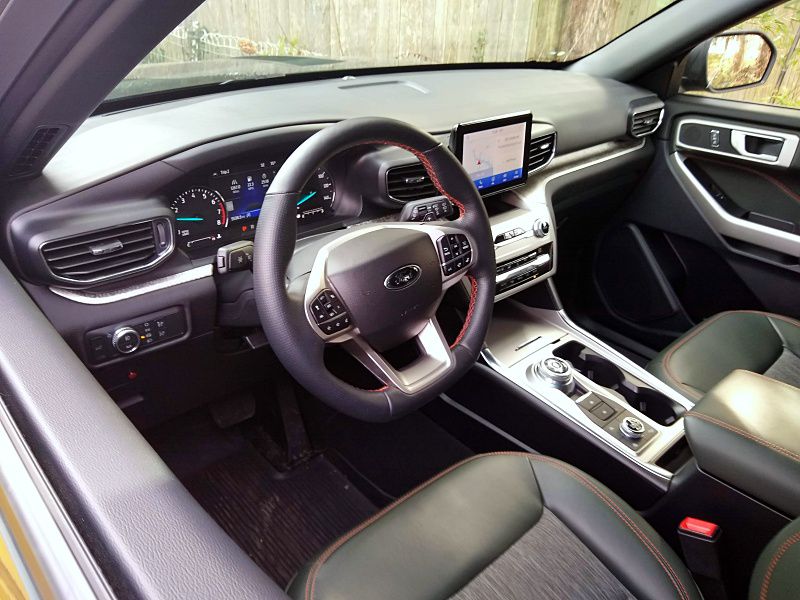 Photo by Brady Holt
Interior Comfort
The Explorer has extra-comfortable front seats: cushy without being too soft, and supportive without being too confining. The second row is comfortable and spacious, too. Still, the Pilot is the clear winner. 
First, the front-seat occupants enjoy a big, airy seating area. Honda kept the seats wide and the center console low, providing the acres-of-space vibe that you normally need a full-size SUV for. Secondly, the Pilot's third row is roomier and more comfortable than the Explorer's, making it easier to squeeze in extra passengers. Lastly, Honda fits three seatbelts into the third row, meaning the Pilot can seat up to eight passengers (or seven with the available second-row captain's chairs). The Explorer has a two-seat third row, meaning you get a choice between seven-passenger or six-passenger configurations. You might not need the extra capacity often, but it might save you from needing to take two cars when Grandma and Grandpa are in town. 
Honda Pilot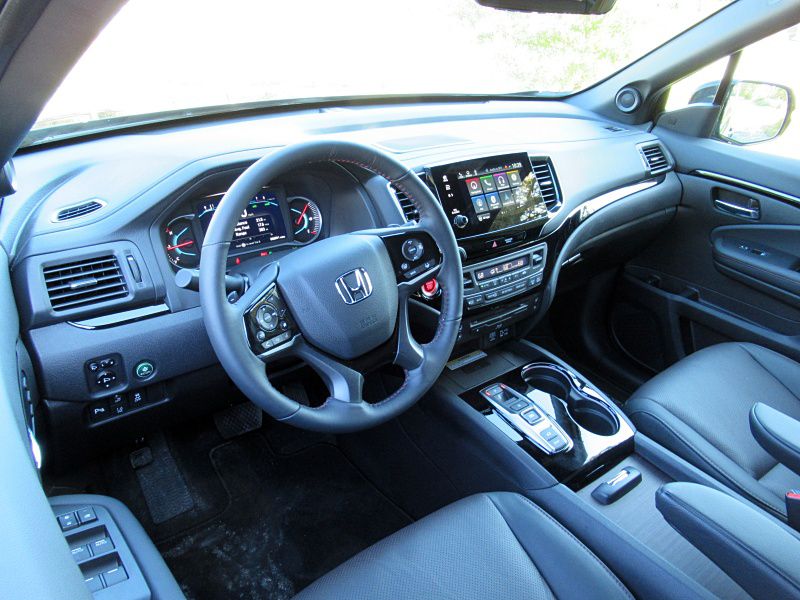 Photo by Brady Holt
Cargo and Utility
Though the Pilot is roomier for passengers, the Explorer fits a bit more cargo. Behind the third-row seat, the Ford fits 18.2 cubic feet versus 16.5 cubic feet in the Honda. Fold down the third rows, and you have 47.9 cubic feet in the Explorer and 46.8 cubic feet in the Pilot. The Explorer's total capacity with the second and third rows folded is 87.8 cubic feet, while the Pilot's is 83.8 cubic feet.  
The Explorer can also tow more, especially if you weren't planning to pay extra for all-wheel drive. AWD Pilots tow a class-competitive 5,000 pounds, but front-wheel-drive models manage just 3,500 pounds. Regardless of whether you choose rear-wheel or all-wheel drive, the Explorer's base four-cylinder engine tows 5,300 pounds. Its available V6, sold only with all-wheel drive, ups that rating to 5,600 pounds. 
Ford Explorer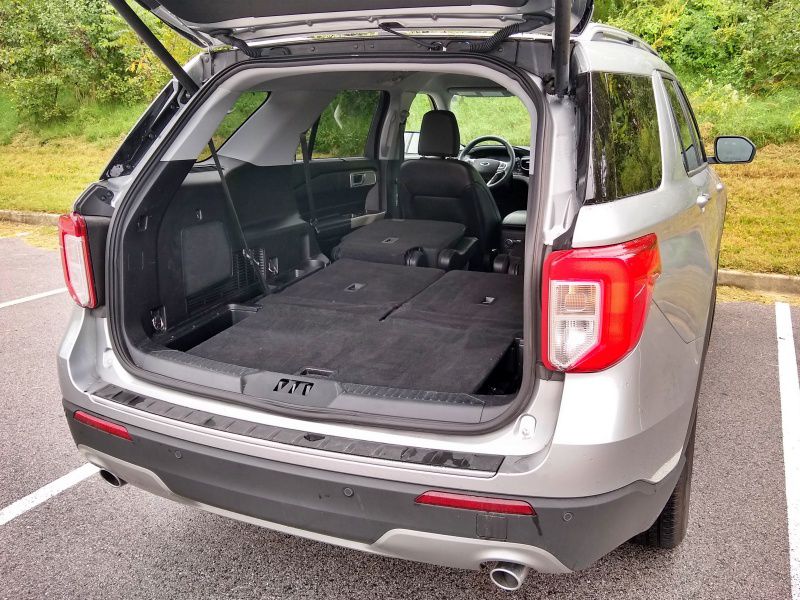 Driving Impressions
The Pilot was engineered to provide a smooth and quiet ride, first and foremost. You don't get the frisky driving manners that characterize many Hondas — even other big ones like the Odyssey minivan. Its standard 280-horsepower naturally aspirated V6 engine provides smooth, drama-free acceleration. This crossover feels big when you're on a winding road, and we didn't love its soft brake pedal. 
The Explorer has more character. Its base engine is a turbocharged 2.3-liter four-cylinder engine that makes 300 horsepower and 310 pound-feet of torque. Part of Ford's EcoBoost line of turbos, this engine is lively and sounds hearty. Upper-trim Explorers switch to a wild 400-horsepower V6, and a V6-based gas-electric hybrid is also available. What's more, though the Explorer rides well and is easy to drive, it's also sporty for a big three-row crossover. The steering is super-light at low speeds, so you can easily spin the wheel when you're parking — and then it firms up nicely when you get moving. There's also an ST performance model with less body roll but a stiffer ride. The Pilot will drive fine for many people, but the Explorer should satisfy a broader range of tastes.  
Ford Explorer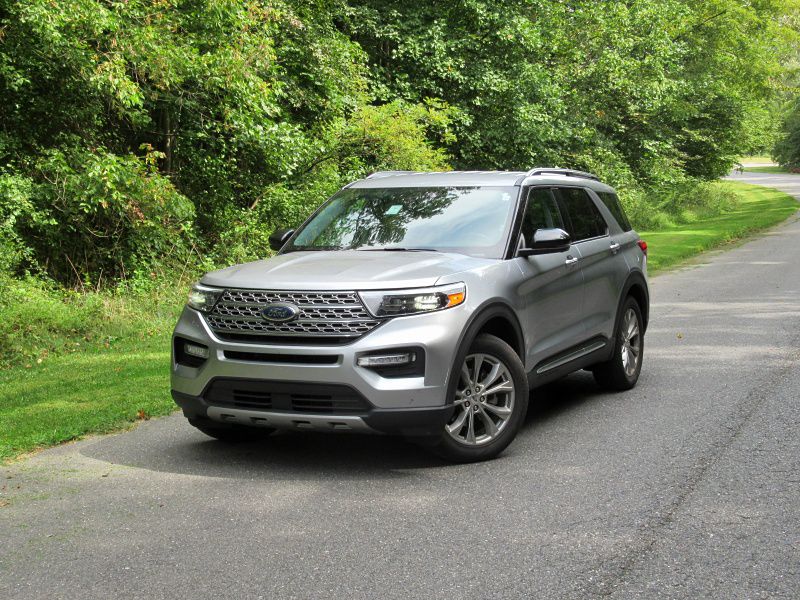 Photo by Brady Holt
Fuel Economy
Despite its lively power, the Explorer is economical for a big three-row crossover. EPA estimates put the 2.3-liter at 21 mpg in the city, 28 mpg on the highway, and 24 mpg combined. All-wheel-drive models fall by 1 mpg.We fell just short of this, averaging 23 mpg with our rear-wheel-drive Limited and 21 mpg with our AWD Timberline. The 400-hp V6 gets a still-decent 21 mpg combined with rear-wheel drive and 20 mpg with all-wheel drive. The V6 hybrid isn't extra-thrifty, but it's economical considering its power: 27 mpg combined with rear-wheel drive and 25 mpg with AWD. 
The Pilot's conventional V6 engine is neither a gas-guzzler nor a standout. The EPA pegs it at 20 mpg city, 27 mpg highway, and 23 mpg combined with front-wheel drive and 19 mpg city, 26 mpg highway, and 22 mpg combined with all-wheel drive. Our AWD Pilot test vehicle averaged 25 mpg, albeit with more highway driving than our Explorer tests. Based on the EPA data, Ford wins. 
Ford Explorer
Photo by Brady Holt
Safety
Despite its age, the Pilot has stayed competitive when it comes to safety. However, the newer Explorer does better. 
The Pilot earned a top rating of Good in most of its Insurance Institute for Highway Safety crash tests, and it scored Advanced (the second-highest of three ratings) for its automatic front-crash prevention. By contrast, the Explorer scored Good in all of its IIHS crash tests, and its front-crash protection is the top rating of Superior. What's more, the Explorer also includes pedestrian-detection capabilities and is available with rear automatic braking and a surround-view parking camera; the Pilot offers none of those technologies. Meanwhile, the Explorer earned the top five-star mark in every National Highway Traffic Safety Administration crash test, while the Pilot fell shy of perfection. The Honda managed five stars overall, but its frontal-impact protection slipped to four stars. 
Ford Explorer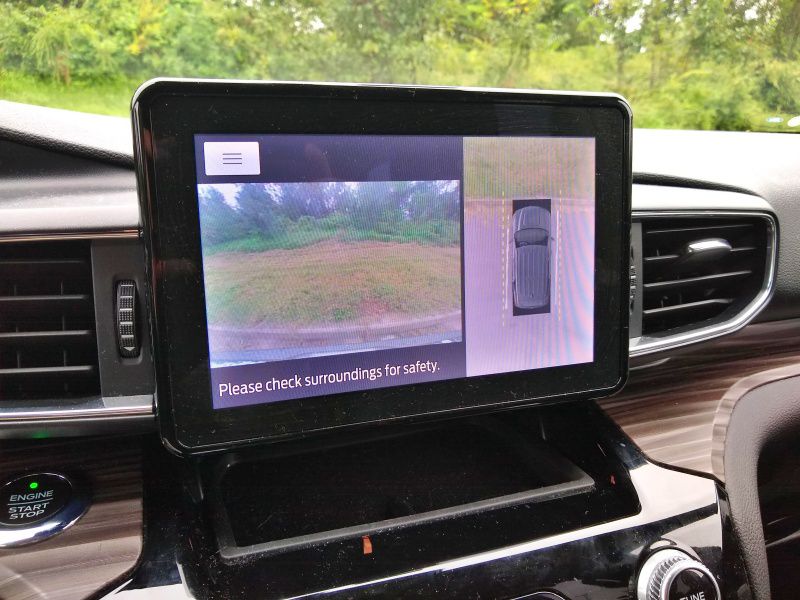 Photo by Brady Holt
Final Thoughts
Even in its seventh year, the Pilot remains an appealing family-friendly crossover. With seating for eight, a smooth and quiet ride, and lots of features for less than $40,000, there's a lot to like. But the Explorer impressed us more. 
At a lower starting price than the Honda, the Ford has more power, better gas mileage, sportier handling, a superior infotainment system, better crash-test scores, and more safety technology. And while its seven-seat limit is tight for some families, the Explorer does have two spacious, comfortable rows of seats; lots of cargo space; and an excellent towing capacity. The interior could be more richly finished, and the price gets high when you add a lot of options, but the Explorer is otherwise a better-rounded crossover than the Pilot. 
Ford Explorer 
Photo by Brady Holt