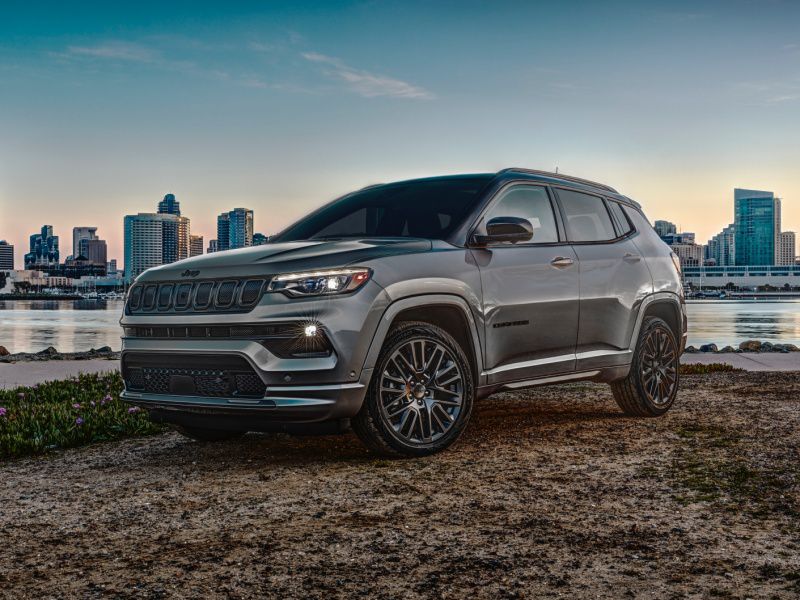 2022 Jeep Compass ・ Photo by Jeep
Compact SUVs are beyond plentiful, with almost every automaker offering at least one vehicle in the segment. From budget to ultra-plush, there are several options to choose from at every price point, which can be frustrating to a buyer trying to sort through it all. American rivals Ford and Jeep have reasonably strong entrants in the segment, as the Escape and Compass have both been recently updated. To help you determine which compact SUV meets your needs, we've compared the two across several key categories. Let's take a closer look.
Pricing and Features
The 2022 Ford Escape starts at a little over $25,500, and while that's a great price, the little SUV is missing many of the most desirable features at that price point. There's no Apple CarPlay or Android Auto, but the good news is that every Escape gets a full suite of advanced driver aids. Ford Co-Pilot360 is standard for all Escapes, and includes automatic high beams, blind spot monitoring, lane keeping assist and lane departure warnings, automatic emergency braking, forward collision warnings, automatic headlights, and post-collision braking.
The Jeep Compass starts just shy of $28,000, but the extra money over the Ford's price tag brings desirable tech features. The Jeep gets a huge 10.1-inch touchscreen as standard equipment, which brings Apple CarPlay, Android Auto, Amazon Alexa, and more. It also gets a decent list of standard safety gear that includes blind spot warnings, rear cross-traffic alerts, forward collision warnings, and more.
: Ford Escape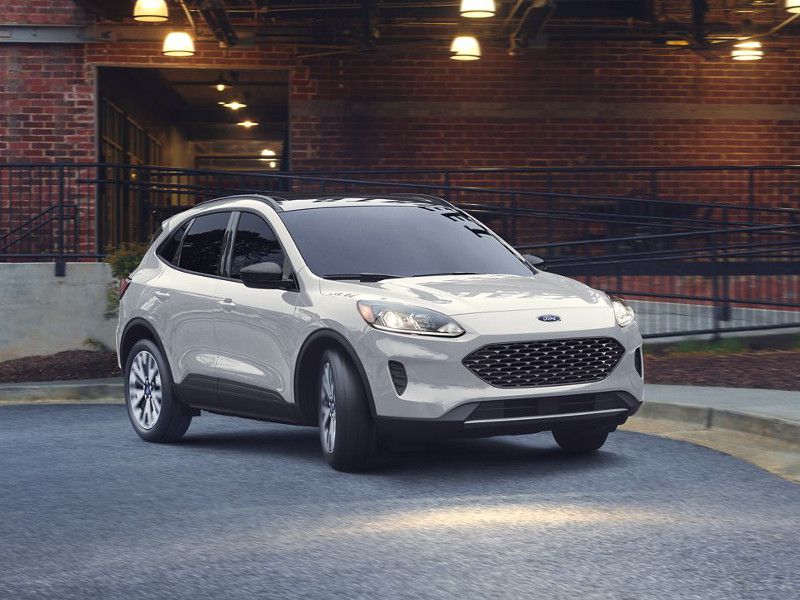 Photo by Ford
Exterior Design
The Ford Escape was redesigned for the 2020 model year with curvy exterior styling and a tidy rear end. The updates gave the SUV a more grown-up look, but the large "smiling" grille gives the Escape a face that appears to be stuck in a perpetual smile.
Jeep overhauled the Compass for 2022 with a new front-end design and refreshed interior styling. Though it doesn't share a name with Jeep's flagship Grand Cherokee, the Compass does a good job imitating the larger SUV with strong lines, a beefy profile, and strong front-end styling. Jeep offers exterior styling upgrades that include side rock slider rails, two-tone paint schemes, and contrasting color accents for the Trailhawk model.
: Jeep Compass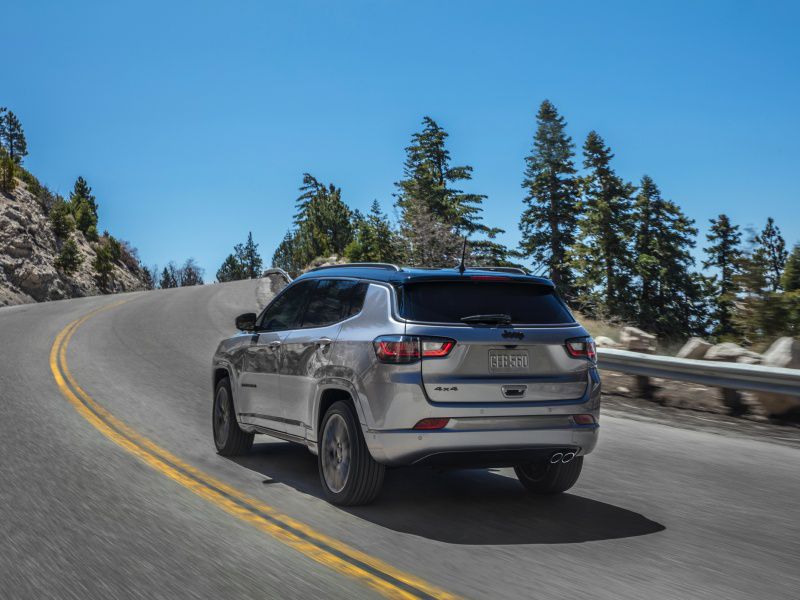 Photo by Jeep
Interior Design
The latest Escape overhaul brought a more refined and spacious interior, which the SUV direly needed. The most basic Escape models feature plenty of hard plastics, but they're implemented in a way that gives them an upscale look, such as the large silver-colored plastic plate that spans the dash of the Escape S. All controls and displays are well within sight and reach of the driver, and the cabin is laid out intuitively overall.
Perhaps owing to its strong standard tech and clean design, the Compass' interior looks and feels more premium than that of the Escape. Yes, the infotainment screen is large, and yes, it's perched atop the dash in a way that feels like an afterthought. That said, the use of hard plastics is more limited here than in the Ford, and top trims bring the luxury in a way that the Escape can't.
: Jeep Compass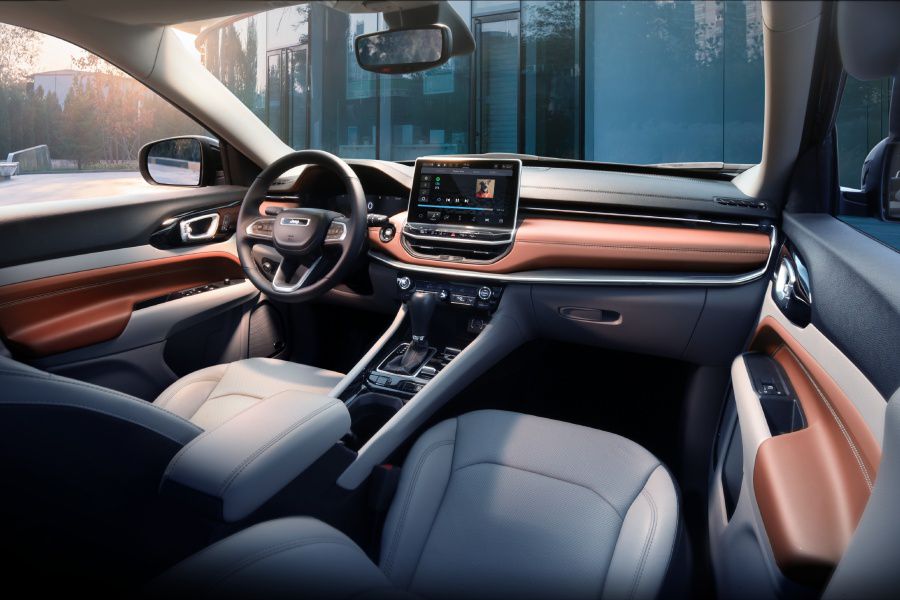 Photo by Jeep
Comfort and Space
The Ford Escape offers a comfy, spacious interior with decent room for up to five people. Front headroom measures 40 inches and rear headroom lands at 39.3 inches. Front legroom comes in at 42.4 inches and rear legroom at 40.7 inches. The rear seats slide to allow for more legroom or more cargo space in back and total space grows to 65.4 cubic feet with the rear seats folded flat, which is flexibility direly needed in the compact SUV space.
The Compass has up to 39.2 inches of headroom up front and 38.5 inches in back. Front passengers get 41.8 inches of legroom and those in the rear seat get 38.3 inches. With the rear seats folded down, the Compass manages 59.8 cubic feet of space. Those are solid numbers, but they aren't strong enough to best the Escape.
: Ford Escape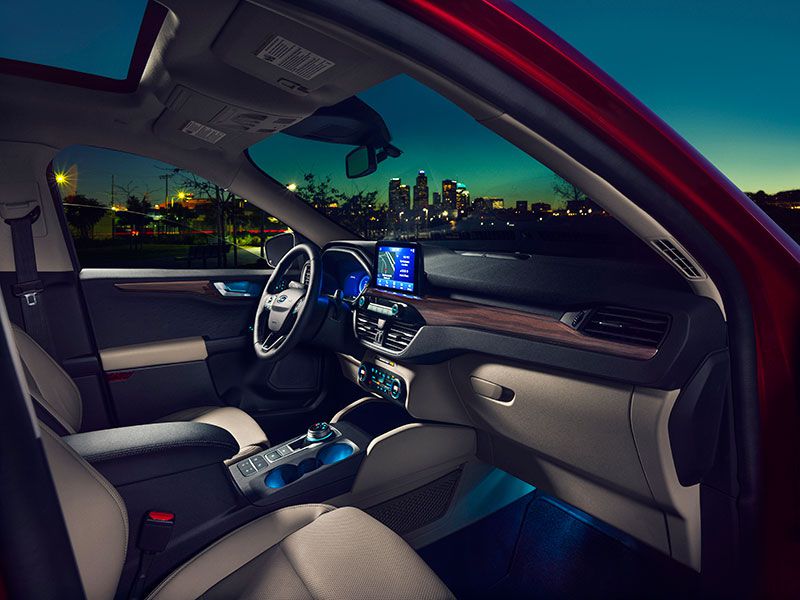 Photo by Ford
Safety
The 2022 Ford Escape has only received limited testing of its crash avoidance systems, but the previous model year SUV earned a 2021 Top Safety Pick award from the Insurance Institute for Highway Safety (IIHS). Ford includes its Co-Pilot360 package as standard, which brings auto high beams, blind spot monitoring with rear cross-traffic alerts, lane keeping assist, lane departure warnings, automatic emergency braking, forward collision warnings, a rearview camera, and post-collision braking.
The 2022 Jeep Compass has not yet been tested by the IIHS. The 2021 Compass earned "Good" scores in most crash test areas, with the exception of side crash safety, where it picked up a "Marginal" rating using updated testing criteria. Standard driver aids include blind spot monitoring with rear cross-traffic alerts, full-speed forward collision warnings with active braking, a rearview camera with active grid lines, and pedestrian and cyclist automatic emergency braking. Adaptive cruise control, parking sensors, parking assistance, a 360-degree camera, and LED lighting are available across two options packages. 
: Ford Escape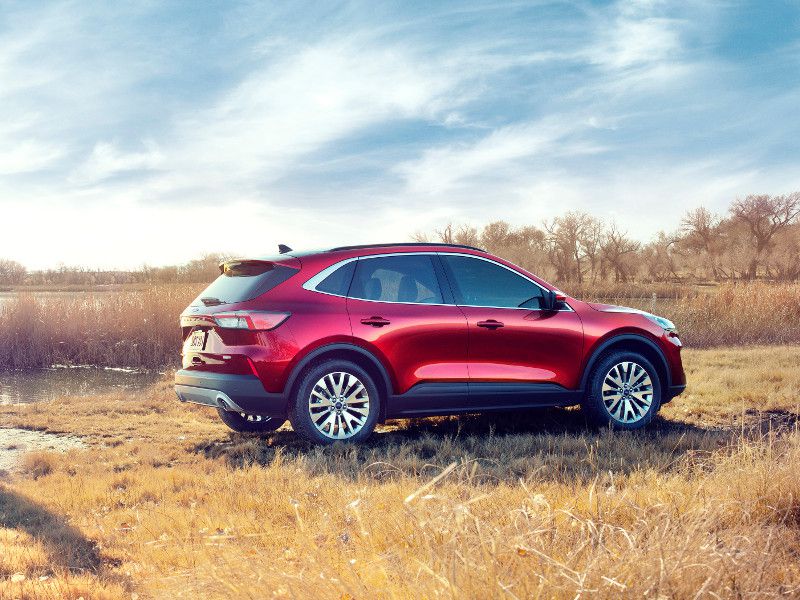 Photo by Ford
Ride and Handling
The Escape is tuned and set up for comfort over handling and precision. The ride remains comfortable at nearly all times, but Escape buyers will have to be comfortable with the tradeoff here, which comes in the form of excess body roll in corners. The setup is fine for the SUV's intended use, which is to shuttle people and gear from one place to another, but it could be disappointing for buyers wanting a sportier rig.
The Compass is surprisingly athletic, but it falls short of offering a sporty driving experience. Buyers wanting a cushier ride can opt for the Trailhawk model, which adds beefier tires that soak up more punishment from the road. The Jeep does show some body roll and movement in corners, but steering and braking both feel solid and predictable, and the Compass remains planted when lightly pushed.
: Jeep Compass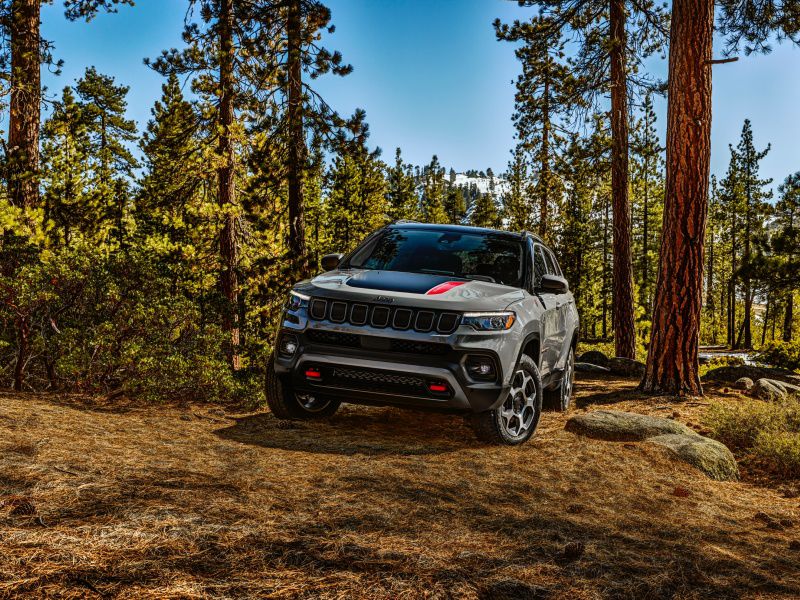 Photo by Jeep
Acceleration
Looking at the Escape's spec sheet, it'd be easy to write off its base engine as a cop out, but numbers don't tell the whole story. The turbocharged 1.5-liter three-cylinder engine makes 181 horsepower and 190 pound-feet of torque, which are respectable figures. A lively, buzzy personality makes the turbo-three feel livelier than its specs suggest, and the willing eight-speed automatic transmission works well with the eager engine. There's an optional turbocharged 2.0-liter four-cylinder engine that makes 250 horsepower and 280 pound-feet of torque. More power and torque from the optional engine provide more than enough power to move the Escape with authority.
The Escape Hybrid gets a 2.5-liter four-cylinder with an electric motor that produce a combined 200 horsepower, and the Escape PHEV gets a similar setup that makes 221 horsepower combined. A continuously variable transmission is standard.
Jeep offers just one engine in the 2022 Compass, and it's not an overachiever. The 2.4-liter inline-four produces 177 horsepower and 172 pound-feet of torque. It's paired with either a six- or nine-speed automatic, depending on the configuration. The engine is outmatched in most situations, and delivers soft acceleration. Even so, Jeep's selectable off-road and driving modes gives the Compass the ability to power through surprisingly challenging obstacles.
: Ford Escape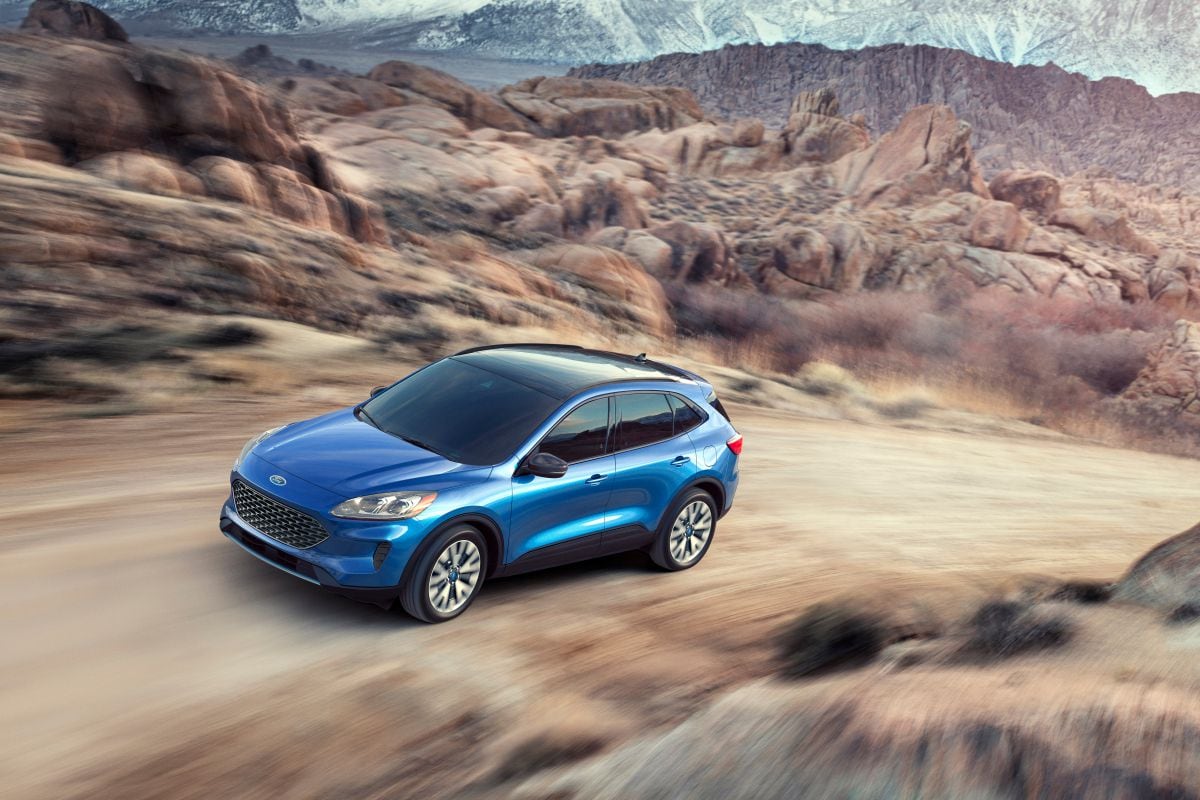 Photo by Ford
Fuel Economy
With the base three-cylinder engine and front-wheel drive, the Escape is rated at 28/34/30 mpg city/highway/combined. All-wheel drive moves those figures downward slightly to 23/31/28 mpg. The upgraded four-cylinder engine returns fuel economy of 22/31/26 mpg and is only available with all-wheel drive. The Escape Hybrid returns up to 41 mpg combined with all-wheel drive.
With only one engine and one of its two transmission choices offering just six gears, it's not a surprise to see the Compass struggle against the Escape in fuel economy ratings. With front-wheel drive and the six-speed auto, the Jeep is rated at 22/31/25 mpg city/highway/combined. With the nine-speed and all-wheel drive, the ratings shift to 22/30/25 mpg.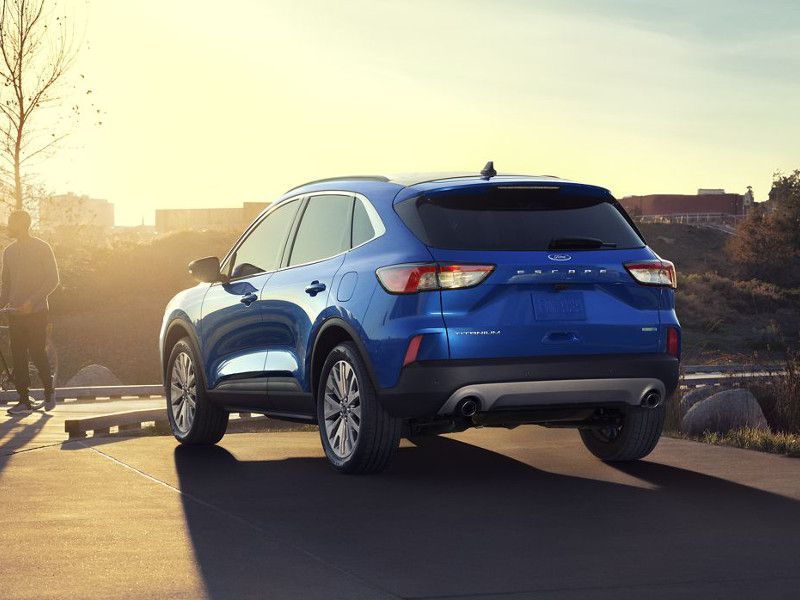 Photo by Ford
Final Thoughts
While the Jeep Compass offers better off-road capability and rugged styling, the Ford Escape is likely a better SUV for most people. It brings better interior space, better fuel economy, and more choice on powertrain configurations. It's also available with a refined, efficient hybrid powertrain that the Jeep can't match.
None of that is to say that the Jeep Compass should be avoided. In fact, the SUV may be the winning choice for people whose commutes or daily driving habits take them off-pavement for any amount of time.
: Ford Escape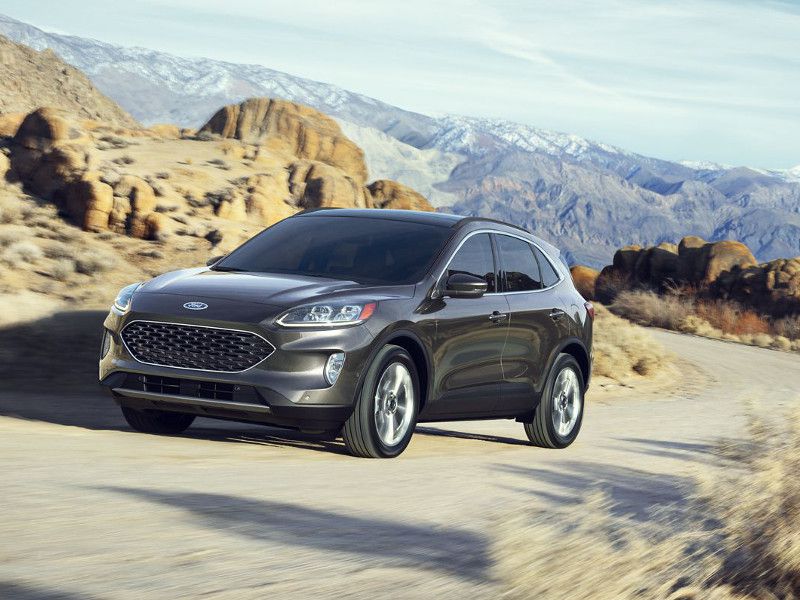 Photo by Ford