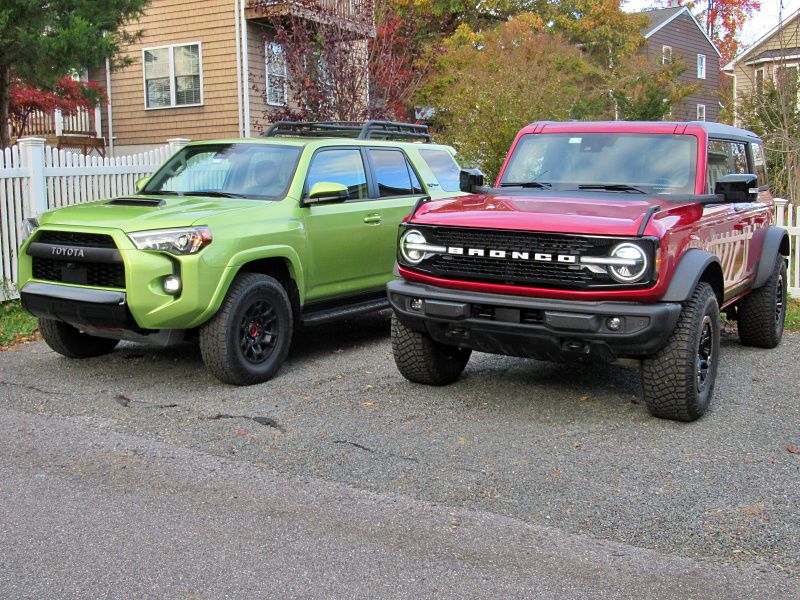 2022 Toyota 4Runner TRD Pro and 2021 Ford Bronco Wildtrak ・ Photo by Brady Holt
The Ford Bronco is gunning for the Jeep Wrangler. There's little question about that. These two SUVs match everything from their round headlights to their off-road focus to their removable roofs and doors to their choice of two-door and four-door body styles. 
But the Bronco also faces another formidable competitor among off-road-ready mid-size SUVs: the Toyota 4Runner. While the Bronco was all-new last year and the Toyota 4Runner has changed little since 2010, the 4Runner remains wildly popular today for balancing mighty capability, everyday comfort, and legendary dependability. For this review, we tested the 4Runner and Bronco to see how they compare in eight categories and then name an overall winner. One note, though: We did not subject these mighty beasts to off-road testing. They are both capable of incredible off-road feats, and many buyers will modify them to achieve even more. Our review is based on what it's like to live with these SUVs as daily-use passenger vehicles, as many other buyers will use them. If that sounds like your plan, keep reading to learn which one we chose and which capable SUV is likely the better fit for you.
Pricing and Features
The Bronco sharply undercuts the 4Runner's base price, starting at $29,300 versus the Toyota's $37,305. But for a couple of reasons, we're going to award this category to the 4Runner. 
First of all, the cheapest Bronco is a two-door model with a manual transmission. The cheapest four-door model starts at $34,450, much closer to the four-door-only 4Runner. The Toyota also has some extra standard features that cost extra on the Bronco, including a power-adjustable driver's seat and adaptive cruise control. Plus, Toyota provides two years of free scheduled maintenance. (Helping offset that, Toyota charges extra for four-wheel drive, which is standard on the Ford.) The Bronco can also coast past $60,000, as our test vehicle did, while the 4Runner caps out just north of $50,000. But the biggest issue, at least as we write, is that it's tough to buy a Bronco anywhere near its sticker price. Especially considering its convertible top and removable doors, the Bronco offers a lot for its sticker price, but it may be a while before its sticker price reflects what you pay.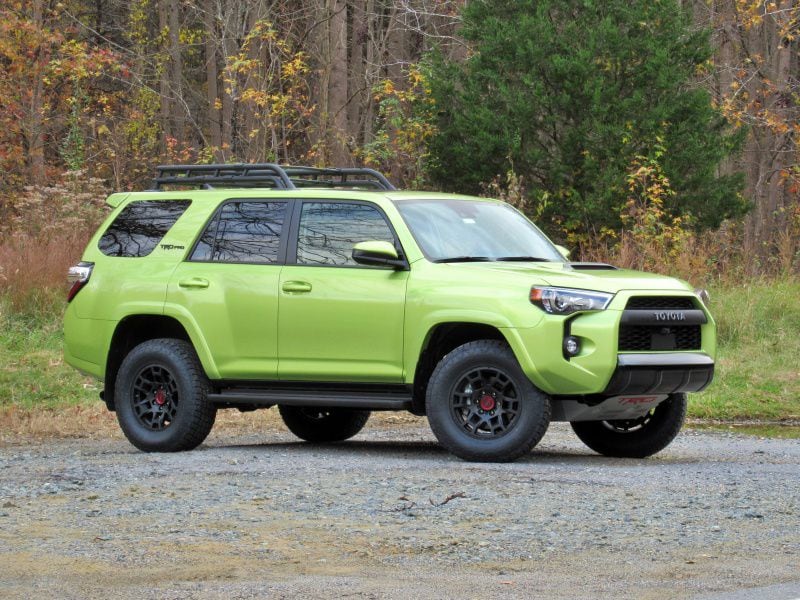 Photo by Brady Holt
Exterior Design
Exterior design is usually a matter of opinion, and there's plenty of room for opinions on these two SUVs. The new Bronco is a reimagined version of the 1960s original, approximately a cross between a modern Jeep Wrangler and an old Land Rover. Round headlights, a tailgate-mounted spare tire, and a boxy silhouette command attention. Yet the lines and details are refreshingly simple, except for our test truck's stick-on graphics. The 4Runner is a tough-looking SUV that defies modern conventions, but less aggressively. It's blocky, upright, and tough-looking, but in its 13th year on the market without major changes, it's a familiar sight. Nonetheless, we did get multiple comments on this year's new Lime Rush green paint. 
The Bronco's unique exterior functionality gives it the edge. It's one of just two convertible SUVs on the market (the other being the Jeep Wrangler), and you can choose between removable hardtop and soft-top roofs. The doors come off, too, for an even greater open-air experience. And unlike on a Wrangler, you get to keep your sideview mirrors even with the doors removed. Regardless of which SUV you prefer looking at, only the Bronco gives you extra wind in your hair (or ankles). 
Ford Bronco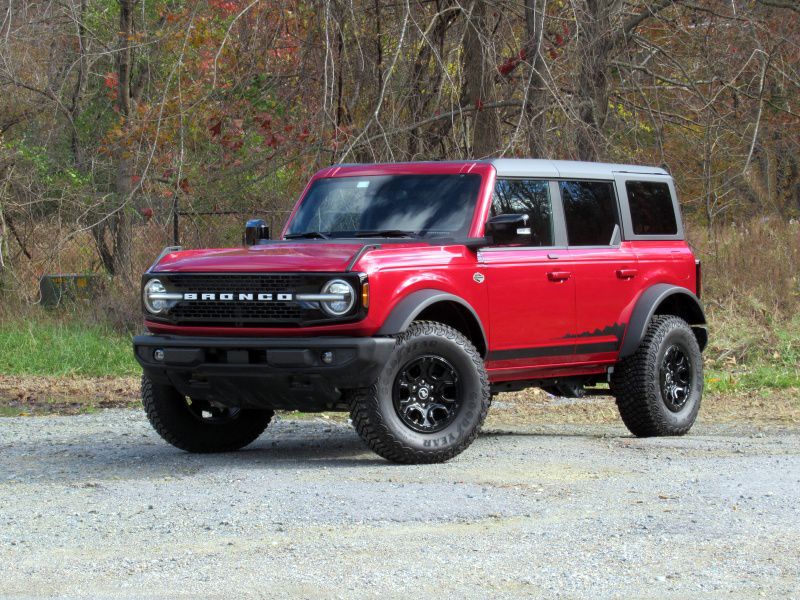 Photo by Brady Holt
Interior Design
The 4Runner's interior presents a vibe of low-frills functionality, with solid plastics, big control knobs, and simple lines. Our $50,000-plus test truck never feels like a luxury car, but it's not trying to — and many buyers would object if it did. Still, we came away more impressed with the Bronco. 
Ford also didn't try to create a luxury car. The Bronco has a purely SUV interior: a blocky shape with rugged materials. But Ford sweated every detail to create a fantastic SUV interior. From the grab handles built into the dashboard, to the water-resistant padding on the door panels, to the careful fit and finish, the Bronco's interior was created with great attention and care. No one would confuse it with a light-duty crossover, but it's also timelessly attractive. We can't say the same about some 4Runner details, like some 2010-era silvery plastic knobs. And the Ford's available 12-inch touchscreen has slick graphics and a user-friendly interface. Base Broncos have an 8-inch screen, as do all 4Runners. For a special experience that keeps the rugged vibe alive, the Ford interior wins easily. 
Ford Bronco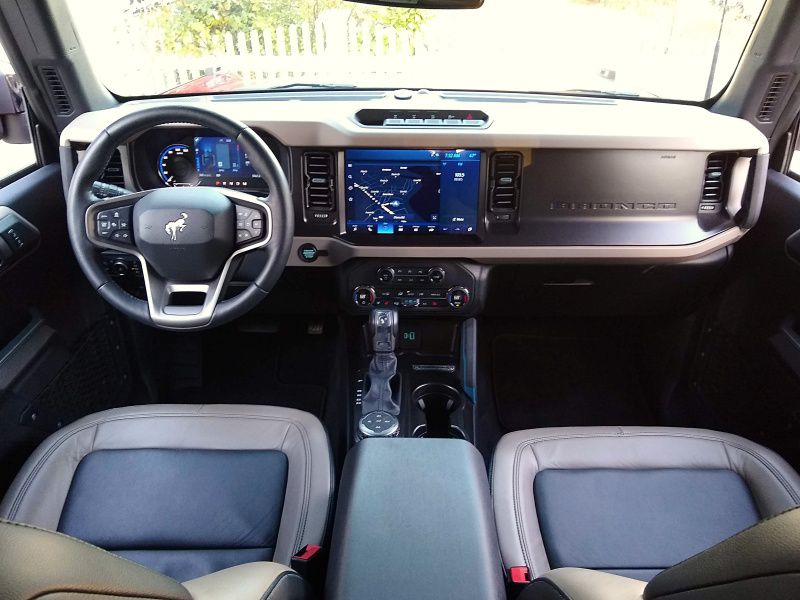 Photo by Brady Holt
Space and Utility
The two-door Bronco is a little short-wheelbase SUV without a huge backseat or cargo hold, but the four-door model is nearly as long as the 4Runner and several inches wider. Still, the Toyota has more room inside. 
Both the four-door Bronco and the 4Runner have comfortable front and rear seats. These aren't utilitarian four-by-fours that forget about everyday creature comforts or family-friendly spaciousness. The Bronco has more rear legroom on paper, but the 4Runner did better at swallowing our knees and a rear-facing child safety seat. And only the 4Runner offers third-row seating, though it's tiny and restricted to just a few trim levels. Toyota also has more cargo space: 47.2 cubic feet behind its second-row seat and 89.7 cubic feet behind the front seats. The four-door Bronco has 38.3 cubic feet behind its rear seat and 83 cubic feet behind its front seats — also above-average for a mid-size SUV, but less than the 4Runner. And when you want to tow a trailer, the 4Runner can pull up to 5,000 pounds versus the Bronco's 3,500 pounds.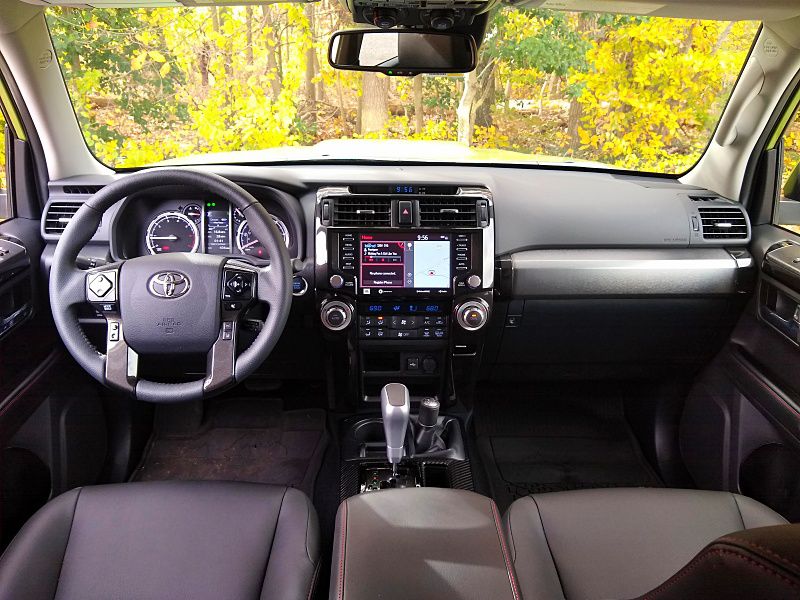 Photo by Brady Holt
Driving Experience
Despite its age and off-road pedigree, the 4Runner is relatively gentle on pavement. Its old 4.0-liter 270-horsepower V6 engine roars when you need it to do anything, but it gets the job done. The suspension can jostle a bit over certain bumps, but overall the 4Runner has a decently comfortable and quiet ride, even in the off-road-focused TRD Pro model we tested. It won't handle like a car-based crossover, but winding roads aren't a white-knuckle experience. 
The new Bronco has powerful and sophisticated turbo engines. A 2.3-liter four-cylinder comes standard, and it makes a healthy 300 horsepower. A 330-hp 2.7-liter V6 is also available. Both are livelier than the 4Runner's V6, and the four-cylinder Bronco even offers a manual transmission. (We spent a week in a four-door V6 Bronco and briefly drove a two-door four-cylinder manual.) That said, we pick the 4Runner overall. We found its ride significantly smoother and quieter than the Bronco's; even with its most insulated hardtop roof, this boxy Ford lets in a lot of wind noise. "Why are we going so fast?" my 3-year-old asked at 35 mph.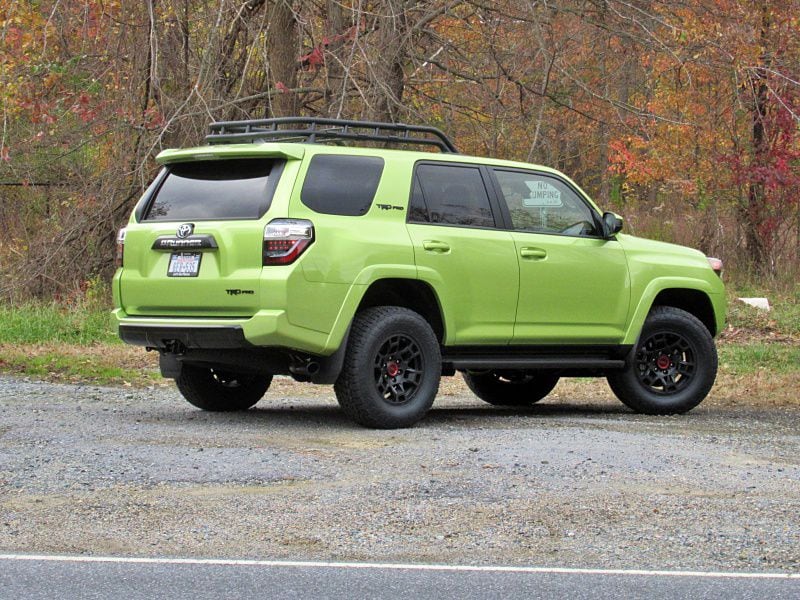 Photo by Brady Holt
Fuel Economy
With a blocky silhouette and off-road-focused tires, the Bronco wasn't designed to sip fuel, and it doesn't. The EPA pegs it at 20 mpg in the city, 22 mpg on the highway, and 21 mpg combined with its four-cylinder engine and automatic transmission and 2 mpg less with its V6. Certain trim levels knock mileage down further. Our V6 test vehicle averaged 19 mpg. 
The 4Runner, with its aging V6 and even more dated five-speed automatic transmission, does worse. It achieves EPA estimates of 16 mpg in the city, 19 mpg on the highway, and 17 mpg combined. What's more, our test vehicle averaged just 16 mpg during a weeklong test in similar conditions to the Bronco. 
Ford Bronco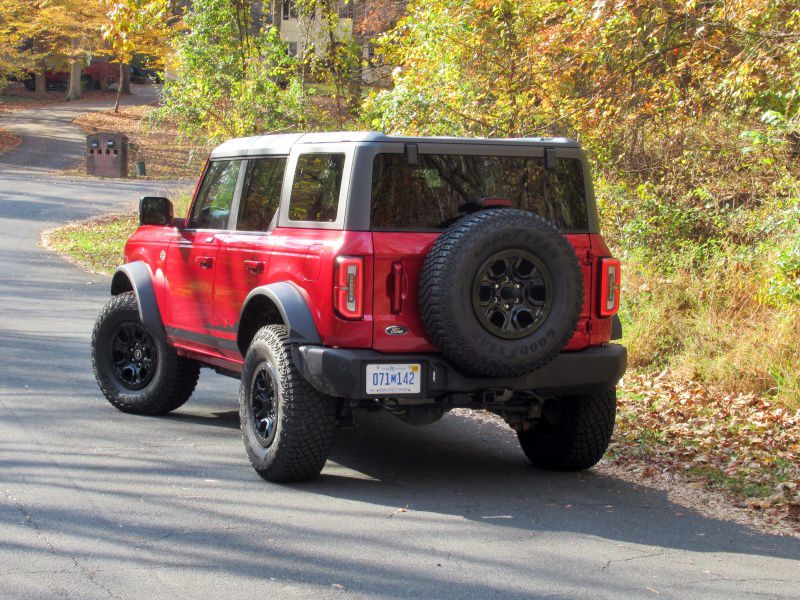 Photo by Brady Holt
Safety
The new Bronco hasn't yet been crash-tested. But we're nearly certain it will do better than the aging 4Runner, which earned a low Marginal score for small-overlap frontal-impact performance. Similarly, it earns just three out of five stars for passenger-side protection in the National Highway Traffic Safety Administration's frontal-impact crash test (and four out of five stars overall). Both these tests were introduced only after the current-generation 4Runner hit the market way back in 2010. 
Toyota has kept up with safety technology, though. Every 2022 4Runner includes adaptive cruise control, automatic emergency braking, and a lane-departure warning. Newly available this year, blind-spot monitoring comes standard on most trim levels. A surround-view parking camera is another handy feature that's available on much of the 4Runner lineup; it can help you either squeeze into a tight parking space or fit down a narrow off-road trail. The Bronco offers all those features, too, and it also has standard automatic emergency braking. But adaptive cruise control, lane-keeping assistance, and blind-spot monitoring are missing from entry-level Bronco models. But unless Ford shocks us with weak crash-test scores, the Bronco comes out ahead. 
Ford Bronco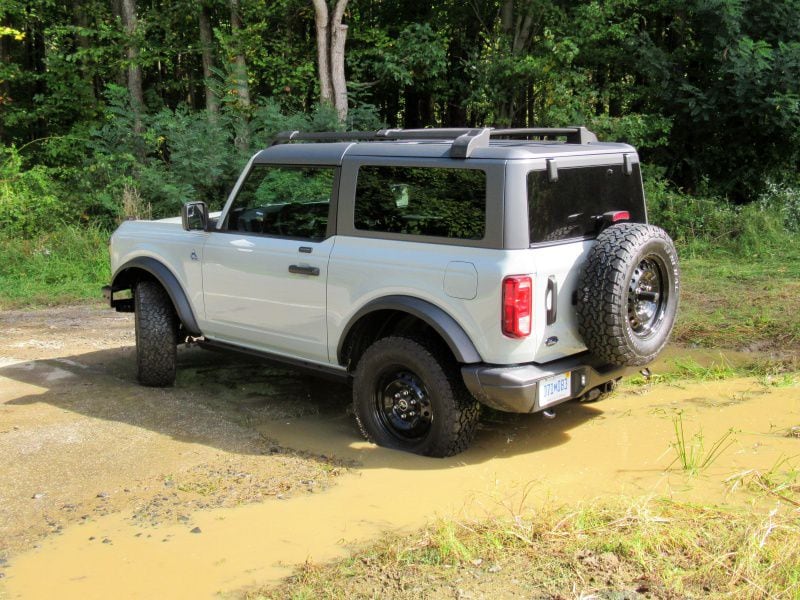 Photo by Brady Holt
Proven Record
We don't usually try to divine reliability in our reviews at Autobytel. Past track records don't consistently predict future results. But in this case, by selling the 4Runner without mechanical changes for the past dozen years, Toyota has proven that this truck keeps running and holds its value. That's a big part of the 4Runner's appeal to its legions of fans, and not a factor we'd like to overlook. 
We don't know how the Bronco will hold up over time. This SUV faced high-profile production issues early in its run. A long, eager waiting list meant every glitch was under a microscope. It will take a decade to find out whether Ford has made the Bronco as reliable as the 4Runner, but for now, only the Toyota has already demonstrated its long-term dependability and resale value.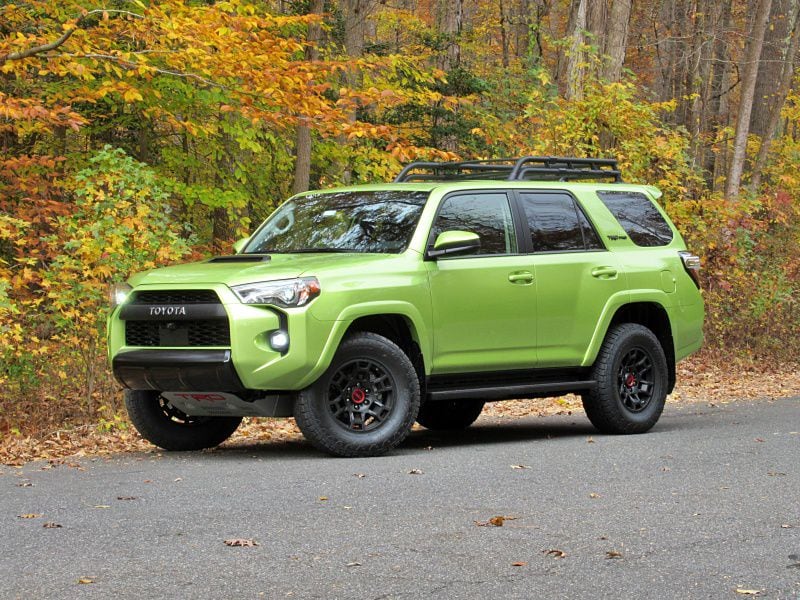 Photo by Brady Holt
Final Thoughts
The Bronco is an exciting new suv. It looks like nothing else, it offers incredible off-road capability, and we love its interior design. It's roomy and powerful, yet its sticker prices aren't obscene for a mid-size SUV if you stick with an entry-level model. And you can take off the roof and doors. 
But the ancient 4Runner was the bigger surprise. Despite being ready to scramble over boulders or claw its way through mud puddles, it's fairly civilized in daily driving. It's usefully spacious, packed with modern safety technologies, and decently smooth and quiet. It still has a strong cool factor and can tow a 5,000-pound trailer. And it probably won't break down. What's more, while the Bronco faces a backlog of pre-orders, the 4Runner is relatively attainable right now (as much as any popular vehicle is during the current vehicle shortage, at least). True, its interior decor is dated, its crash-test scores could be better, and its gas mileage is abysmal. And as we said up front, we didn't test these SUVs off-road, where the Bronco will likely outperform even this super-capable Toyota. Still, while it's hardly flawless, the 4Runner is our pick for blending capability with everyday use.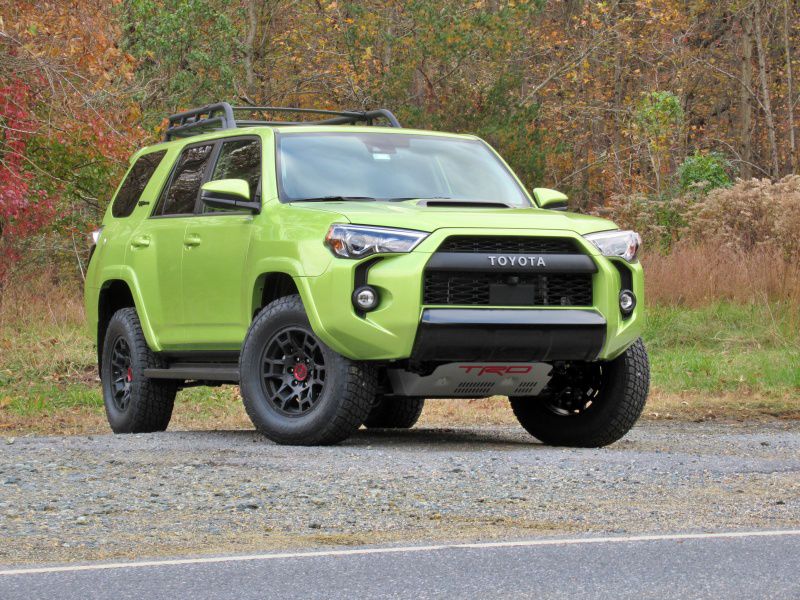 Photo by Brady Holt