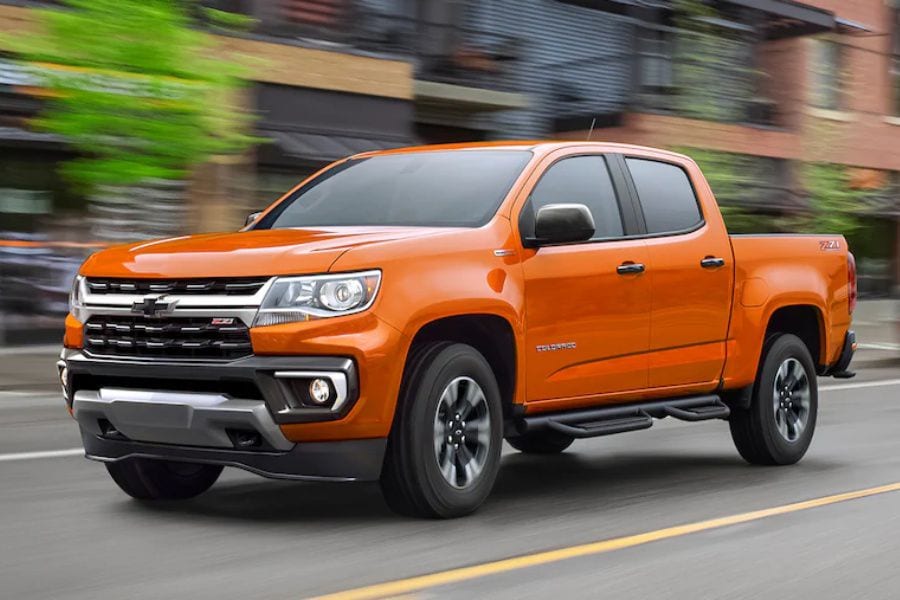 2021 Chevrolet Colorado ・ Photo by Chevrolet
Best-selling vehicles are obviously doing something right. And in the mid-size pickup truck segment, the most popular model is the 2022 Toyota Tacoma. The Tacoma builds on decades of tough, reliable Toyota pickups, and Toyota has steadily upgraded the model with a growing list of comfort, infotainment, and driver-assistance amenities.
Still, the 2022 Chevrolet Colorado is a formidable rival. Although the Colorado has seen few changes since its current generation appeared back in 2015, our most recent test vehicle reminded us how much we still like it. In this review, we'll discuss how the Colorado and Tacoma stack up in each of eight categories, then name an overall winner. Keep reading as we go through these trucks' pros and cons to learn which one we picked and which sounds like the better choice for you. 
Pricing and Features
Just looking at base prices, the Colorado costs less than the Tacoma: $25,200 versus $26,500. And looking at the heart of the lineup (decently equipped four-wheel-drive V6-powered crew cabs), the Colorado LT starts at $34,400 versus the Tacoma SR5's $35,655. 
But that doesn't tell the whole story. The Colorado is unavailable with some of the Tacoma's standard features at any price — including automatic emergency braking and adaptive cruise control — and it has a shorter list of available add-ons. You can't get a Colorado with a sunroof, push-button starting, blind-spot monitoring, or a surround-view parking camera. You may not even be able to get heated seats this year due to parts shortages. What's more, Toyota promises a higher resale value and, in the short term, two years of free scheduled maintenance. Price-conscious buyers would do well to get dealer quotes on the two trucks; they may find a gulf in real-world transaction prices. But overall, the Tacoma holds its own in terms of pricing while also offering a lot more extra amenities.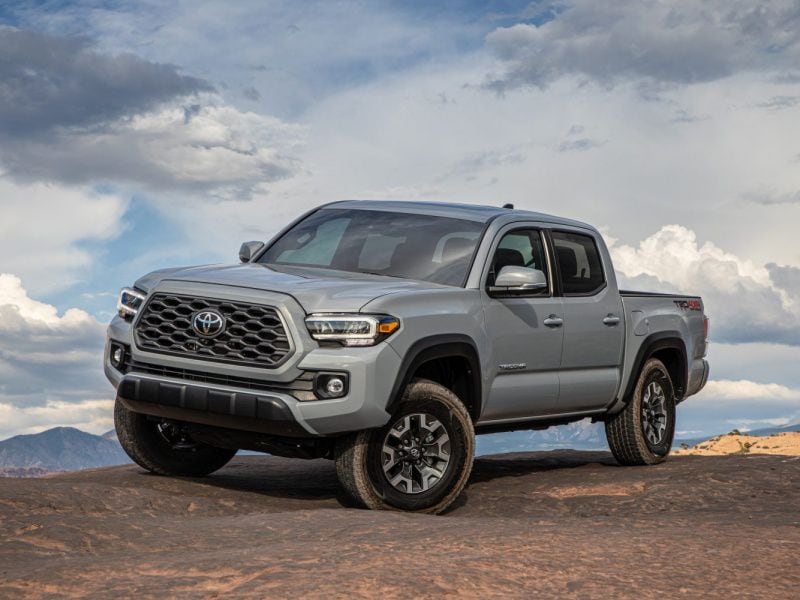 Photo by Toyota
Exterior Design
The Tacoma is a classically handsome truck. It's assertively boxy with an upright front end, a bold but not overly massive grille, angular headlights and taillights, and partially squared-off wheel wells below muscular-looking fenders. Choosing the TRD models brings a tougher-looking grille that swaps a Toyota logo for the "Toyota" name spelled out across a horizontal bar. The current-generation Tacoma dates to 2016 and has seen slight styling tweaks since then.
The Colorado is a milder-looking pickup. It's gently rounded around the edges, and the front end leans back to flow into the hood rather than being straight vertical. Some buyers might wish for a more assertive look, and it has gone even longer since a redesign, but Chevy's confident restraint also has its appeal. The Colorado's off-road model, the ZR2, has a reshaped bumper that highlights the truck's protective skid plates, which curve up from under the truck to meet an enlarged grille. It's a great mix of style and function, since this bumper shape leaves fewer low-hanging bumper pieces to catch on a rock. Overall, though, we'll let you choose between the more angular Toyota and the softer Chevy. 
Tie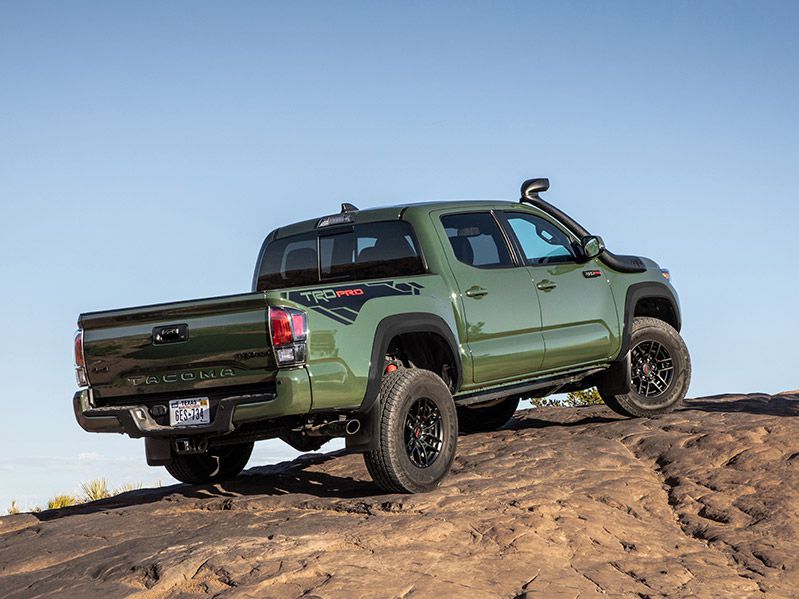 Photo by Toyota
Interior Design
Both trucks' interiors echo their exterior design philosophies. The Tacoma is rugged without feeling cheap, with a blocky dashboard and mostly appropriate interior materials. Our test truck had sturdy and nicely textured leather upholstery, which exemplifies the Tacoma's niche: It's not a downscale vehicle, but it doesn't try to provide car-like buttery smooth luxury. A 7-inch touchscreen infotainment system is standard equipment while an 8-inch unit is included on most models. 
The Colorado, meanwhile, is plainer and milder. Rather than aiming for a cool character, it focuses on simple shapes and easy-to-use controls. But without rugged truck-like design cues and with plain materials, it risks coming across as drab. Like the Tacoma, most Colorados come with 8-inch infotainment screens, while a 7-inch screen is standard on the base model. We found the Chevy infotainment system more responsive than the Toyota's, but we like the way the Tacoma lets you look at more things at once — for example, splitting the screen to show your GPS navigation at the same time as your radio station info. Overall, the Colorado's interior isn't bad for a truck, but Toyota has nicer materials and a more interesting ambiance.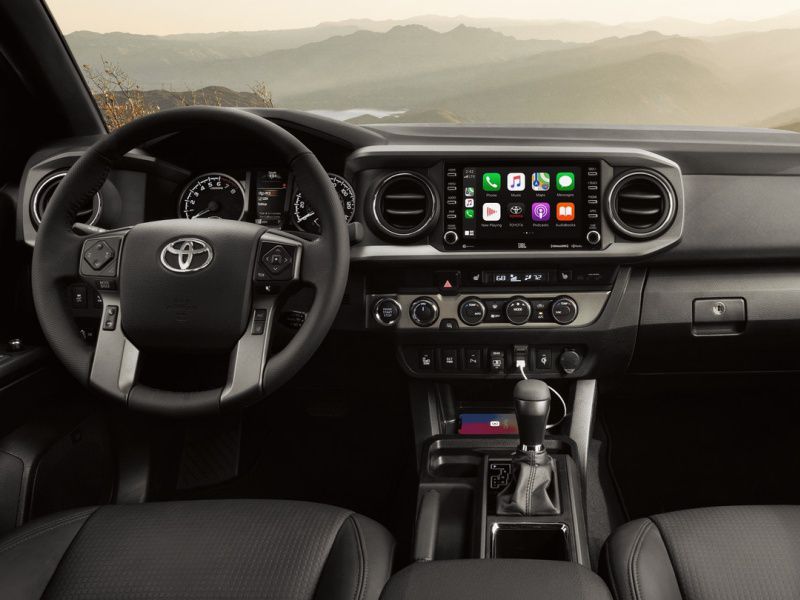 Photo by Toyota
Interior Space and Comfort
A usefully spacious interior is a key Colorado strong point. There's plenty of legroom and headroom in the front, and it's easy to get comfortable behind the wheel. Adults can even fit fine in the crew cab model's backseat, though as on the Tacoma and all other mid-size competitors, the extended cab's rear seating is best saved for emergencies and storage space. 
In contrast, the Tacoma has an uncommonly cramped interior for a modern vehicle. The driver's seat is awkwardly low to the floor yet still provides limited headroom for taller drivers. And even the crew cab's rear seat has limited leg space as well; adults can squeeze in but not comfortably. A 10-way power-adjustable driver's seat, standard on all but the base SR trim level, and it's a welcome improvement over the fixed-height seat that Toyota provided until a couple years ago — but larger folks will still likely prefer more space, which the Colorado provides. 
Chevrolet Colorado
Photo by Chevrolet
Towing and Payload
The Colorado is a capable mid-size pickup. Depending on the model and configuration, payload capacity ranges from 1,380 pounds to 1,543 pounds. Fortunately, the best performer is the popular LT crew crab model. For towing, all V6-powered Colorados can tow up to 7,000 pounds, while the available turbodiesel four-cylinder manages 7,700 pounds. Every extended-cab Colorado has a 74-inch-long bed, which is also optional on the crew cab; the crew cab's standard bed size measures 61.7 inches. 
The Tacoma's max towing capacity comes to 6,800 lbs and its top payload limit is 1,525 lbs. What's more, four-wheel-drive crew cab models tow just 6,400 lbs and handle payloads of only around 1,100 lbs. Toyota essentially matches the Colorado's bed lengths — 73.7 inches long on the extended cab and some crew cabs, with 60.5 inches standard on the crew cab — but the Tacoma isn't as ready for work overall. 
Chevrolet Colorado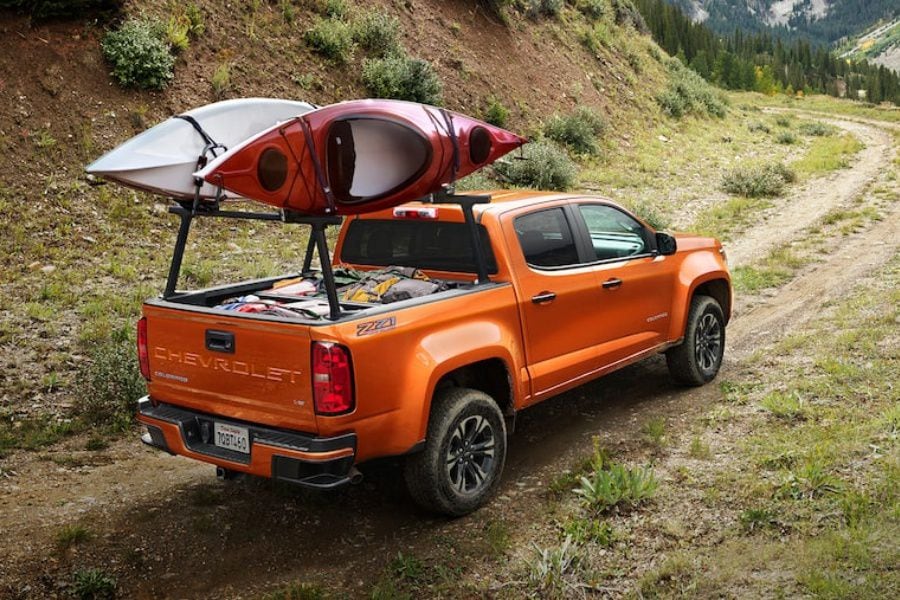 Photo by Chevrolet
Driving Experience
The Tacoma is ready to plow through mud and scramble over boulders. Its all-terrain features include an available skid plate, electronic locking differential, five off-road driving modes, a separate five-mode Crawl Control system that automatically accelerates and brakes the truck to get past obstacles, and Bilstein off-road shocks. Back on the road, though, you get a bouncy ride and clumsy handling. We're also not wild about the Tacoma's engines; whether you choose the base 159-horsepower four-cylinder or the more common 278-hp V6, you get a lot of noise but not a lot of speed. 
By contrast, the Colorado is a master of civility. Every Colorado is smooth, quiet, and agile. That's even true if you get the highly capable ZR2 off-road model, which has electronic front and rear locking differentials, extra ground clearance and underbody protection, and more advanced Multimatic shock absorbers. Some might argue the Chevy's 308-hp 3.6-liter V6 engine has less character than the old-school roar of the Toyota's, but acceleration is effortlessly lively. The Colorado is also available with two four-cylinders: an unexciting 200-hp gasoline engine and a torquey turbodiesel. Only the Tacoma offers a manual transmission, but its advantages are otherwise limited. 
Chevrolet Colorado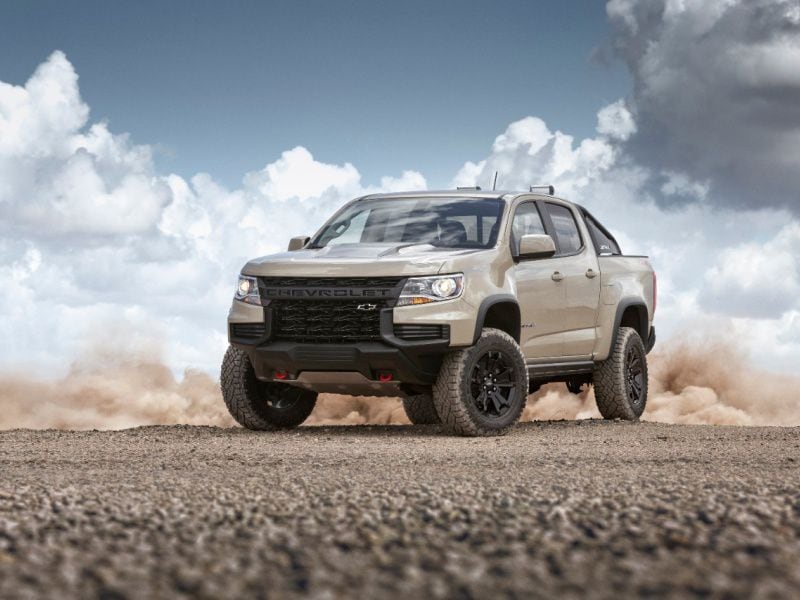 Photo by Chevrolet
Fuel Economy
The EPA pegs the V6 Colorado at 18 mpg in the city, 25 mpg on the highway, and 21 mpg combined with rear-wheel drive and 17 mpg city, 24 mpg highway, and 19 mpg combined with four-wheel drive. That's about the same as the V6 Tacoma: 19 mpg city, 24 mpg highway, and 21 mpg combined with rear-drive and 18 mpg city, 22 mpg highway, and 20 mpg combined with four-wheel drive. 
However, the Colorado is the winner when you switch to its other powertrains. Its base gas engine manages 19 mpg city, 25 mpg highway, and 22 mpg combined with rear-wheel drive and 19 mpg city, 24 mpg highway, and 21 mpg combined with four-wheel drive. Each beats the equivalent Tacoma four-cylinder by about 1 mpg despite having 41 more horsepower. Then there's the turbodiesel: The rear-drive diesel Colorado gets a whopping 20 mpg in the city, 30 mpg on the highway, and 23 mpg combined, with 4WD knocking just about 1 mpg off that figure. No Tacoma comes close, especially on the highway. 
Chevrolet Colorado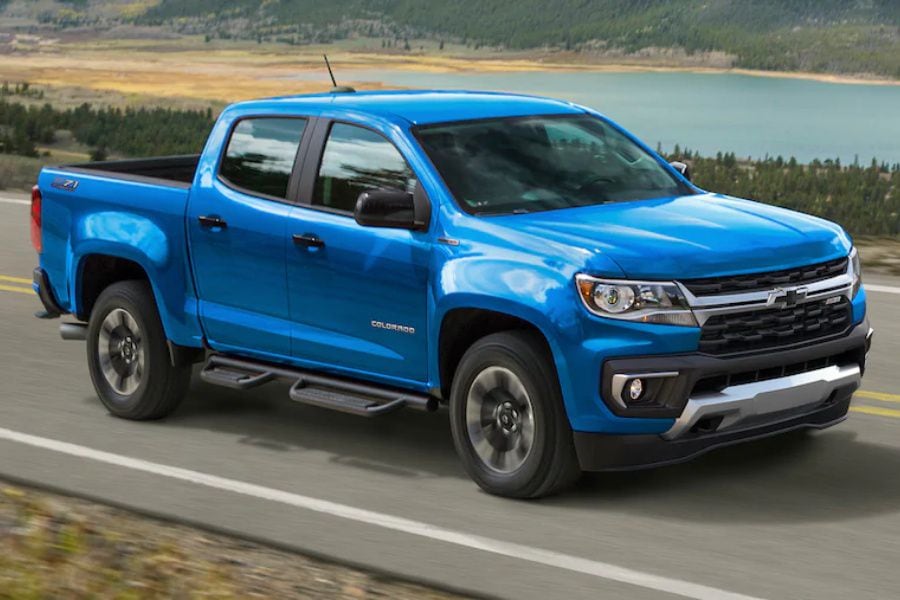 Photo by Chevrolet
Safety
The Tacoma comes standard with a comprehensive suite of advanced safety features. Even the base model includes automatic emergency braking, lane-keep assist, adaptive cruise control, and more. Blind-spot monitoring and a rear cross-traffic alert are widely available, too. The Tacoma earned a class-competitive four out of five stars in National Highway Traffic Safety Administration crash testing and earned the top Good score in most crash tests conducted by the Insurance Institute for Highway Safety. The exception is an Acceptable rating, the second-highest of four, in a small-overlap offset frontal impact on the passenger side; its standard headlamps also scored only Marginal, the second-lowest rating. 
The Colorado, meanwhile, lets you add an optional forward-collision warning and lane-departure warning on certain trim levels, while a federally mandated backup camera is standard. And that's it. You'll find few new cars with so little safety technology. Crash-test scores aren't great, either: It matches the Tacoma's four-star NHTSA performance, but the IIHS judged it Marginal instead of Acceptable in the passenger-side small-overlap test. And every Colorado headlight earns the lowest grade of Poor. 
Toyota Tacoma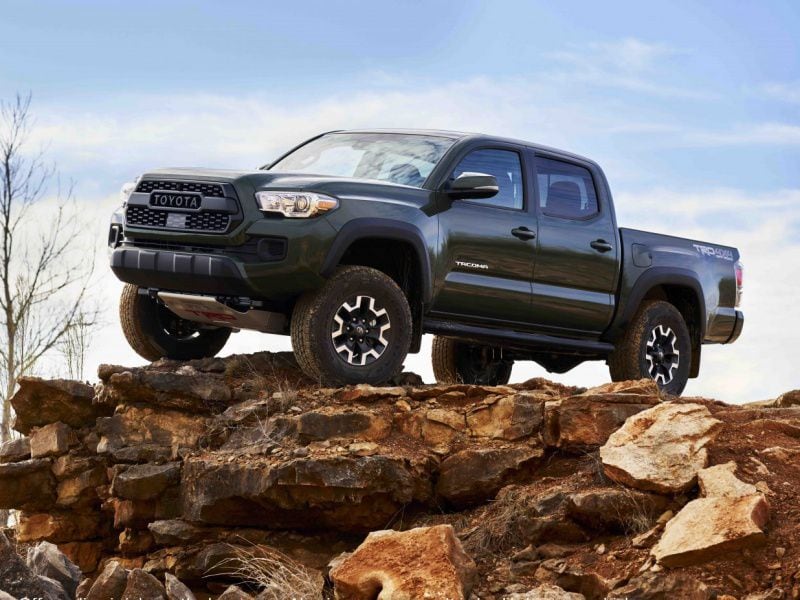 Photo by Toyota
Final Thoughts
In comparing the Colorado and Tacoma, we find ourselves confronting two appealing but flawed pickups. We'd love to buy a Colorado with the Tacoma's extra features and higher-grade cabin. Or we'd just as happily buy a Tacoma that's as roomy, functional, and nice to drive as the Colorado. 
But those trucks don't exist. Instead, buyers need to choose what to sacrifice, then choose accordingly. We narrowly pick the quicker, quieter, smoother, more agile, and more functional Colorado; we'd do so eagerly if you could get one with a sunroof and advanced safety technology. The Tacoma's character is appealing, its extra features are tempting, and its higher crash-test scores are a point to consider. But the Colorado was the truck we preferred being in, and that's a tough advantage to ignore. What's more, if we cared more about the Tacoma's advantages, we'd turn first to the newly redesigned 2022 Nissan Frontier. You can read our comparison of the Frontier and Colorado here, but against the Tacoma, we pick the Chevrolet. 
Chevrolet Colorado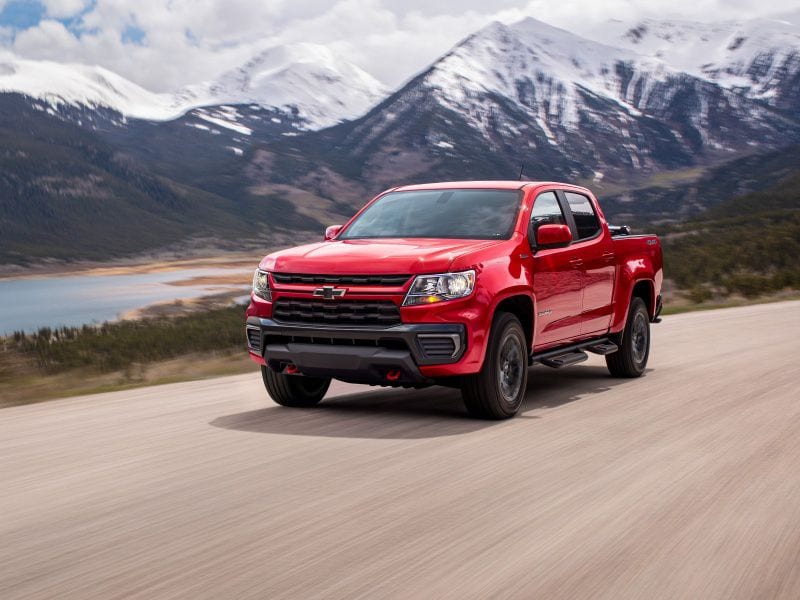 Photo by Chevrolet