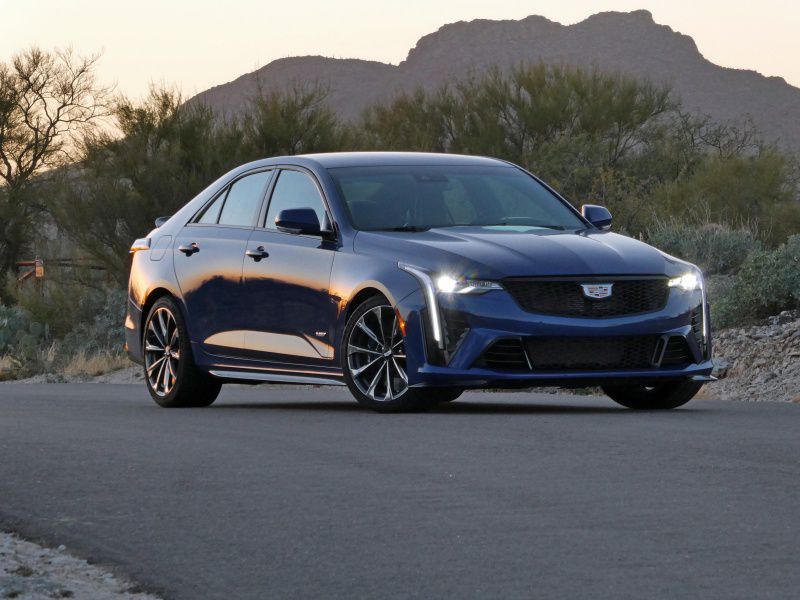 2022 Cadillac CT4-V Blackwing ・ Photo by Ron Sessions
Cadillac is aiming to become an all-electric brand over the next few years, but in the meantime, it's offering a pair of potent, gas-powered performance sedans that represent the culmination of a quarter-century quest to take on Europe's best. The "junior" of the two — only in the sense of costing $25,000 less than the mid-size 700-horsepower CT5-V Blackwing (which you can read more about on our website) — is the compact 2022 Cadillac CT4-V Blackwing.
The CT4-V Blackwing is more than just a high-performance engine dropped into an existing platform. It possesses a stiff structure, supple suspension, precise steering, and powerful brakes combined with advanced electronic traction control and handling aids that make it one of the premier premium high-performance sedans in the world.
The 2022 Cadillac CT4-V Blackwing is priced at $59,990, including the $995 destination charge. Adding an automatic transmission is a $3,125 upcharge. All-wheel drive, available in lesser-performance versions of the CT4, is not an option for the CT4-V Blackwing. Select too many options, though, and the bottom line can easily swell to over $80,000.
Cadillac CT4-V Blackwing competitors include the Alfa Romeo Giulia Quadrifoglio, Audi RS3, BMW M3, and Mercedes-AMG C43.
Potent Twin-Turbo V6
Under the hood of the CT4-V Blackwing, a double-overhead-cam 3.6-liter V6 with twin turbochargers makes 472 horsepower, right up there with the BMW M3 and 88 more horsepower than the Mercedes-AMG C43. More significantly, the CT4-V Blackwing twists with 445 lb-ft of torque from 3500 to 5000 rpm, more than the M3, C43, or Alfa Romeo Giulia Quadrifoglio. This is an immensely satisfying engine with great response in all driving situations. The Blackwing biturbo V6 sounds great as well, thanks to a driver-selectable variable exhaust system that's quieter in Tour mode and zoomier in Sport and Track modes.
The twin-turbo V6 is teamed with a slick-shifting 10-speed automatic or in a rare move for Cadillac, a handy 6-speed manual transmission. The short-throw 6-speed manual shifts with easy precision and the clutch pedal effort is weighted just right with a generous engagement zone. There's even a driver-selectable rev-match feature for downshifts. Cadillac figures about one in five CT4-V Blackwing buyers will go for the standard 6-speed manual. If you like shifting your own gears, this may be one of your last chances to do so, particularly in a Cadillac. The CT4-V Blackwing comes with launch control that allows the driver to select desired engine rpm and wheelspin amount for best acceleration. The manual gearbox comes with a no-lift-shift feature that lets the driver keep the throttle mashed during shifts without engine damage as well.
Zero-to-60 mph blasts take 3.9 seconds with the automatic and 4.1 with the manual.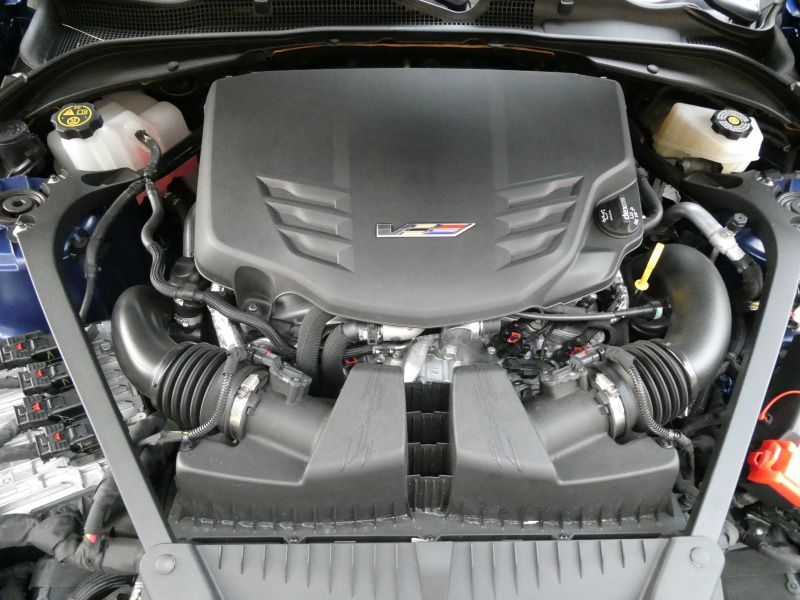 Photo by Ron Sessions
Cabin Switchgear and Ambiance
The Cadillac CT4-V Blackwing is a lot of performance car for the dollar, but the big money is spent on the car's go-fast bits and not so much for the upscale fitments of a luxury brand. Interior trim, a lot of it hard plastic, is not up to the level of the car's European competitors or even that of other Cadillacs. But the luxury-brand basics are there, with standard dual-zone automatic climate control, keyless access, pushbutton start, a wireless charger for Qi-enabled phones, rain-sensing wipers, a universal home remote, a heated steering wheel, and even a power-assisted tilt/telescopic steering column as well as alloy pedal trim. A bright and attractive 12.0-inch configurable color high-definition dash display allows the driver to customize relevant driving information front and center. Optional in a technology package is a head-up display and an air ionizer to help scrub pollution and nasty smells before they enter the cabin. Also available is an optional power tilt-and-slide sunroof.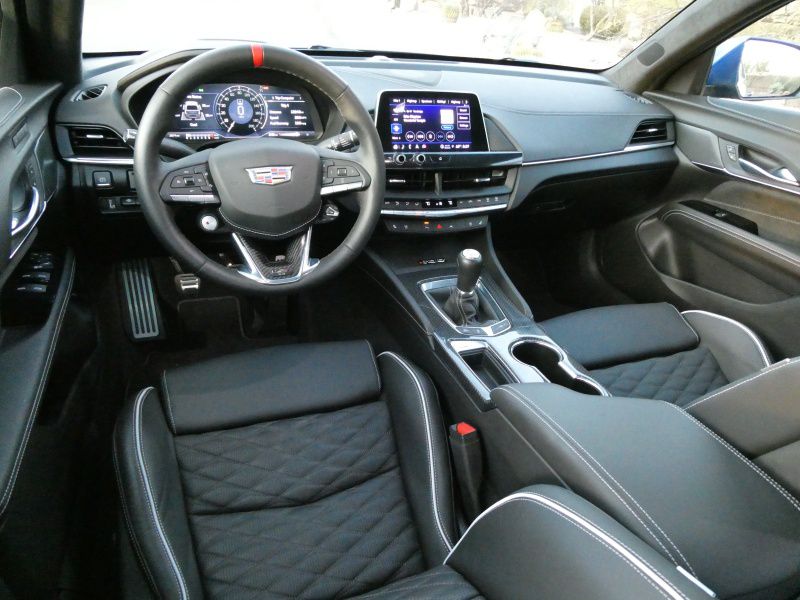 Photo by Ron Sessions
Cadillac User Experience
Front and center atop the CT4's dash is 8-inch landscape-ratio color touchscreen with wireless Apple CarPlay and Android Auto cellphone mirroring. Not to be confused with the complicated Cadillac User Experience systems of recent years, this one is dirt simple to operate thanks to large touchscreen tiles, rotary analog volume and tuning knobs just below the screen, steering wheel controls, and voice prompts.
When not entranced by the biturbo V6 engine's song, owners can immerse themselves in the rich, enveloping sound of the CT4-V Blackwing's standard 15-speaker AKG premium audio system. A similar system from the Austrian maker of top-tier microphones and headphones now inhabits the Cadillac Escalade. The AM/FM head unit includes a 6-month trial of SiriusXM 360 with personalized genre-based selections. Standard HD Radio brings static-free AM reception with song title and artist information. The system includes an SD card reader. The CT4-V Blackwing is Wi-Fi hot-spot capable through OnStar.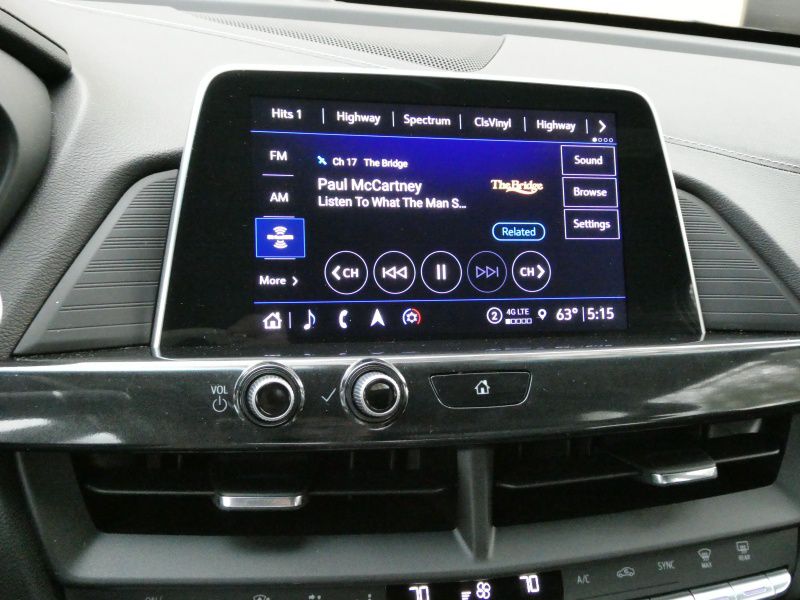 Photo by Ron Sessions
Sport Front Seats
A pair of form-hugging, leather-clad sport front bucket seats with prominent bolsters for the thighs and lower torso is standard fare in the CT4-V Blackwing. The front buckets are heated and feature 18-way power adjustability, 4-way power lumbar adjustments, and driver's seat memory settings. An $800 climate package adds front-seat ventilation as well as driver and front-passenger power-oscillating lumbar-region seatback massage functions that can provide comfort for stiff lower and middle back muscles on longer trips. Further optional upgrades bring super-soft semi-aniline leather, custom quilting, and carbon-fiber seatback trim, plus faux-suede microfiber-wrapped details.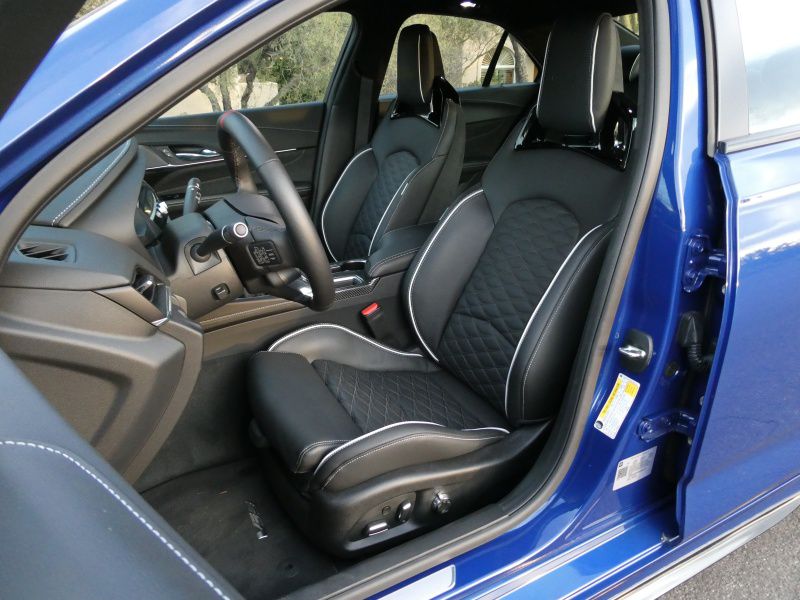 Photo by Ron Sessions
Tight Back Seat
As is the case with other performance-focused small rear-drive sedans, the CT4's interior space favors front-seat occupants. The CT4-V Blackwing's back seat, while decked out with luxurious leather trim, is on the small side. CT4-V Blackwing rear-seat headroom is around an inch less than that offered in the BMW M3, Mercedes-AMG C43, and Alfa Romeo Giulia Quadrifoglio, and the CT4's rear-seat legroom comes up about 2 inches short of the space in the M3 and Alfa. So the CT4-V Blackwing's back seat is not a place for adults on long drives. CT4 rear footwell space is also cramped due to a structural crossmember that aids the car's sporty handling but juts out from under the bottom cushion. At least getting in and out of the CT4 back seat is easier compared to its predecessor, the Cadillac ATS, due to larger rear-door openings.
The CT4-V Blackwing's trunk space is on the small side as well offering 10.7 cubic feet compared to the M3's 13 and Mercedes-AMG C43's 12.6.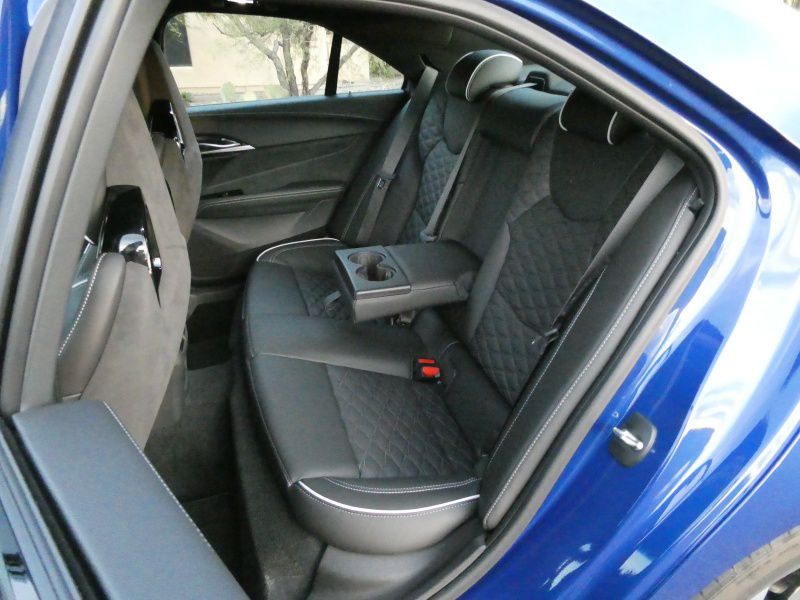 Photo by Ron Sessions
Performance Data Recorder
One cool CT4-V Blackwing option is a Performance Data Recorder. It can be used to record audio and video of spirited drives on a twisty back road, the daily commute, or a fun memory of track days and then play it back for hours of entertainment on the dash-mounted 8-inch infotainment screen or, after recording it on an SD memory card, on a laptop or home computer. Using GPS, it can also provide video overlays of performance metrics and even trained drivers using Cosworth racing software to compare and hone their skills on different tracks.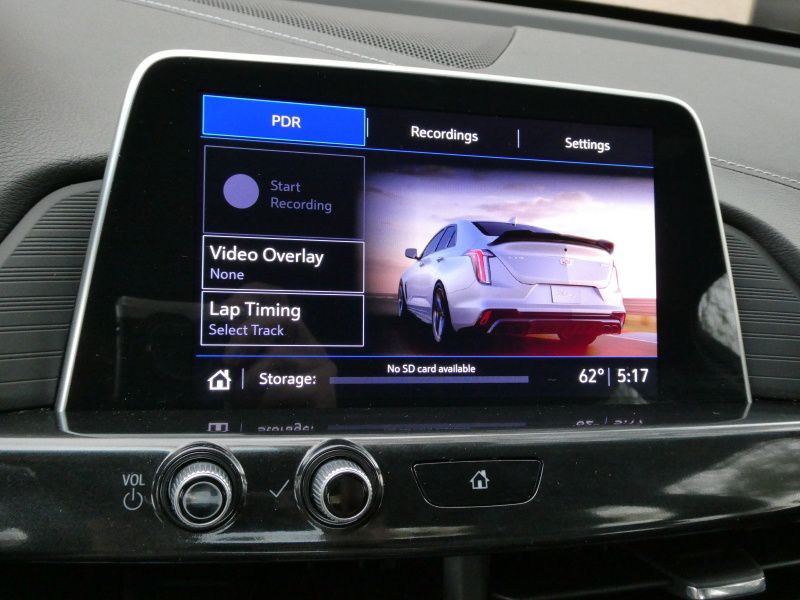 Photo by Ron Sessions
CT4-V Blackwing Dynamics
The Cadillac CT4-V Blackwing is a specialized sedan, equally at home on the street or track. Magnetic Ride 4.0 adaptive damping with magnetorheological shocks adjusts each wheel to road inputs in real time for pinpoint vertical body control. Variable-boost, rack-mounted electric steering delivers tactile road feel with quick turn-in response, while huge, track-ready 14.96-inch, six-piston Brembo front and 13.4-inch, four-piston rear Brembo high-performance brakes provide good top-of-pedal response and confident stopping power from speed without noticeable fade. Meaty, ultra-sticky 255/35ZR18 front and 275/35ZR18 rear Michelin Pilot Sport 4S summer performance tires keep a firm grip on the road. An electronic limited-slip rear differential can be optimized for each driver-selected driving mode and performance traction management setting.
Still, in Tour mode, the CT4-V Blackwing can be a pleasant and pliant everyday driving machine while not reducing the car's surprisingly high limits and fun-to-drive capabilities.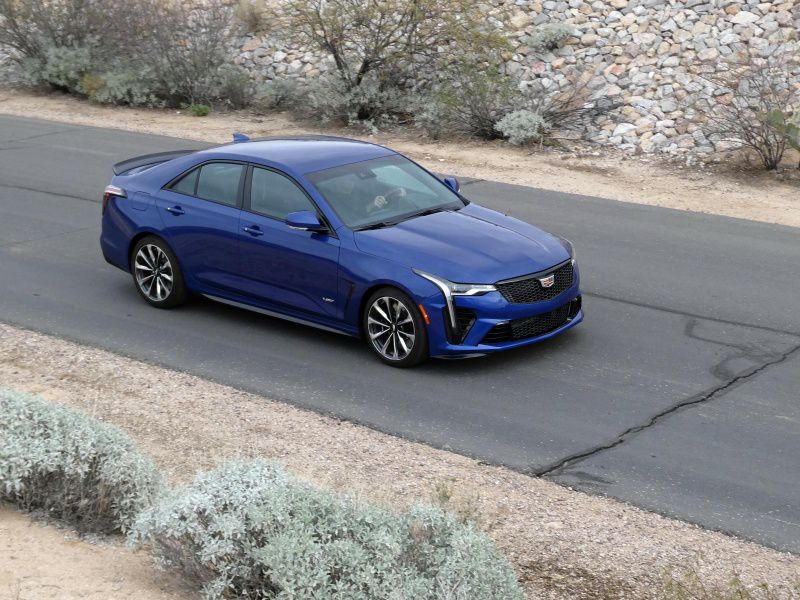 Photo by Ron Sessions
Performance Traction Management
Thanks to modern electronics, the CT4-V Blackwing's driving characteristics can be easily customized by the driver using a console-mounted drive mode button to select Tour, Sport, Snow/Ice, Track, My Mode, or V Mode. Each can custom-tailors throttle response, automatic transmission shift points, steering effort, exhaust sound, suspension damping, braking response, and traction management.
Located under the right spoke of the Blackwing's steering wheel, a Ferrari Manettino-like switch accesses the track magic of Performance Traction Management, which was previously hidden a few layers down in Track Mode menus. Definitely not for use on public roads, the system can peel back the layers of traction and stability control system nannies to unlock unfettered, tail-out performance in Wet, Dry, Sport, Race 1, and Race 2 settings.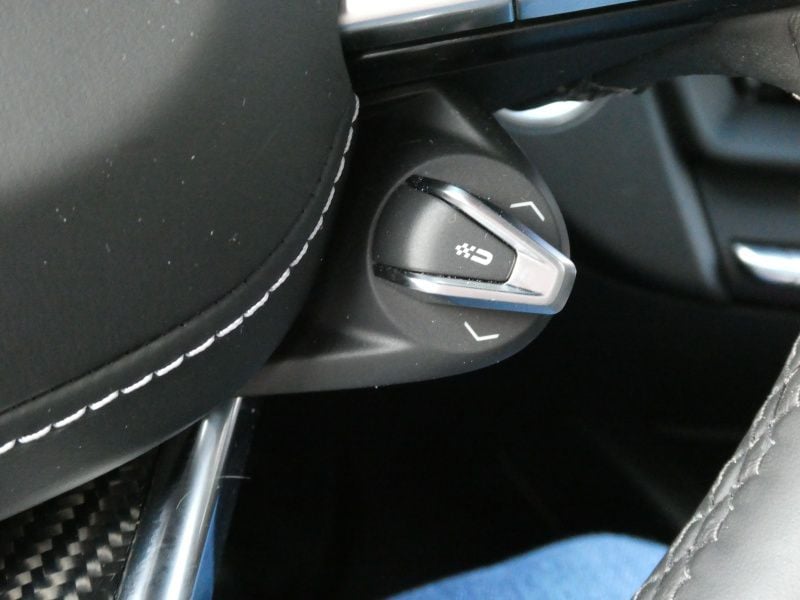 Photo by Ron Sessions
Safety and Driver-Assistive Technology
Standard safety and driver-assistive fare in the 2022 Cadillac CT4-V Blackwing includes a forward collision alert system with pedestrian detection and automatic emergency braking, a lane-departure warning system with lane-keep assist, blind-spot and rear cross-traffic alert systems, ultrasonic front and rear park-assist sensors, IntelliBeam automatic high-beam control, a high-definition backup camera, and a haptic safety-alert driver's seat. The latter vibrates a portion of the lower cushion of the driver's seat to coincide with a safety threat originating in that direction. For example, a vehicle approaching the CT4 from the passenger-side blind spot of the car would cause the right side of the lower cushion to vibrate. Also included is a rear seat reminder that alerts the driver to check the back seat for children or pets that might be left behind after the engine is shut off if a rear door was opened during the previous key cycle.
A driver head-up display is optional. Also optional is a driver-assist package with adaptive cruise control, enhanced automatic emergency forward braking (with a radar sensor as well as a forward camera), and reverse automatic braking. Cadillac's semi-autonomous, hands-free Super Cruise, however, is not available in the CT4-V Blackwing.
Neither the National Highway Traffic Safety Administration (NHTSA) nor the Insurance Institute for Highway Safety (IIHS) has rated the 2022 Cadillac CT4 for safety systems and crashworthiness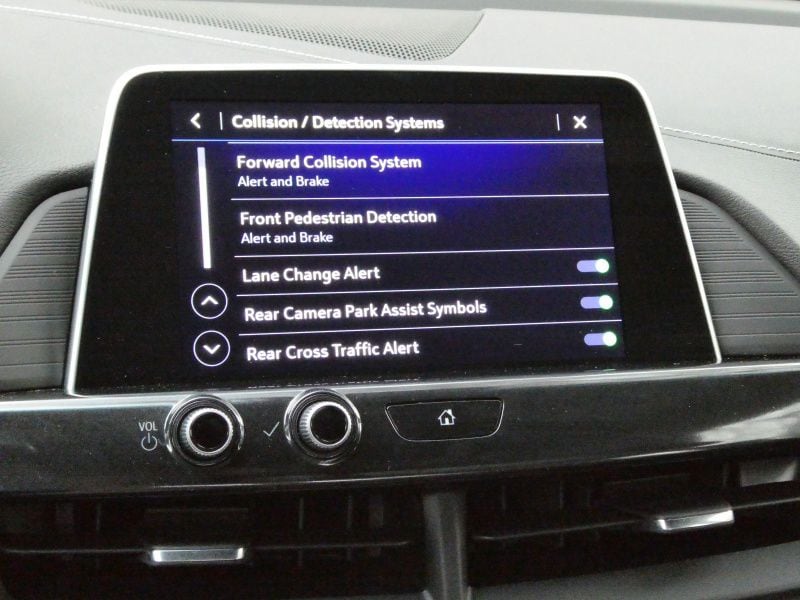 Photo by Ron Sessions
Last Act
With the announcement that future Cadillac products will be electric-powered, high-performance gasoline-powered sedans such as the 2022 CT4-V Blackwing aren't long for this world. So it's sort of a pyrrhic victory for the brand that its newly minted compact performance sedan has finally achieved parity with its longstanding benchmark target, the BMW M3. Future electric Cadillacs will likely continue to offer invigorating acceleration and more importantly zero tailpipe emissions in a quest to lower the world's carbon footprint, and buyers will find new ways to get excited about personal transportation. In the meantime, however, if you are interested in one last analog back-road romp replete with rumbling exhaust and the human/machine mastery of a well-shifted stick-shift transmission, don't dawdle. The 2022 Cadillac CT4-V Blackwing is, as they say, a limited-time offer.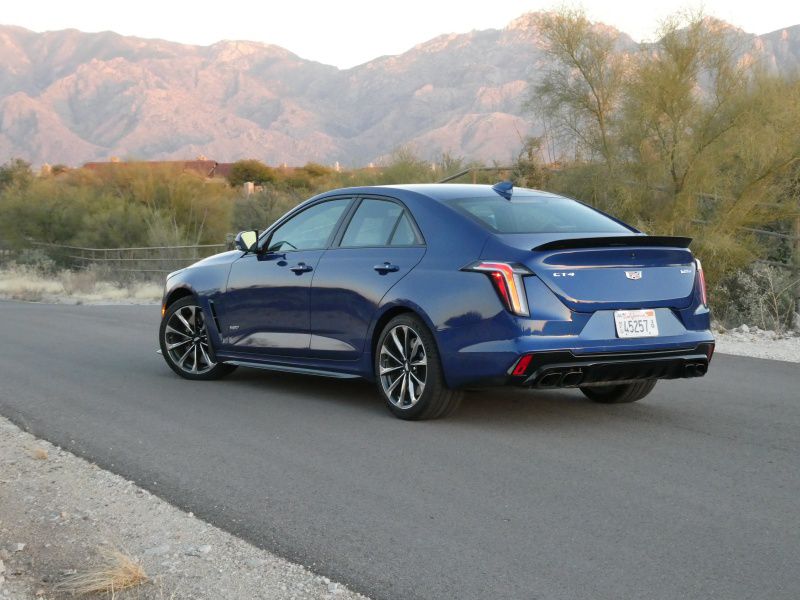 Photo by Ron Sessions