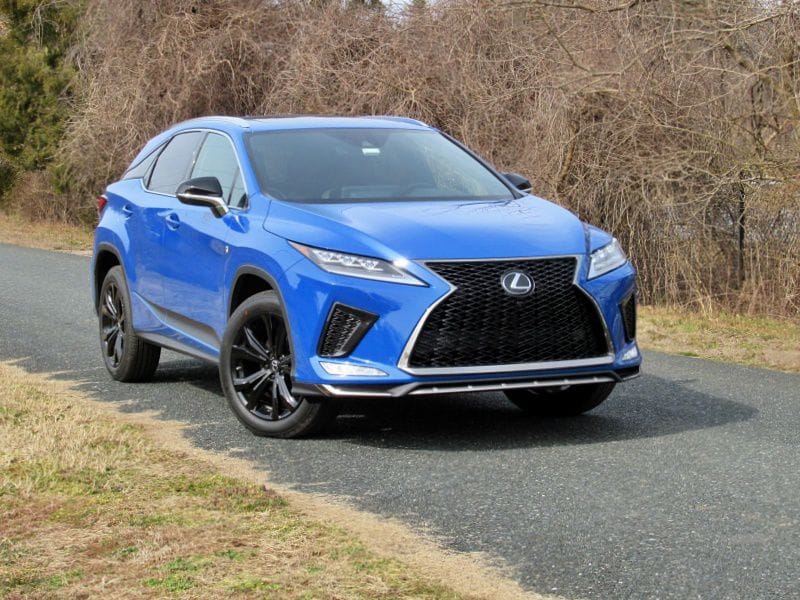 2021 Lexus RX 350 ・ Photo by Brady Holt
The Lexus RX and the Acura RDX are two of America's best-selling luxury SUVs. A big part of their appeal is value: They cost less than similarly sized models from the big European luxury brands like BMW and Mercedes-Benz, providing a more affordable way to get high-end features, design, and engineering.
Strictly speaking, the Lexus RX is a mid-size crossover while the Acura RDX is a compact model. But they're closer in size than those market classes would suggest, both providing space for five passengers and a decent amount of their cargo. Plus, they're both Japanese models with similar names. For this review, we've tested both models so we could compare them across eight categories and then name an overall winner. Keep reading to learn which one we picked and which one sounds like the better luxury SUV for you. 
Pricing and Features
Lexus has a wide range of RX models, with a choice of two engines (a gas-only V6 and a gas-electric V6 hybrid) and two body styles (the standard RX and the extended-length three-row RX L). The closest equivalent to the 2022 Acura RDX is the most affordable 2022 Lexus RX 350, which starts at $45,320. 
The RDX costs significantly less, starting at $39,300 with even more features than the RX. The Acura's standard equipment includes heated front seats, a panoramic moonroof, a plus-size infotainment screen, and 12-way power adjustability for both the driver and the front passenger seats. The RX is hardly stripped-down, but the Acura is the easy winner for value. 
Acura RDX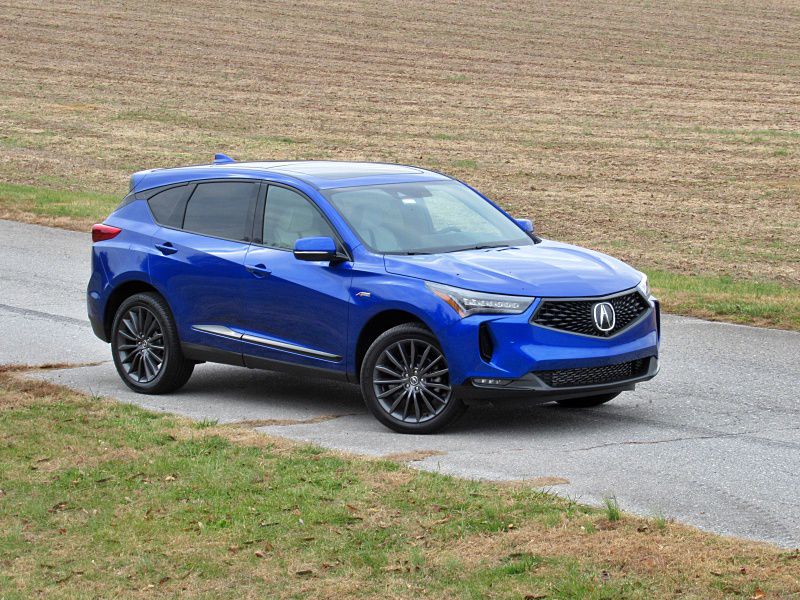 Photo by Brady Holt
Exterior Design
Both the RDX and RX are styled to look sporty. Although the Lexus is the older model, dating to 2016 since its last full redesign compared with 2019 for the Acura, the RX is the wilder of the two. 
The RX's swoopy hatchback-like shape was ahead of the "SUV coupe" curve, and the front end features Lexus's big hourglass-shaped "spindle" grille that drops down from two high, slim headlights. For a slightly more conservative look, the extended-length RX L has a bigger and boxier rear end. The RDX is hardly boxy, but it's more upright than the RX. It's most aggressive up front, where a big mesh stretched-pentagon grille signals the Acura's focus on sporty design rather than relaxed gentility. Lines are generally softer, without the RX's hard creases. Although it's a compact model, the RDX looks more substantial than some of its closer competitors; you won't get the impression that the RX is much bigger. Overall, we'll let you choose whether you'd like an SUV that looks sporty or one that looks really really sporty. 
Tie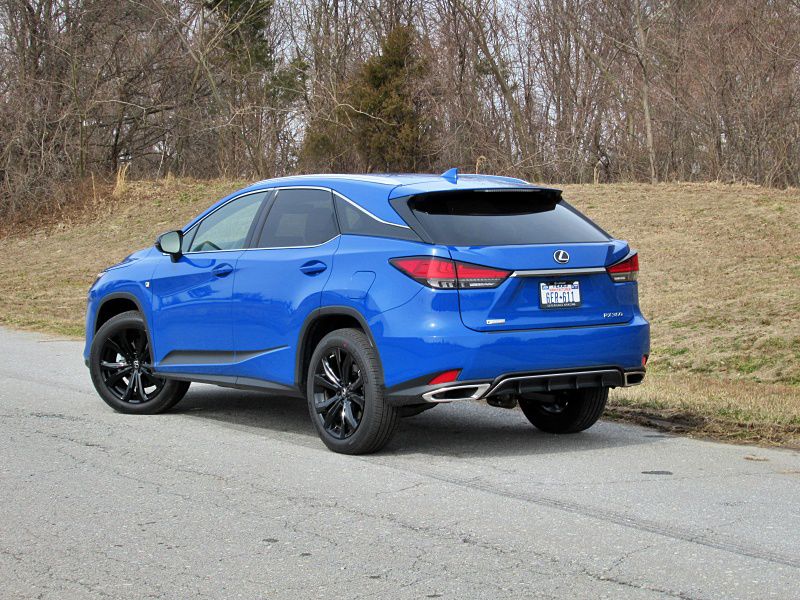 Photo by Brady Holt
Interior Design
Lexus is known for rich interiors, but we came away with mixed feelings about the RX. The upholstery is undeniably luxe, and dashboard's flowing lines are upscale if not cutting-edge. But many buttons and sections of the lower dashboard are basic cheap plastic, and the gauge cluster's indicator lights lack the gentle, crisply rendered view of most luxury vehicles. The warning beeps are also shrill and harsh, rather than the gentle and relaxing tones we'd expect in Lexus.
The RDX avoids these missteps, but it has its own. Its interior adopts a sporty and tech-focused vibe more than a maximum-luxury one, with unusual styling and few extra-posh touches. Everything is well-built — indeed, more finely crafted than the RX — but you won't get a warm, welcoming cabin. Also, Acura complicates its ergonomics with a touchpad controller, which requires more attention than the Lexus's touchscreen. (The RX had a similar system until the 2020 model year.) Every RDX comes standard with a 10.2-inch infotainment screen; it splits the difference between the RX's standard 8-inch screen and its optional 12.3-inch unit. We'll call this one another tie. 
Tie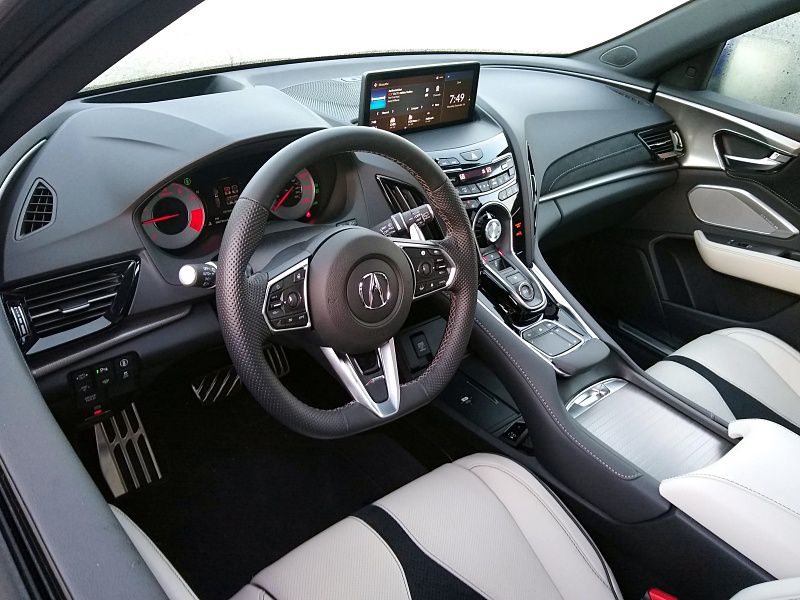 Photo by Brady Holt
Passenger Accommodations
Despite falling into the compact crossover segment, the RDX doesn't feel compact inside. There's ample space in the front seats, and the rear can fit two adults without squeezing or three in a pinch. The front seats are also extra-adjustable, with 12-way positioning on base models and 16-way selections on the top-of-the-line Advance model like our test vehicle. 
But the RX has even more space. It's wider, and its higher rear seat provides better thigh support. Buyers can choose flatter front seats that are easier to slide in and out of, or pick our favorites: the better-bolstered chairs from the F Sport models, which hold you more snugly in place. You can even opt for the RX L to get a tiny third-row seat, but when sticking with five-seat models, the standard RX already has a bit more space than the RDX. We also appreciate the RX's available power-adjustable steering column, a feature that's missing from the Acura. 
Lexus RX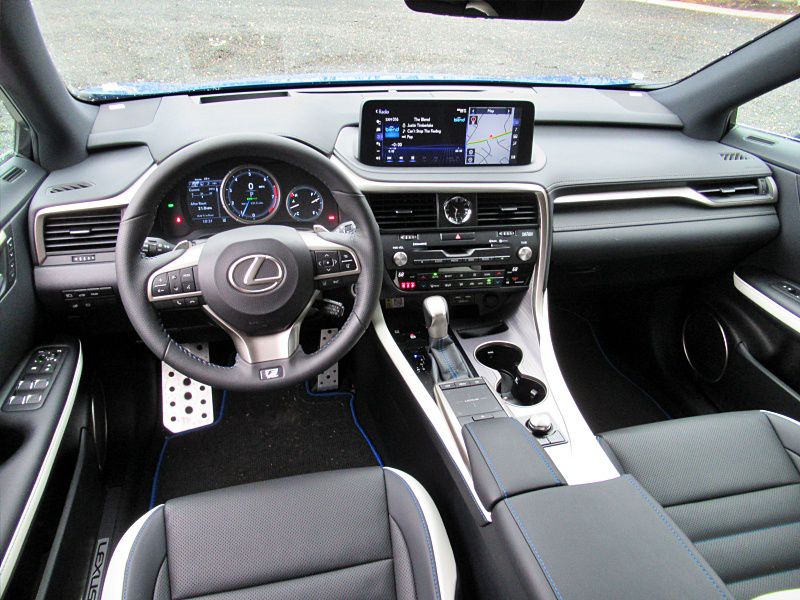 Photo by Brady Holt
Cargo and Utility
The RX 350's sporty styling cramps its cargo-hauling ability. Between the sloping roof and a high cargo floor, the standard-length RX fits just 18 cubic feet of cargo behind its rear seat. That's much less than the 29.5 cubic feet you get from the RDX. With the rear seat folded, the Lexus's cargo capacity increases to 56 cubic feet; that closes the gap with the Acura's 58.9 cubic feet, but the RDX remains on top.  
The RX L offers a bit more space than the standard model: 22 cubic feet behind its second row and 59 cubic feet behind its front seat. (You only get 8 cubic feet behind the tiny third row.) But that's still less than the RDX's specs. And while some cargo specifications defy real-world logic, you'll definitely feel the pinch in at least the two-row RX. If you need to tow, the RDX manages a mere 1,500 pounds versus the RX's 3,500 pounds, but Acura otherwise comes out on top when it's time to carry cargo. 
Acura RDX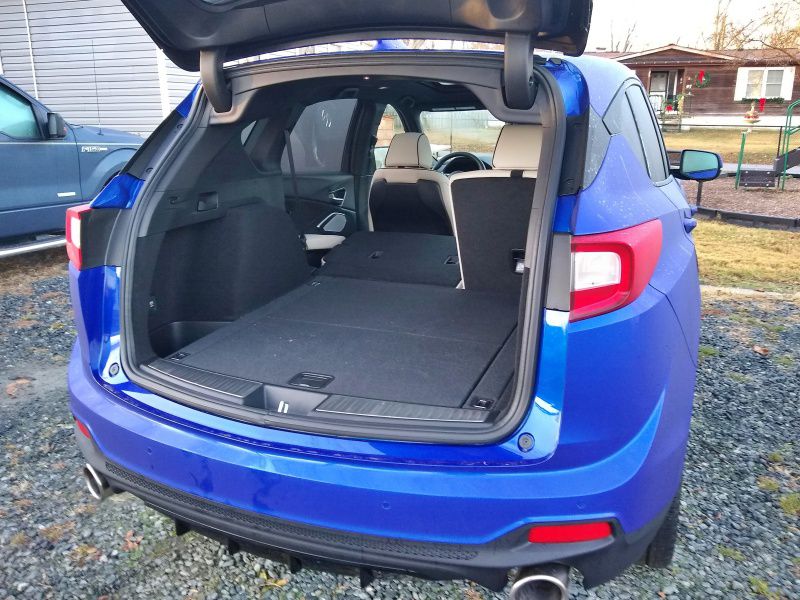 Photo by Brady Holt
Driving Impressions
The RX's aggressive styling and available F Sport model suggest this is a driver's SUV — something invigorating. And Lexus's reputation promises the opposite: something hushed and comfort-focused. The RX didn't blow us away on either count. It's decently comfortable and quiet, sure, but nothing incredible for a luxury car. And while it's more agile than past RX generations, even the F Sport isn't a superstar. A 295-horsepower 3.5-liter V6 engine comes standard, while the RX 450h has a V6-based gas-electric hybrid. The RX's best point is an extra-quiet ride. 
Every RDX uses a 272-horsepower 2.0-liter four-cylinder turbo engine that's actually quicker than the RX's V6. And while you wouldn't confuse the engine's sound for a six-cylinder, it sounds richer than most four-cylinder competitors and is never excessively loud. Overall, the RDX delivers thorough competence in its driving manners: It's nimbler than the RX, and while it rides more firmly than the non-F-Sport RX, we didn't find it any less comfortable. Acura also made the cabin quieter as part of a 2022 update, which we appreciated. Overall, the RDX proved thoroughly competent and objectionable, and we found it more natural to drive than the RX.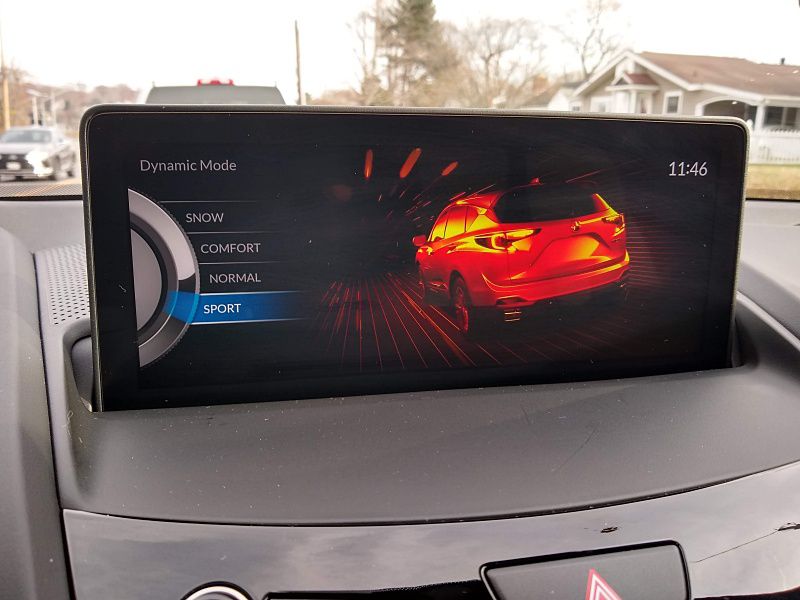 Photo by Brady Holt
Fuel Economy
The RDX achieves an EPA-estimated 22 mpg in the city, 28 mpg on the highway, and 24 mpg combined with front-wheel drive and 21 mpg city, 27 mpg highway, and 23 mpg combined with all-wheel drive, using premium fuel. 
Not surprisingly, this four-cylinder Acura is more economical than the V6-powered. But it's closer than you'd think. The front-drive Lexus RX 350 scores estimates of 20 mpg city, 27 mpg highway, and 23 mpg combined, while the AWD model manages 19 mpg city, 26 mpg highway, and 22 mpg combined. More significantly, while Acura recommends premium fuel in the RDX, the RX 350 is happy with more affordable regular-grade fuel. (We averaged just 20 mpg while testing the RX 350 compared with 23 mpg in our tested RDX; we didn't use scientifically replicable methodology, but that finding gives us pause.) Then there's the RX 450h hybrid, which scores an outstanding EPA-estimated 31 mpg city, 28 mpg highway, and 30 mpg combined, albeit on premium fuel. It's the one to get for thrifty stop-and-go commutes. We averaged 29 mpg when we tested the slightly heavier three-row RX 450hL version, matching its EPA estimate. 
Lexus RX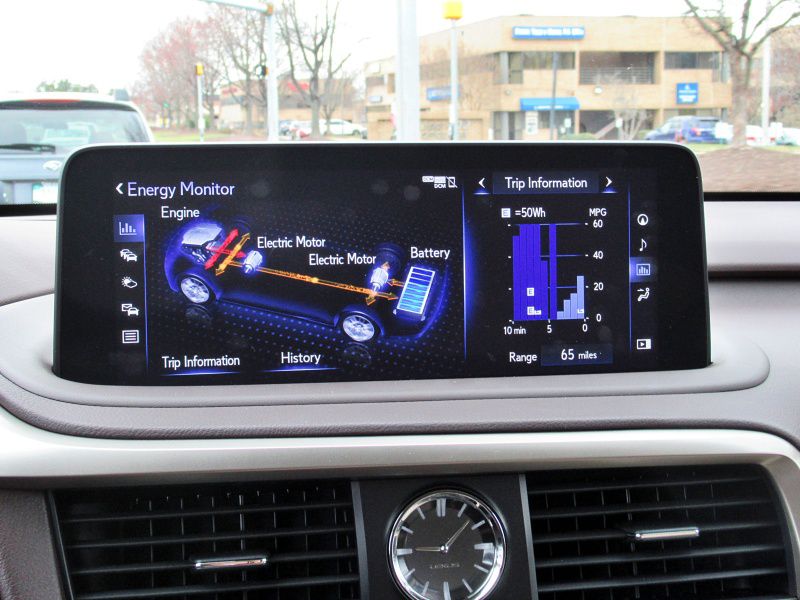 Photo by Brady Holt
Safety
The RDX earned the highest possible designation of Top Safety Pick+ from the Insurance Institute for Highway Safety, reflecting top marks in the IIHS's battery of crash testing and other evaluations. In National Highway Traffic Safety Administration testing, the RDX earned a top five-star overall rating, though its frontal-impact protection dipped to a less-stellar four stars. 
While both these luxury SUVs are safe vehicles, the RX comes up slightly short. In IIHS testing, the RX's standard headlights scored Acceptable (one tier shy of the top-rated RDX) and one of its optional lighting systems was judged Poor. More notable, the RX earned a less impressive four out of five stars overall from NHTSA, hit by a disappointing three-star score for protecting the driver in a frontal impact. Both the RX and the RDX are packed with advanced driver aids, mostly as standard equipment, but the Acura earned higher crash-test scores.  
Acura RDX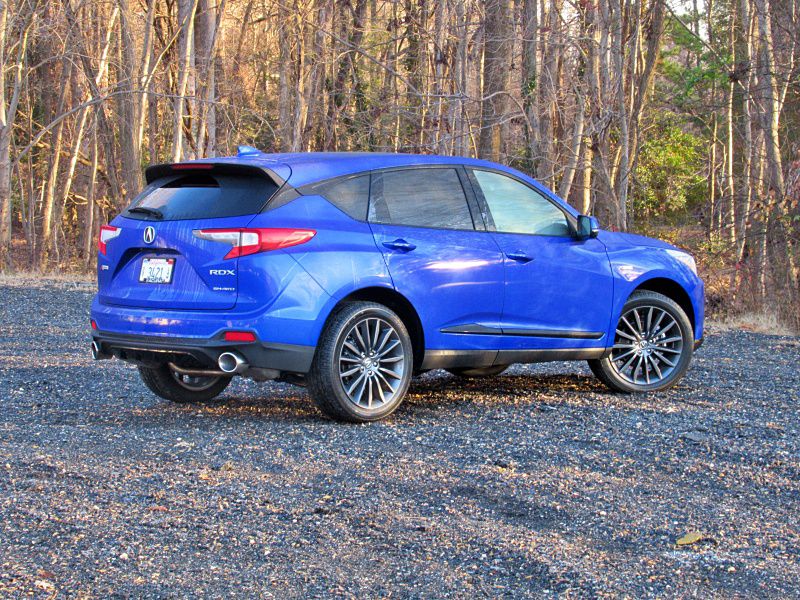 Photo by Brady Holt
Final Thoughts
Even if they were the same price, we might pick the 2022 Acura RDX over the 2022 Lexus RX 350. The Acura is quicker and more agile. It has a better-finished interior, more cargo room, and better crash-test scores. Lexus counters with more exuberant exterior styling, a more conventionally upscale interior with more conventional controls, a slightly more comfortable backseat, a higher towing capacity, and lower fuel costs. 
But they're not the same price. In fact, the difference is stark. Acura equips the base RDX far more generously than Lexus equips the base RX, all for $6,000 less. And the gap only widens from there. For certain buyers — someone who needs to tow a trailer or would buy the RX 450h hybrid for economical low-speed commutes, for example — the Lexus is worth a price premium. For the rest, though, we think the RDX is an incredibly compelling value despite its foibles. 
Acura RDX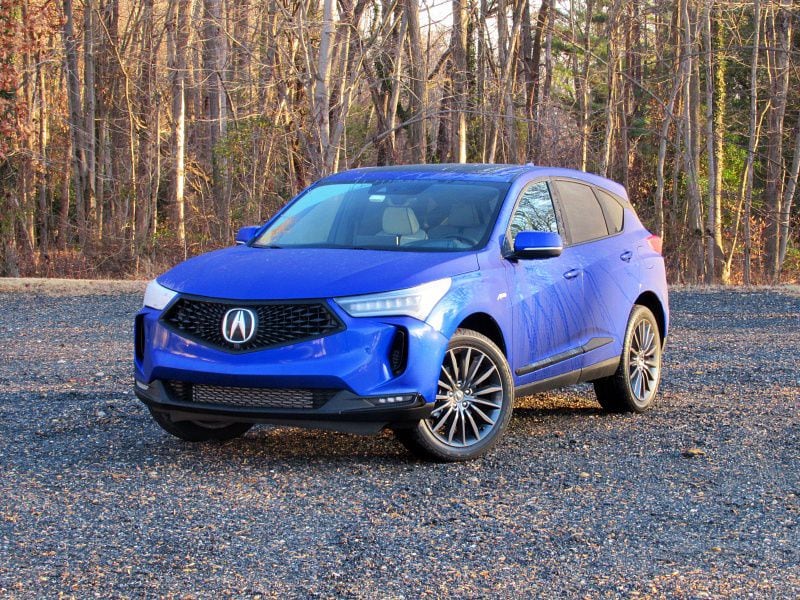 Photo by Brady Holt