2022 Acura MDX and 2021 Genesis GV80 ・ Photo by Brady Holt
Genesis is America's newest luxury brand. The premium division of Hyundai, Genesis appeared in 2017 and initially offered only four-door sedans. The timing was unfortunate. Americans were only accelerating their shift toward crossover SUVs, and Genesis sedans sold poorly.
Enter the brand's first SUV, the 2021 Genesis GV80 mid-size crossover. It promises to share the stately design, impeccable interior, and long list of features for the money that won critical acclaim for Genesis's sedans. To see how successfully it delivers on that promise, we tested the GV80 back-to-back against the redesigned 2022 Acura MDX. The MDX — which helped create the mid-size crossover class two decades ago — has become known for combining family-friendly utility, high-tech luxury, and sporty performance at comparatively affordable prices. In this article, we'll discuss how the MDX and GV80 compare in eight categories, then name our overall winner.
Pricing and Features
Don't assume that because Genesis is a Hyundai brand, the GV80 is going to be dirt-cheap. Genesis aims to provide a lot for the money — but when it provides a lot, well, be prepared to pay up.
The base GV80 is $48,900, which comfortably undercuts its German competitors despite standard features that include heated leatherette front seats, a navigation system, a 12-speaker stereo, and lots of advanced safety gear. But if you want all-wheel drive, it's nearly a $6,000 price premium (bundled with other luxury features like a panoramic sunroof, ventilated front seats, and a heated steering wheel). Top-of-the-line models with an optional V6 engine and more features top $70,000. The MDX, meanwhile, starts at $46,900 and charges just $2,000 extra for all-wheel drive. The base model is missing navigation and has a nine-speaker stereo, but it's otherwise nicely equipped. Both SUVs are also available with top-notch sound systems: a 21-speaker Lexicon in the Genesis and a 25-speaker ELS in the Acura. Overall, while Genesis offers a few features at lower prices than Acura, the MDX has more for the money overall.
Acura MDX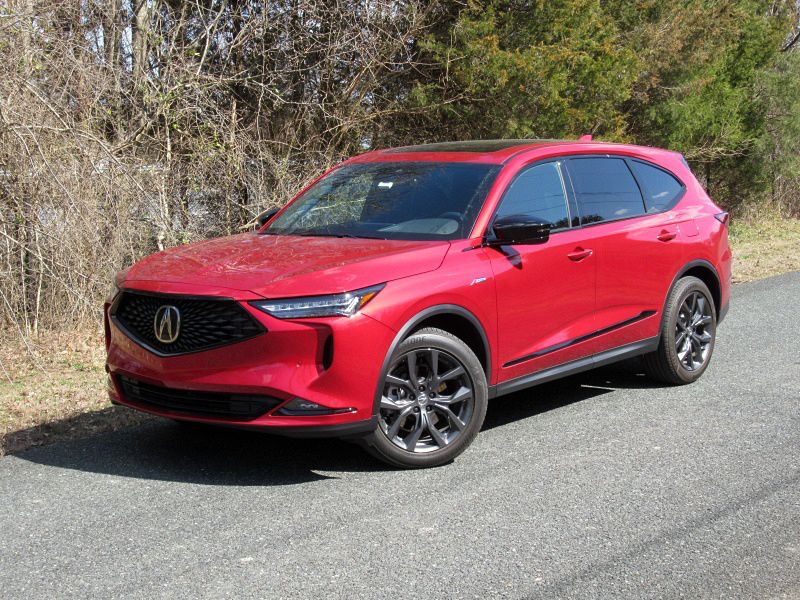 Photo by Brady Holt
Exterior Design
It's easy for a luxury SUV to look too garish, yet also easy for it to look dull. And it's hard to make any vehicle look distinctive without looking like it's trying too hard. To our eyes, the Genesis GV80 threads this needle splendidly. It's upright and purposeful, with clean, straight lines yet unique details such as the split-level headlights and taillights. And the pinched windowline contrasts nicely with the dead-on-horizontal lines across the rear end: the windshield, a body crease, and then the taillights.
But if you're looking for something with a sportier vibe, that's where the MDX comes in. The new design isn't a dramatic departure from the previous generation, but its slim headlights and taillights make it more aggressive than the Genesis. Our MDX A-Spec test vehicle is the sport-themed model, which strips off other models' chrome from the grille, windows, and doors; our tester's coat of Performance Red is even less subtle. We won't choose an approach for you, so this category is a tie.
Tie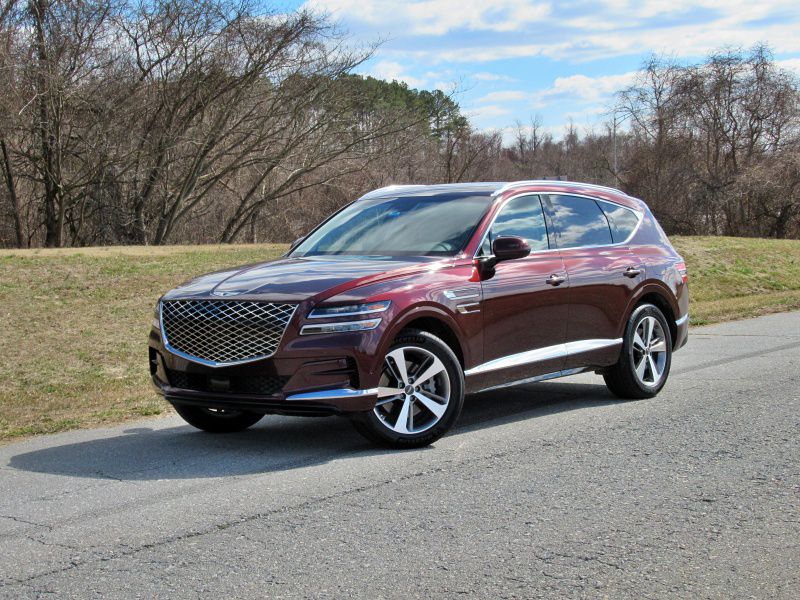 Photo by Brady Holt
Interior Design
Inside, the two SUVs also take a different stylistic approach. The GV80 offers relaxing minimalism, with simple straight lines. A small cluster of dashboard buttons and knobs sits between the touchscreen and the console-mounted infotainment controls. The MDX's overall layout is similar, but unlike Genesis, Acura was unwilling to take the risk of leaving empty space. The MDX's sportier dashboard curves this way and that, and a silver driving-mode knob jumps from the center of the instrument panel.
Once again, we won't make an aesthetic judgment call. But Genesis wins for its superior usability and superlative interior materials. The GV80's cabin materials range from excellent to extraordinary; without exception, they all feel worthy of a more expensive luxury car. The MDX's cabin is nice, too, but more of its buttons are dull gray, and we didn't love how much shiny black plastic decorates the dashboard. What's more, while both SUVs have unconventional infotainment controls — a touchpad in the Acura and a multifunction rotary dial in the Genesis — the GV80 also allows simple touchscreen functionality. Also, while both SUVs have a big screen as standard equipment, the GV80's measures 14.5 inches versus 12.3 inches in the Acura.
Genesis GV80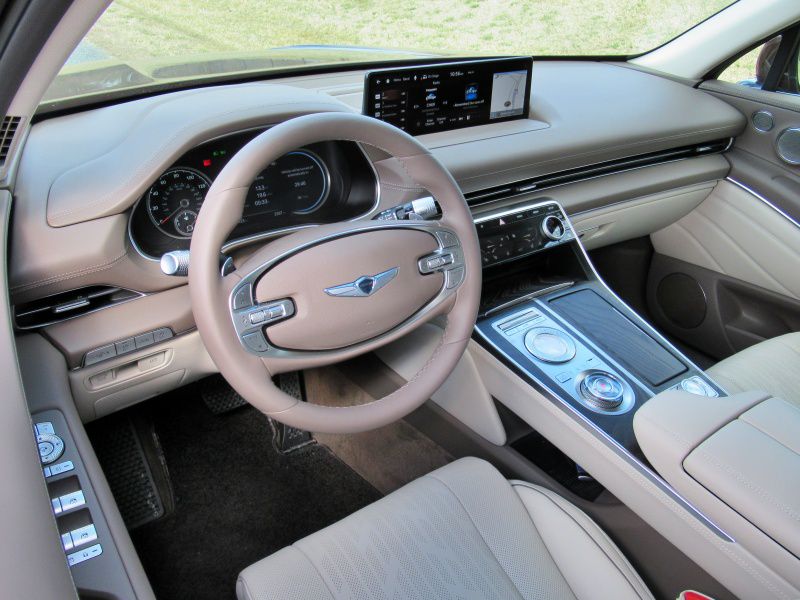 Photo by Brady Holt
Passenger Space and Comfort
The MDX started its life as a family-friendly SUV, and even as later generations introduced superior driving pleasure, Acura didn't forget how to make space for everyone. The second-row seat is a model of functionality; it offers three-across accommodations, but you can fold down the center section to create an armrest and console, or remove the center seating position to leave separated captain's chairs. Whichever you pick, the MDX is comfortable for adults in the front and the back. 
The GV80 is a luxury car first and a practical SUV second. The front seats are spacious and comfortable, especially on uplevel models with 16-way adjustability. But while the second row adjusts fore-aft, legroom isn't generous even when you've slid it all the way back. The cushion is on the low side, too. And while the GV80 has an available third row, it's tiny and it's only included on one trim level: the mid-level Advanced with the optional V6 engine and all-wheel drive, costing $65,050. We do appreciate that Genesis provides comfort features like ventilated front seats, heated second-row seats, and a heated steering wheel on most GV80s, while they're restricted to top MDX trims. But Acura otherwise wins this category.
Acura MDX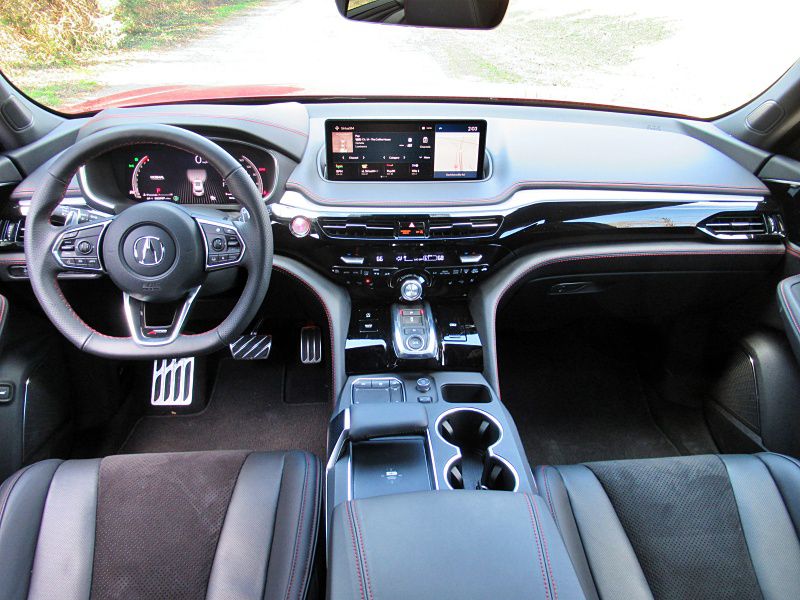 Photo by Brady Holt
Cargo and Utility
The previous-generation MDX already had more cargo room than most competing mid-size luxury suvs, and the current generation improves further. It provides 18.1 cubic feet of cargo space behind the third-row seat, 48.4 cubic feet behind the second-row seats, and 95 cubic feet behind the front seats. The seats fold easily, and with simple manual operation rather than fussy power controls. While the big plastic grab handles to raise and lower the third row don't look fancy, they're the right tool for the job.
The GV80 is also respectably roomy for its segment, but it has significantly less space. If you find the elusive third row, you get just 11.6 cubic feet of space behind it. Behind the second row is a class-competitive but MDX-trailing 33.9 cubic feet, while maximum volume behind the front seats is 84 cubic feet. The GV80 can tow a bit more — 6,000 lbs versus the MDX's 5,000 lbs — but the Acura otherwise wins this section. In a welcome break from many modern SUVs, both the MDX and GV80 have good-sized windows, aiding visibility.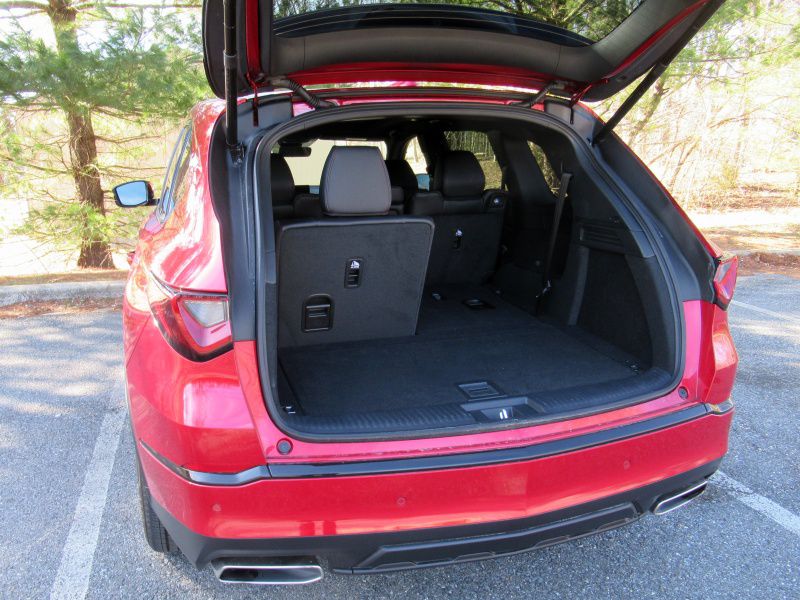 Photo by Brady Holt
Ride and Handling
From their styling, you might assume that the MDX is much sportier to drive than the GV80. Instead, both SUVs have sharp steering and agile handling for their size. They corner with composure, if not grin-inducing exhilaration.
Perhaps you might credit the GV80's rear-wheel-drive-based architecture, sometimes considered a hallmark of a true luxury vehicle in contrast to the MDX's front-drive bones. But behind the wheel, the MDX is our favorite. Not only does it have a bit more handling spice, but we felt it rides better, too. Neither SUV is pillow-soft, and the GV80 does have a more expensive-feeling solidity, but the Genesis clumps more heavily over bumps and jiggles more on the highway. What's more, the MDX is great to drive even if you're not looking for sportiness; anyone can appreciate the way its steering lightens up at parking-lot speeds, the wheel gliding gently around as you maneuver the SUV. The GV80 does have a slightly tighter turning radius than the slightly larger MDX, but we otherwise give the win to Acura.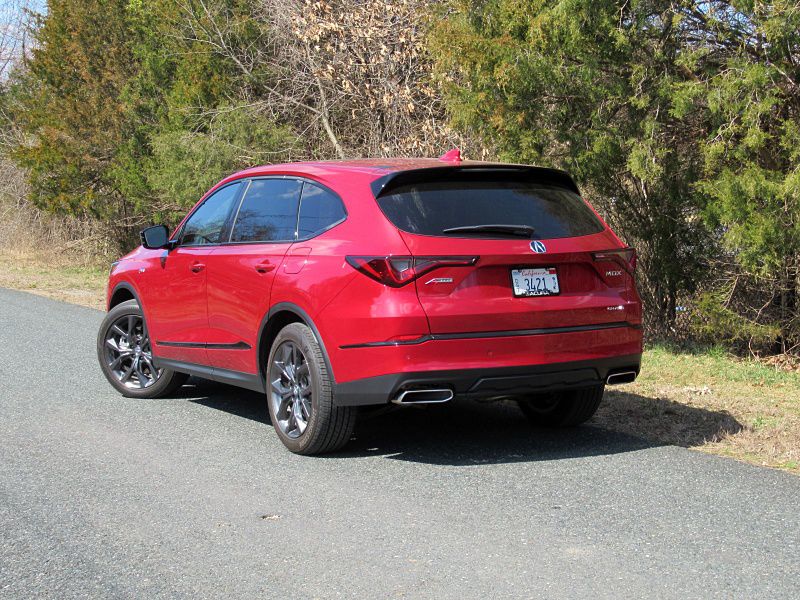 Photo by Brady Holt
Acceleration and Fuel Economy
Under the hood, the MDX comes standard with a 290-horsepower naturally aspirated V6 engine and a 10-speed automatic transmission. For now, it's the only available MDX engine, but a 355-horsepower turbocharged V6 is coming later this year. The standard V6 is a pleasant engine with plenty of power and a rich sound, along with excellent EPA estimates of 22 mpg in mixed driving with front-wheel drive and 21 mpg with all-wheel drive. In our AWD test vehicle, we averaged about 20 mpg.
The GV80 already has a choice of powertrains, along with superior gas mileage. The base engine is a turbocharged 300-horsepower 2.5-liter four-cylinder; it's quick and smooth, and it sounds better than most four-cylinders, if not quite like a silky V6. The EPA says the four-cylinder GV80 will get 23 mpg with front-wheel drive and 22 mpg with all-wheel drive, and we beat the estimate to average 23 mpg in our AWD test vehicle. The optional V6, sold only with AWD, is a 375-horsepower turbo with a still-respectable EPA score of 20 mpg in mixed driving.
Genesis GV80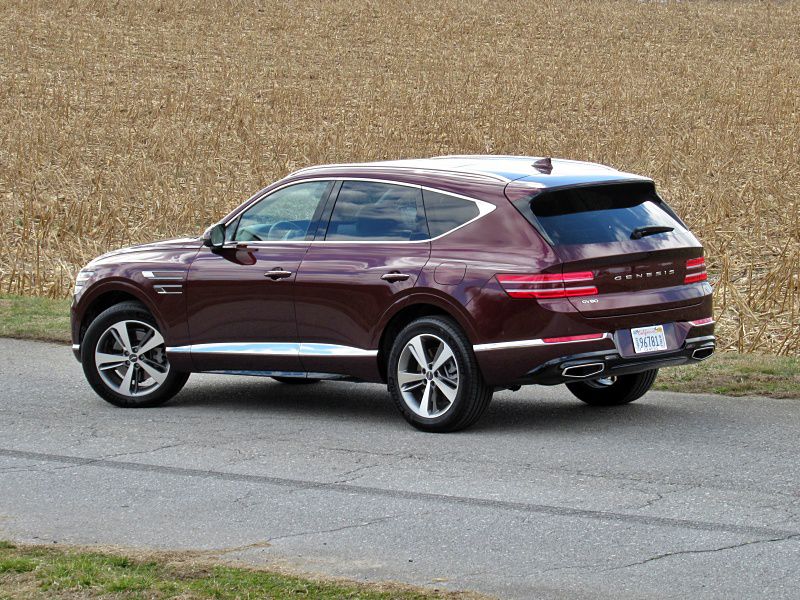 Photo by Brady Holt
Safety
The GV80 earned the highest possible designation of Top Safety Pick+ from the Insurance Institute for Highway Safety, with exemplary performance in crash tests and for its collision-avoidance technology. The only lower score was the second-highest grade, Acceptable, for its headlights.
The redesigned 2022 Acura MDX hasn't yet been crash-tested, but we're optimistic it will perform well, too. Both SUVs have long lists of standard safety features, including automatic emergency braking, blind-spot monitoring, adaptive cruise control, and lane-keeping assistance. Available features on both vehicles include a head-up display and a surround-view parking camera, while the GV80 also has an optional blind-spot camera display. For now, we're not ready to declare a winner based on these incomplete data.
Tie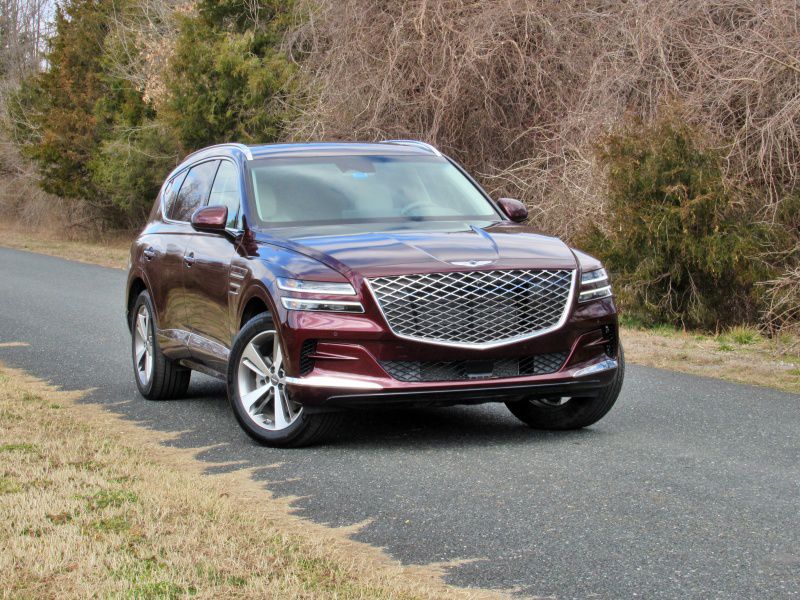 Photo by Brady Holt
Final Thoughts
The 2021 Genesis GV80 sets out to dazzle. It looks and feels more expensive than it is. It has advanced turbocharged powertrains that are powerful yet fuel-efficient. It has a long list of high-end features and a rear-wheel-drive platform.
The 2022 Acura MDX isn't as dramatic as the Genesis. Its styling is more aggressive but also more familiar, and its interior doesn't feel as marvelously rich as the GV80's. But especially if you like the Acura's aesthetics, this is a luxury suv that can deliver a premium experience while still making space for everyone inside. Roomier and less expensive than the GV80, the MDX is the easy family-friendly favorite. And its superior ride, handling, and value will tempt even buyers who don't expect to need a third-row seat. We love the GV80's presence; even with its execution missteps like a too-bumpy ride, expensive all-wheel-drive upgrades, and barely available third-row seat, it comes across as a more special vehicle than the MDX. But Acura delivers more for the money.
Acura MDX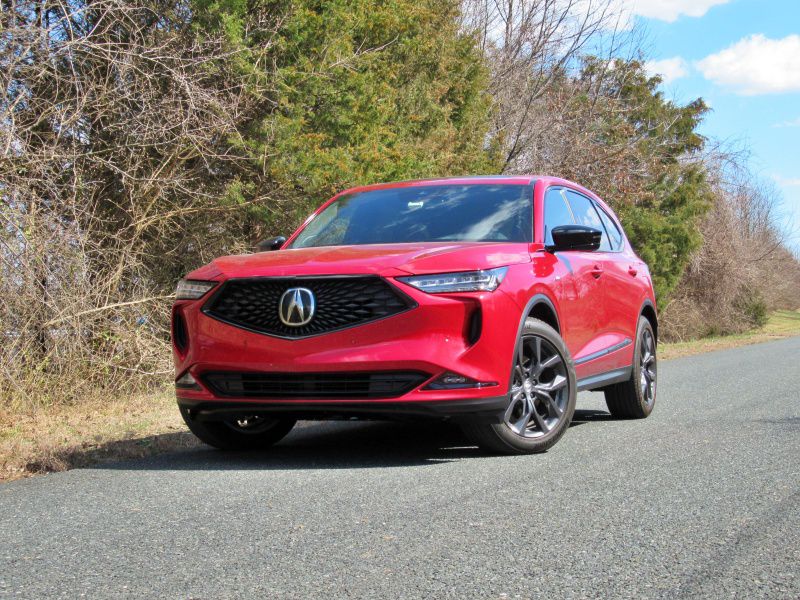 Photo by Brady Holt