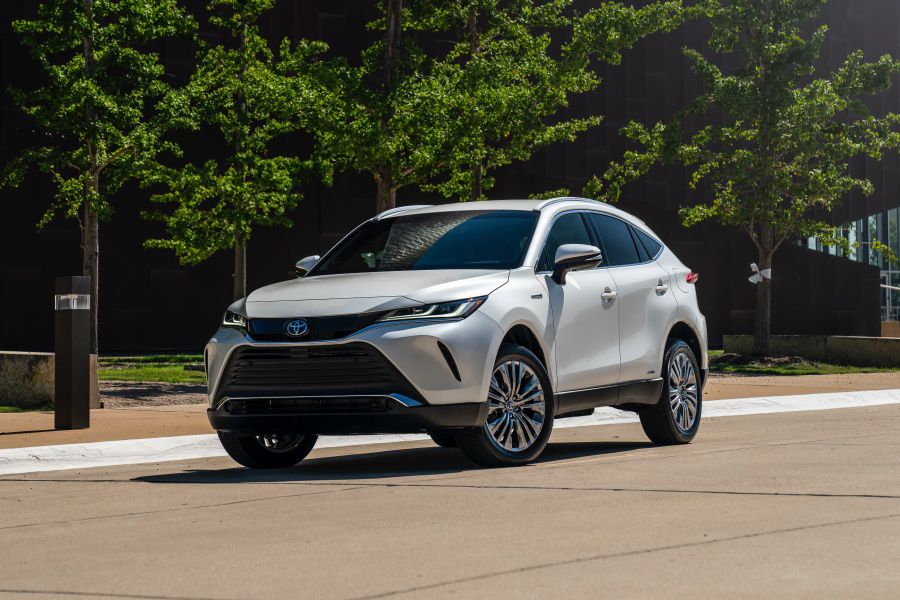 2021 Toyota Venza XLE ・ Photo by Toyota
The 2021 Toyota Venza returns to the market after disappearing for several years. In that time, the Venza was completely reinvented, so even if you remember it, it's not the vehicle you think you know. Today's Venza is a five-passenger SUV with standard all-wheel drive, and it's available exclusively with a hybrid powertrain.
This is an attractive and even upscale SUV with a wide range of standard features, even on the base trim. It also includes a fully featured infotainment system with a large touchscreen and a smooth, quiet ride for passengers. Let's take a closer look at the 2021 Toyota Venza to see if it's the right SUV for you.
Surprisingly Affordable Pricing
There are three available trim levels of the 2021 Toyota Venza, all with an ample number of comfort and convenience features. The base LE is priced from $32,470 and includes Qi wireless charging, four USB ports, an eight-way power driver's seat, and an 8-inch infotainment touchscreen. Those are features not often found on base trims, especially not at that price point. The XLE adds LED projector headlights, auto-dimming rearview mirror, dual LED daytime running lights, and options for a heated steering wheel and front seats for $36,000.
At the top of the lineup is the Limited at $39,800 with a heated steering wheel, dual-zone automatic climate control with capacitive controls, heated and ventilated front seats, woodgrain accents, upgraded audio with a 12.3-inch touchscreen, and an available Star Gaze roof. This range of trims offers premium features at every level so even the base Venza is a comfortable and attractive SUV.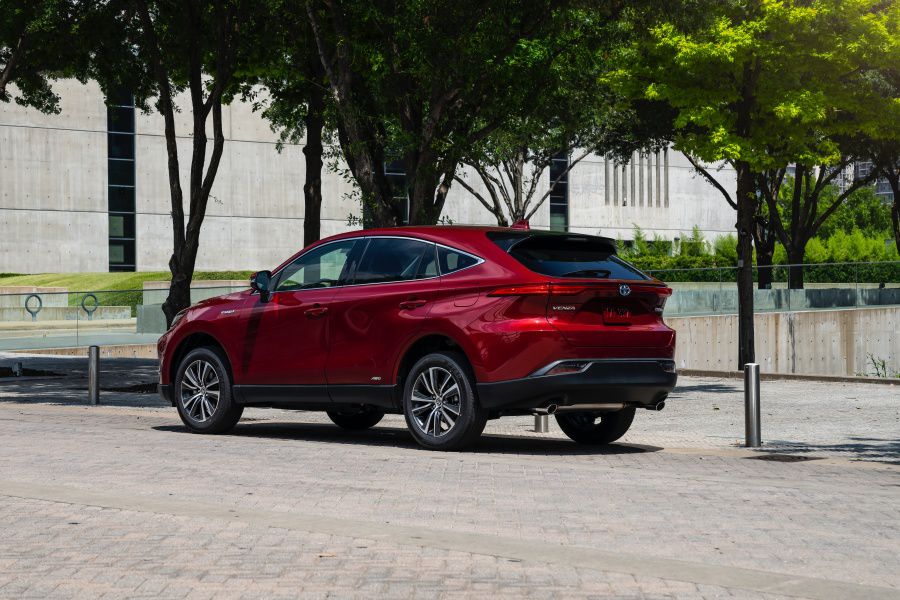 Photo by Toyota
Efficient and Smooth Hybrid Powertrain
The Toyota Prius is easily the best-known hybrid in the country, so it should come as no surprise that Toyota is introducing the Venza exclusively with a hybrid powertrain. It has a 2.5-liter four-cylinder engine along with three electric motors for 219 combined net horsepower paired to a continuously variable automatic transmission. This easily gets the Venza up to highway speeds with a minimum of noise, which is something that can't be said of every hybrid.
A continuously variable automatic transmission can sound strained, especially under hard acceleration, but this isn't an issue in the Venza. It's never an unwelcome intrusion into the quiet of the cabin, instead doing its job quietly in the background. Need extra speed for passing? It's not a problem in the Venza, making driving this SUV relaxing and stress-free.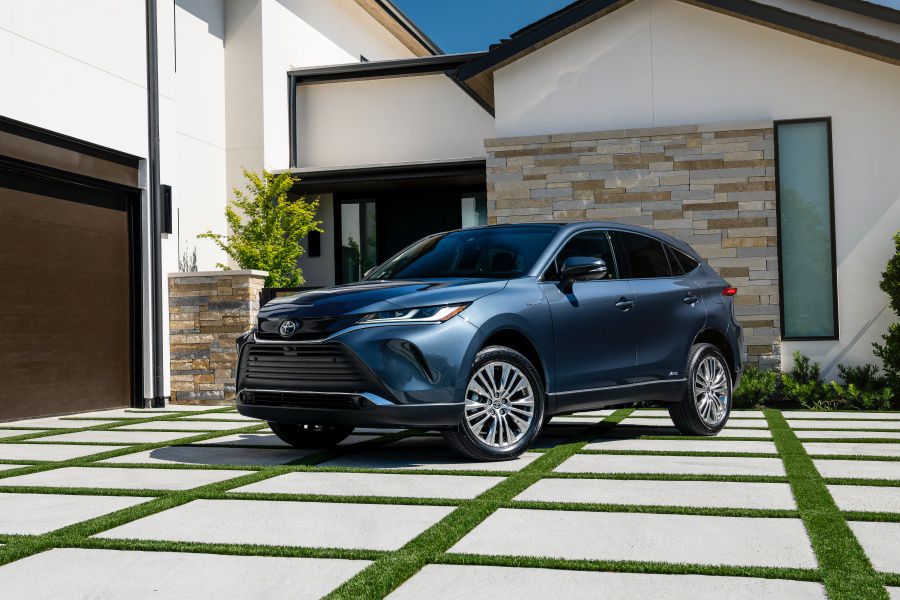 Photo by Toyota
Smooth Ride With Relaxing Handling
The Venza has an impressively smooth ride that soaks up bumps and rough, uneven pavement so passengers ride undisturbed. Even dirt roads take less of a toll, making the Venza a true passenger-focused vehicle. It's also impressively quiet. Road, wind, and engine noise are well muted. Even heavy summer rains weren't enough to make the interior of the Venza loud.
It also handles well, which makes it not only more comfortable for passengers, but more relaxing for the driver. A choice of normal, EV, eco, and sport drive modes let you tailor the drive to your preferences. Steering is responsive but not demanding. You can take it easy behind the wheel of the Venza, so even hours of driving won't leave you tense or tired. If you have a long commute or lots of road trips in your future, the 2021 Toyota Venza will not disappoint.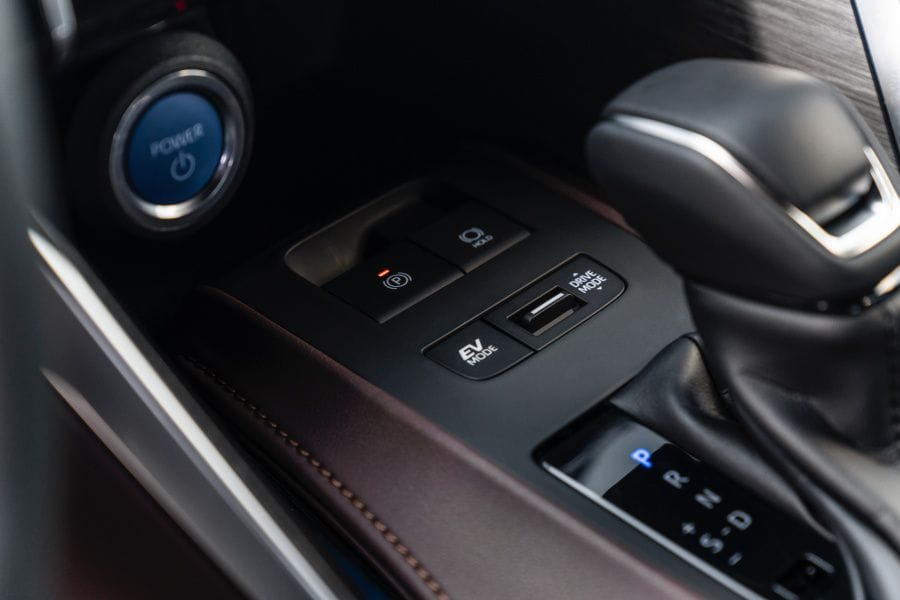 Photo by Toyota
The interior looks and feels like you paid more than you did.
The Venza is only available in three trim levels, which isn't a broad range. Basically, Toyota cut out the bare-bones trim levels so no matter which you pick, the Venza has a beautiful and comfortable interior. Standard features include a leather-trimmed steering wheel and shifter, dual-zone climate control, an eight-way power driver's seat, and a soft-touch dashboard. Top trims see the addition of more comfort features, which add extra visual appeal.
There's ample room for five passengers with supportive and comfortable front seats that are easy to adjust for a range of body types. Rear passengers also get an enjoyable ride with plenty of room for heads and knees, even for the 6-foot crowd. Two adults will find rear seats spacious and even three will find enough to get comfortable. The Toyota Venza puts a priority on passengers with a comfortable and elegant interior.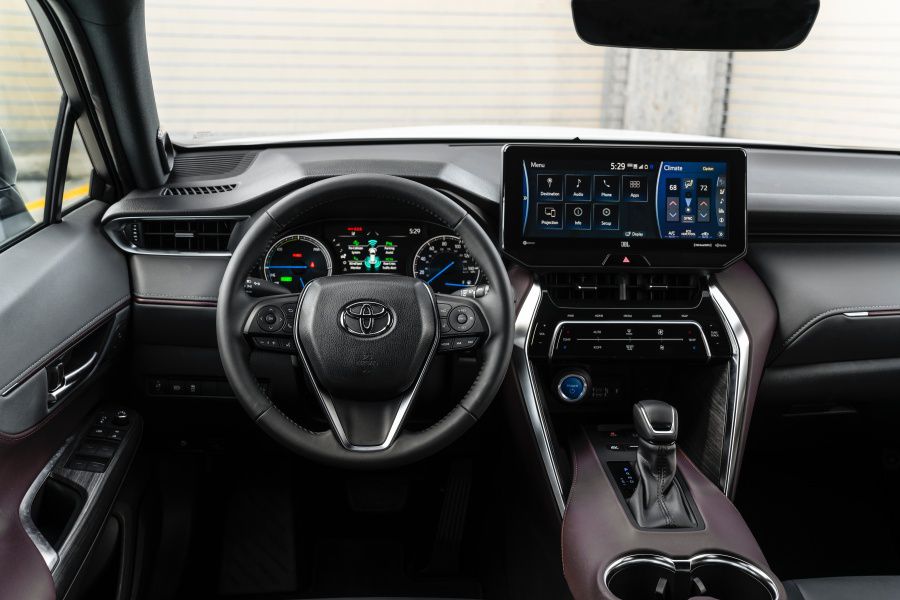 Photo by Toyota
Advanced Technologies Include a Unique Roof
Infotainment in the Toyota Venza includes an 8-inch touchscreen, a six-speaker audio system, four USB ports, and Apple CarPlay, Android Auto, and Amazon Alexa compatibility. Optional on the XLE is a nine-speaker JBL audio system with a 12.3-inch touchscreen and navigation. This becomes a standard feature on the top Limited trim. It's intuitive and easy to use, especially with the 12.3-inch screen. Navigation is always easier to view on a big screen, so especially if you find yourself often in unfamiliar cities, the upgraded system is worth considering.
The Venza also has a unique available feature that's a first for Toyota. It's called a Star Gaze roof. This fixed panoramic glass roof looks like any other glass roof, but at the touch of a button, the glass instantly frosts. This is a fantastic feature on hot, bright days when you want the light but need to take it down a notch.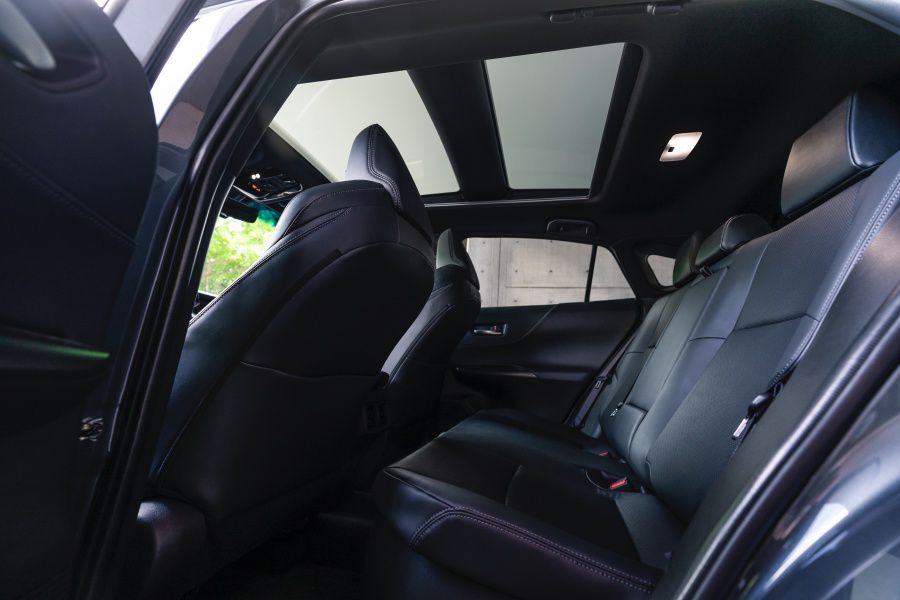 Photo by Toyota
Room to Carry Everything You Need
The Venza puts passengers first, but it does double duty for cargo. There's up to 28.8 cubic feet for cargo behind the rear seats, making it easy to carry a full load of people and still have room for their stuff. The rear seat folds in a 60/40 split to accommodate larger items with up to 55.1 cubic feet behind the front seats.
Loading cargo is easier with a standard height-adjustable, hands-free power liftgate rather than having this feature limited to an options package or top trims. There's also an available digital rearview mirror. If the view is blocked by people or cargo, simply flip a switch on the mirror and it provides an unobstructed view through a rear camera.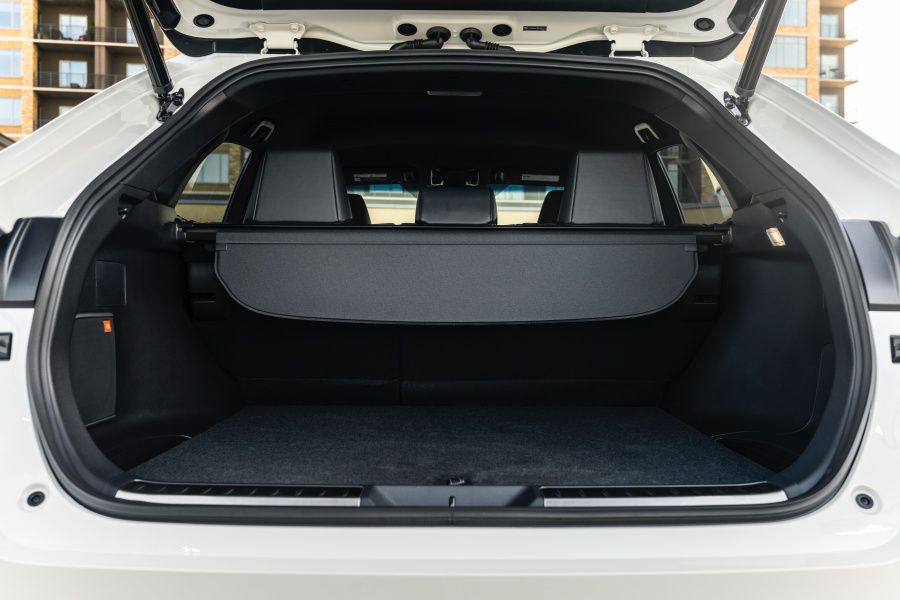 Photo by Toyota
Extensive List of Standard Safety Features
Nearly every safety feature offered on the Toyota Venza is standard, so there's no need to figure extra into the budget to get peace of mind. This includes Toyota Safety Sense 2.0: a pre-collision system with pedestrian detection, a lane-departure alert with steering assist, lane-tracing assist, automatic high beams, full-speed range dynamic radar cruise control, and road sign recognition.
The only difference between trims is the blind-spot monitoring system with a rear cross-traffic alert. This system is standard on the base LE, while the XLE and Limited models add front and rear park assist with automated braking, which is an enhanced version of the system in the LE. No matter which Venza you choose, safety features are abundant.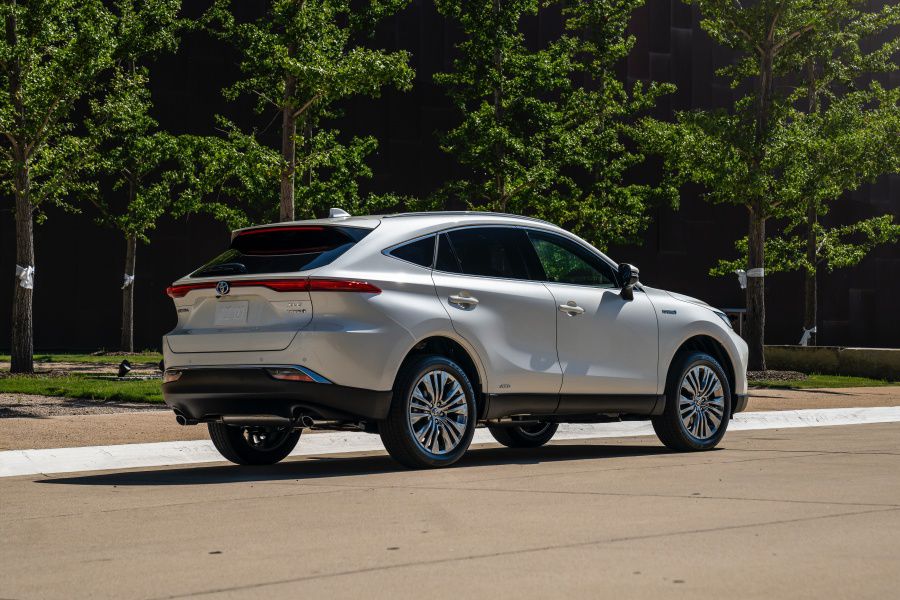 Photo by Toyota
What about fuel economy?
If you're buying a hybrid, then fuel economy is likely near the top of your list. The 2021 Toyota Venza achieves a manufacturer-estimated 40 mpg in the city, 37 mpg on the highway, and 39 mpg combined, making it a true fuel miser. The Venza also helps you maximize your fuel economy with a feature called Predictive Efficient Drive (PED). When selected, it uses the navigation system to analyze your driving habits and learn road and traffic conditions to optimize battery charging. On downhill sections, for example, it will apply additional engine brake force to maximize battery recharging.
The drive mode selector lets you further focus on fuel economy, with Eco mode changing vehicle settings to maximize mileage. There's also an EV mode that keeps the Venza in electric-only driving at low speeds for short distances.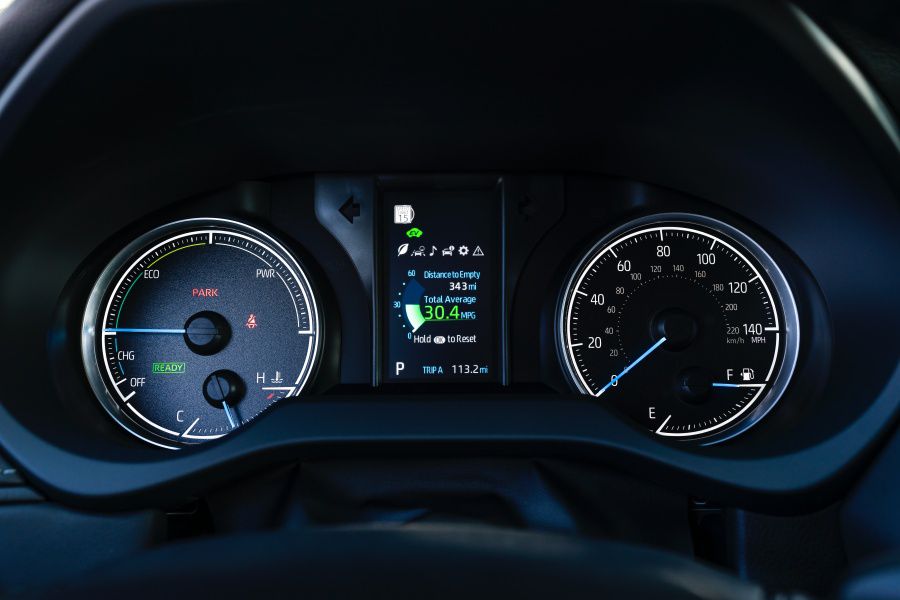 Photo by Toyota
Final Thoughts
The 2021 Toyota Venza offers a premium experience with three well-equipped trims that have a wider range of comfort, convenience, and safety features. The interior is attractive and comfortable making it a solid choice for road trips and long commutes and it can handle plenty of cargo. There's also that hybrid powertrain, which offers fuel efficiency that makes the Venza a more affordable choice, especially if gas prices rise.
Those who remember the old Venza need to shake off that memory, as this is a completely different vehicle and one that has more to offer than its predecessor. And with pricing starting at $32,470 and topping out at $39,800, the Venza is a welcome addition in the hybrid SUV segment.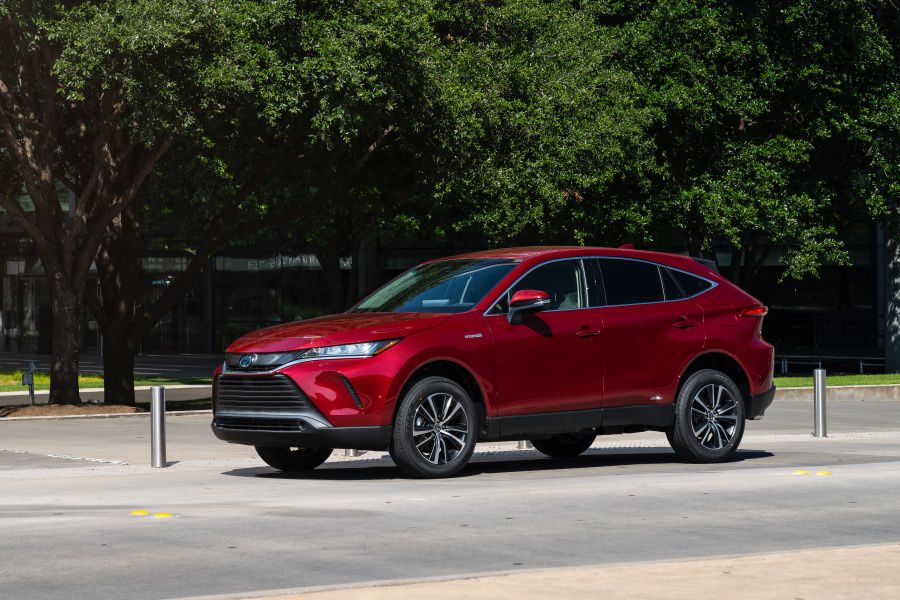 Photo by Toyota