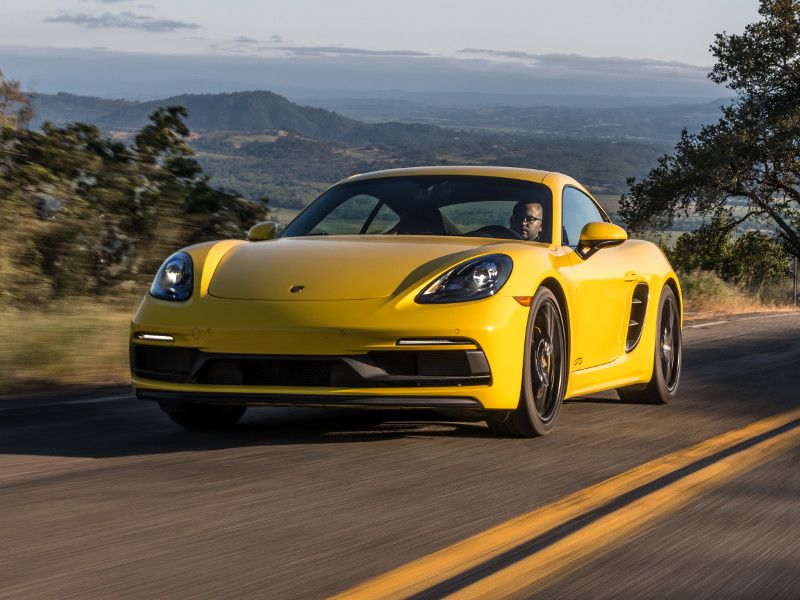 2021 Porsche 718 Cayman GTS driving on road ・ Photo by Porsche
Most people will tell you the 911 is Porsche's best sports car. Last week, we would have agreed with them 100 percent. But we've just driven the new 2021 Porsche 718 Cayman GTS 4.0, and now we're not so sure of the 911's superiority.
A long list of Porsches — including the 911, Cayenne, Panamera, and Macan — have worn GTS badges since 2007. It stands for Gran Turismo Sport. Porsche says it "traditionally signifies thoroughbred performance combined with a high degree of everyday usability." In other words, they offer more power and performance than the company's S models, but aren't as extreme as its line of GTs, which include the 911 GT3 and the Cayman GT4. The first Cayman GTS was introduced in 2014, while its successor arrived three years later. The new Cayman GTS 4.0, however, is far superior to its predecessors, thanks to a new naturally aspirated 4.0-liter engine. It competes with the BMW Z4 M40i, the Mercedes-AMG SLK43, the new mid-engine Chevrolet Corvette Stingray, the Alfa Romeo 4C Spider, the Jaguar F-Type, and the Lotus Evora.
Prices Start About $90,000
The Porsche 718 Cayman now comes in three flavors: the base-level Cayman, the more powerful Cayman S, the GTS, and the track-focused GT4. All are rear-wheel drive two-seat coupes. If you want a convertible, check out the Cayman's twin, the 718 Boxster. These cars share everything except their rooflines and their names, and a GTS version of the Boxster is also available.
Unlike the Cayman and Cayman S, which are powered by a turbocharged four-cylinder engine, the Cayman GTS uses the same naturally aspirated 4.0-liter six-cylinder as the GT4. It's a better sports car engine than the turbo four. It sounds better, revs higher, and makes more power. In the GT4 it makes 414 horsepower, but it has been detuned to 394 hp in the GTS. For now, only a six-speed manual transmission is available, and it's perfectly geared for the 4.0-liter. Porsche's seven-speed PDK automatic will become an option next year. Pricing won't be finalized until the summer, which is when Porsche will start taking orders, but the Cayman GTS will start at about $90,000. That's about $20,000 more than the 350-hp Cayman S and about $10,000 less than the GT4.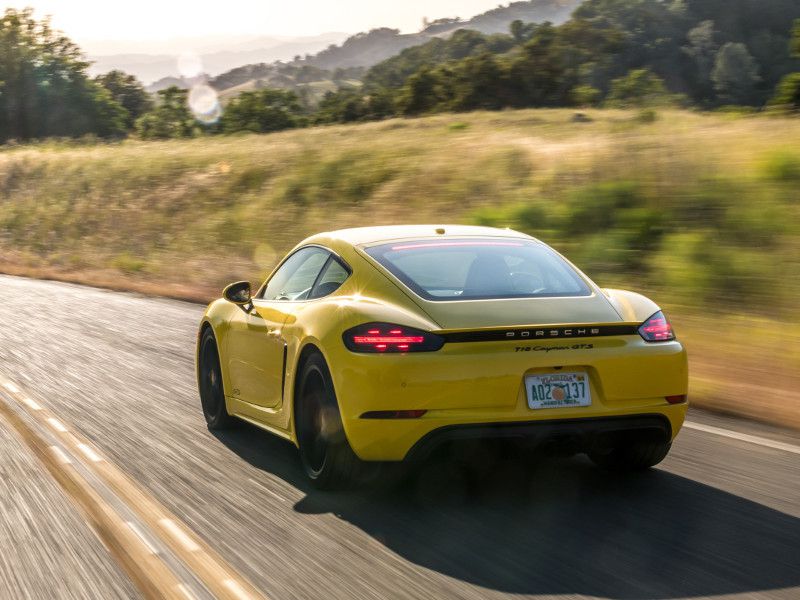 Photo by Porsche
Exceptional Engine
Unfortunately, you can't see the Cayman's exceptional new 4.0-liter engine. Although it's mounted just 12 inches behind the driver in the middle of the car for optimum weight distribution and greater handling, the Cayman's engine compartment is completely sealed off. Unlike other mid-engine cars, it does not have an opening hood.
Smooth, powerful, and sophisticated, the six-cylinder makes an impressive 98 horsepower per liter, delivering more power than you get in a 911 Carrera and a more visceral experience than the turbocharged four-cylinder in the Cayman S. It also has plenty of low-end torque for lazy around town driving. This is a light little coupe, weighing only 3,166 lbs, and packing nearly 400 hp, so it's quite quick. Porsche says it accelerates to 60 mph in just 4.3 seconds, but it feels even quicker on the road. That's two tenths quicker than the Cayman S and just a tenth behind the GT4. Max out its tachometer in a few gears, and you'll get the adrenaline rush you're looking for. The 4.0-liter redlines at 7,800 rpm, and the Cayman GTS has a top speed of 182 mph.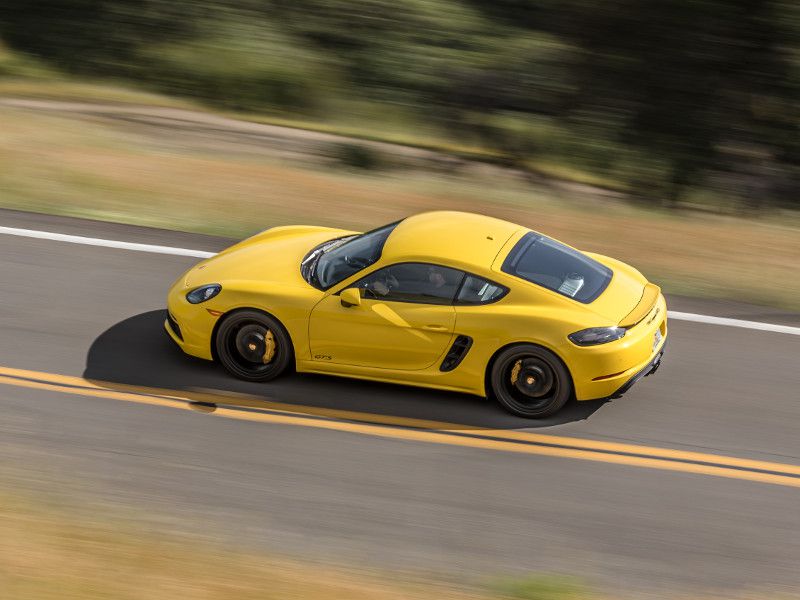 Photo by Porsche
Easy to Drive Fast
Drive it hard and the 2021 Cayman GTS really comes alive. Its chassis is incredibly balanced, and its grip on the road seems endless. Every GTS gets extra-wide 20-inch wheels and tires; Porsche Torque Vectoring (PTV), which improves cornering with selective application of the rear brakes; and a mechanical limited-slip differential.
Also standard is Porsche's adaptive damping system, which lowers the car by 0.78 inches compared to a Boxster S, and it has been retuned specifically for the GTS. Porsche's engineers have firmed up the suspension about 5 percent to increase the sports car's agility, but it remains about 20 percent softer than the suspension of the GT4. For an even smoother ride, Porsche offers an optional setup that only lowers the car 0.39 inches. This result is one of the best-handling cars you can buy at any price — a car that's easy to drive quickly with confidence. The GTS makes mere mortals feel like Mario Andretti. If you want to smile, drive this Cayman through the mountains.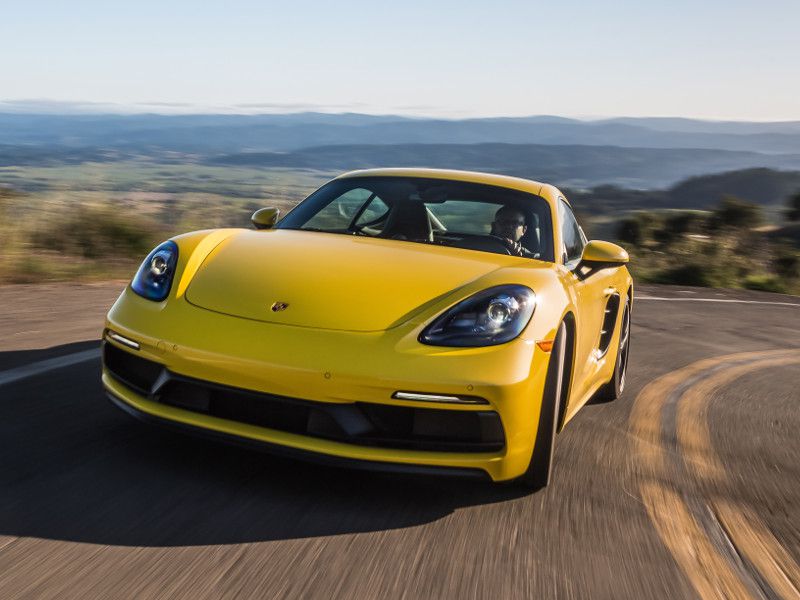 Photo by Porsche
Sounds Much Better Than Before
Back in 2017 when Porsche last redesigned the Cayman, most models lost their naturally aspirated six-cylinder engine. It was replaced by a turbocharged four-cylinder, and the brand's purists weren't happy about it. One of the issues was the engine's sound. Some thought it sounded like an old VW Beetle.
Well, now it's time to turn up the volume and enjoy the glorious mechanical whirl of GTS's new 4.0-liter. Exhaling through a sport-tuned exhaust system, which features two large tailpipes, the six-cylinder idles with a growl and wails above 5,000 rpm. It sounds like a proper sports car.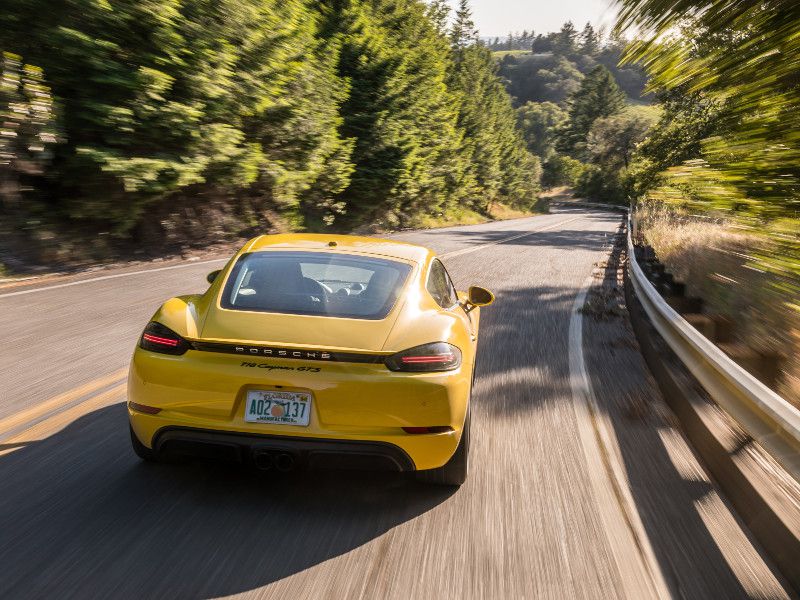 Photo by Porsche
Surprisingly Smooth Ride
Like its mechanical twin, the Boxster GTS, the Cayman GTS feels like a proper sports car. It's small, light, and responsive, with just the right amount of visceral feedback. Much of the Cayman's extraordinary refinement and responsiveness are due to its active drivetrain mounts. The liquid-filled engine and transmission mounts can cancel vibration and smooth the sports cars ride around town, but they firm up automatically when you're driving hard, providing more feel as well as more precise and stable handling.
Despite its speed and performance, this is a refined machine with a compliant ride. It's an easy car to drive, with light steering and a clutch that doesn't demand too much leg effort. It's a livable sports car day in and day out — a car that does everything well. It's just as competent on a three-state road trip as it is being hustled on your favorite two-lane or sitting in the thick of rush-hour traffic.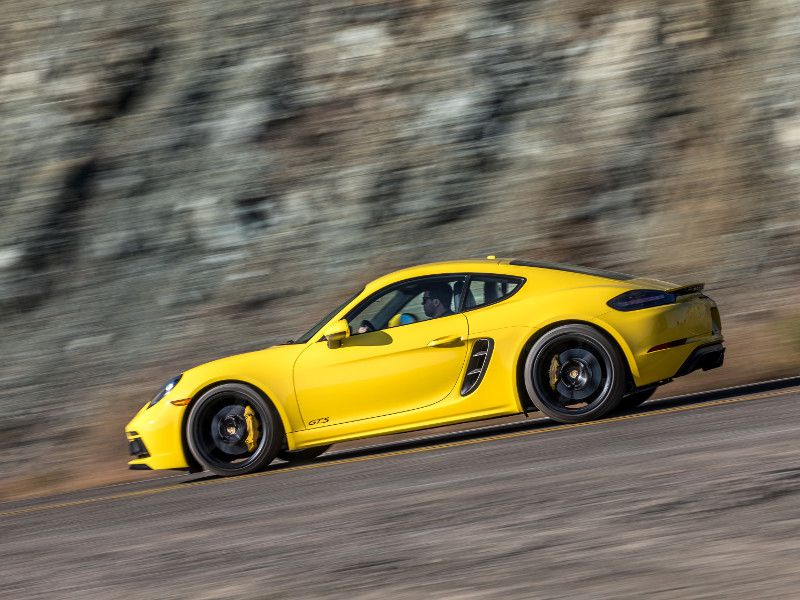 Photo by Porsche
Distinctive Porsche Curb Appeal
Much like the Porsche 911, the Cayman doesn't seem to age. The model first appeared in 2006 and, despite two redesigns, it hasn't changed much visually. This isn't a problem. The Cayman remains quite striking from any angle, and it looks like nothing else on the road. Everyone knows it's a Porsche and they stop what they're doing to watch you drive by.
It's not very big. Chevy's new 2020 Corvette Stingray is 10 inches longer, and even Porsche's own 911, which continues to grow, is 5 inches longer than the Cayman. The Cayman GTS is easily distinguished from the Cayman and Cayman S by its lower stance, unique wheels, more aggressive front and rear fascias, black trim, tinted lights, and small GTS 4.0 graphic on each door. Unlike the tailpipes of a Boxster S, which are squeezed together in the center, Porsche has split the pipes on the Cayman GTS. They sit about 18 inches apart.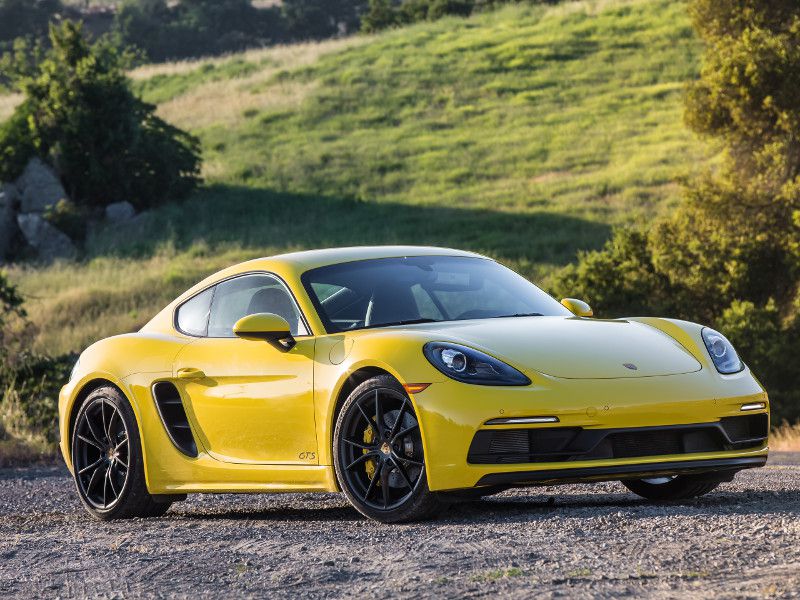 Photo by Porsche
Interior Pros and Cons
You sit low in the Cayman GTS and look out over its sensual front fenders. There's a surprising amount of room considering the car's slight dimensions, and seat comfort is excellent. The optional carbon-fiber seats offer considerably more bolstering but they're probably too hard for everyday use. Like in the 911, the Cayman's tachometer is in the center of its gauge cluster, exactly where it should be.
Build quality is extremely high, and the GTS features carbon-fiber trim and Alcantara covering its steering wheel and shifter. Contrasting stitching on the seats and dash, as well as color-coordinated seat belts and tach face, are available in either Red or Chalk. These days, the Cayman's 7-inch infotainment screen is small for a car at this price point, but it's fine in a car of this size. The largest screen in this class is in the new BMW Z4 M40i. It measures 10.25 inches. The Porsche's interior storage, however, is bleak. The center console bin is tiny and there's no place to toss your phone or wallet. The door pockets don't hold much either.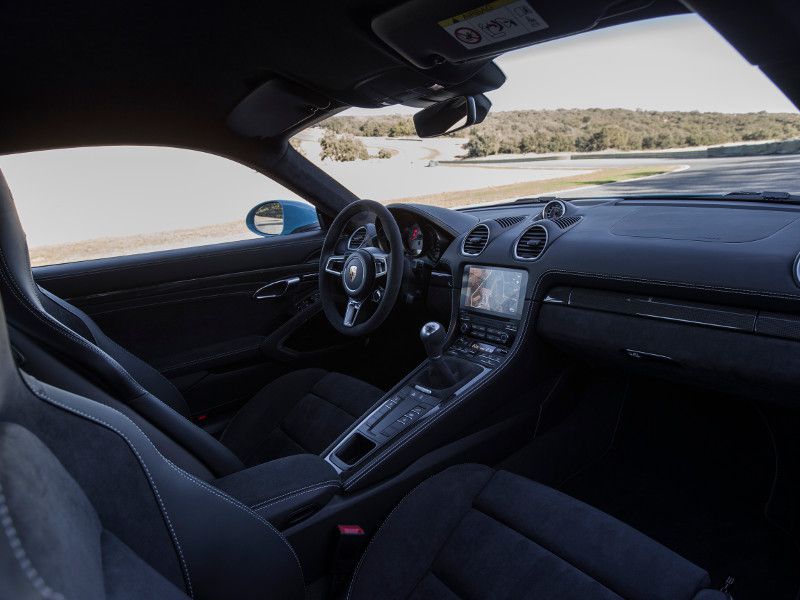 Photo by Porsche
Questionable Cupholders But Big Cargo Space
The Cayman's two cupholders are also deficient. They deploy and retract from inside the dashboard to save space, which is clever, but they don't handle large drinks well. They also place your Starbucks Frap precariously above the car's console, where spills would coat everything.
Crafty packaging, however, has given the Cayman two trunks — one in the front and one in the back, which makes it Costco friendly. The traditional trunk in the rear offers 9.7 cubic feet of space, while the coupe's deep frunk (front trunk) offers an additional 5.3 cubic feet. That's about three times the cargo space in Porsche's 911 and it's a bit more than you get in the new Corvette Stingray.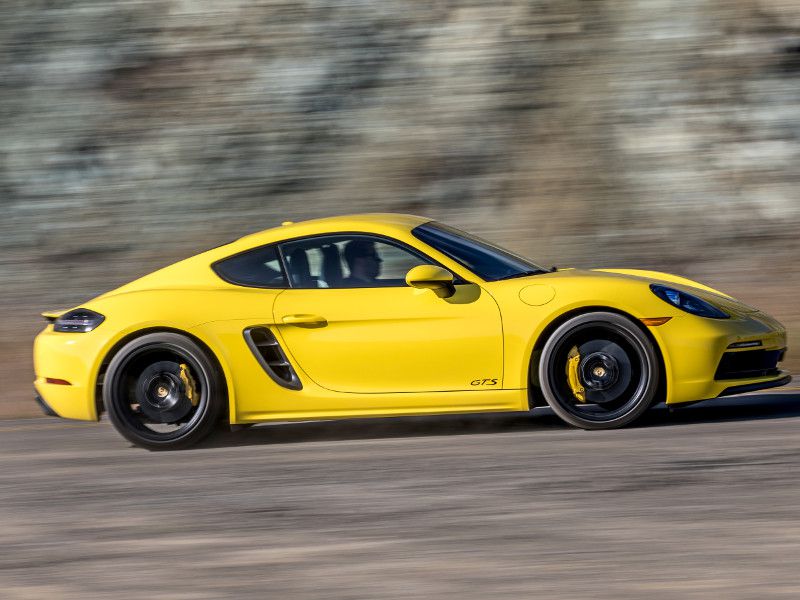 Photo by Porsche
Final Thoughts
It's been said that a great two-seat sports car makes everything better, and the new Porsche 718 Cayman GTS 4.0 is one of the very best. It will put a smile on your face.
Porsche has managed to perfectly blend the comfort and refinement of the Cayman S with the additional performance, sound, and intensity of the Cayman GT4. This car hits that sweet spot. Packed with personality, it's absolutely one of Porsche's best sports cars. If you're in the market for a sexy high-performance coupe, the 2021 Porsche Cayman GTS 4.0 is an extremely desirable choice.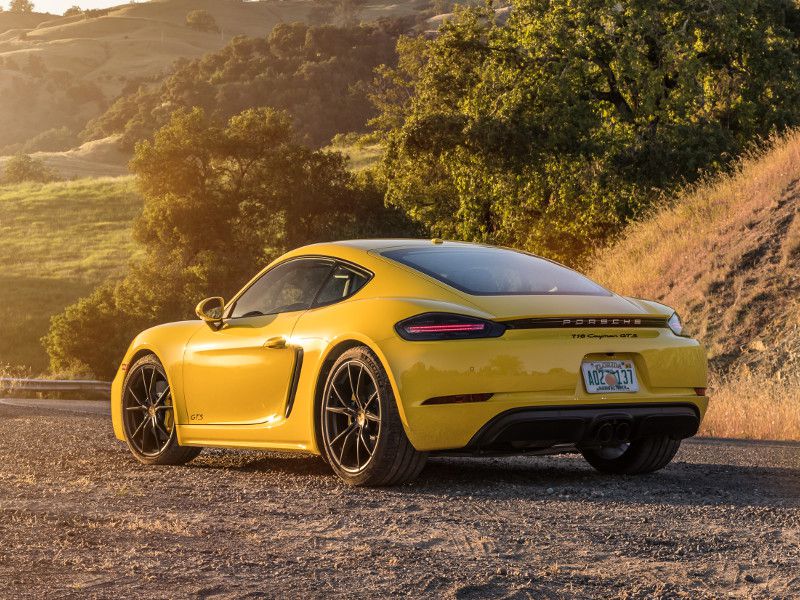 Photo by Porsche