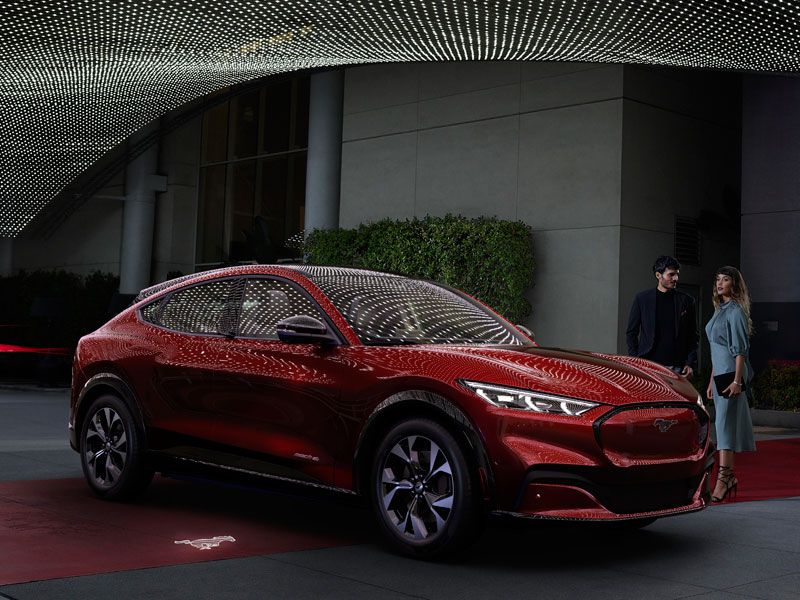 2021 Ford Mustang Mach E ・ Photo by Ford
The new 2021 Ford Mustang Mach-E is a new all-electric crossover SUV, and it's a potential game-changer not just for the automaker, but also for the industry. But so much discussion about it has focused on its Mustang name and SUV market segment. 
Whether or not you think Ford should be using Mustang in the name of its new electric five-door, and whether or not you think this is an SUV or a car, is irrelevant. We're not sure about either, but that doesn't detract from this vehicle's merits. Whatever it is, it looks a little bit like a Mustang, with the classic shark-nose front end, long hood, prominent haunches, and tri-bar taillights with sequential turn signals — but it could easily stand on its own as the Ford Mach-E. It doesn't need Mustang in its name. And while it offers available all-wheel drive, with just 5.1 inches of ground clearance, it's no more an SUV than a BMW 4 Series Gran Coupe. Forgive Ford such transgressions in the name of marketing. And head to the next page to discover the 10 things you need to know about the new Mustang Mach-E.
What does the 2021 Ford Mustang Mach-E cost?
The 2021 Ford Mustang Mach-E is a five-passenger, five-door hatchback. It is offered with a standard-range (SR) or extended-range (ER) lithium-ion battery, and rear-wheel drive or all-wheel drive. Ford calls it an SUV, but with only 5.1 inches of ground clearance, it's more a car than an SUV, along the lines of a Tesla Model 3 (though Ford is targeting the Tesla Model Y).
Five trim levels will be available: Select ($43,895), Premium ($50,600), California Route 1 ($52,400), First Edition ($59,000), and GT ($60,500). The Mach-E goes on sale in the fall of 2020, initially available in Premium and First Edition trim. Other versions arrive by spring 2021. The Mustang Mach-E will be eligible for a $7,500 federal income tax credit. In California, versions with a price of less than $60,000 will also qualify for a $2,000 rebate.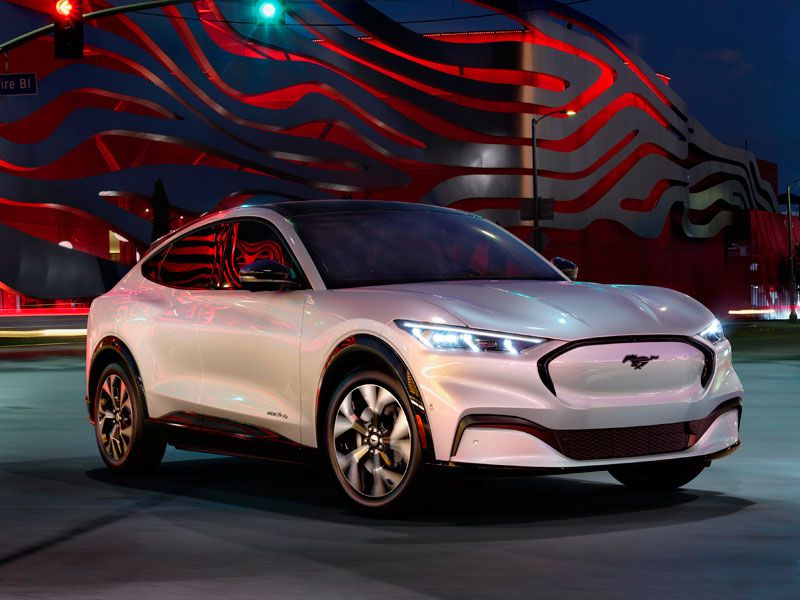 Photo by Ford
How fast is the 2021 Ford Mustang Mach-E?
The fastest Mustang Mach-E is the GT equipped with the Performance Package. Ford says it accelerates to 60 mph in 3.5 seconds. The slowest versions have the standard-range (SR) battery and rear-wheel drive, running to 60 mph in about 6.5 seconds. Power output for the SR RWD measures 255 horsepower and 306 lb-ft of torque. The SR AWD makes the same horsepower but torque rises to 417 lb-ft, shaving a second off of the run to 60 mph.
The extended-range (ER) Mustang Mach-E makes 282 hp and 306 lb-ft of torque with RWD. Choose AWD, and those numbers rise to 332 hp and 417 lb-ft of torque. The Select trim comes only with the SR battery. The Premium is available with SR or ER batteries and with RWD or AWD. The California Route 1 includes the ER battery, but is RWD-only. The First Edition includes the ER battery and is AWD-only. In GT trim, the Mustang Mach-E features the ER battery and AWD, and makes 459 hp and 612 lb-ft of torque.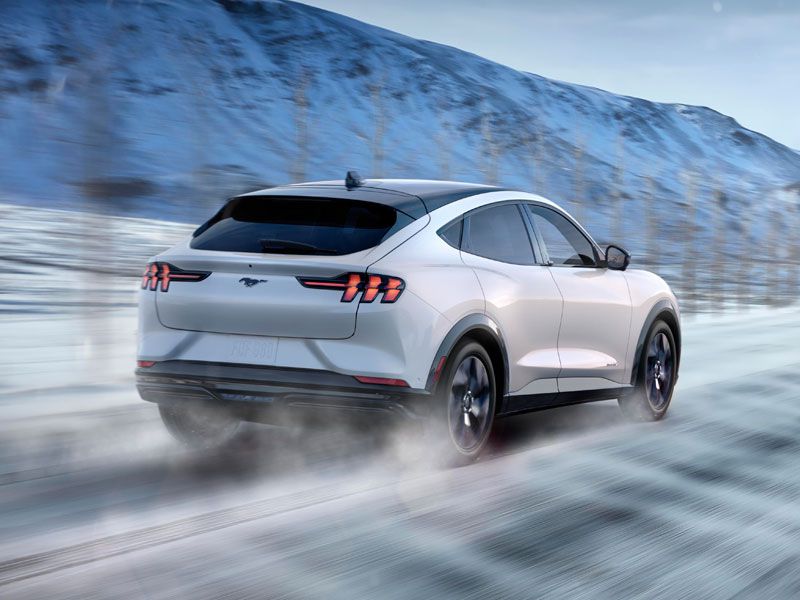 Photo by Ford
What is the 2021 Ford Mustang Mach-E's driving range?
Depending on the battery, drive type, and trim level, the Mustang Mach-E can travel between 210 miles and 300 miles on a single charge. Versions with the 75.7-kWh SR battery and AWD have the 210-mile range rating. Skip the AWD, and the SR RWD can travel 230 miles. The 98.8-kWh ER battery offers 300 miles of range with RWD. Get AWD, and that estimate drops to 270 miles. The Mustang Mach-E GT is a unique case. It has the ER battery and AWD, but because it uses a larger front electric motor with more power and torque, the driving range is reduced to 235 miles.
Ford houses the vehicle's liquid-cooled battery pack in a waterproof case under the cabin floor between the axles, and the company has tested its performance to minus 40 degrees Fahrenheit. Ford says it is planning a battery-recycling program, working with a partner to extract the rare earth materials after the batteries reach the end of their lives.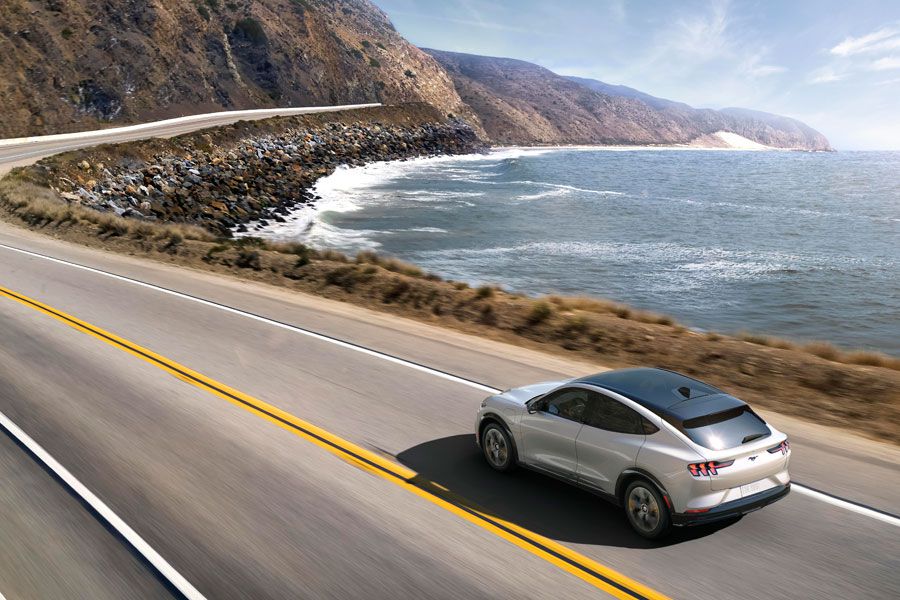 Photo by Ford
How quickly does the Ford Mustang Mach-E recharge?
Ford says the Mustang Mach-E with the standard-range battery will recharge from 10% to 80% capacity in 38 minutes when using a public DC fast charger. The extended-range battery adds 47 miles of range in 10 minutes using DC fast charging.
The car's standard charging cord provides compatibility with 120-volt standard electrical outlets and 240-volt dryer-style outlets. Using the 120-volt outlet, you can expect to add 3 miles of range for every hour of charging. With 240 volts, that jumps to 22 miles per hour. Ford will sell Mustang Mach-E owners a Connected Charging station. It provides 32 miles of range per hour of charging. The price of this home charging station isn't finalized, but Ford has confirmed that it will work with Amazon Home for installation.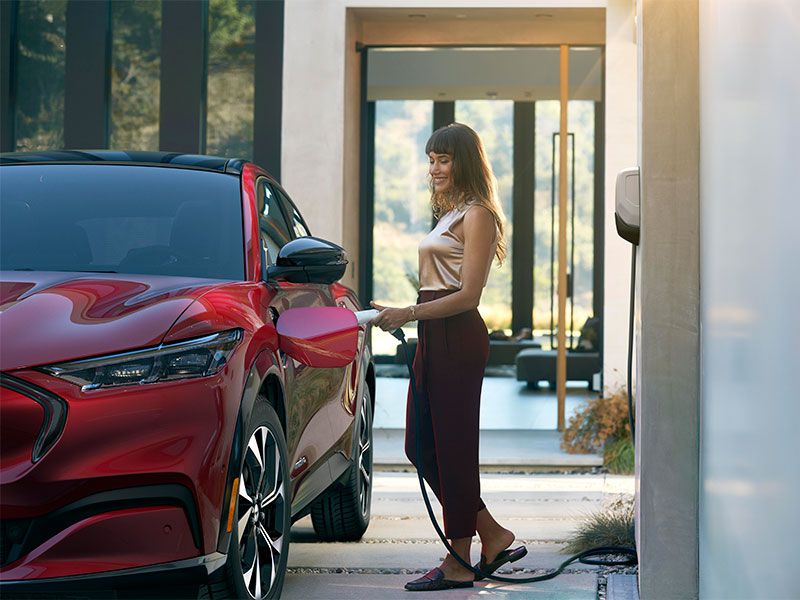 Photo by Ford
How can you pay for charging using the FordPass Charging Network?
Ford's research shows that 80% of the time, electric vehicles are charged at home. The rest of the time, Mustang Mach-E owners will use public charging stations. To make this easier, Ford has created the FordPass Charging Network, what the automaker says is the largest of its kind in the country — with more than 12,500 stations and growing.
By partnering with several different charging companies and designing the process to automatically provide billing details through its FordPass app, Mustang Mach-E owners won't need to set up and maintain multiple charging network accounts, simplifying their lives. The Mach-E's connected navigation system will provide directions to the nearest available FordPass Charging Network station, the driver will plug the car in, the car will communicate billing information to the service provider, and the car will charge.
What is Next Generation Sync?
Ford debuts a new, cloud-connected, next-generation version of its Sync infotainment system in the Mustang Mach-E. The 15.5-inch tablet-style display is mounted vertically on the dashboard rather than horizontally as in the Tesla Model Y. As is true in the Tesla, it looks out of place in the otherwise stylish cabin.
The interface is naturally intuitive, and Ford includes a physical volume knob at the bottom of the display. The system features wireless Apple CarPlay and Android Auto, SiriusXM 360L satellite radio, natural voice recognition to rival modern digital assistants, and machine learning to adapt to a driver's habits and preferences. Facial recognition technology allows for three different system setups. Over-the-air update capability means next-generation Sync will always get better over time. At first, it will support 4G LTE Wi-Fi connectivity, but Ford suggests that the system is ready for 5G.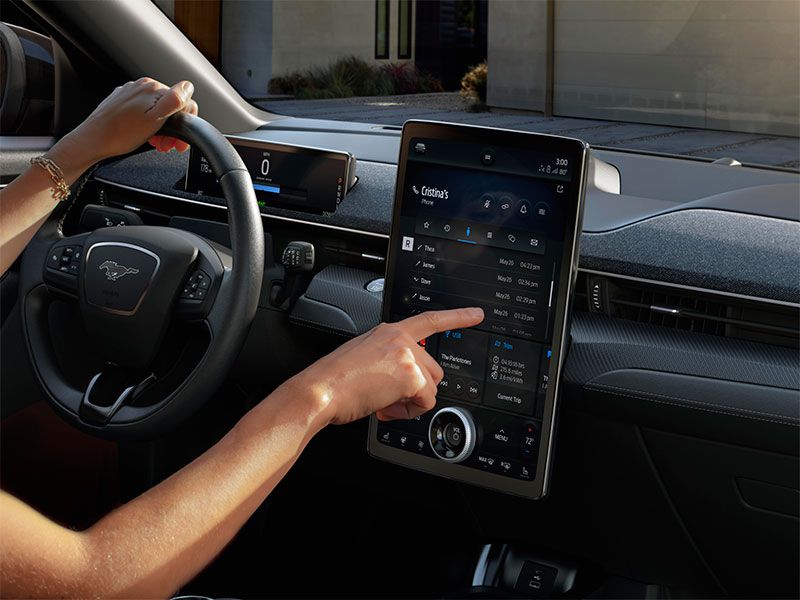 Photo by Ford
How much trunk space does the Ford Mustang Mach-E have?
Open the Mustang Mach-E's rear hatch and you'll find a 29-cubic-foot cargo hold behind the rear seat. Fold each side of the rear seat down, and the Mach-E can carry 59.6 cubic feet of cargo.
In addition to the rear trunk, there is a front trunk — or frunk. It's under the hood, and it measures 4.8 cubic feet. Ford says that's enough for a piece of carry-on luggage. Additionally, this compartment is designed to get wet. It has a drain plug, so you can fill it with ice and your favorite beverages, or toss wet suits and other beach gear into it. Inside, the Mustang Mach-E offers several storage areas. The center console has a dual-tier design with storage trays, along with a covered center bin. The glove compartment is a decent size, too.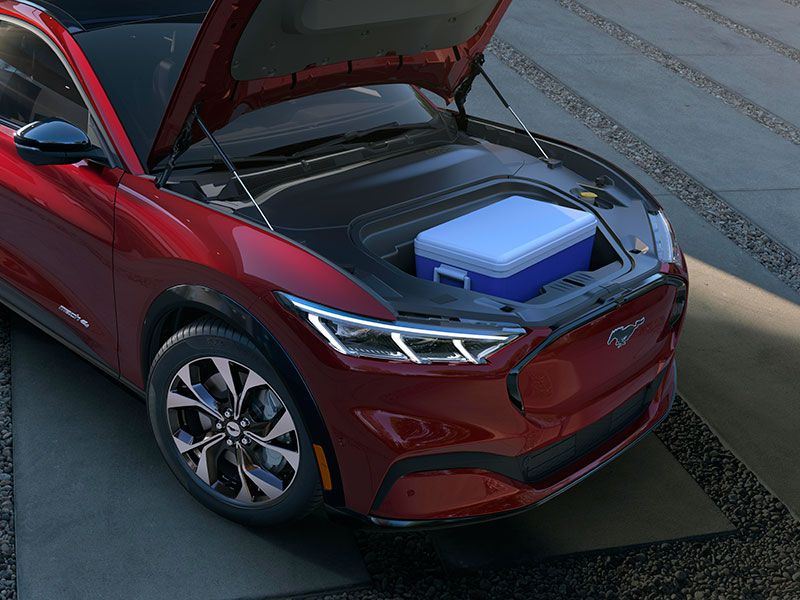 Photo by Ford
Can adults fit into the Ford Mustang Mach-E's back seat?
Unlike with a regular Mustang, adults can fit into the Mach-E's back seat. Even with the front seat moved all the way back in its track, a 6-foot-tall adult sits comfortably, enjoying excellent thigh support, plenty of headroom, and rear air conditioning vents. As an option, the Mustang Mach-E offers a huge fixed glass roof. It doesn't have a shade, because it's designed to repel solar heating using infrared protection.
A short ride in the Mustang Mach-E revealed little. It goes fast, like other electric cars. It handles well thanks to its low center of gravity, like other electric cars. It's possible our camouflaged test vehicle included Ford's MagneRide adaptive suspension, since the ride was decent even with four people aboard.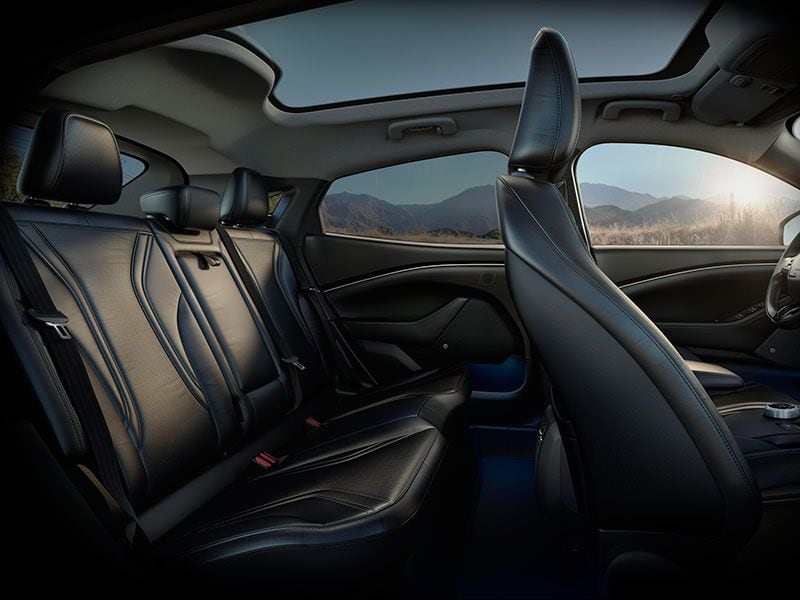 Photo by Ford
What are the Ford Mustang Mach-E's competitors?
Ford says the Tesla Model Y is the Mustang Mach-E's primary competitor. The Model Y and Mach-E are about the same size and they both offer five-door hatchback practicality, so that makes sense. But it's not a stretch to presume the Mach-E will also compete with Tesla's compact sedan, the Model 3. Though the Model 3 is a sedan with a less useful trunk, people will likely cross-shop the two.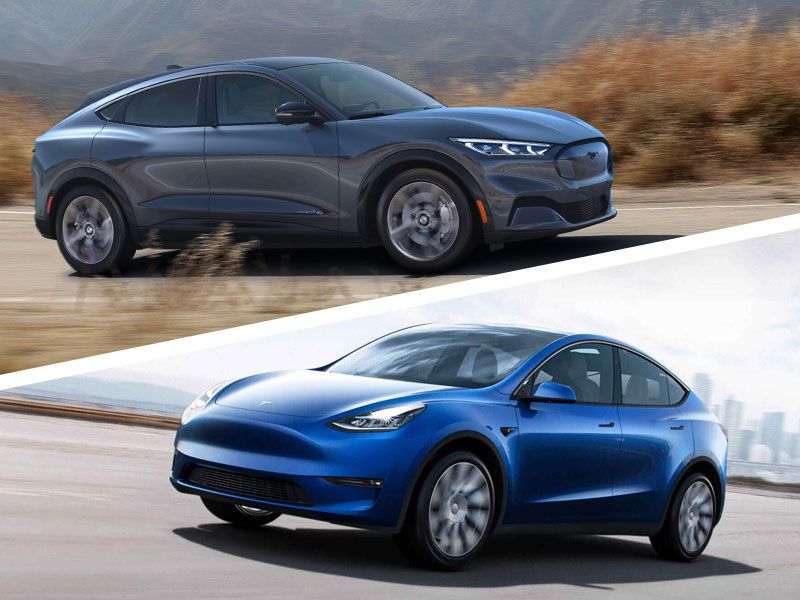 Photo by Ford / Tesla
When does the 2021 Ford Mustang Mach-E go on sale?
The first Mustang Mach-Es will go on sale in the fall of 2020. First Edition and Premium trims will be available at that time. Remaining trims will be available by spring 2021.
Reservations are open, and with a $500 deposit, you can claim your place in line. Ford plans to sell the Mustang Mach-E in each of its EV Certified dealerships, and it will provide each retailer with a car to test drive. Ford says there are about 2,100 EV Certified dealers in the U.S.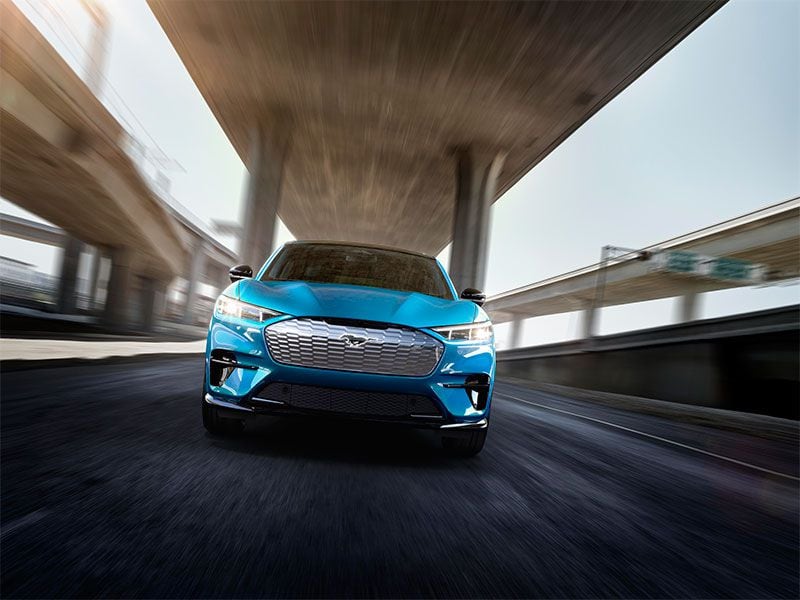 Photo by Ford