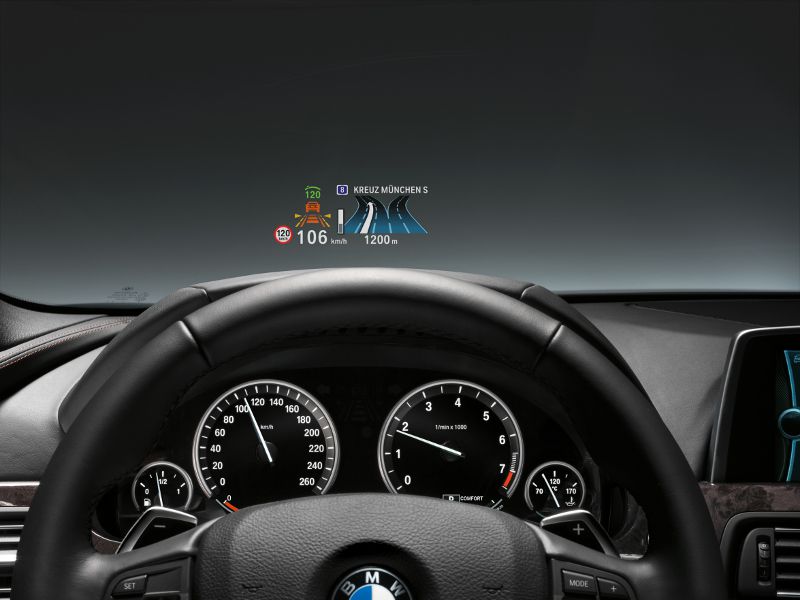 head updisplayopeningimage
There are more new cars with head-up displays than ever. A head-up display (HUD) projects information onto the lower part of the windshield, close to the driver's usual line of vision. The technology was first used in aircraft, but is migrating to cars at a growing rate. As new vehicles are phasing in for the 2016 model year, a head-up display is appearing on more options lists. Naturally, all the premium marques like Audi and BMW are offering them. But they're also trickling down into the mainstream. As a feature, it's been around for years, but technology has progressed to the point where it's more affordable and feasible. And also more functional, incorporating elements from the navigation system and whatever the car's sensors are reading — like road markings, for example. As well as providing crucial information in an easy-to-read form, head-up displays can also be useful in conditions of bad visibility, like fog, because they're usually connected to systems that use radar and infra-red sensors, so the driver can tell where the road markings are. To see a range of cars that come with head-up displays, check out our list of varied vehicles.
2016 BMW 7 Series
The 2016 BMW 7 Series is an all-new car packed with amazing gadgetry, as befitting a luxury marque's flagship. And although the owner of a large sedan may spend most of the time in the back seat while a chauffeur handles the driving duties, they would be missing out big-time if they didn't get behind this car's steering wheel. The HUD in the new 7 Series is an evolution of BMW's already impressive technology. It's in full color, and it shows speed limits, exit lane images as part of the navigation instructions, and even who's calling on the phone. The image appears to be hovering over the hood, making it easy for a driver's eyes to shift focus. It's standard equipment in the 750i and there are HUD options for most other BMW cars.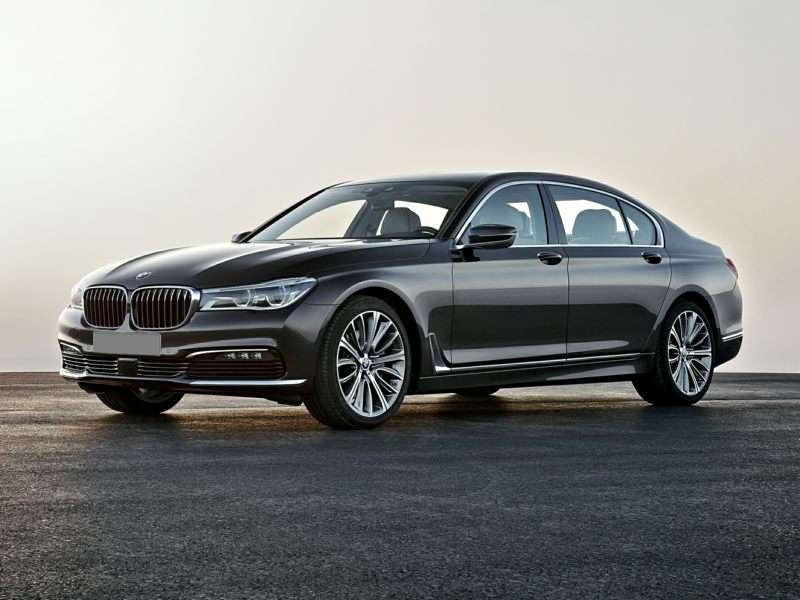 Photo by BMW
2016 Volvo XC90
The clever thing about the 2016 Volvo XC90's HUD is that it can be adjusted — brightness, positioning — by using a button on the steering wheel. Then these settings can be saved as part of the driver's seat memory. The not-so-clever thing is that some head-up displays (like this one) become invisible when wearing polarized sunglasses. In the XC90, the HUD is part of a package that includes a heated steering wheel, heated washer nozzles and heated rear seats. The good news is that the XC90 also packs a lot of up-to-the-minute advanced safety features.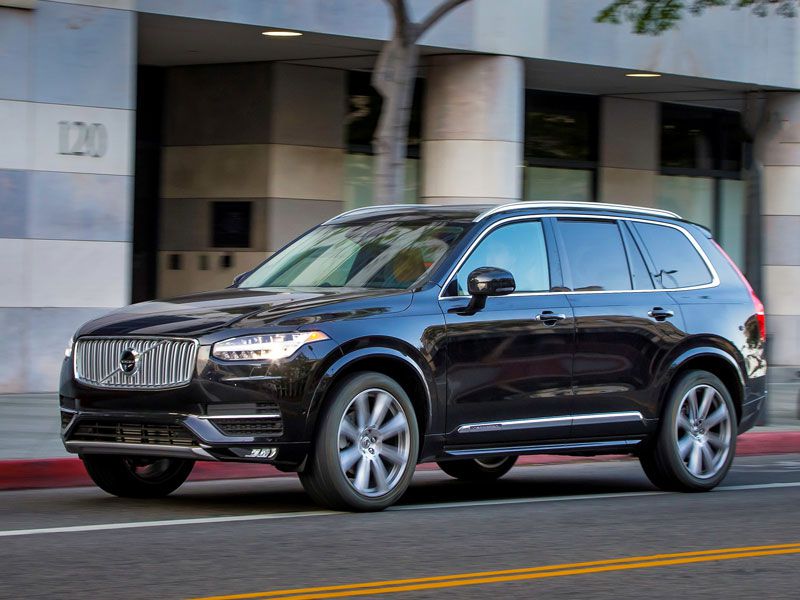 Photo by Volvo
2016 Chevrolet Corvette Stingray
It's no big surprise that a Corvette would have a head-up display. This sports machine has a history of appealing to pilots and astronauts. Back in the days of the space race, NASA parking lots were full of Corvettes. Previous generations have offered HUD systems, but they were not exactly trouble-free. Fortunately, things have improved and this generation's version even includes a g-meter to display those lateral forces during hard cornering. The HUD is standard in 2LT and 3LT trims of the 2016 Corvette Stringray. What's more, this is the best Corvette ever, with superb handling that's inspiring where older versions used to be intimidating. And the engine is a muscular 6.2-liter V8 making 455 hp and 460 lb-ft of torque. Incidentally, the 2016 Chevrolet Camaro can also come with a head-up display.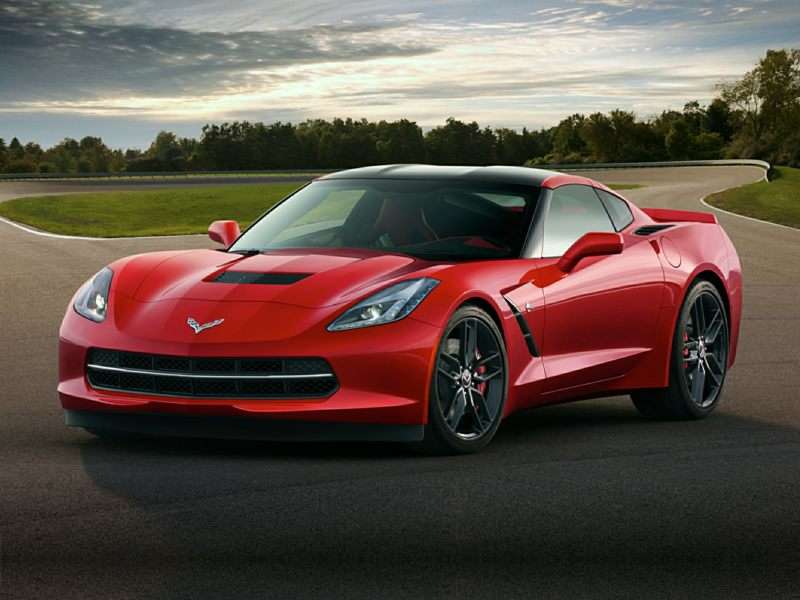 Photo by Chevrolet
2016 Mazda Mazda3
As well as being one of the best compact cars around, with superb road manners and a quality cabin, the 2016 Mazda Mazda3 is unusual for its class because it offers what it calls an Active Driving Display, or HUD by any other name. It becomes available in the mid-level S Touring trim, sedan or hatchback body styles, which starts at around $26,000 (including destination charges) and also comes with blind spot monitoring and rear cross traffic alert, plus the 184-hp, 2.5-liter four-cylinder engine and six-speed automatic transmission. That's a tempting package for reasonable money. If anyone needs more convincing, how about great fuel economy and safety? According to the EPA, the s Touring sedan returns 32 mpg combined. And the Mazda3 in general has won top scores in the usual crash test programs.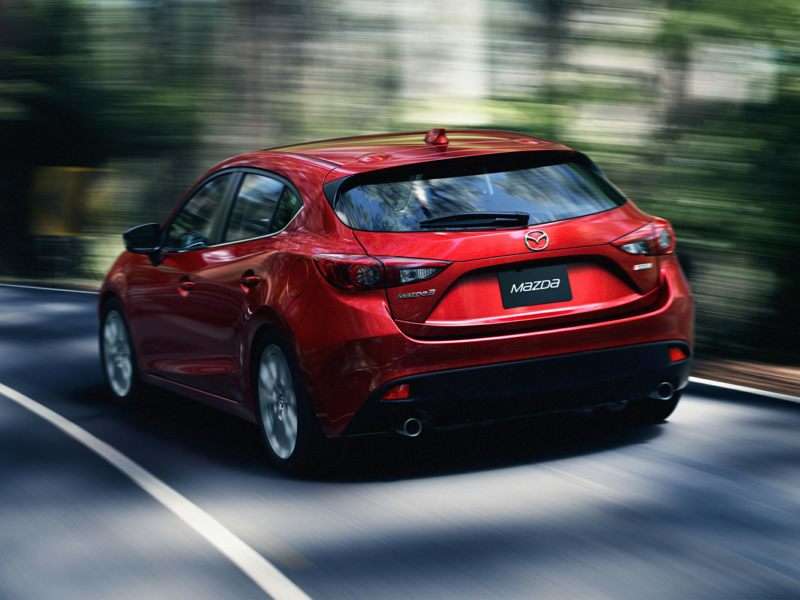 Photo by Mazda USA
2016 Lexus RX
The ever-popular Lexus RX premium midsize crossover entered an all-new generation for 2016, so much of its equipment is fresh, such as the full-color HUD that's optional in the RX350 models, but standard in the 450h and 450h F Sport versions. Drivers of these hybrid crossovers will no doubt keep glancing to the readout that shows how fuel efficient they are. As always, the Lexus RX has impeccable build quality and the cabin is serene. On the subject of tech, a huge 12.3-inch center screen is available. And so is dynamic cruise control, where the RX will slow down to a safe distance behind another vehicle, even come to a complete stop, and then get back up to the pre-programmed speed when it's safe to do so.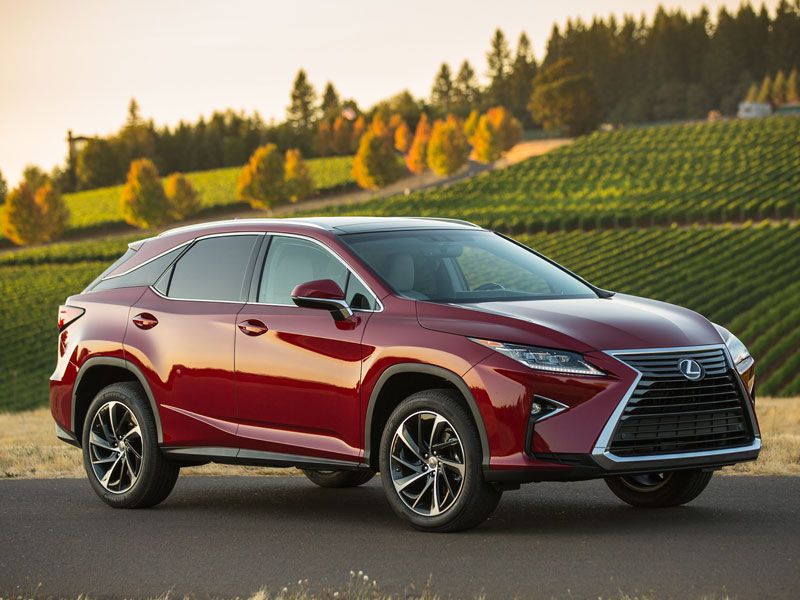 Photo by Lexus
2016 Jaguar XF
Premium cars are invariably where new tech becomes available for the first time. And once one marque introduces some innovation, the rest are obliged to follow. It's only logical, then, that the excellent, all-new, second generation Jaguar XF — rival to cars like the Audi A6 and BMW 5 Series — would have a head-up display. As is usually the case, this one is only seen by the driver. Move too far to one side or the other and the image disappears. The big difference here is that Jaguar's system features laser holographic techniques for better color saturation, brightness and contrast compared to rival systems. It's more robust against issues that affect LED-based systems, such as glare from sunlight and incompatability with polarized sunglasses.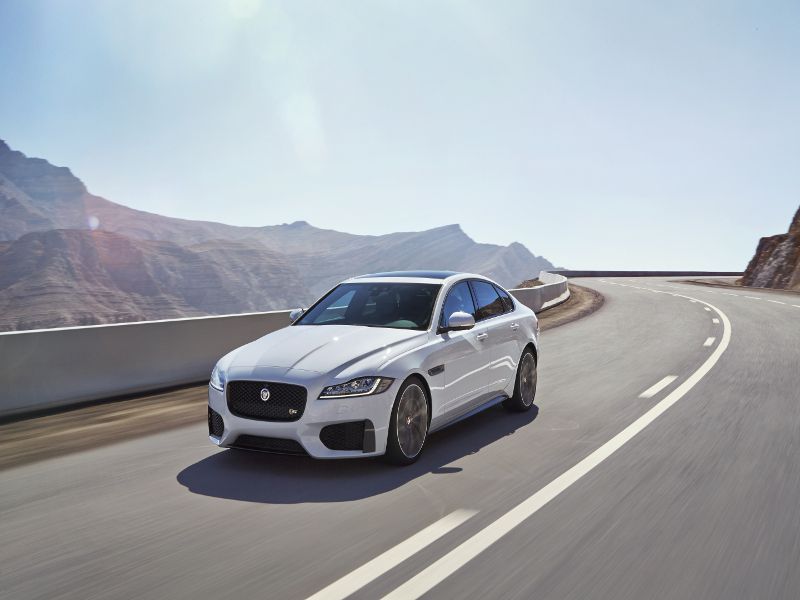 2016 Mercedes-Benz C-Class
An all-new generation of the Mercedes-Benz C-Class debuted for the 2015 model year and has taken small-car luxury to greater heights, making it one of the finest choices in a fine class. Drivetrains range from frugal diesel and hybrid versions to a high-performance twin-turbocharged V6. Among the equipment options is a head-up display. As well as showing all the usual useful information, this one is clever in that it adapts automatically to varying light conditions. Like the Volvo XC90, settings for this HUD can be saved in the driver's seat memory. Mercedes-Benz cars are renowned for their advanced technology — just keep an eye on the bottom line when selecting from an exciting list of options.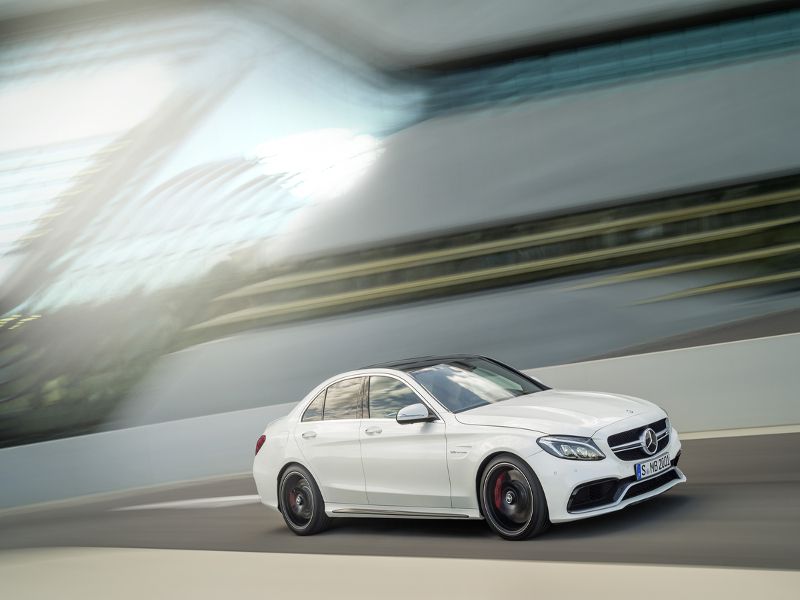 2016 MINI Cooper
The 2016 MINI Cooper's HUD isn't like the others. It gets its own little screen where all the information is projected. At the top of the dashboard, right in front of the driver, is a slot through which a small plastic rectangle rises and retracts. It has a "smoked" finish, so sufficiently transparent not to hinder forward vision, but dark enough for the readout to be seen easily. MINI offers a wide variety of options and this is one of the best-handling front-wheel-drive cars around. The longer wheelbase of the four-door version smooths out the ride a touch, with negligible impact on the dynamics. For a reasonably affordable combination of fun and tech, the MINI Cooper is tough to beat.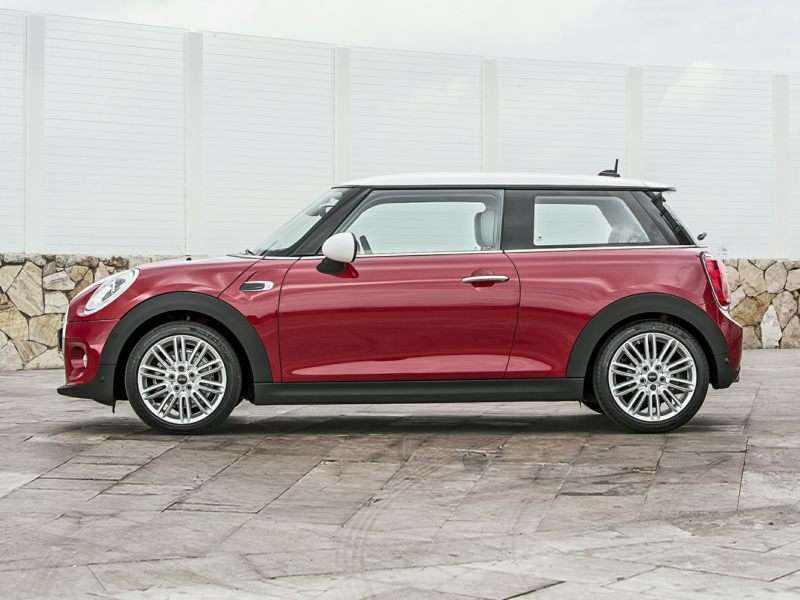 Photo by MINI
2016 Ford Shelby GT350
The super-high-performance Mustang GT350, tuned by the legendary Shelby outfit, is capable of such acceleration that taking your eyes off the track, even for a split second, isn't really a good idea. That's why there's a head-up display. This one shows the exact gearshift point when revving up through the gears. And it's customizable so the driver can set the correct shift point, even the intensity of the light, according to conditions. It also has track and drag modes. The 2016 Ford Shelby GT350's 5.2-liter V8 is the most powerful non-turbo production engine Ford has ever made. It develops 526 hp and 429 lb-ft of torque, to make the sixth-generation Mustang a dominating sports machine. To go even more extreme, the GT350R ditches the rear seats and comes with carbon fiber wheels.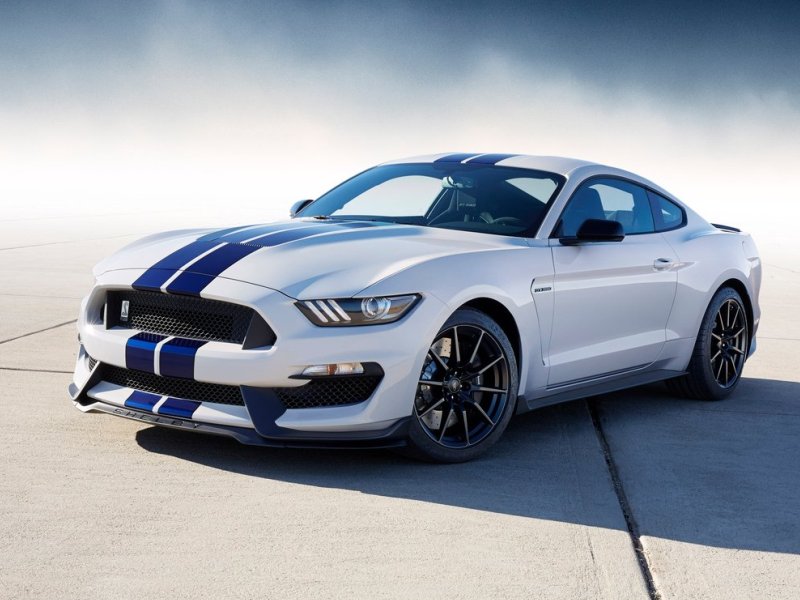 Photo by Ford
2016 Toyota Prius
Toyota's research and development budget runs into the hundreds of millions. Some of this considerable amount is going into a 3D head-up display that turns the windshield into an augmented reality projection screen in the 2016 Prius. Among the many things it can tell a driver is the proximity of parking spaces, and even if there's still some time left on a meter. In the meantime, the 2016 Toyota Prius has a useful HUD that gives the usual speed and navigation instructions, but also shows how economical the driver is being, plus things like lane keeping and emergency brake warnings. Thinking about it, a head-up display has an economy benefit, because knowing exactly where you're going will save on gas, being aware of speed limits could save on tickets, and staying safe will result in all kinds of savings.