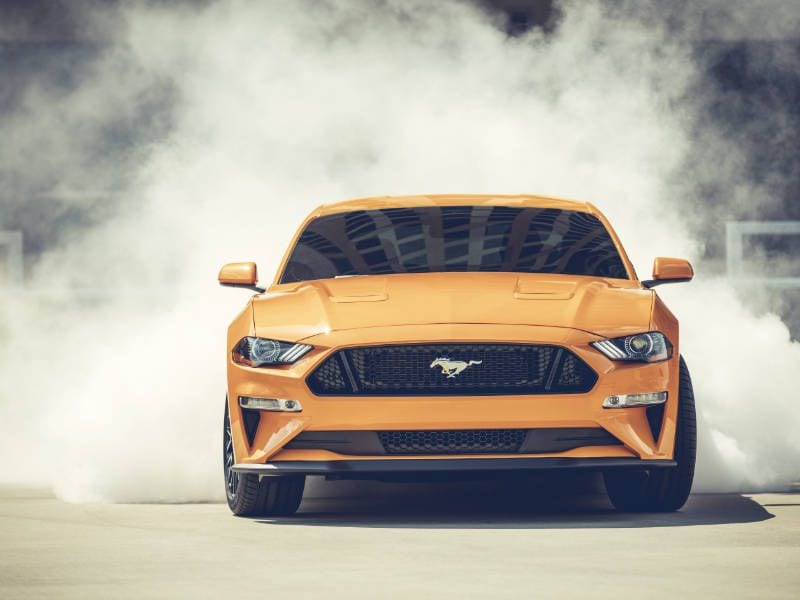 2018 Ford Mustang GT burnout V8 front ・ Photo by Ford
When you want to combine durability and dynamic performance, the cars with the most reliable V8 engines are a great way to go. With their mighty motors, these vehicles can deliver incredible performance that's matched by an unmistakable engine note. But not only do they get you noticed on the road, but they also make sure you stay there — instead of having to visit the repair shop on a regular basis.
It's true that cars with V8 engines aren't as common today as they have been in the past, which limits our pool of prospective candidates. Yet by checking in with third-party resources that include Consumer Reports and J.D. Power, we've tracked down 10 entries that can deliver high levels of reliability and performance alike.
2018 Chevrolet Camaro SS
The muscle cars with the most reliable V8 engines include the 2018 Chevrolet Camaro, which comes with a long track record of success in the J.D. Power Vehicle Dependability Study: Camaros have led their segment in that respected third-party recognition program for five straight years.
For the 2018 model year, the Camaro looks to continue its winning ways with powerplants like the 6.2-liter V8 found in the SS trim. This unit relies on Chevy's proven small-block design to blast out 455 horsepower and 455 lb-ft of torque, and it's offered with both a six-speed manual transmission and an eight-speed automatic transmission. The Camaro SS also comes with top technologies like mobile Wi-Fi and Android Auto/Apple CarPlay smartphone integration.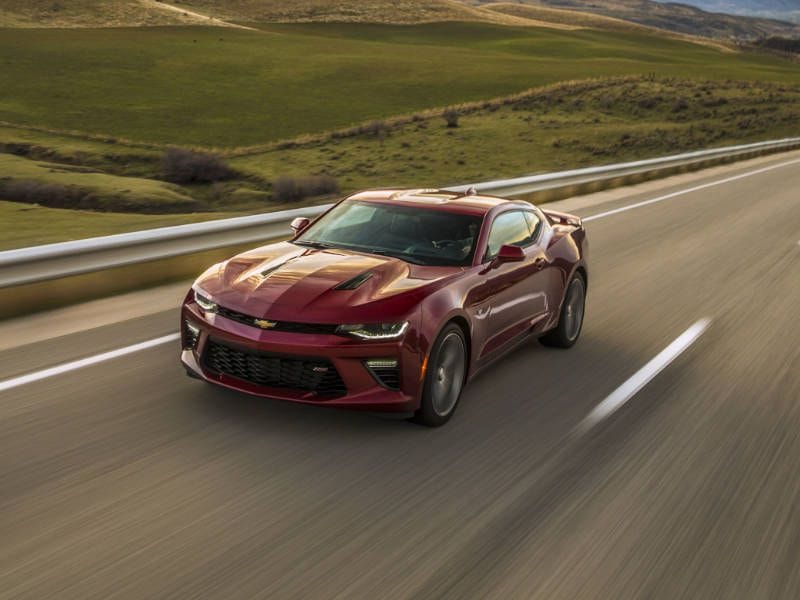 Photo by General Motors
2018 BMW 750i
Among the cars with most reliable V8 engines and the most premium ownership experiences, the lineup for the 2018 BMW 7 Series full-size luxury sedan provides a standout choice. The 750i version combines strong performance in the latest round of Consumer Reports testing with even stronger performance over the road.
With rear-wheel drive and its 4.4-liter turbocharged V8 engine — which serves up 445 horsepower, 479 lb-ft of torque — it goes from 0-60 in 4.6 seconds. Order the car with BMW's sophisticated xDrive all-wheel drive technology and you can shave that sprint time down to 4.3 seconds. The 750i also earns serious luxury credibility with standard content such as 20-way power-adjustable heated front seats and Nappa leather upholstery.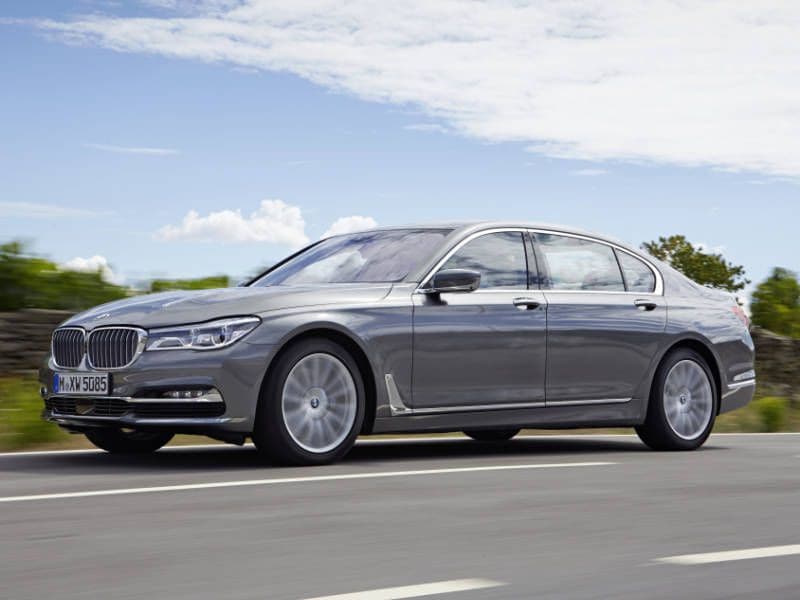 Photo by BMW
2018 Lexus GS F
Some of the cars with the most reliable V8 engine are bolstered by positive results from both J.D. Power and Consumer Reports. Take the 2018 Lexus GS F. As the high-performance trim for the GS mid-size luxury sedan, the GS F is backed by not just the brand's rock-solid reputation for durability, but also a robust 5.0-liter V8 engine that makes 467 horsepower and 389 lb-ft of torque. That makes the GS F the most powerful sedan on the brand's 2018 roster.
Nor is there any shortage of Lexus-style luxuries available for customers, who can enjoy triple-beam LED headlamps, Mark Levinson audio, heated and ventilated front sport seats, and a 12.3-inch infotainment screen.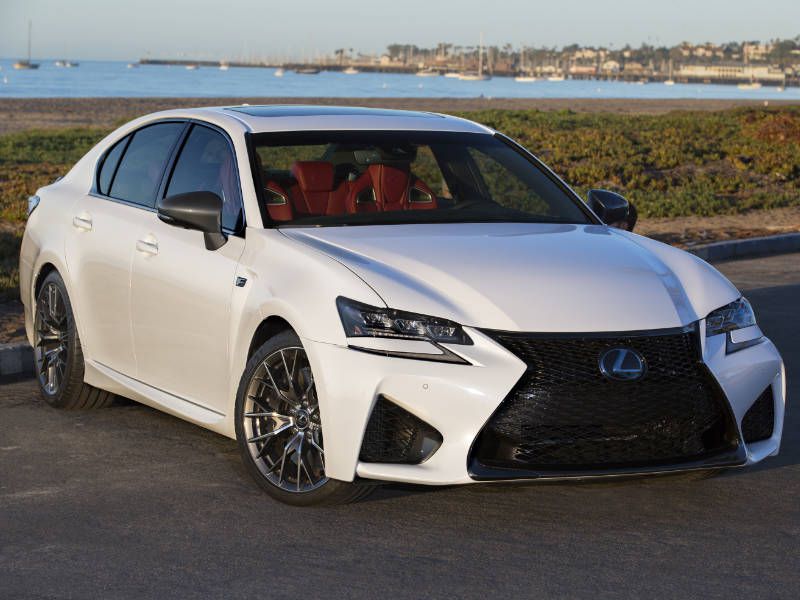 Photo by Lexus
2018 Lexus LC 500
The standard engine for the 2018 Lexus LC 500 is based on the same time-tested unit found in the GS F. That, plus high levels of predicted reliability from Consumer Reports, helps explain why it's considered one of the cars with the most reliable V8 engines even though it's just entering the marketplace now.
Of course, you'll definitely notice the LC 500 when it does arrive in dealerships, since this is one of the most striking sports cars you'll ever see. The most common view of the LC 500 on the road, however, is likely to be from the rear, as the car's 471 horsepower and 398 lb-ft of torque will allow it to blow by much of the competition.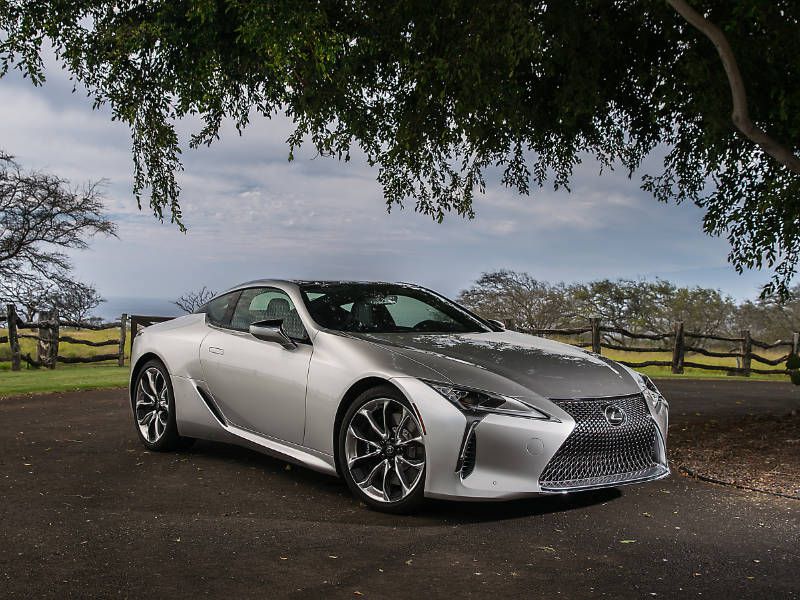 Photo by Lexus
2018 Infiniti Q70
Flagship luxury sedans with the most reliable V8 engines also include the 2018 Infiniti Q70, which showcases top predicted reliability scores from Consumer Reports. Meanwhile, beneath its hood, the Q70 shows off an available 5.6-liter V8 that can unleash 420 horsepower and 417 lb-ft of torque. There's also optional all-wheel drive. 
Customers looking for enhanced rear-seat comfort can opt for the Q70 L. In that model, engineers have stretched the car's wheelbase by almost 6 inches, expanded rear legroom by 5.6 inches and boosted rear knee room by 5.9 inches. At the same time, back-seat passengers benefit from heated seats, power door closers, personal lighting and a handy power outlet.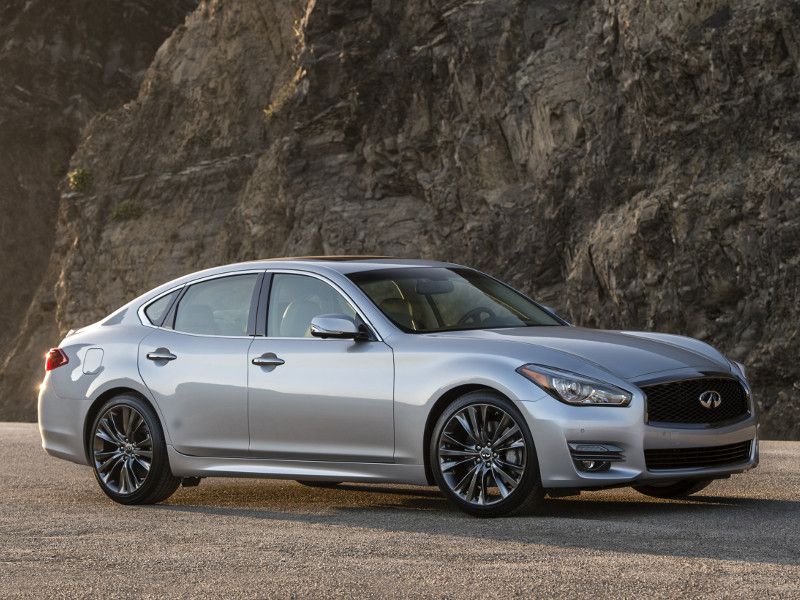 Photo by Infiniti
2018 Ford Mustang GT
Digging a little deeper into the cars with the most reliable V8 engines, the 2018 Ford Mustang GT may not have the very best results from Consumer Reports — but looking specifically at Mustang engine reliability shows a consistent multi-year pattern of improvement.
Consistent improvements to the GT's 5.0-liter V8 no doubt help. Indeed, for the new model year, the GT's V8 is both more powerful and more fuel-efficient than in 2017. There's 460 horsepower, 420 lb-ft of torque and EPA ratings as high as 16 mpg city/25 mpg highway/19 mpg combined, representing increases of 25 horsepower, 20 lb-ft of torque and 1 mpg.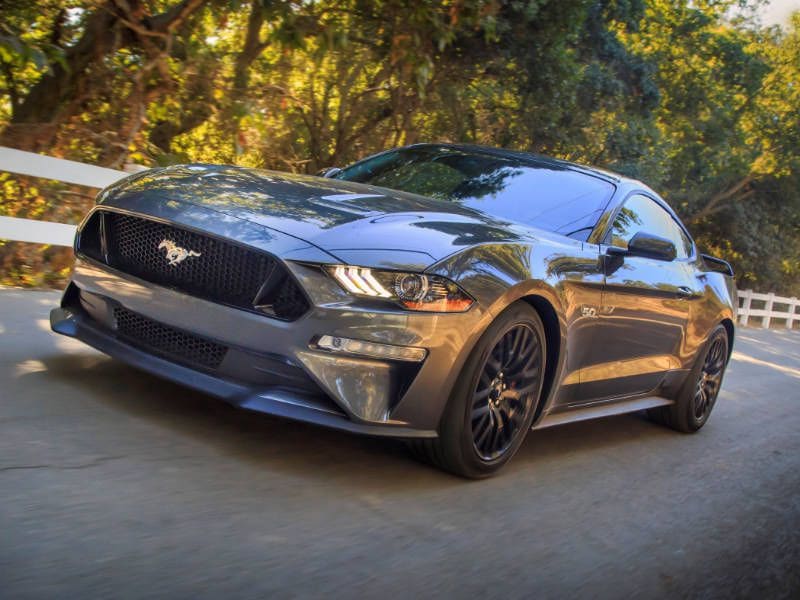 Photo by Ford
2018 Genesis G80
The cars with the most reliable V8 engines can come from newer brands, too, like Genesis. Hyundai's recently launched stand-alone luxury division already has a burgeoning reputation for reliability, and the 2018 Genesis G80 distinguishes itself with some of the better results in Consumer Reports' engine-problem database.
As for the car's engines, an available 5.0-liter V8 is a clear highlight with up to 420 horsepower and 383 lb-ft of torque. Wrapped around that impressive powerplant is a crisp, elegant exterior design — complete with full LED headlights — while the interior features premium leather upholstery, heated and ventilated front seats, heated rear seats, a 16-way power-adjustable driver's chair, and an infotainment system with navigation and Android Auto/Apple CarPlay.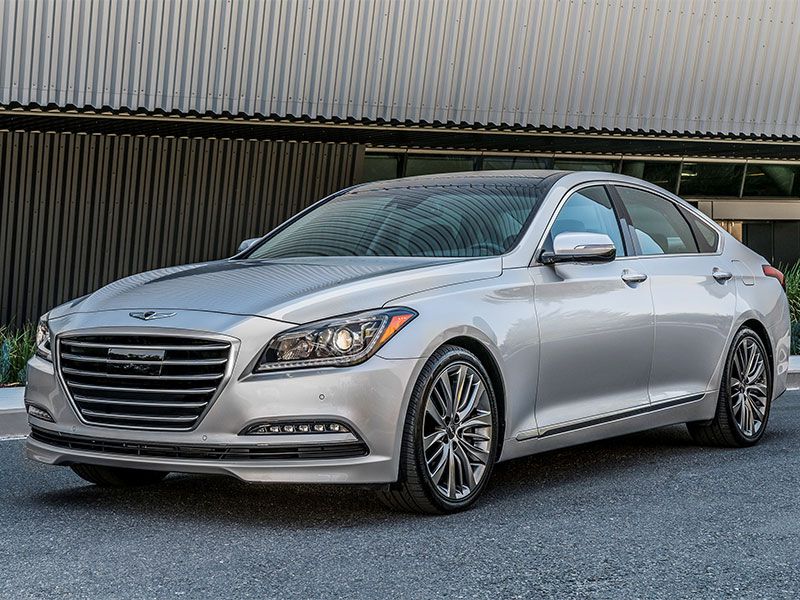 Photo by Genesis
2018 Dodge Challenger R/T
Okay, Dodge-brand vehicles aren't always known for being overly dependable — but when you're talking about the cars with the most reliable V8 engines, the 2018 Challenger R/T certainly deserves your attention. After all, the Challenger's 5.7-liter Hemi V8 has become a firmly established favorite for modern-day muscle-car enthusiasts ever since it first launched back in 2003.
Plenty of updates have followed, naturally, so that the current engine kicks out 375 horsepower and 410 lb-ft of torque with its standard six-speed manual transmission. Shoppers also should realize that, despite Dodge's old-school approach to performance, the Challenger R/T features its share of fresh technologies, such as standard Android Auto/Apple CarPlay smartphone integration.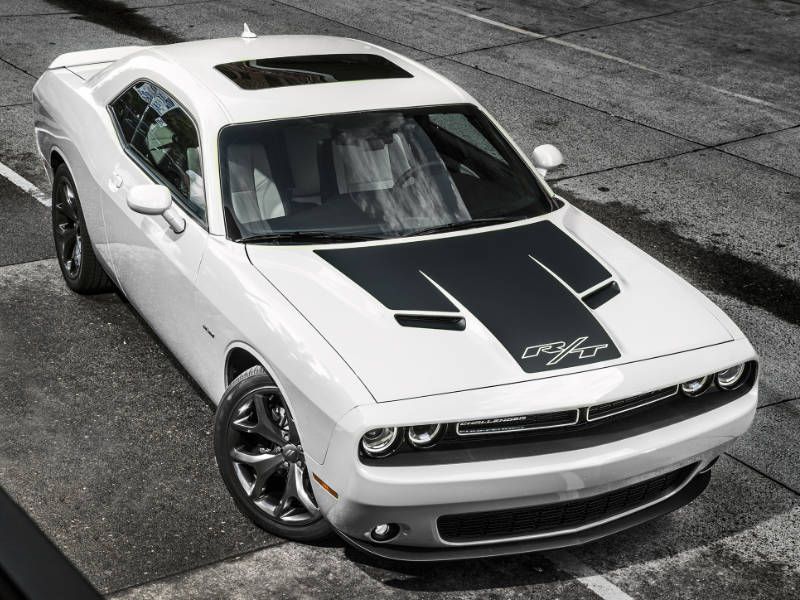 Photo by Fiat Chrysler Automobiles
2018 Dodge Charger R/T
The cars with the most reliable V8 engines sometimes share those powerplants with other entries from the same brand, as is the case with the Dodge Challenger R/T and its Charger R/T sibling. Both can be ordered with the 5.7-liter Hemi or a second naturally aspirated Hemi V8, a 6.4-liter.
The Charger and Challenger offer super-high-performance supercharged Hemis as well, but more moving parts can lead to more opportunities for problems, so we'll prefer the mid-range motors for maximum reliability. Keep in mind that this 6.4-liter unit — aka the 392-cubic-inch Hemi — can supply 485 horsepower and 475 lb-ft of torque, which is only "mid-range" compared to the 707-horsepower Hellcat version.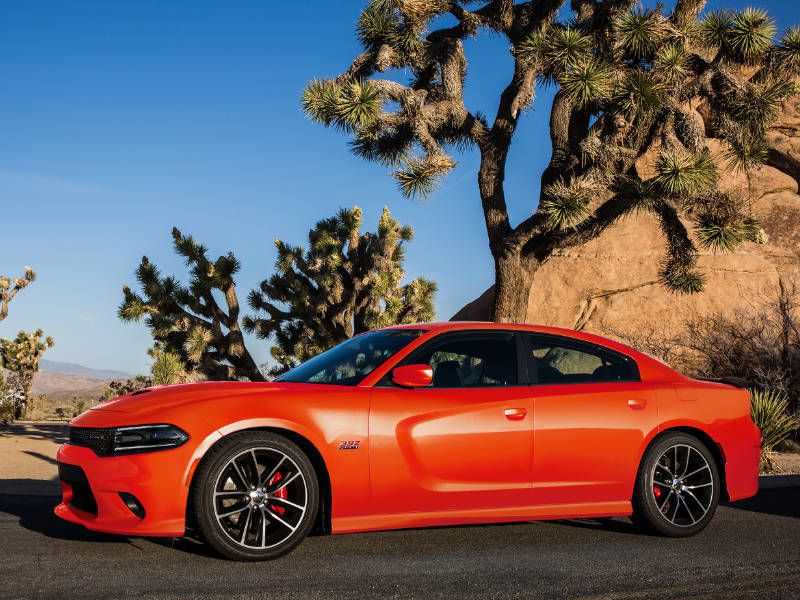 Photo by Fiat Chrysler Automobiles
2018 Mercedes-Benz S 560 4MATIC/AMG S 63
Mercedes-Benz surpassed both Audi and BMW in the 2017 J.D. Power Vehicle Dependability Study, and the brand's full-size flagship sedan, the 2018 S-Class, carries quite a history with Consumer Reports, too — particularly in terms of engine improvements. When you also take into account the specific 463-horsepower unit that's reserved for the S 560 4MATIC model, you've got nearly the perfect finishing touch for our list of cars with the most reliable V8 engines.
Prefer to put your trust in the hands of an expert engineer? One of those folks can hand-assemble a 603-horsepower version of that engine for you, provided you move up to the best athlete on the S-Class roster, the AMG S 63.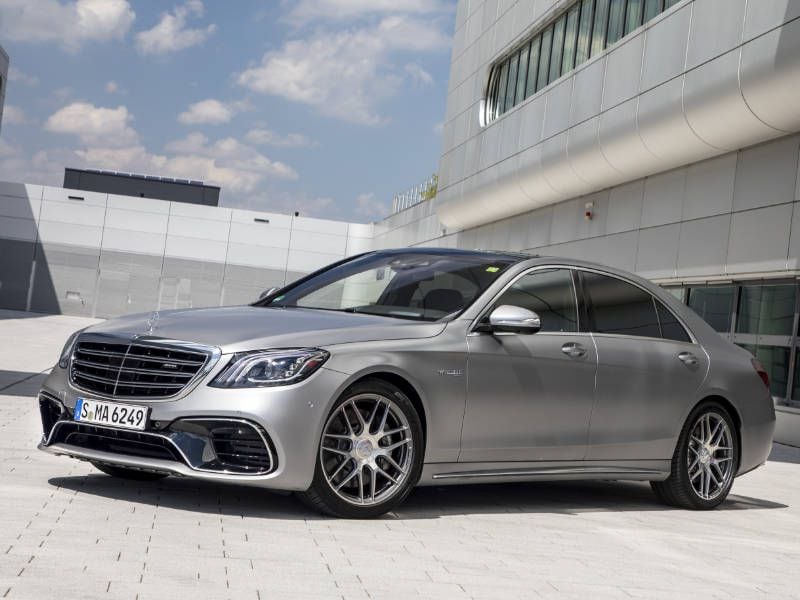 Photo by Mercedes-Benz